Adding and modifying a WooCommerce Product Title is not a time-consuming process. GetGenie AI WooCommerce Product Title template has made the task easy. You will be able to display your current products with the correct titles.
Let's see how it functions and helps marketers-
How to Use WooCommerce Product TitleTemplate #
You can use the WooCommerce Product Title framework to make exact titles of your products in two different ways.
Using GetGenie AI Dashboard #
Access to – 1.Your WordPress Admin Dashboard → 2. Get Genie → 3. AI Writing → 4. Find and click WooCommerce Product Title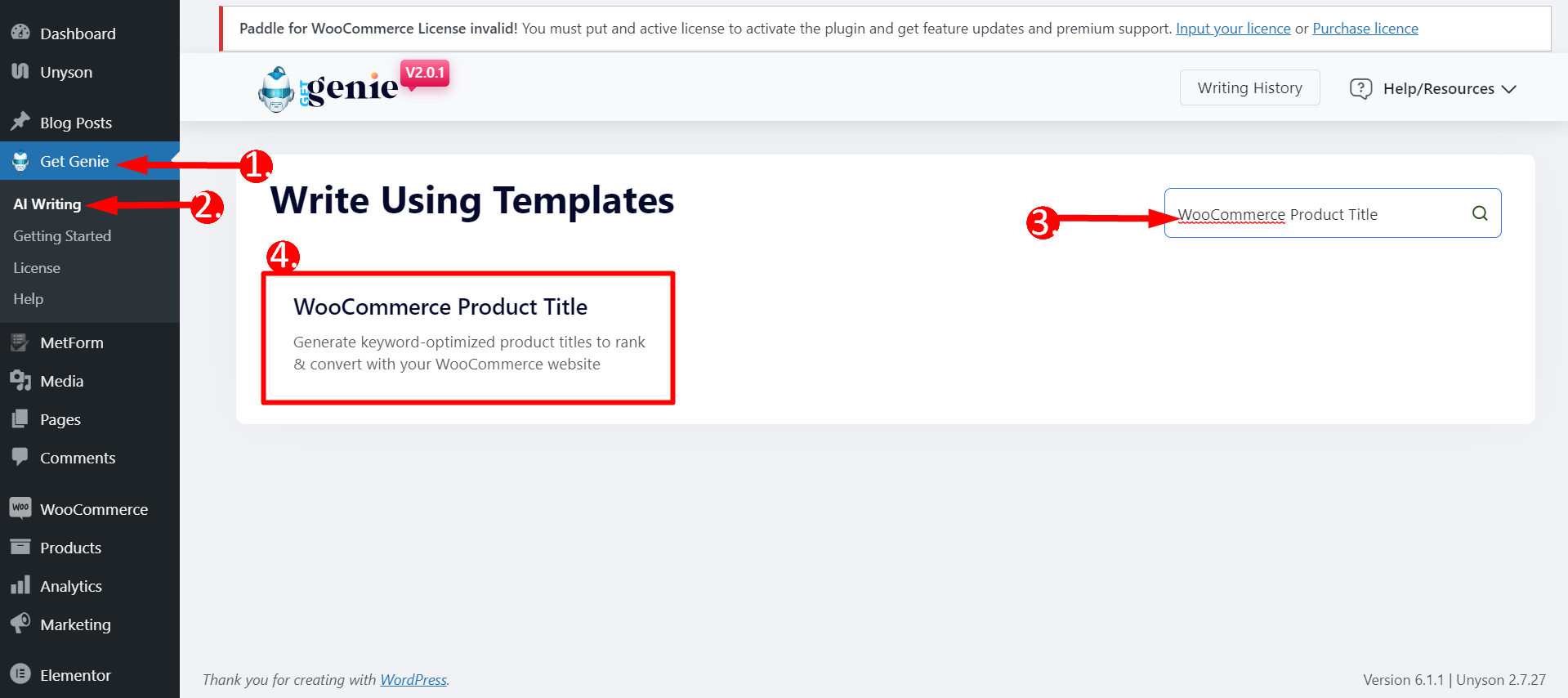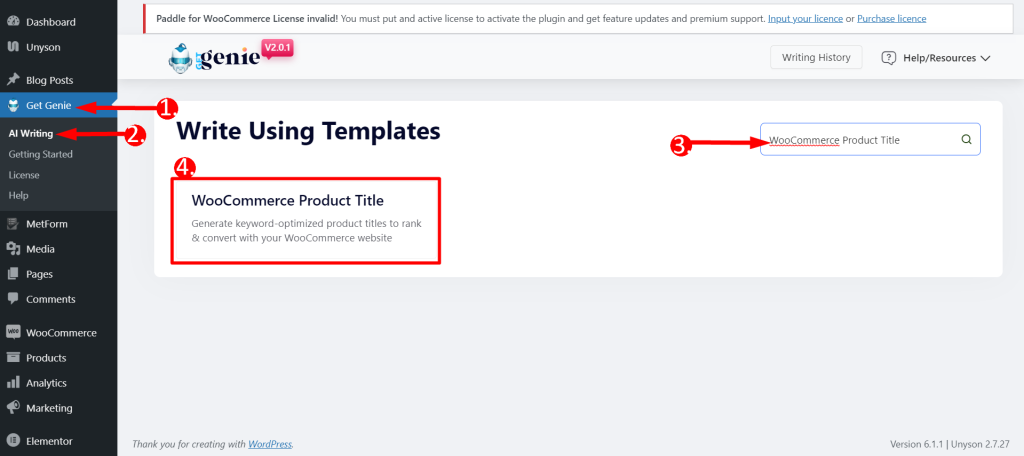 Input your Product name in the field
Input the one or more Keywords in the field
Choose any Language based on your preference
Select output Tone
Set the Creativity Level according to your wish (up to 5). The levels define how much creative output you want. The bigger the number the more creative output it will provide.
Set the Result Limit according to your wish (up to 10). This will determine how many varieties of outputs you want to generate
Finally, Click WRITE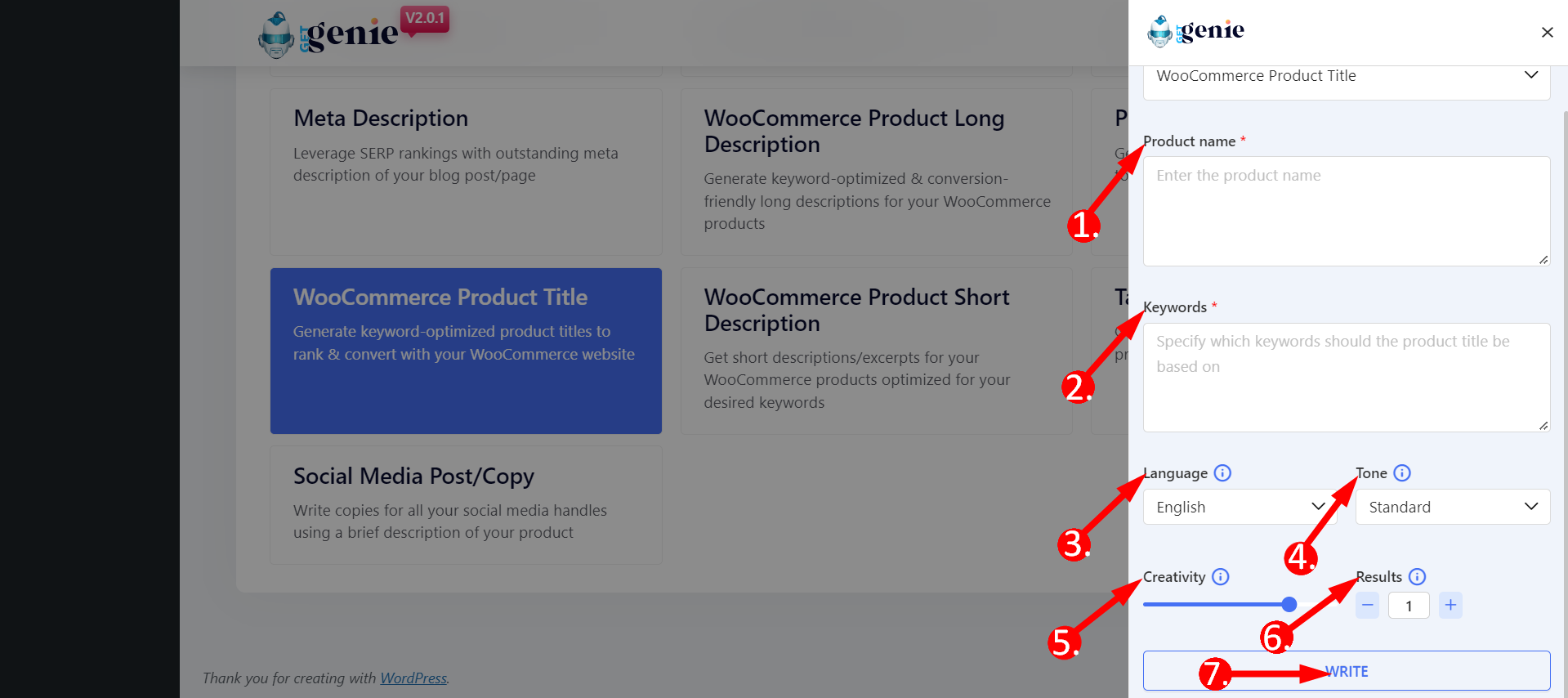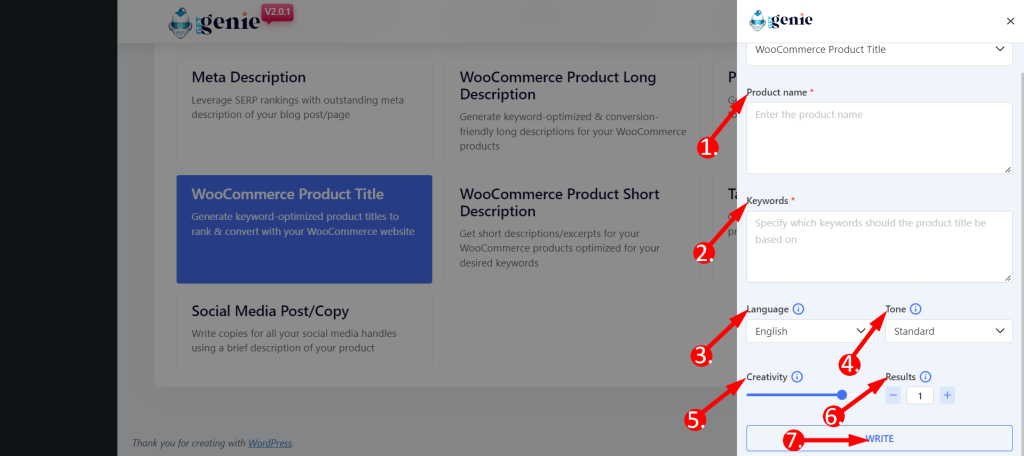 An example of generating output is like-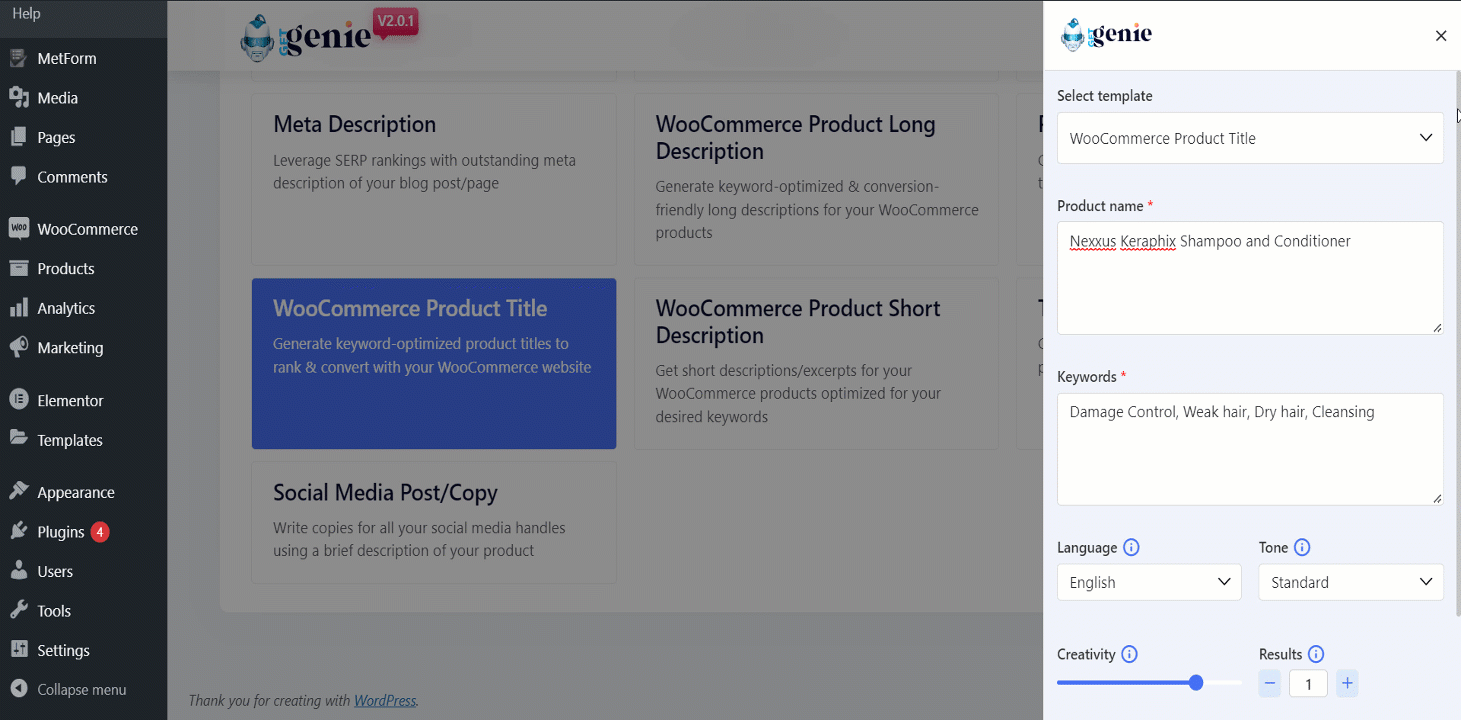 To copy a generated output, just click the output, and it will be copied. Also, you can like or dislike an output and give instant feedback while observing the outputs.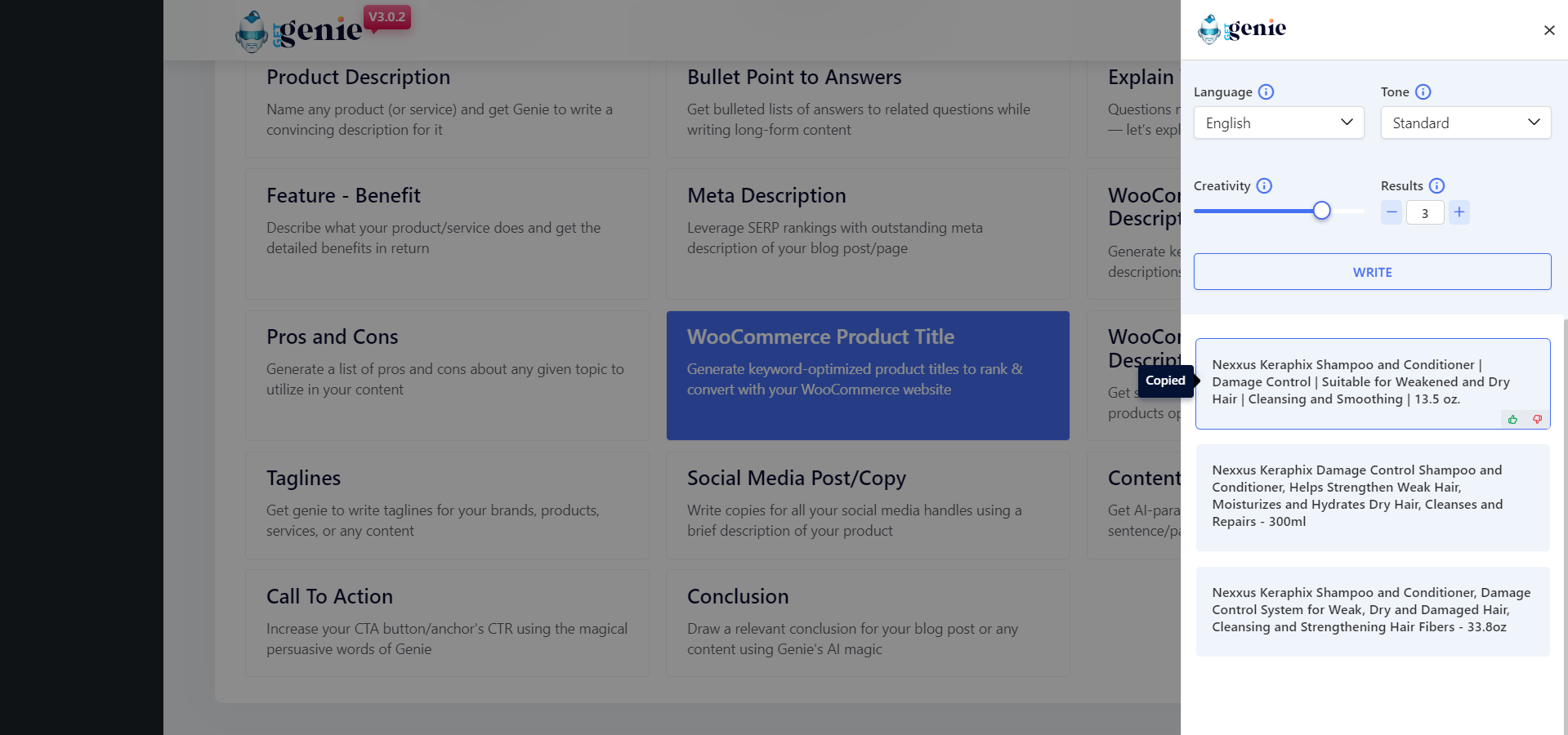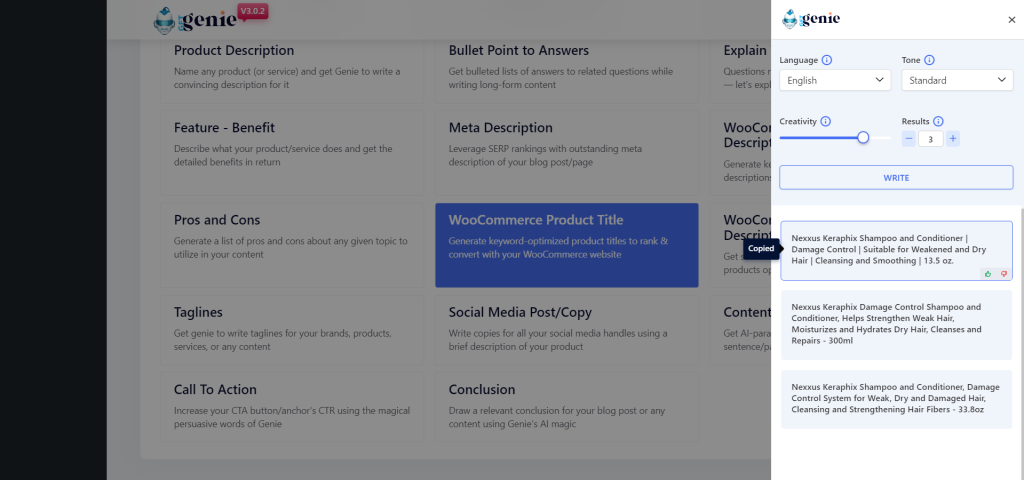 Using WooCommerce Product Title template inside Post/ Page #
From WordPress menu go to Posts/Pages
Create a new post/page or edit an old content
Click on Write For Me.
Now. click on WooCommerce Product Title, and the rest of the steps are the same.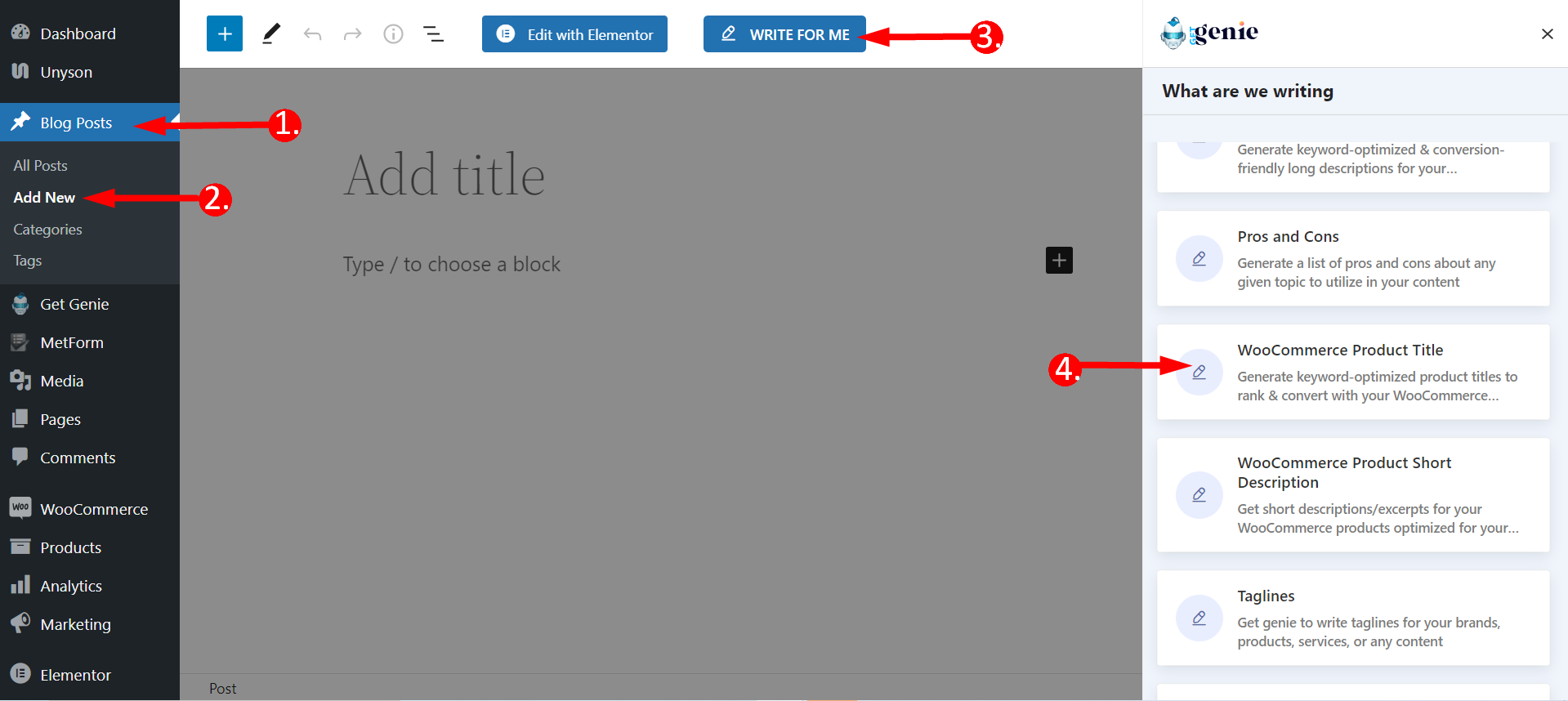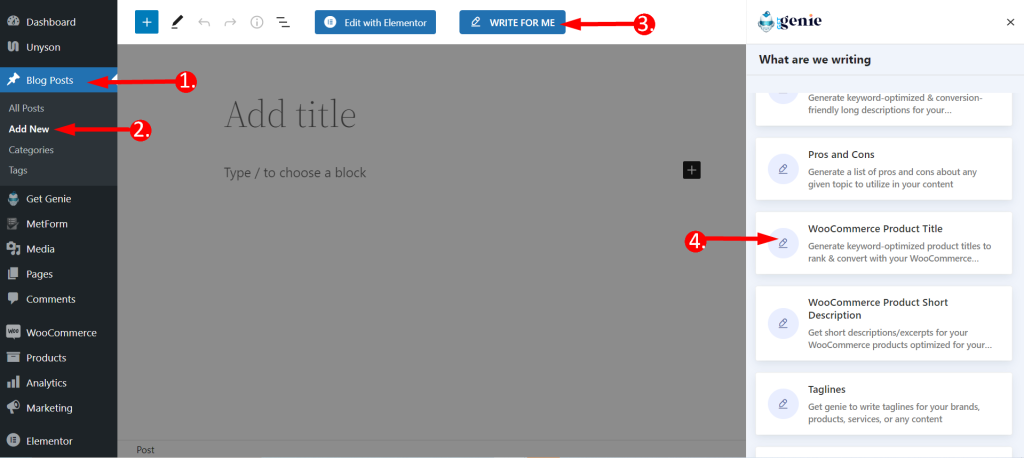 You will see the previous panel here. Put your context, set creativity and output limit. Click on the Write button. You will find your copy written by GetGenie AI based on your given input.
Again, to copy your chosen content, just click on the blue '+' icon top-right corner of the content, and you can insert it directly into a post.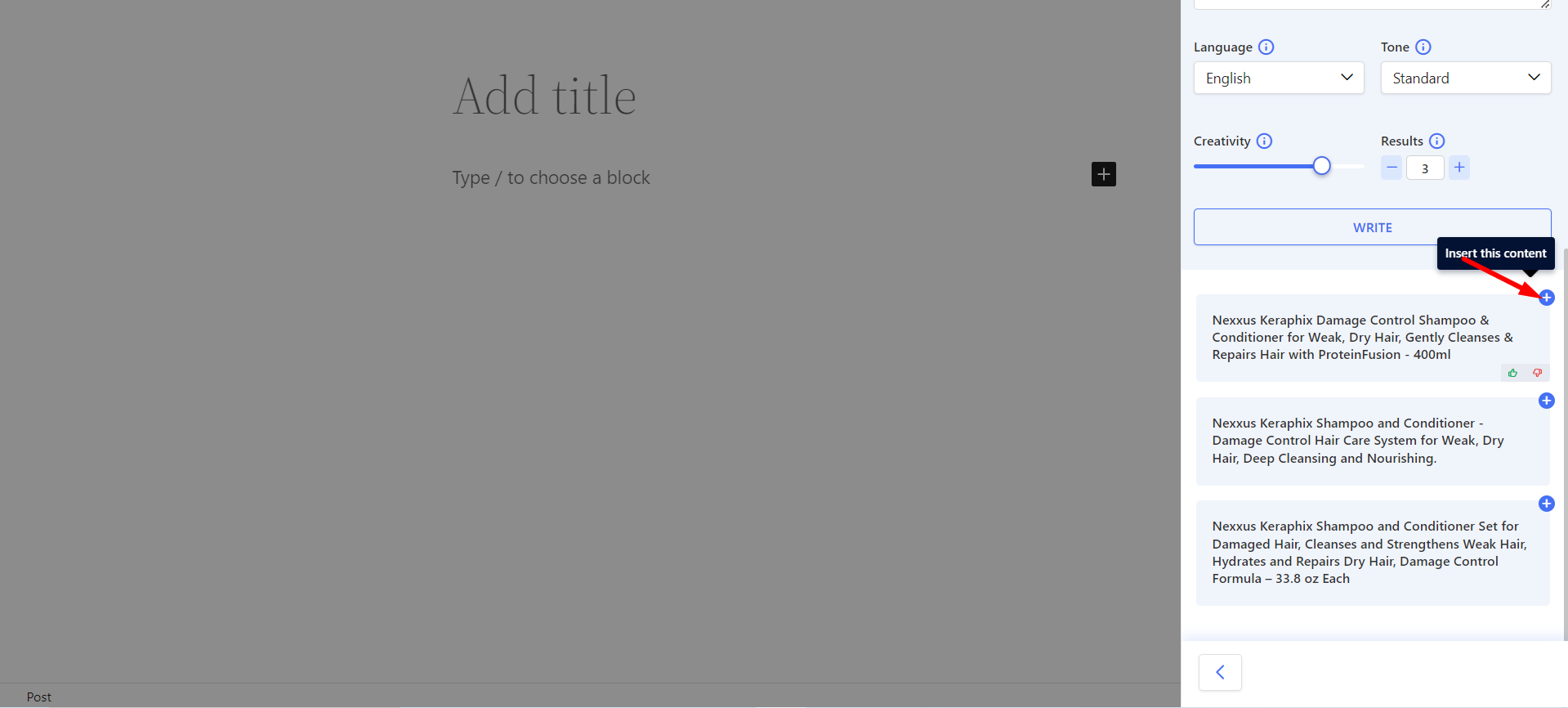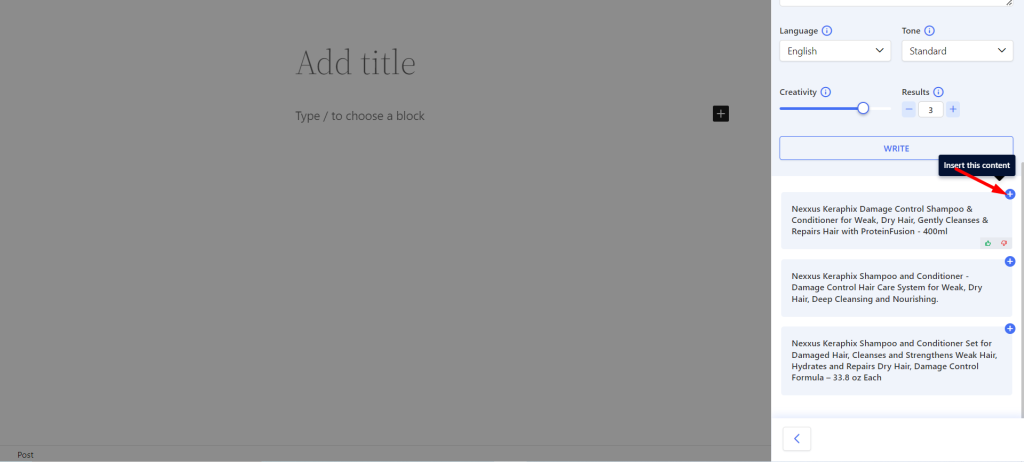 WooCommerce Product Title template using Shortcut key #
Using backslash(\), you can find WooCommerce Product Title while writing or editing content. Here are the steps:
Type backslash(\)WooCommerce Product Title while writing a content
Find WooCommerce Product Title from the option box
Select and rest of the steps are the same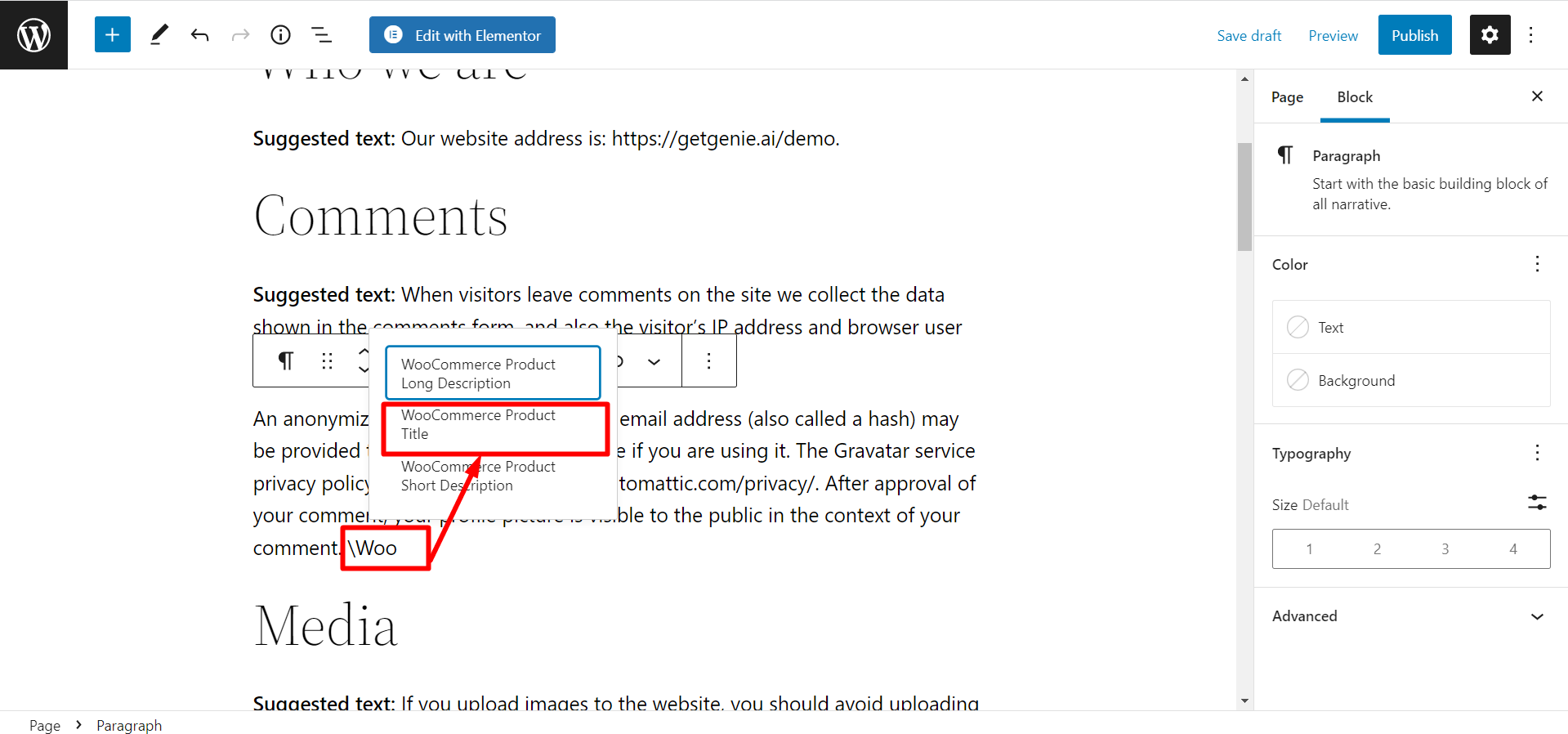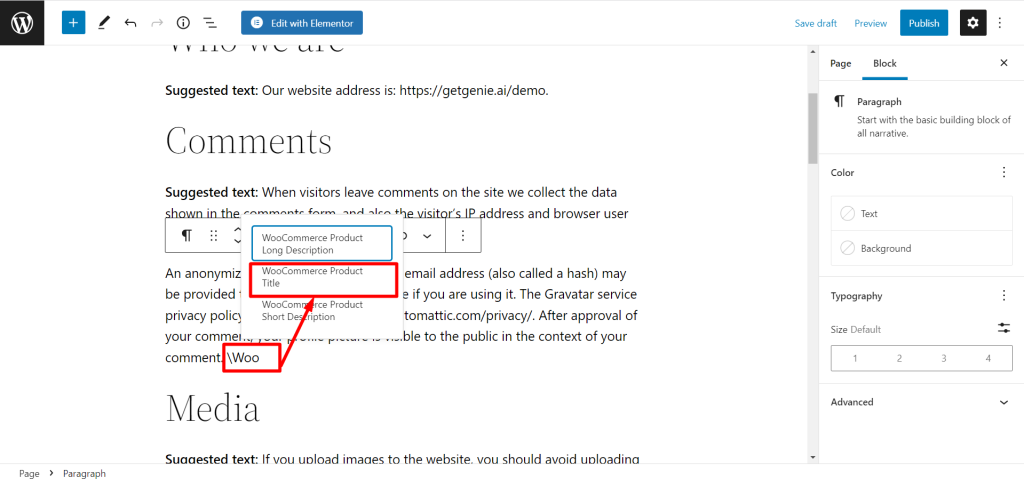 So, no more struggling to find suitable Titles for your WooCommerce products, try this GetGenie AI template today. It is quick and efficient. Click here.
Recipe to write with WooCommerce Product Title template #
For your convenience, we are sharing a title-generating recipe example here-
Input #
Product name – Nexxus Keraphix Shampoo and Conditioner
Keyword(s) – Damage Control, Weak hair, Dry hair, Cleansing
Language: English
Tone: Standard
Creativity: 4
Results: 3
Output #
Nexxus Keraphix Shampoo and Conditioner for Damage Control,Weak Hair,Dry Hair and Cleansing | 300ml
Nexxus Keraphix Shampoo and Conditioner for Damage Control, Weak and Dry Hair – Cleanses and Restores – 2 Bottles, 13.5 fl oz each
Nexxus Keraphix Shampoo and Conditioner for Damage Control, Weak Hair, Dry Hair, and Cleansing – 13.5 fl oz