Social Media copywriting can compel your followers to action if done the right way. And a perfect social media copy should have a perfect catchy line along with visuals and CTA.
In this doc, you will learn how to generate social media copy using GetGenie AI and also some helpful social media copywriting tips to create effective social media copy
How to write Social Media Copy using GetGenie AI #
Social media copywriting is an 3 steps task with GetGenie AI. Here are the steps you need to follow to generate social media copy using this AI content writer:
Step 1: Navigate to Social Media Copy Post/Copy template #
Go to WordPress Dashboard ⇒ Get Genie. Look for the Social Media Post/Copy in the template list and click on it to use it.
Step 2: Generate Social Media Copy #
Now give the below-mentioned inputs properly:
Context: Provide the keywords of your brand.
Creativity Level: Here you can choose the creativity level (up to 5).
Set Result Limit: Select the number of results you want to generate (up to 10).
Finally, click on Write to produce results.
Step 3: Finally copy and use it #
Once the results are generated, you need to copy them to use them. To copy any of the results just click on them, and you should see a tooltip that says copied!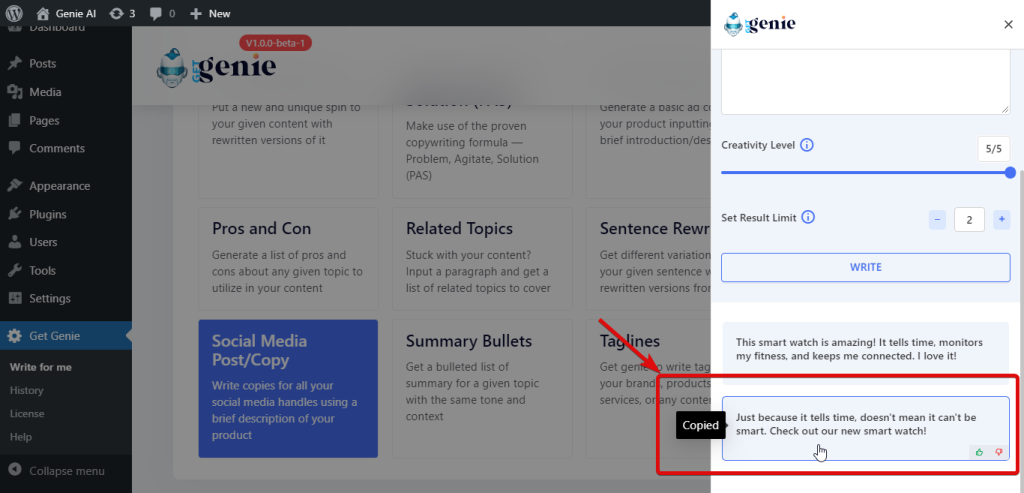 Isn't it amazing how easy social media copywriting is with GetGenie AI!
Now move on to the next section to find some useful tips regarding social media copywriting.
Tips on how to use effective social media copy #
Writing social media copy is not that hard, but to write social media copy that people are likely to love and share on different social media platforms:
Set a goal for each post you put up on social media
Use popular and relevant hashtags and emojis
Follow a set of guidelines that you follow for your brand
Don't use a single social media copy for all platforms. Write different ones for each platform.
Follow the social media trends of your niche.