A paragraph answer is a long piece of answer that presents a clear answer of a asked question. GetGenie AI has a long paragraph generator template that works professionally to provide accurate and long form of answers.
The template Paragraph Answer is not tough to operate. Follow the steps below to get your desired long answer for any question.
Guide to operate GetGenie AI long paragraph generator framework #
You can use the Paragraph Answer framework in two different ways.
Using GetGenie Dashboard #
Navigate to your WordPress Admin Dashboard → 1. Get Genie → 2. Write For Me → 3. Find Paragraph Answer → 4. Select the template and start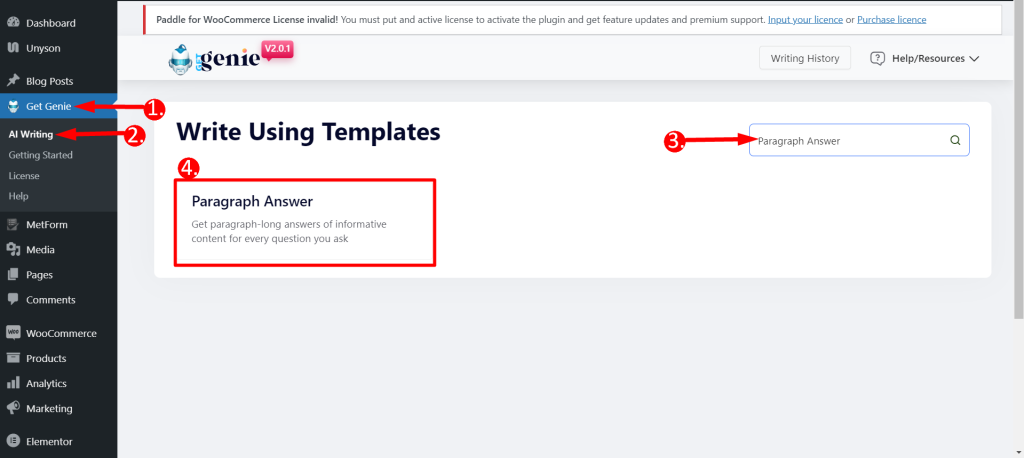 Input your Question in the field
Choose any Language based on your preference
Select output Tone
Set the Creativity Level according to your wish (up to 5). The levels define how much creative output you want. The bigger the number the more creative output it will provide.
Set the Result Limit according to your wish (up to 10). This will determine how many varieties of outputs you want to generate
Finally, Click WRITE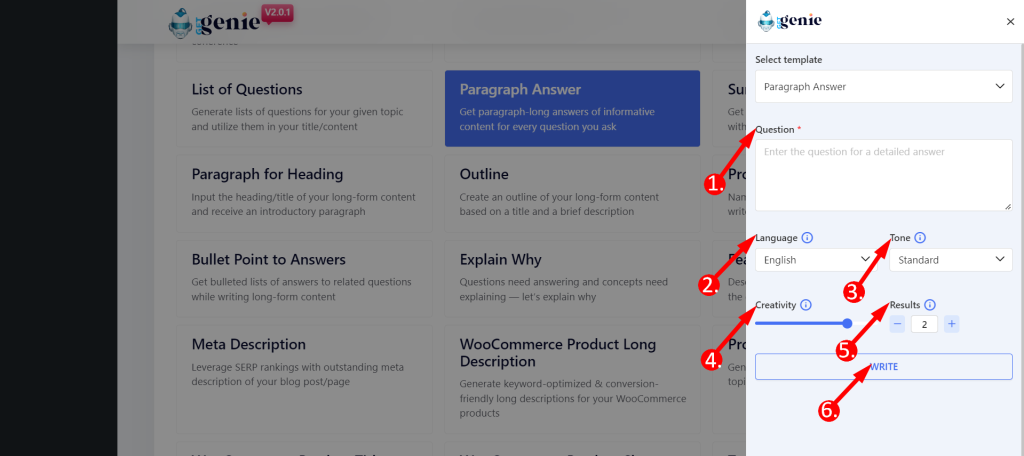 Look at the GIF below –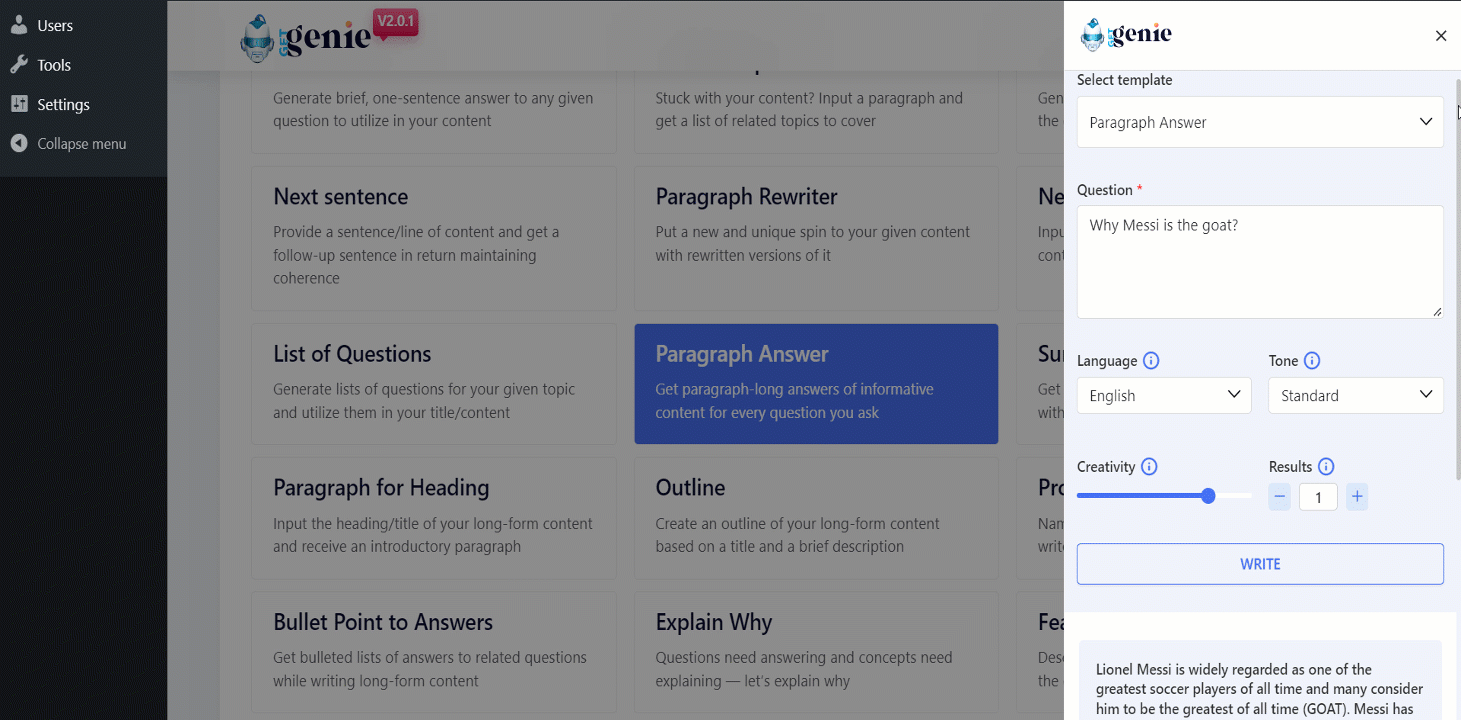 You can copy the content you want to use to your clipboard by clicking on it. Now copy it and paste it wherever you want.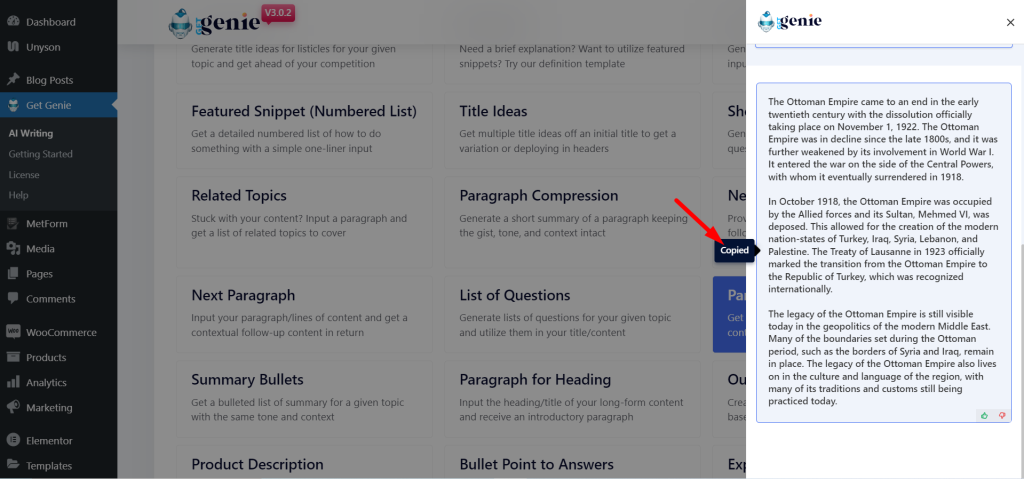 Using Paragraph Answer template inside Post/ Page #
From WordPress menu go to Posts/Pages
Create a new post/page or edit an old content
Click on Write For Me.
Now find Paragraph Answer.
You will see the previous panel here. Put your context, set creativity and output limit. Click on the Write button. You will find your copy written by GetGenie AI.
Besides simply clicking a content to copy you can also click on the blue '+' icon top-right corner of the content and insert it directly into your post.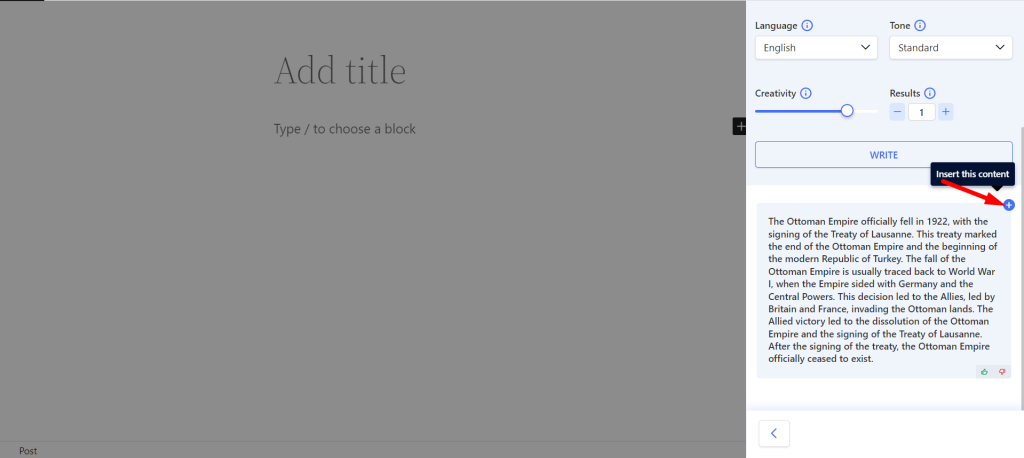 Paragraph Answer template using Shortcut key #
Using backslash(\) you can find Paragraph Answer while writing or editing a content.
Type backslash(\)Paragraph Answer while writing a content
Find Paragraph Answer from the option box
Select and rest of the steps are the same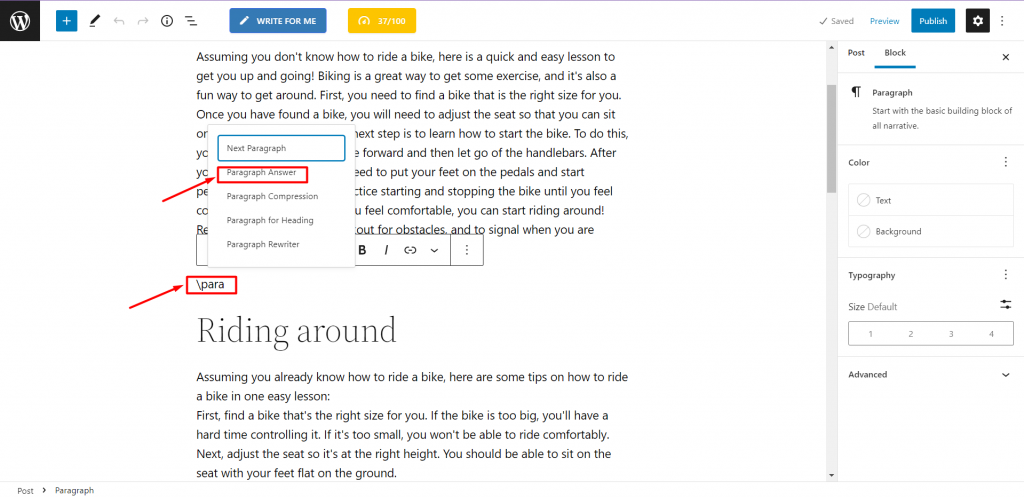 If you are wasting time writing big answers for your content then GetGenie AI long paragraph generator is definitely for you. Try GetGenie AI free version today!
Recipe to generate content with Paragraph Answer template #
For your convenience we are sharing an output generating recipe example here-

Input #
Question: When did the ottoman empire fall?
Language: English
Tone: Standard
Creativity: 4
Results: 1
Output #
The Ottoman Empire fell in 1922 when the last sultan was deposed by the Turkish Republic. The Ottomans were one of the largest empires in history, spanning from Asia Minor to North Africa. They ruled for nearly 500 years until they lost World War I.