Marketers seek listicle template free to get related title ideas quickly. GetGenie AI helps to produce this idea and ease your process to get ahead of your competition. For any given topic Listicle Ideas generates impressive listicle titles.
The template has only a few steps. Let's see how you can follow use it for your work-
Steps of using GetGenie AI- Listicle template free #
You can use the Listicle Ideas framework in two different ways.
Using GetGenie Dashboard #
Navigate– Your WordPress Admin Dashboard → Get Genie → Write For Me. After that follow the below steps:
Select Listicle Ideas
Write a Topic in the box
Set the Creativity Level according to your wish (up to 5). The levels define how much creative output you want. The bigger the number the more creative output it will provide.
Set the Result Limit according to your wish (up to 10). This will determine how many varieties of outputs you want to generate
Finally, Click WRITE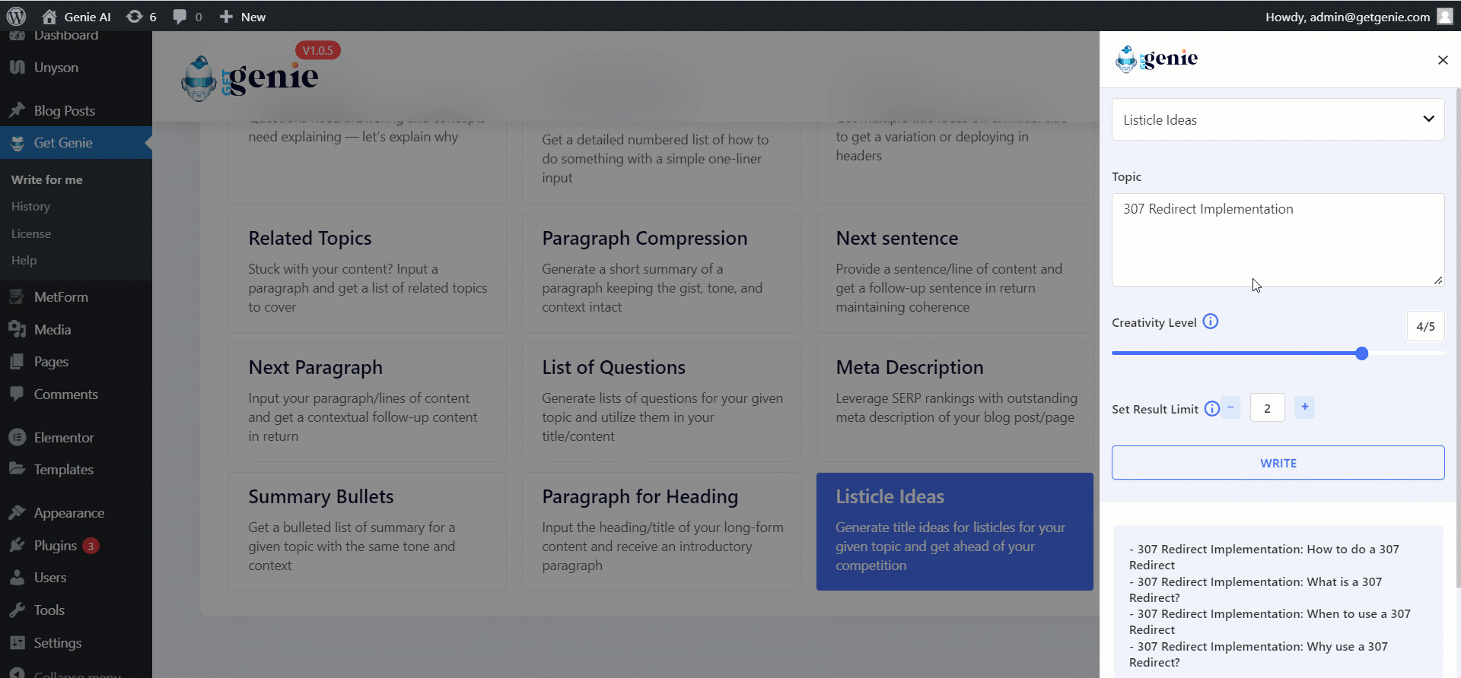 You can click on the content that you want to use and it will be copied to your clipboard. Now, paste it anywhere you want and start getting more conversions!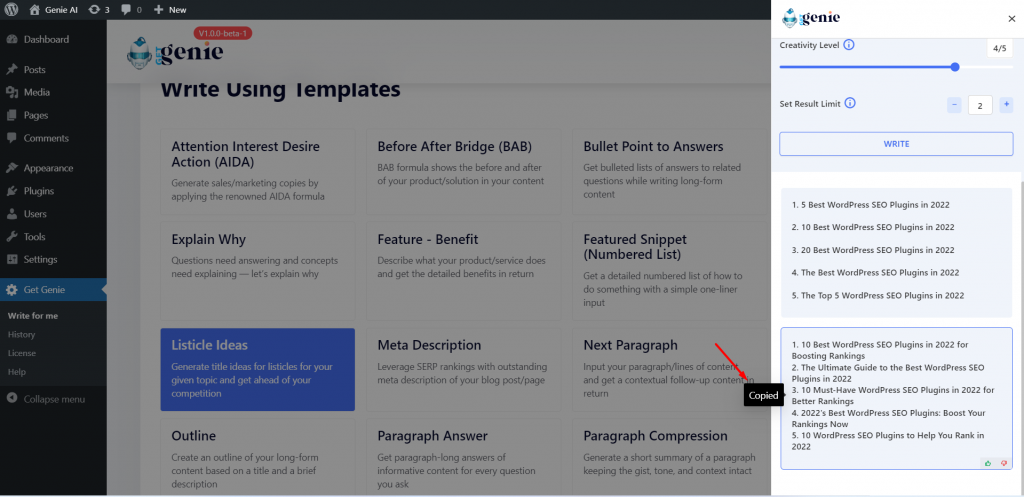 Using Listicle Ideas template inside Post/ Page #
Create a new post from the WordPress menu. Also, you can edit your old posts in the same way. Click on Write For Me.
Now, click on Listicle Ideas.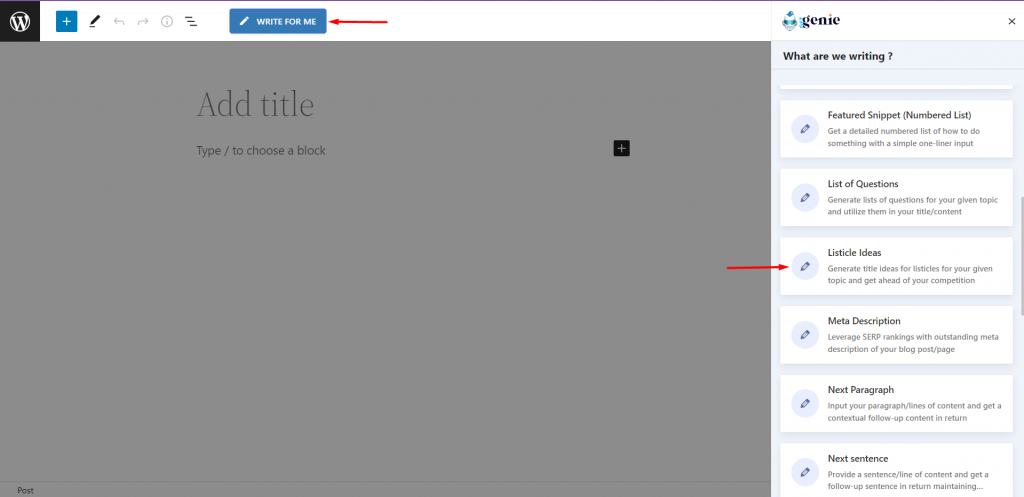 You will see the previous panel here. Put your context, set creativity and output limit. Click on the Write button. You will find your copy written by GetGenie AI.
Listicle Ideas template using Shortcut key #
Using backslash(\) you can find Listicle Ideas while writing or editing content.
Type backslash(\)Listicle Ideas while writing a content
Find Listicle Ideas from the option box
Select and rest of the steps are the same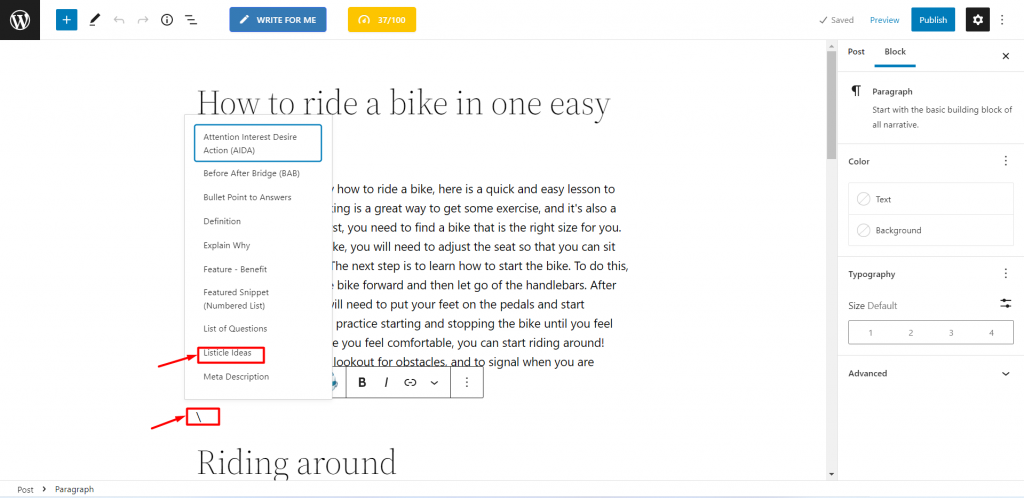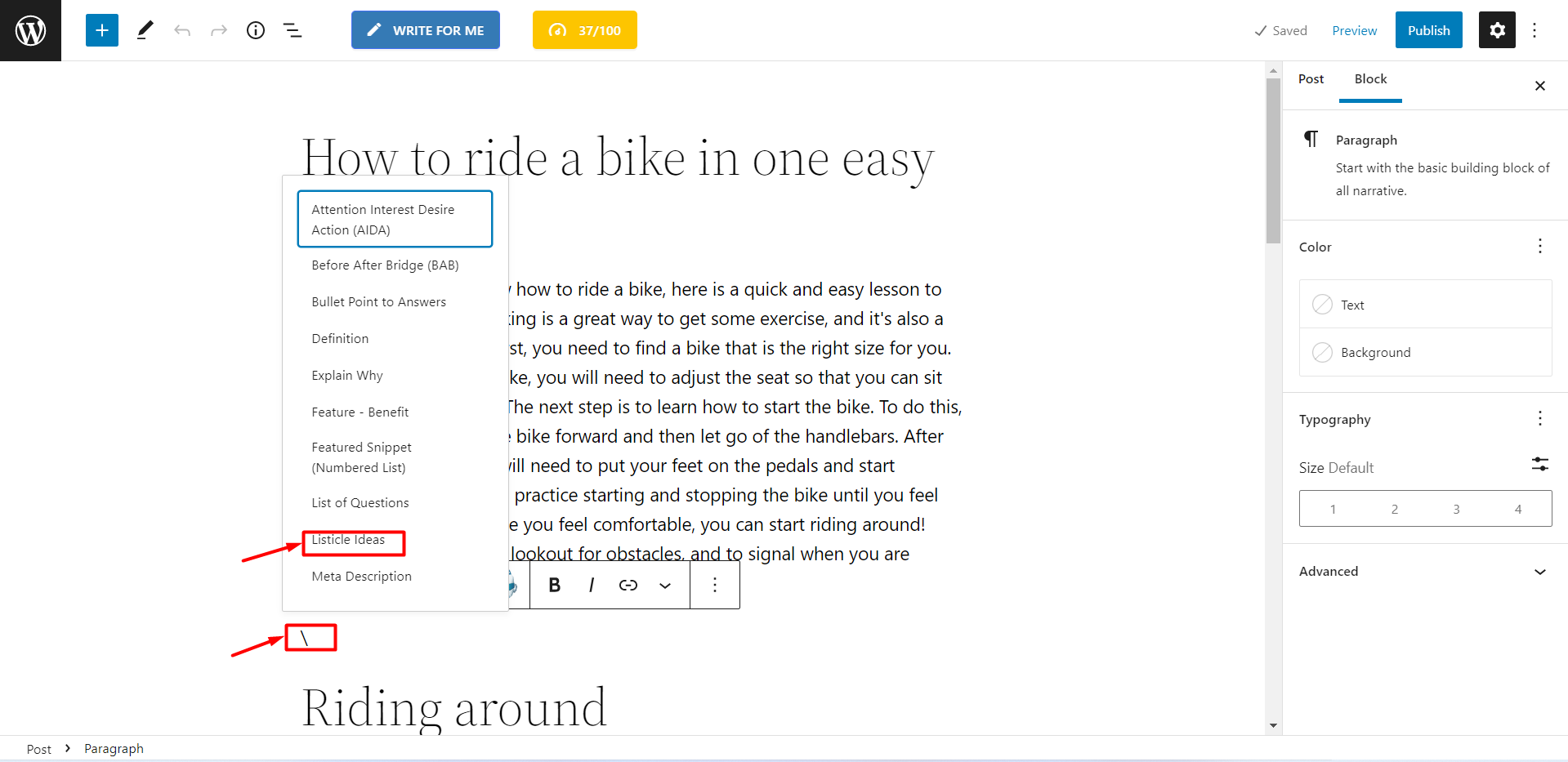 You can copy the output to the clipboard by clicking it. Click on the blue '+' icon top-right corner of the content and insert it directly into your post.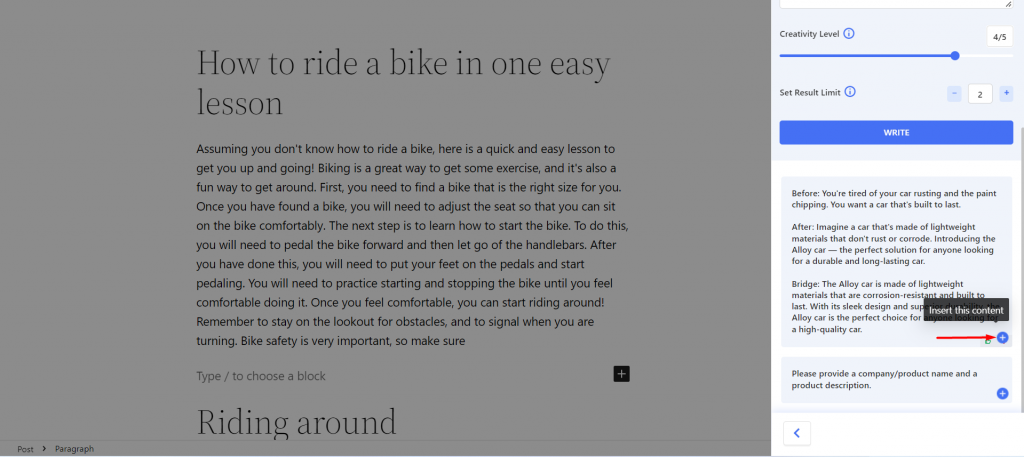 The listicle template free version of GetGenie AI is also capable of giving quality outputs. You can try it to avoid complexity and save time. Visit GetGenie AI today!
Recipe to write Listicle Ideas #
Here is an example of Listicle ideas generated by GetGenie.
Input: #
Topic: making a conversation
Creativity Level: 3
Set Result Limit: 2
Output(s): #
- 10 Conversation Starters for Meeting People at Parties and Events
- How To Make a Great First Impression at Work
- 36 Conversation Starter Ideas for Every Occasion
- 18 Conversation Starters For People Who Aren't Good At Making Them
- 8 Conversational Topics to Start With Any Friend or Acquaintance
- Cool Conversation Starters For New Friendships
1. 20 Ways to Make a Conversation
2. How to Make a Conversation: Tips and Tricks
3. Making a Conversation: 10 Tips to Get You Started 
4. The Art of Conversation: Tips and Tricks
5. How to Make Small Talk: Tips and Tricks