Genie mode is created by AI professionals with the sole purpose of assisting content creators produce SEO-optimized articles. The mode is quick and creative to generate content without difficulties.
Whether you want to write a email copy or a long blog post this single template is enough to provide you the desired content.
Utilizing Genie Mode #
You can use the Genie mode template in different ways. Let's see the using procedure of it.
Using Genie Mode Dashboard #
Access to your WordPress Admin Dashboard → 1. Get Genie → 2. AI Writing → 3. Find Genie Mode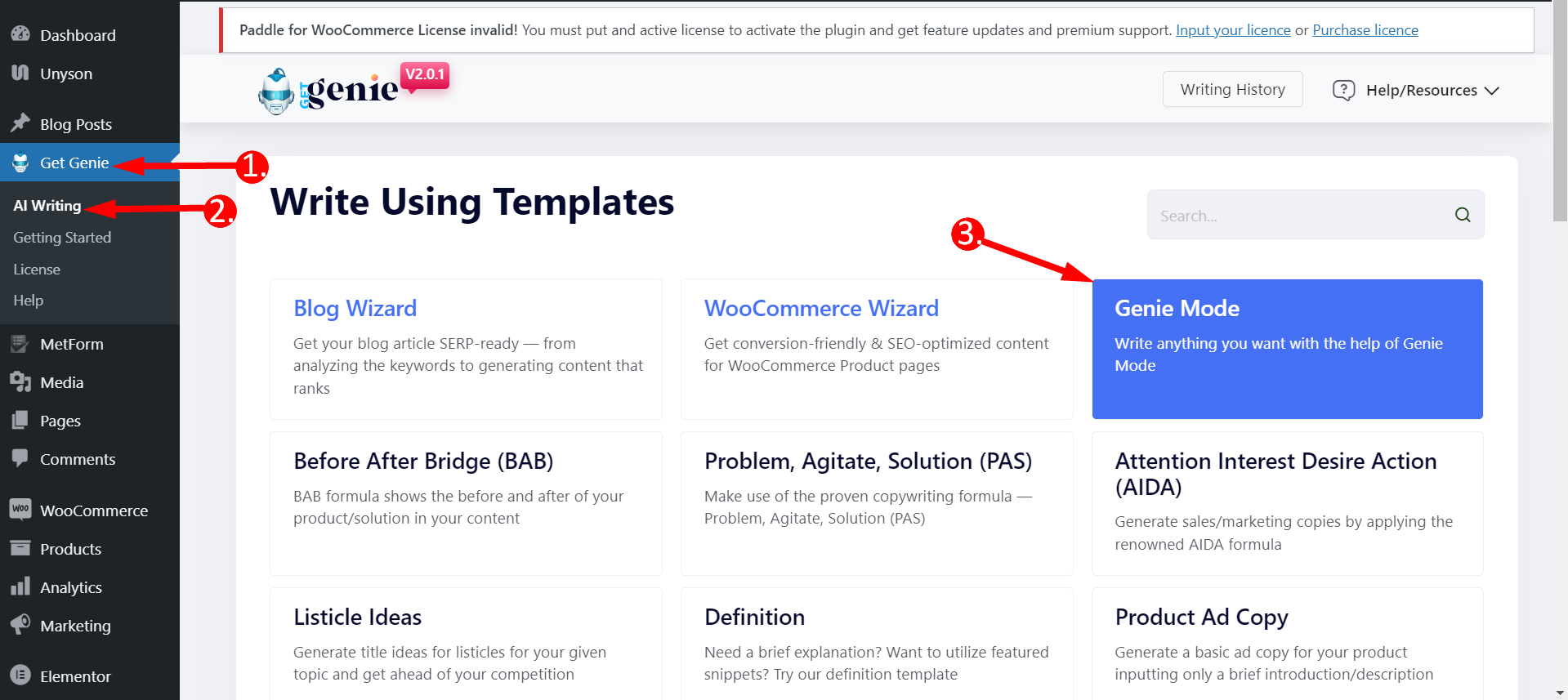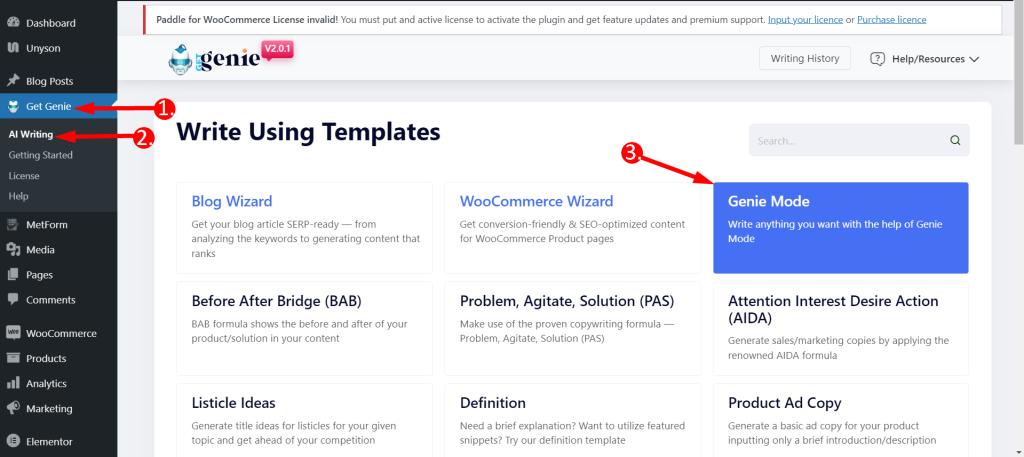 When you will click the template you will see the below panel. Afterward, you have to fill up it –
Write a context/ input
Then set the creativity level of your content. This helps the AI to understand how creative it needs to be for this specific content. The more creativity level your set, the more engaging content it will generate. We recommend setting it up to 4/5.
Set the limit to your output. By default, there are 2 results/ output. You can increase it depending on your need. Remember, every output uses your credit. So, for testing purposes, we recommend generating fewer results.
Finally, Click on the Write button and see the magic of GetGenie.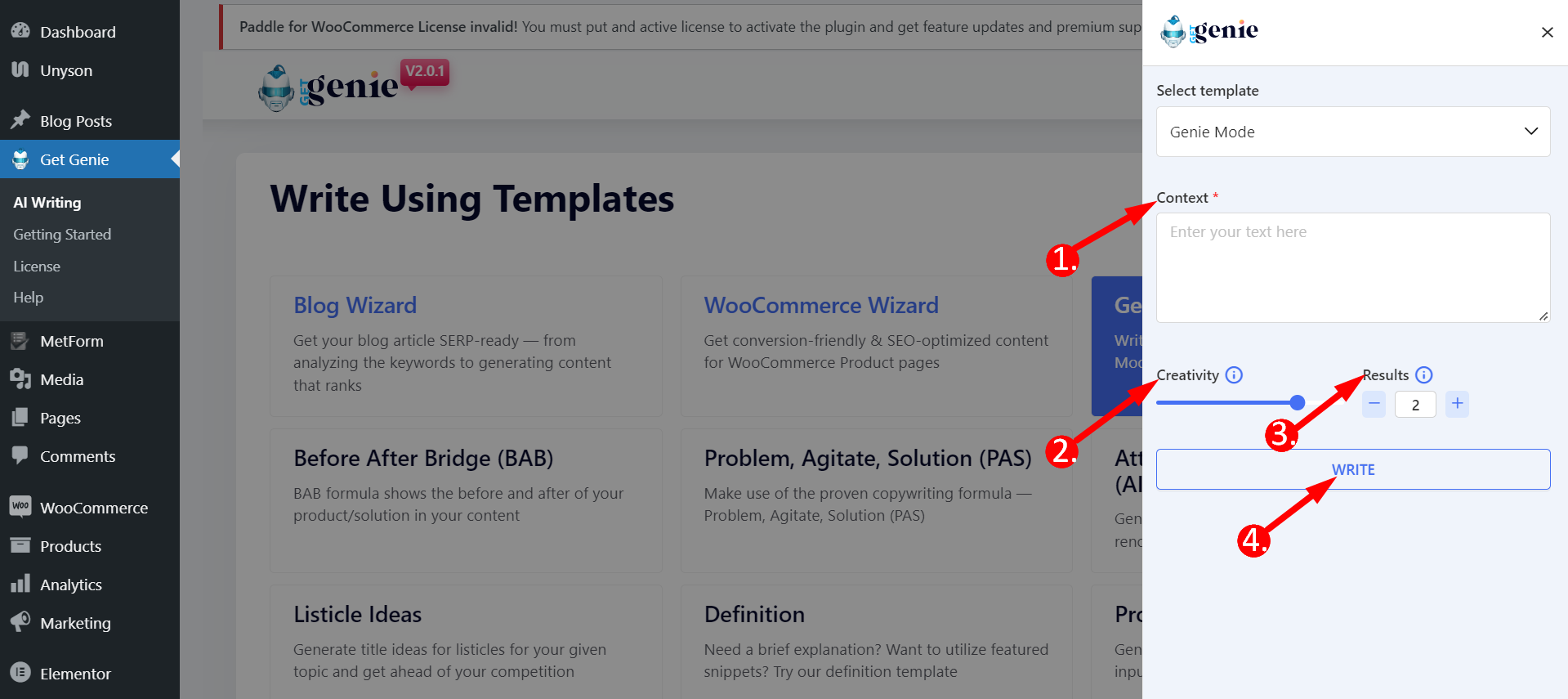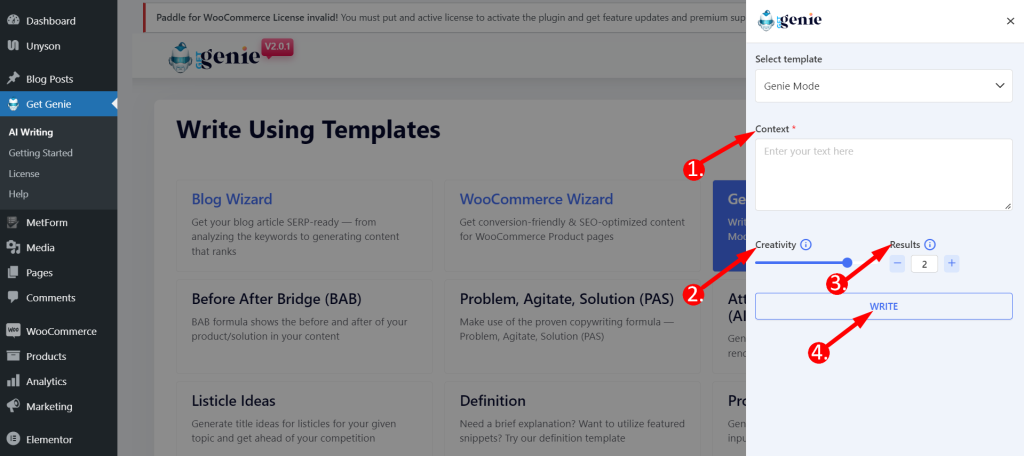 This is how the template generates content for you –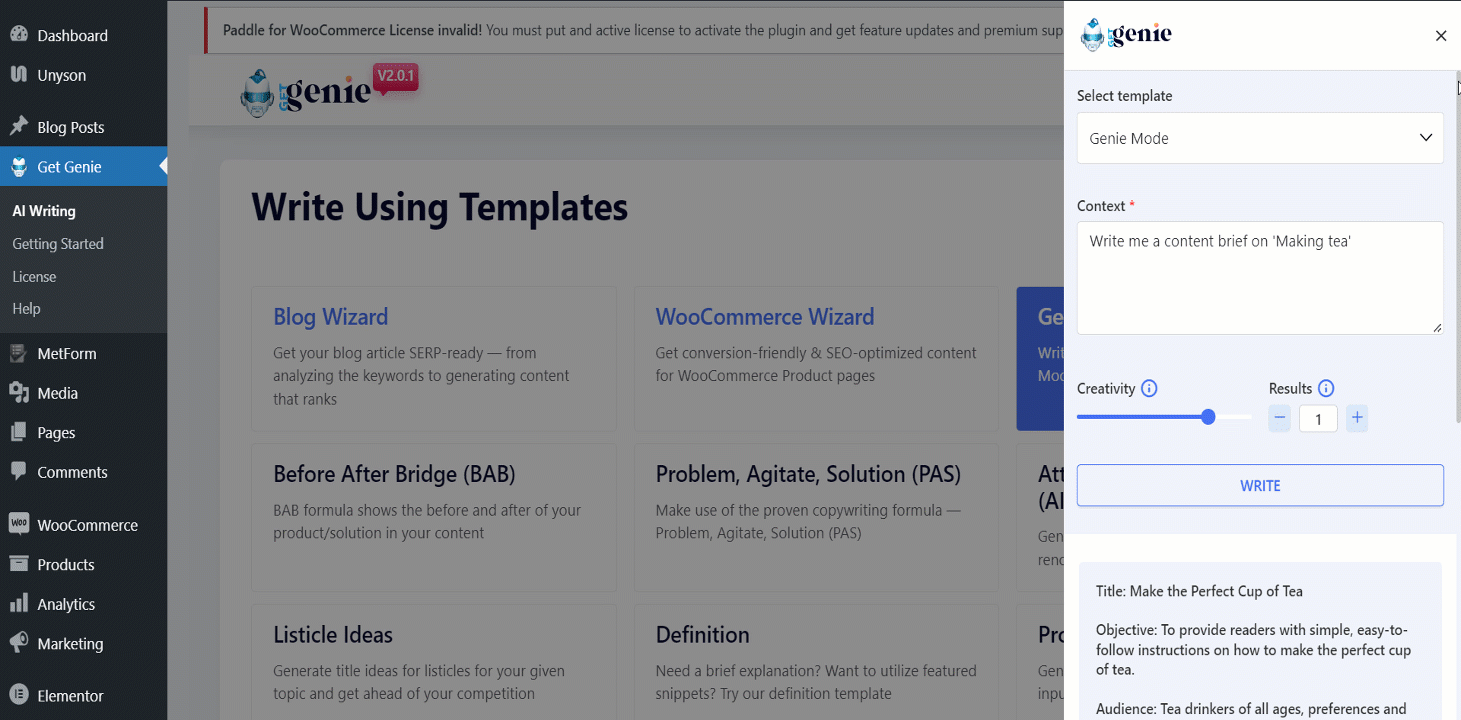 You can select your desired content and click on it to copy to the clipboard. After that, you can paste it anywhere you want and increase sales!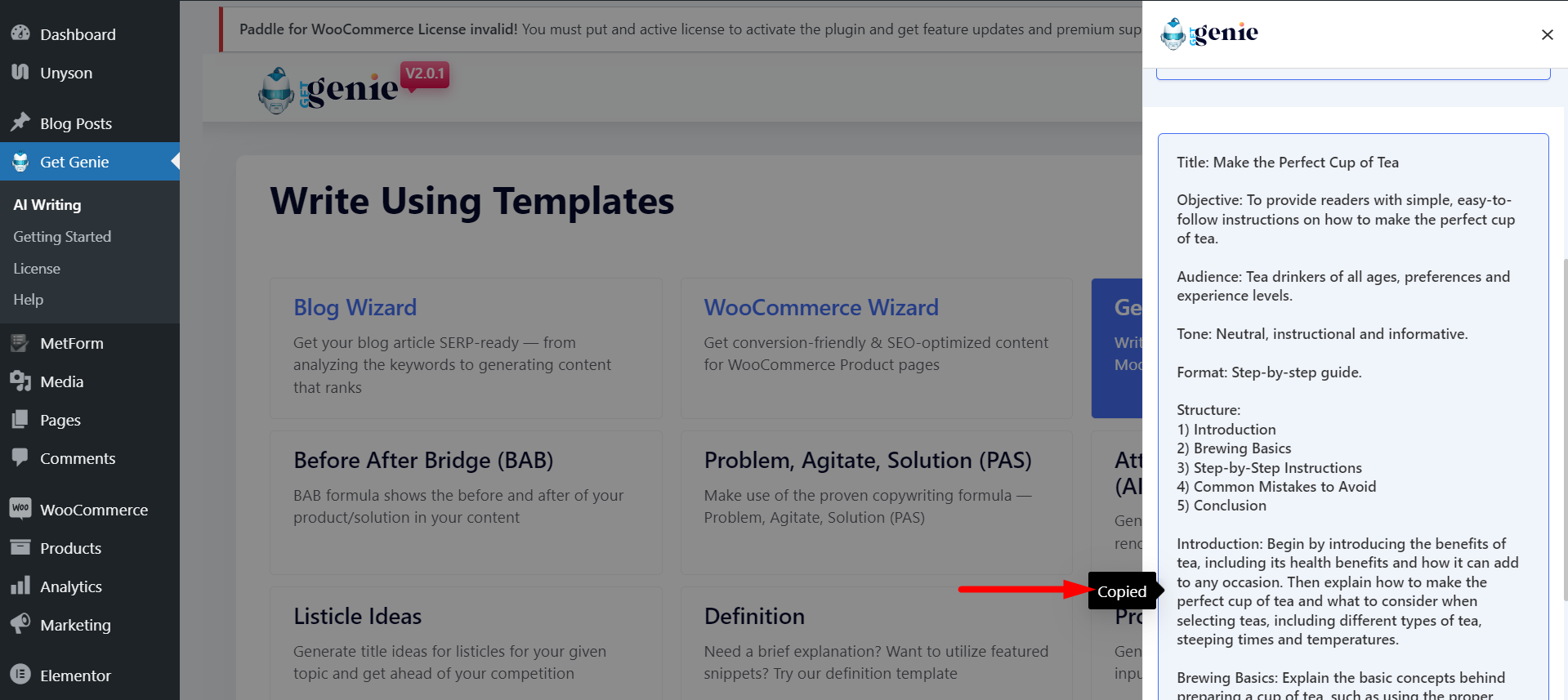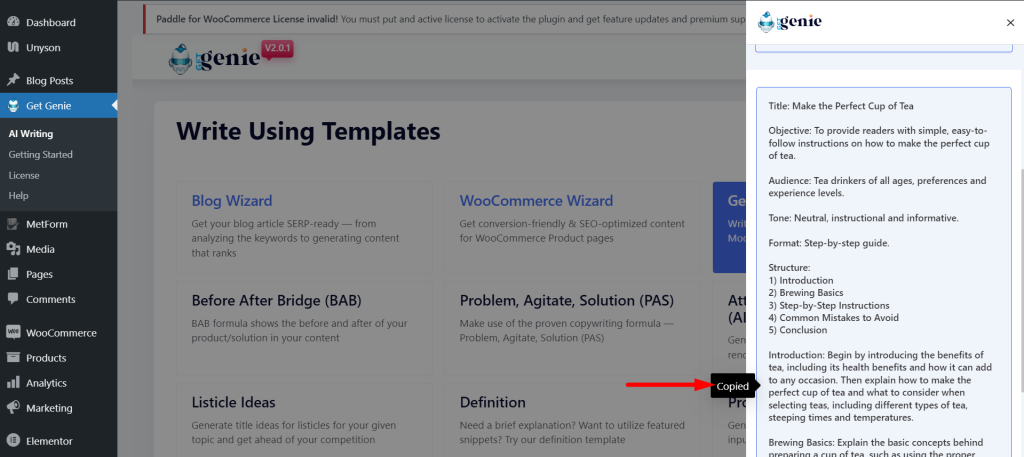 Using Genie Mode inside Post/ Page #
From WordPress menu go to Posts/Pages
Create a new post/page and write context/command. Or, you can also edit an old content.
Select the command and click on Genie icon.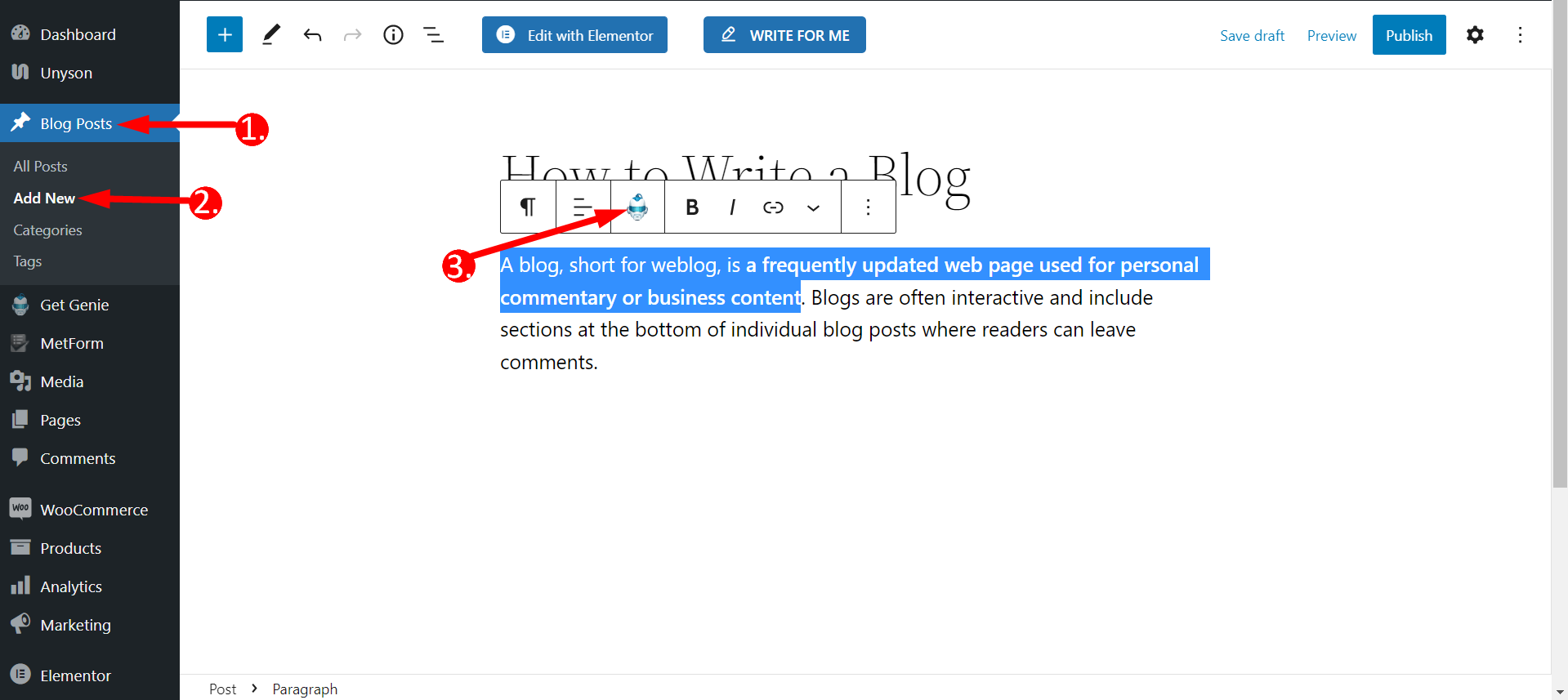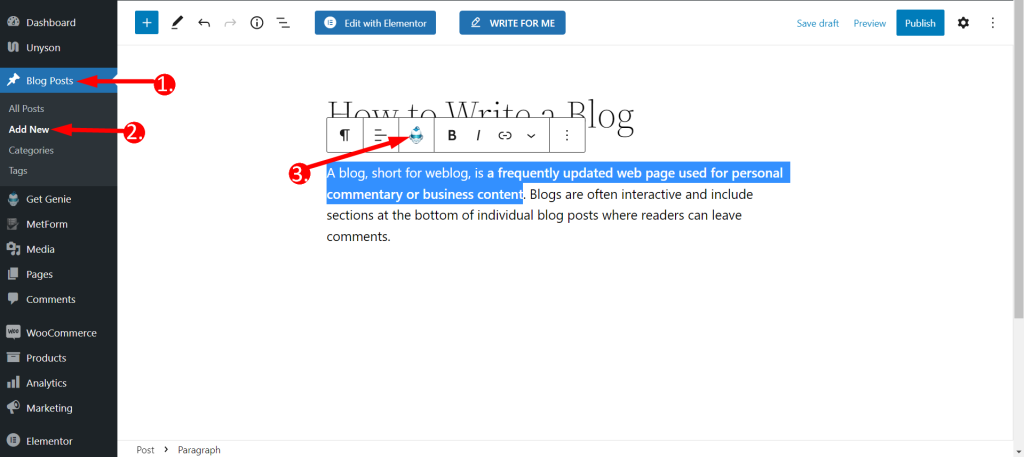 It will show a small panel with some options, click Write Using Genie Mode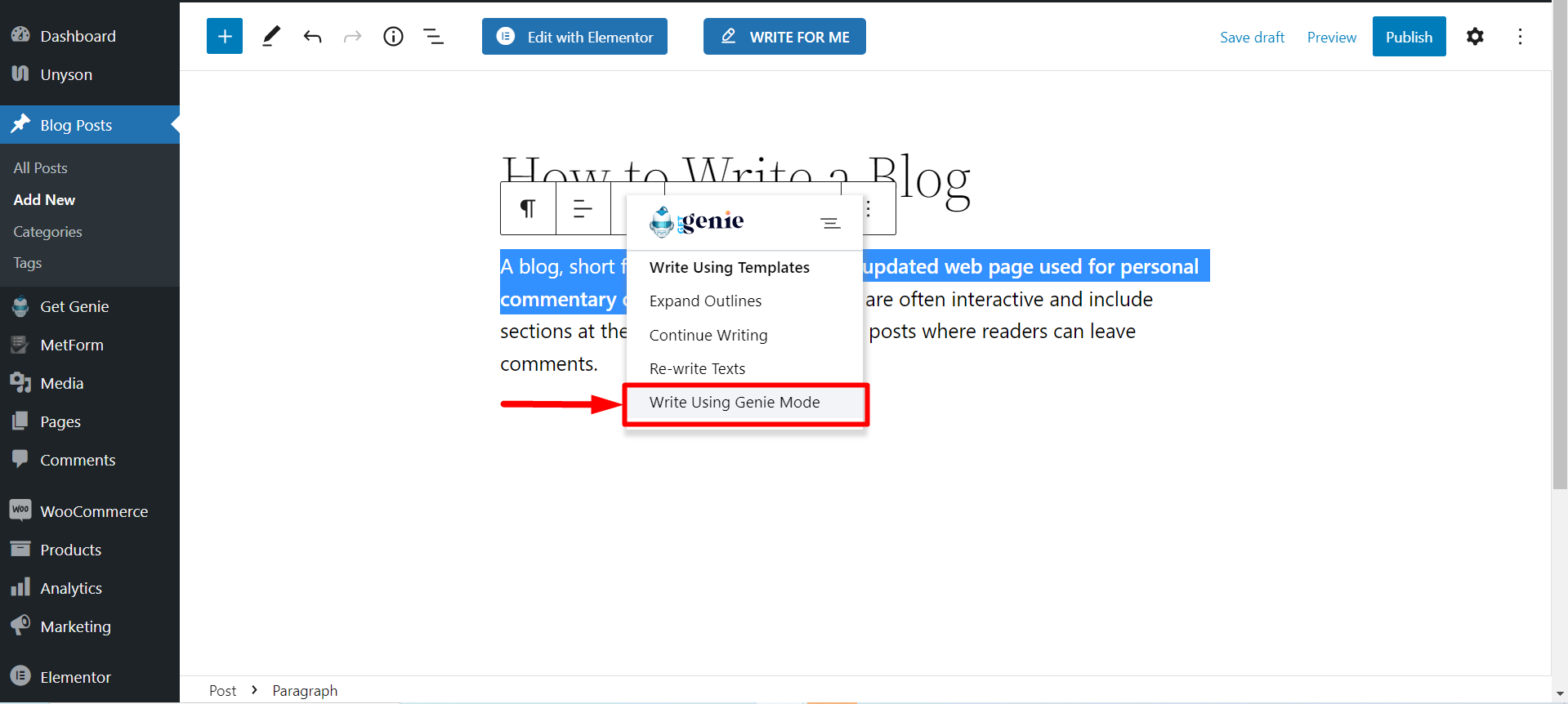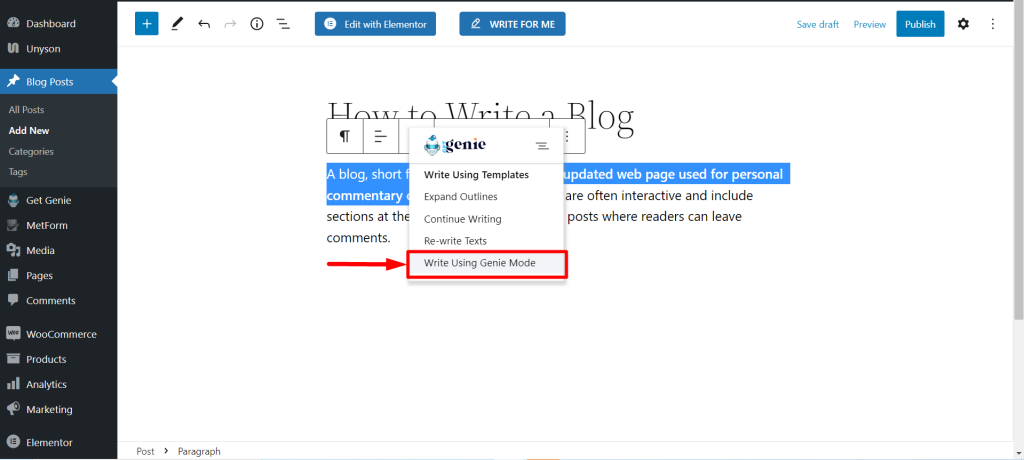 You will see the same panel as before to get creative content using Genie mode –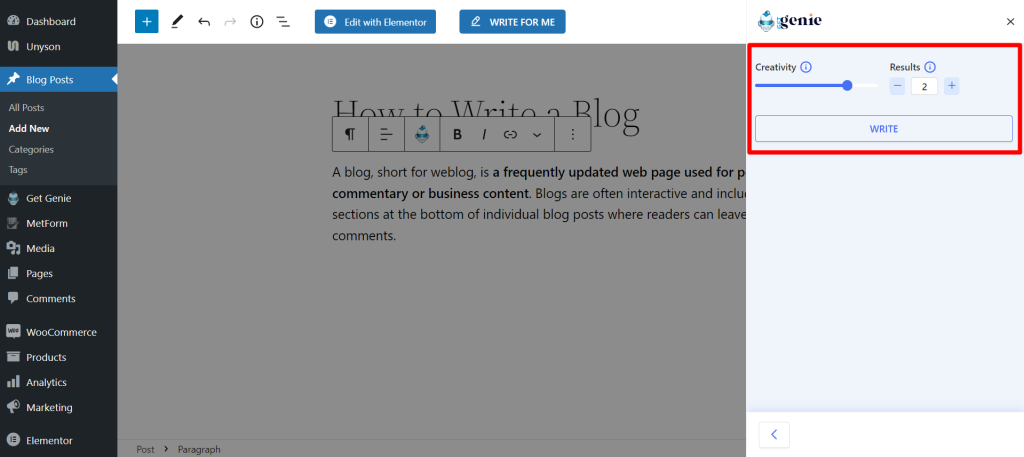 After getting the output there is an option to insert it directly into your post. At the top-right corner of the content you will see a blue '+' icon, click on it and the content will be added to the post.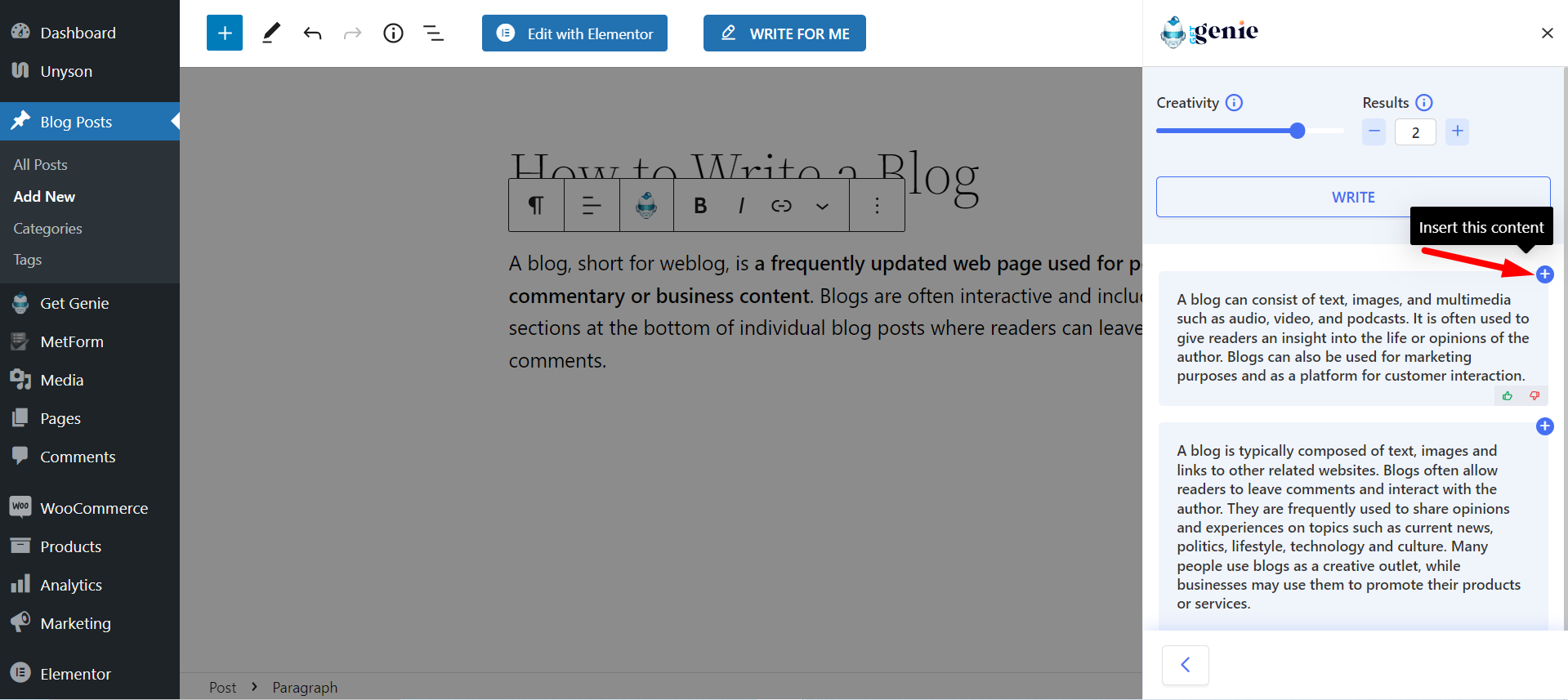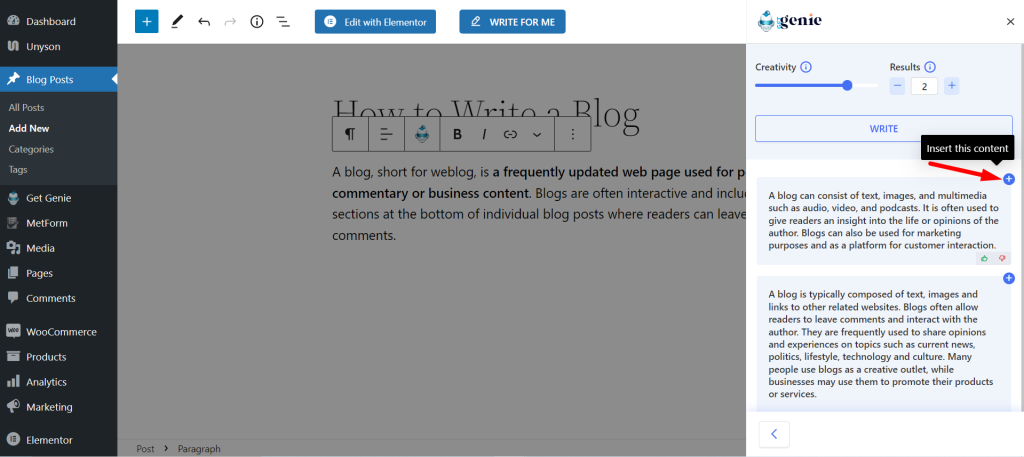 Again, in the edit bar, you can also find Write Using Templates. From here also you can find Genie mode and generate fast and creative content.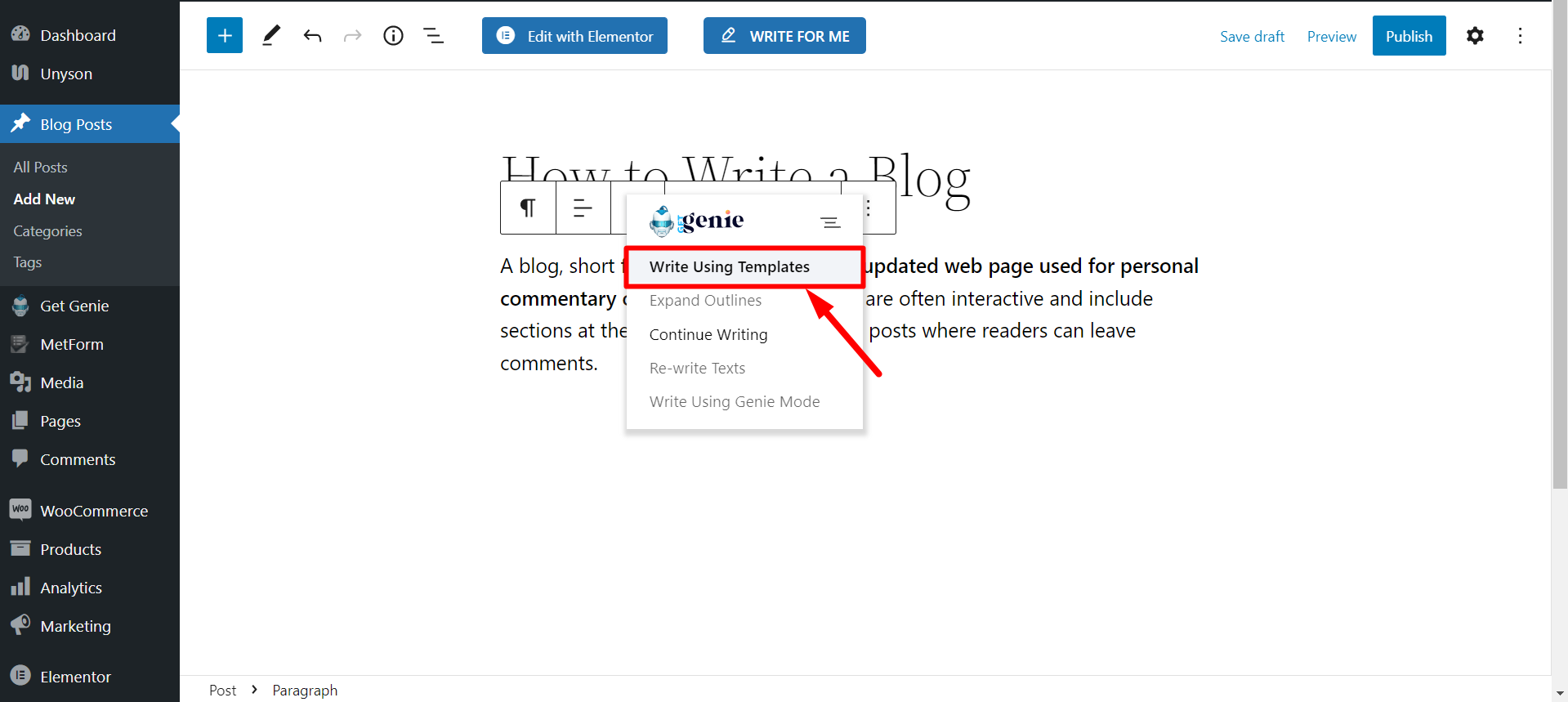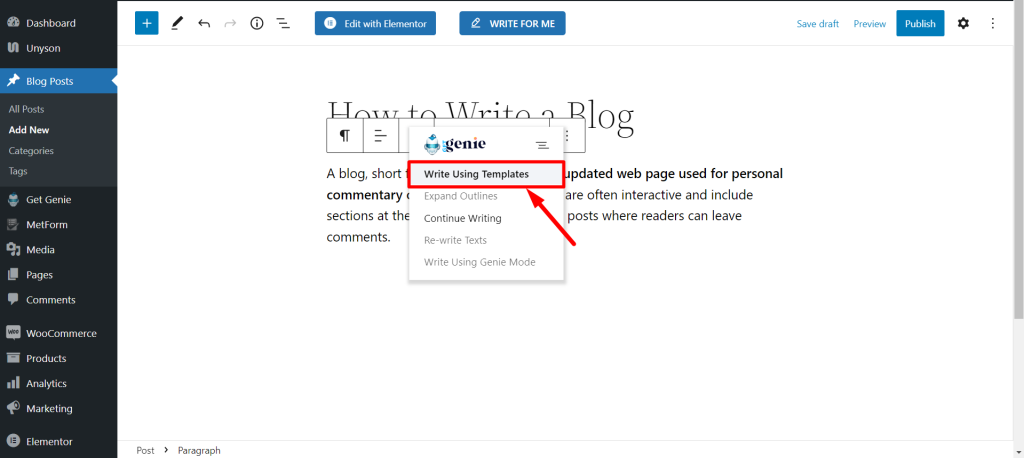 Click the option, Find Genie Mode template from the side panel and the rest of the using steps are the same.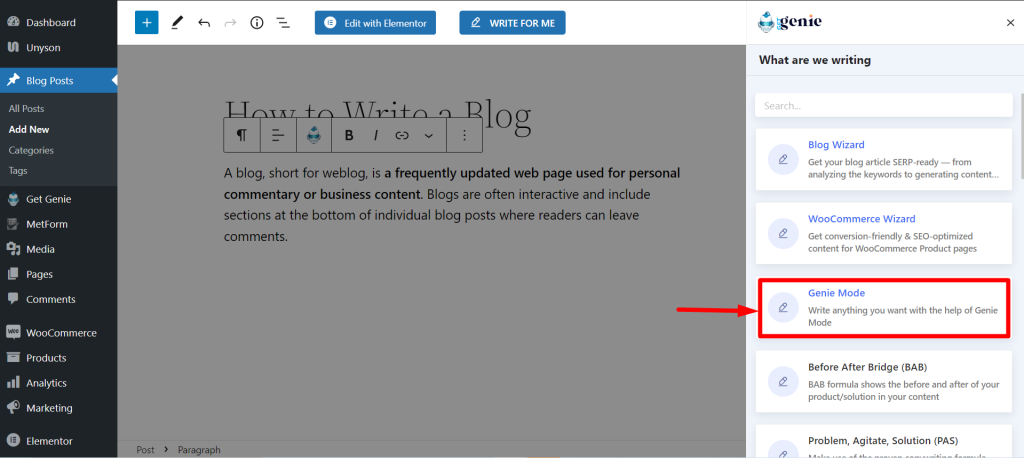 These are the details to use Genie mode easily and improve your content quality faster than ever.
Recipe to generate content using Genie Mode template #
Here are two examples of marketing copies generated by GetGenie using Genie mode.
Input 1 #
Template: Genie Mode
Context: Write me a content brief on 'Making tea'
Creativity: 4
Results: 1

Output 1 #
Title: Make the Perfect Cup of Tea

Objective: To provide readers with simple, easy-to-follow instructions on how to make the perfect cup of tea.

Audience: Tea drinkers of all ages, preferences and experience levels.

Tone: Neutral, instructional and informative.

Format: Step-by-step guide.

Structure:
1) Introduction
2) Brewing Basics
3) Step-by-Step Instructions
4) Common Mistakes to Avoid
5) Conclusion

Introduction: Begin by introducing the benefits of tea, including its health benefits and how it can add to any occasion. Then explain how to make the perfect cup of tea and what to consider when selecting teas, including different types of tea, steeping times and temperatures.

Brewing Basics: Explain the basic concepts behind preparing a cup of tea, such as using the proper measurements, using the right equipment, and choosing the right water.

Step-by-Step Instructions: Provide detailed instructions on how to make a variety of tea drinks, including black tea, green tea, oolong tea, chai tea, white tea, etc.

Common Mistakes to Avoid: List common mistakes that people often make when brewing tea, such as not using enough tea leaves or using water that is too hot or too cold.

Conclusion: Close by summarizing the key points of making a perfect cup of tea. Offer instruction for customizing the flavor of tea and offer suggestions for food pairings.

Input 2 #
Template: Genie Mode
Context: Email copy: Halloween sale
Creativity: 4
Results: 2

Output 2 #
1. Boo!

Halloween is right around the corner, and we have some spooky-good deals to help you get ready!

For a limited time, take 25% off all of our Halloween decorations and costumes. Whether you're looking for decorations to give your home a spooky look or the perfect costume to show off at your next Halloween party, we've got you covered.

Shop now and don't miss out on these scary-good deals. Just use promo code HALLOWEEN25 at checkout to get your discount.

Happy shopping!

Best,
[Your Name]

2. Happy October!

It's time to get spooky, and what better way than a Halloween Sale?

Forget the tricks and treat yourself with discounts on all sorts of ghoulish goodies. We have costumes, decorations, and more – all at discounted prices.

Make your Halloween scary in the best way with up to 50% off select items.

Hurry and shop now – the sale ends soon!

Stay safe and Happy Haunting,
[Your Store Name]