With GetGenie AI, WordPress users can take advantage of multi-language support to be even more constructive. This powerful tool enables them to create content in their own language, allowing them to be more effective with their work.
Go through the documentation and learn to produce content in Arabic language with GetGenie AI.
Steps to generate output in Arabic language #
1. Go to WordPress admin Dashboard → 2. Find Get Genie → 3. Click AI Writing → 4. Select the template you want to use → 5. See the side panel to generate your content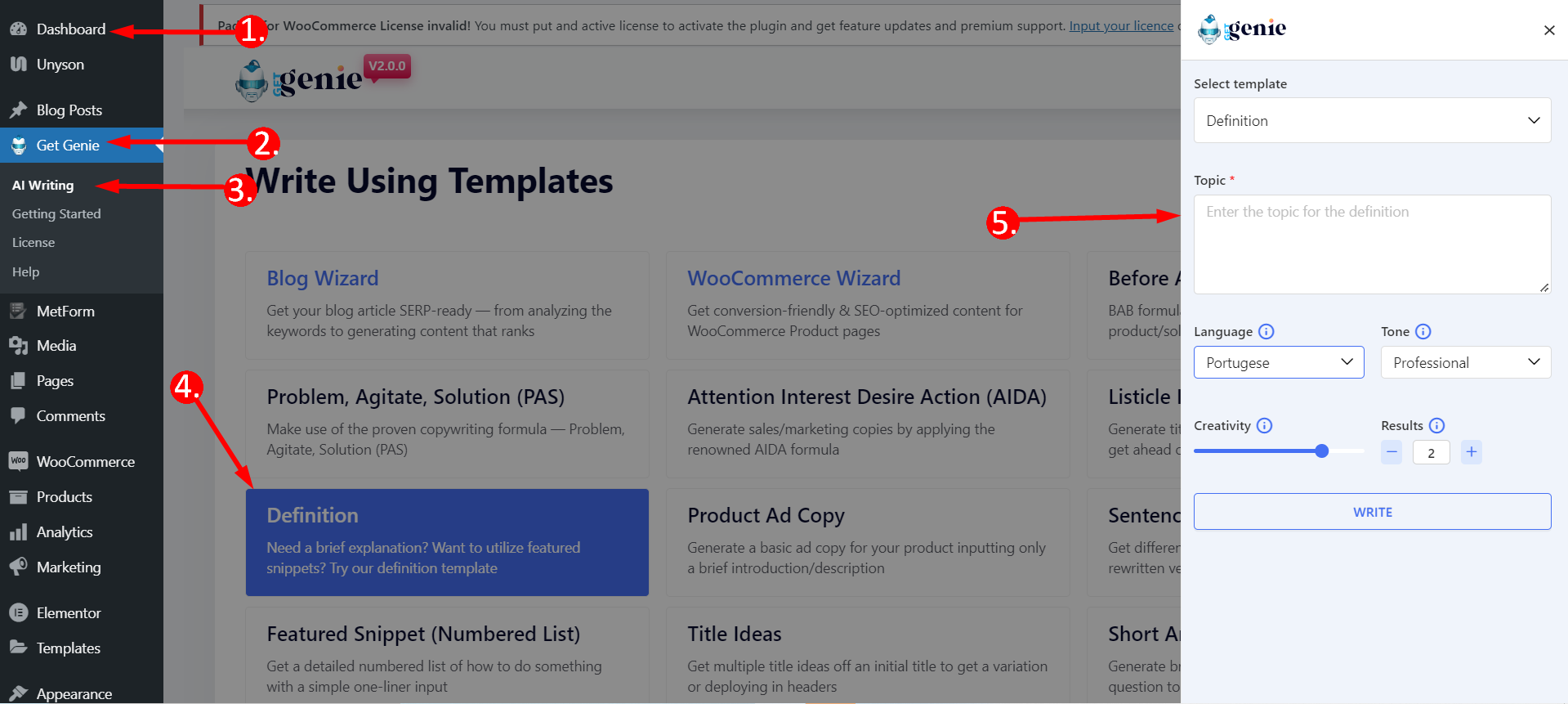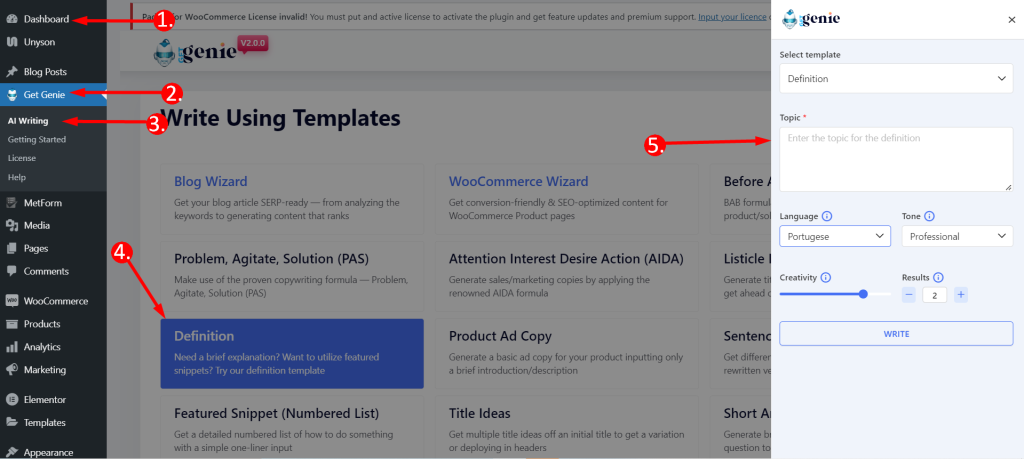 Genie can give you output in Arabic language in just a few clicks –
Write your topic (depends on the template) in the given field
Choose Arabic as output language from the list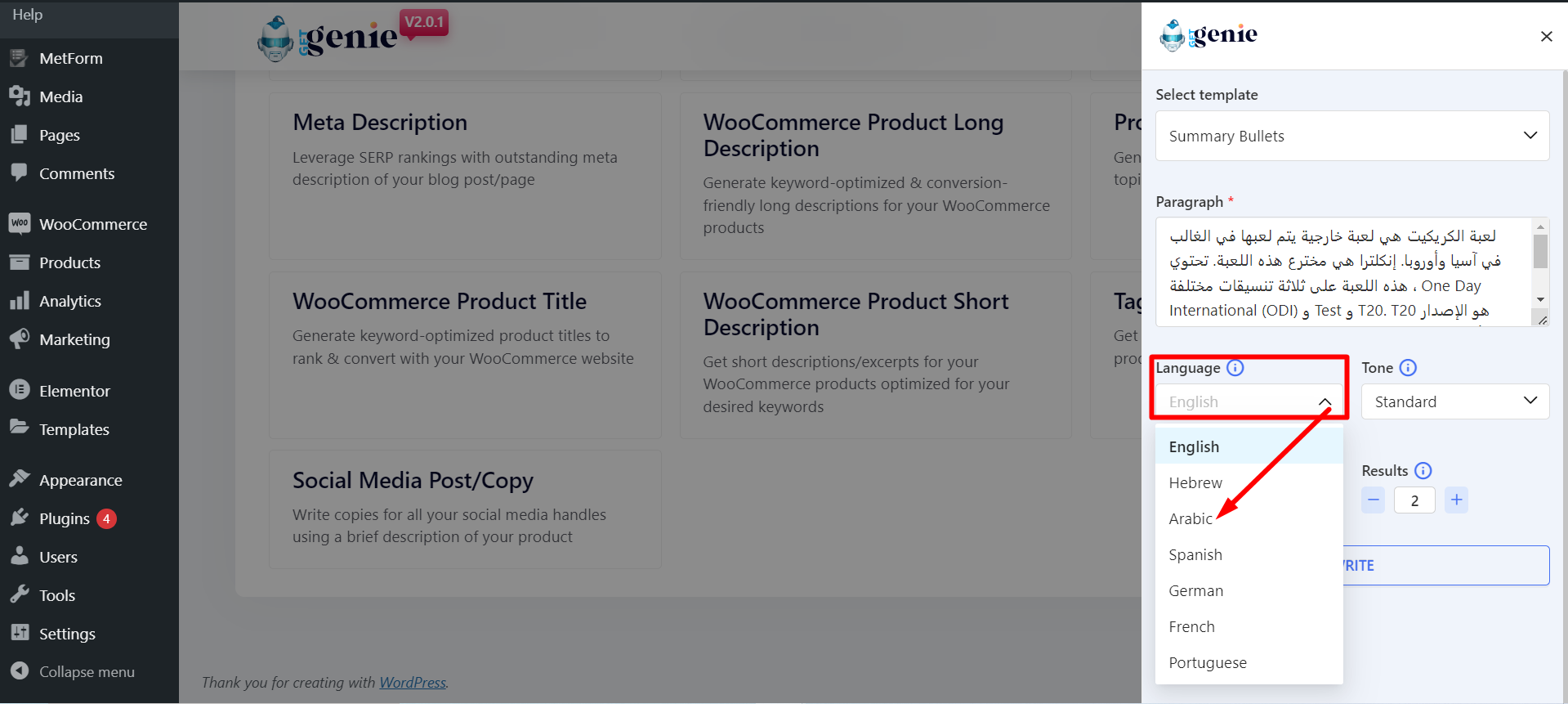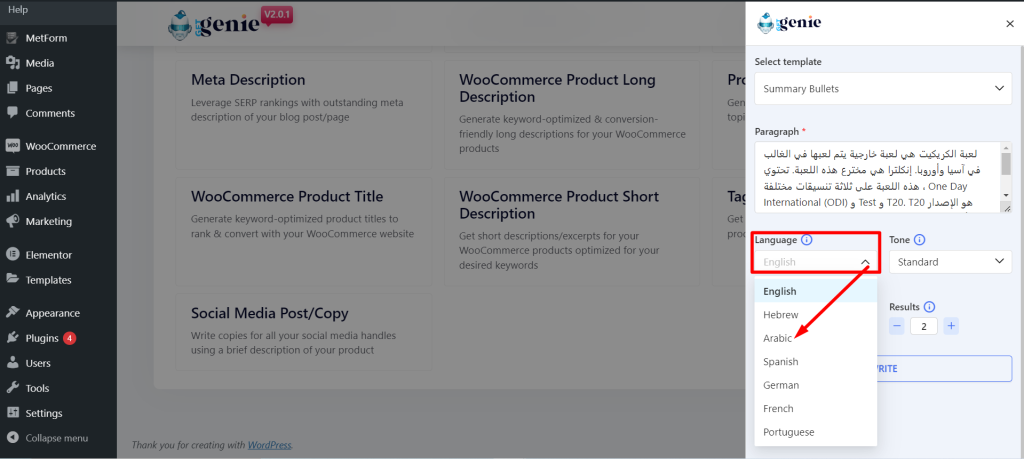 Select content tone
Set creativity
Set result limit
Click Write
Final output #
Here is a sample output, look at the GIF where we have used Summary Bullets template –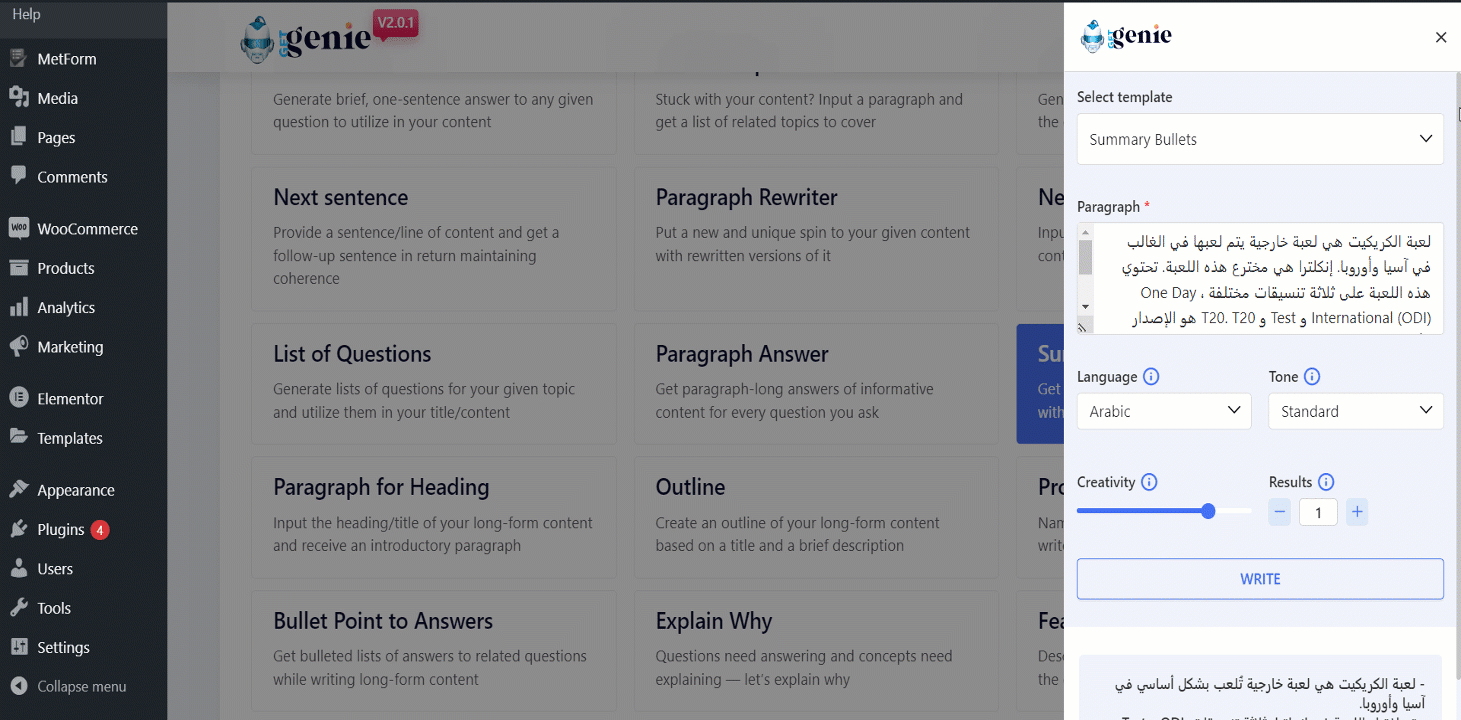 GetGenie AI templates are super fast and the multi-language support system has made it an must have plugin to use.
Recipe to Utilize Arabic Language #
For your convenience we are sharing two output generating recipes example here-
Input 1
Select Template- Summary Bullets
Paragraph- لعبة الكريكيت هي لعبة خارجية يتم لعبها في الغالب في آسيا وأوروبا. إنكلترا هي مخترع هذه اللعبة. تحتوي هذه اللعبة على ثلاثة تنسيقات مختلفة ، One Day International (ODI) و Test و T20. T20 هو الإصدار الأكثر تفضيلاً وشعبية. هناك بعض البطولات الكبرى التي تحدث في جميع أنحاء العالم بناءً على T20. IPL هي واحدة من أكبر البطولات.
Language: Arabic
Tone: Standard
Creativity: 4
Results: 1

Output 1
- لعبة الكريكيت هي لعبة خارجية تُلعب بشكل أساسي في آسيا وأوروبا.
- تم اختراع اللعبة في إنجلترا بثلاثة تنسيقات: ODI و Test و T20.
- T20 هو الشكل الأكثر تفضيلاً ، وهو أساس العديد من البطولات الكبرى ، مثل IPL.
Input 2
Select Template- Outline
Blog Intro- يعد تقويم إدارة الأحداث مهمًا لترتيب الأحداث الناجحة ، والرد على دعوة الحضور ، وإنشاء التذاكر وبيعها ، وإدارة المشاركين ، وما إلى ذلك. الآن لترتيب حدث ناجح ، ستحتاج إلى حل فعال وهو استخدام المكونات الإضافية لإدارة أحداث WordPress.
Language: Arabic
Tone: Standard
Creativity: 4
Results: 1
Output 2
1 المقدمة -
أ. ما هو تقويم إدارة الأحداث
ب. فوائد استخدام تقويم إدارة الأحداث
2. أنواع مختلفة من تقويمات إدارة الأحداث
أ. التقويمات عبر الإنترنت
ب. التقويمات دون اتصال
3. أسباب استخدام البرنامج المساعد لإدارة أحداث WordPress
أ. سهل الاستخدام
ب. يوفر الوقت والمال
ج. يمنحك نظرة احترافية
4. أعلى إضافات إدارة أحداث ووردبريس
أ. حدث اسبرسو
ب. مدير الأحداث
ج. تقويم الأحداث WD
د. تقويمها!
5. الخلاصة
أ. فوائد استخدام البرنامج المساعد لإدارة الأحداث
ب. ما يجب التفكير فيه قبل اختيار البرنامج المساعد