LinkedIn is a popular social media platform that is business and employment-focused. Different professionals and skilled people use this medium worldwide. Posting useful posts on the platform helps to drive traffic to your WordPress business website. However, with a good LinkedIn post generator, you can make posts quickly, generate ideas, promote products, easily and so on.
So GetGenie Ai has made such an amazing post generator for you. It is a modern Linkedin Ai post generator that saves you valuable time.
Let's see how you can use this Ai tool and help your business to grow.
How to use GetGenie Ai- LinkedIn Post Generator #
You can use the Linkedin Post template in two different ways.
Using GetGenie dashboard #
Navigate to – Your WordPress Admin Dashboard → 1. Get Genie → 2. AI Writing → 3. Search Linkedin Post → 4. Click the template and go for it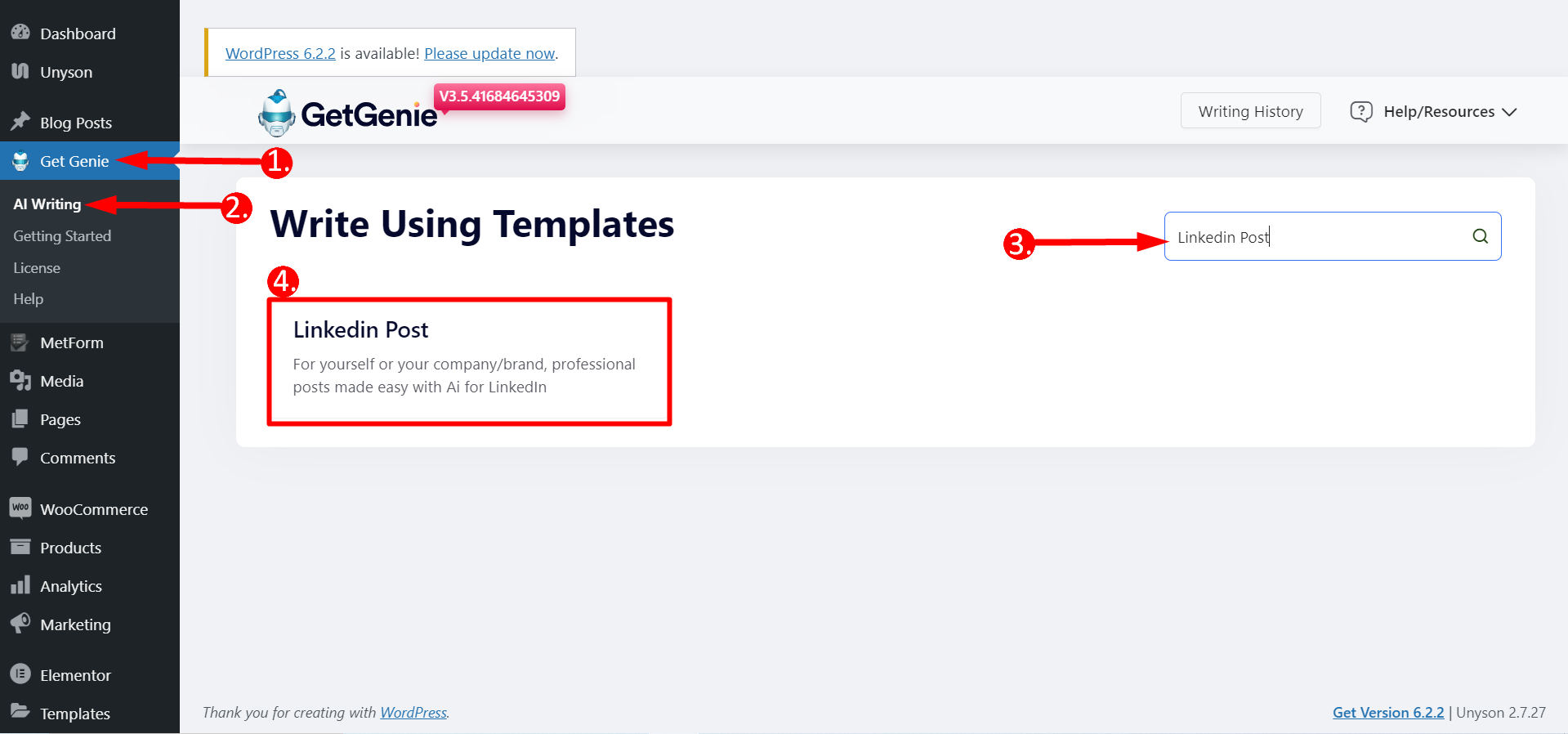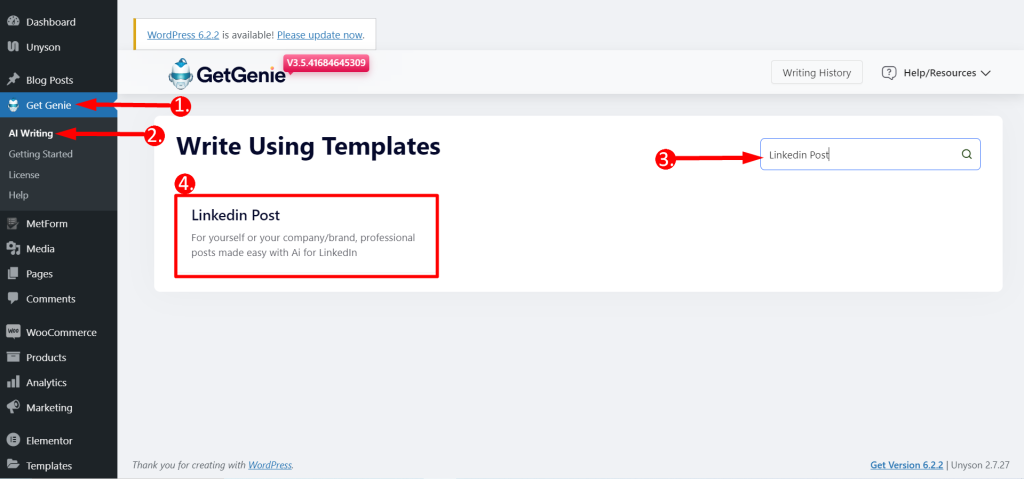 Follow the below steps:
Input a Topic in the box.
Write a Context of the of the Topic.
Write the Brand name (Optional).
Choose any Language based on your preference
Select output Tone
Set the Creativity Level according to your wish (up to 5). The levels define how much creative output you want. The bigger the number the more creative output it will provide.
Set the Result Limit according to your wish (up to 10). This will determine how many varieties of outputs you want to generate
Finally, Click WRITE.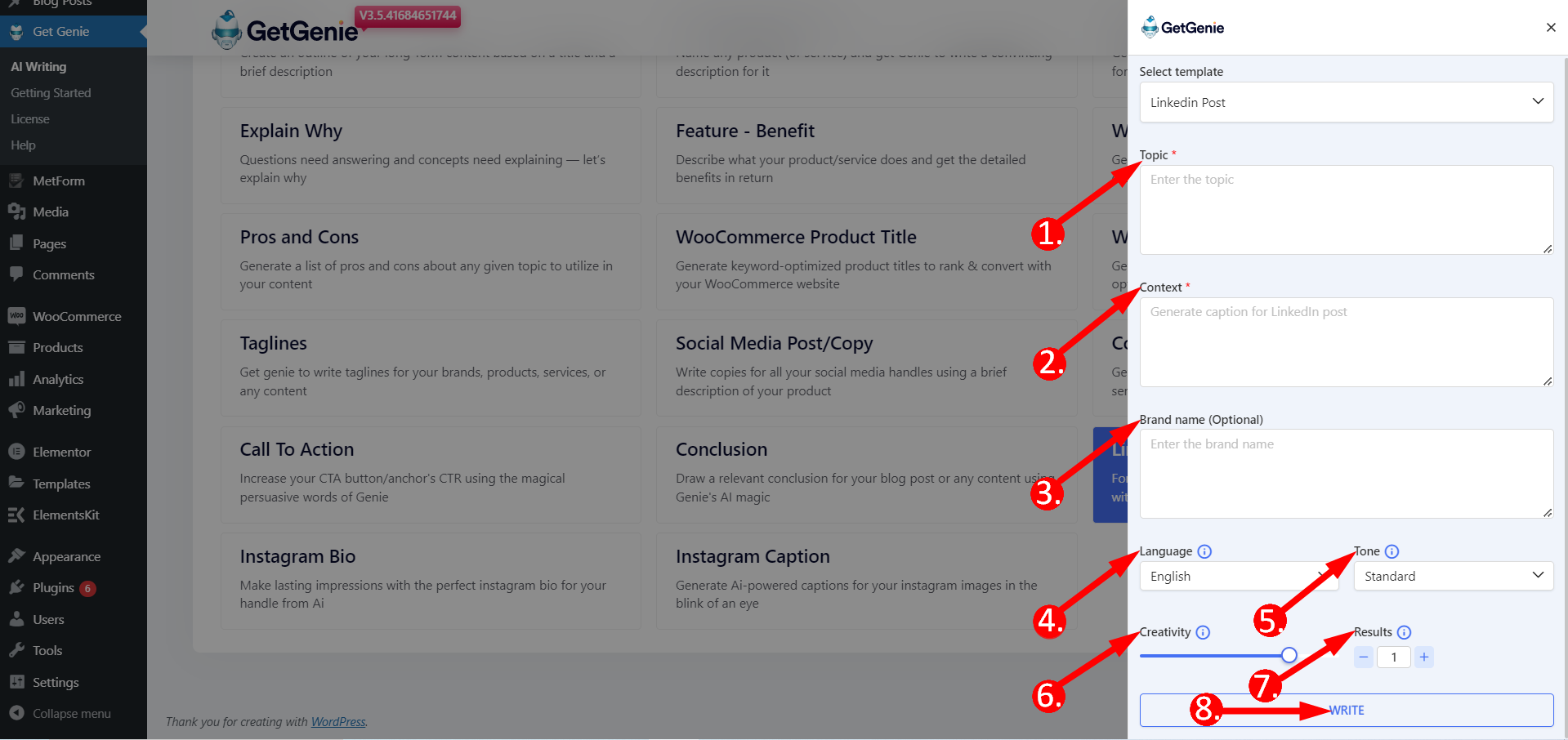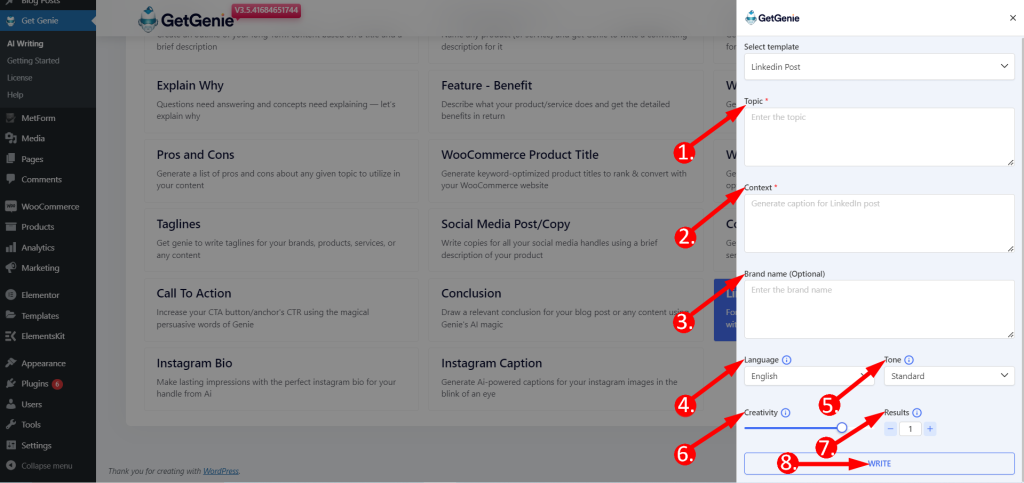 This is how it works –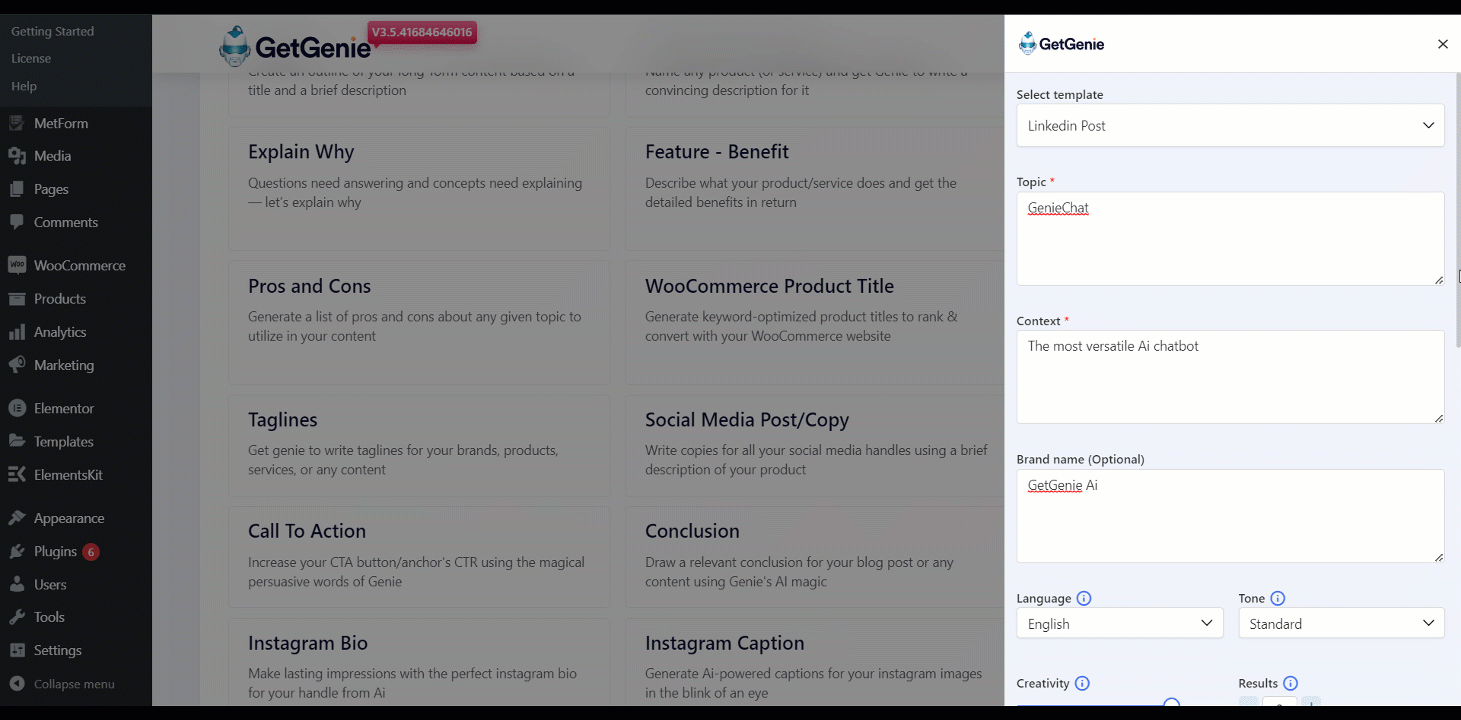 If you wish to copy a generated content just click on that and it will be copied to your clipboard. Now, paste it anywhere you want.
This template can support you to enjoy more sales through effective content.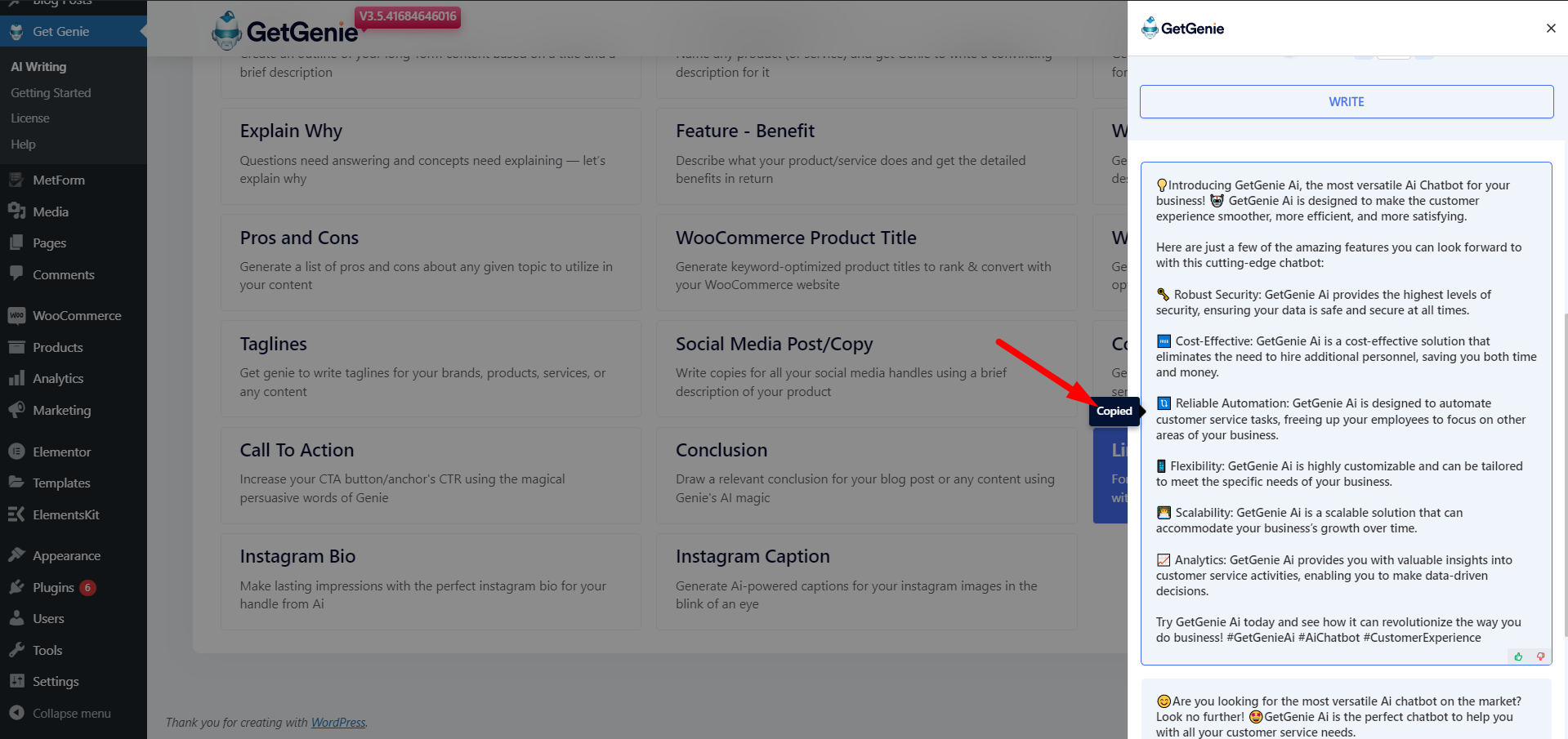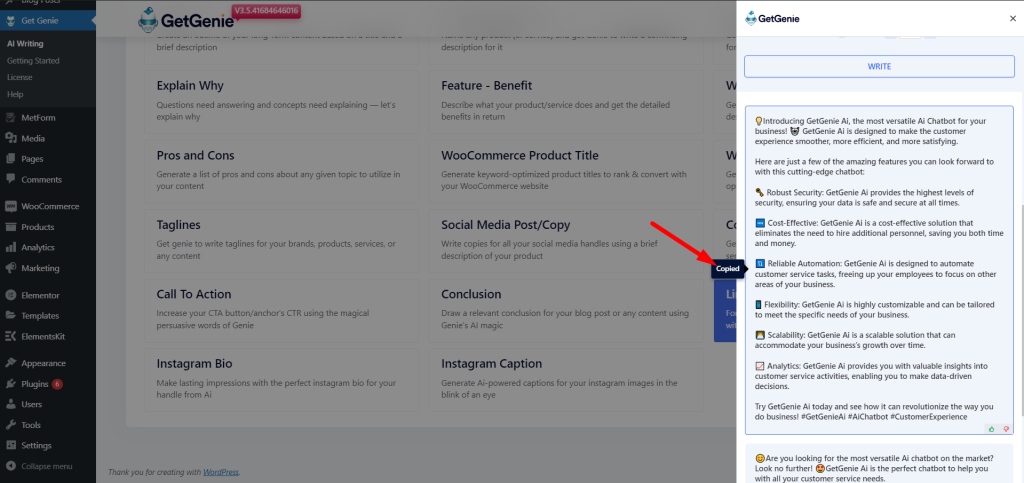 Using Linkedin Post template inside post/ page #
From WordPress menu go to Posts/Pages
Create a new post/page or edit an old content
Click on Write For Me.
Click on LinkedIn Post.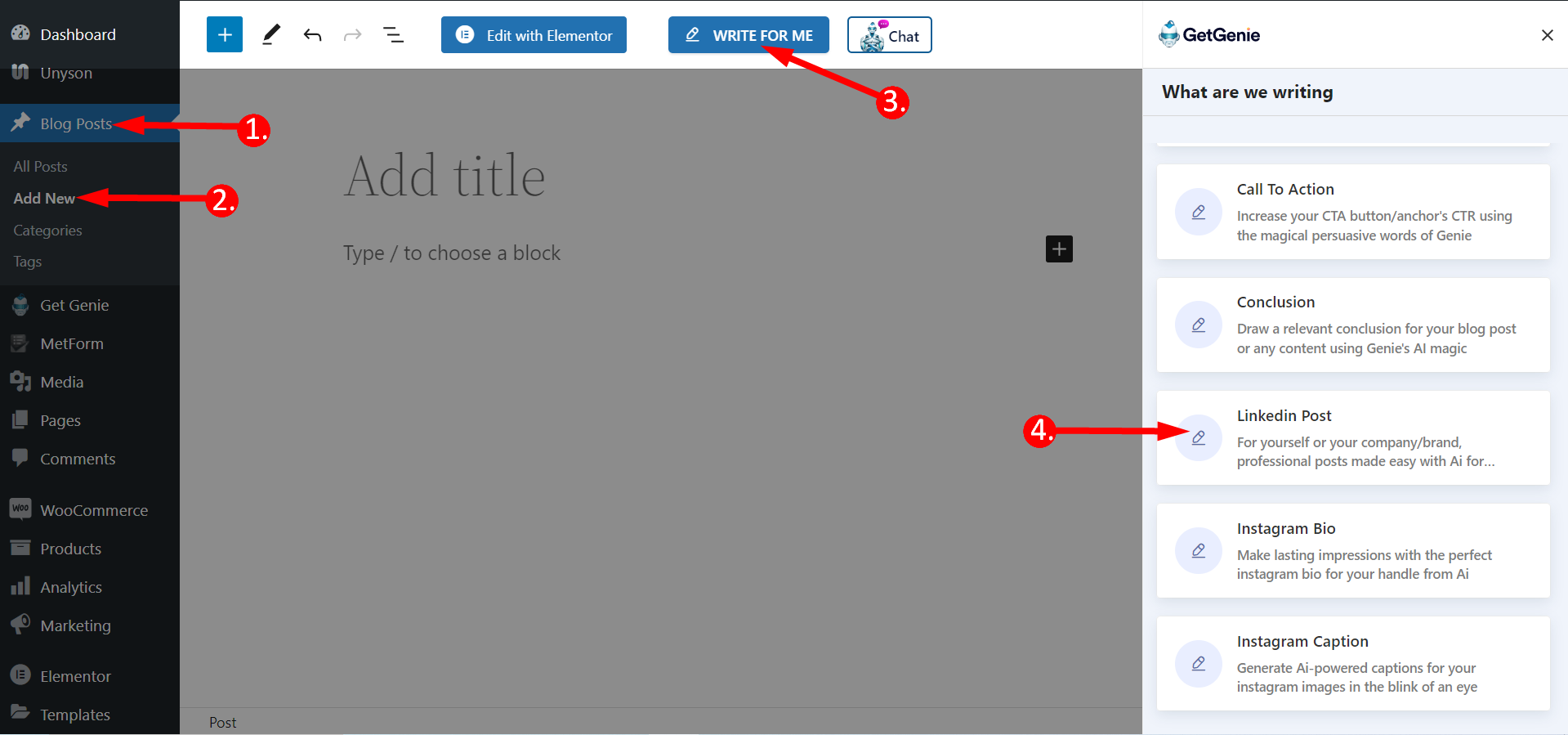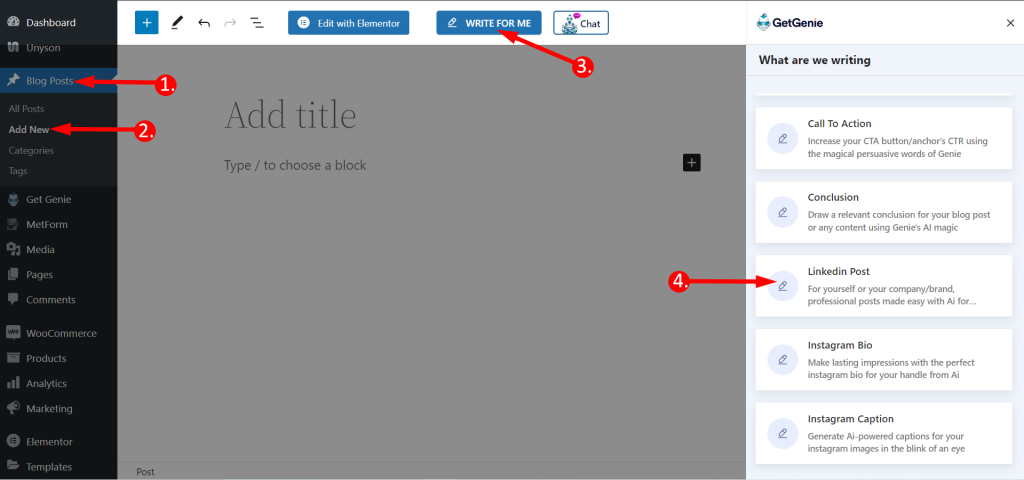 You will see the previous panel here. Put your context, set creativity and output limit. Click on the Write button. You will find your copy written by GetGenie AI.
After that, click on the blue plus(+) icon on the content you choose and insert it directly into your post.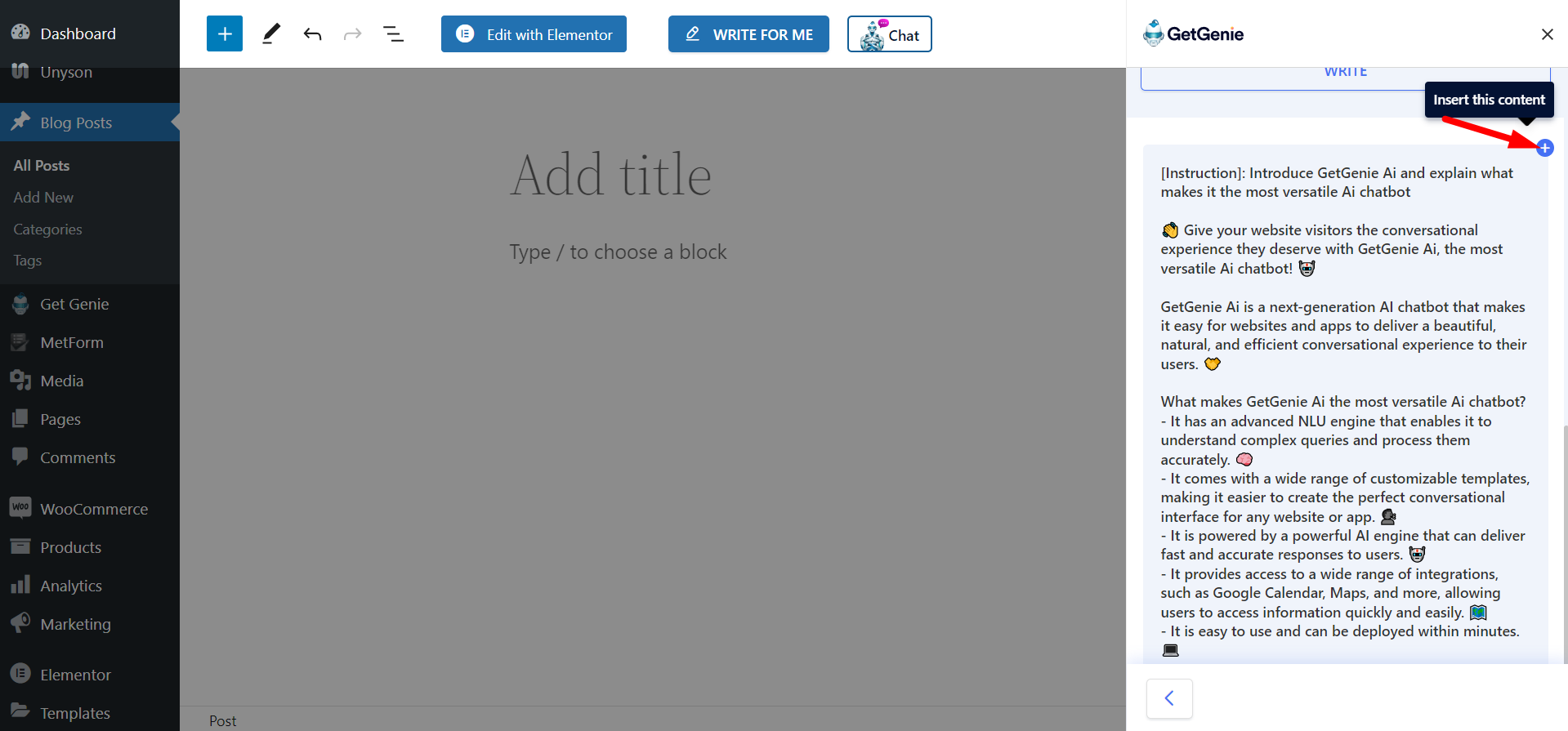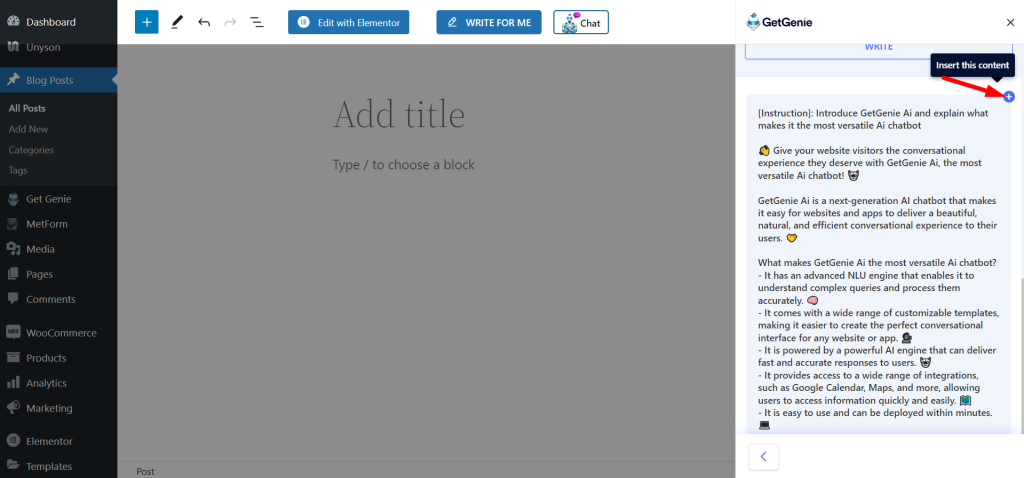 Linkedin Post template using Shortcut key #
Using backslash(\) you can find Linkedin Post while writing or editing content.
While writing a content, type backslash(\) then search Linkedin Post
Find Linkedin Post from the option box
Select and rest of the steps are the same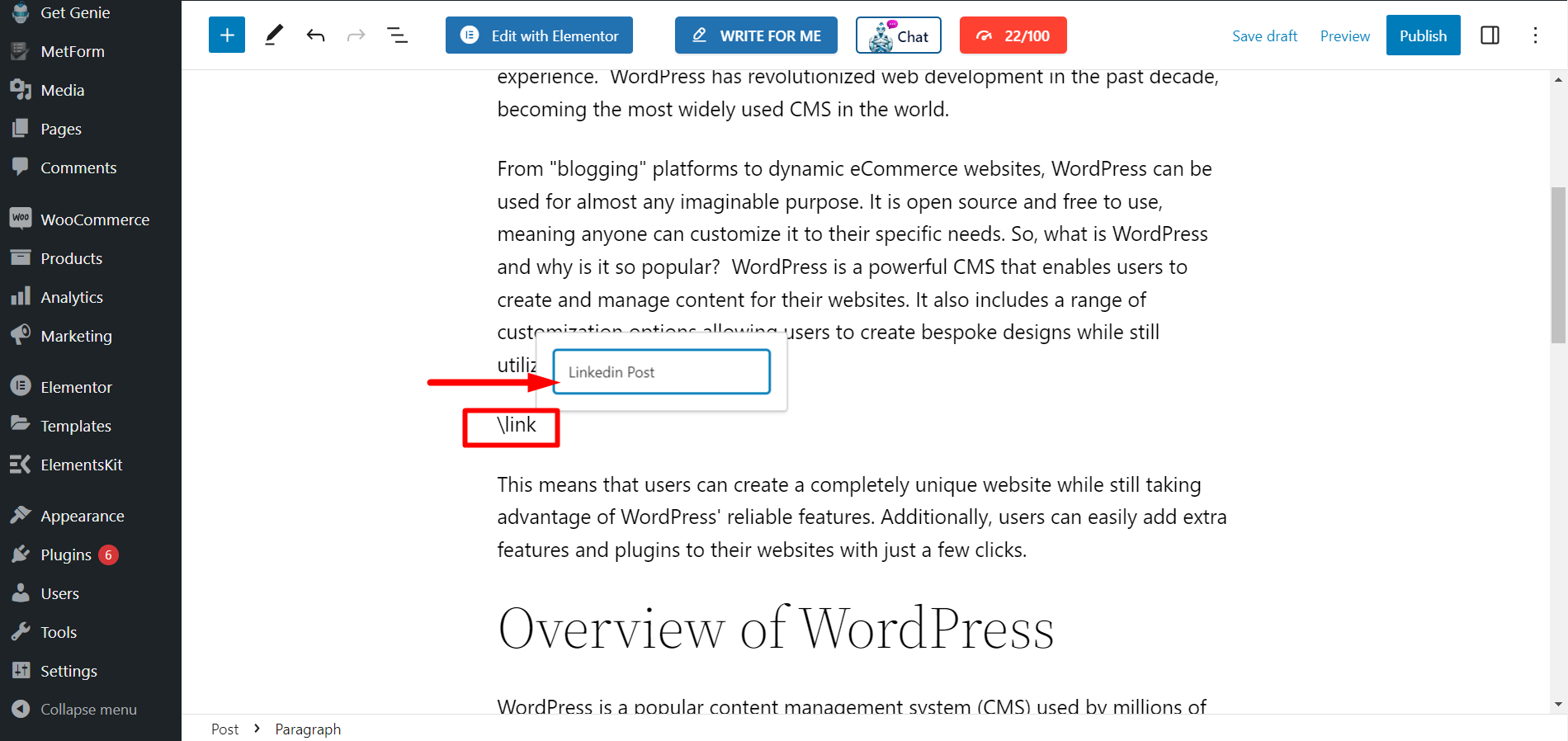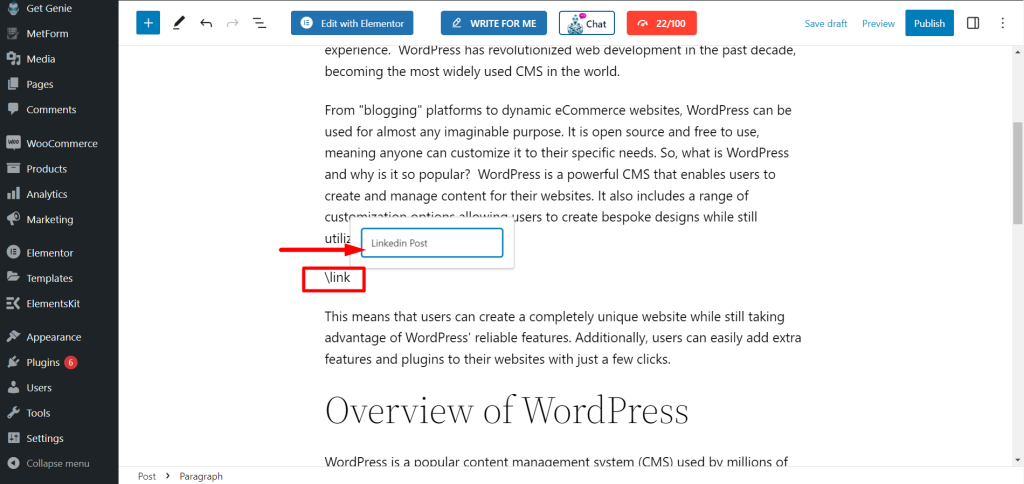 This LinkedIn Post will template will guide you with quality content, what to post on LinkedIn, the best time to post on LinkedIn, and other related things.
So for all busy LinkedIn users, this template is very effective at the best price!
Recipe of Linkedin Post template #
For your convenience we are sharing an output generating recipe example here-
Inputs #
Topic – GenieChat
Context – The most versatile Ai chatbot
Brand name (Optional) – GetGenie Ai
Language: English
Tone: Standard
Creativity: 4
Results: 1
Output #
💡Introducing GetGenie Ai, the most versatile Ai Chatbot for your business! 🤖 GetGenie Ai is designed to make the customer experience smoother, more efficient, and more satisfying.

Here are just a few of the amazing features you can look forward to with this cutting-edge chatbot:

🗝️ Robust Security: GetGenie Ai provides the highest levels of security, ensuring your data is safe and secure at all times.

🆓 Cost-Effective: GetGenie Ai is a cost-effective solution that eliminates the need to hire additional personnel, saving you both time and money.

🔃 Reliable Automation: GetGenie Ai is designed to automate customer service tasks, freeing up your employees to focus on other areas of your business.

📱 Flexibility: GetGenie Ai is highly customizable and can be tailored to meet the specific needs of your business.

👩‍💻 Scalability: GetGenie Ai is a scalable solution that can accommodate your business's growth over time.