GetGenie AI is such a wonderful tool that helps with ideation besides generating structured content. People face many problems while making different content and marketing copies. Before and after representation of a product or solution is one of them. Today we will see before after bridge examples using GetGenie AI tool.
The basic steps are simple. You just have to put your input correctly. Let's see how it works-
How to generate Before After Bridge examples- GetGenie AI #
You can use the BAB framework to generate before after bridge examples in two different ways.
Using GetGenie Dashboard #
Navigate– Your WordPress Admin Dashboard → Get Genie → Write For Me. After that follow the below steps:
Select Before After Bridge (BAB) framework
Write your Product name in the field
Input your Product description in the field
Set the Creativity Level according to your wish (up to 5). The levels define how much creative output you want. The bigger the number the more creative output it will provide.
Set the Result Limit according to your wish (up to 10). This will determine how many varieties of outputs you want to generate
Finally, Click WRITE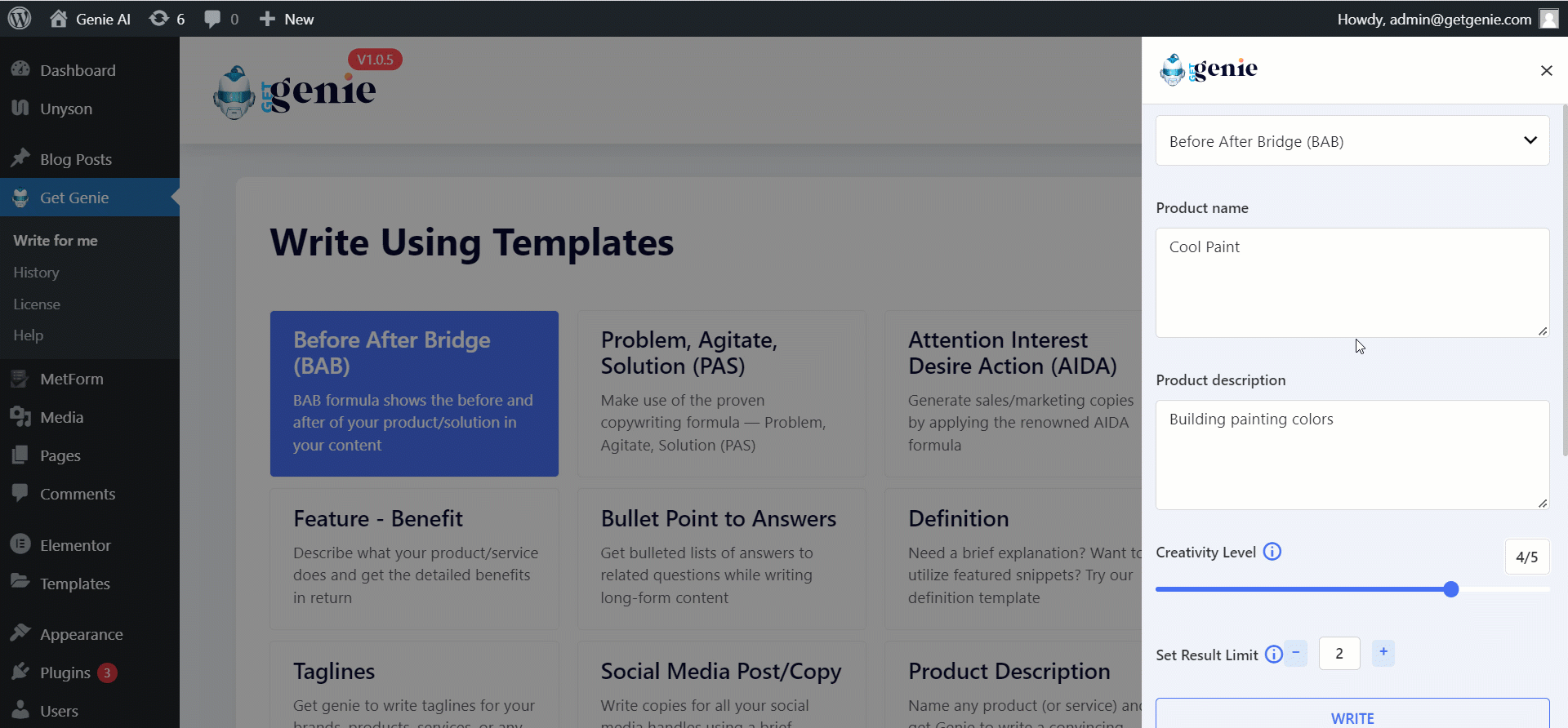 You can click on the content that you want to use and it will be copied to your clipboard. Now, paste it anywhere you want and start getting more conversions!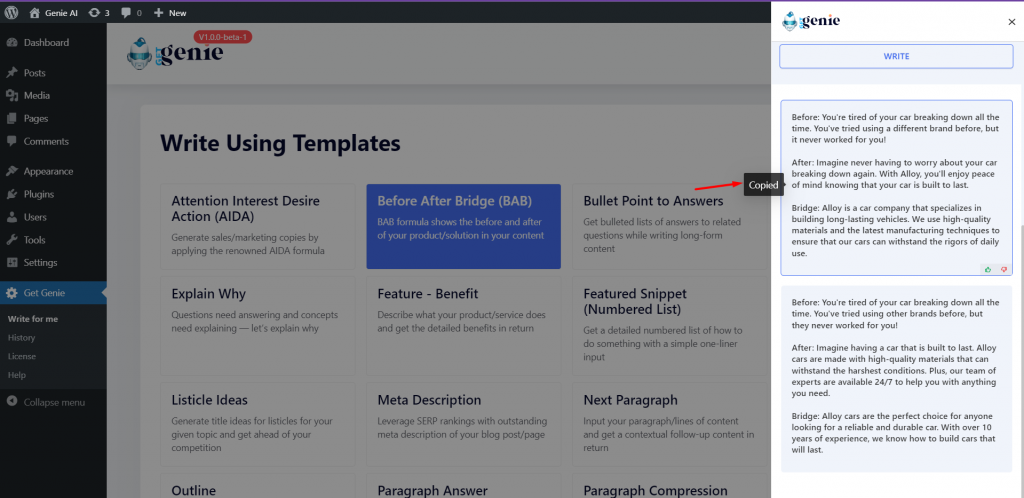 Using Before After Bridge(BAB) template inside Post/ Page #
Create a new post from the WordPress menu. Also, you can edit your old posts in the same way. Click on Write For Me.
Now, click on Before After Bridge (BAB).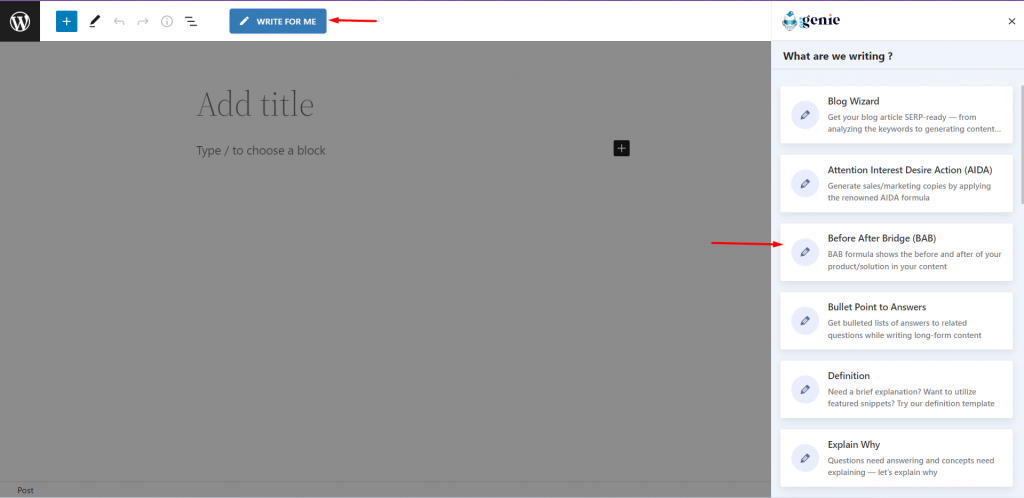 You will see the previous panel here. Put your context, set creativity and output limit. Click on the Write button. You will find your copy written by GetGenie AI.
Before After Bridge (BAB) template using Shortcut key #
Using backslash(\) you can find Before After Bridge (BAB) while writing or editing a content. Here are the steps:
Type backslash(\) while writing a content
Find Before After Bridge (BAB) from the option box
Select and rest of the steps are the same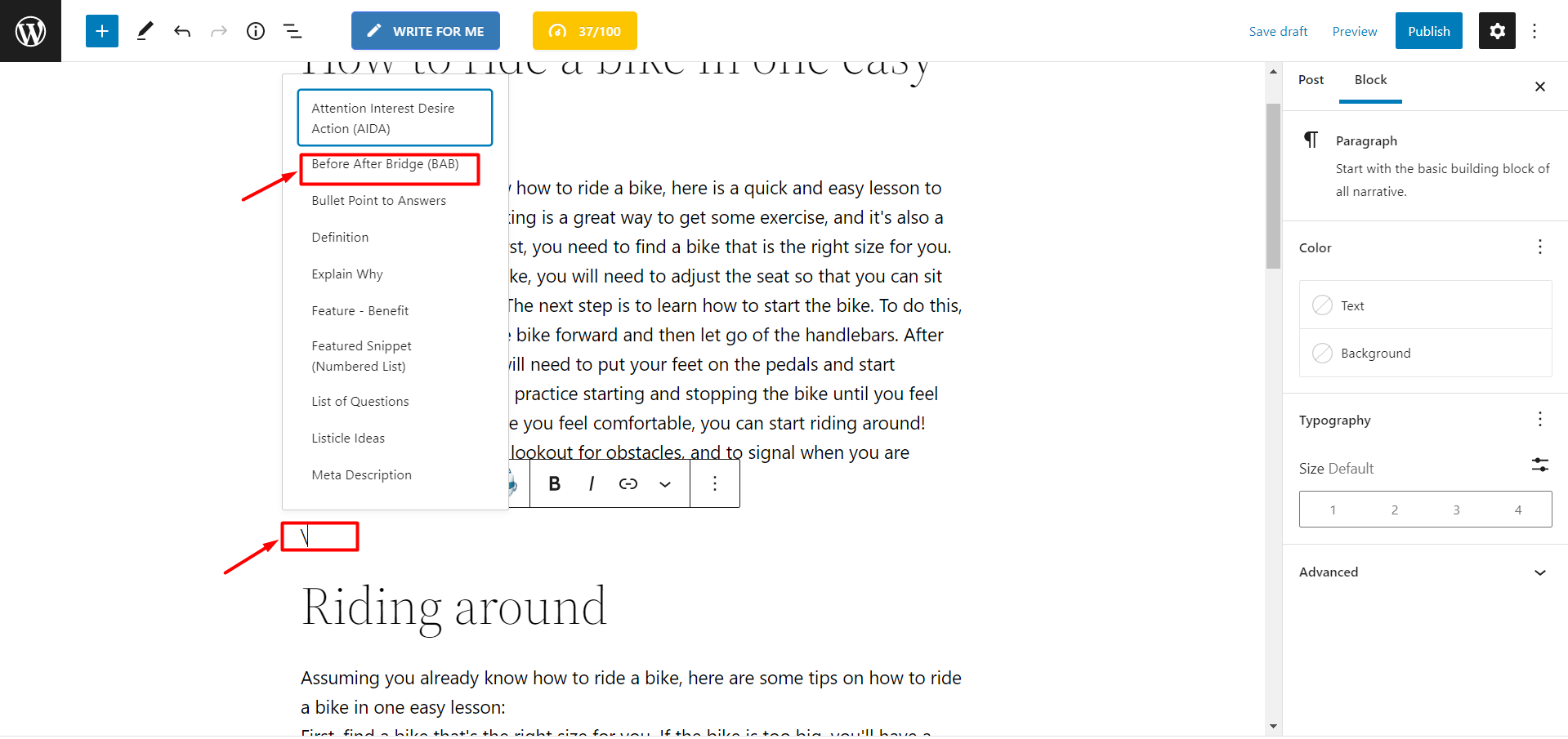 Besides simply clicking a content to copy you can also click on the blue '+' icon top-right corner of the content and insert it directly into your post.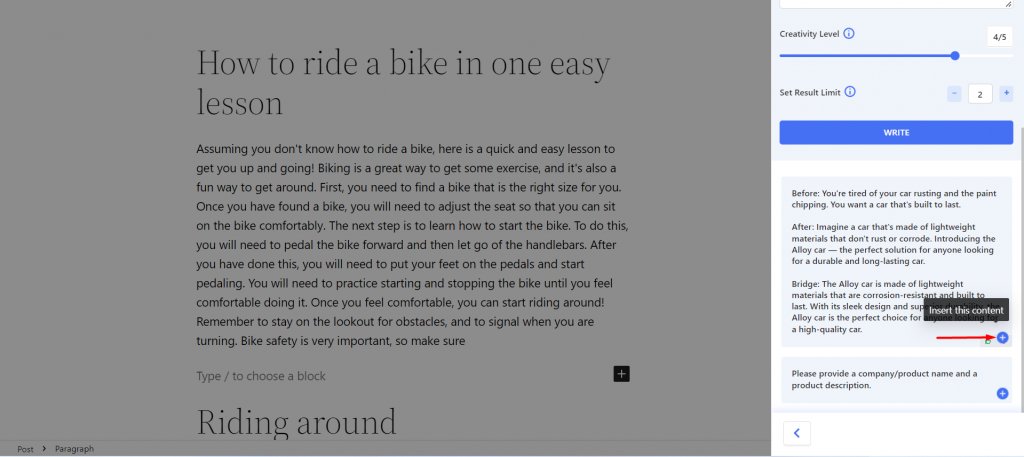 This is the plain procedure using of BAB template of GetGenie AI. You can try before-after-bridge examples using the tool and produce your desired ones. Use GetGenie today!
Recipe to write sales copy with BAB template #
Here is an example of marketing copy generated by GetGenie using the BAB formula.
Input: #
Product name:
Metform

Product description:
Create any contact form, feedback form, subscription form, or any other type of form for your WordPress site in minutes with MetForm! With 90,000+ active installations, this elegant form builder plugin packs premium features and templates to make any type of form you want.
Creativity Level: 4
Set Result Limit: 1
Output: #
Before: You've tried using contact form plugins before, but they never worked for you! They were too complicated to set up and use.

After: Here's a simple way to create any type of contact form or feedback form on your WordPress website within minutes! MetForm lets you add a contact form or subscription box to your site without having to write a single line of code! It's easy enough for anyone with basic knowledge of HTML and CSS, yet powerful enough for advanced users who want more control over their forms' appearance and functionality.

Bridge: Create beautiful forms that work perfectly on all devices with just one click! With 70,000+ active installations, Metform is the most popular premium WordPress plugin available today for you."