Writing Ad copy is a creative work. Here GetGenie AI has brought a wonderful framework that generates Product Ad Copy in a few minutes. And you don't have to think about the quality while using it as a free ad copy generator.
It is a simple process to use the template. Let's break it into steps for you-
Working Steps of GetGenie AI- Free Ad copy generator #
You can use the Product Ad Copy framework in two different ways.
Using GetGenie Dashboard #
Navigate to your WordPress Admin Dashboard →1. Get Genie → 2. AI Writing → 3. Find Product Ad Copy and start to use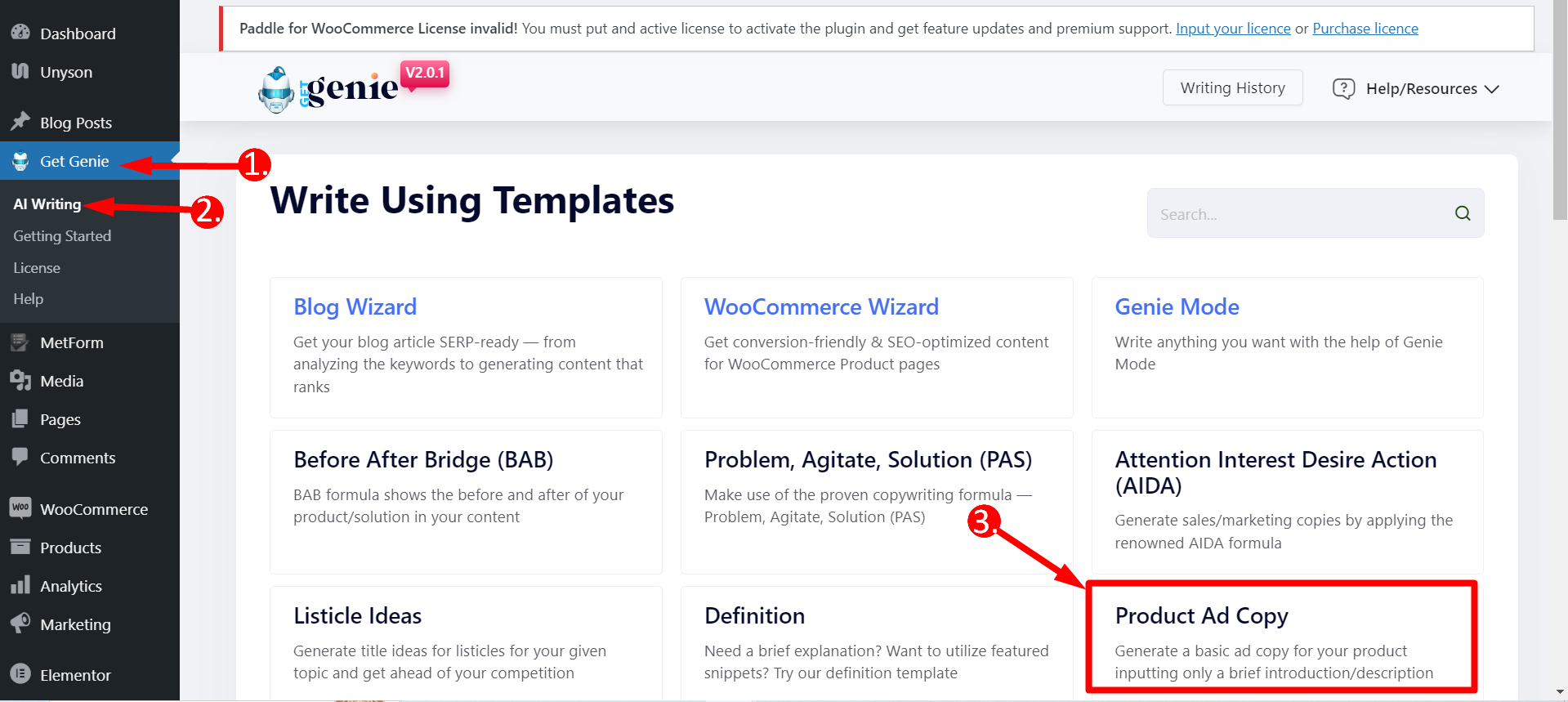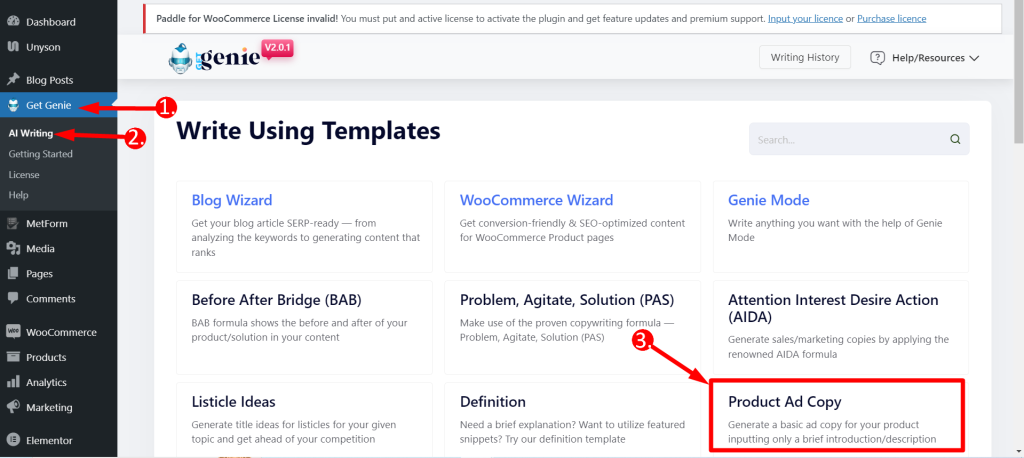 Now, follow the below steps:
Write your Product name in the given field
Input your Product description in the given field
Choose any Language based on your preference
Select output Tone
Set the Creativity Level according to your wish (up to 5). The levels define how much creative output you want. The bigger the number the more creative output it will provide.
Set the Result Limit according to your wish (up to 10). This will determine how many varieties of outputs you want to generate
Finally, Click WRITE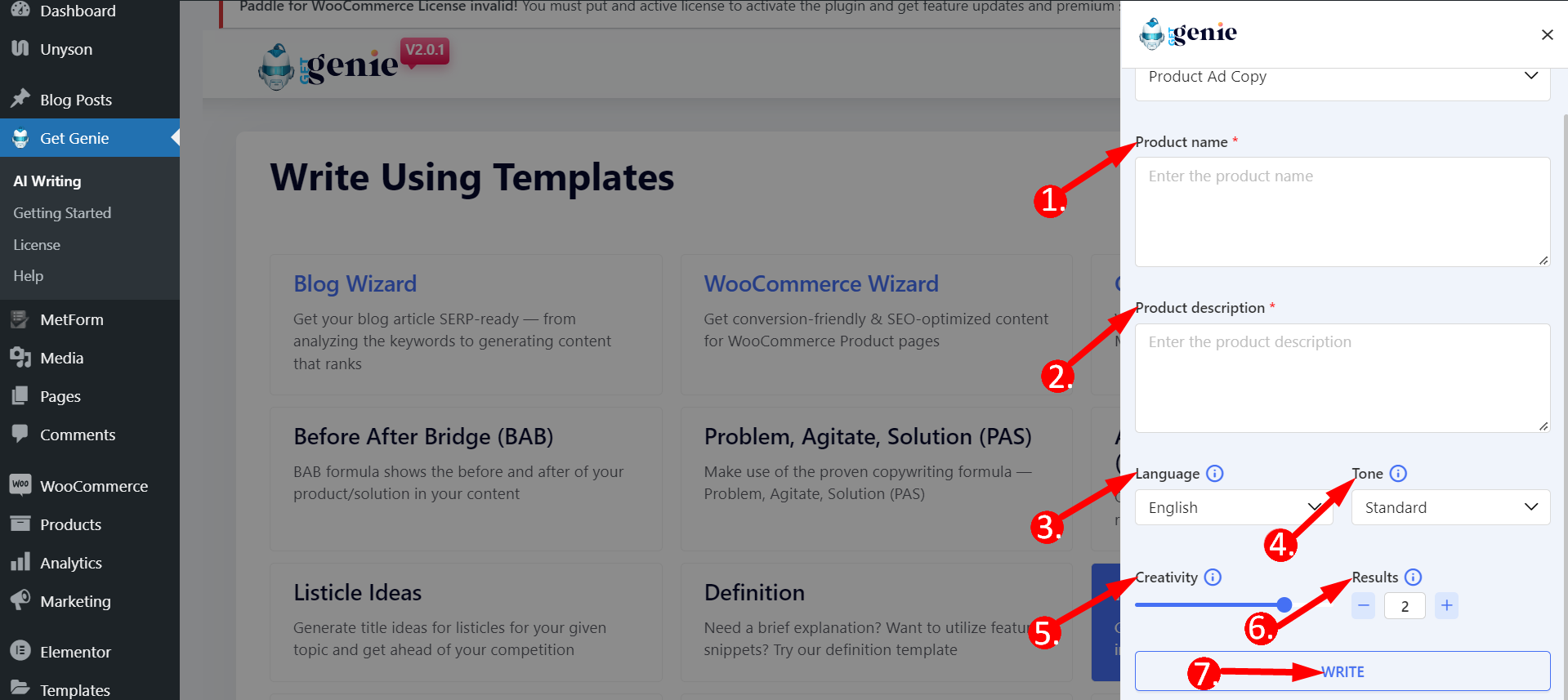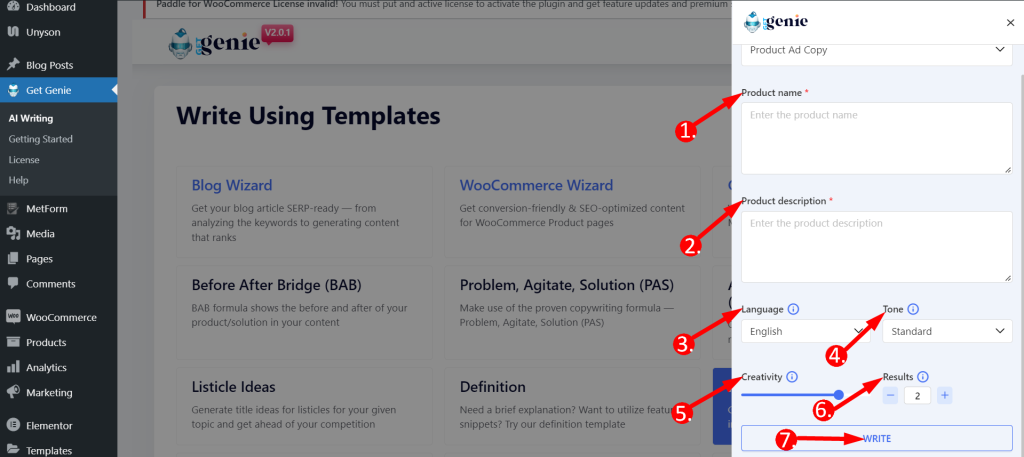 See how it works –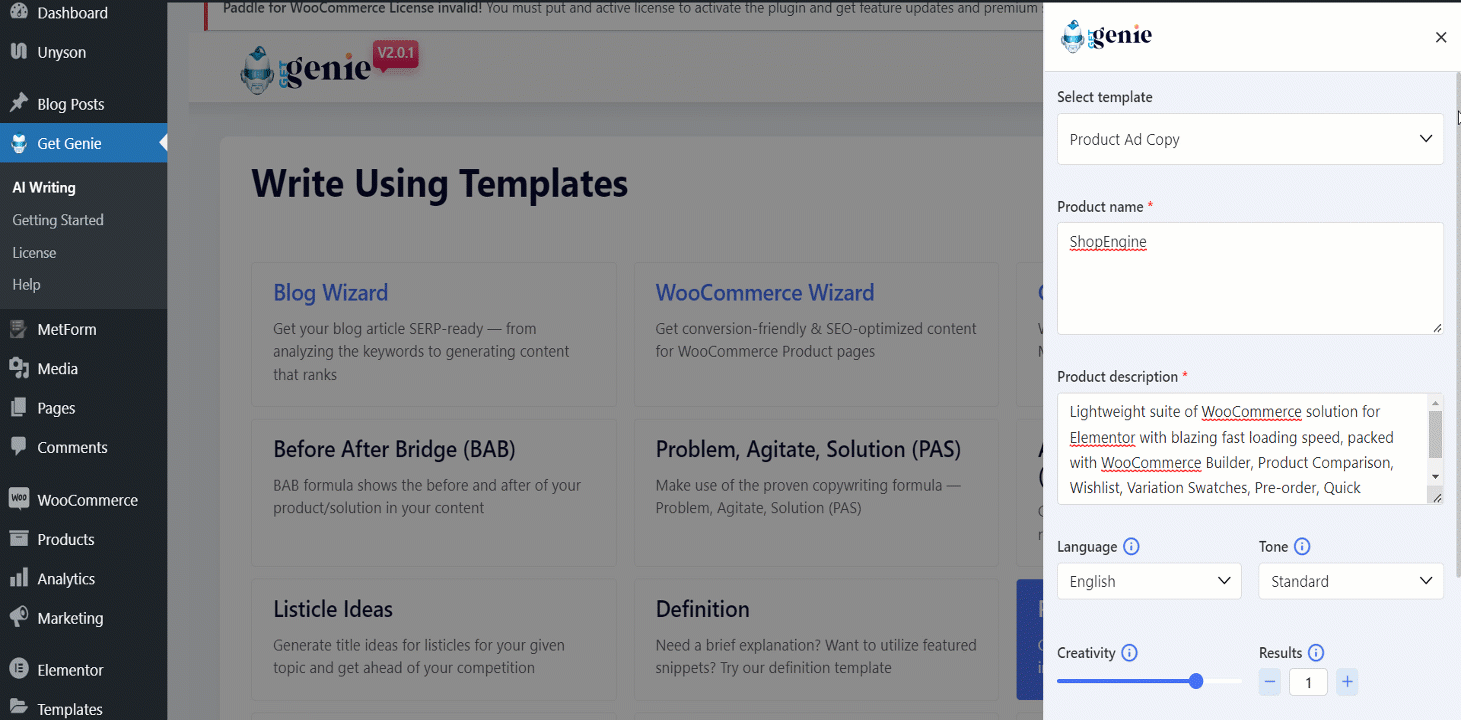 You can click on the content that you want to use and it will be copied to your clipboard. Now, paste it anywhere you want and increase your conversion rate!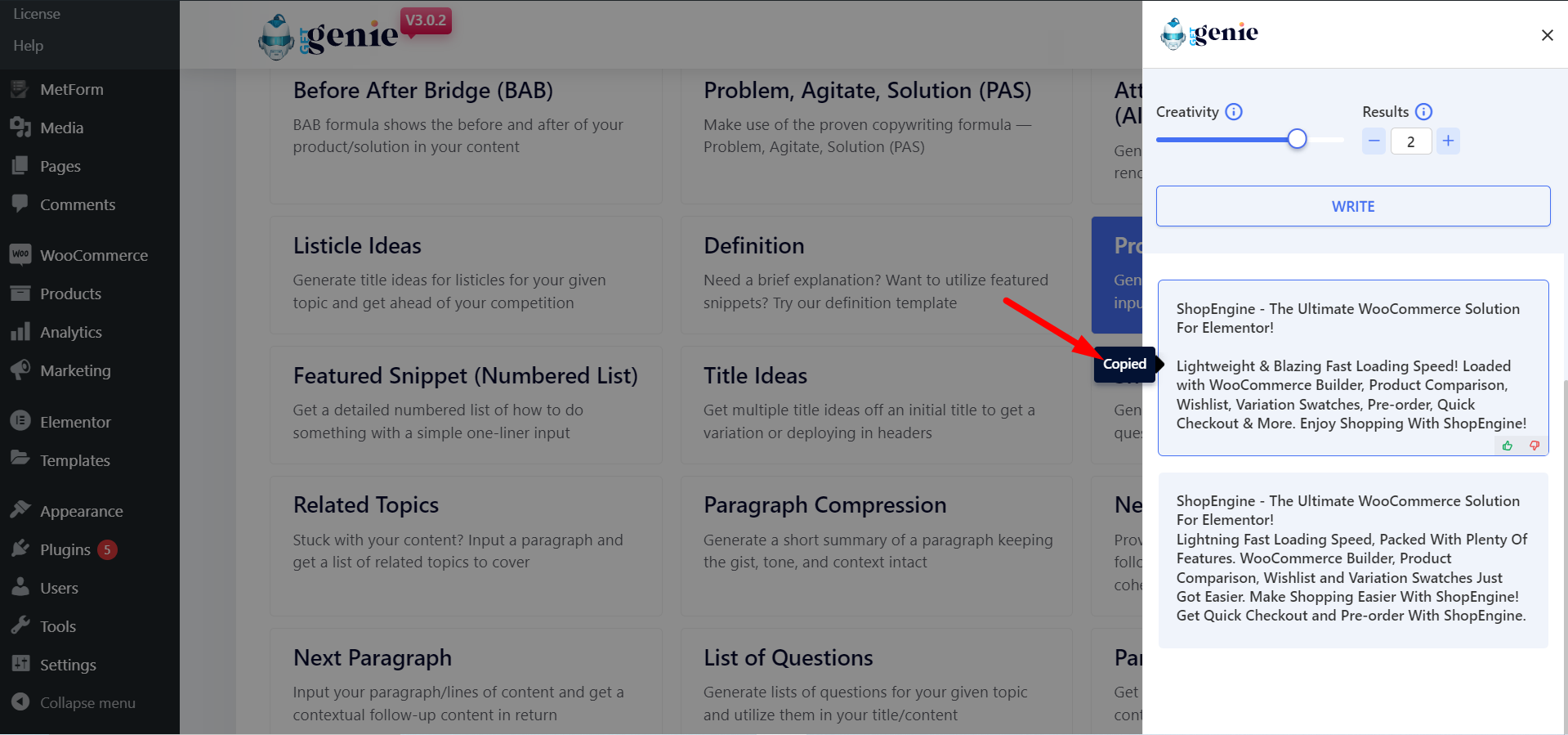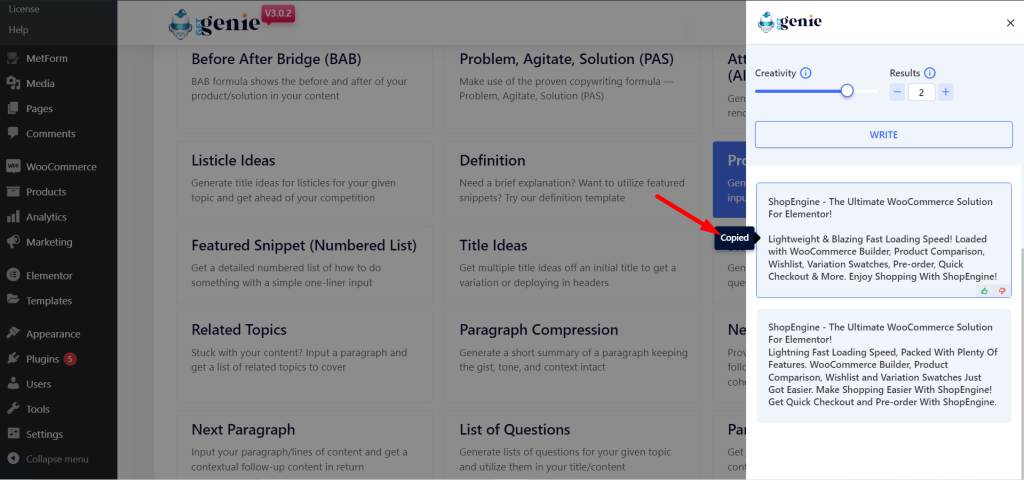 Product Ad Copy Ideas template inside Post/ Page #
From WordPress menu go to Posts/Pages
Create a new post/page or edit an old content
Click on Write For Me.
Now, click on Product Ad Copy.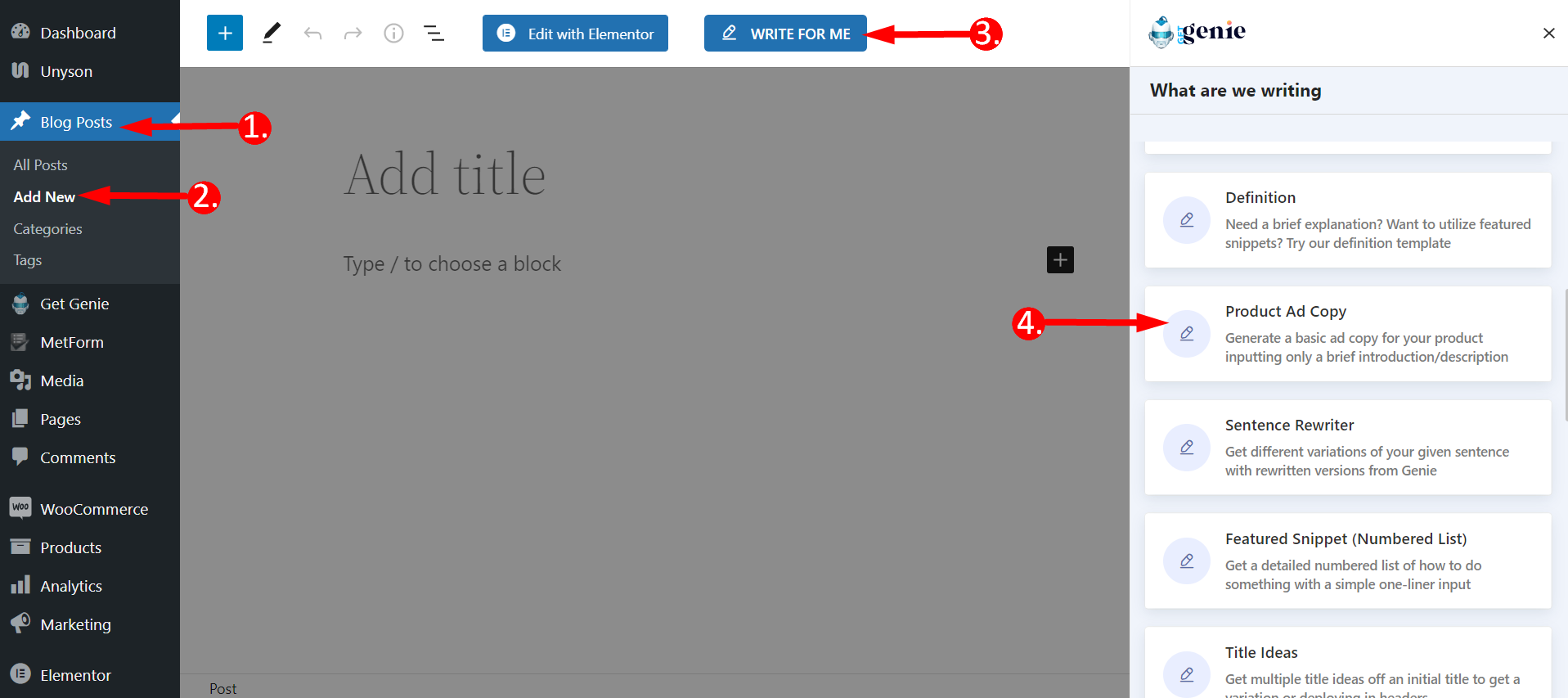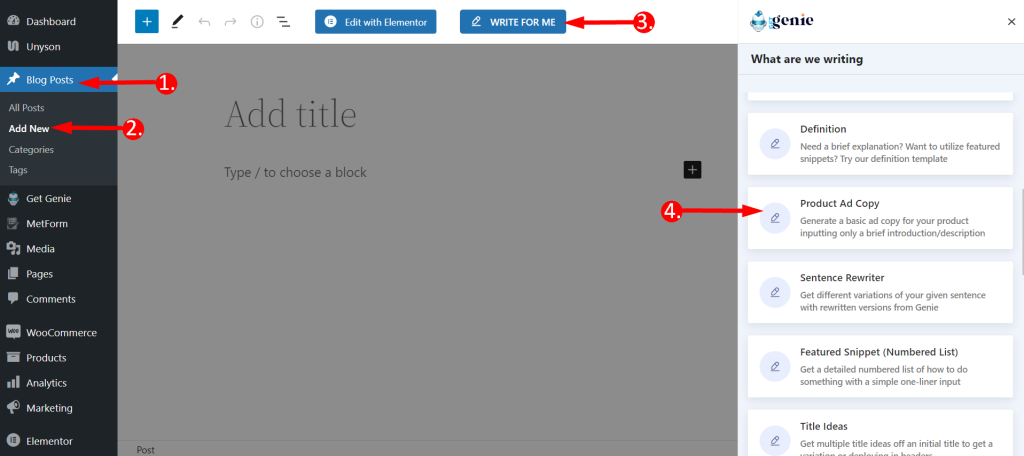 Here the same panel will appeared. Put your context, set creativity and output limit. Click on the Write button. You will get your copy written by GetGenie AI.
Besides simply clicking a content to copy you can also click on the blue '+' icon top-right corner of the content and insert it directly into your post.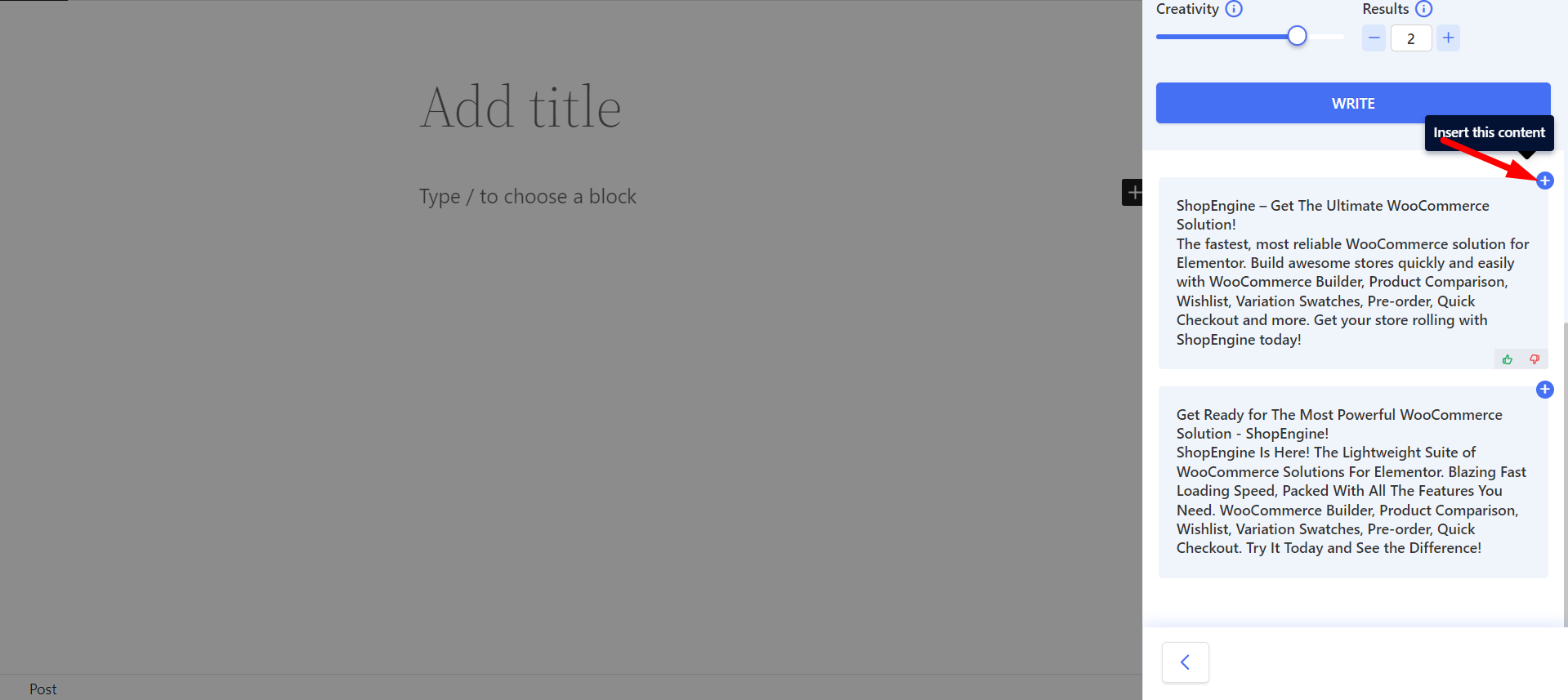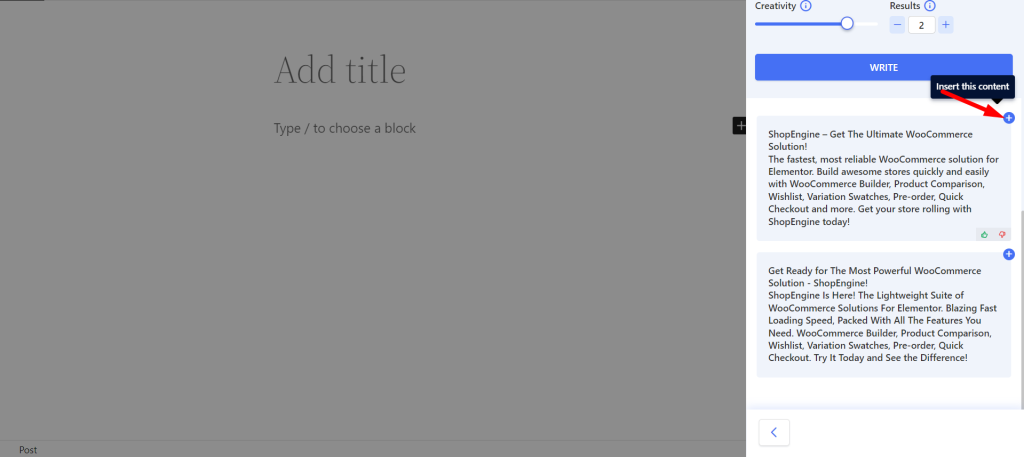 Product Ad Copy template using Shortcut key #
Using backslash(\) you can find Product Ad Copy while writing or editing a content.
Type backslash(\) Product Ad Copy while writing a content
Find Product Ad Copy from the option box
Select and rest of the steps are the same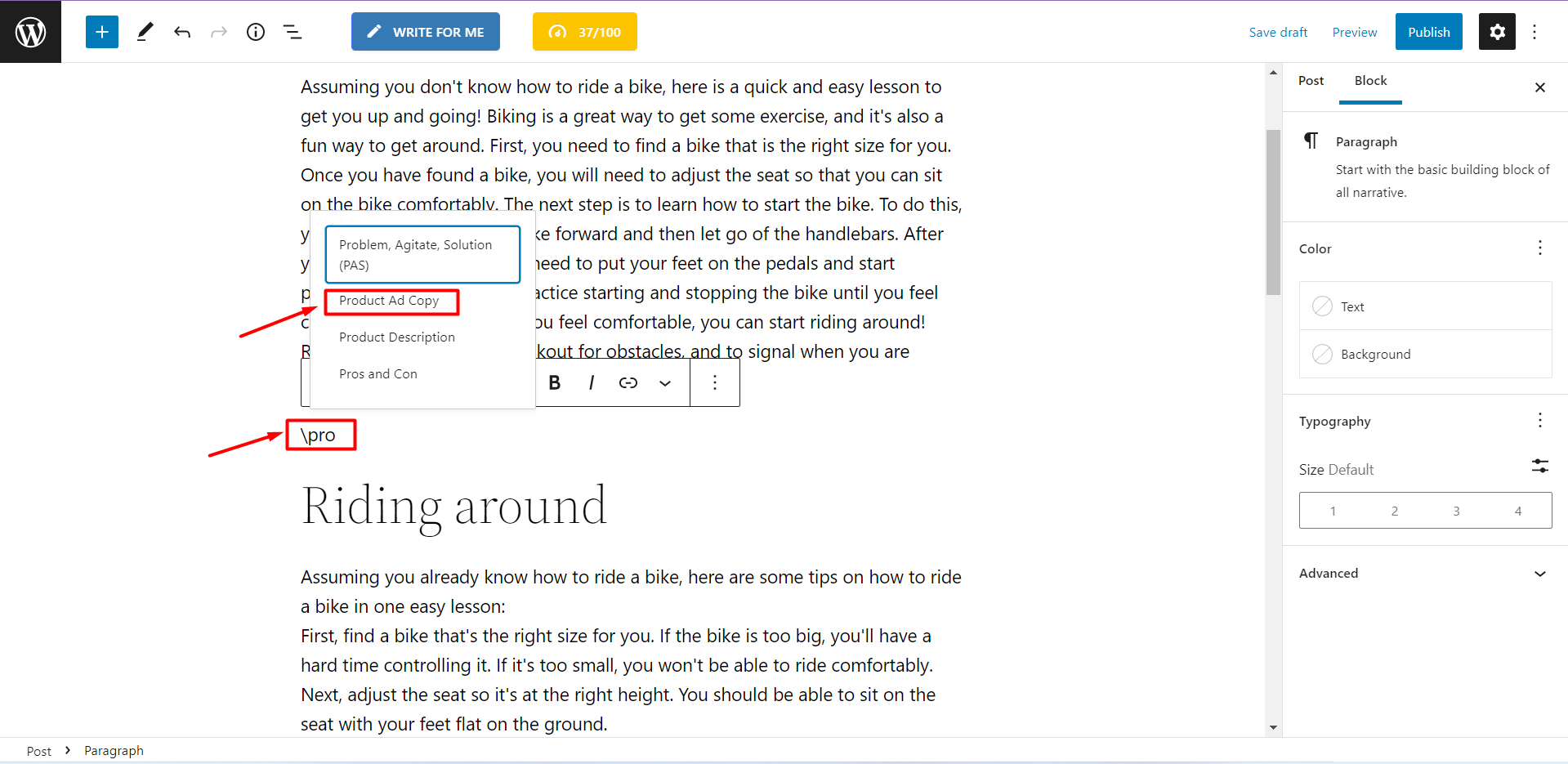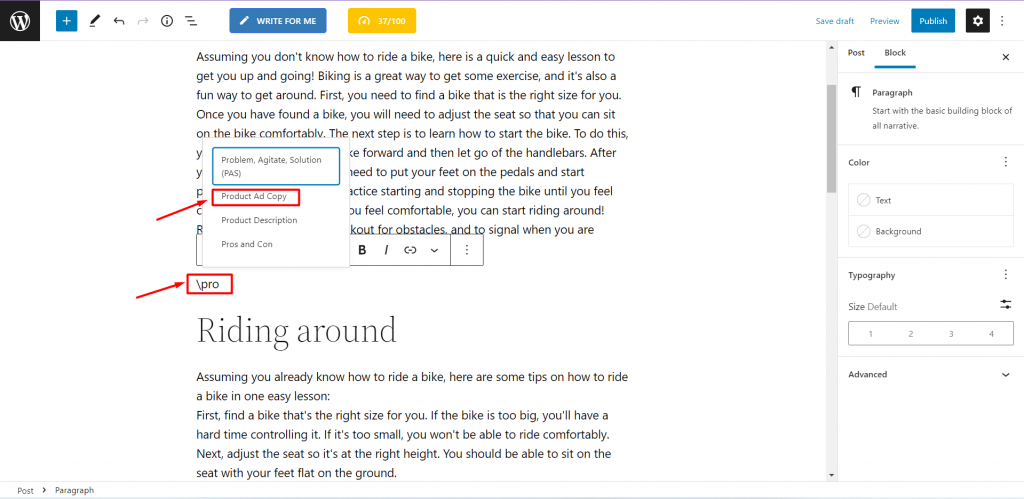 Online AI-powered templates are popular among marketers. Whether you need a paid ad copy generator or free ad copy generator GetGenie AI will be the best choice. So why waste time? Try GetGenie AI Now!
Recipe to write Product Ad Copy #
Here is an example product Ad copy generated by GetGenie.
Input #
Product name: ShopEngine
Product description:
Lightweight suite of WooCommerce solution for Elementor with blazing fast loading speed, packed with WooCommerce Builder, Product Comparison, Wishlist, Variation Swatches, Pre-order, Quick Checkout and more!
Language- English
Tone- Standard
Creativity- 5
Set Result Limit- 2
Output #
1. ShopEngine - Elementor WooCommerce Solutions!    
ShopEngine is the perfect solution for anyone using Elementor and WooCommerce. With ShopEngine, you get all the features you need to build a successful online store, including a fast loading speed, a WooCommerce Builder, a Product Comparison tool, a Wishlist, Variation Swatches, a Pre-order option, Quick Checkout, and more!

2. The fastest, simplest WooCommerce solution for Elementor!
ShopEngine is the ultimate WooCommerce add-on for Elementor, packing in everything you need to take your online store to the next level. With ShopEngine, you'll get blazing fast loading speeds, a powerful WooCommerce Builder, Product Comparison, Wishlist, Variation Swatches, Pre-order, Quick Checkout and more!