GetGenie AI is an efficient tool that also includes a framework AI paragraph generator. It removes your confusion by guessing the next paragraph's ideas. And you never have to worry about uniqueness.
Genie AI is a powerful software, easy to use even for beginners. In this documentation, you will see how the Next Paragraph template works.
Steps to use GetGenie AI- AI paragraph generator #
You can use the Next Paragraph framework to generate article-relevant paragraphs in two different ways.
Using GetGenie Dashboard #
Navigate– Your WordPress Admin Dashboard → Get Genie → Write For Me. After that follow the below steps:
Select Next Paragraph framework
Input your Paragraph in the field
Set the Creativity Level according to your wish (up to 5). The levels define how much creative output you want. The bigger the number the more creative output it will provide.
Set the Result Limit according to your wish (up to 10). This will determine how many varieties of outputs you want to generate
Finally, Click WRITE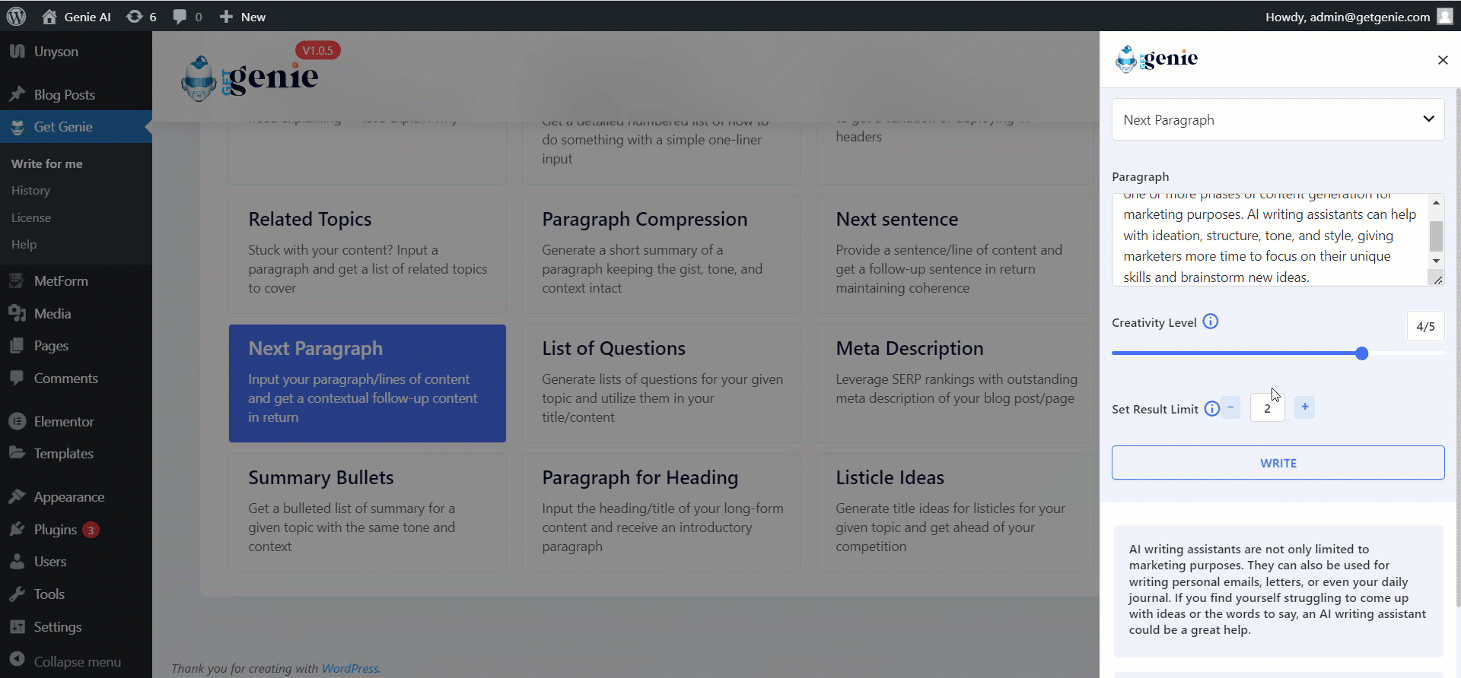 You can click on the content that you want to use and it will be copied to your clipboard. Now, paste it anywhere you want and start getting more conversions!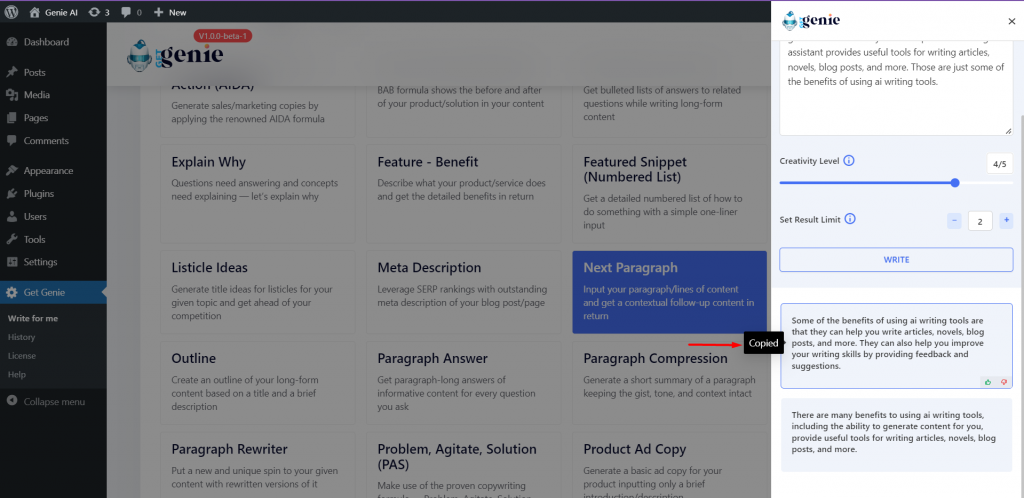 Using Next Paragraph template inside Post/ Page #
Create a new post from the WordPress menu. Also, you can edit your old posts in the same way. Click on Write For Me.
Now, click on Next Paragraph.
You will see the previous panel here. Put your context, set creativity and output limit. Click on the Write button. You will find your copy written by GetGenie AI.
Next Paragraph template using Shortcut key #
Using backslash(\) you can find Next Paragraph while writing or editing content. Here are the steps:
Type backslash(\)Next Paragraph while writing a content
Find Next Paragraph from the option box
Select and rest of the steps are the same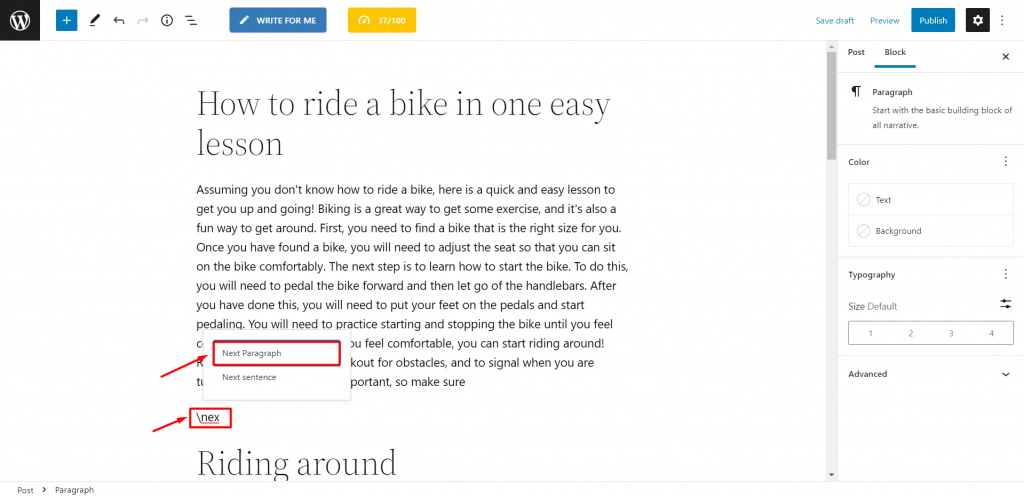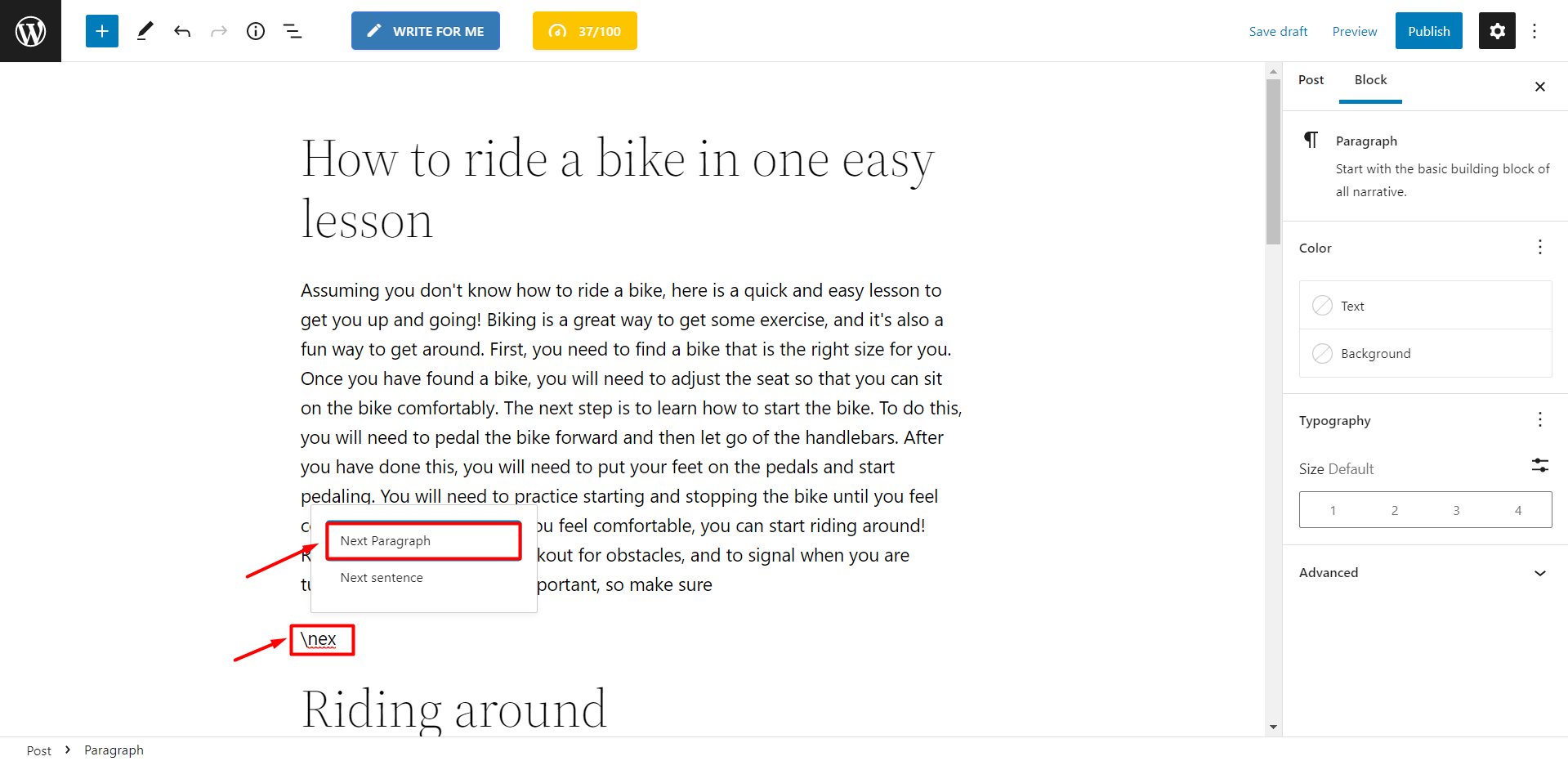 Besides simply clicking a content to copy you can also click on the blue '+' icon top-right corner of the content and insert it directly into your post.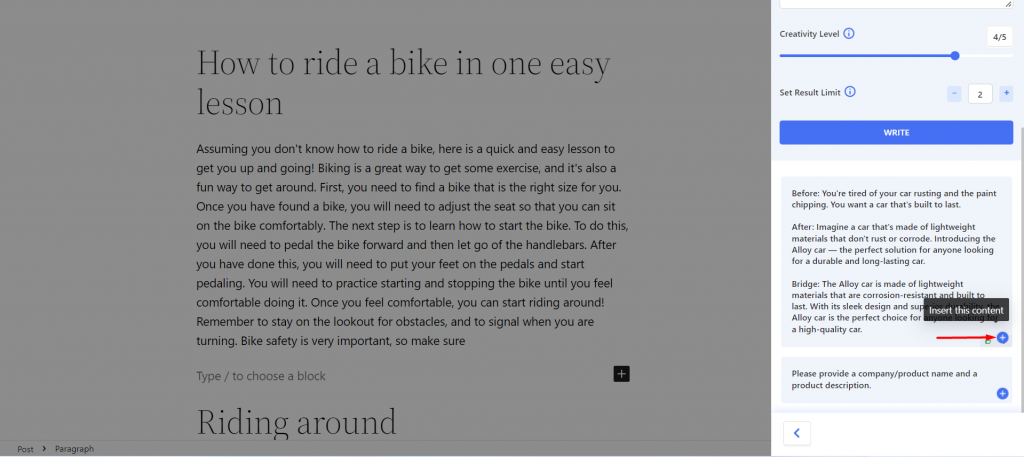 These are the simple steps you can follow and use the GetGenie AI paragraph generator. The tool has already gained trust with its performance. Give it a try today!
Recipe to write Next Paragraph with GetGenie #
Here is an example of next paragraph generated by GetGenie based on the input.
Input: #
Paragraph:
Biometrics is the science that deals with the measurement and analysis of human characteristics for the purpose of identification. These include fingerprints, iris scans, face recognition, voice recognition, retinal scans, DNA profiling, palm prints, hand geometry, and signature verification.
Creativity Level: 4
Set Result Limit: 2
Output(s): #
The biometric industry has grown rapidly since its inception in the 1980s. It now employs thousands of people around the world and generates billions of dollars in revenue annually.
Many people are understandably concerned about the implications of biometric data being used for identity theft or other nefarious purposes. However, biometrics can also be used for positive purposes such as medical diagnosis, crime prevention, and increasing security.