Nowadays, AI answer generators can help you get quick answers to a required question. AI can generate answer that were quite precise and fast.
We sometimes seek short answer generator tools to get short questions and answers. In this case, AI-powered short response generator tools are a blessing to get quick solutions. Here we have brought an efficient AI writing assistant named GetGenie AI. It assists users to get effortless short sized answers. GetGenie AI comes with a free AI answer generator tool that you can use to get answers up to 1500 words for free.
GetGenie's working process is smart and it is equipped with multiple writing snippets. GetGenie is such a well-organized tool to ensure the best service even via a free answer generator. Today's documentation will show you how to use GetGenie short answer generator.
Using guideline of GetGenie AI Short Answer Generator #
GetGenie AI comes with 37+ writing template, that includes AI question answer generator template as well. With this free question answer generator tool, you can use the Short Answer generator template to generate short answers in two different ways.
Using GetGenie Dashboard #
Navigate– 1.Your WordPress Admin Dashboard → 2. Get Genie → 3. AI Writing → 4. Find and select Short Answer Template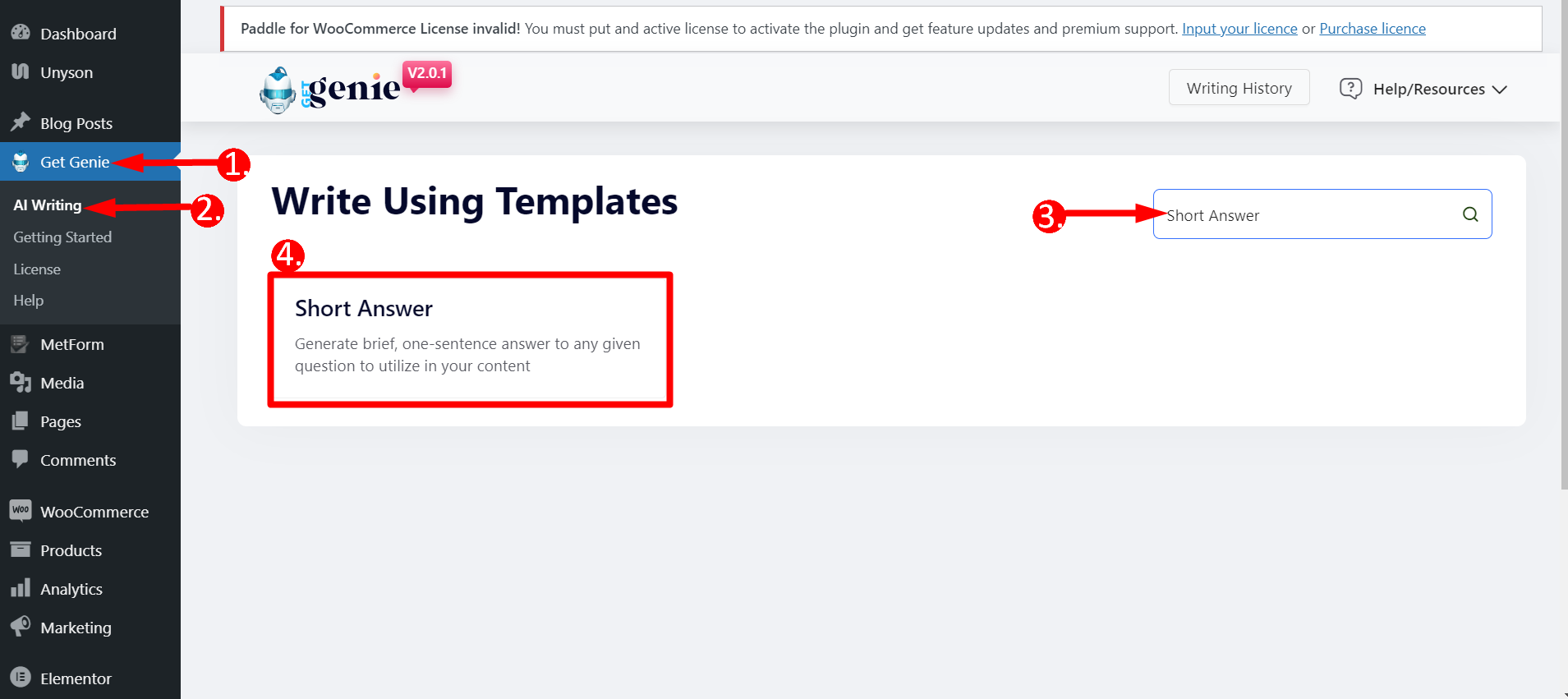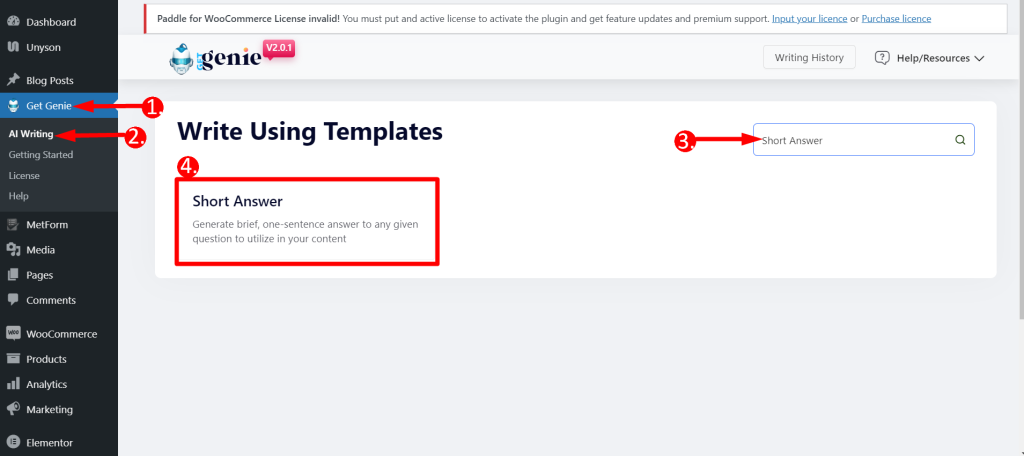 In the short answer generator template interface, you can enter the question to get the short answer generated.
Write Question in the field
Choose any Language based on your preference
Select output Tone
Set the Creativity Level according to your wish (up to 5). The levels define how much creative output you want. The bigger the number the more creative output it will provide.
Set the Result Limit according to your wish (up to 10). This will determine how many varieties of outputs you want to generate
Finally, Click WRITE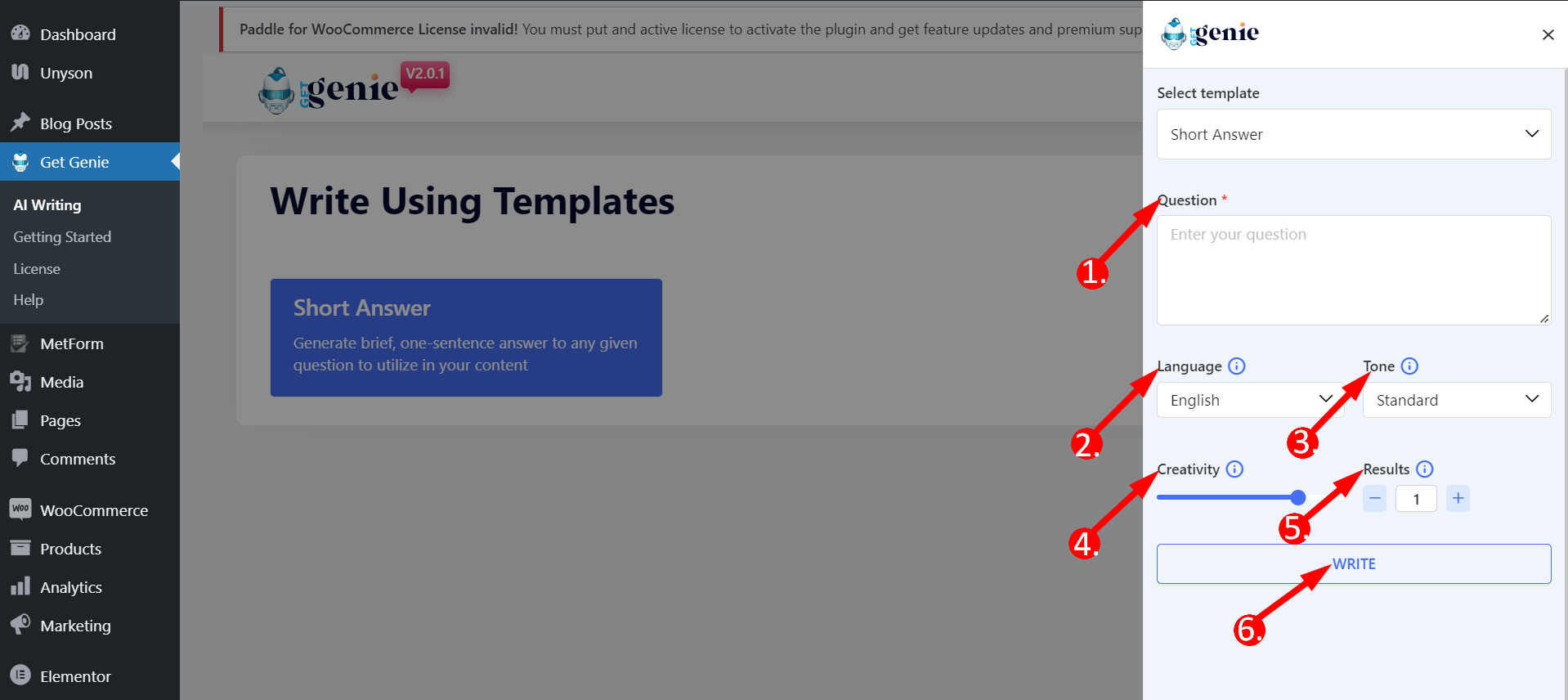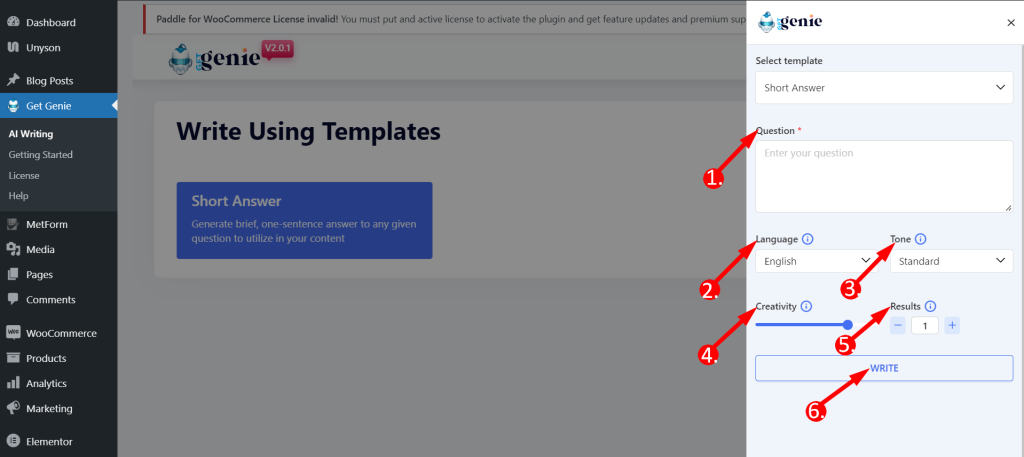 See the example below for how to use short answer response generator –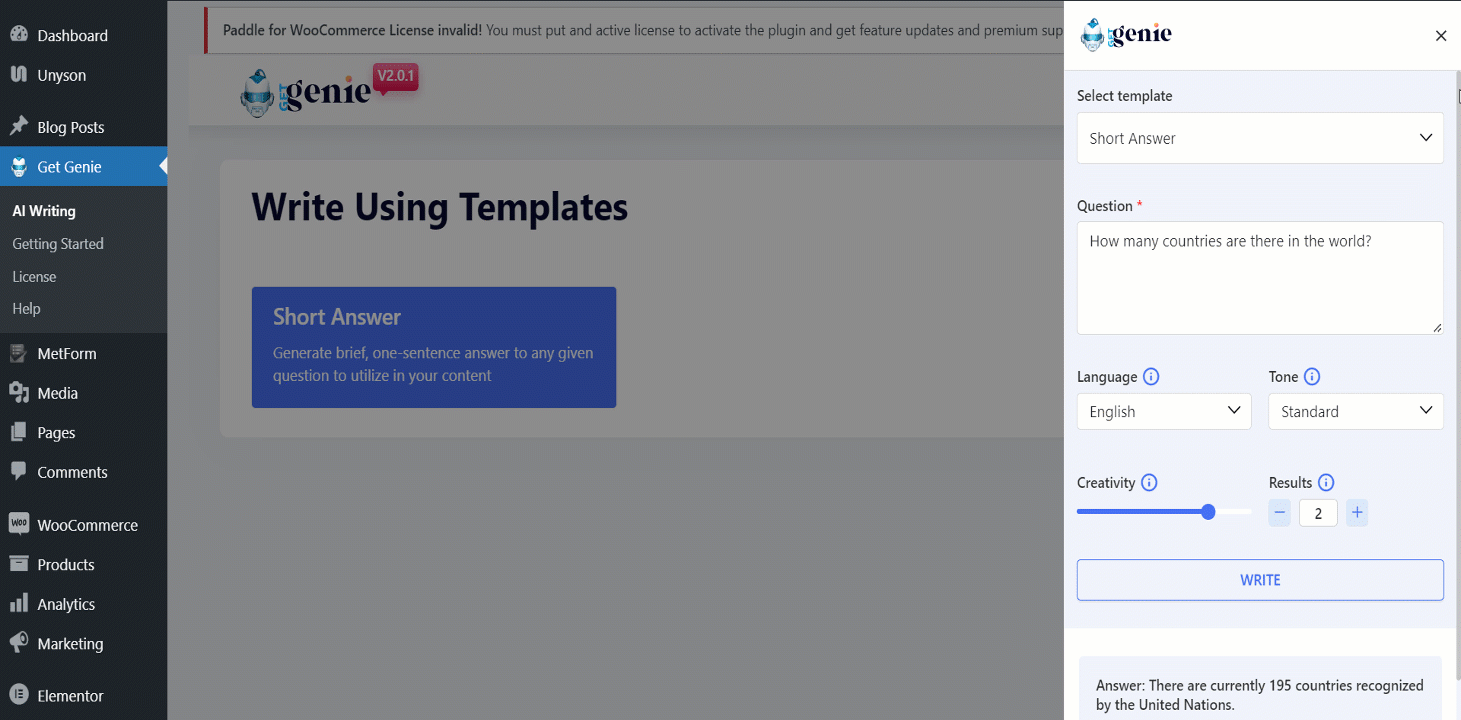 You can click on the content that you want to use and it will be copied to your clipboard. Now, paste it anywhere you want and start getting more conversions!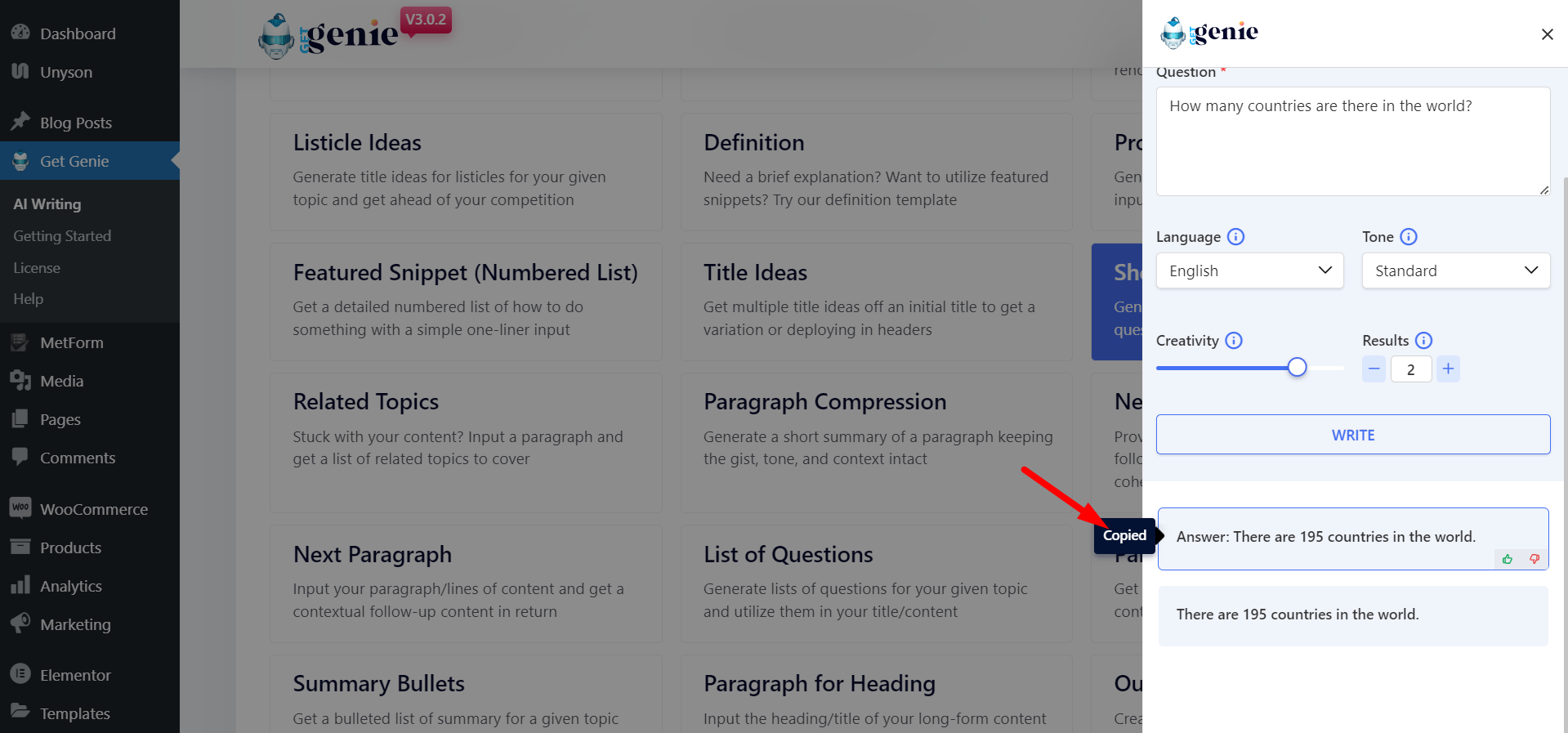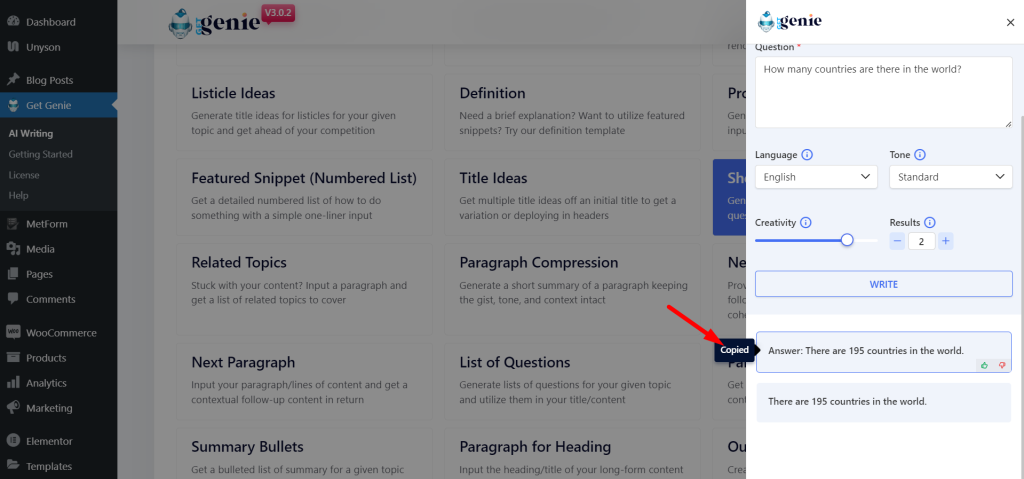 Using Short Answer generator template inside Post/Page #
From WordPress menu go to Posts/Pages
Create a new post/page or edit an old content
Click on Write For Me.
Find Short Answer.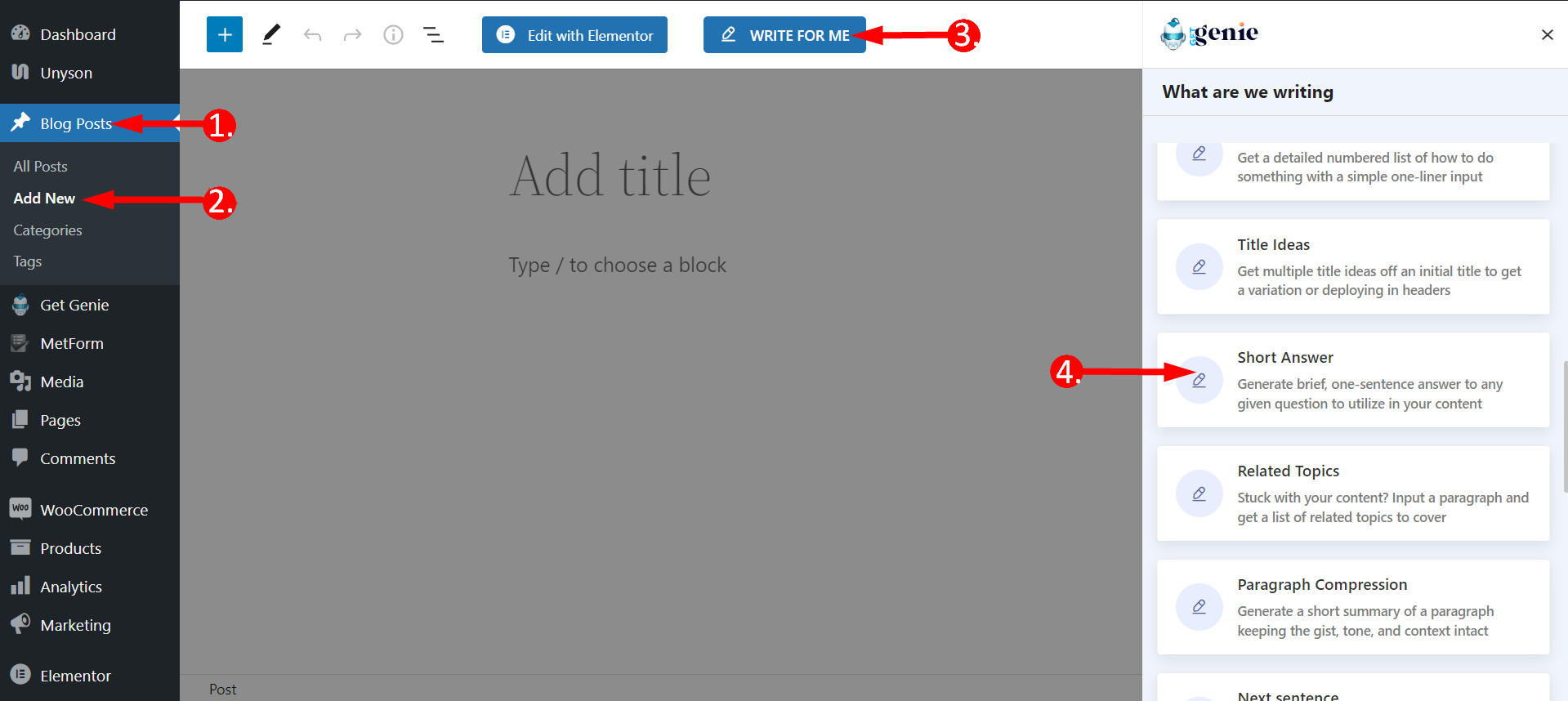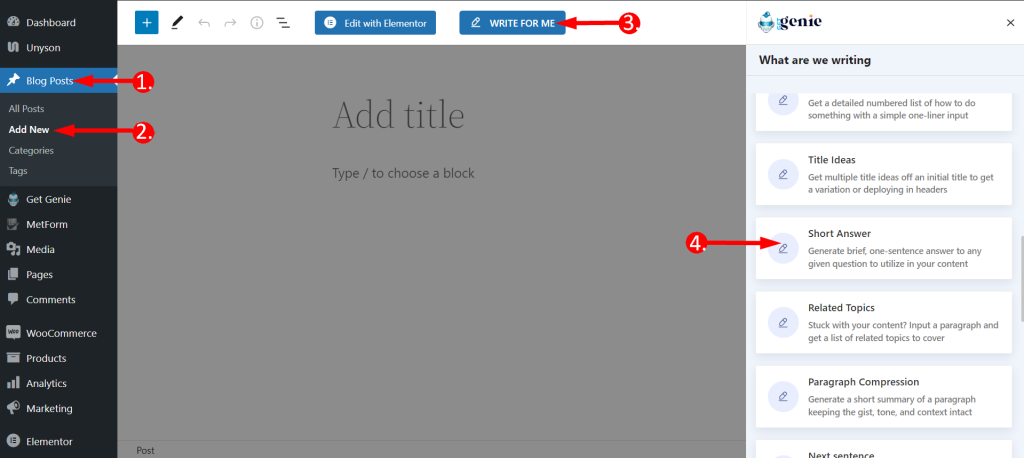 You will see the previous panel here. Put your context, set creativity and output limit. Click on the Write button. You will find your copy written by GetGenie AI.
Besides simply clicking a content to copy you can also click on the blue '+' icon top-right corner of the content and insert it directly into your post.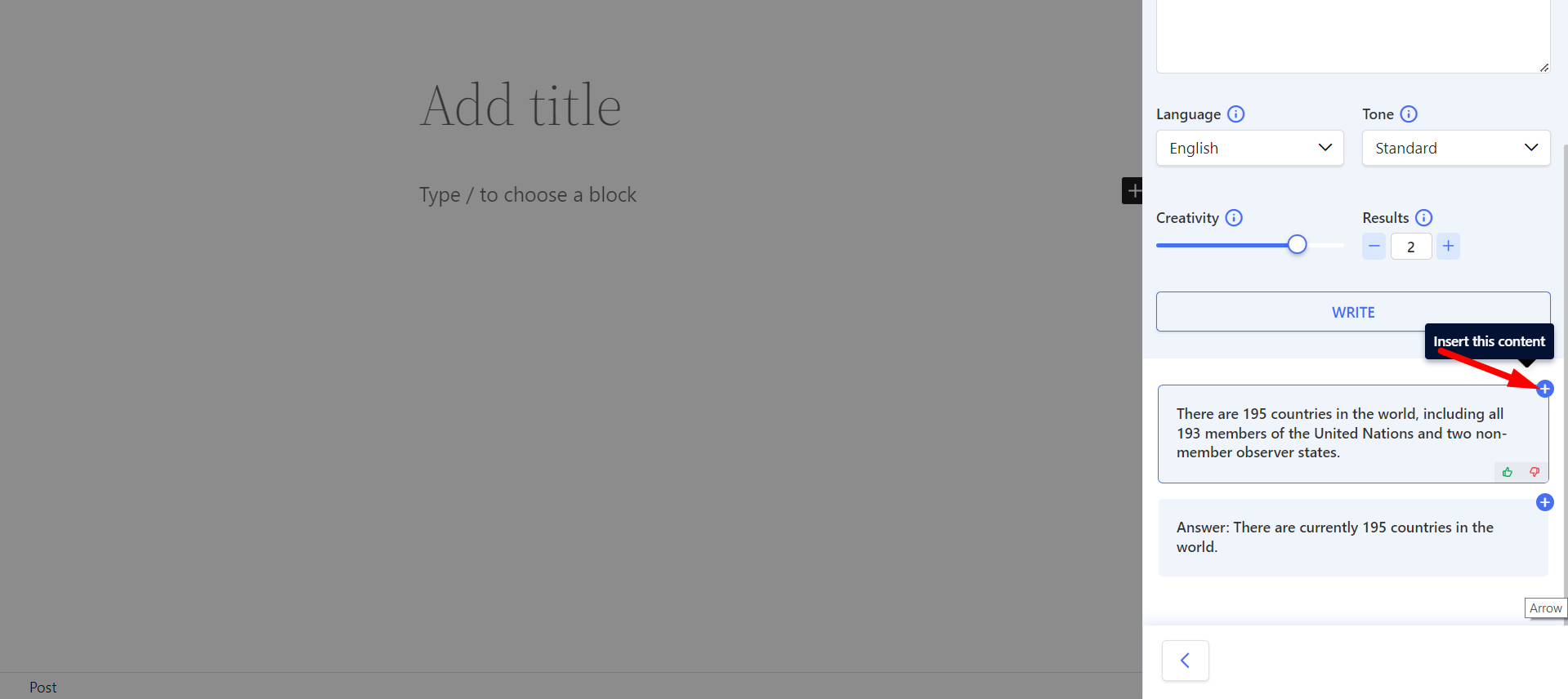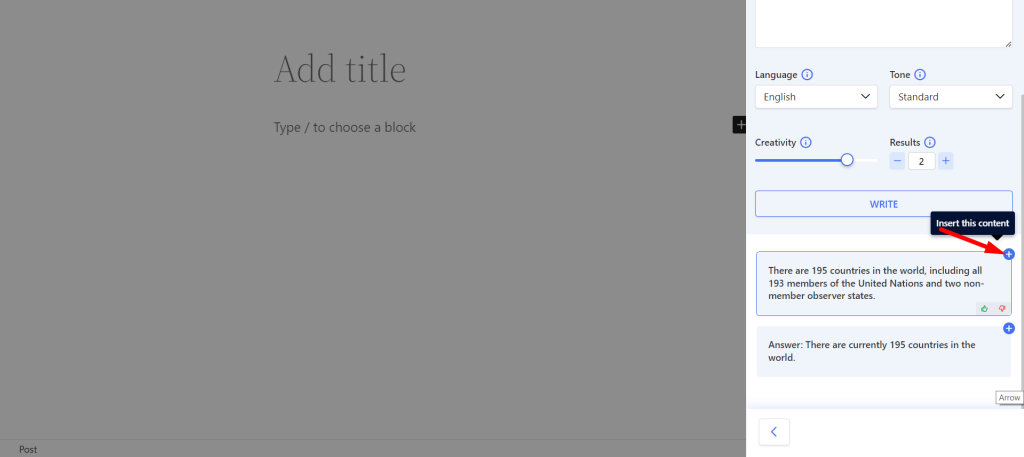 Short Answer template using Shortcut key #
Using backslash(\) you can find Short Answer while writing or editing a content. Here are the steps:
Type backslash(\)Short Answer while writing a content
Find Short Answer from the option box
Select and rest of the steps are the same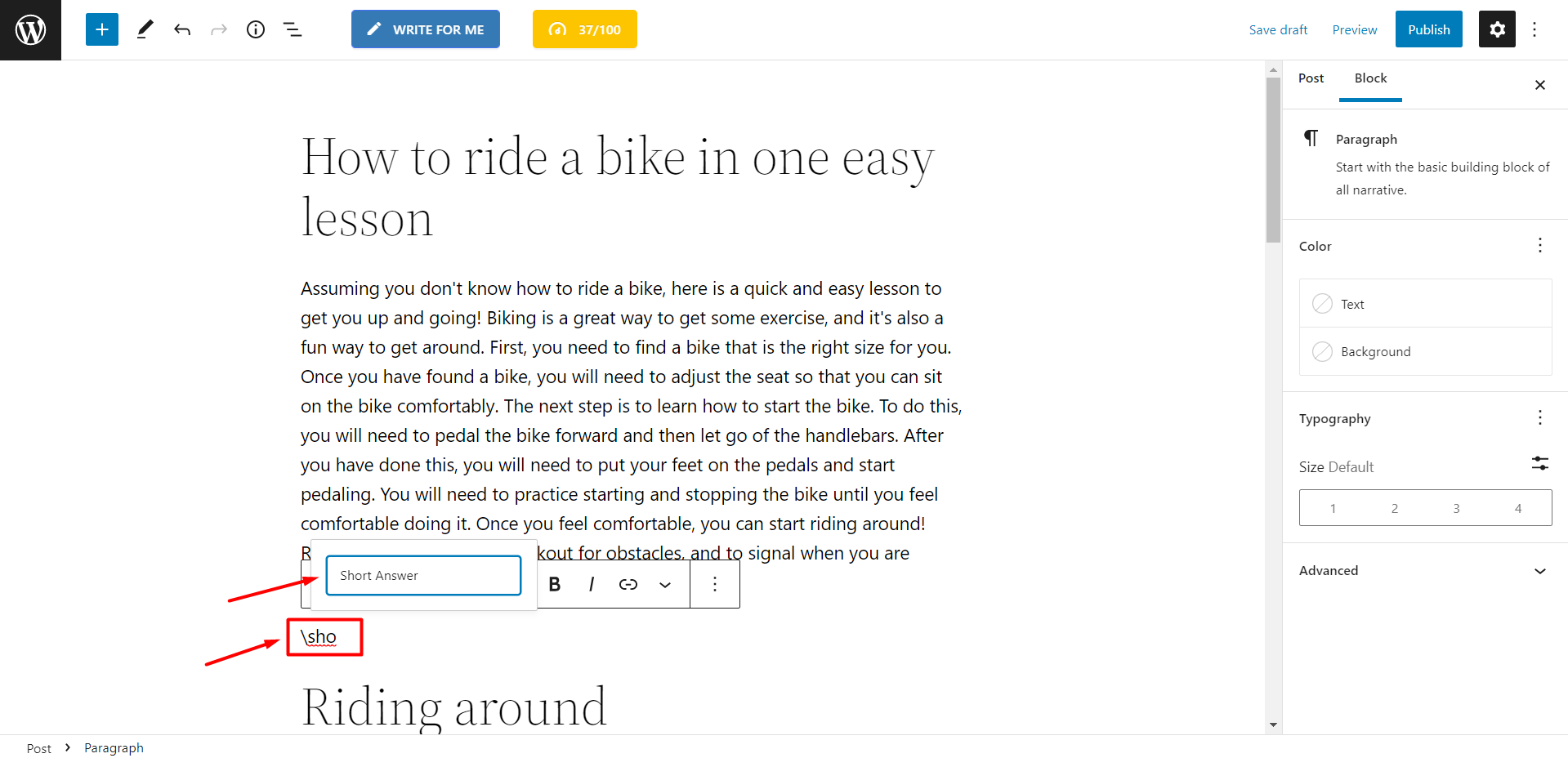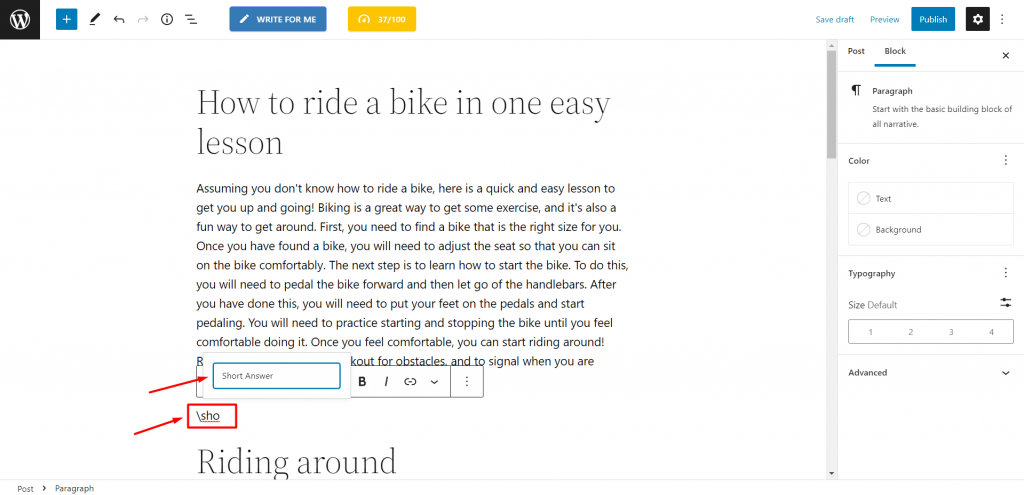 To conclude the documentation, Genie's short answer generator is worth it for those who struggle to find short answers. It is wonderfully accessible. So, use this modern tool and enjoy short yet accurate answers quickly. Try Genie now!
Recipe to generate Short Answers with GetGenie #
Here is an example of Short Answers generated by GetGenie based on the input questions.
Input #
Question: How many countries are there in the world?
Language: English
Tone: Standard
Creativity: 4
Results: 2


Output #
1. Answer: There are currently 195 countries recognized by the United Nations.

2. Answer: There are 195 countries in the world.