A.I.D.A. Stands for Attention, Interest, Desire, Action.
It is a marketing and copywriting framework that is preferred by classic marketers. It's proven to bring positive results. Using this model or framework, you can write winning copies for your website or business and increase the overall conversion rates.
With GetGenie AI, you can utilize this model to the fullest for copywriting. You can generate content for your landing pages, scripts, and more.
In this documentation, you will learn how to write winning content using the AIDA model with GetGenie.
Step by step guide to using AIDA model for marketing copy #
You can use the AIDA model in two different ways.
Using GetGenie Dashboard #
Navigate to – Your WordPress Admin Dashboard → GetGenie → Write For Me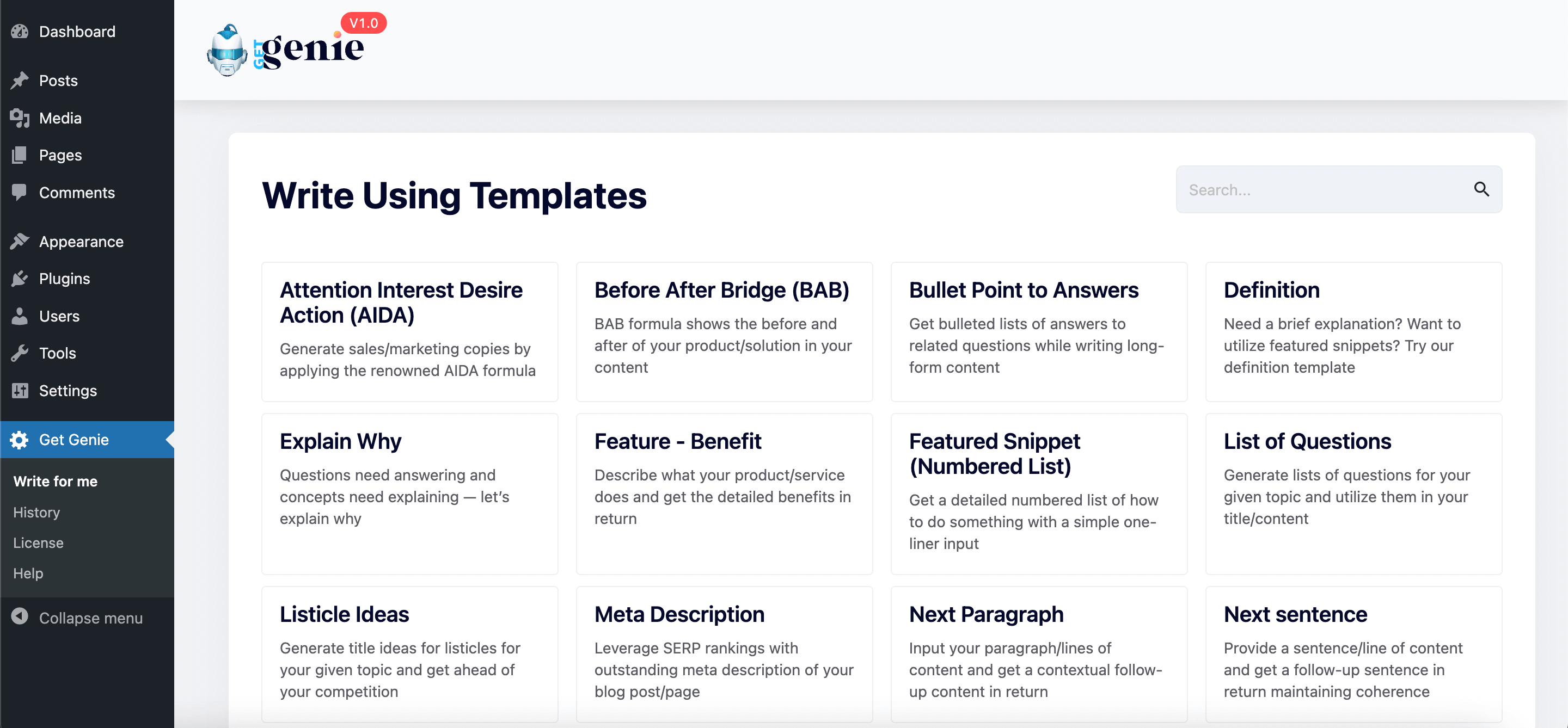 1. Click on Attention Interest Desire Action (AIDA).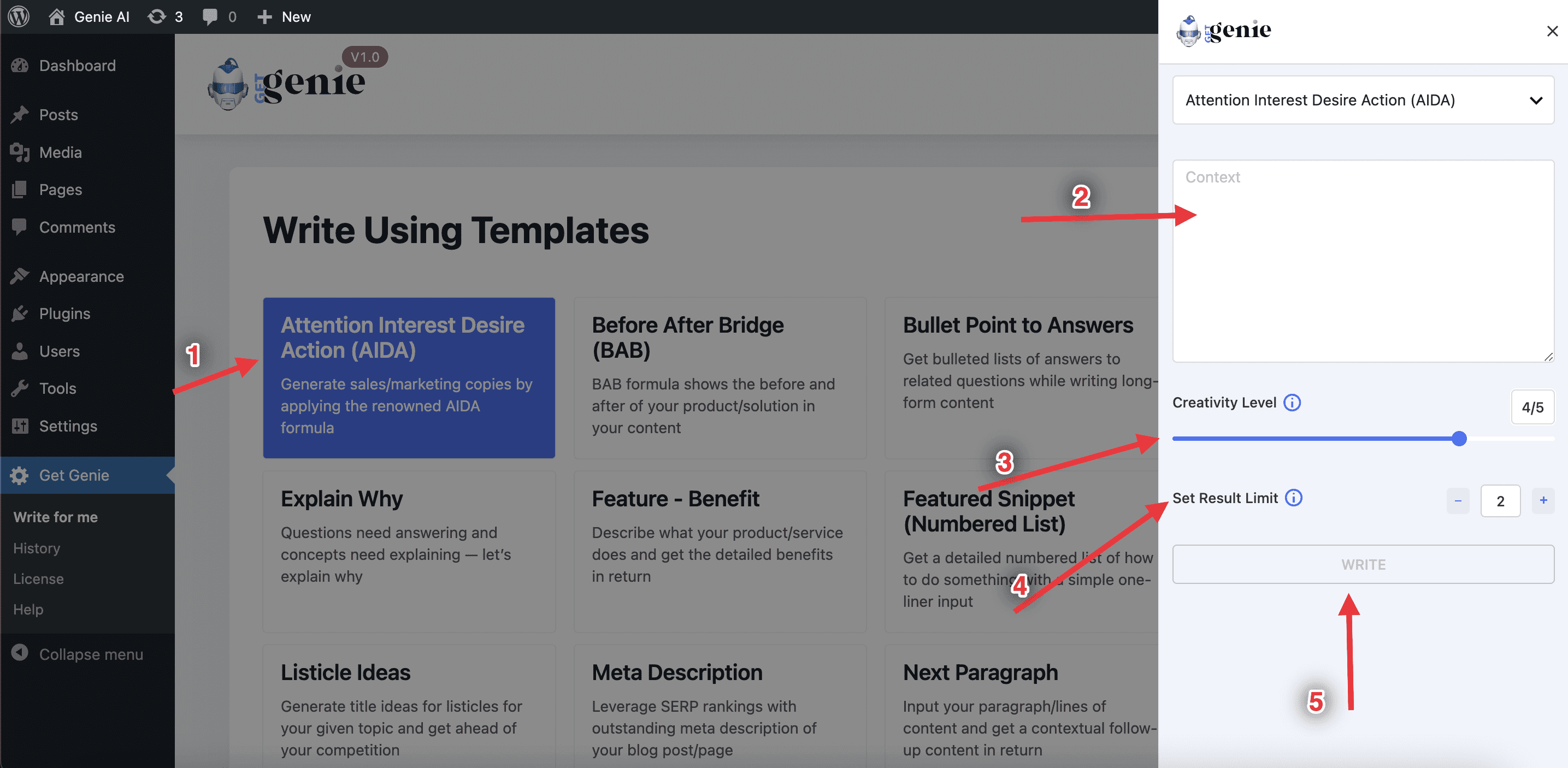 2. Now, provide a context to your marketing copy. For example, you can write about your brand/ service/ product. You can also write a small brief of what you are trying to achieve using this copy.
3. Then set the creativity level of your content. This helps the AI to understand how creative it needs to be for this specific content. The more creativity level your set, the more engaging content it will generate. We recommend setting it up to 4/5.
4. Set the limit to your output. By default, there are 2 results/ output. You can increase it depending on your need. Remember, every output uses your credit. So, for testing purposes, we recommend generating fewer results.
5. Finally, Click on the Write button and see the magic of GetGenie.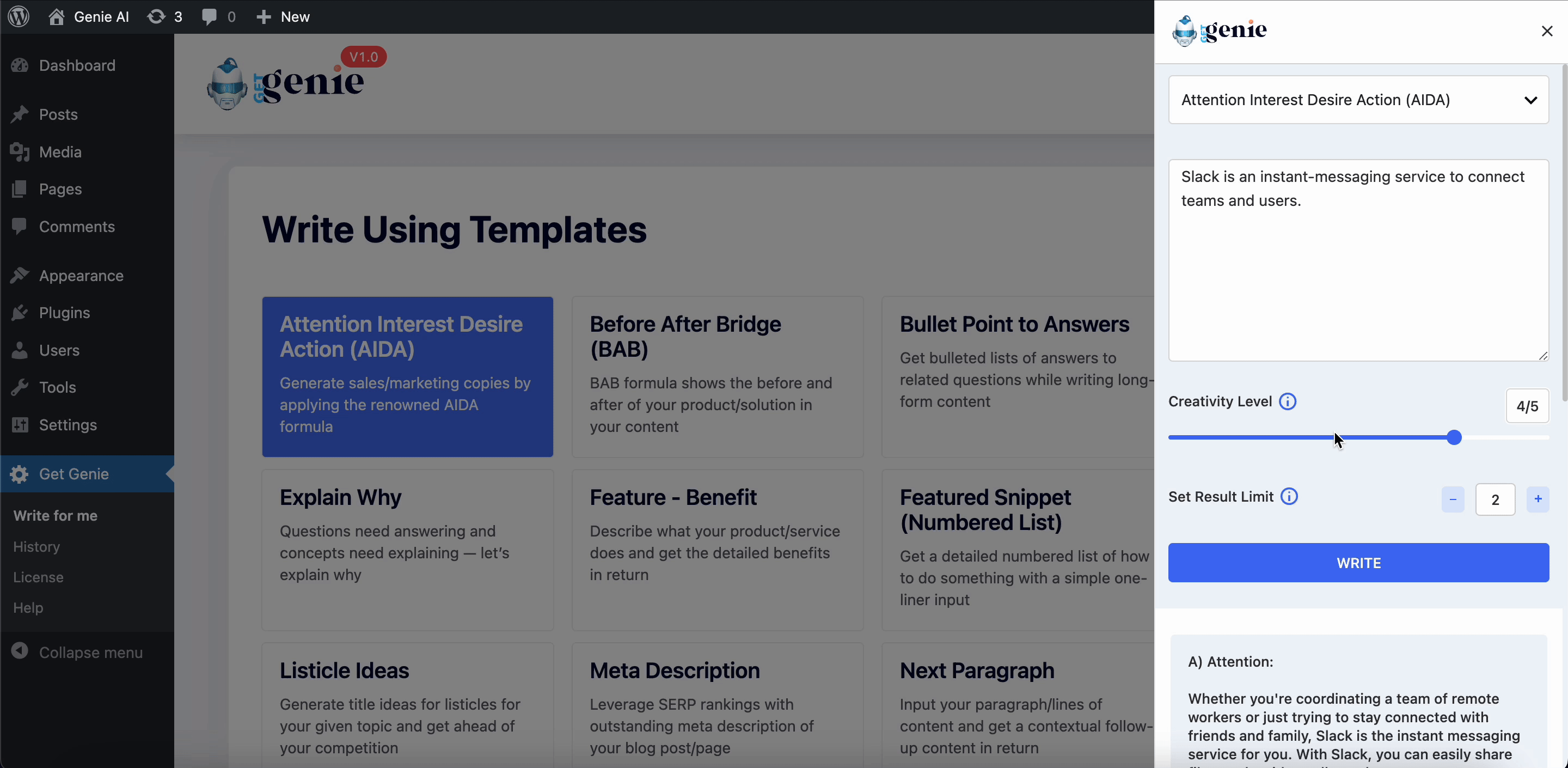 You can click on the content that you want to use and it will be copied to your clipboard. Now, paste it anywhere you want and start getting more conversions!
Using AIDA template inside Post/ Page #
Create a new post from WordPress menu. Click on Write For Me.
Now, click on Attention Interest Desire Action (AIDA).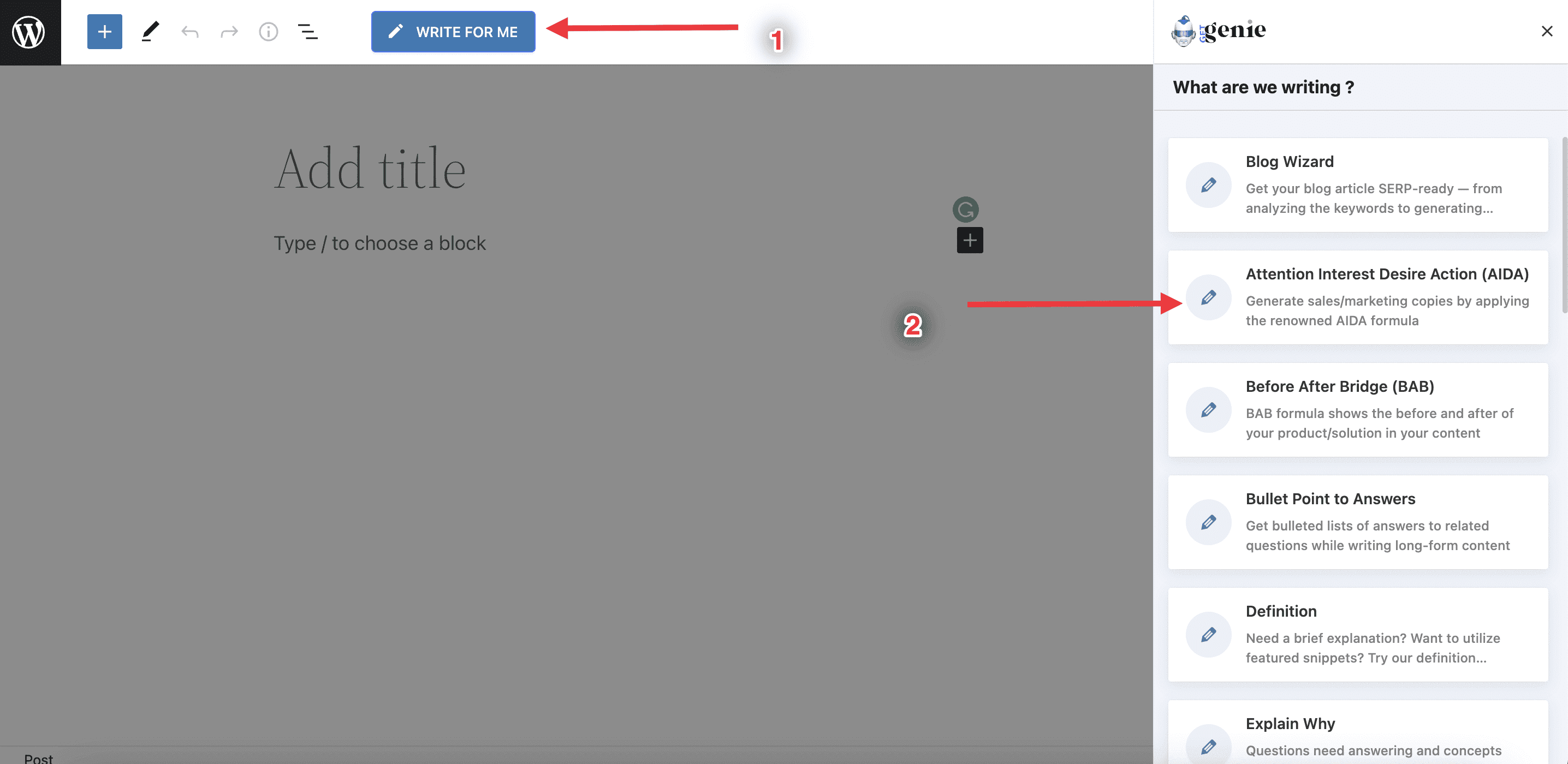 You will find exact same panel as before. Put your context, and set creativity and output limit. Click on the Write button. You will find your copy written by GetGenie AI.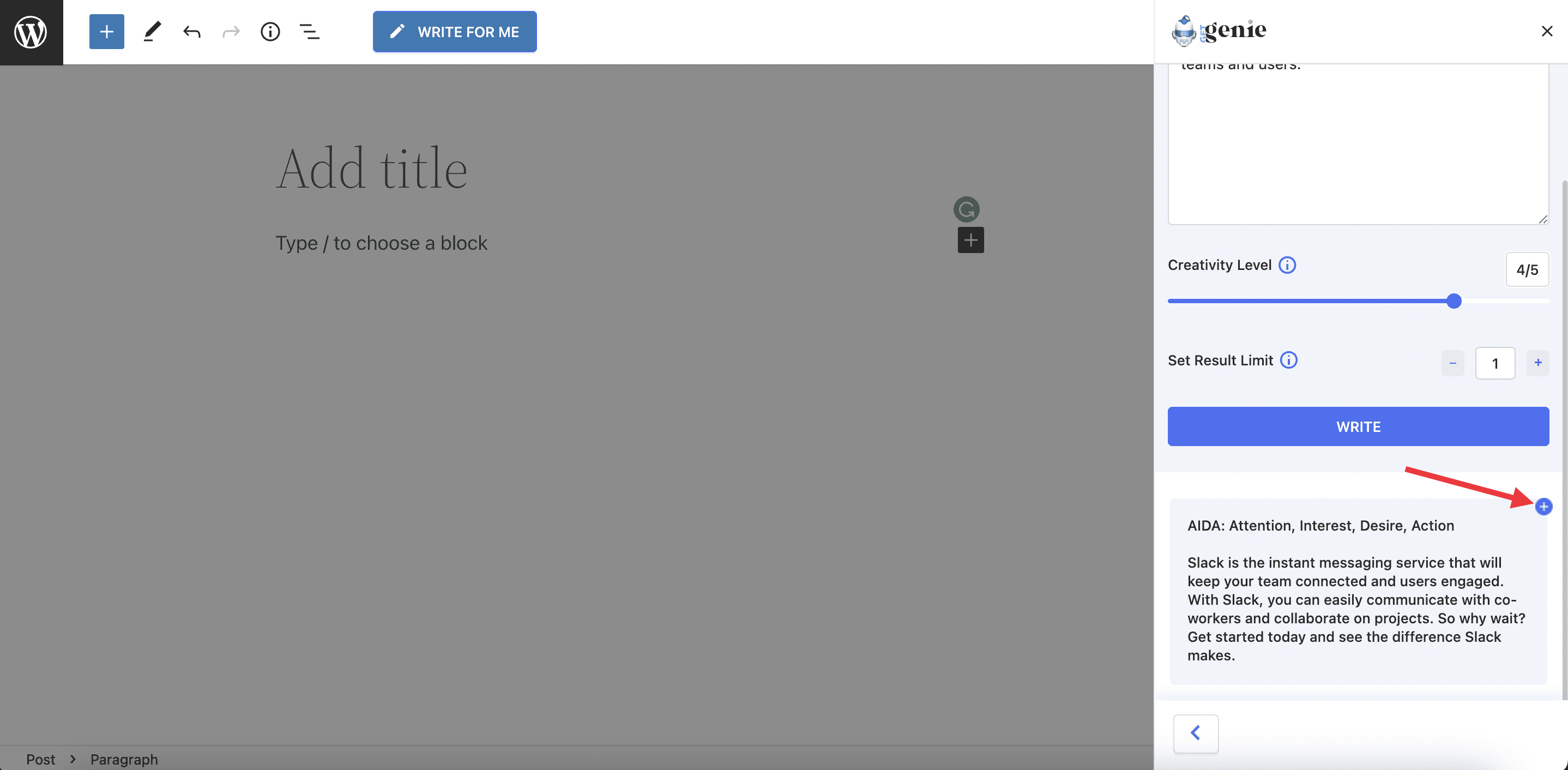 You can click on the content it will be copied to the clipboard so that you can use it anywhere you want. You can also click on the blue '+' icon top-right corner of the content and insert it directly into your post.
Recipe to write sales copy with AIDA template #
Here is an example of marketing copy generated by GetGenie using AIDA formula.
Input: #
Product name:
Metform

Product description:
Create any contact form, feedback form, subscription form, or any other type of form for your WordPress site in minutes with MetForm! With 90,000+ active installations, this elegant form builder plugin packs premium features and templates to make any type of form you want.

Creativity Level: 4
Set Result Limit: 1
Output: #
Attention: Do you need a form on your WordPress site?

Interest: MetForm is the most powerful contact form plugin for WordPress. With 70,000+ active installations and 4.7 out of 5 stars, it's clear that this plugin packs premium features and templates to make any type of form you want. Whether you need a simple contact form or something more complex like an ecommerce order form, subscription forms, lead generation forms – we have what you need!

Desire: We offer free support with all our plugins so if there are ever any issues with installation or customization just let us know and we'll get back to you as soon as possible. You can also check out our documentation where we cover everything from installation guides to customizing your own forms in detail. If there's anything else at all that would help make things easier for you feel free to reach out anytime!

Action: Click here now to learn more about how MetForm can help improve your business today!