This GetGenie AI template is a powerful pros and cons list maker. It can construct simple pros and cons lists for any given topic. If you are a busy marketer you can make fast and compelling pros and cons with the help of GetGenie AI.
This documentation will show you how the pros and cons of the template work –
How to use GetGenie AI Pros and Cons list maker #
You can use the Pros and Cons framework in two different ways.
Using GetGenie Dashboard #
Navigate – Your WordPress Admin Dashboard → GetGenie → Write For. After that follow the below steps:
Select Pros and Cons
Input your topic in the box
Set the Creativity Level according to your wish (up to 5). The levels define how much creative output you want. The bigger the number the more creative output it will provide.
Set the Result Limit according to your wish (up to 10). This will determine how many varieties of outputs you want to generate
Finally, Click WRITE
If you wish to copy a generated content just click on that and it will be copied to your clipboard. Now, paste it anywhere you want and start enjoying more conversions!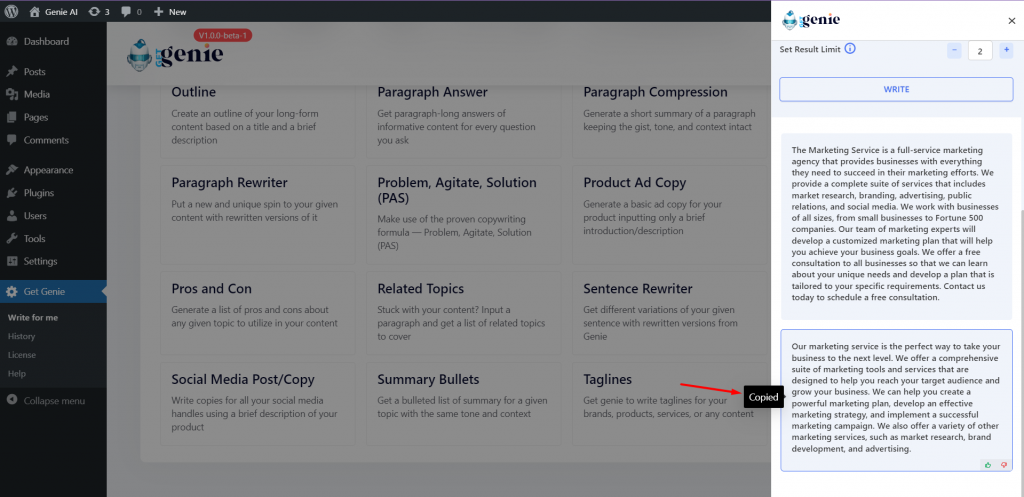 Using Pros and Cons template inside Post/ Page #
Create a new post from the WordPress menu. Also, you can edit your old posts in the same way. Click on Write For Me.
Now, click on Pros and Cons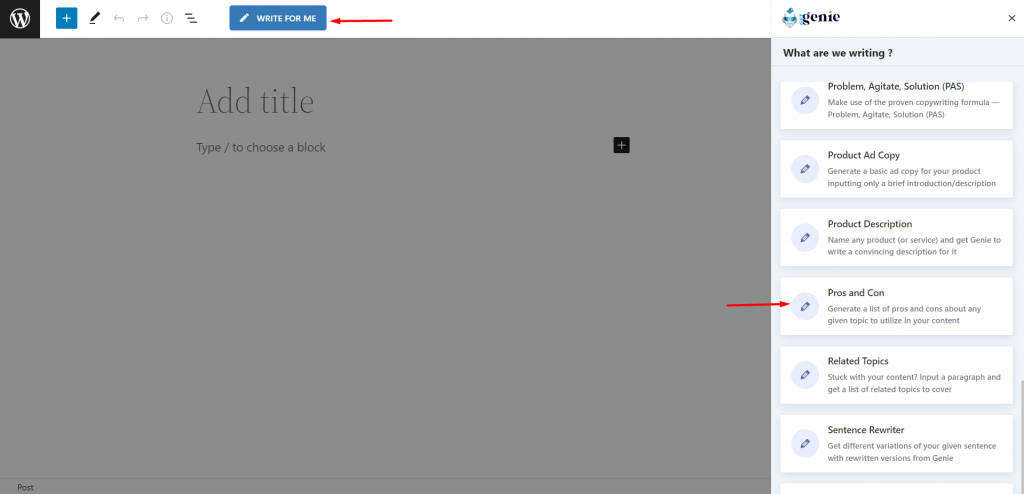 You will see the previous panel here. Put your context, set creativity and output limit. Click on the Write button. You will find your copy written by GetGenie AI.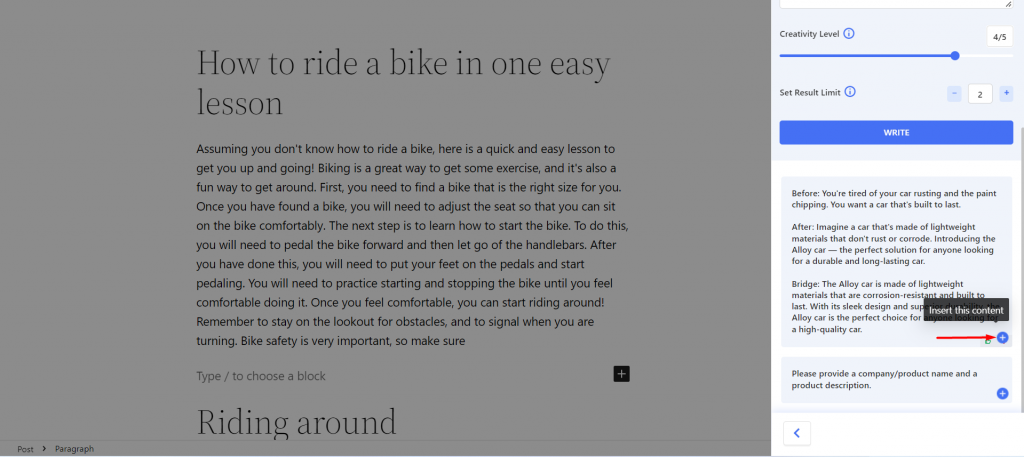 After that, click on the blue plus(+) icon on the content you choose and insert it directly into your post.
Pros and Cons template using Shortcut key #
Using backslash(\) you can find Pros and Cons while writing or editing content.
Type backslash(\)Pros and Cons while writing a content
Find Pros and Cons from the option box
Select and rest of the steps are the same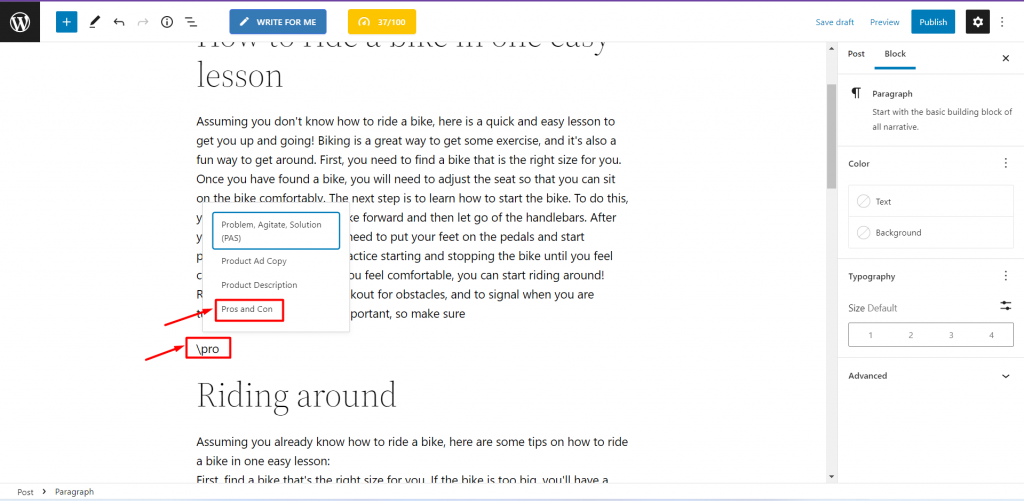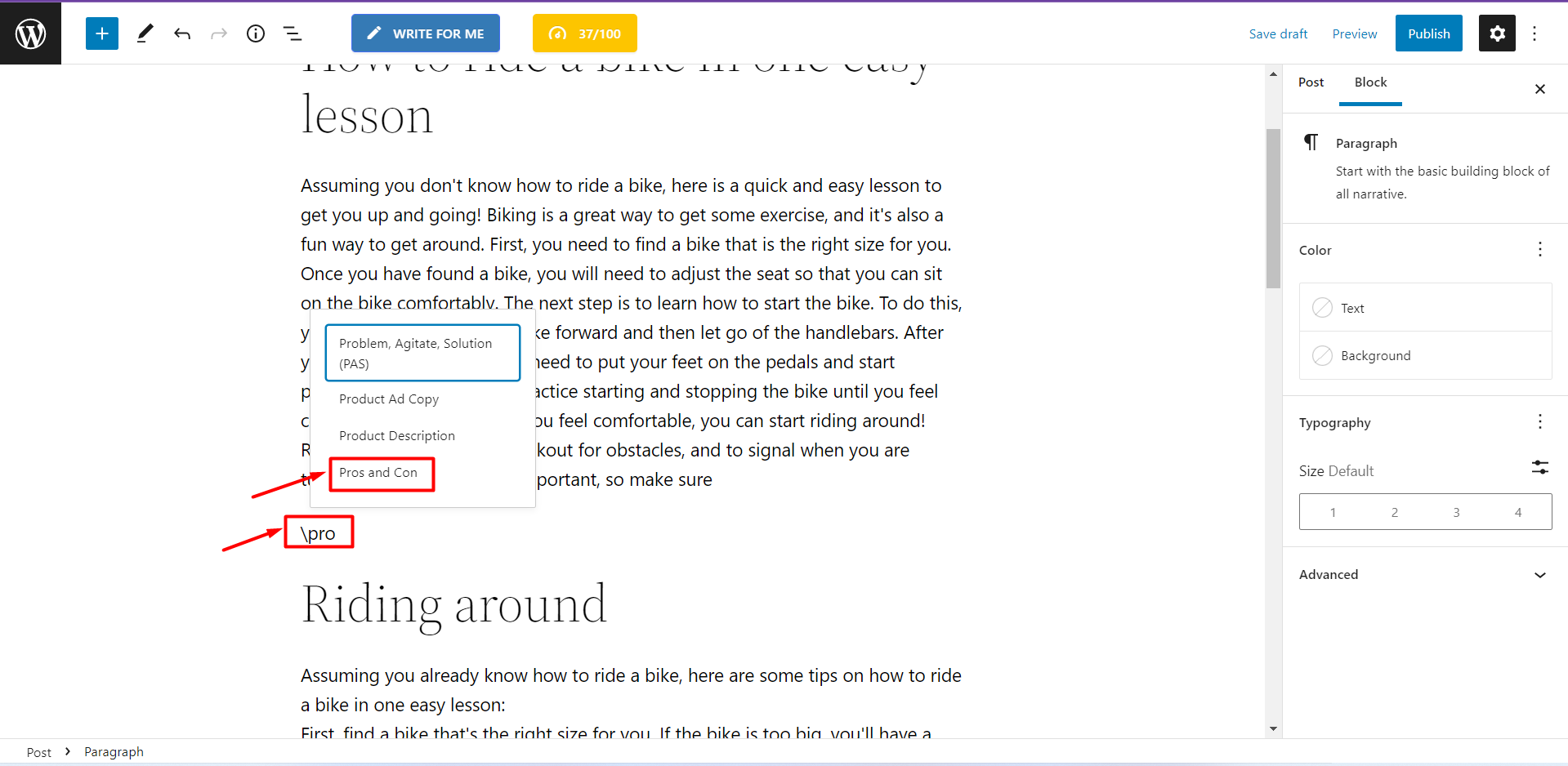 These easy steps will lead you to get effective advantages and disadvantages of your desired topic. So, use GetGenie AI pros and cons list maker to faster your work. For more information click here!
For your convenience we are sharing an output generating recipe example here-
𝘐𝘯𝘱𝘶𝘵𝘴:
𝘛𝘰𝘱𝘪𝘤 – 𝘣𝘢𝘯𝘬 𝘴𝘢𝘷𝘪𝘯𝘨 𝘢𝘤𝘤𝘰𝘶𝘯𝘵𝘴
𝘊𝘰𝘯𝘵𝘦𝘹𝘵/𝘈𝘥𝘥𝘪𝘵𝘪𝘰𝘯𝘢𝘭 𝘐𝘯𝘴𝘵𝘳𝘶𝘤𝘵𝘪𝘰𝘯 (𝘖𝘱𝘵𝘪𝘰𝘯𝘢𝘭) –
𝘊𝘳𝘦𝘢𝘵𝘪𝘷𝘪𝘵𝘺 𝘓𝘦𝘷𝘦𝘭- 4
𝘚𝘦𝘵 𝘙𝘦𝘴𝘶𝘭𝘵 𝘓𝘪𝘮𝘪𝘵- 1
𝘖𝘶𝘵𝘱𝘶𝘵:
𝘗𝘳𝘰𝘴:
𝘚𝘢𝘷𝘪𝘯𝘨𝘴 𝘢𝘤𝘤𝘰𝘶𝘯𝘵 𝘪𝘴 𝘴𝘢𝘧𝘦
𝘚𝘢𝘷𝘪𝘯𝘨𝘴 𝘢𝘤𝘤𝘰𝘶𝘯𝘵 𝘪𝘴 𝘤𝘰𝘯𝘷𝘦𝘯𝘪𝘦𝘯𝘵
𝘚𝘢𝘷𝘪𝘯𝘨𝘴 𝘢𝘤𝘤𝘰𝘶𝘯𝘵 𝘪𝘴 𝘢𝘤𝘤𝘦𝘴𝘴𝘪𝘣𝘭𝘦 24/7
𝘊𝘰𝘯𝘴:
𝘚𝘢𝘷𝘪𝘯𝘨𝘴 𝘢𝘤𝘤𝘰𝘶𝘯𝘵 𝘳𝘦𝘲𝘶𝘪𝘳𝘦𝘴 𝘮𝘪𝘯𝘪𝘮𝘶𝘮 𝘣𝘢𝘭𝘢𝘯𝘤𝘦
𝘚𝘢𝘷𝘪𝘯𝘨𝘴 𝘢𝘤𝘤𝘰𝘶𝘯𝘵 𝘳𝘦𝘲𝘶𝘪𝘳𝘦𝘴 𝘮𝘰𝘯𝘵𝘩𝘭𝘺 𝘧𝘦𝘦𝘴
𝘚𝘢𝘷𝘪𝘯𝘨𝘴 𝘢𝘤𝘤𝘰𝘶𝘯𝘵 𝘳𝘦𝘲𝘶𝘪𝘳𝘦𝘴 𝘮𝘢𝘪𝘯𝘵𝘦𝘯𝘢𝘯𝘤𝘦