Businesses prefer to show 'how to do' processes in a numbered list. And they look for a free featured snippet tool sometimes. GetGenie AI Featured Snippet (Numbered List) is such a wonderful template that generates numbered listed content in a few minutes.
This documentation will give you an idea of how this template works easily. Let's see the steps-
Working guideline of GetGenie AI- Free Featured Snippet tool #
You can use the Featured Snippet (Numbered List) template in two different ways.
Using GetGenie Dashboard #
Navigate- Your WordPress Admin Dashboard → Get Genie → Write For Me. After that follow the below steps:
Select Featured Snippet (Numbered List)
Write a simple one-liner input or topic name in the Topic box
Set the Creativity Level according to your wish (up to 5). The levels define how much creative output you want. The bigger the number the more creative output it will provide.
Set the Result Limit according to your wish (up to 10). This will determine how many varieties of outputs you want to generate
Finally, Click WRITE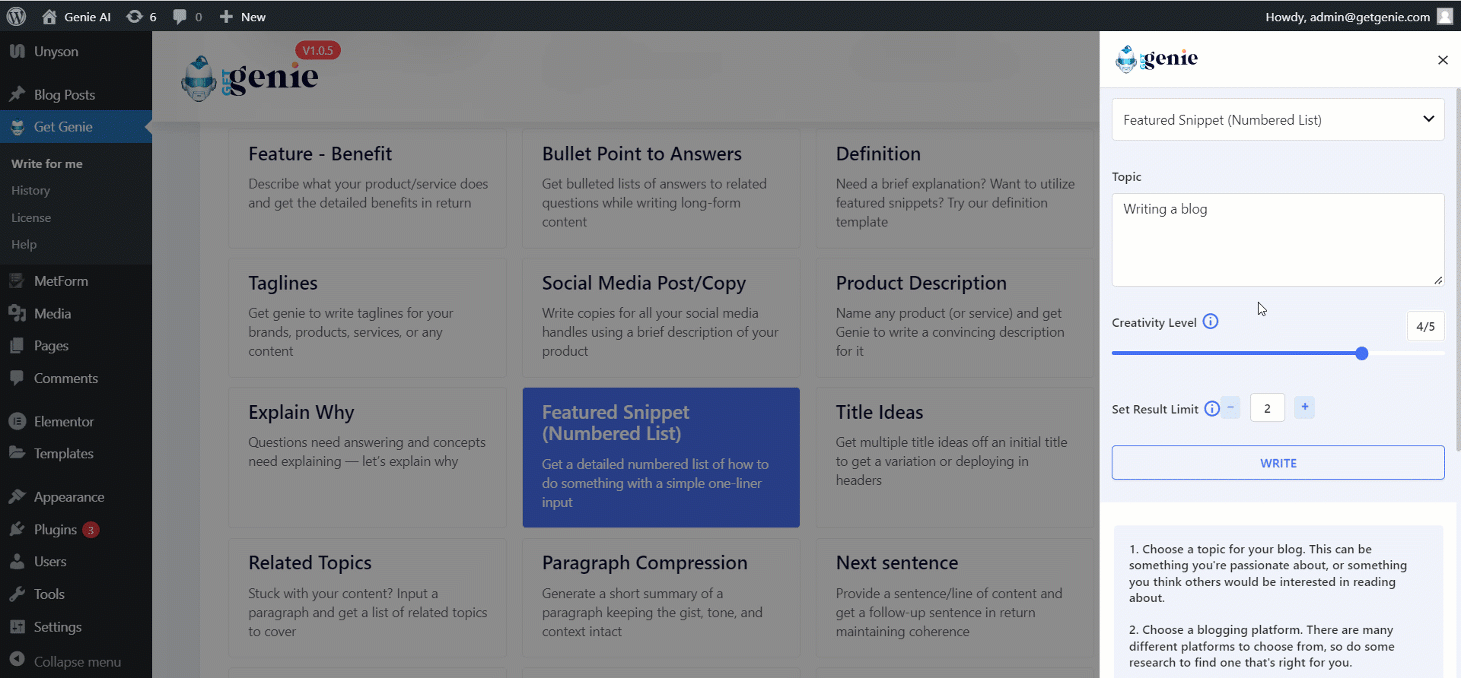 You can click on the content that you want to use and it will be copied to your clipboard. Now, paste it anywhere you want and start getting more conversions!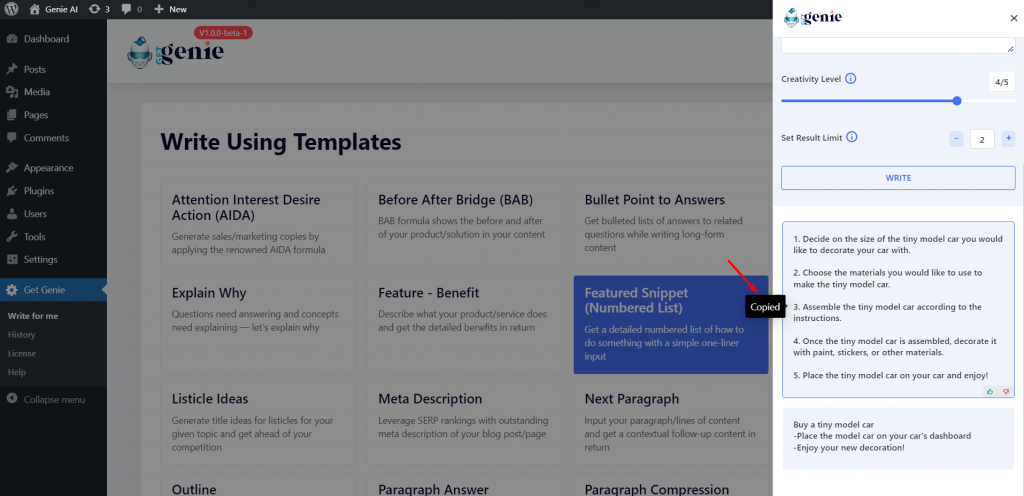 Using Featured Snippet (Numbered List) template inside Post/ Page #
Create a new post from the WordPress menu. Also, you can edit your old posts in the same way. Click on Write For Me.
Now, click on Featured Snippet (Numbered List).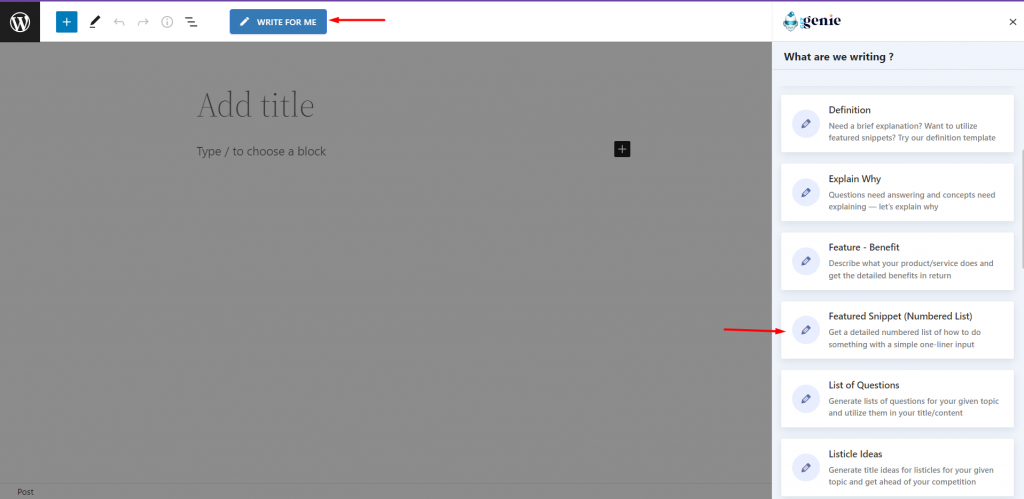 You will see the previous panel here. Put your context, set creativity and output limit. Click on the Write button. You will find your copy written by GetGenie AI.
Featured Snippet (Numbered List) template using Shortcut key #
Using backslash(\) you can find Featured Snippet (Numbered List) while writing or editing content.
Type backslash(\) while writing a content
Find Featured Snippet (Numbered List) from the option box
Select and rest of the steps are the same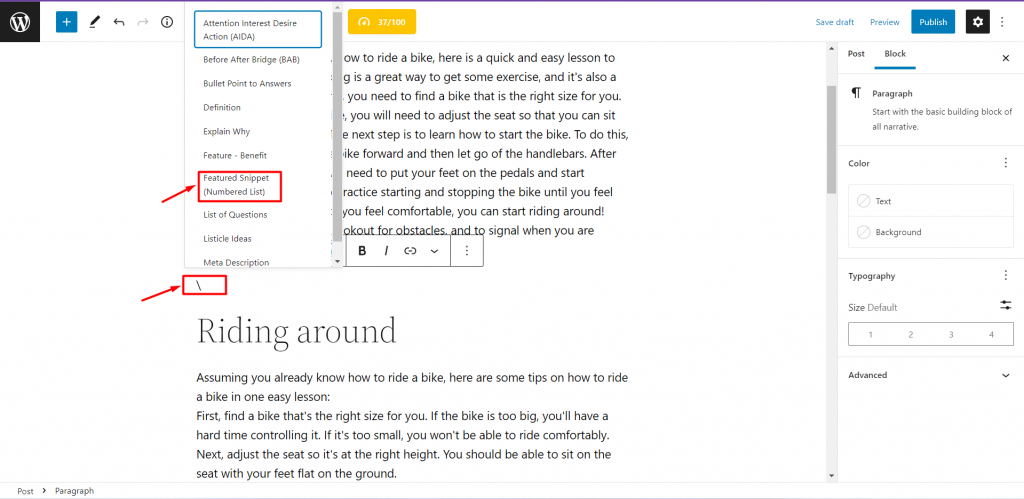 While using the template through the post section there is also an option to copy your generated result. Just click on the blue '+' icon top-right corner of the content and insert it directly into your post.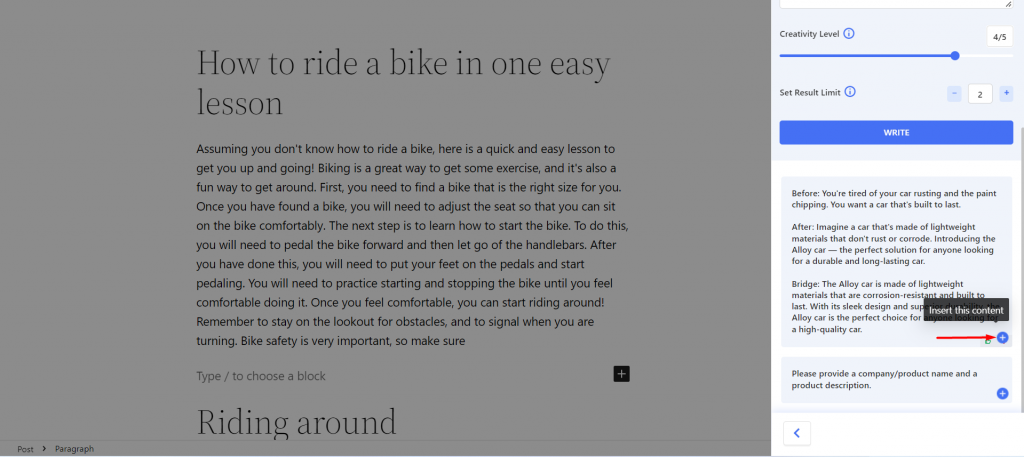 The template is not complex at all. And, the free featured snippet tool of GetGenie AI is capable of giving quality output. If you are searching for such a skilled tool to save your time then try it today. Visit here for more information!
Recipe to generate Featured Snippet with GetGenie #
Here is an example of a numbered list for featured snippets generated by GetGenie.
Input: #
Topic: 
How to lose weight in a month
Creativity Level: 4
Set Result Limit: 2
Output(s): #
1. Eat more vegetables and fruits.
2. Drink less soda pop.
3. Cut down on sweets.
4. Take a walk every day.
5. Do some exercise.
6. Read books.
7. Watch TV less often.
8. Get up earlier.
1. Determine your current weight and body fat percentage.  
2. Set a weight loss goal for the month.  
3. Calculate how many calories you need to consume each day to reach your goal.  
4. Create a meal plan that fits within your calorie budget.  
5. Incorporate physical activity into your daily routine.  
6. Weigh yourself regularly and track your progress.  
7. Adjust your diet and exercise plan as needed to reach your goal.