The content score is something that informs you of the competitiveness of your online content. Today's AI tools like GetGenie AI optimizes your content based on SEO facts. The amazing fact is Genie also allows you to get a content score for any blog post most smoothly and quickly.
Follow the procedure below to learn how you can get a blog post's score quickly using GetGenie AI.
Get Your Content Score Using GetGenie AI Blog Wizard #
To get the content score you must have GetGenie AI installed in your WordPress dashboard. The steps are-
Log in to your WordPress Dashboard ⇒ Find Get Genie ⇒ Click AI Writing ⇒ Select Blog Wizard
Or Log in to your Dashboard ⇒ Create a New Blog Post ⇒ Click Write For Me ⇒ Choose Blog Wizard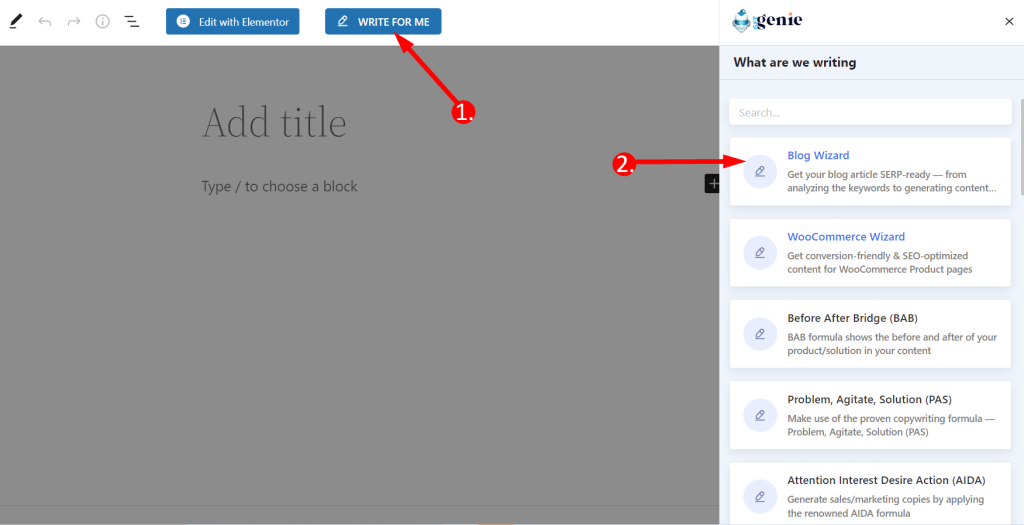 To get a content score you have to Turn On the SEO mode first. The process is-
Click Blog Wizard
Input the Keyword
Turn on SEO Mode
Press Analyze Keyword button
Fetch Data (Remember, it may take some time, wait for a few seconds)
Finally, after getting the Competitor data you will see a top button. In the below picture, it is showing 27/100 in the top yellow button.
Click the button, and it will show the content meter with reports.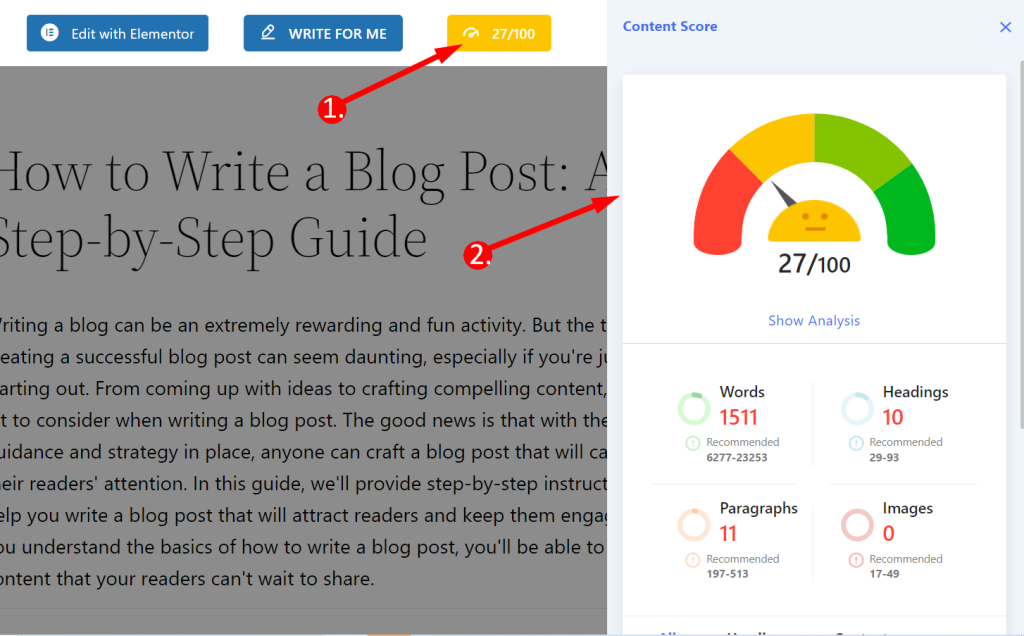 Whatever the topic is Genie does SERP analysis smartly and provides relevant suggestions.
However, to get a good content score, you have to pay attention to four criteria mainly- Word, Heading, Paragraph, and Image. Based on our fetching data, let's see what Genie has suggested to us-
For this blog, the number of words we have written is not enough. It should be at least 6277 words and a maximum of 23253 words. Similarly, we should follow the other recommendations to better the SEO score and enrich the blog.
Here, the colors of the meter indicate the state of that four criteria. For example-
Our number of words is good compared with other criteria, so Green specifies it as good.
The score of Headings is moderately good -> Light green signal.
The score of Paragraphs is bad -> Yellow signal.
The score of Images is worst -> Red signal.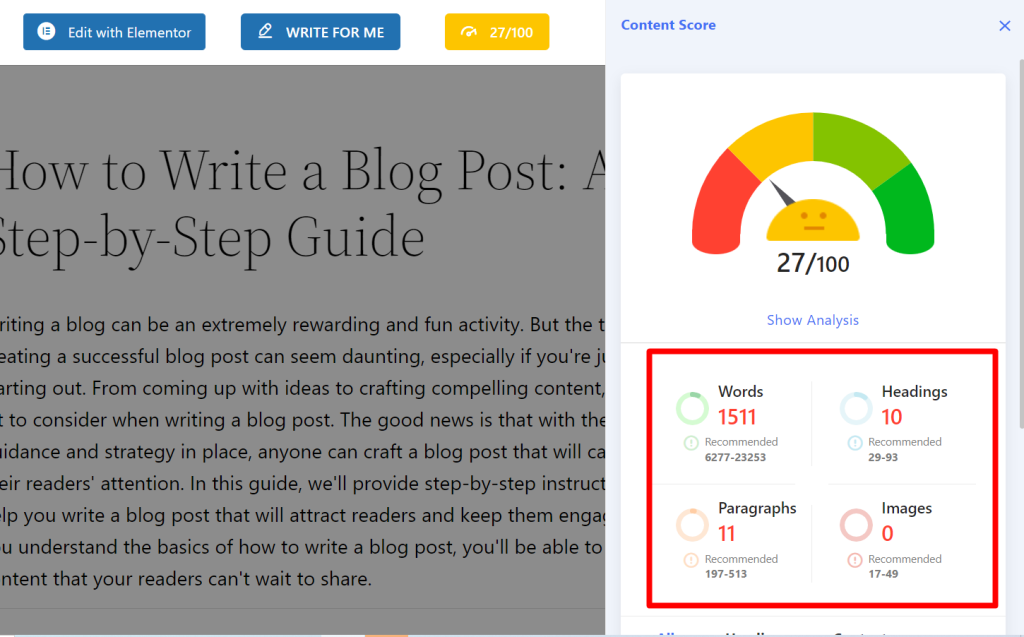 Also, if you click Show Analysis under the meter, you will get tips regarding content problems and improvements-
Now we'll discuss the scores based on main keyword and SEO keyword. However, there you can also find an option to add custom keywords as Secondary keywords.
ALL Section #
According to the suggestion, our main keyword should be used 1-5 times. We have used it 3times, so it is a green signal.
SEO keywords also should be used 1-5 times so our one is good to go.
We have added some custom keywords but used none of them so all are showing red signals.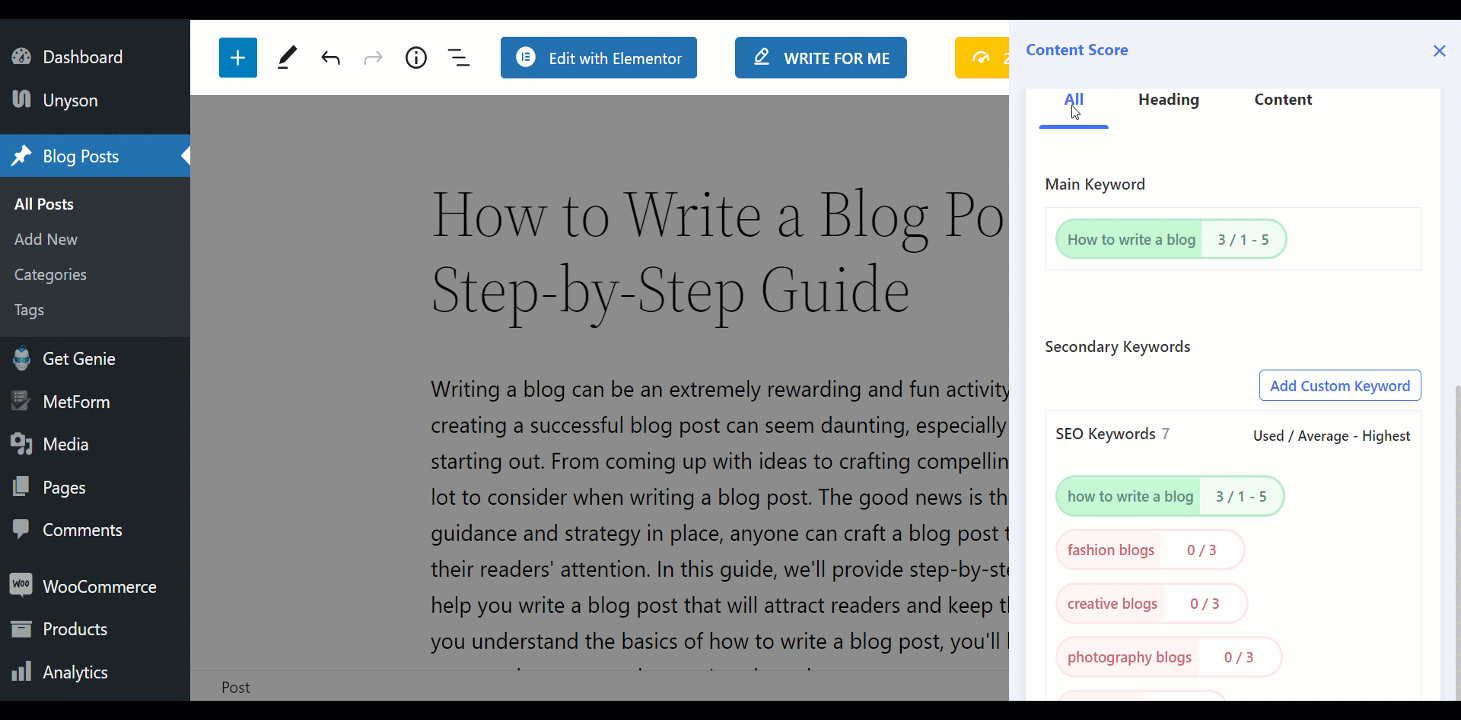 Heading Section #
We didn't use any keyword in any of the blog's heading. But here, we needed to put at least 1 keyword, so this is showing red signal.
Content Section #
Throughout the blog we used the main keyword 3times which has matched with the recommendation.
Oppositely we have over-used the SEO keyword, so this is a red signal.
We didn't use our added custom keywords, it is showing red signal.
If you hover over the scores it will present you with the meanings of each score.
So, using the AI tool you can learn how well your content is written around the target keyword. GetGenie will also help you to edit and update your content based on the result.