Twitter is one of the most influential and powerful social media platforms out there. And, to get the most out of Twitter, you need to post regularly. But it's not easy to come up with a winning Twitter post every time.
This is where the GetGenie Twitter post template comes in. It automatically generates Twitter posts with emojis and hashtags in a few click-works.
How to Use the Twitter Post Template of GetGenie Ai (2 Methods) #
When using the GetGenie Twitter post generator, you have two choices. We will demonstrate both methods. The first is for WordPress users which involves using the GetGenie plugin. The latter supports anyone on their web browser who can use the GetGenie playground, the SaaS version.
Method 1 – Write Twitter Post on WordPress #
Start by installing the GetGenie plugin and activate it. Then, go to your WordPress dashboard and proceed to the first step.
Step 1 – Select Twitter Post Template #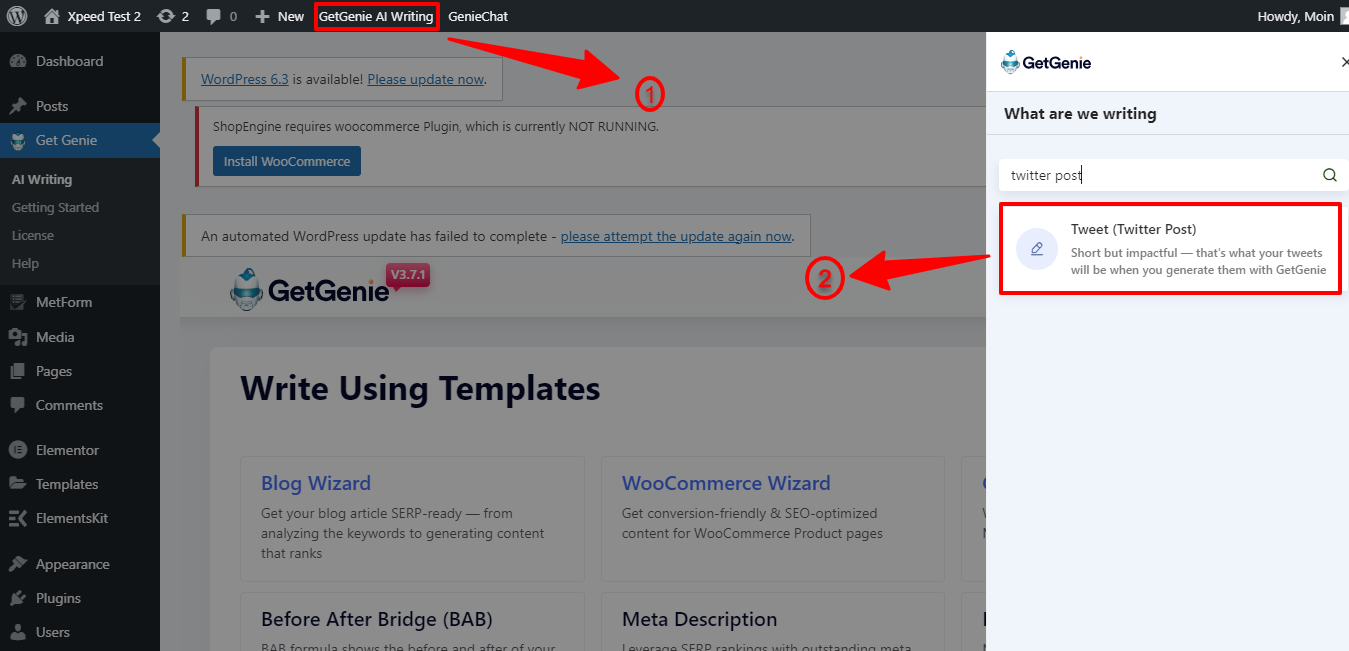 On top of your site's dashboard, look for "GetGenie Ai Writing" and click it.
All the templates will appear on the right sidebar.
Search for the "Twitter Post" template or scroll down and select it.
Step 2 – Generate Twitter Post #
Input the instruction or context for your Twitter post.
Choose your preferred language. The dropdown opens the list of 35 languages.
Next, define the tone of Twitter posts.
And, set the Creativity level (Up to 5).
Use the "Max Results" option to set the number of Twitter posts you want to generate (Up to 6).
All done! Click on the "Write" button.
Within seconds! The chosen number of Twitter posts will appear.
Now, copy a favorite one and paste it into your Twitter post.
Method 2 – Write Twitter Post in GetGenie Ai Playground #
Step 1 – Navigate GetGenie Ai Playground #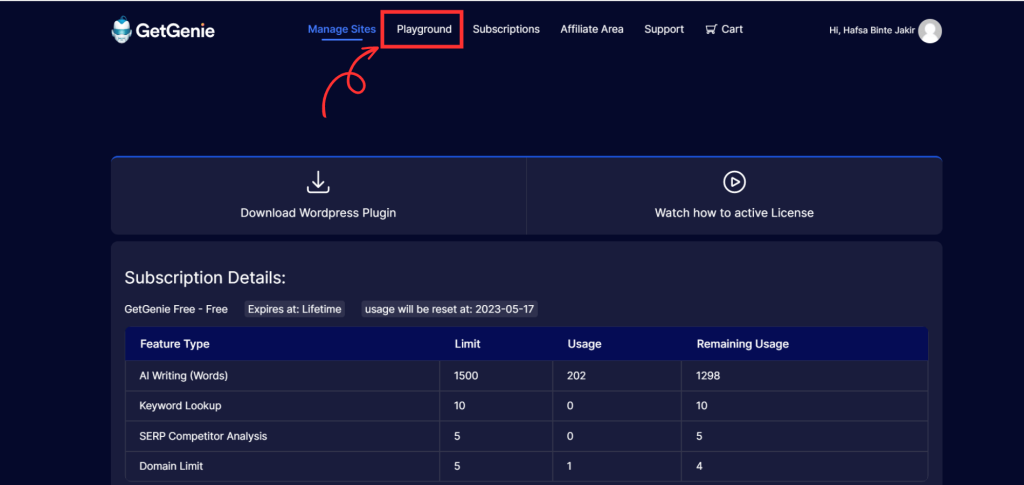 You will be prompted to fill in the login details.
Then, hit the "Playground" item in the header menu.
Step 2 – Select Twitter Post Template #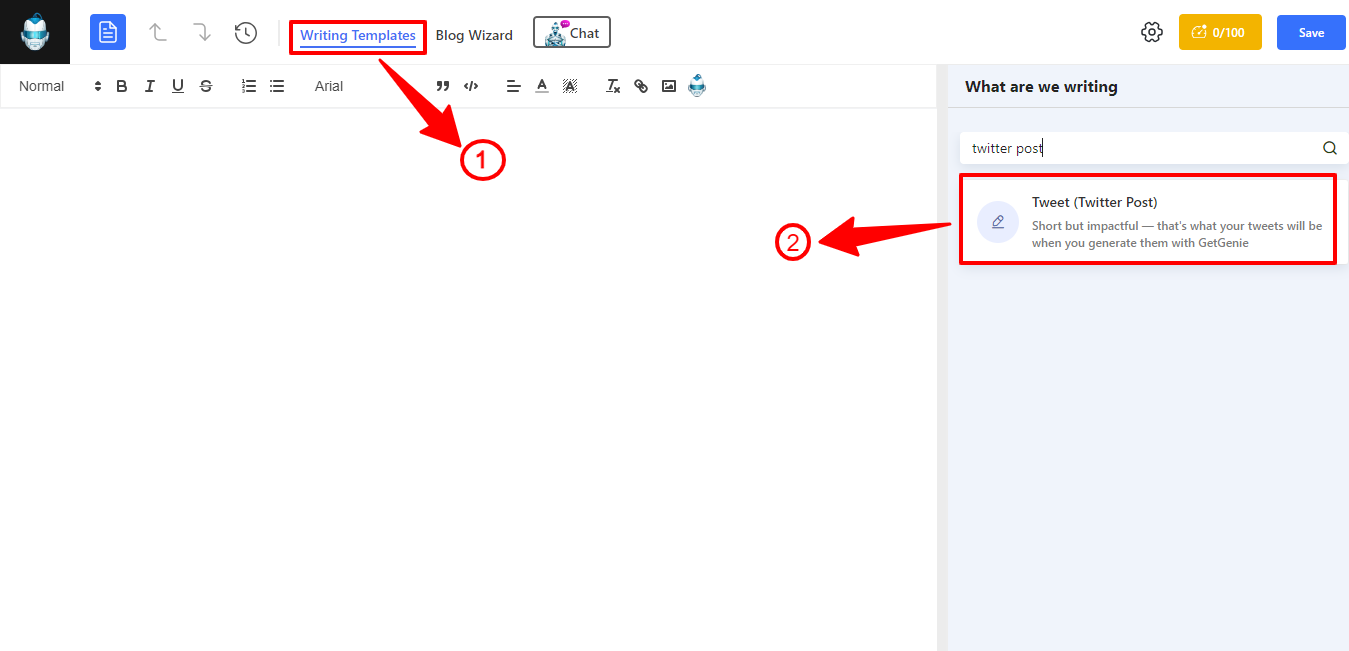 Create a new file and give a name.
Click on "Writing Templates".
And select the "Twitter Post".
Step 3 – Generate Twitter Post #
Now, you will do the same as the first method.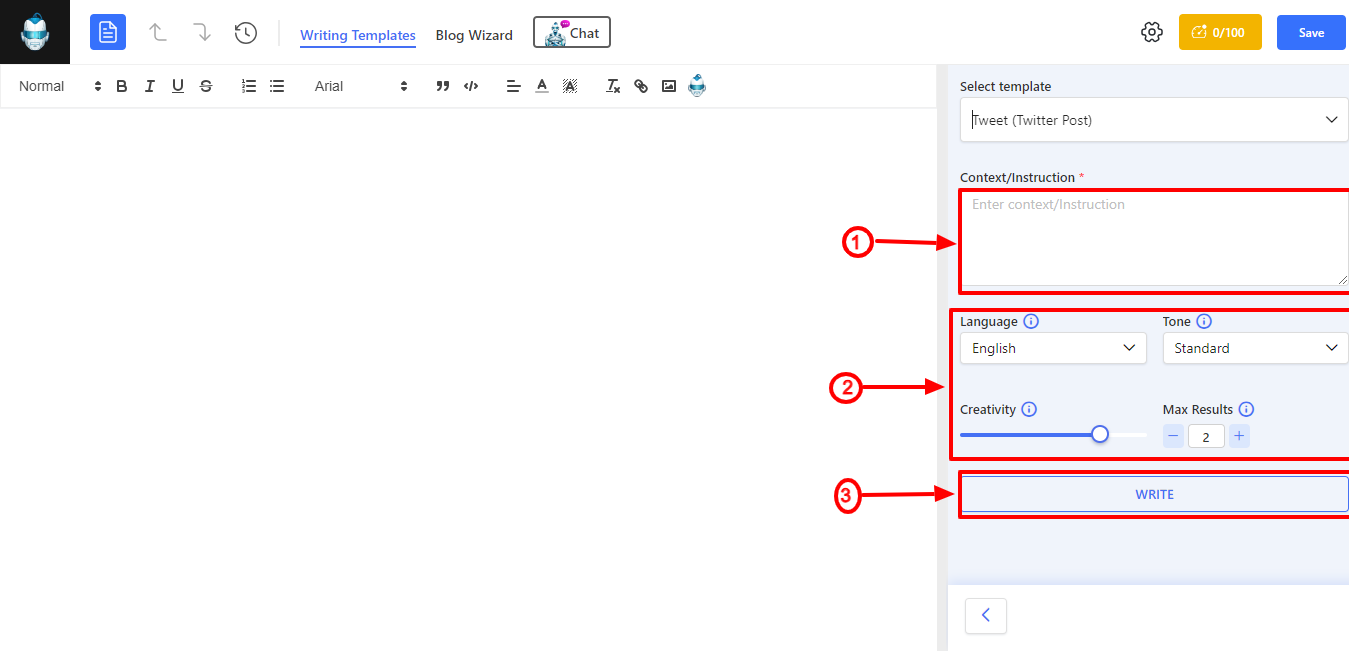 Enter the relevant "Instruction or Context" of your Twitter post.
Then, choose Language and Tone.
Select the "Creativity" level and define "Max Results".
All Good! Hit the "Write" button.
GetGenie Will display the pre-defined number of Twitter posts.
Copy the suitable one and paste it into your Twitter post.
Recipe of Twitter Post Template #
Let's see a recipe for writing Twitter Post using this template:
Inputs #
Context/Instruction: We're launching an Ai writing tool called GetGenie Ai.
Language: English
Tone: Standard
Creativity: 4
Max Results: 3
Outputs #
Output 1:
Exciting news! 🎉 We're launching #GetGenieAi – our Ai writing tool to help you craft amazing stories and content! 🤖 📝 Try it out today to unleash your creative genius! 💡 #AiTools #CreativeWriting #WritingTools

Output 2:
We're thrilled to announce the launch of #GetGenieAi, a revolutionary Ai writing tool 🤖! Transform your content creation with this powerful new tool 💻. #AiWriting #ContentCreation 📝

Output 3:
Introducing GetGenie Ai- a new Ai writing tool to help you #WriteFaster and better than ever before 🙌 Get ready to have your #WritingSkills boosted with this awesome new tool 🔥 #WritingTools #Ai #GetGenieAi 🤖
Overall, with GetGenie Twitter Thread Templates you will have emojis, hashtags, and many more to make your Twitter thread interesting.