Fluent CRM is a WordPress email marketing automation plugin that allows users to operate their email campaigns, automate email sequencing, generate leads and customers, and track user activity.
FluentCRM integrates with GetGenie Ai to generate a ready-to-use email within seconds right in the email editor interface.
This document will show how to integrate GetGenie with FluentCRM to automate email writing.
How to Write Email With Ai in FluentCRM? #
You must install GetGenie Ai and FluentCRM plugins on your WordPress website.
Step 1: Create an Email Campaign #
First, you need to enter the WordPress dashboard. Then do the following things:


Start from the FluentCRM Dashboard.
Simply navigate to Emails.
Now, add a new campaign or start a new one.
Step 3: Add Campaign Title #

You just need to insert the title for the campaign title. Then, hit the "Create Campaign" button.
And you will see an Email editor screen. From here, you will compose your email with the GetGenie Ai assistant.
Step 4: Write Email With Ai #
As soon as you enter the email editor interface, you are ready to create an email with GetGenie Ai. Just play with the settings as per our following instructions: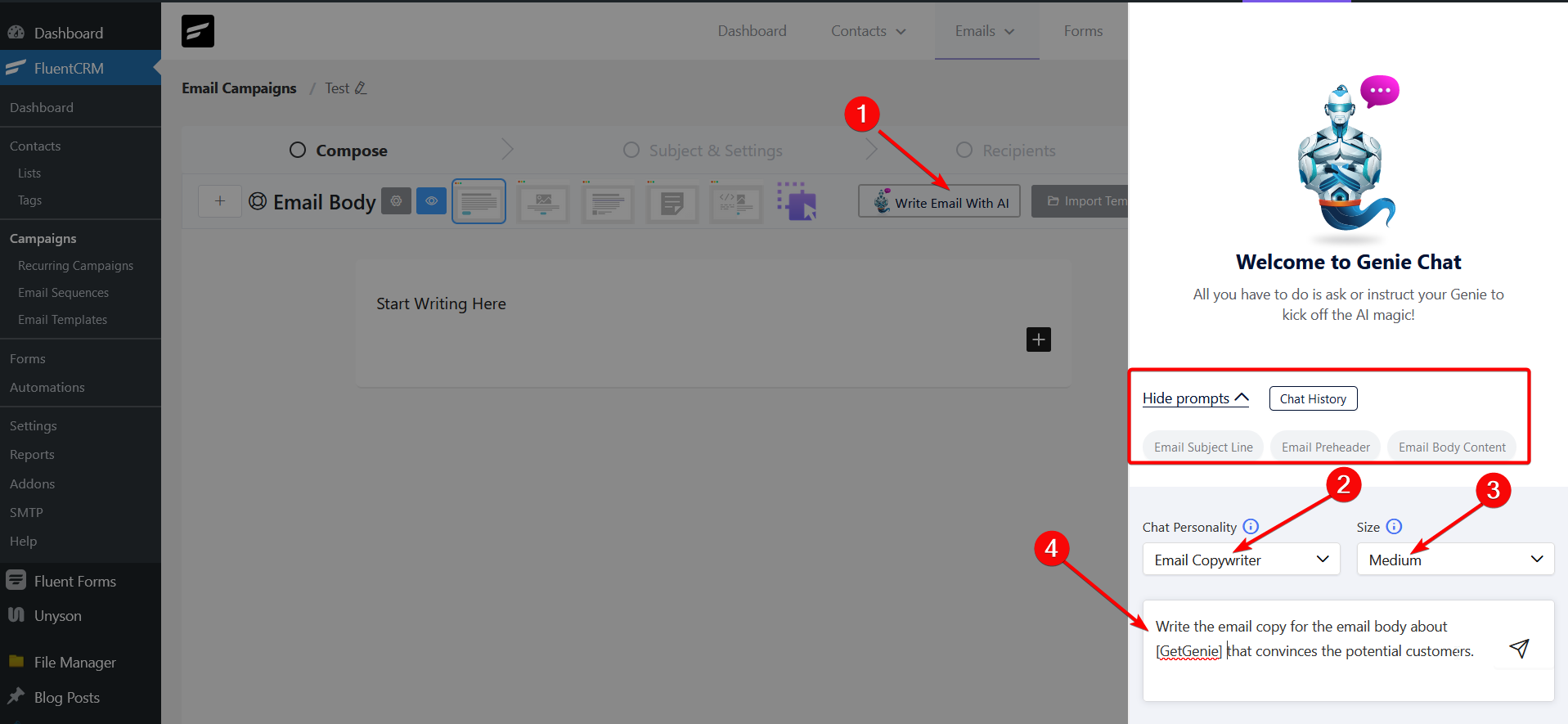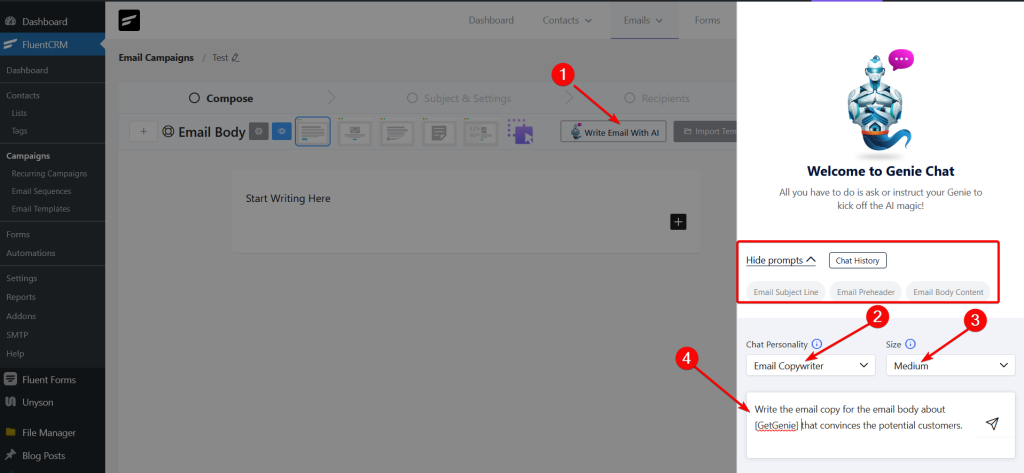 Look for the "Write Email With Ai" button and click it. This action will open up the Genie Chat Bot. Here, you will see a few suggested prompts for email writing. For example, you can use the "Email Body Content" for generating the body content for email.
Next, you can set the Chat Personality. Here, the Email Copywriter mode is preferred.
Also, you can define the output size.
Further, you can enter your custom prompt in the query box below.
All done! Hit the enter button on your keyboard.
GetGenie Ai will come up with the most conversion-friendly email content in seconds. Copy and paste the generated text to the email editor screen.
Here's our output.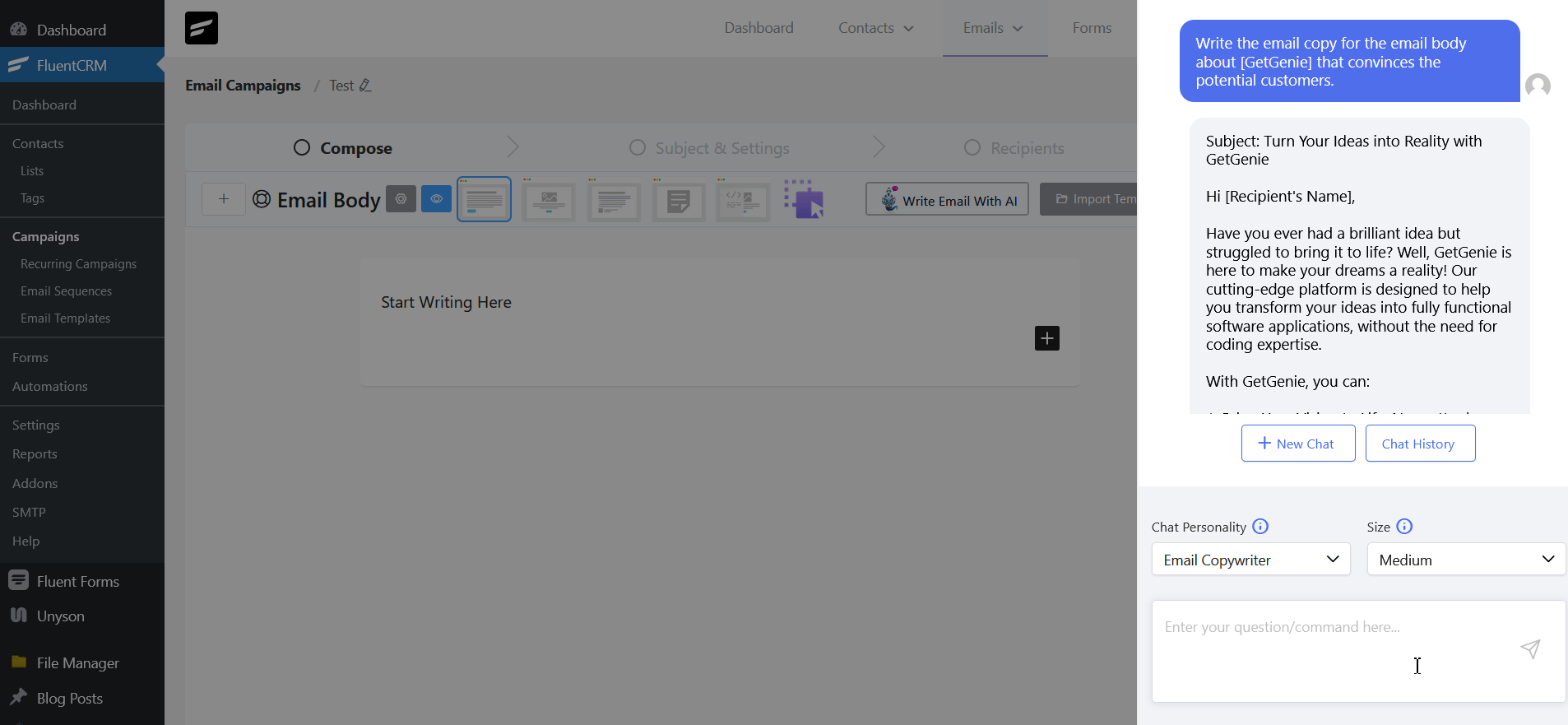 That's it! Now, you will need to perform additional configurations as you typically perform with Fluent CRM.