Can You Make Money Using Ai Writing Tools — An In-Depth Discussion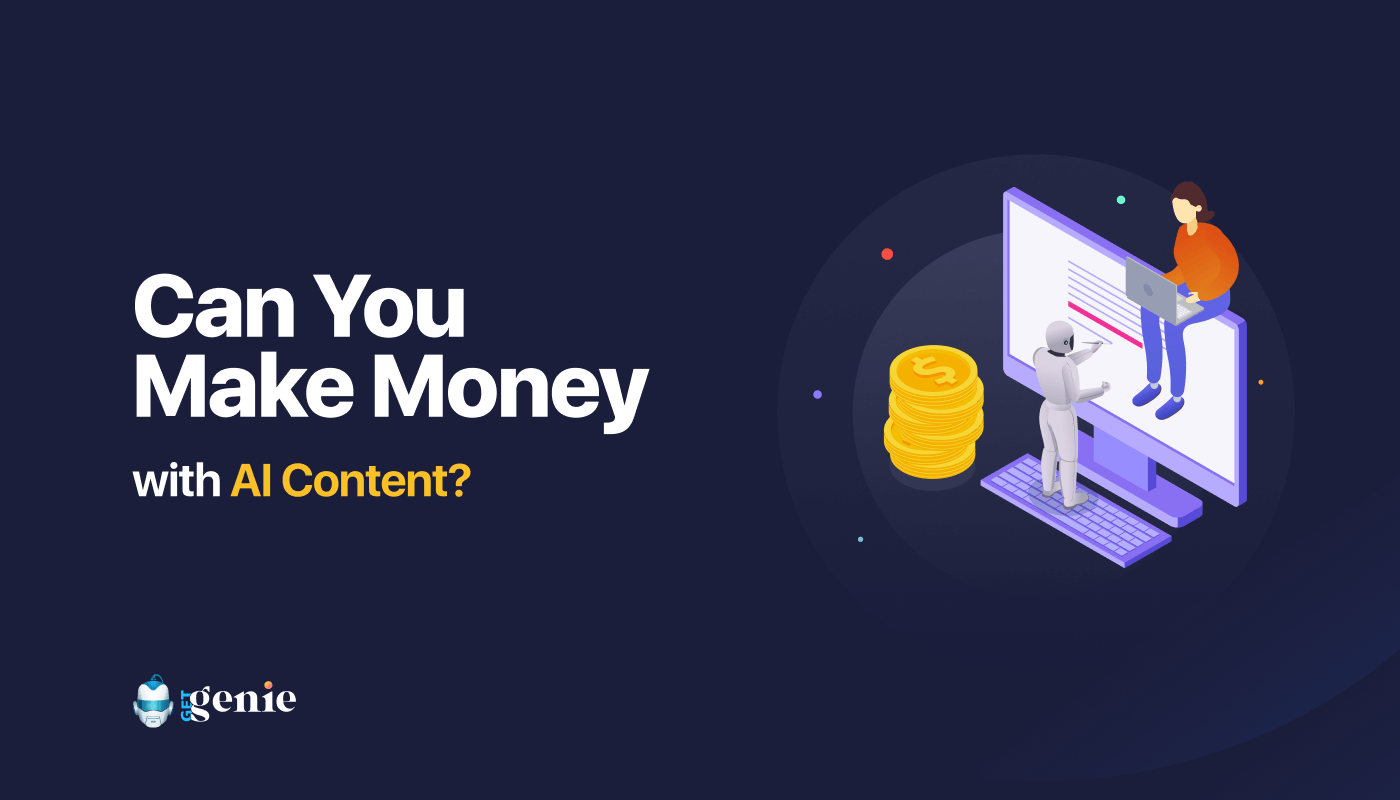 It is now proven that AI writing tools can speed up the content production rate. Now a new question arises: Can someone make money using AI writing tools? Someone new to such tools always falls into this dilemma and wastes time.
You need to know the actual scenario to get rid of that dilemma. Before we dive deep into the detailed discussion, remember that making money is not related to the content generation process. It depends on the content quality and how you are monetizing the content.
Here I will discuss the whole thing on a big canvas so that you know whether moving to AI content writing tools will be a good idea or not.
Can you make money using AI writing tools?
In simple words, the answer is yes — you can make money using AI writing tools. As I mentioned earlier, making money has nothing to do with the content writer. Whether you have taken help from an AI writing assistant or the content is written by a human, it is all about the content quality and fulfilling the search intent.
When the question arises about monetizing AI content, people actually mean monetizing just the content. Now let me make one thing clear — if you can drive traffic to your content, you can monetize it. Also, monetizing content with ad networks is not the only way to make money. There are tons of other ways you can follow to make money with your content.
In the later part of the content, I am going to share some proven ways of making money while writing content with the assistance of AI tools.
When you provide AI tools to the writers, they can overcome writer's block and do the research efficiently.
Why should you use AI writing assistants?
Wondering why AI tools for content? Then let me ask you a question, how many times have you found that the writer is saying he/she won't be able to deliver the content within the deadline? Countless times, right? Well, writers don't do that intentionally. It always happens to writers who are trying to write on a topic but can't, known as writer's block.
AI tools can play a significant role at this point. Writers always struggle to write the first sentence or the first paragraph on a particular topic. Artificial intelligence tools don't have such issues.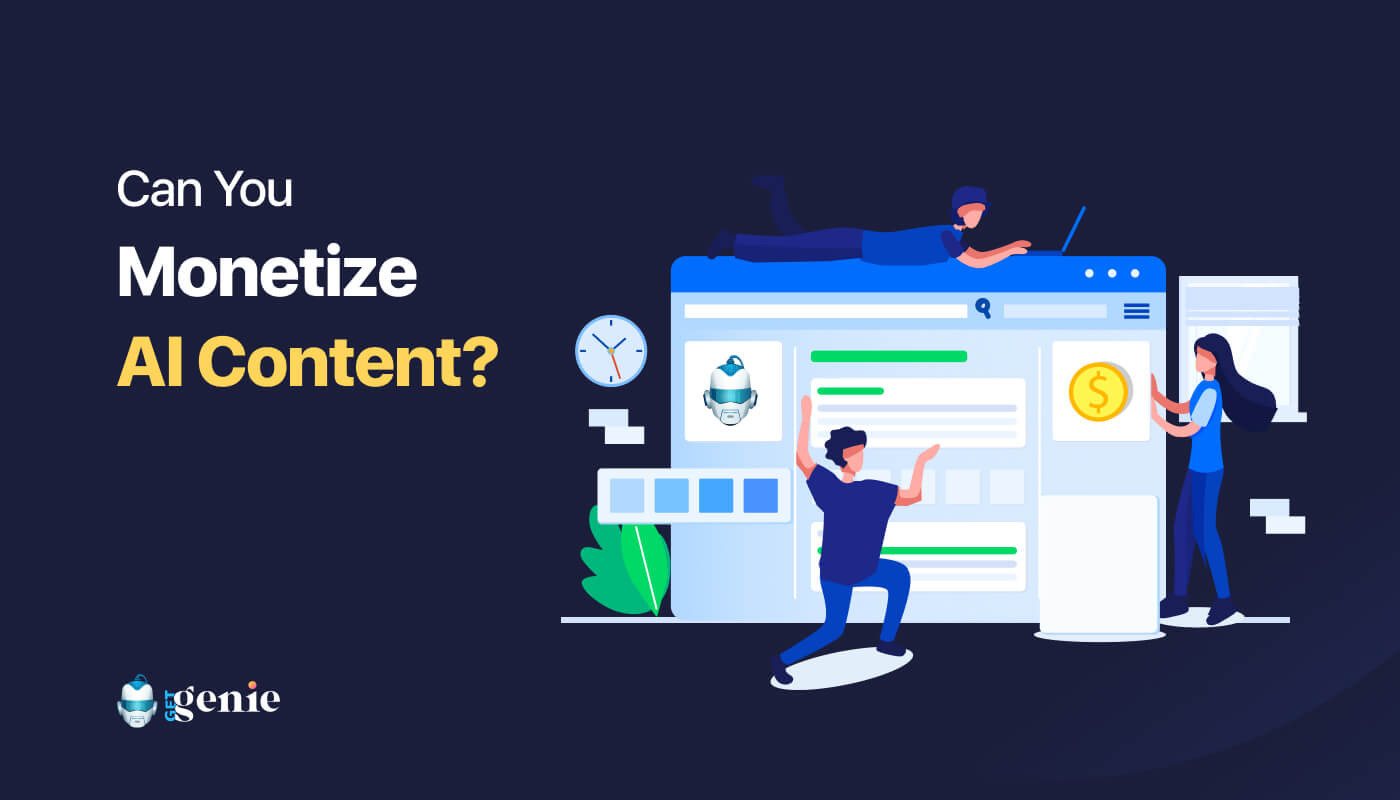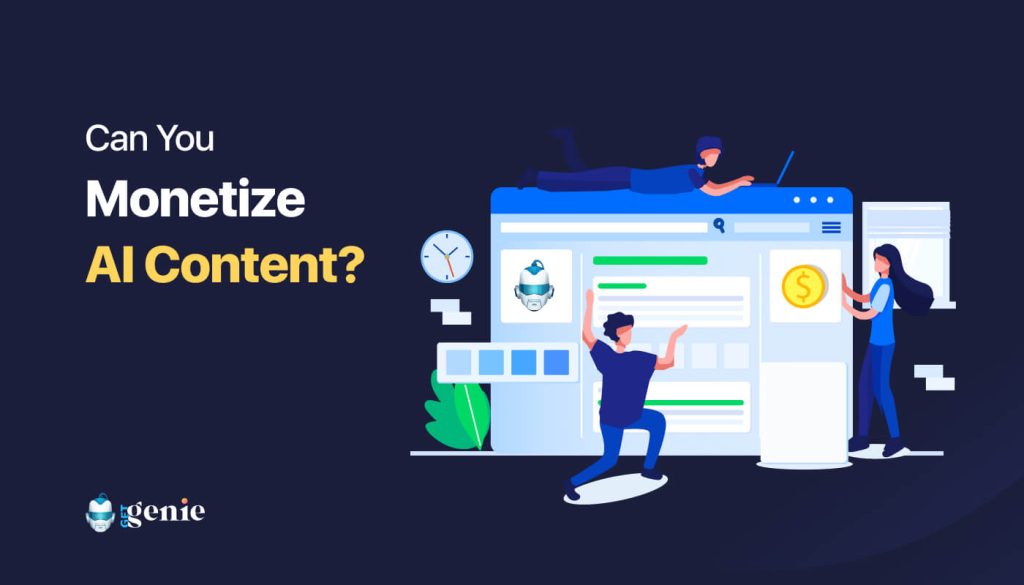 But here, I want to mention one thing: not all AI writing tools have the same features. Some are known only for writing, while others combine additional features. Considering the fact, GetGenie AI would be the best solution. This stand-alone WordPress plugin allows users to do keyword research within the WordPress dashboard.
If the writer keeps the SEO mode on, he/she can enjoy keyword research options, competitor analysis, content outline, question generation, and more. After gathering the competitors' data, it becomes easy to write the perfect content. Getting tons of features in a single plugin, isn't it amazing?
Yes, if you start using GetGenie, you will get all the features at an affordable cost that you need while writing content.

Best ways to make money with AI writing tools
When I assured you that you could make money with AI writing tools, you might be wondering what possible way to do that! This part of the post will introduce you to some fantastic ways you can use AI writing tools to generate revenue.
Start a blog
Most people find it hard to start a blog due to a lack of content. But with the GetGenie AI writing assistant, producing content won't be a challenge anymore. Considering the demand in the market, GetGenie brought a dedicated feature for blogging. Like GetGenie AI, other known AI writers also have at least one feature to generate blog content.
With the help of the blog wizard of GetGenie, you can generate SEO-friendly content that ranks better. Are you wondering how the content will be SEO-optimized? Well, there are options in the system that allow generating keywords and researching competitors. Also, make sure you are following a blog post checklist before publishing it.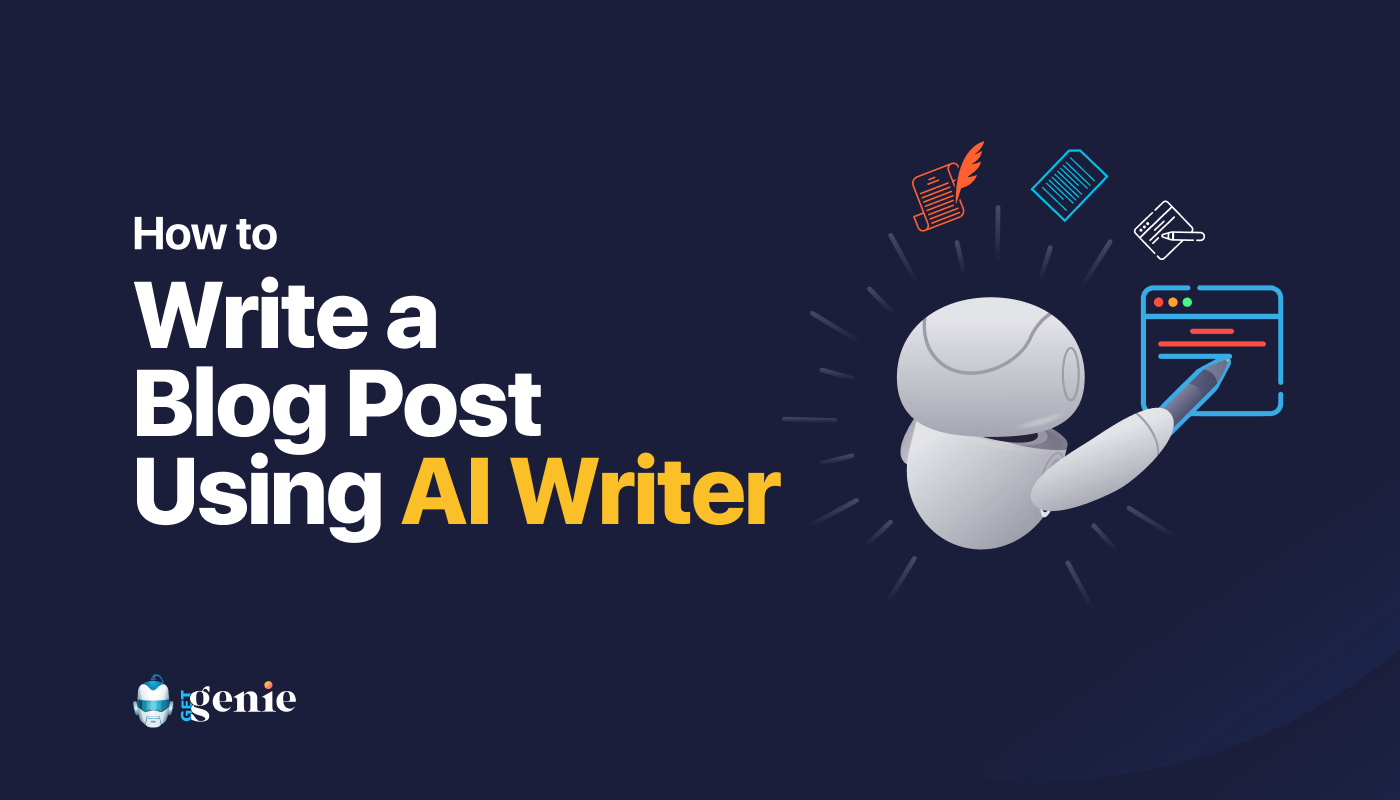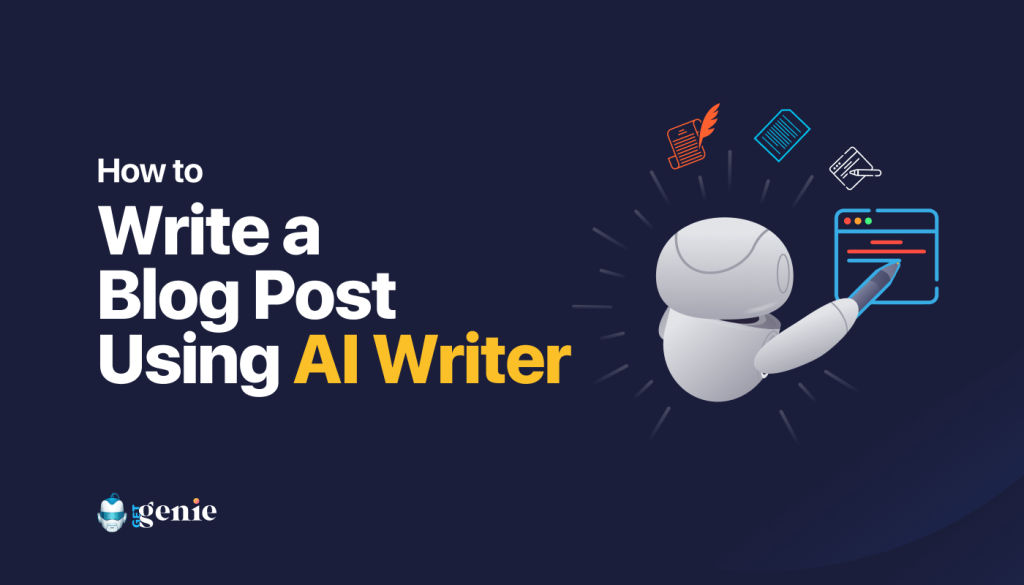 So, once you generate SEO-friendly content on a particular topic, you can start publishing them. All you have to do is buy a domain name and host it to a web hosting. If you maintain a particular blog post checklist before publishing and keep your consistency, the blog will start getting traffic. You can then monetize the content with ad networks, sell affiliate products, or get sponsored ads from brands.
Sell email writing service
The email marketing industry is booming, and there is a massive demand for email writing services. Writing email copies is not a thing that anyone can do. Someone with prior knowledge of copywriting can do better in the field. It is often hard to write copies on different topics. Also, your clients might want to get the writing done by following particular marketing models such as AIDA, BAA, POS, etc.
If you have writing knowledge and know how email marketing works, you can quickly write tons of emails within a single day with the help of AI writing tools. The good thing is, in GetGenie AI, you can choose different models for the copies and generate the content accordingly. After generating the content, review the write-up and edit as per requirements.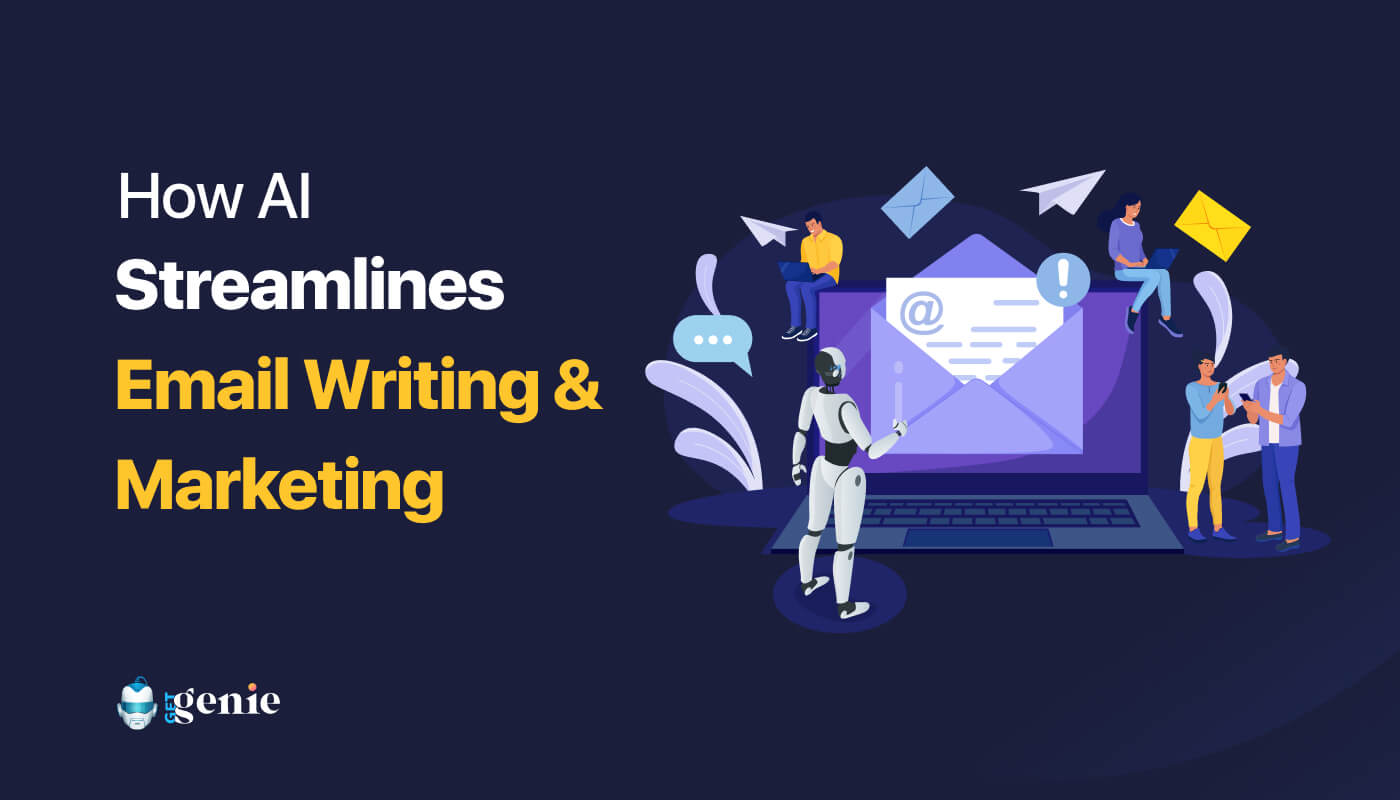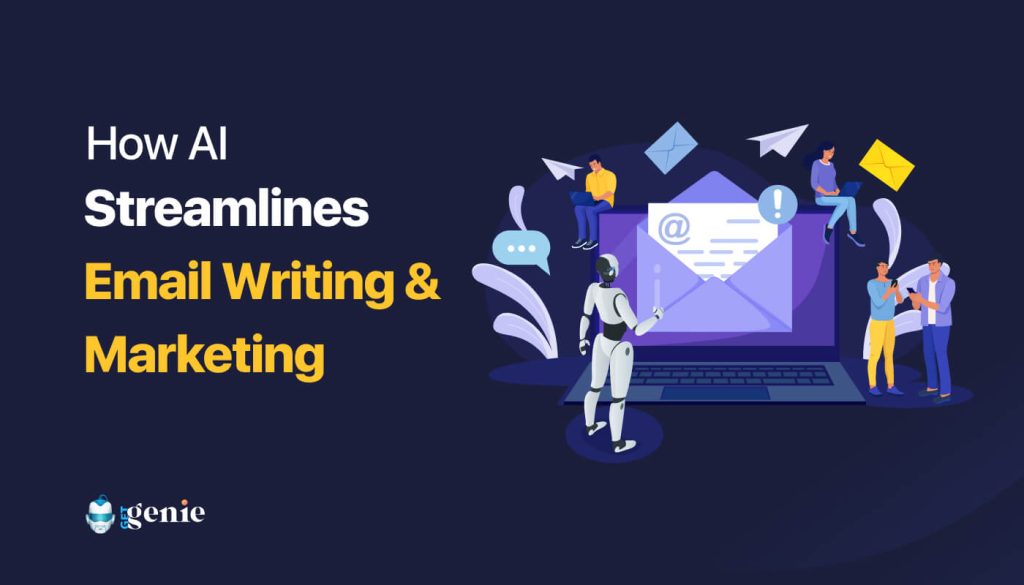 There are different online marketplaces where you can sell email writing services. For instance, you can sell on Upwork, Fiverr, freelancer.com, and more. You can also reach brands to give them email writing services. Here, the main goal is to write more email copies without stress and save time.
Sell ad copywriting service
Writing the perfect ad copy can boost sales immensely. But it is often too hard to write a few simple lines convincing users to feel like buying from the brand. The biggest challenge is writing the first draft on which you can work to give the perfect shape.
With AI assistants, you can generate many copies with a few clicks. Writing the first draft becomes more accessible, and the copywriter can edit it based on the brand's demand. Select the correct type of template, generate the copies, and start working on them. You can even create taglines and slogans for different brands.
Start writing video scripts
Did you notice that video marketing is getting more popular day by day? Then you must understand that the videos require scripts. A well-planned video contains a good script that convinces the viewers. So someone is writing that script.
What about selling video script writing services with the help of AI writing tools?
If you ever have written content, you can write video scripts with artificial intelligence writers. Different AI tools come with templates and features where the writer can give context for the script. Initially, you can sell the service on freelance marketplaces. But once you have a few clients, there will be tons of work that won't require you to revisit marketplaces.
Sell a text-based course
Do you have a particular type of unique skill that others don't? Want to teach others the skills and make money from it? Then text-based courses are the way for you. Now you might wonder what about if you are not a professional writer! That's the point where AI writing tools can be a blessing for you.
With the proper instructions and context in AI tools, you can quickly generate highly engaging texts for the course. Then, as the writer, you will just have to maintain a flow chart of the method and let the artificial intelligence tool handle the rest of the task. Then, you can sell your course through different websites, paid media, or even a blog.
Sell ebooks
What about starting your own online publishing business? Yes, it is possible when you have the right resources. People now tend to learn most things online and look for ebooks. You can write ebooks on any topic for which you have expertise.
No matter if you are a terrible writer or don't know how to write engagingly, just give the AI writing assistant instructions and let it generate the content based on that. Make sure you are generating small parts of the ebook while generating content. It will make the write-ups more user-friendly.
There are different ebook selling marketplaces where you can sell ebooks and make a handsome figure via royalty.

Advantages of AI writing assistant
There will be no writing blocks with AI writing tools
Generates the content instantly with the user's instructions
Easy-to-generate content based on various use cases
Ready templates to generate a particular type of content
Requires fewer resources in the content production process
AI writing tools are used to be beginner friendly
Instant rewriting to modify the generated content
All types of writing in the same place
AI writing assistants save money in the content production
Disadvantages of AI writing assistant
You can't always ensure the data authenticity
Need manual editing to the generated content
AI tools can't come up with new ideas and structures for content
Wrap up
What you can do with AI writing tools mostly depends on which means you are using them. If you don't choose the right one, you will have to struggle to ensure quality.
The good thing is that the GetGenie AI writing tool overcomes most of the issues by generating unique, grammatically accurate, and engaging content. With tons of ready templates, any writer can speed up content production and ensure quality simultaneously.