Ai Content Writing Tools: Are they Worth Trying out?
Have you been thinking about trying out AI assistant tools for your content?
However, one question that keeps popping up in your head is "Are AI Content Writing Tools Worth Trying out? And Should I invest my money in an AI writing Software?"
More than 35% of businesses around the globe are using AI in some form and writing is included in that too. However, writing is a creative process and the idea that a machine can write content can be somewhat difficult to digest.
In this blog, I have discussed whether AI writing tools can actually "Write" content for you or not. You will also get to learn about the advantages and disadvantages of using such tools. So, keep reading to find out if AI Content Writing tools are worth trying?
What is an AI Content Writing Tool?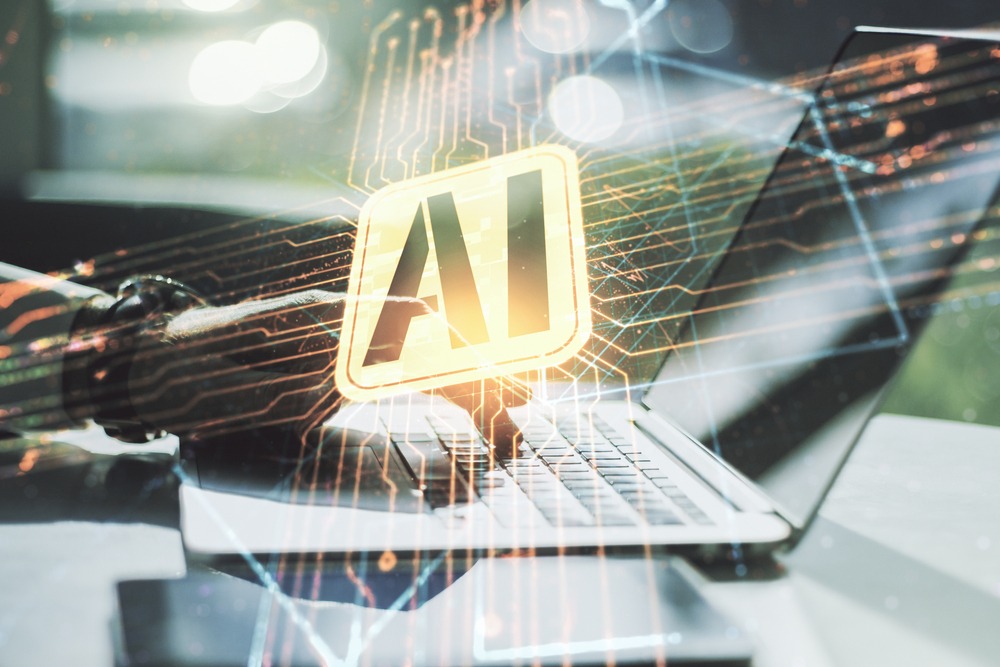 AI Content Writing Tool refers to software that uses artificial intelligence, NLP (Natural Language Processing), and machine learning technologies to help you write content super fast while maintaining quality.
With AI writing tools (depending on the tool), you can do research, outline content, and write all sorts of content such as articles, copy, emails, etc.
How AI Writing Tools Work?
Usually, the user has to provide some parameters or inputs. And depending on those parameters, the AI writing software produces content.
Most of the AI writing tools will provide you with grammatically correct content that has an engaging & natural linguistic tone. It will also convey the message that is asked to provide in the inputs.
Doesn't it sound like magic? Well, it does but it's not! But, then the question arises "how can software create content just like humans without magic?"
The answer is through code and algorithms. Programmers incorporate various algorithms which empower the tool to consider multiple matrices just like humans to give you a reasonable result. All writing software is trained with real-life data over a long period so that they can give you content that is precise and captivating at the same time.
Since multiple algorithms work behind a single writing tool, it functions almost like a semi-human brain. Thus, it can work on multiple aspects at the same time and give you a result that humans can produce.
Human beings do their research on existing content and then come up with something similar but new. Similarly, AI tools using algorithms collect existing similar content on the web, process them, and then finally provide you with fresh content based on your instructions.
Advantages of AI writing tools
People use machines because it offers undeniable benefits in various work and writing is no different. AI writing tools have many perks that people in need of content can leverage. Here are some of the advantages of AI content writing tools:

Saves Time
One of the prominent benefits of using an AI tool to write your content is that it saves your time. AI software provides you with a content structure super fast which saves you a good amount of time. Manually doing the same work will require you a lot more time.
Especially if you are someone who needs multiple contents within a short period, then AI writing assistant tools can be a lifesaver. Besides, not everyone has a good writing speed. So, these tools can also be helpful for those writers who are a little slow.
Get better quality Content
You can raise the quality of your content using AI writing software. Firstly, AI tools create content after researching a huge amount of data available on the web which is humanly impossible.
Secondly, you can create error-free content using this AI software. Especially, tools like Grammarly help you create content that is grammatically correct. Moreover, it also maintains the tone you are looking for in your content such as informative, friendly, level of clarity, intent, etc.
Perfect Solution for Writer's Block
I think we all writers have at some point faced this issue called "Writer's Block". In this situation, the writer hits the rock bottom of productivity and is unable to come up with content.
In such situations, AI content tools are the medicine you need because they will give you a content structure without any effort. And once you see the work is half done, you will find interest in finishing the content.
Save Money
I know, you must be thinking most of the AI tools are paid, so how can one save money? Well, if you are a developer looking for content for your site, then these tools will save you money. Because these will help you create content at a much lesser price than what a good-rated, experienced content/copywriter will cost you.
And don't forget that this AI software will also save you a lot of money and in today's day and age, time is money!
Content in Multiple Languages
Nowadays multi-language sites are getting very popular as people love the content in their own languages. With multiple websites, you need content in different languages.
It's hard to find content creators who are efficient enough in multiple languages. However, using AI writing tools like Google Translate, you can create content in multiple languages. As a result, solve this issue easily.
Quality Copywriting
Copywriting is the hardest form of content writing as it directly impacts your sales. Most of the writers struggle mostly with copywriting. So, if you are a content writer looking to improve your copywriting skills, then you can take help from AI copywriting software.
AI copywriting software generates high-quality sales copy. These tools are trained to produce copy for specific products, niches, and target audiences. And you can use the writer's skill to sharpen the sales copy provided by AI copywriting software to create copies that sell.
SEO optimized content
So far, I have been talking about how you can create quality content that will engage your audience and give them the right message you want to convey. But all these will happen only if your content reaches your audience.
To reach your audience, your content needs to show up on the SERP when people "Google" information related to your product/service. And you can make your content SEO-friendly easily by using AI tools.
SEO-centric AI tools give you live feedback while you create your content on how you can optimize for search engines. Besides, it also gives you a score to let you know how SEO-friendly your content is and the areas that have a scope of improvements.
Now, you realize the opportunities of creating amazing content that AI writing tools unlock.
Disadvantages of AI Writing Tools
Let's have a look at some of the negative sides of AI writing tools that you may have to face.
Limited Context
Since machines only know what they are taught, sometimes it's hard for tools to understand the context and depth of a topic. So, it may not be able to maintain the intent or intensity you would want in your content. However, with enough test data with diverse contexts, this issue can be minimized and/or eradicated.
Plagiarism
Generating fake content is worse than low-quality content. While this is not the case for every AI tool, some tools lack the capability of providing plagiarism-free content. However, you can avoid this situation if you choose the right tool.
No Personalization
While AI tools can create informative content, they can not personalize content like humans can do. Machines also lack empathy and the art of engaging storytelling that human beings naturally possess. Moreover, these tools can not have the experiences of people, nor can they understand the culture, vision, or brand value. But some tools have proven to have outsmarted this issue by recognizing patterns & tones of certain persona, brands, or entities.
Final Verdict: Are AI Writing Tools Worth Trying out?
Now that you know about both the advantages and disadvantages of using AI Content writing tools. But the question arises, should you go for these tools?
Is AI writing tools worth trying out?
Well, in my opinion, these tools are definitely worth trying out. Because there are more advantages than disadvantages. On top of that, one can easily overcome most of the disadvantages with human inputs.
Now, one can think if we need human inputs then what's the need for AI writing software. While AI tools can not completely replace human writers, they can make your content more efficient.
For example, AI tools can bring you the latest relevant data that you need to add to your content along with SEO optimization suggestions. On the other hand, you can add your expertise, creativity, and storytelling ability to add depth, empathy, and context to your content so that it represents your brand more effectively.
So, yes, AI Content Writing Tools are definitely worth trying as they will help with scalability by providing you with fast, fruitful content. But you would also need further work on the content to make it a 100% success.
Introducing Future of AI Content Tool: GetGenie AI
Now that it's established that AI writing software is no short than a blessing for writers (provided you are using the right tool in the right way). Let me introduce the Future of AI content tools named GetGenie AI.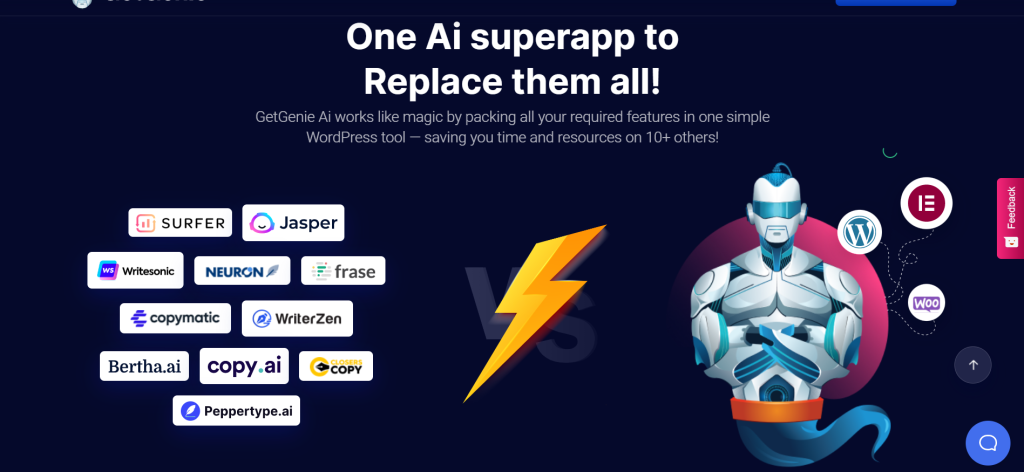 Like the name, this AI assistant software actually does the magic of granting all your requirements of writing content. With this software, you will get —
Landing Page Copies
Product Descriptions
Headlines/Taglines
Social Media Copies
Email Copies,
Video Scripts
and Fictional/Non-Fictional content.
Yes! You read it correctly. It can produce practically all sorts of content you can ask for — that too in a few moments. This tool is capable of doing the number of tasks that previously 10+ tools would do.
Moreover, this writing tool follows proven frameworks such as AIDA, BAB, etc which ensures the quality of your content. Along with quality, you can also take advantage of the on-page SEO score. Also, you can add faqs without any manual search as GetGenie AI fetches relevant Quora & Reddit questions automatically for you.
Another great part about this software is that you'll also get this software in a WordPress plugin format. As a result, you can install it on your WordPress site and use it from the dashboard without going back and forth between platforms.
Sounds exciting, right? It is because GetGenie AI is here to revolutionize content writing with Artificial Intelligence like no other AI tool has ever done before.