Top 5 Ad Copy Generators to Craft your ads in 2023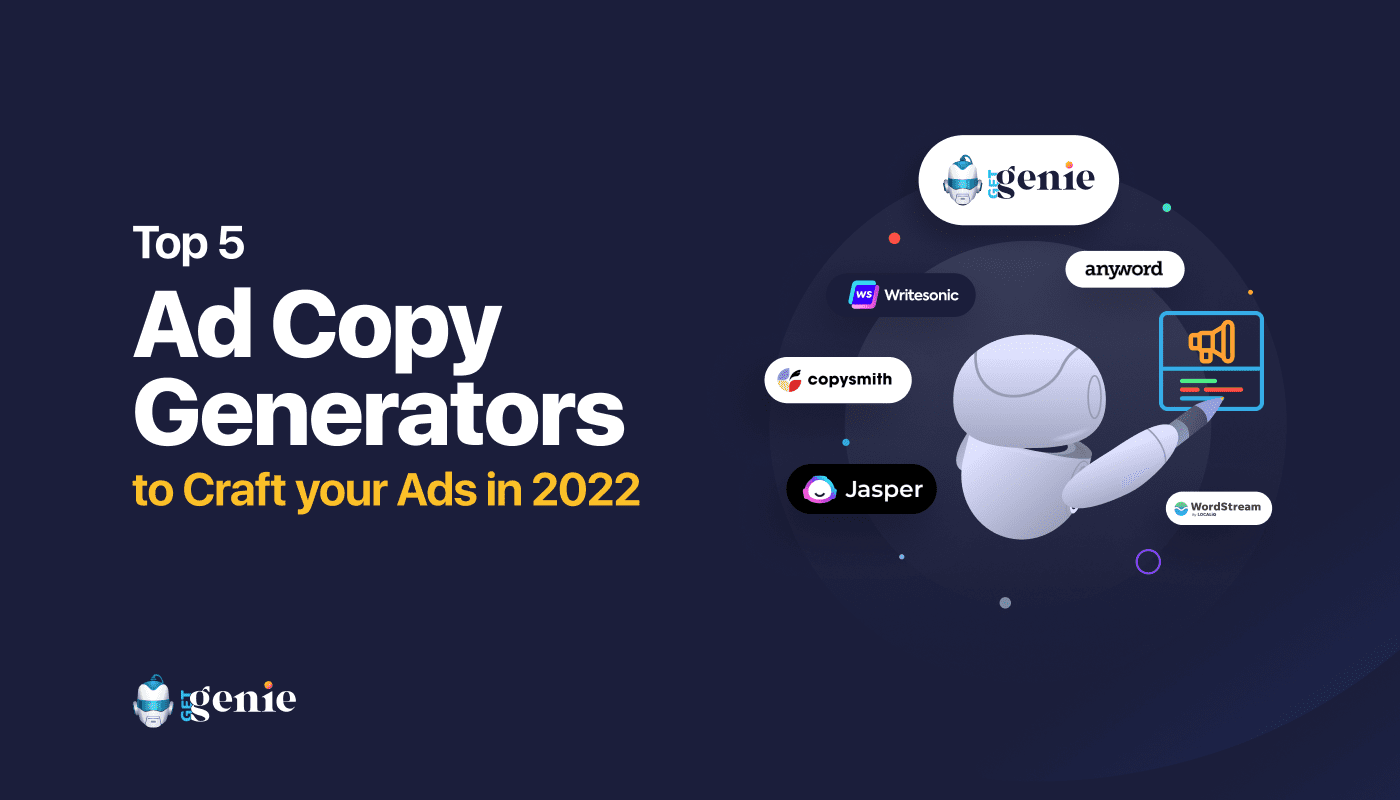 Failing to drive conversions from your ad campaign copies? In addition, ad copywriting is also taking the bulk of your valuable time, reducing efficiency and productivity. Ad copy generators can come in handy in this case.
You might have already tried a few ad copy copy generators. Perhaps they didn't work for you, so you are here. I have done extensive research on ad copy generators and figured out 5 of the topmost ad copy generators.
These ad copy creators have the features to generate conversion-friendly copies for your ad campaigns efficiently. In this write-up, I will be highlighting their key characteristics, advantages, disadvantages, and what each one is best at to help you choose the right ad copy generator.
🧐 What is an ad copy generator?
Ad copy generators are tools that will guide you through the process of creating copy for a variety of settings, saving you the time and effort of starting from zero. Speed and ease are the main benefits of employing ad copy creators.
You don't have to start from zero when using an AI-powered copy generator. You can frequently leverage their frameworks to produce ad text that is captivating, attention-grabbing, and persuasive. However, you must be aware of what to look for in order to maximize these advantages.
🔥 What should you include in your ad copy generator?
What your needs are for marketing copy will determine which capabilities in an AI ad content generator are optimal. For instance, you should pick an AI solution with malware detection if your main focus is content marketing.
A quick list of some of the top qualities to look for is provided below:
Grammar checkers: Even the best ad copy can fail if it is full of careless errors. Built-in grammar-checking tools can help you finish the work more accurately, especially if you're a marketer on a tight deadline.

Plagiarism checker: The last thing you want to do is steal material, product descriptions, or advertisements from another source (or anything for that matter). Built-in plagiarism detection tools might assist you in avoiding copyright problems.

Cooperative characteristics: working in a group? Utilizing an AI writing tool that facilitates cooperation by enabling you to invite many team members is beneficial.

SEO capabilities: Your content will have the highest chance of ranking on Search Engine Results Pages thanks to SEO and keyword capabilities.

✨ Top 5 Ad Copy Generators to Craft Your Ads
No matter whether you want to create social ad copy or Google ad copy, the following 5 ad copy generators will do the job for you.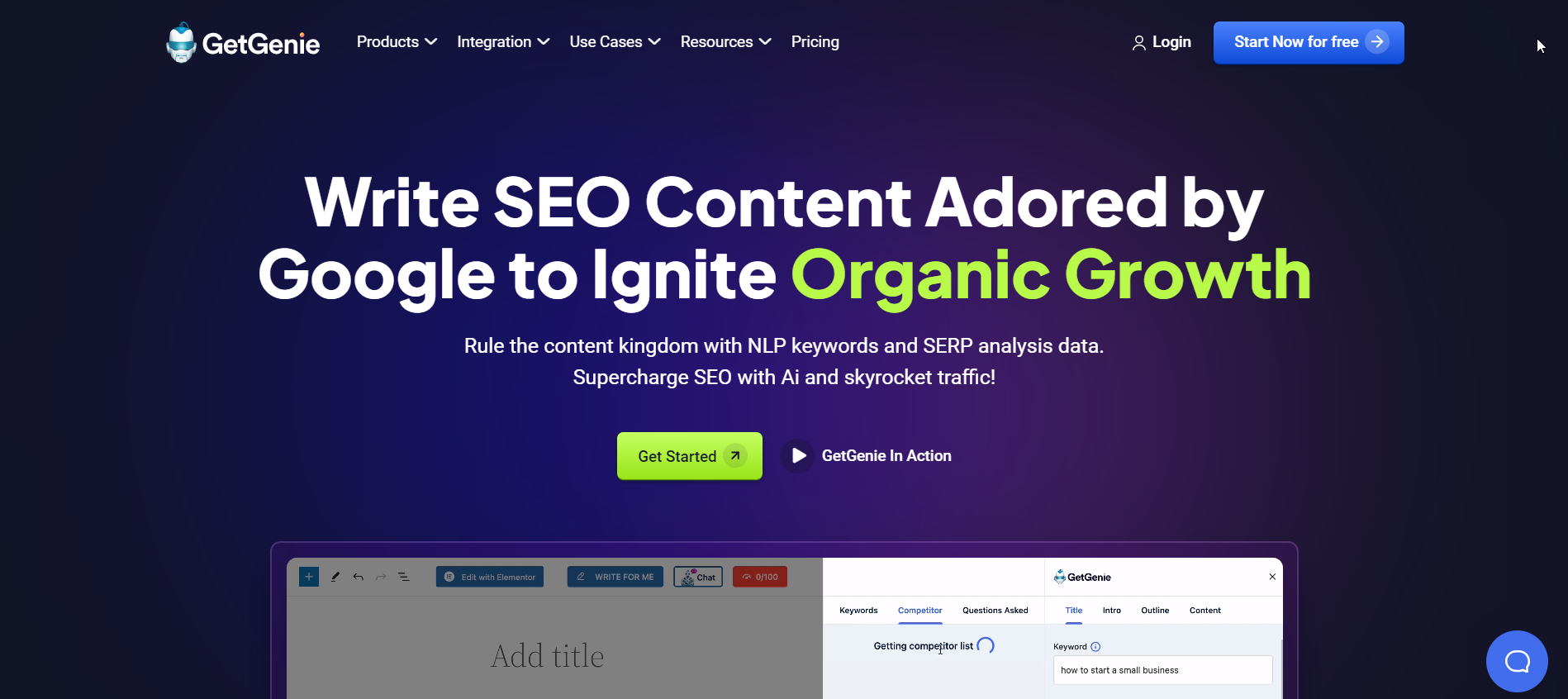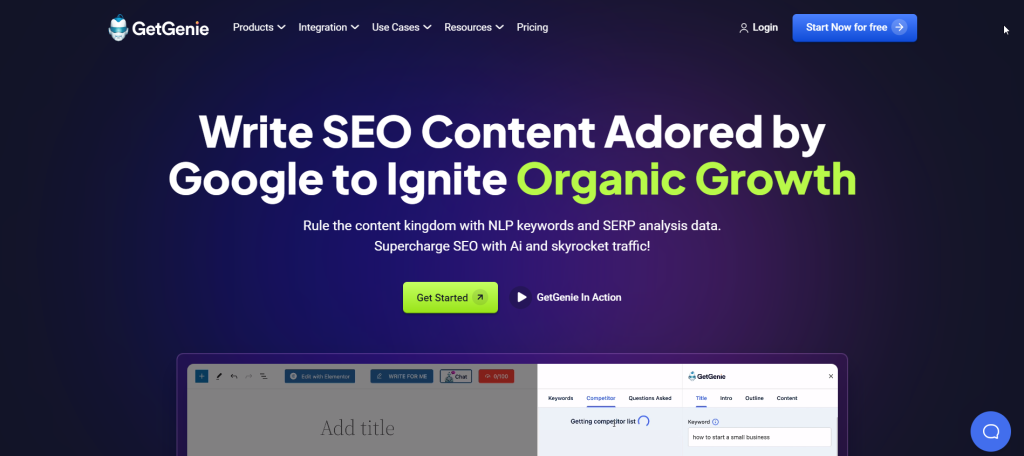 GetGenie is an all-in-one AI writing tool for both content and copy generation. The AI tool can generate killer ad copies for your search ads, display ads, and social media platforms. GetGenie features a "Product Ad Copy" template that can generate ad copies in a flash.
In addition to that, you can take advantage of the "Genie Chat" and "Genie Mode" features of GetGenie to create persuasive ad copies for your ad campaigns.
✅Pros:
Complete blog post generation through a one-click blog generator straightaway
Showcases keyword research and SERP analysis data as well as content score
Boasts features like "GenieChat", "Genie Mode", and "Genie Webview"
Offers 37+ templates for varying forms of content creation
33+ language support
❌Cons:
Sometimes, it may show irrelevant keywords
💰Price:
GetGenie comes with both free and paid versions where the latter has 3 different plans— Writer, Pro, and Agency. Both free and paid versions come with similar features with differences only in limits of word generation, keyword analysis, and SERP analysis per month.
Writer Plan- $17.1/Month or $13.3/Month if Billed Annually
Pro Plan- $44.1/Month or $34.3/Month if Billed Annually
Agency Plan- $89.1/Month or $69.3/Month if Billed Annually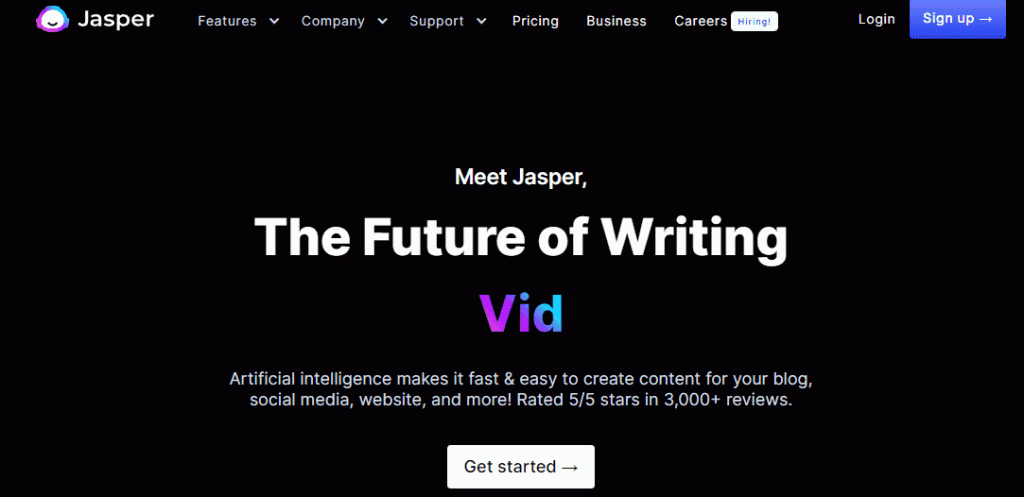 If you want a Google ad copy generator or a Facebook ad copy generator, you can rely on Jasper. Ad copy can be created with Jasper in a flash. Once logged in, you must tell Jasper what you're writing about and the voice you want to use.
It has been trained to produce enticing text that draws in your target audience. As you eliminate a lot of the tedious work involved in writing ad copy, you can accomplish a lot more quickly.
✅Pros:
Comes with a browser extension and an app.
Collaboration with other team members
Supports over 25 languages
SEO optimization is simple
❌Cons:
The paid version is a little expensive.
💰Price:

You have the option to select either the Starter or Boss Mode plans.

➜ Starter mode starts at $29/month, in which you can compose up to 20,000 words of content.
➜ Boss mode starts at $99/month, in which you can compose up to 100,000 words of content.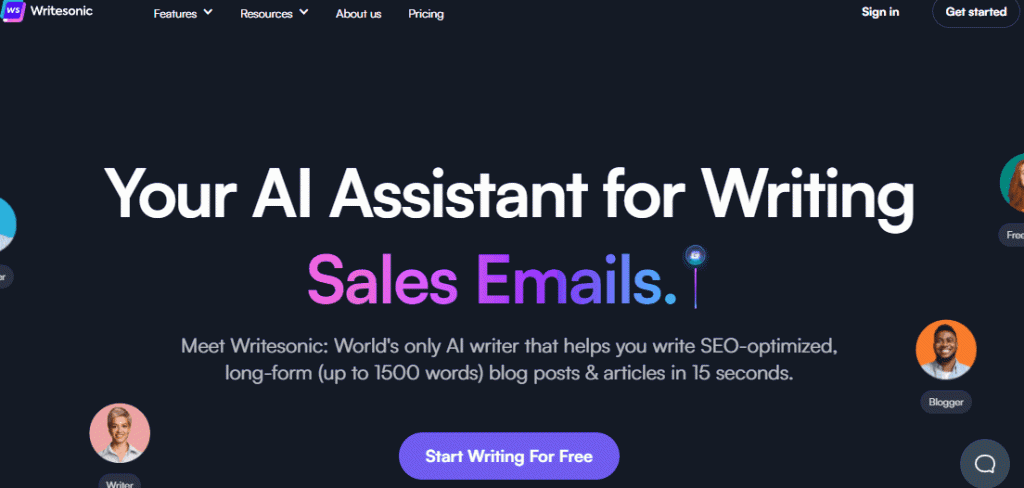 For marketers, agencies, and all other types of companies trying to target a new group of consumers, Writesonic is another of the greatest ad text generators. It can be a reliable product ad copy generator for your ad campaigns.
This utility uses the most recent artificial intelligence technologies, much like other software. Additionally, it can write 20+ other types of content, including high-converting ad copy, with the aid of this AI.
✅Pros:
Uses GPT-3 to produce ad copies
Produce ads for Facebook, Google, and LinkedIn
An estimated performance score is provided for ad copy
Supports 25 languages
❌Cons:
The latest pro pricing structure is difficult to understand
💰Price:

You have the option to select either the Short or Long Mode plans.

➜ Short mode starts at $15/month
➜ Long mode starts at $19/month.

However, in both packages, you could compose up to 12,000 words of content.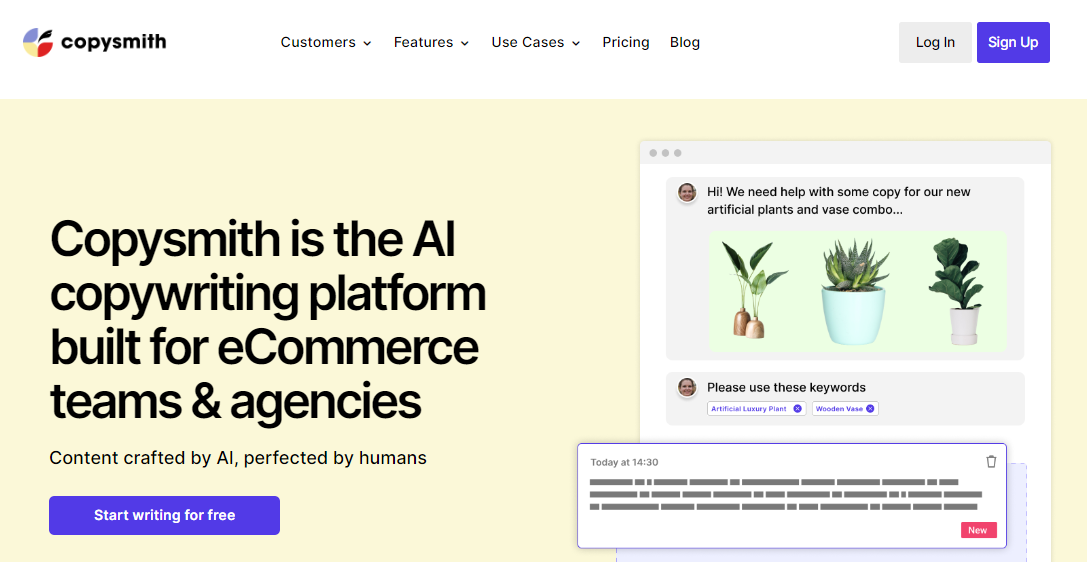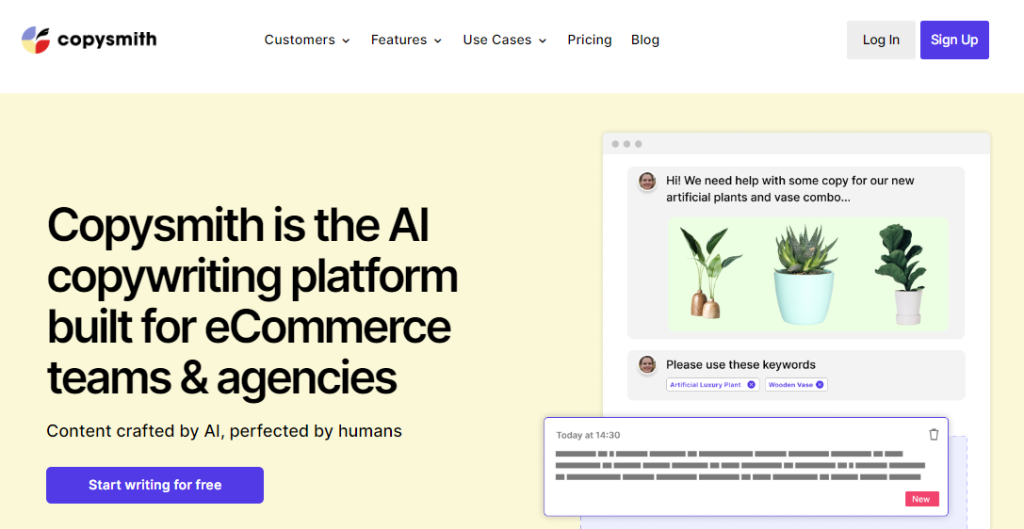 Another AI copywriting tool that enables you to create high-converting ad text is Copysmith. Although it has only been in operation for a year (it was created in October 2020), the software is among the most in-demand among independent contractors.
For eCommerce platforms, the tool excels at producing product descriptions and sales pages. To speed up the creation of content, it includes extensions for Chrome and Shopify.
✅Pros:
Uses GPT-3 AI to generate advertisements
Creates ads for Google Ads, Facebook, Instagram, and LinkedIn
Offers Google Ads, Shopify, and other integration options
Has a built-in plagiarism checker
❌Cons:
Suitable for eCommerce business only
Minimal option for language support
💰Price:

You have four options – Starter, Professional, Terms, and Enterprise plans.

➜ Starter plan starts at $19/month
➜ Professional plan starts at $59/month
➜ Terms plan starts at $118/month
➜ Enterprise plan starts at a Custom price (depending on your needs and expectation)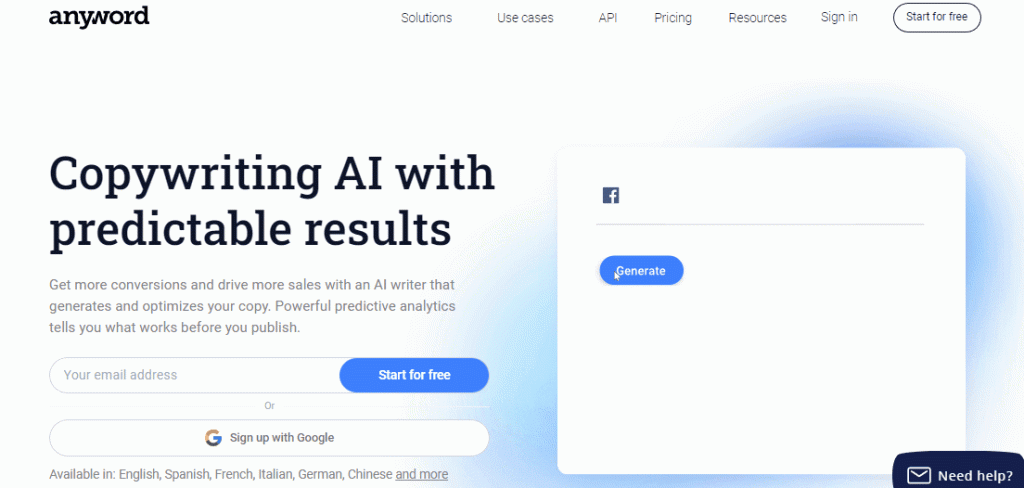 Basic copy-generation tools are included with Anyword. You have access to tools for advanced analytics that help you produce the best copy in preparation. It is designed to produce copy for various platforms, such as Facebook, landing pages, Google, Pinterest, or Instagram.
✅Pros:
Include focused keyword phrases
CTA buttons, subheads, and headers optimization
Ad accounts integration
Ad copy generation 25 languages
❌Cons:
it is very pricey compared with other tools
Best features are only available in high-end premium plans
💰Price:

You have four options – Data driven, Data driven Unlimited, and Enterprise plans.

➜ Data driven plan starts at $99/month
➜ Data driven Unlimited plan starts at $399/month
➜ Enterprise plan starts at $999/month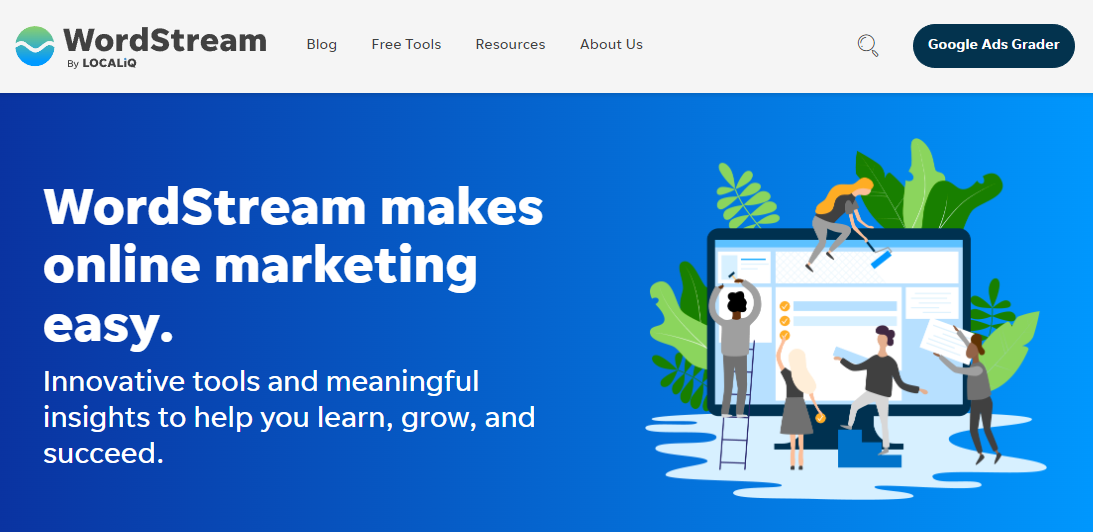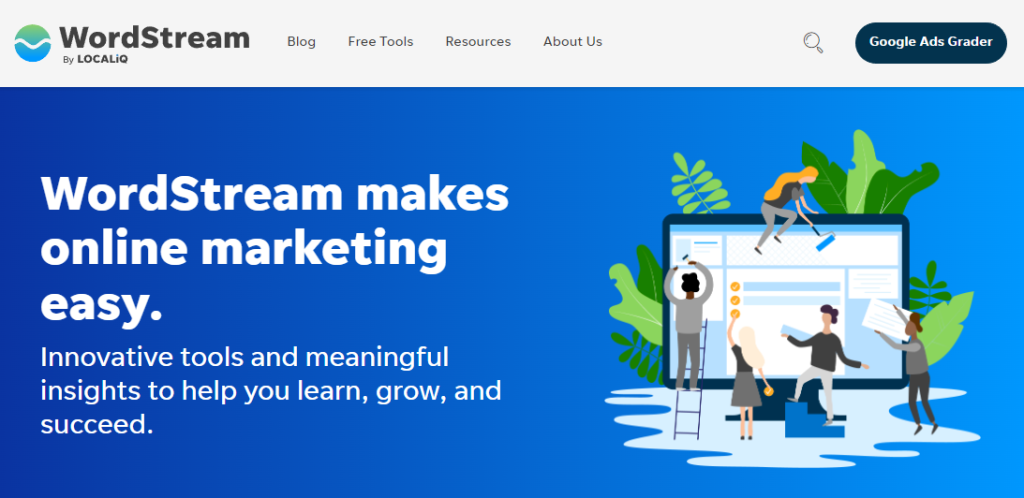 With Wordstream's creative ad content strategy, display ads that convert are created by scanning your website for pertinent text and graphics.
Although it isn't the most sophisticated ad copy generator available, it can help you overcome writer's block or at the very least provide you with suggestions for several versions to utilize in a display ad.
✅Pros:
Create ad copy that attracts conversions.
Ad copy for e-commerce that includes images
The basic editor that adjusts your ad copy
❌Cons:
Not capable of creating a complex writeup
Can only create display banner ads
💰Price:

It's free.
Quick Overview of Best Ad Copy Generator
Let's have a look at a quick overview of the best ad copy generator tools:
| Software | Specialty | Price |
| --- | --- | --- |
| GetGenie | Blogging, Social Media Content, and Copywriting | A free version is available. The paid plan starts at $17.1/Month or $13.3/Month if billed annually |
| Jasper | Best Google Ads Copywriting Software | Starts at $29/month & $99/month |
| Writesonic | Facebook, Instagram, LinkedIn, and Google Ads Ad Copy Generator | Starts at $15/month |
| Copysmith | Facebook, Instagram, LinkedIn, and Google ads Ad Copy Generator | Starts at $19/month |
| Anyword | Facebook, Instagram, LinkedIn Twitter, and Google Ads AI Generator | Starts at $99/month |
| Wordstream | Facebook and Google Ads Copy Generator | Free |
💡 Magical 'GetGenie AI' can help you in anything &…EVERYTHING:
Well, the GetGenie Ai can work as a complete WordPress-based content and SEO assistant for you and also can help you rank higher in Google searches.
Currently, it's specified as an AI writing software is no short of a blessing for writers (provided you are using the right tool in the right way). GetGenie, the AI content assistant also acts as a top-notch Facebook ad copy description generator for solopreneurs.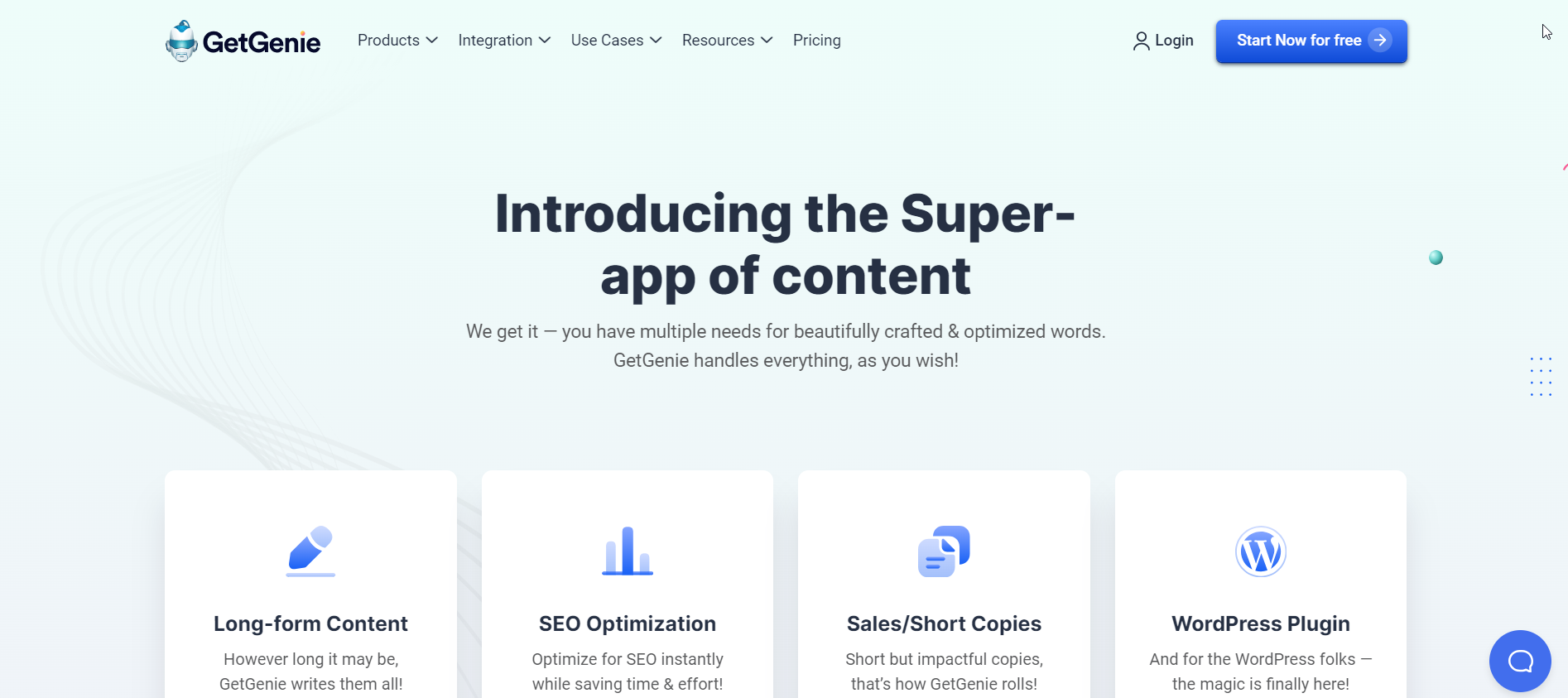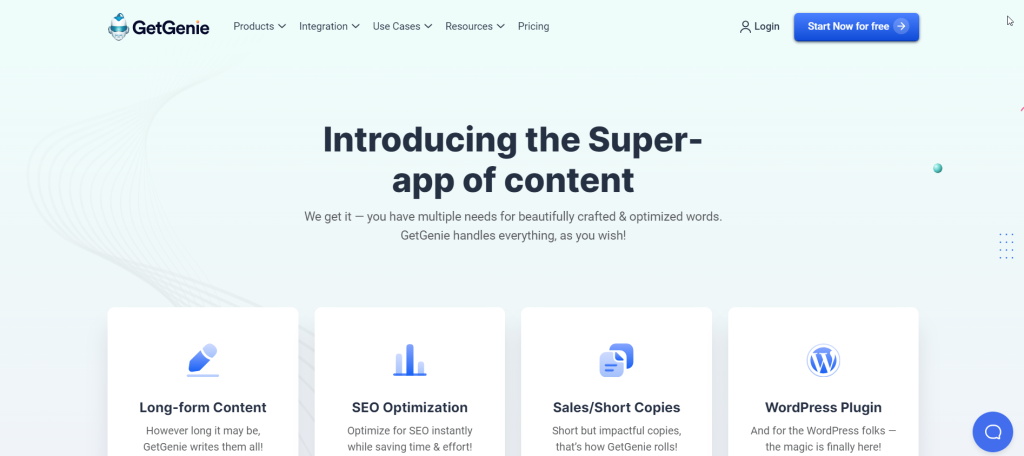 Like the name, this AI assistant software actually does the magic of granting all your requirements for writing content. With this software, you can generate —
Blog Articles
Social Content Copies
Landing Page Copies
Product Descriptions
Headlines/Taglines
Email Copies,
Video Scripts
Fictional/Non-Fictional content
… among many others!
Yes! You read it correctly. It will produce practically ALL sorts of content you can ask for — that too in a few moments. This tool is capable of doing the number of tasks that would previously require 10+ composing tools!
Moreover, this writing tool can follow proven frameworks such as AIDA, BAB, etc if you want, which will ensure the quality of your content. Along with quality, you can also take advantage of the on-page SEO score. Also, you can add FAQs without any manual search as Genie AI fetches relevant Quora and Reddit questions automatically for you.
Another great part about this software is that it's also available in a WordPress plugin format. As a result, you can install it on your WordPress site and use it from the dashboard without going back and forth between platforms.
Sounds exciting, right? 🤯
It is because Genie AI is here to revolutionize content writing with Artificial Intelligence like no other AI tool has ever done before.
Start creating AI advertising copy!
I have enlisted the best AI ad copy generators above for your conveniece.
Finding the AI tool that works best for you comes down to the fundamentals. Even though there are many programs out there with various strengths and shortcomings. Do you require an AI ad copy generator that can identify plagiarism, optimize search results, or provide nuance?
Then you should definitely try the GetGenie AI tool (which will be available in the market very soon) which can help you in every single aspect of content writing.