How to Apply AIDA Model in Content Writing Effectively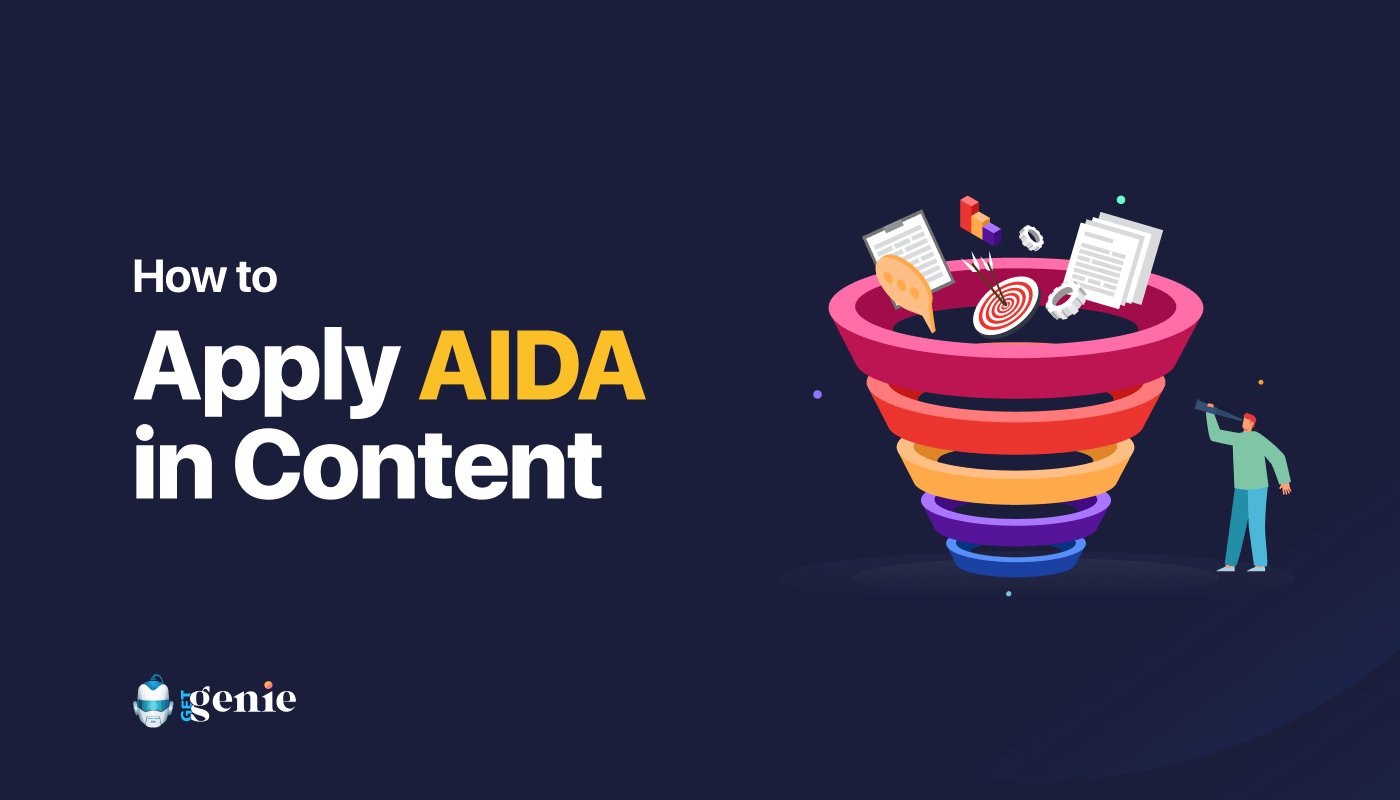 Are you using the AIDA Model in your marketing strategy?
If you are not using AIDA content marketing, then you are missing out on a big success that this proven marketing framework can help you gain.
Wondering why I said it's a proven formula?
Well, because it is! Many famous brands throughout the years have used the AIDA model to build their business empire.
Want to know which brand I am talking about? For that, you need to read the whole blog where along with the names of famous brands using AIDA, you will also learn more details about the AIDA model. On top of that, you will also get to know how you can use an AI tool to generate AIDA content writing in just 2 steps.
Yes! You heard it, just 2 steps, so keep reading….
What is the AIDA Model?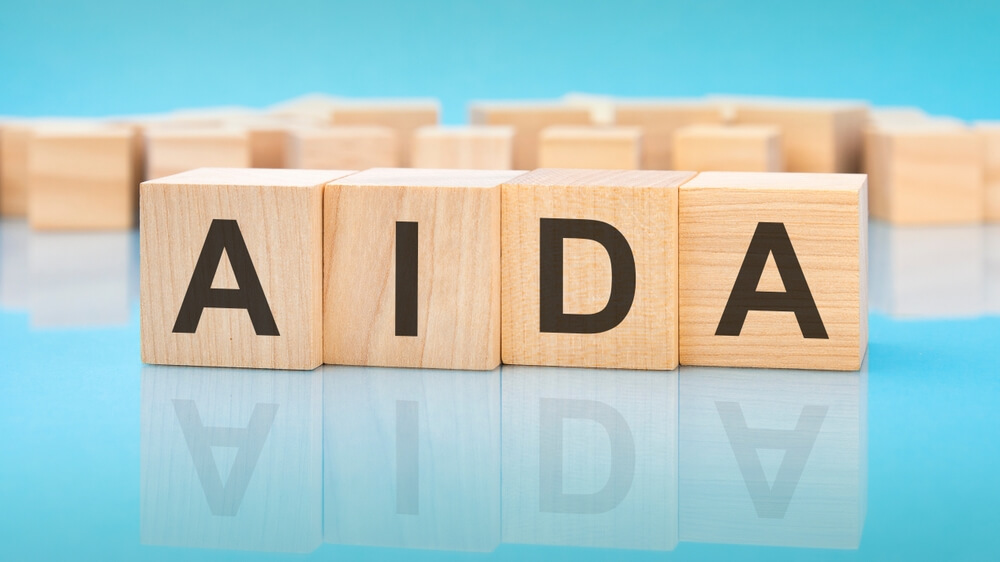 AIDA stands for Attention, Interest, Desire, and Action. This is a popular marketing framework that consists of the mentioned four stages(Attention, Interest, Desire, and Action) that a potential customer goes through to finally purchase your product.
The AIDA model was developed by Elias St. Elmo Lewis in 1898.
This is a well-established marketing formula that most marketers use to increase their conversion rate. Since each stage represents a step of a buying funnel it helps you to dissect your potential customers in groups that represent their approach towards your product and service so you can utilize that to influence your prospective customer's mindset and convert them to become your paying customers.
👉👉  You can now create content with an AI writing tool. But how can AI writing tools create original plagiarism-free content? Click
here
to find out.
Stages of AIDA Model Marketing: Attention, Interest, Desire, and Action
As mentioned before AIDA Model Hierarchy has four steps. All these steps are important for customers to convert. Let's put a little more light onto each of the steps:

Attention
The biggest mistake one can make when it comes to marketing is to think that people do or will come to know about your product/service by themselves. Well, they won't!
It's your duty as a marketer to grab users' attention to your product. Unless people know about your product, how will they consider it, let alone buy it?
That's why "Attention" is the first step of the buying funnel that the AIDA framework targets to fulfill to soar your conversions. This is a cruciel step of AIDA marketing strategy.
Popular mediums to spread awareness about a product include advertising on print media, TVs, and of course, nowadays the social media platforms like Facebook, Instagram, Twitter, etc. are the easiest way to reach people.
Interest
Once people know about a product/service, the next thing you want is for them to grow in interest in your product. This is a little harder than the first step.
Whether you are a pioneer – starting something absolutely new or doing a business with a product that already has similar competition in the market, you need to keep in mind that your messaging should be different from others. On top of that, your message needs to be crisp, clear, and of course enticing enough to get people interested.
Desire
This one kinda goes together in that sense the moment people show interest to know about your product is the moment you can utilize to create a desire in them to purchase your very product rather than your competitors of the same niche.
This is the stage where you let people know about the benefit that your product gives them or solve any of the issues they are facing. Basically, this is the step where people realize they want your product or they need your product.
"People buy on emotion and justify on logic" – The late great sales trainer, Zig Ziglar
And your aim is to make them attached to your product through emotion so they decide to buy your product.
Action
So, now users know about the product, and how your product will benefit them and they have developed an urge to try your product but what next? Well, of course, to get them to take action or try your product. And that's the final step of AIDA; getting your users to take action.
Creating a sense of urgency can increase sales by 332% – CXL.com
An action doesn't necessarily have to be to purchase your product, it can be trying the free version or filling out a form, etc.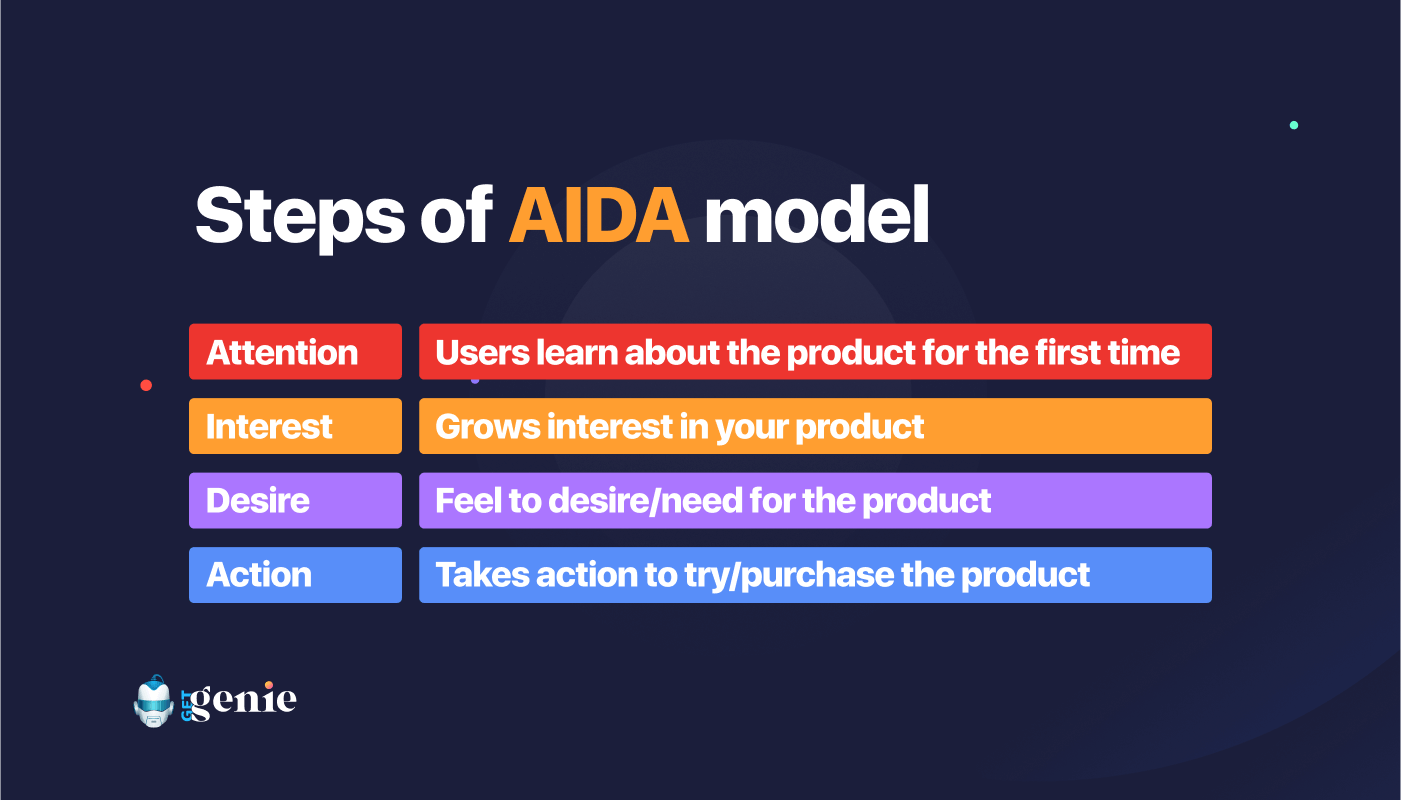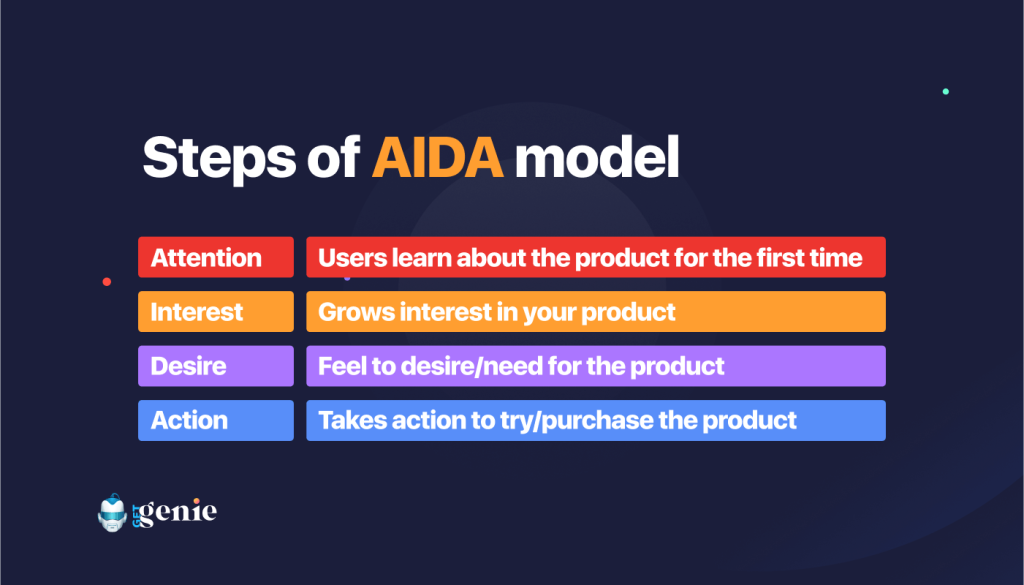 I hope now you understand the different stages of the AIDA marketing model.
How to Apply AIDA in Content Writing using a AI Writing Assistant
Words speak about your brands and it's the medium you must utilize if you want your marketing run to become successful. Now thanks to the advancement of technology, there is an AI writing assistant available that helps you to come up with content with the AIDA model template in just a few moments.
You can check the whole process in the video below as well:
Follow the steps below to generate and apply AIDA in content writing using a AI writing assistant:
Step 1: Install and activate AI writing assistant GetGenie AI
The first step is to install an AI writing assistant tool. This is a standalone WordPress plugin that comes with an AIDA content writing template.
To install this SaaS plugin, navigate to WordPress dashboard ⇒ Add New. Then search for "getgenie". Once found, click on Install Now.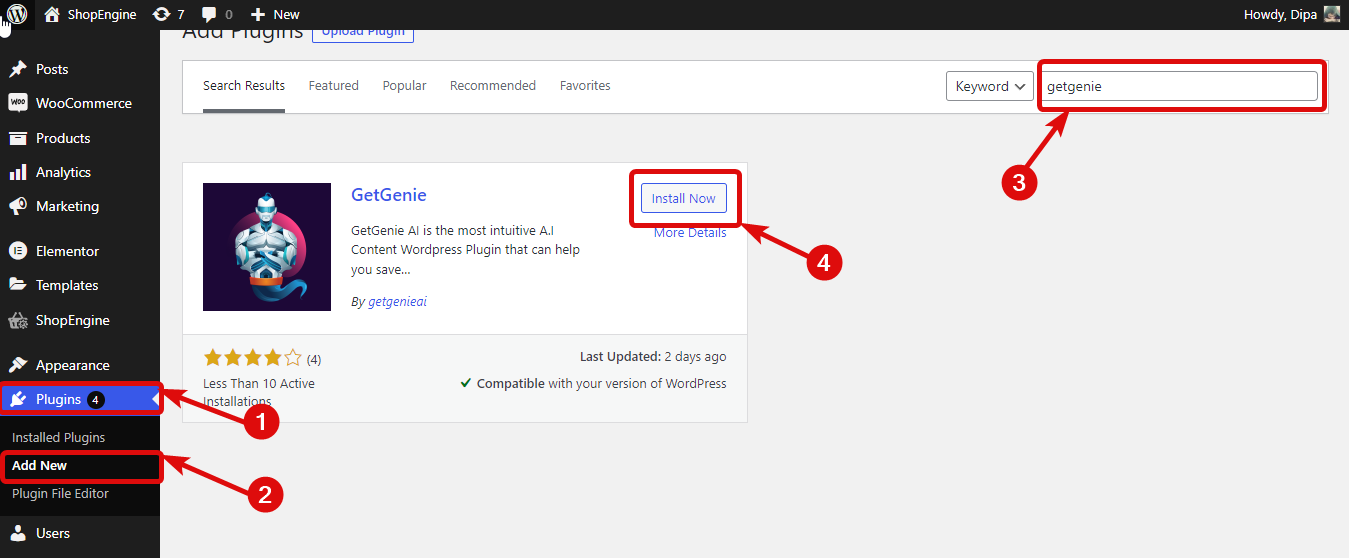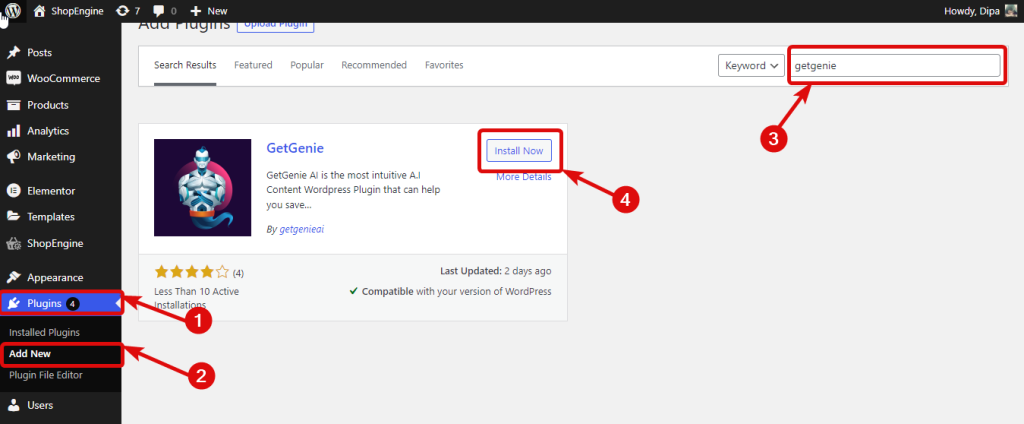 After the plugin is installed on your system, click on Activate.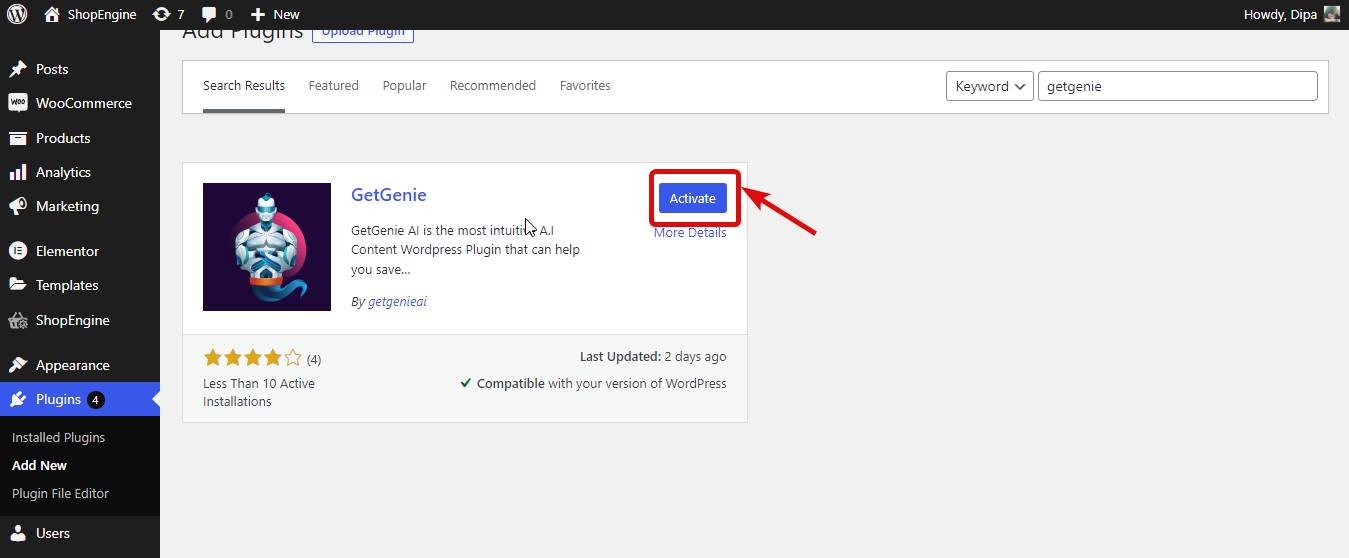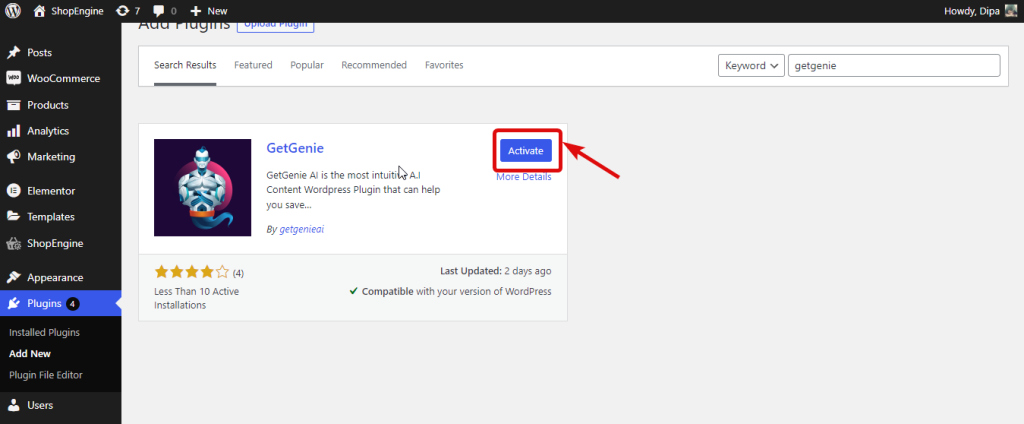 Step 2: Generate Content with the AIDA model framework
Now navigate to GetGenie ⇒ Write For me. Now click on Attention Interest Desire Action (AIDA) from the template list for AIDA model writing.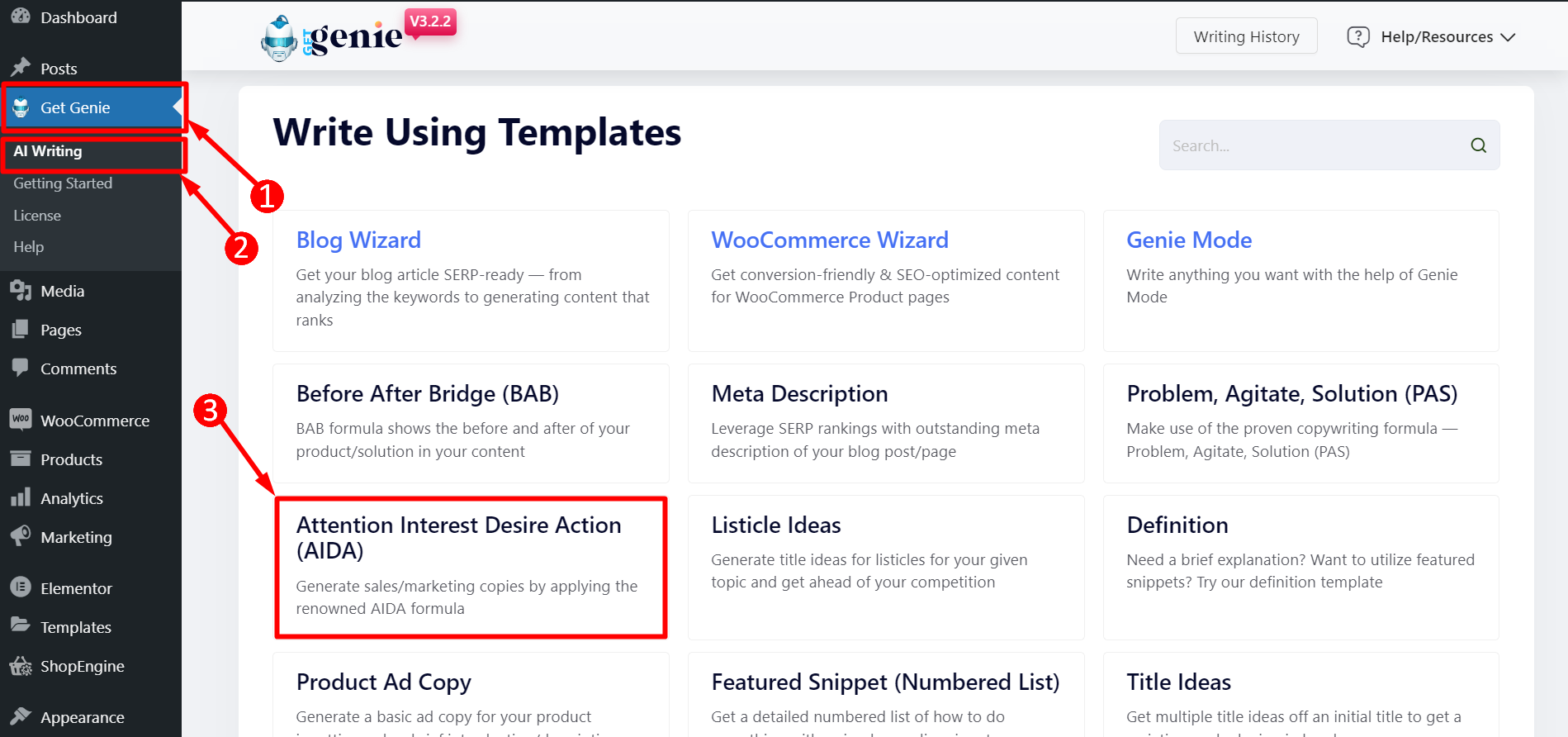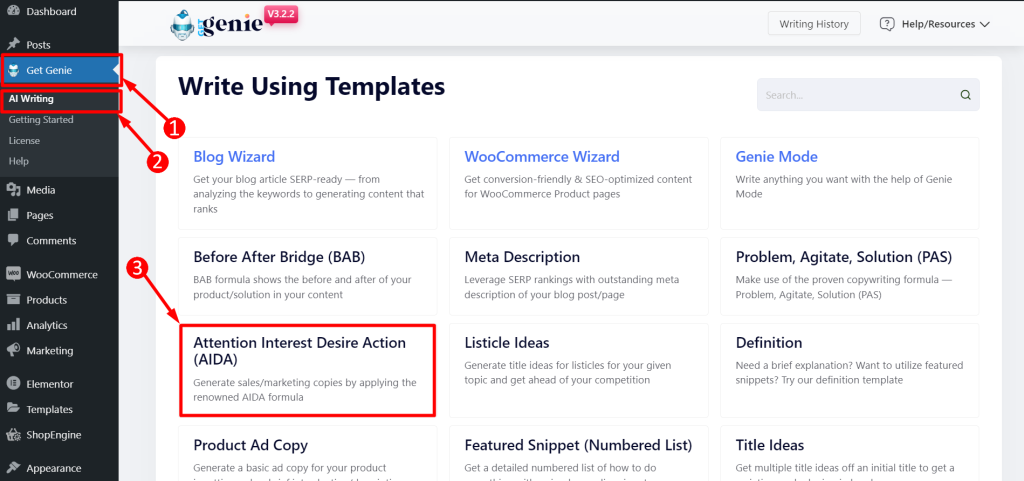 Provide the following information about your product for which you want to create an AIDA framework-based content:
Product name: Type your product name.
Product Description: Provide information about the product such as key features.
Language: Here you can choose the language from the dropdown.
Tone: Chose the tone of the AIDA copies you want to generate.
Creativity : Choose the creativity level (out of 5). This value will set how creative your results will be. Creativity level 4 is usually recommended.
Results : You can also choose how many results you want to produce. The limit is 10.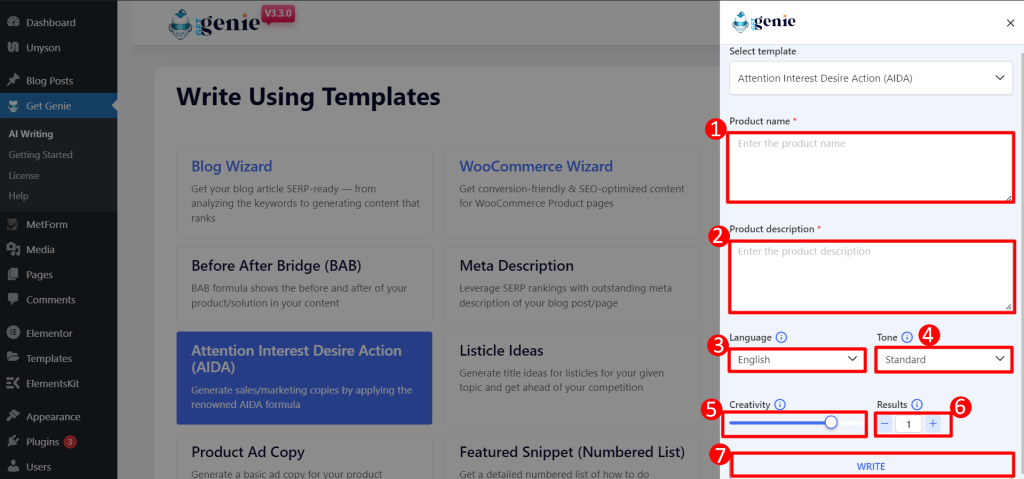 After you provide all the information carefully, click on Write to get the results. You can click on copy any of the results.
Here is a preview of how the results get generated by GetGenie AI: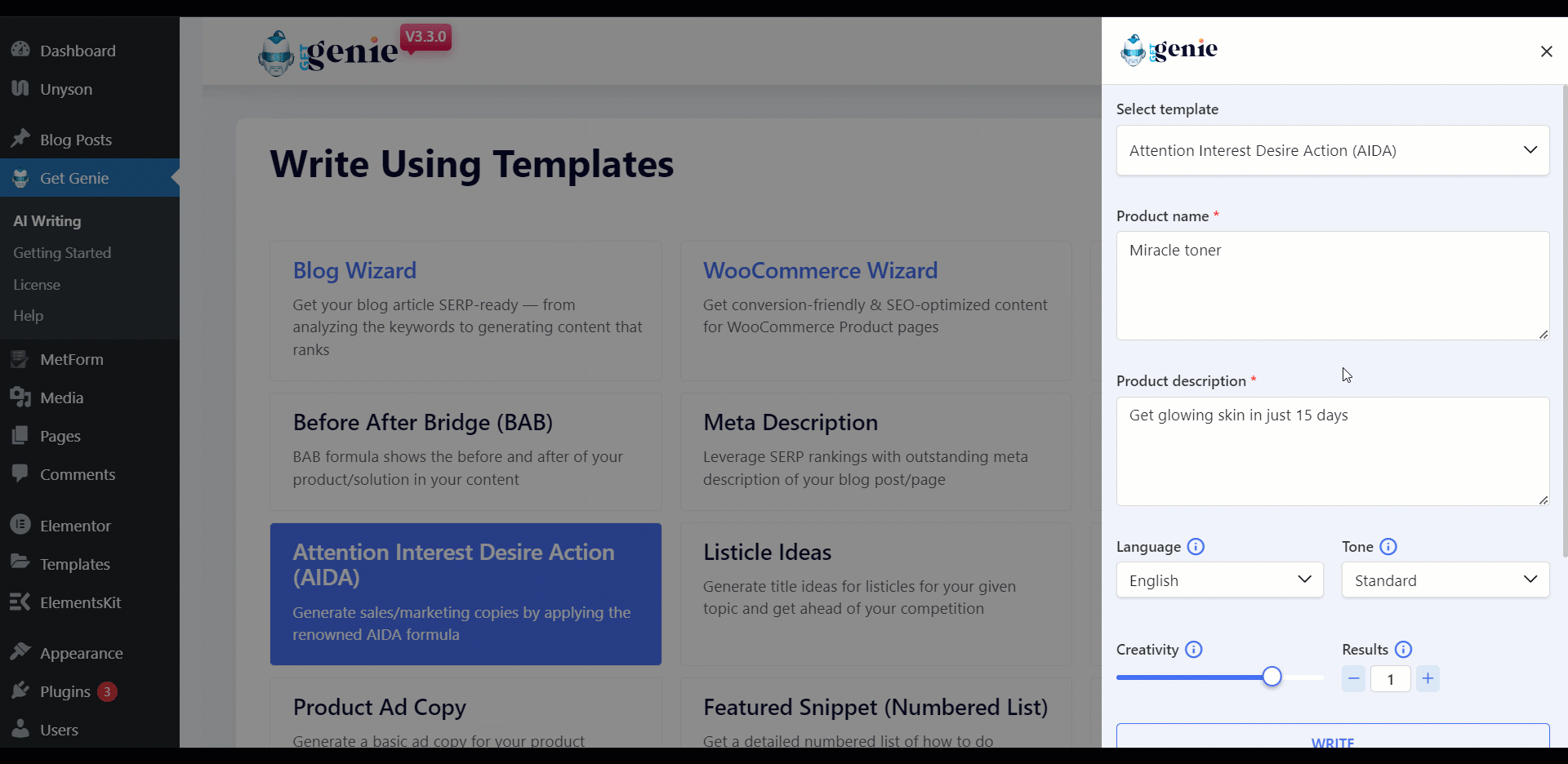 You can now click on it to copy it and use it wherever you want. You can also choose to rewrite the generated content using GetGenie"s rewriter template.
To learn more details about the
AIDA template of GetGenie AI
and its usage, check the
documentation.
How about some real-life examples of big brands using the AIDA marketing model?
Well, for that move on to the next section…
Real-life AIDA model example
In this section, I haved talked about how two successful brand has used AIDA model in their marketing.
How does Coca-Cola use the AIDA Model?


Coca-Cola is a brand that needs no introduction as it's one of the most popular carbonated soft drinks. While you know about the brand, you probably don't know that this brand has applied the AIDA model in its marketing strategy to build this enormously successful brand. Let's break down how Coca-Cola let a user through the stages of AIDA to sell them their product.
Attention:
Coke goes all gun blazing when it comes to getting attention. You will be surprised to know this brand spends more than 4 Billion on advertising in a single year worldwide.
How?
Well, don't you find yourself seeing Coke everywhere? Like on the big hoarding, TV advertisements, endorsements of events and digital programs, paid ads, and whatnot.
Result? Well, unless you live under a rock, you probably know what Coke is.
Interest:
To grow interest, the Coca-Cola brand uses catchy terms like Diet Coke and Coke Zero to mention how you can enjoy a beverage without sugar. Another tactic they use to grow interest is storytelling in their digital advertisement.
In most of the Coca-Cola advertisements, the story starts with a normal scene(with no mention of coke in the beginning) which connects people. As a result, most people are hooked on watching the advertisement till the end which is a sign of growing interest.
Desire:
Most people value relationships, community, friendship, culture, etc. And the Coca-Cola company by showing how coke can help you to bond better creates a desire in people to go for this beverage.
Another formula that has been impactful for Coke to create desire in people is to offer the diet coke. With diet coke, you are promised the luxury of enjoying a sweet drink without putting on weight. I think you and I both can agree, it's hard to say no to the idea of "a delicious beverage without having to go out of shape "!
Action:
To encourage users to take the action, the company shows in advertisements how satisfying it is to have a sip of coke. Besides, the company makes it available in the most convenient way in supermarkets, cinemas, vending machines, etc. As a result, you are tempted to take the action as it takes zero effort and promises so much more in return.
How tech giant Apple leveraged AIDA model with its launch?

Yes, Even the brilliant Steve Jobs used the AIDA model when he launched the iPhone. How? Let's find out:
Attention:
To grow awareness or get attention Apple has announced that they will be launching a product like no one has seen before. It was a successful move to create buzz among tech lovers.
Interest:
To acquire interest, Jobs talked about the innovative features and characteristics of the product they are about to launch. He talked about some of the key features to get people fascinated by the product.
Desire:
To generate desire among the customers, Steves highlighted how the upcoming phone will solve users' problems like using a stylus, unintended touches, accuracy issues, etc.
Action:
Finally, he showed the product with all the features and how switching to the new iPhone can solve all the problems people were having back then along with giving them new features that they can enjoy. This made people take the action to get their own iPhones.
Frequently Asked Questions about AIDA Marketing Framework
What does AIDA stand for?
AIDA stands for Attention, Interest, Desire, and Action. It's a marketing framework that studies how a customer has to go through four different stages (journey through Awareness, Interest, Desire, and Action)of a buying funnel to convert.
The AIDA model was developed by who?
AIDA was developed by Elias St. Elmo Lewis in 1898. He was an American advertising advocate who was inducted into the American Advertising hall of fame.
Which Companies use the AIDA model?
Many companies around the globe use the AIDA model. Some of the known companies that use AIDA in their marketing are Nike, Coca-Cola, Apple, Netflix, Adidas, etc.
Final Words on AIDA Content Writing
A content aims to get a conversion or at least get users to take some action towards conversion. And that's exactly what the AIDA framework focuses on.
So, next time you write content, do make sure to apply the AIDA framework to boost your conversion rate. And of course, if you need help, you can use the awesome AI writing assistant – GetGenie AI to make your job easy.
GetGenie is not just limited to AIDA content writing, in addition, it comes with a 30+ writing template so you can produce the best content at the fastest speed. This amazing AI writing tool actually does the work of 10 AI tools. So, without further ado, get your copy of GetGenie now.