A Quick Overview of Top 7 Ai Copywriting Tools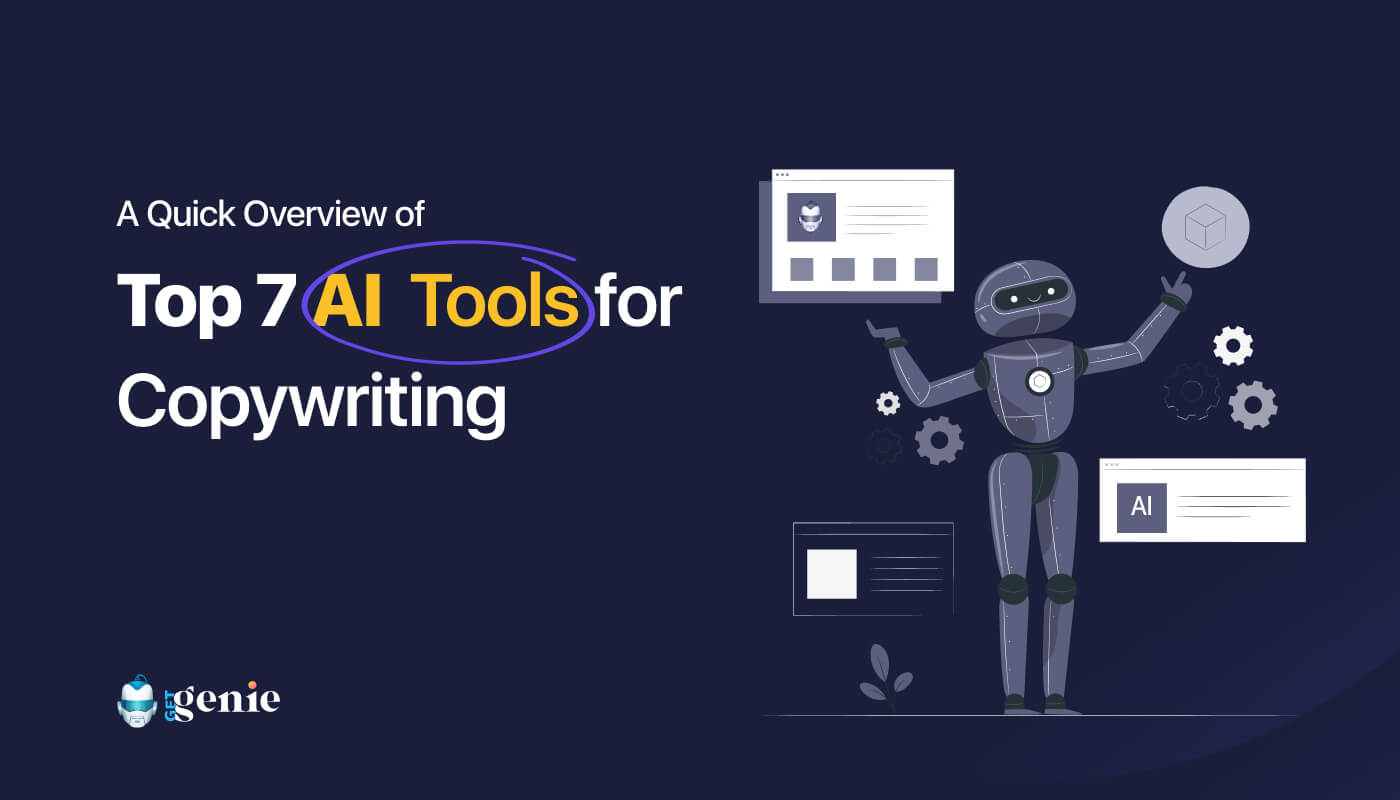 If you are into this write-up now, there is a high chance that you were hunting for AI copywriting tools. And if so, I promise you would immensely benefit from this write-up.
This write-up will introduce and enlighten you about the AI copywriting tools that can generate unique, original, and top-grade copies. However, if you are one of those who just landed on the write-up casually, you will also benefit from the post.
Wondering how? Well, I will cover some exciting and charming facts about AI copywriting tools that you can't override. Literally, you would fancy knowing about these AI copywriting tools!
Before I acquaint you with the top 7 AI copywriting tools, it's not a bad idea to understand what AI copywriting is. Without further ado, let's cut to the chase-
AI Copywriting Explained-
Earlier, some people thought copywriting meant copying or plagiarizing words or texts from someone else or from the Internet. Of course, that's not what copywriting actually means. And now people have got smarter and they have a better understanding of copywriting.
Basically, copywriting means the act of writing promotional or marketing content. That means if you write texts and content for the sake of generating sales, it's nothing but copywriting. When you delegate this task of writing copy to AI tools, it's called AI copywriting.
At this point, you must be expecting a few examples of AI copywriting, right? Well, I can present several examples of copywriting. Right from your product or service page to your landing page and advertisement, everything you write is an example of copywriting.
Similarly, if you write social media posts or emails keeping promotion, marketing, and sales in mind, it's also a perfect example of copywriting. When all these copies are generated by AI tools, simply, these are AI copywriting.
Did Businesses Accept AI Copywriting Tools?
Some businesses have already embraced AI copywriting tools. Some quarters have mixed reactions with regard to the acceptance of AI copywriting tools while others are clueless about these AI tools.
In my view, AI copywriting tools have many things to offer for our benefit. So, we can't entirely negate the advantages of these AI-powered tools. At the same time, we can't blindly rely on these tools for copywriting. We need to use our brains and take the effective portion of the generated copy.
7 Best AI Copywriting Tools that you can Rely on:
Well, now we have arrived at the core and integral part of this write-up. And I am sure that you have been eagerly waiting for this step. Before I acquaint you with the 7 best AI copywriting tools, let me make a point very clear.
If you google or research otherwise, you will end up tracking down scores of AI copywriting tools. But I will list down only those AI tools for copywriting that are first-rate, feature-rich, and overall a good value for money.
Let's check out the 7 best AI copywriting tools-
GetGenie is a terrific AI copywriter, available to be utilized. It has the charm to blow your mind with all its killer copywriting features. No matter whether it's a promotional copy or a sales copy, the AI copywriter is able to generate all types of copies. You can even get your copy SEO-optimized with this fantastic tool.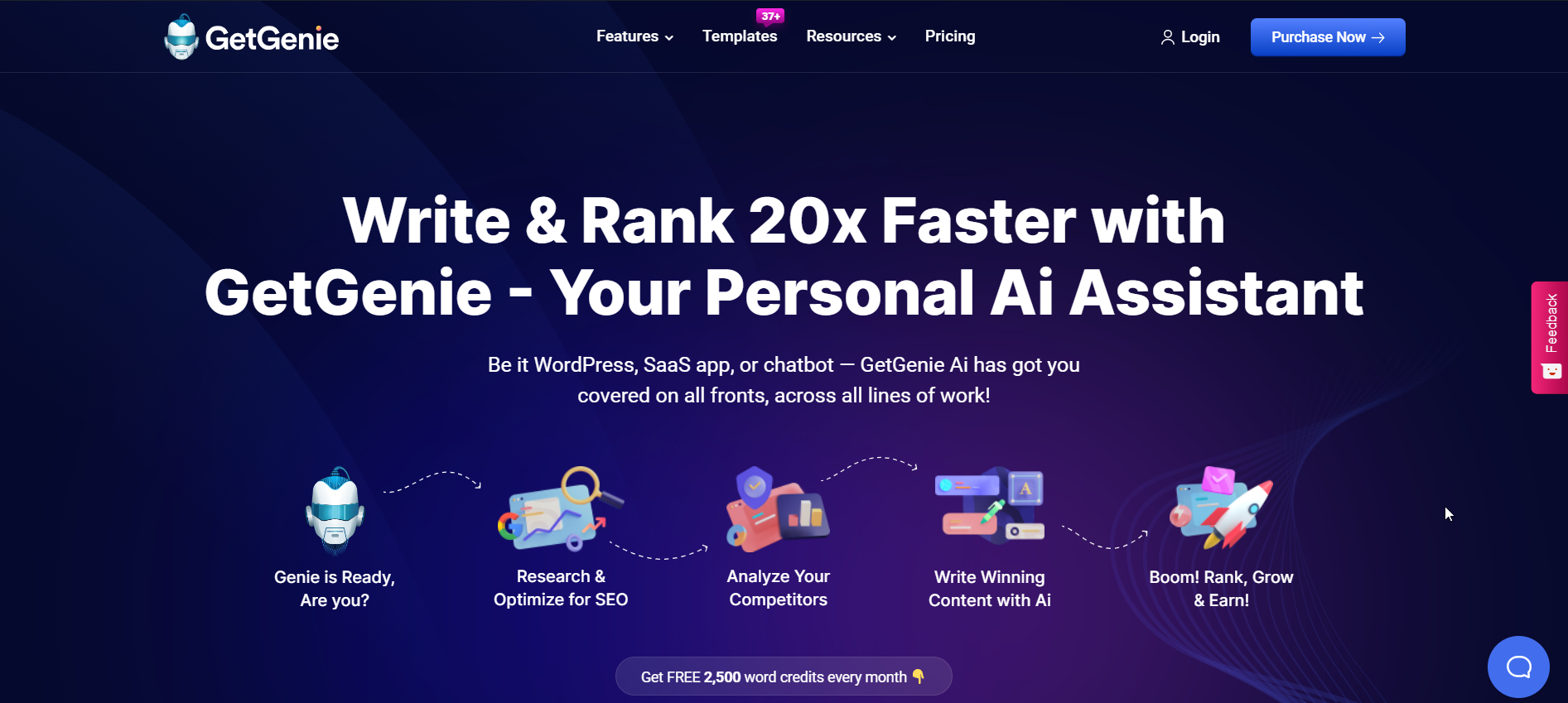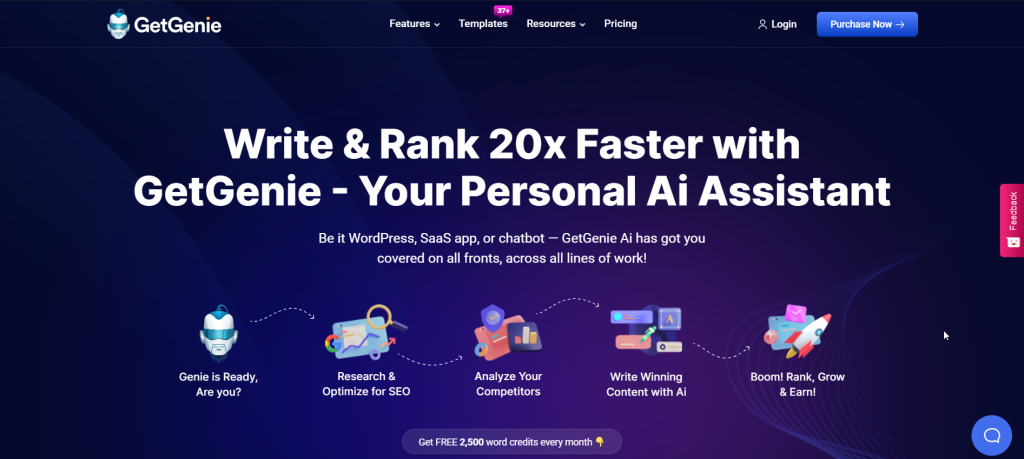 GetGenie also boasts 37+ templates, some of which you can utilize to generate different types of copies for your personal and professional projects. The best part? It produces copies in a readable, digestible, and palatable manner.
All you have to do is provide a brief for the topic you want to generate a copy of. And GetGenie will take care of the rest! However, the better you brief, the superior your copy will be. For your information, GetGenie besides being an AI copywriter, it's also an AI content writer.
Star Features of GetGenie at a Glance:
Available both as a WordPress & SaaS platforms
One-click blog post generation
In-depth data extraction for keyword research and competitors' analysis
SEO-friendly content generation
Social Media and Email Copywriting templates
GenieChat chatting for chatting with 22+ personalities on any topic
Genie Webview for non-WordPress users
Genie Mode for generating any type of content
Jasper, formerly known as Jarvis AI is a cracking AI tool for copywriting that you would love to capitalize on. This AI tool is efficient enough to take copywriting commands or instructions from you and return the desired output.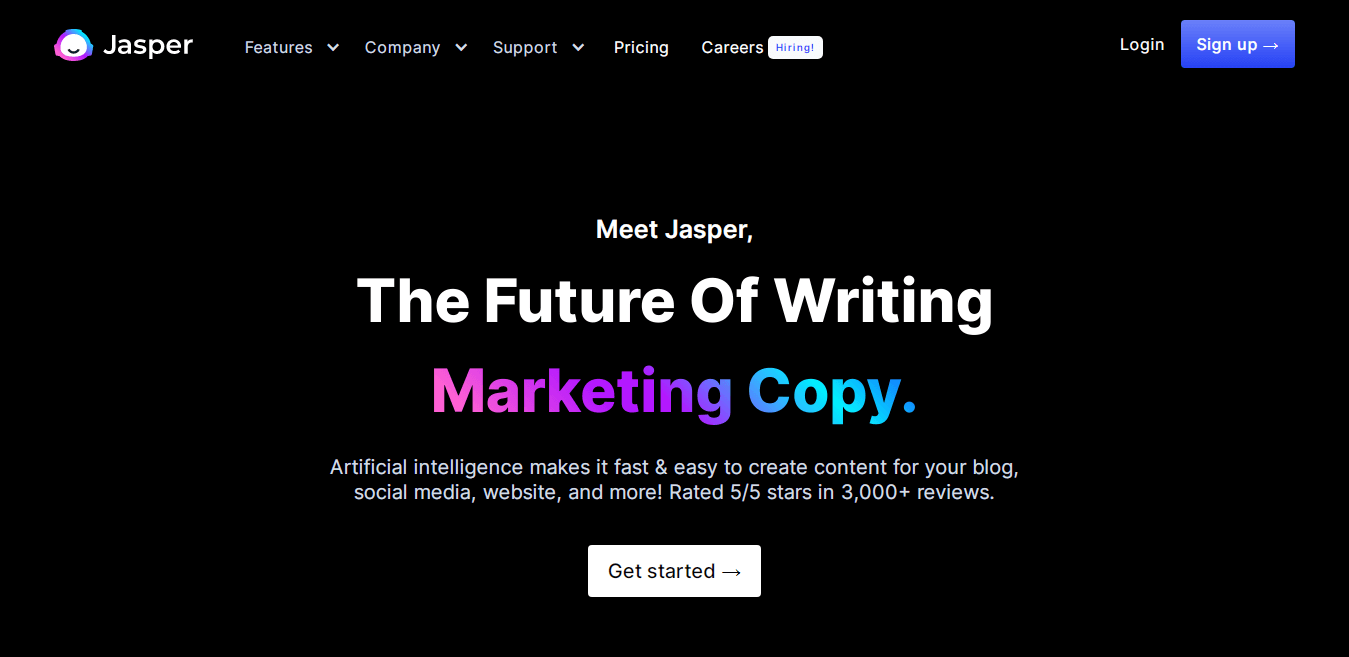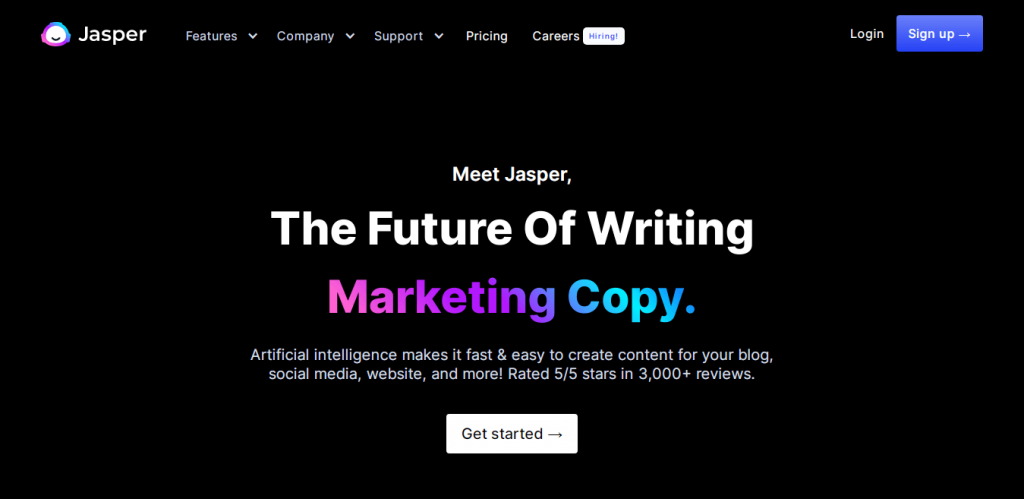 Jasper aims to resolve your pain points, right from writer's block and poor conversion rate to long writing time and extra working effort. Jasper boasts all the essential features of copywriting, no matter whether it's a social media copy, landing page copy, email copy, or product description copy.
Jasper is a natural language processing (NLP) software that avails of GPT-3 technology like the other AI copywriters. It has all the necessary copywriting templates that you can deploy to generate unique, original, and peachy content.
Key Features:
Able to adjust the tone
Comes with Surfer SEO integration
Offers 50+ content templates
Boasts multi-language compatibility
Price: $99/month estimated* (Boss Mode) Word Limit- 100,000 words/month
If you are looking for an artificial intelligence tool to generate faster copy, CopySmith has to be one of your primary choices. It has the ability to create a wide range of marketing copy that can generate leads as well as convert leads into paying customers.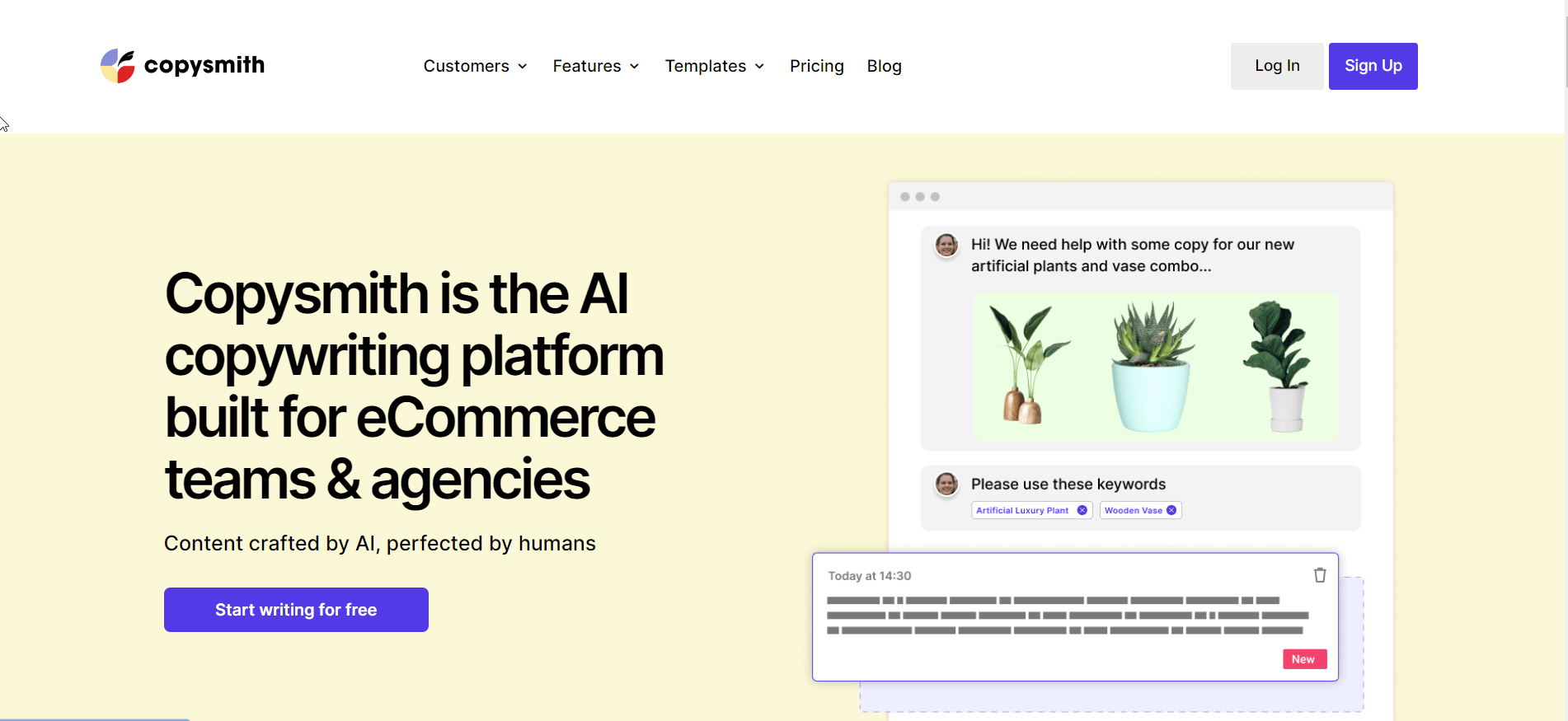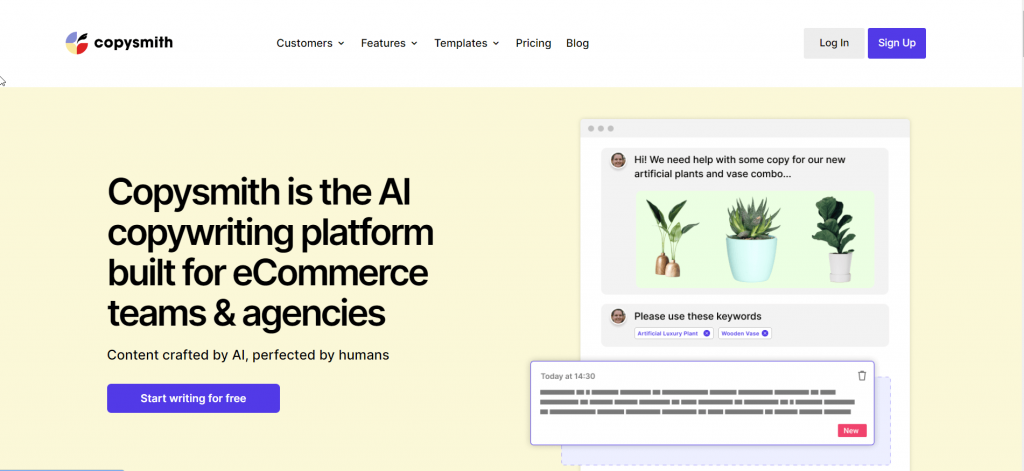 With CopySmith, you have the luxury to produce unique content as much as you crave. And that's too in a short amount of time maintaining optimum quality. Businesses can generate catchy headlines, taglines, and engaging descriptions easily with CopySmith to grip the target audiences.
If efficiency is your top priority, CopySmith can be a perfect choice for you. So, if you are an entrepreneur, digital marketer, or copywriter, you should take advantage of CopySmith!
Key Features:
Easy and simple to use
Offers content management
Comes with the Chrome extension
Content rewriting and enhancing the quality
Price: $59/month (Professional) Word Limit- 260K words/month
If you are seeking a diverse AI copywriting tool that gives more flexibility, Copy.AI can be one of the picks. The tool for copywriting is so innovative that it lightens your headache of coming up with original ideas and thoughts.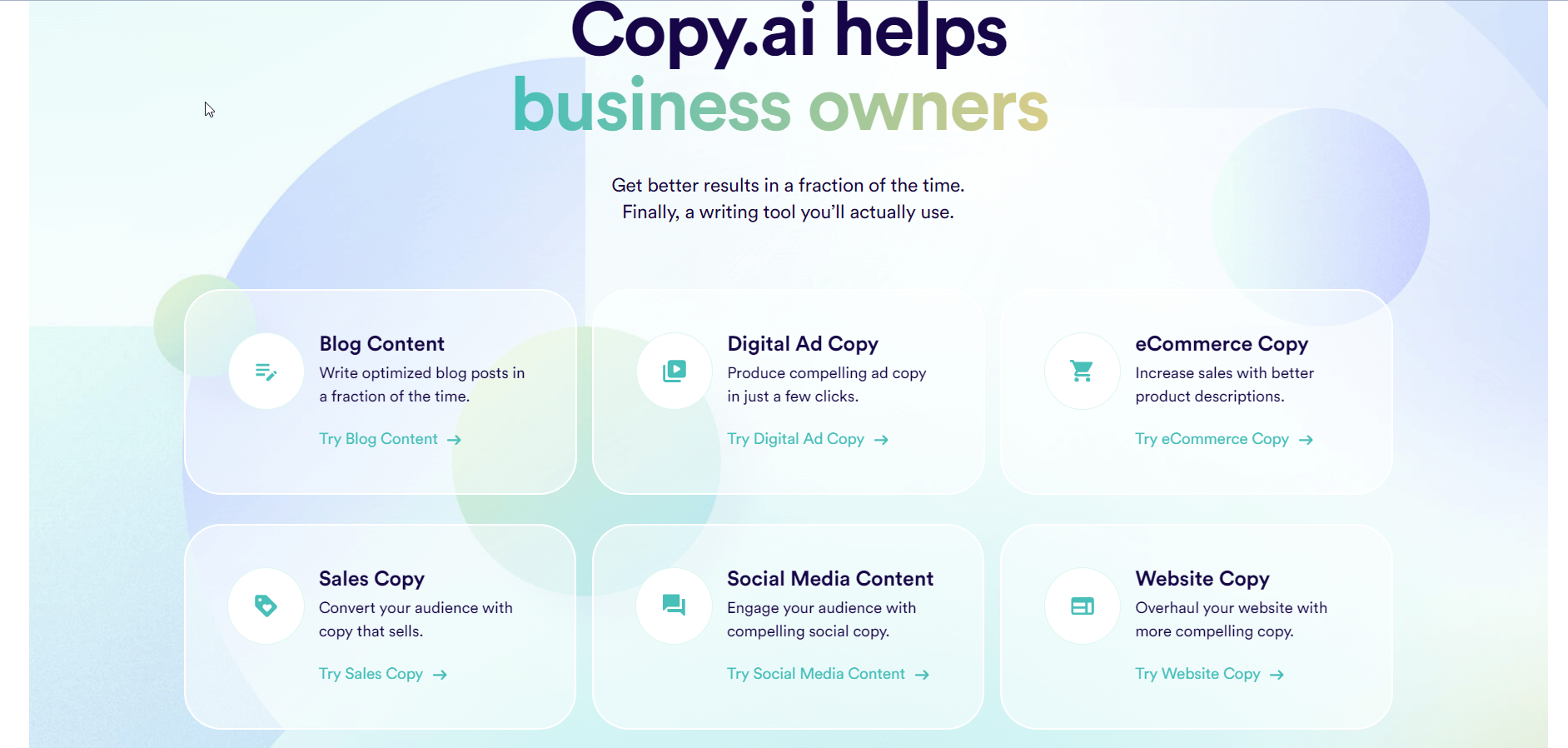 Copy.AI provides a number of templates for everything related to copywriting including blog outlines, blog ideas, social media posts, email copies, website copies, and video content. One of the key facets of Copy.AI is it will let you control the language and tone of writing, giving an impression of your own writing.
So, if you are sick of the tried and tested formulas of copywriting, you can surely try Copy.AI to get a new dimension to copywriting. With that, you can also generate killer copy and overcome marketing roadblocks.
Key Features:
Get access to 90+ tools
Aims toward newbies and beginners
Translation available in 25+ languages
24/7 email support
Price: $35/month (Pro Plan)
Writesonic is another copywriting tool, powered by AI that can generate top-grade copy in a matter of seconds or minutes. This peachy AI tool was launched amid the pandemic when people were mostly working from home. Due to the virtual work from home, Writesonic got an astounding response from the users.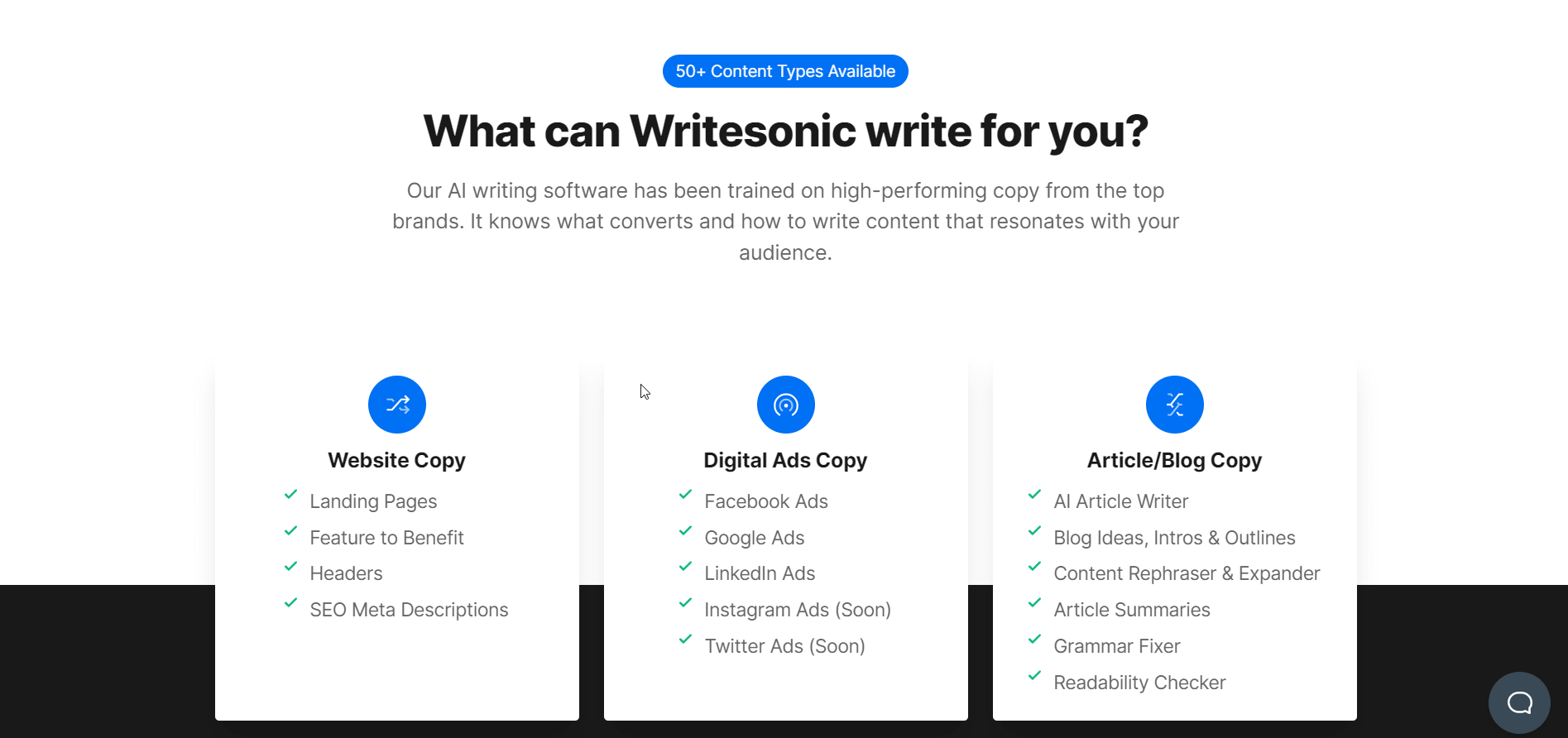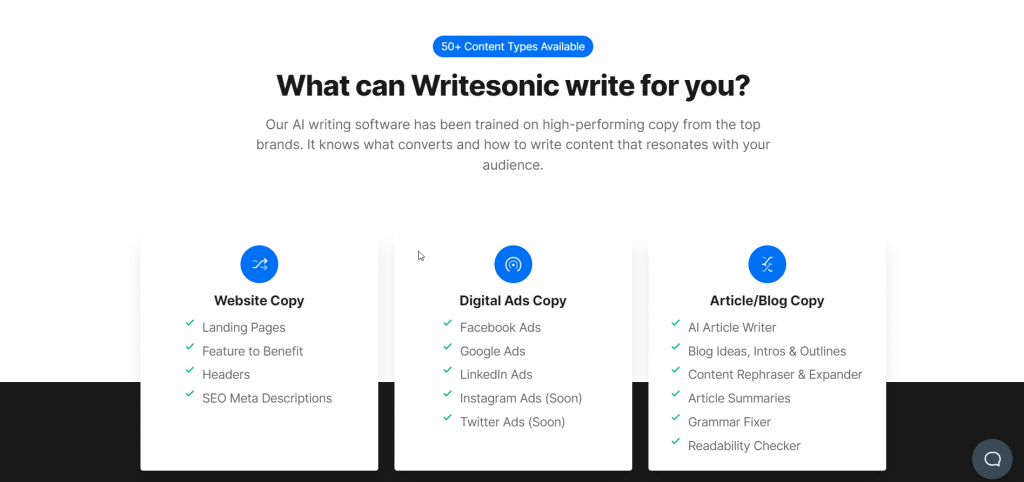 Not only due to the pandemic, but Writesonic also has the quality and appeal to grip users. However, it was initially launched on AppSumo as a lifetime deal. And the best part is clients fancied using the tool as they found it useful for their projects.
Writesonic offers a very clean and crisp dashboard from where you cherry-pick the type of content you wish to generate from relevant tools and templates. Overall, the tool is easy to get started with and is likely to provide a smooth experience with a sophisticated interface.
Key Features:
Able to analyze the readability
Provides predictive scoring on generated content
Automatic grammar fixing
Offers both one-time and recurring payment options
Price: $95/month (Startup Plan)
Rytr sounds like a writer but is spelled differently to create a stylish vibe. It's comparatively a new AI copywriter but has already created a buzz in the market. In a short time, Rytr has clawed its way silently to compete with the toppers.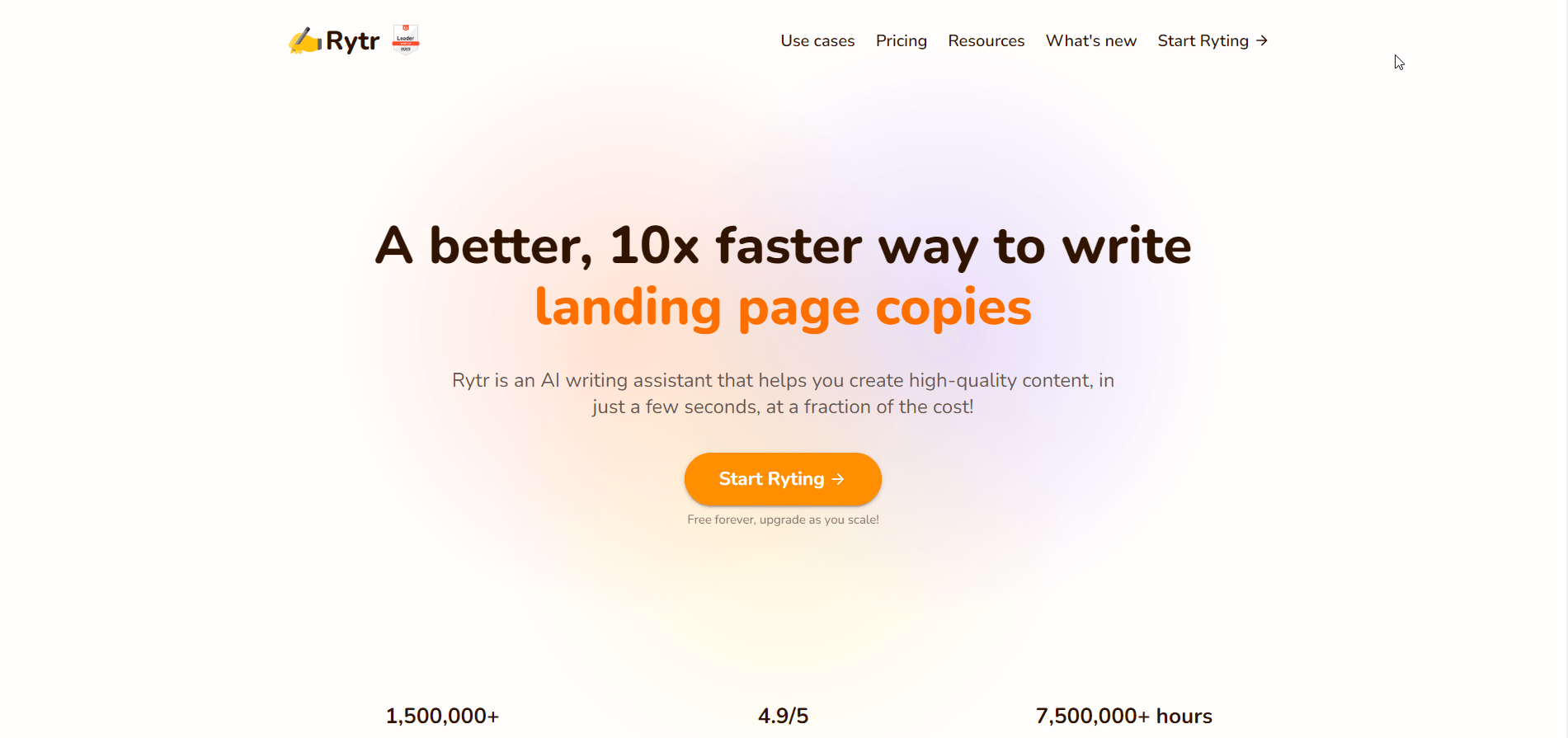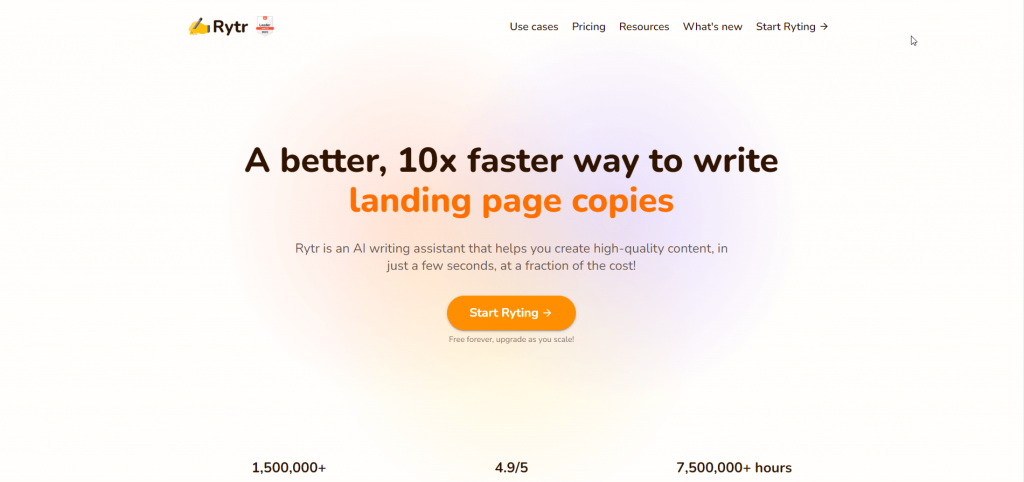 The conspicuous facet of Rytr is it packs all the handy features that you need to overcome writer's block. In addition to regular copywriting, it can also create marketing and editorial-like content including conversion copies, video descriptions, and story plots.
With the help of Rytr, you can also prepare Q&As and replies for customer reviews. This advanced AI-powered copywriter also supports 15+ languages and 20 different voice tones. If you are fed up after using several other AI copywriters, you can give it a try!
Key Features:
Easy management of workflow
Comes with 30+ use cases
Able to do SEO analysis
Enables integration with a 3rd party app
Offers community support on HelpTap
Price: $29/month (Unlimited Plan)
In this round-up, Anyword is our last AI-enabled copywriting assistant. Even though it appears at the bottom of the list, it has the required appeal to draw your attention to copywriting. What makes this AI software stand out is its predictive performance score.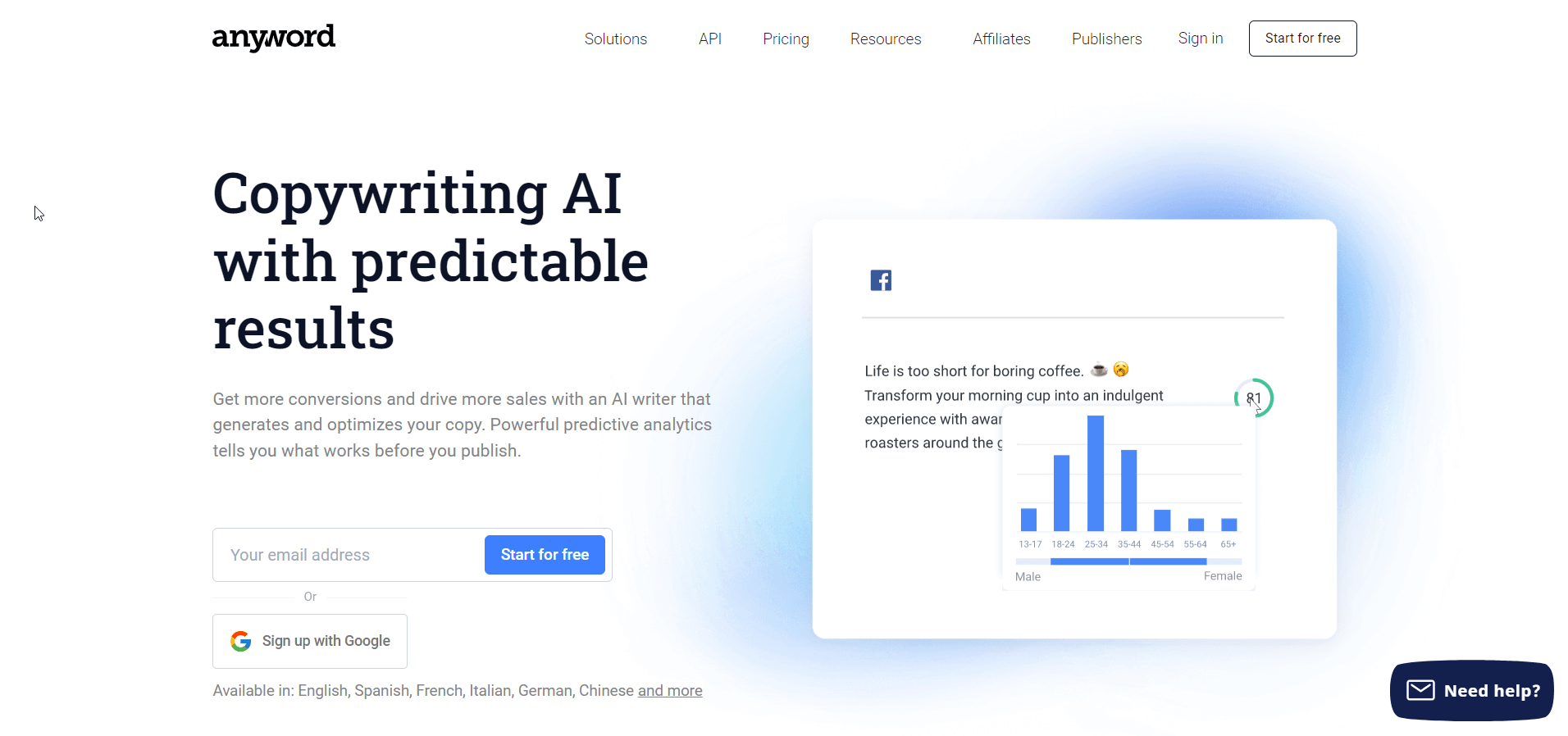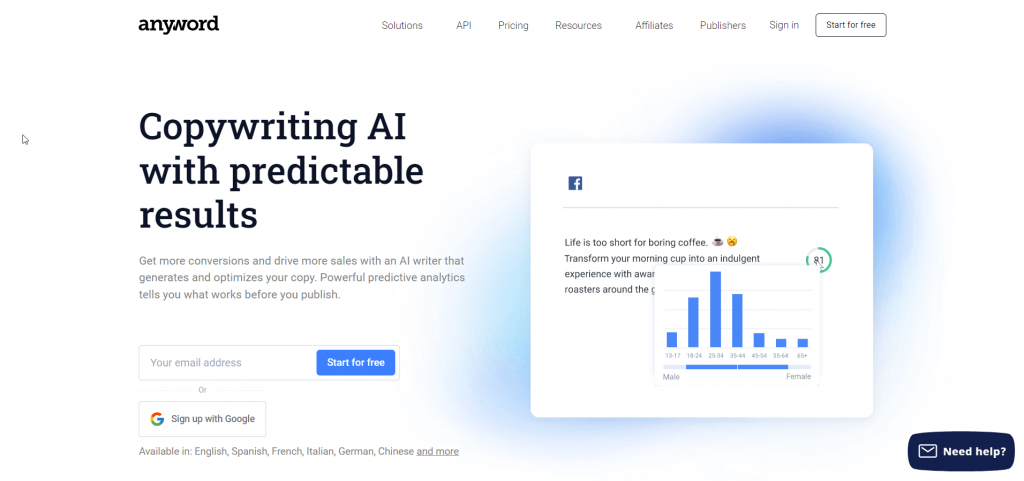 With this feature, it can assess the quality of each of the generated copies with a numbered score. Based on this score, you can get a holistic idea of how well your content will perform, what is the chance of conversion with the copy, etc.
On top of that, you will get suggestions to streamline your copy for notching up better results. Another worth mentioning aspect of Anyword is the keyword library where you pre-insert keywords that you want to show up in your copies, which can be anything like WordPress plugins, Elementor addons, and so forth.
Key Features:
Easy and faster content generation
Predictive performance score
Optimizes copy automatically to convey the right message
Offers community support on Facebook community
Price: $83/month (Data-driven Plan)
What's your Pick:
Copywriting is an integral part of digital marketing. Unlike content writing, copywriting is meant to generate sales. No doubt, human copywriters are leaving a huge impact by doing the job of copywriting for businesses.
I have listed out the best 7 AI copywriting tools after conducting thorough market research. As per my research, the above AI tools for copywriting are the market leaders at the moment. You can pick any of the AI copywriters for your copywriting tasks.