Top 7 Headline Generators to Create Attention Grabbing Titles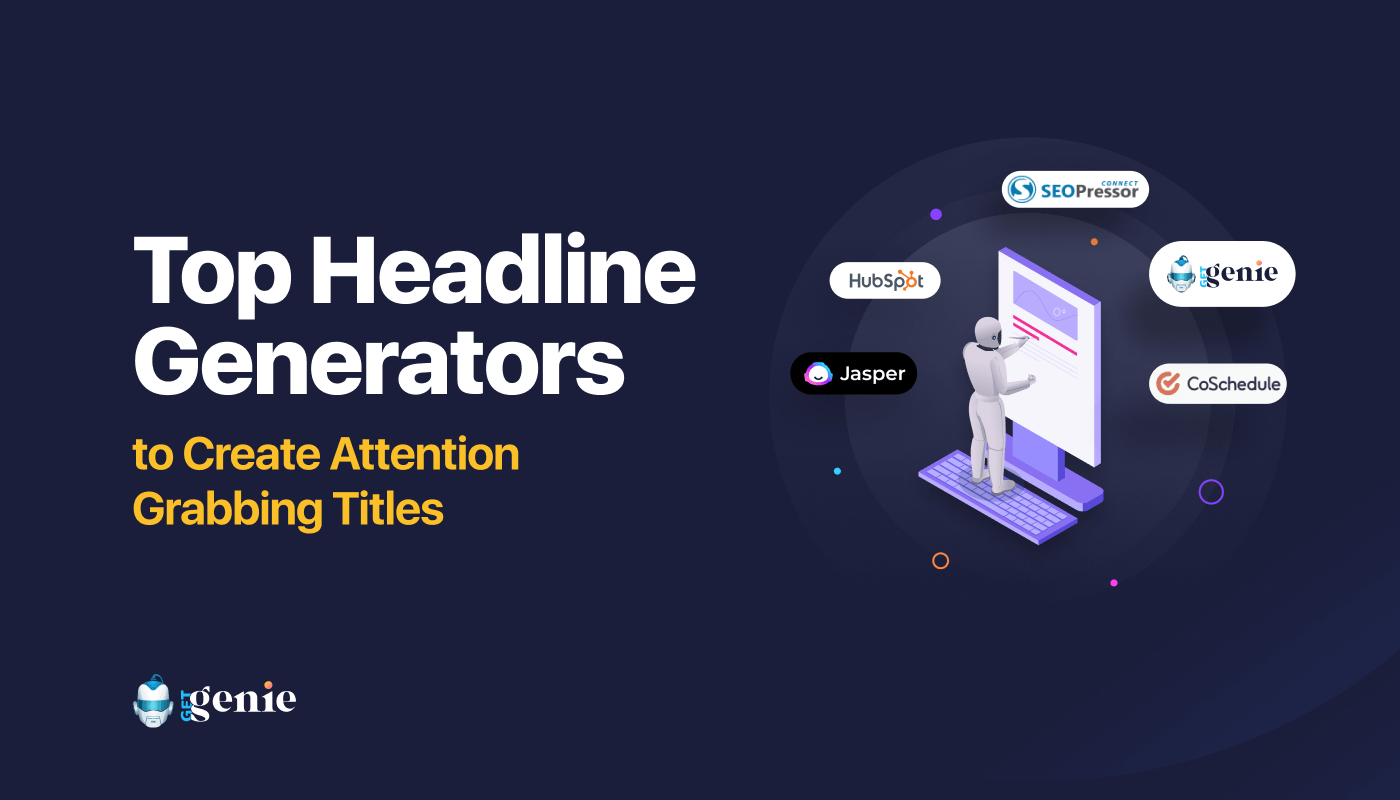 Did you know that a perfectly written headline can increase conversion by up to 528%?
Yes! That's how important a headline is.
If you are wondering, how can this be, how can headlines be so important, then you need to realize it's only logical.
Just like one decides to watch a movie after watching the trailer (if the trailer is impressive, of course!), one decides to click or read your content if he finds the headline convincing.
And to help you come up with headlines that convince your potential audience to click and read your content, I have come up with 7 headline generator tools.
Yes, nowadays there are tools available that will save you a hell of a time and get your creativity level to the sky when it comes to writing headlines and titles.
To learn more details about these online headline generators, keep reading…
What is a Headline Generator?
A headline generator can be an online website tool or software that produces headlines based on given inputs. In most cases, the users are required to provide a keyword or multiple keywords and the number of results they want to these headline generators to get the desired results.
Perks of using a Headline Generator tool
While humans are perfectly capable of coming up with headlines by themselves, a headline generator tool can help in many ways in creating a headline that brings in the desired conversion rate. Some of the advantages of using headline generator tools are:
Saves you a lot of time as these tools work super fast.
Helps with writer's block as it instantly generates many options to choose from
Usually, these tool does competitor analysis before giving you results which can be highly beneficial
Most blog title generator tools provide SEO-optimizes titles for your blogs
👉👉 Also read AI Content Writing Tools: Are they Worth Trying out?
Top Headline Generator Tools: List of Best 7
Here are the top picks for the best headline generator with key features and prices. Look through each of the headline generator tools to find the one that will work best for you: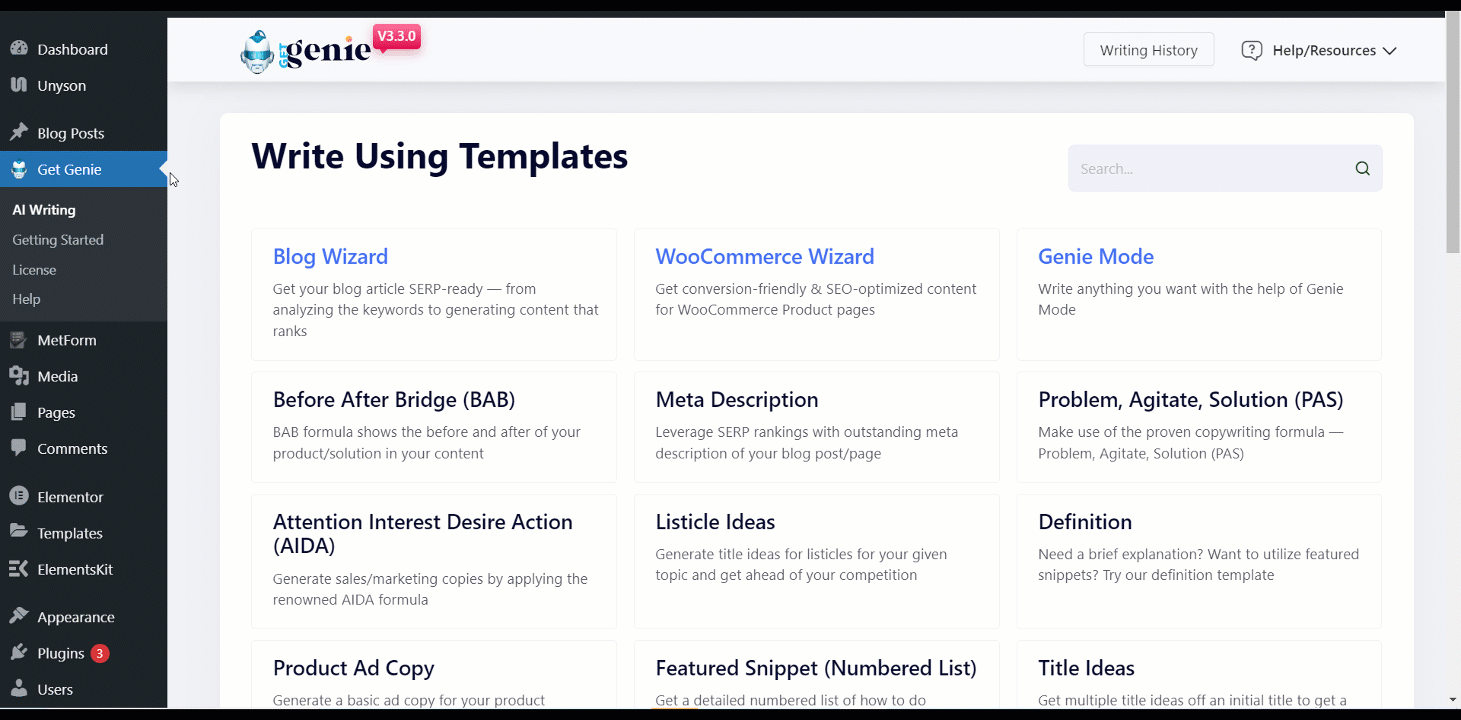 GetGenie AI should be anyone's first choice as a headline generator tool because of the ample features that this WordPress plugin offers. This is a revolutionary software in the world of AI writing because it offers advanced features that were injected using high-quality NLP algorithms.
The selling point of the headline generator is that it produces headlines that are not only catchy but also SEO-friendly. And not just the title, you can write a whole blog using this AI tool within a few moments. Other features of this plugin include the generation of email copy, social media copy, website copy, product descriptions, etc.
Key Features of GetGene AI
User-friendly Interface
Can control the creativity of the headline
Choose the number of results you want (out of 10)
Offers 30+ templates
Optimized content for Search Engines
Uses GPT3 technology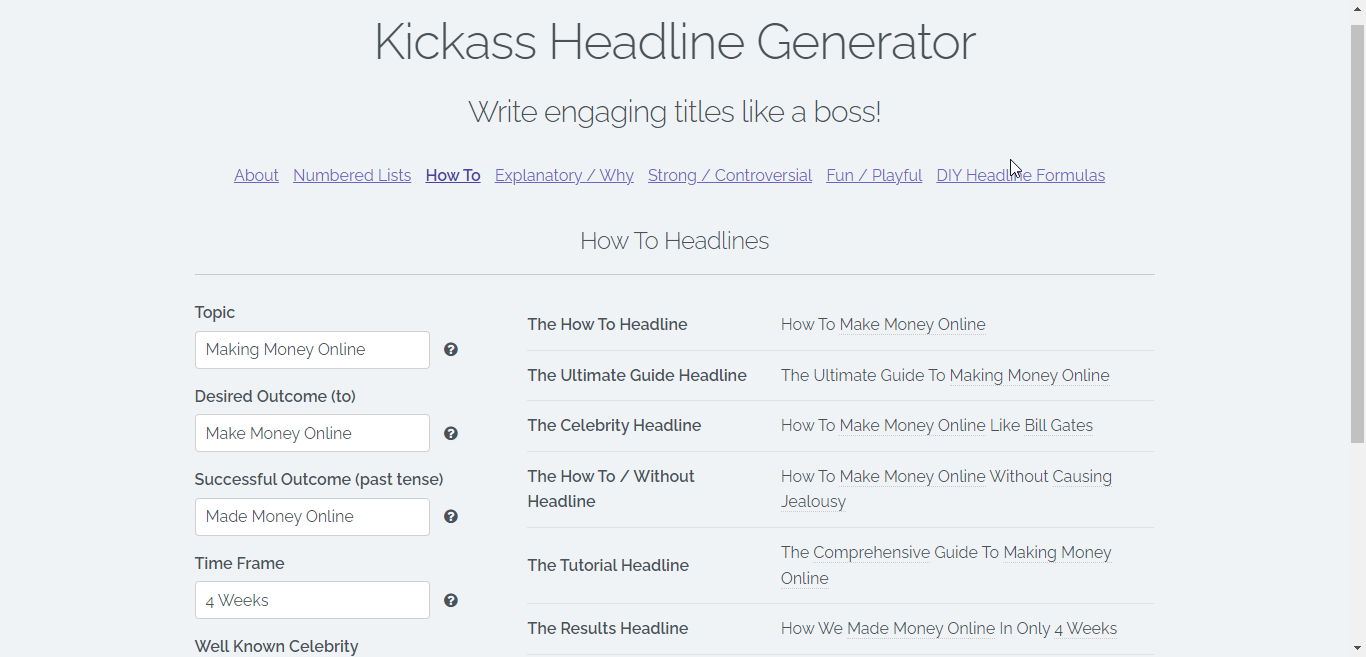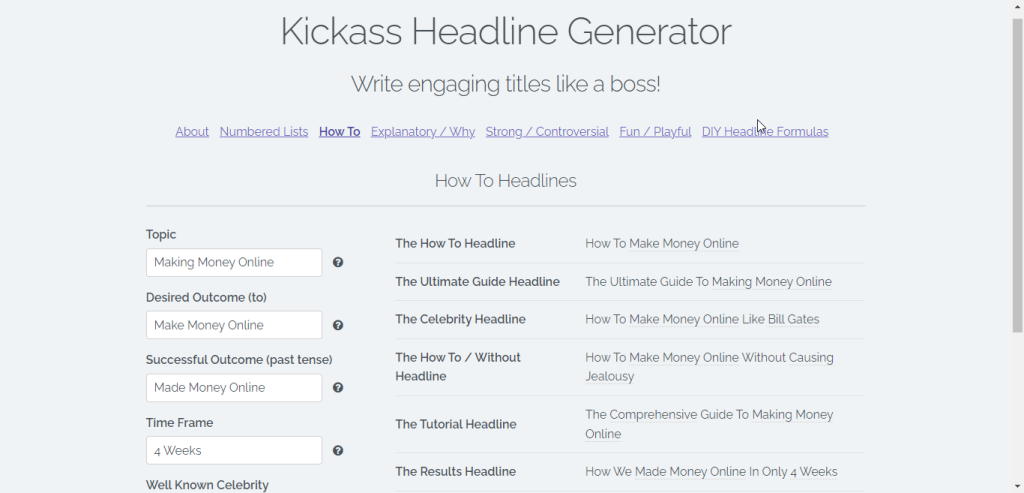 Kickass Headline Generator like the name suggests writes striking headlines that are sure to grab your viewer's attention. This awesome tool is capable of writing headlines for different purposes.
Thousands of people around the world use this tool to generate headlines for their digital marketing content. This tool is based on 49 Headline Formulas to Skyrocket Conversions by Sarah Peterson.
Key Features of Kickass Headline Generator
Can generate headlines for categories like How To Explanatory, Why Strong, Controversial Fun / Playful DIY Headline Formulas, etc.
Quite a user friendly
Multipurpose headline generator
Can customize inputs such as Desired Outcome, Time Frame, Descriptive Power Word, etc.


If you are looking for a tool to generate titles for your blog post, then you can trust the reliable Hubspot. This headline generator tool produces generates creative blog titles and headlines in no time.
With this tool, you can generate amazing blog ideas, with the free version you will only get five headlines for free. If you want to get your hands on more blog ideas and titles, then you need to get paid subscriptions.
Key Features of Hubspot- Blog Idea Generator
Has a user-friendly interface
Can provide upto 5 nouns/keywords
5 blog titles are available for free
With paid version can get 25+ blog ideas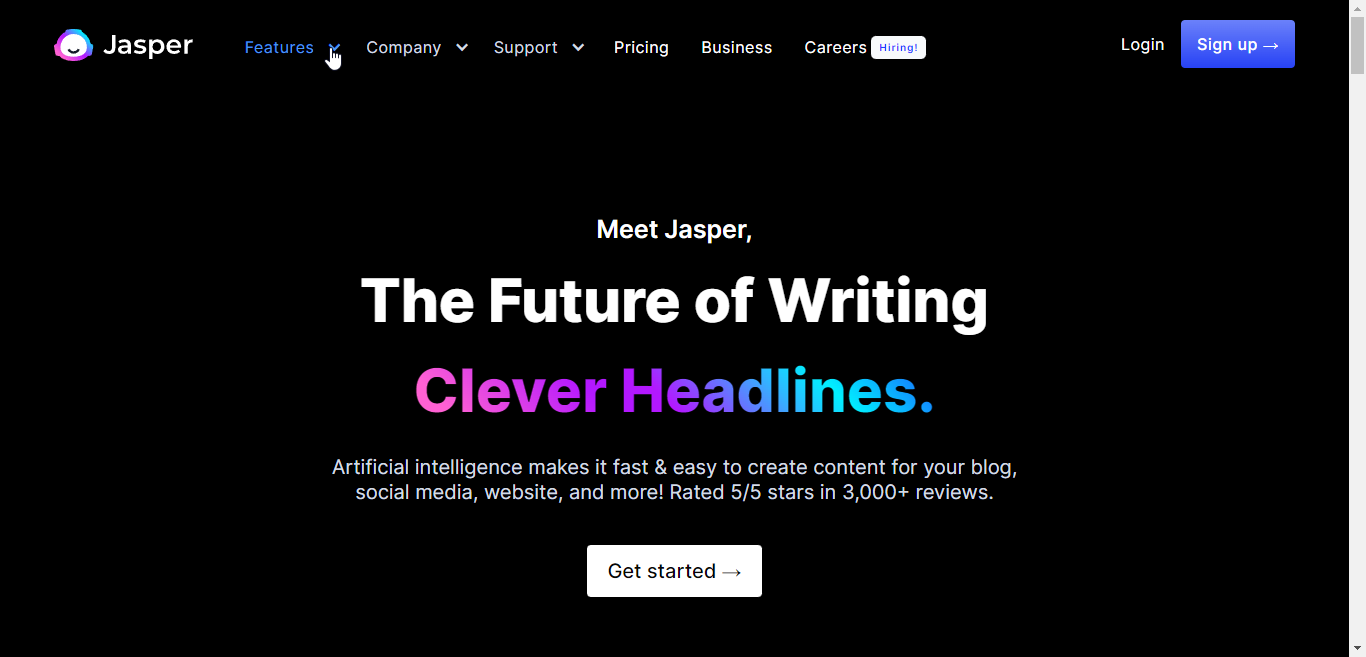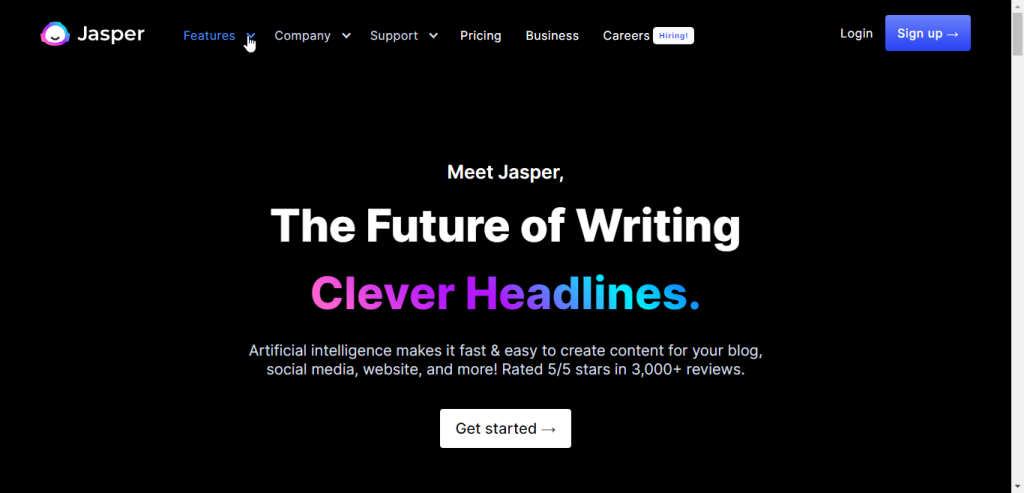 Jasper is another good option to create attractive titles. This multipurpose AI tool also helps you to generate blogs, video scripts, product descriptions, paragraphs, etc.
With the headline generator option of Jasper AI, you can decide the headline's tone and your target audience. This headline generator tool comes up with headlines that will satisfy both Search engines and viewers.
Key Features of Jasper AI:
Trained to write creative headlines
To get desired results, you can provide the product name, description tone, etc.
Generated multiple headlines
Comes with 50+ template options.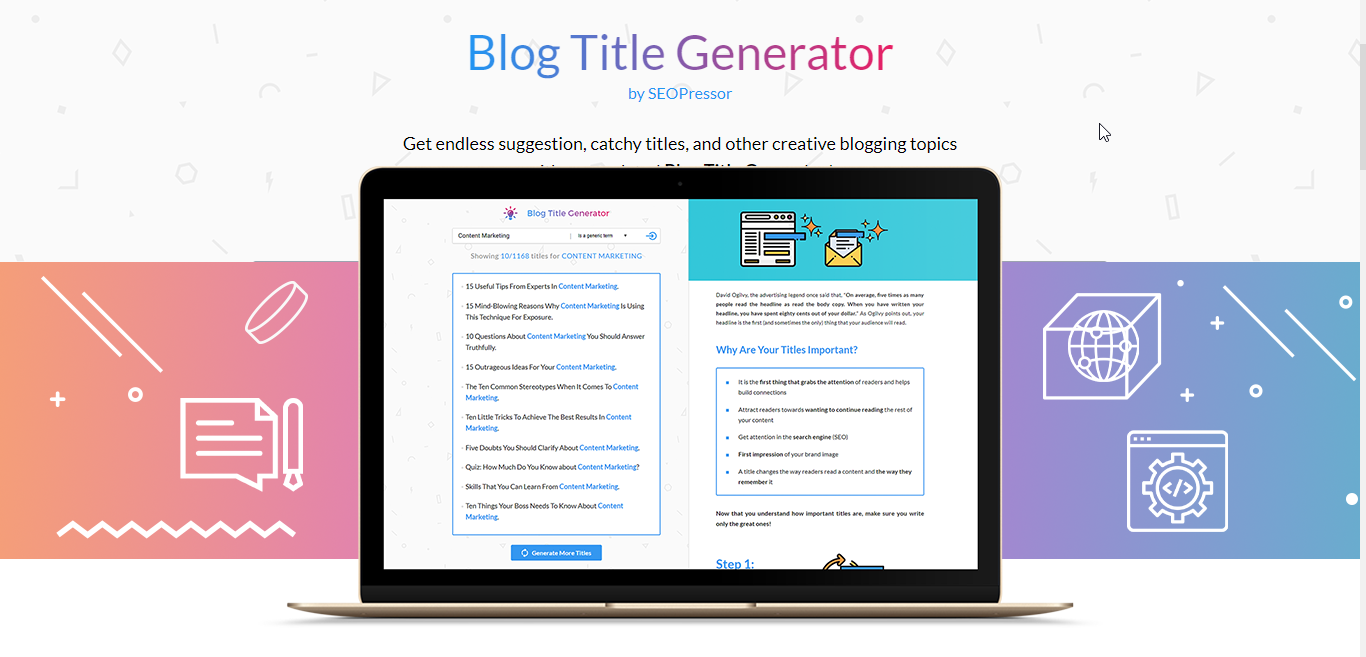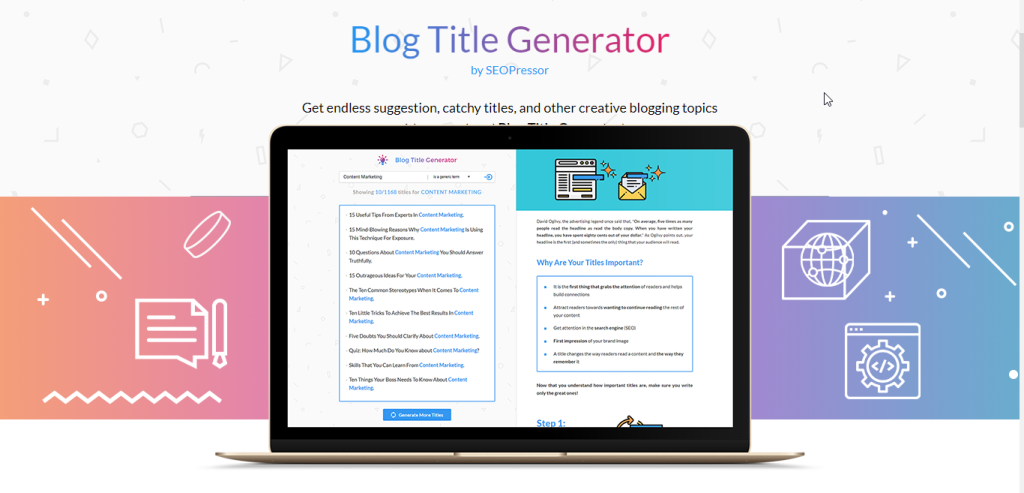 If you want to skyrocket your click-through rate with a headline that your audience just can't manage to ignore, Blog Title Generator by SEOPressor can be a great choice. This headline generator creates catchy titles for your content, stories, books, blogs, magazines, and many more.
So, whether you want to climb the ladder to SERPs top spot or hook your potential book readers with just the right headline, then this online headline generator tool is for you.
Key Features Blog Title Generator by SEOPressor
Simple tool with a good user interface
Can input keywords to produce multiple headlines
Also creates SEO-friendly content for a given headline
Keeps in consideration the relevancy factor very strictly
👉👉 Also read How to Scale Content Marketing Growth for Maximum Result: 8 Steps Guide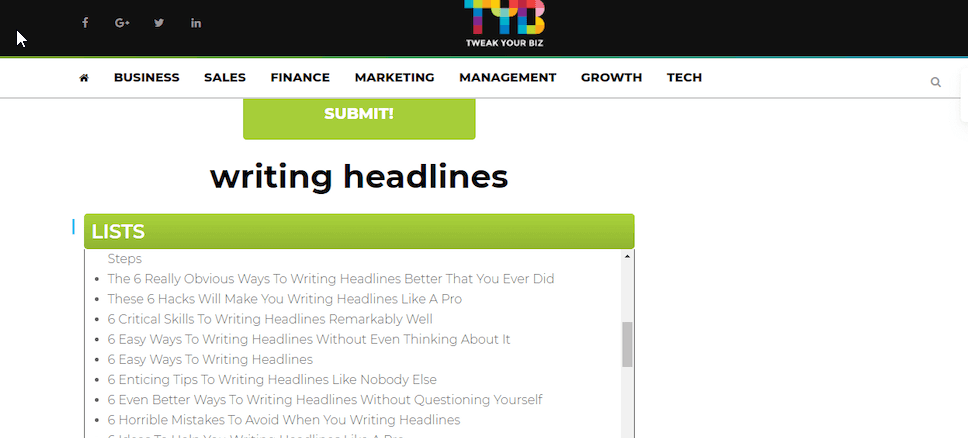 Tweak Your Biz Title Generator is another tremendous online tool that you can use to generate a bunch of catchy headlines and titles at once. This tool requires you to provide only two inputs and produces results within a few seconds.
It randomly creates a list of headlines with themes such as how-tos, lists, and celebrity-based titles. As it provides titles with different themes or genres, you may be required to spend some time filtering out the right one.
Key Features of Tweak Your Biz Title Generator
Need to provide keyword
Can choose whether the keyword is verb or noun
Simple to use 3 steps process
Provides titles for various niches like love, celebrity, how-to etc.


While this is not a headline generator, it's a rather important tool one should use to ensure your headlines are properly designed to beat your competitors. This addon is a headline analyzer that analyzes the headlines that you or your headline generator tool produces to come up with a verdict on how effective this headline will be.
Key Features of Headline Analyzer
Helps to come up with headline that will give you a edge over your competitor
Fairly easy to use
Checks different aspects such as word balance (power and emotional words), Character count, Readability and Skimmability
Aids to write SEO-friendly titles
👉👉  You can now create content with an AI writing tool. But how
can AI writing tools create original plagiarism-free content
? Click
here
to find out.
Best practices for coming up with an effective and catchy headline
While leveraging a headline-generating tool is a blessing when it comes to coming up with a headline, you need to make sure you follow the best practices. Here are some of the things to consider before finalizing a headline
Make your title precise, to the point, and clear. So, your audience understands what the content promises to provide.
The title should be focused on the topic included in your content. Be honest with your audience. Clickbaits are unethical and won't take you too far.
Try to add numbers of data in your title and the human brain reacts to data better.
Using powerful emotional words is always an effective way to seal those clicks. So, always try to add powerful words to your title.
If you are writing a title for SEO purposes, then make sure it's between 50 to 70 characters otherwise, it will not show up on the SERP and affect your ranking badly.
Which is the Best Headline Generator Tool?
Well, my recommendation would be GetGenie AI. Because it's the most advanced headline generator tool in the list and it lets you control the creativity level. Moreover, you can write and SEO optimize your whole blog using this single standalone WordPress plugin.
And don't forget, with GetGenie AI, along with headlines and blogs, you can also create :
Landing Page Copies
Product Descriptions
Headlines/Taglines
Social Media Copies
Email Copies,
Video Scripts and many more.
In fact, GetGenie AI can do the task of 10+ AI writing tools all by itself. So, look no further and get your copy of this amazing AI writer now.