How To Write Persuasive Product Descriptions With Ai (Step-by-Step)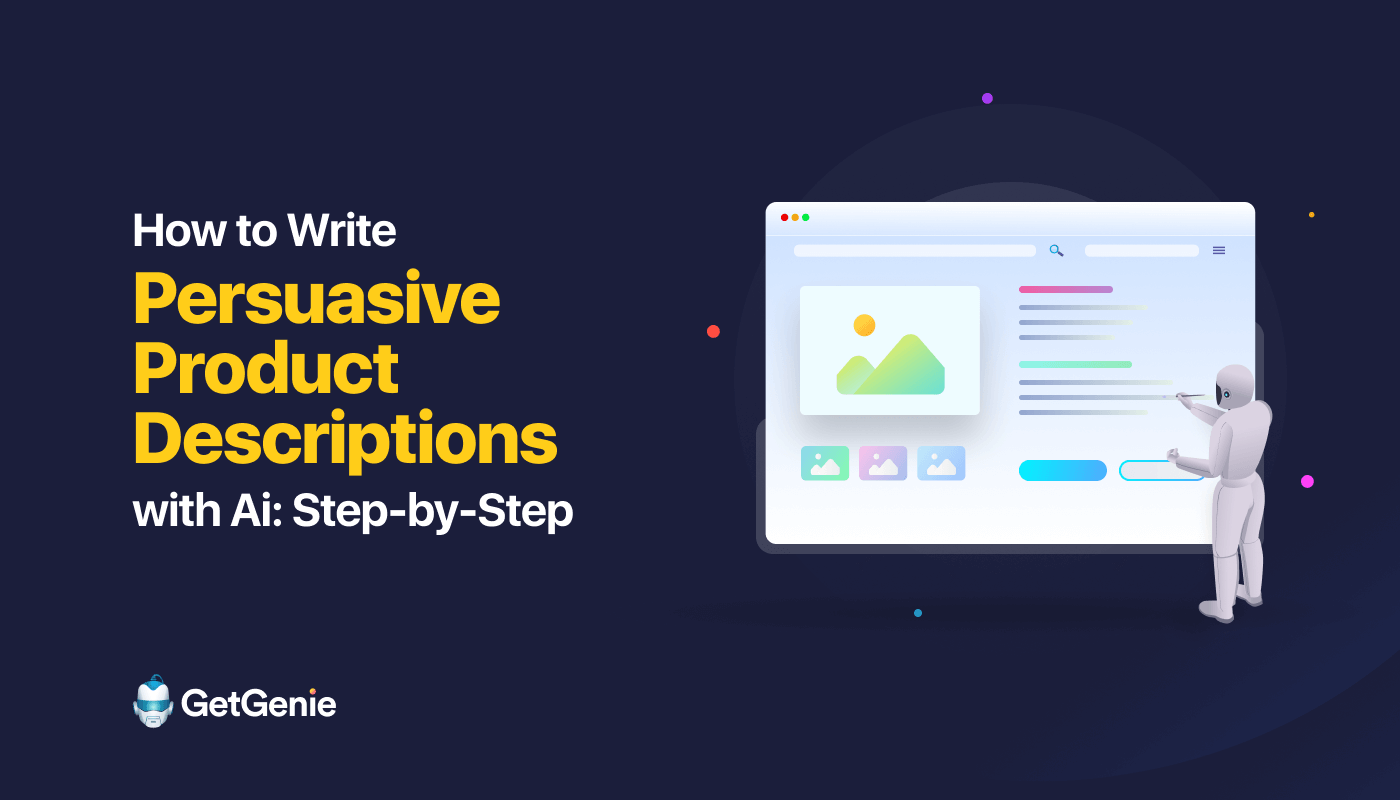 Do you want to write persuasive product descriptions for your WooCommerce store? If so, then Ai assistants can help you!
Nowadays, Ai writing tools can create engaging and SEO-optimized product descriptions effectively. They can highlight all of the features and benefits of the products to engage your customers and convince them to buy.
But how to write persuasive product descriptions with Ai?
Don't worry! In this blog post, we'll guide your to use Ai product description writer by following these steps:
Research and gather product information
Choose an Ai product description writer
Select the WooCommerce wizard template
Refine or customize the product description
Test and optimize the description for better conversion rates
Let's get started! 🙌
Understanding the Basics of WooCommerce Product Descriptions
The product description is an integral part of WooCommece websites. The product description is a written piece of content describing the features, benefits, and other related information about a product or service.
A proper product description helps to stand out from competitors. At the same time, it effectively engages potential customers to make informed decisions.
However, Ai writing assistants are now widely used for writing creative and informative product descriptions for WooCommerce stores.
To write persuasive product descriptions with Ai, consider including the following primary elements:
🔷 Engaging title
🔷 Product features in detail
🔷 Short description
🔷 Pros and cons
🔷 Specifications
🔷 Pricing and discounts
🔷 Clear call to action (CTA)
How To Write Persuasive Product Descriptions With Ai in 5 Steps
To write clear, engaging, and optimized product descriptions for your eCommerce stores, you need to use Ai in an effective way. Here are the 5 easy steps to produce persuasive product descriptions with Ai, let's dive into it!
Step 1: Research and Gather Product Information
To produce Ai generated product descriptions, you need to research properly about that product. That will help you to gather product information accurately as well as reduce the chances of generating wrong information while using Ai tools.
After proper research, you'll get relevant data to assist the Ai product description writer to write persuasive product descriptions for your WooCommerce shop.
Step 2: Choose an Ai Product Description Writer
The next step is to choose an Ai product description writer. Not all Ai description generator online tools can write optimized WooCommerce product descriptions, so you need to be more careful while selecting the Ai assistant.
Our recommendation goes for the magical Ai assistant – GetGenieAi. ✍ 🔥
Why ❓
Well, GetGenie Ai is a complete solution to writing any kind of content for WooCommece, blog sites, or marketing copies. This Ai assistant comes with 37+ templates including a WooCommerce wizard.
Using the WooCommerce wizard template, you can write a persuasive Ai-generated description and automatically insert it into the WooCommerce product section.
Besides, it has individual templates also to generate WooCommerce product titles, long descriptions, and short descriptions along with numerous customization options.
So, let's see how to install GetGenie Ai on your WordPress website.
Login to your WordPress website
To to the Plugins >> Add new
Search for "GetGenie Ai"
Or upload the Zip file of GetGenie Ai
Install and activate the plugin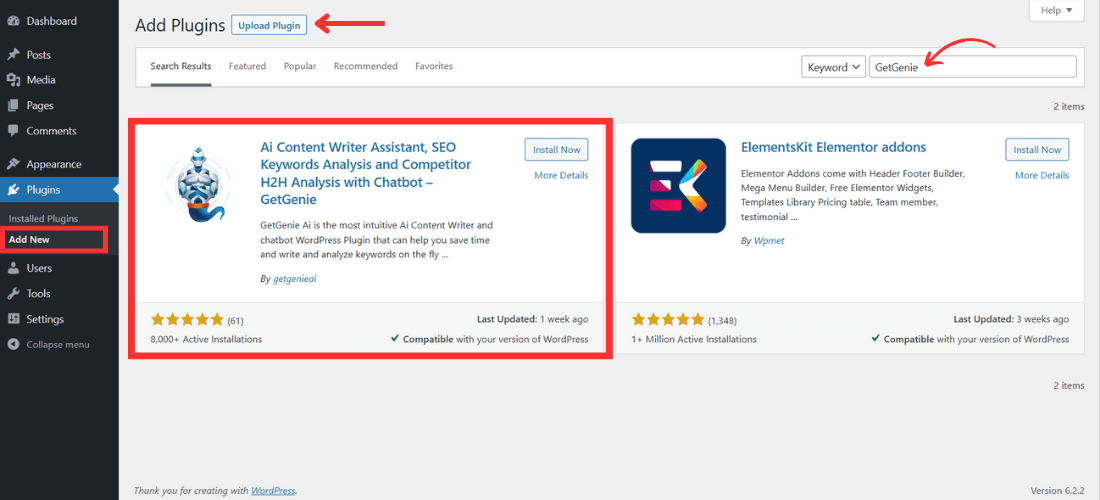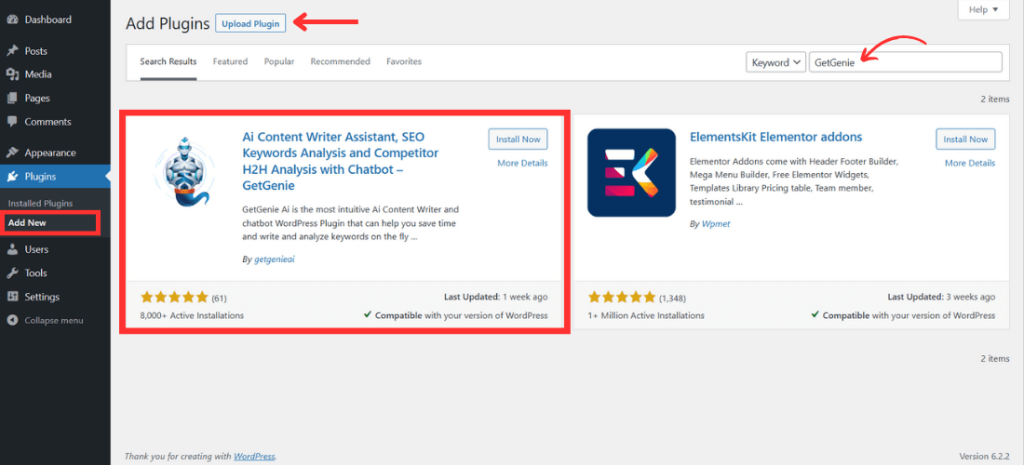 Step 3: Select the WooCommerce Wizard template
After installation and activation, how to write a product description? Well, you need to select the WooCommerce Wizard template to generate titles and long and short descriptions for your product.
Go to your WordPress website
Head to "GetGenie Ai Writing"
Select the "WooCommerce Wizard" template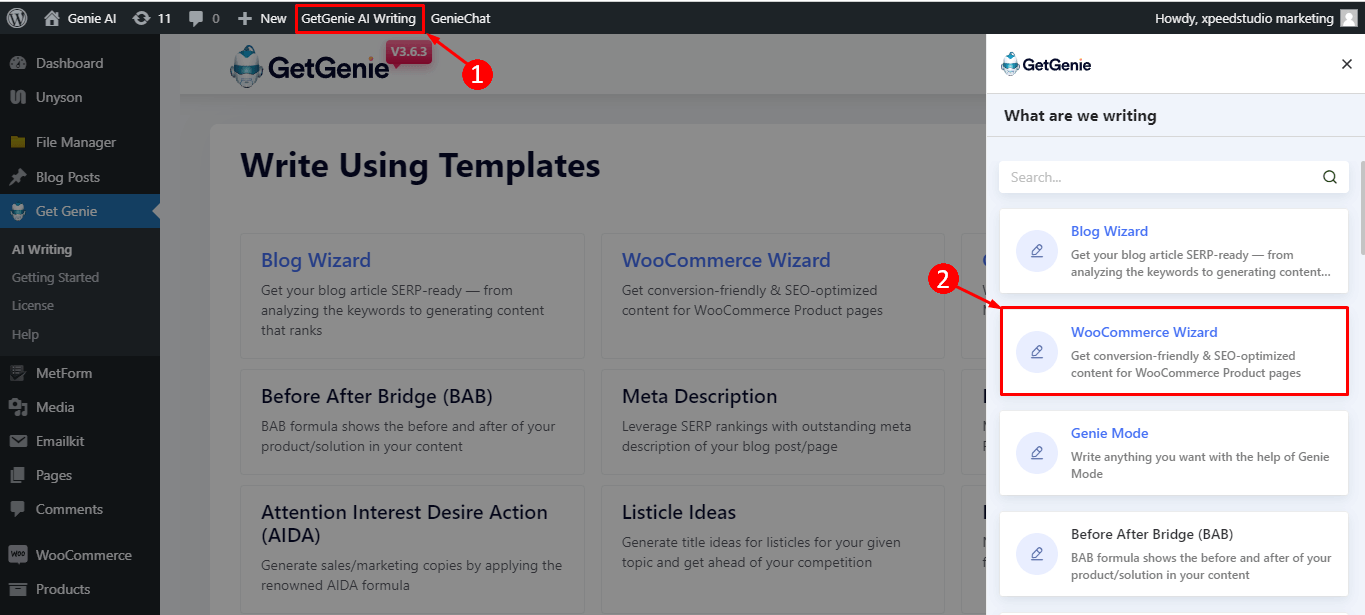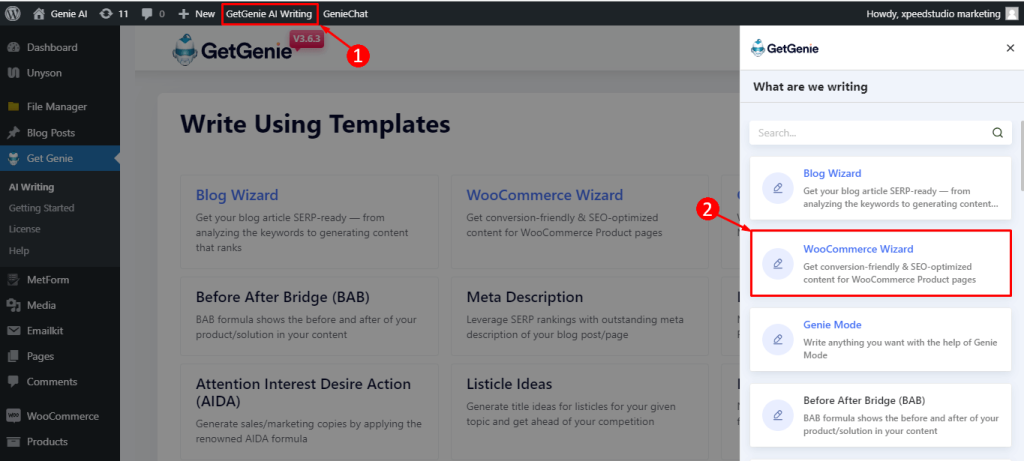 Or go to Products➔ "Add New"
Click on "Write for me"
Write the product name
Enter the relevant keywords for the product
Select a language
Adjust creativity and results
Click on "Generate Product Title"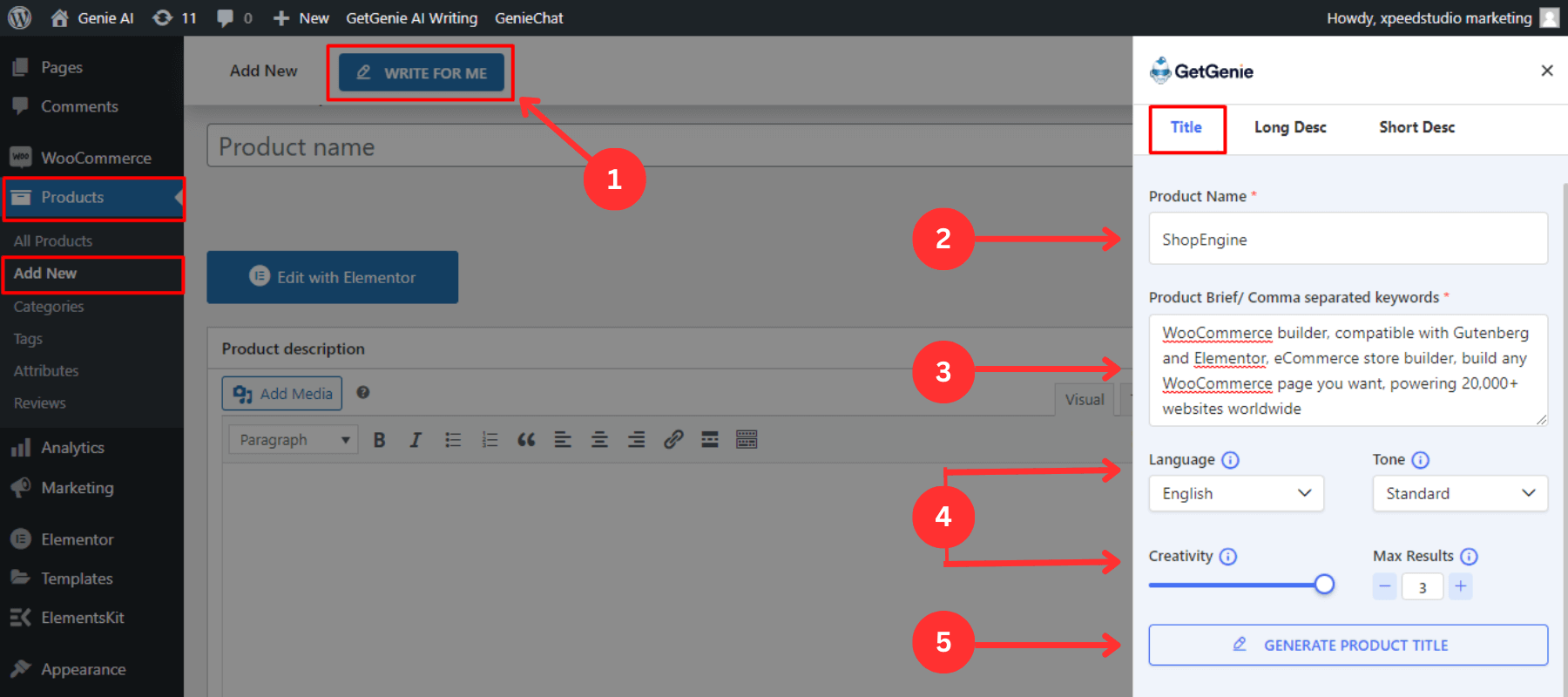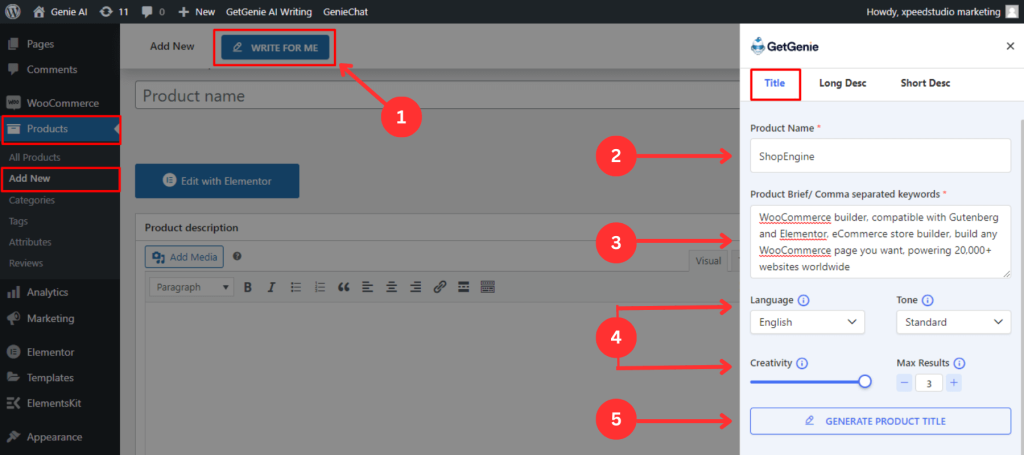 It will generate the given number of product titles within a few seconds.
Click on the plus sign (+) to insert the title in the product title section of your WooCommerce site.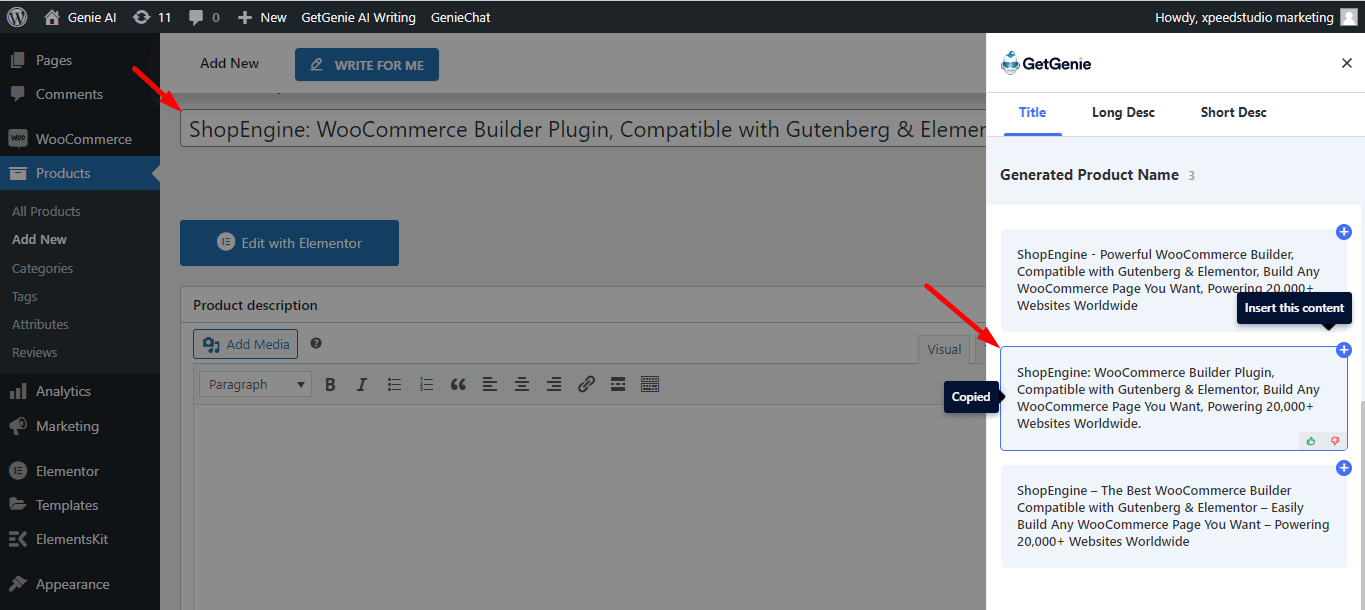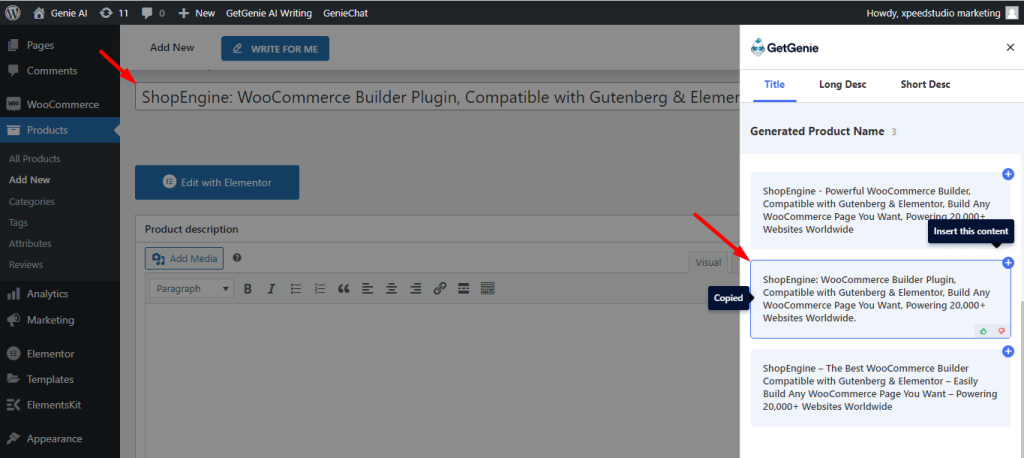 Next, click on the side tab "Long Desc"
You can change the name, keywords, and other properties
Then click on "Generate Long desc"
Select the preferred one and click on the (+) icon
It will be inserted into the product's long description section.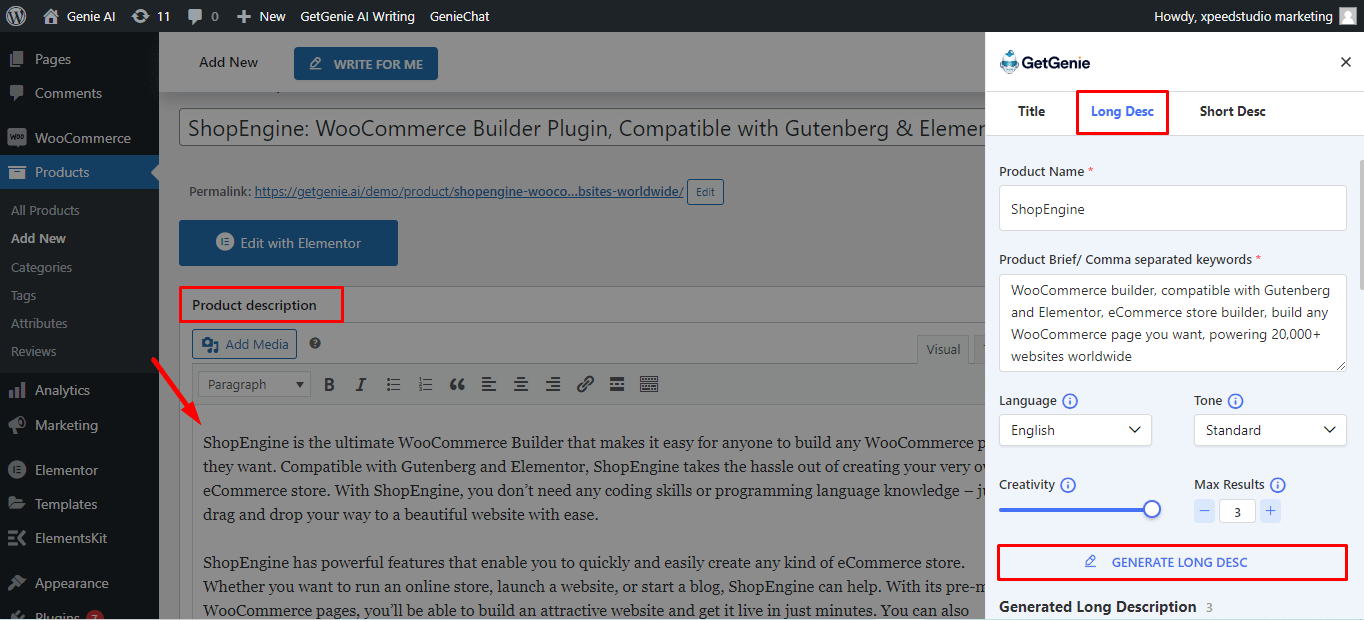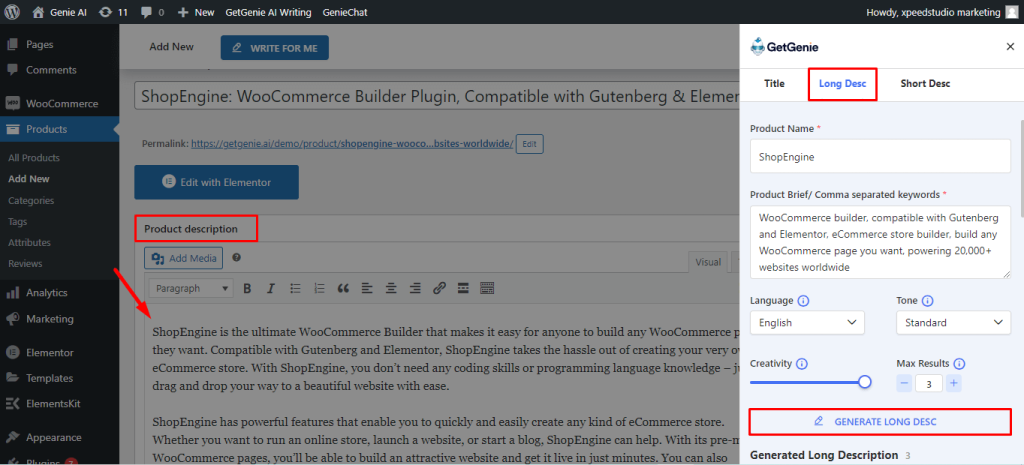 Similarly, generate the short description from the "Short Desc" tab
Enter name, keywords, and other values, or keep them as it is
Click on "Generate Short Desc"
Click on the (+) sign to insert it into the short description section.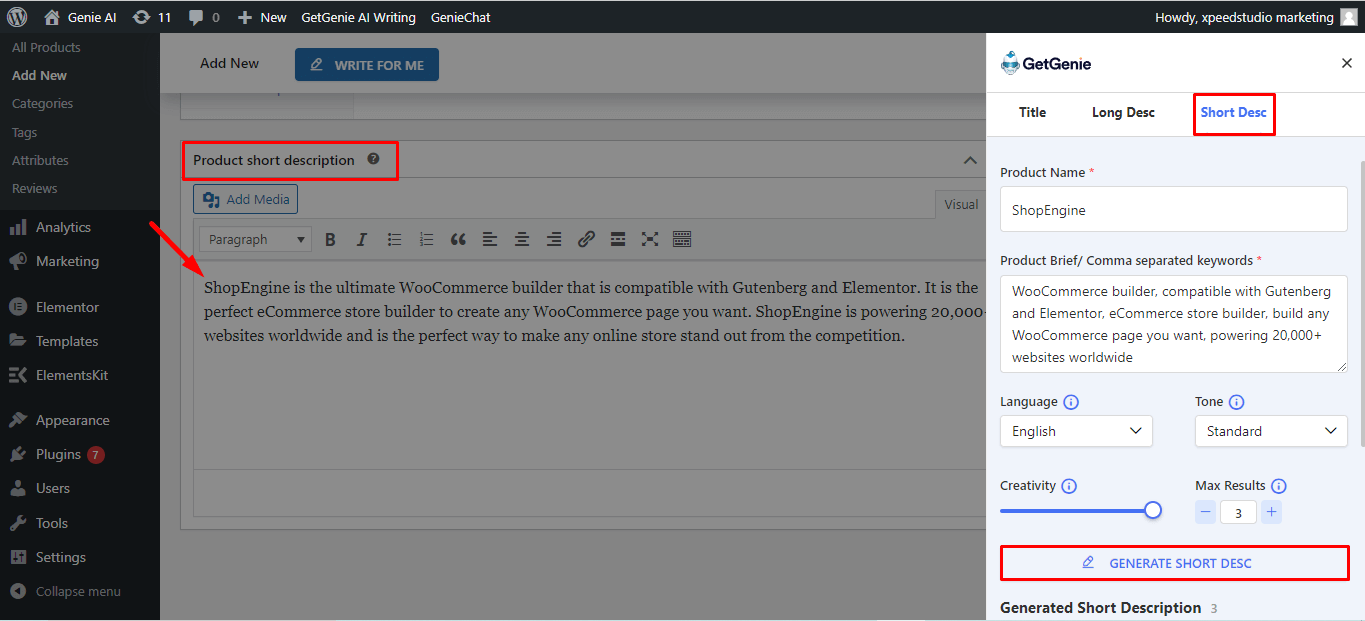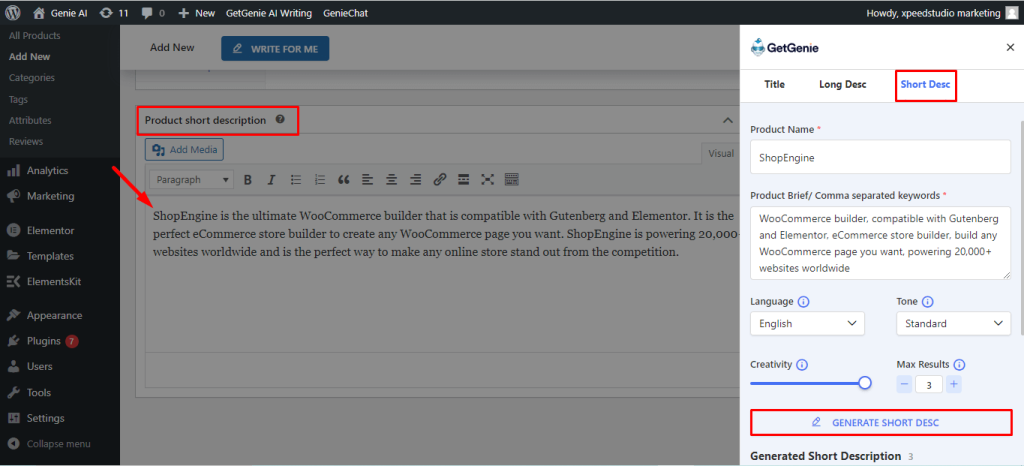 Step 4: Refine or Customize the Description
After generating a persuasive product description, you can also refine and customize the content if you want. GetGenie Ai offers multiple templates to make the best product description that suits your needs.
However, you can re-write the product description using the content rewriter template of GetGenie Ai. You need to mark the text and then click on the GetGenie icon.
Click on the "Re-write Texts" option
Select the preferable language
Set the values for creativity and results
Click on "Write"
Copy the best one and paste it into the desired section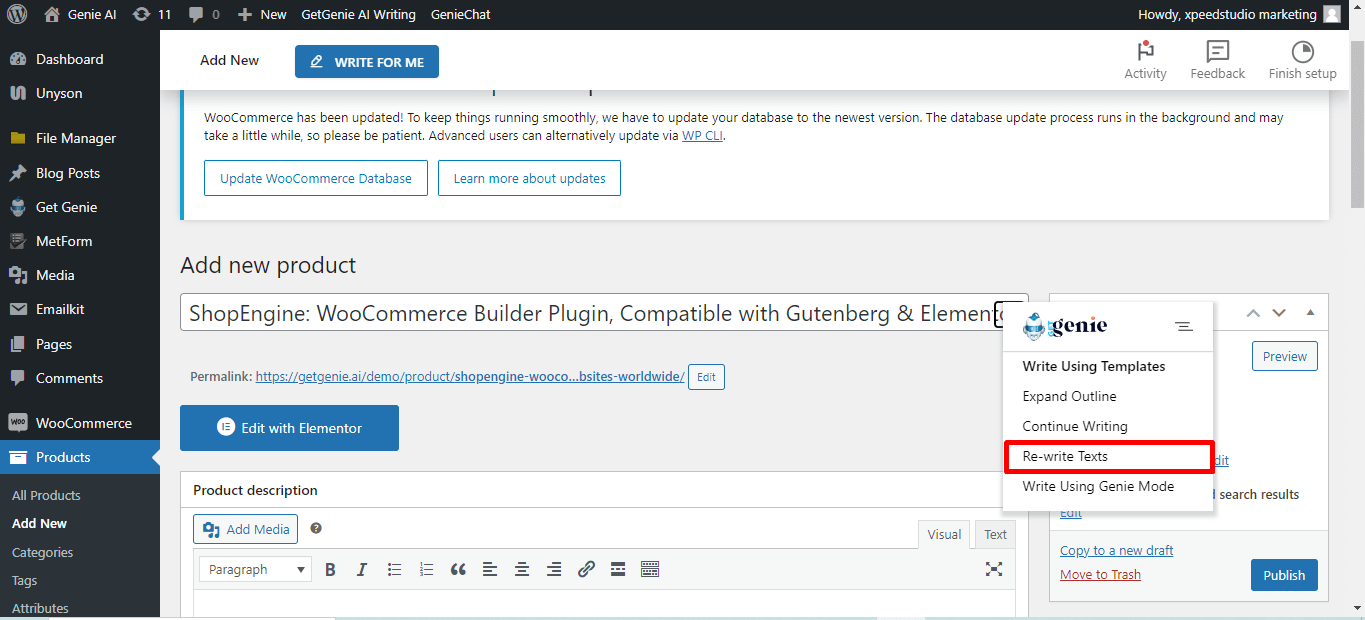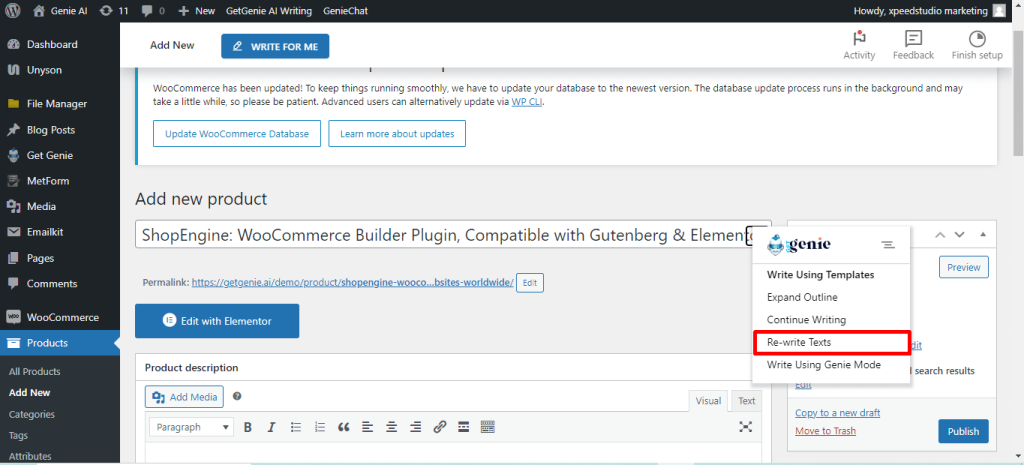 However, the pros and cons are crucial parts of the product description. To write pros and cons for WooCommerce products, you can use the Pros & Cons template of GetGenie Ai.
In addition, if you need to write only a title or a short/long description, you can use the individual templates of GetGenie such as:
Step 5: Test and Optimize the Description for Better Conversion Rates
Using the WooCommerce wizard of GetGenie Ai, you can write SEO-optimized and conversion-friendly content effectively.
You can perform A/B testing for the product description including the key features, pros, cons, reviews, discounts, button color, etc parameters.
That will help you to design and optimize content formats that can engage more customers, reduce bounce rates, minimize risk, and enhance conversion rates.
Besides, adding a CTA like buy now, add to cart is crucial to increase the conversion rate of the WooCommerce product description. These call-to-action buttons will encourage users to perform the desired action which leads to higher conversion rates.
To add CTA, GetGenie Ai can also help you. You can use the Call -to-action template of GetGenie Ai to ensure an optimized and clickable action.
See the step-by-step guide here 👇
Alternative Method to Write Product Descriptions With Ai
If you are not a WordPress user, don't worry! GetGenie Ai has also the SaaS version. Using the web view playground of GetGenie Ai, you can use all of these templates and generate engaging and optimized Ai product descriptions for free.
5 Effective Tips for Writing Persuasive Product Descriptions with Ai
To create a lasting impression on your audience, boost conversions, and streamline your product description writing process, Ai product description writers are the reliable choice.
However, Ai tools can be a powerful tool to assist in writing effective WooCommerce product descriptions. But human creativity and understanding are equally essential.
So you should follow the following tips to write a persuasive product description with Ai effectively.
✔ Understand Your Target Audiences
Must utilize customer data using AI-powered analytics to gain insights into your target audience.
As a result, you can effectively customize product descriptions based on their preferences, needs, and pain points.
💡 Example: You can use Ai for a WooCommerce website e.g. selling smartwatches to analyze different customers such as kids, teenage, and older.
You can write product descriptions focusing on message tabs, a video call mode, games, GPS, etc for your teenage customers while prioritizing heart rate monitors, pedometers, weather forecasts, etc for older customers.
✔ Highlight Unique Selling Points and Benefits
Use Ai-driven competitive analysis to identify the distinctive features and advantages of your product.
You should emphasize fulfilling a desire or how your product solves a problem better than competitors.
💡 Example: For writing a description for a smartwatch, highlight its superior capabilities, accuracy, long-lasting battery life, warranty, or other exclusive features.
✔ Incorporate Relevant Keywords for SEO Optimization
Identify high-traffic and low-competition keywords relevant to your product while writing a persuasive product description with Ai.
You should choose an SEO product description generator like GetGenie Ai to integrate these keywords into the product descriptions naturally to enhance SEO and search engine visibility.
💡 Example: You can include keywords like "lightweight wrist smartwatch," "waterproof model", "calories and steps monitor," etc in the smartwatch feature description section.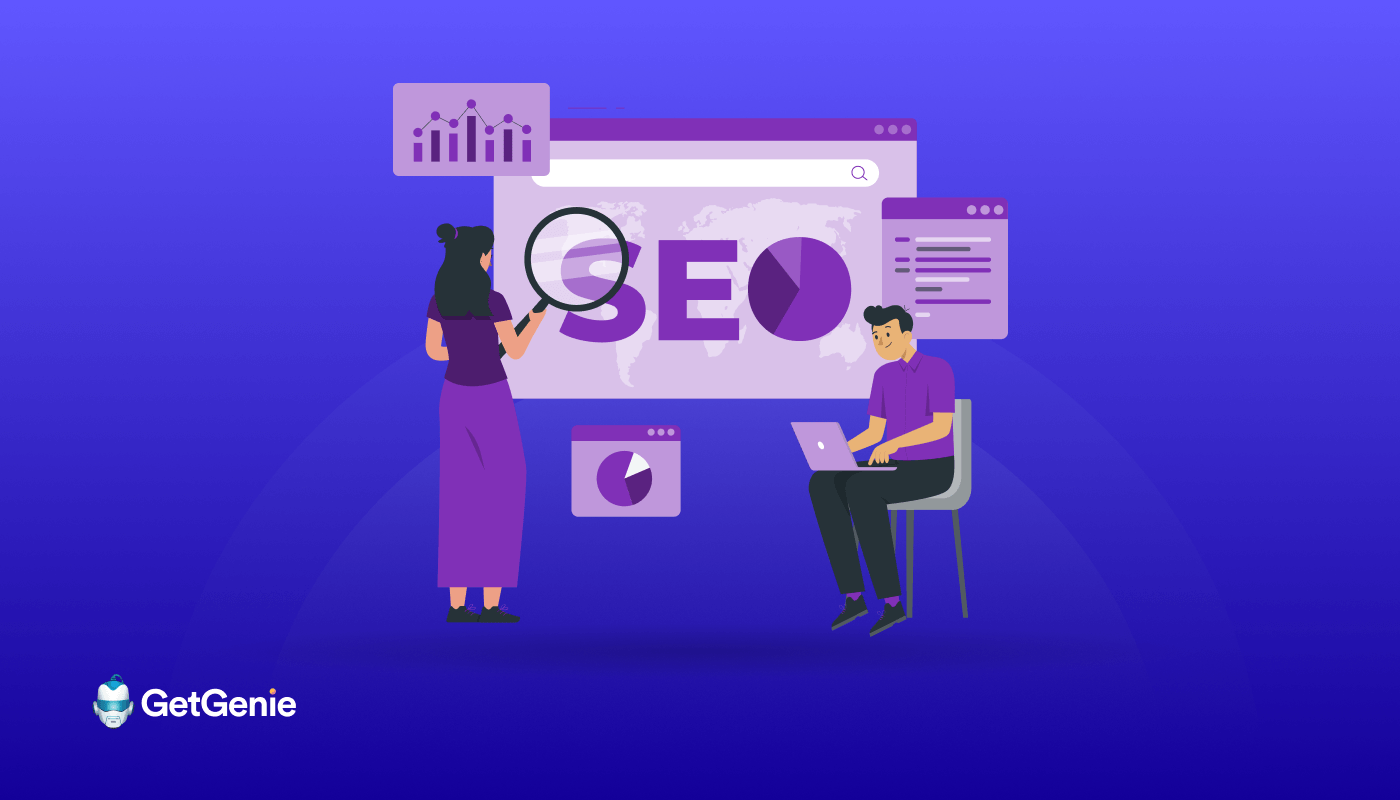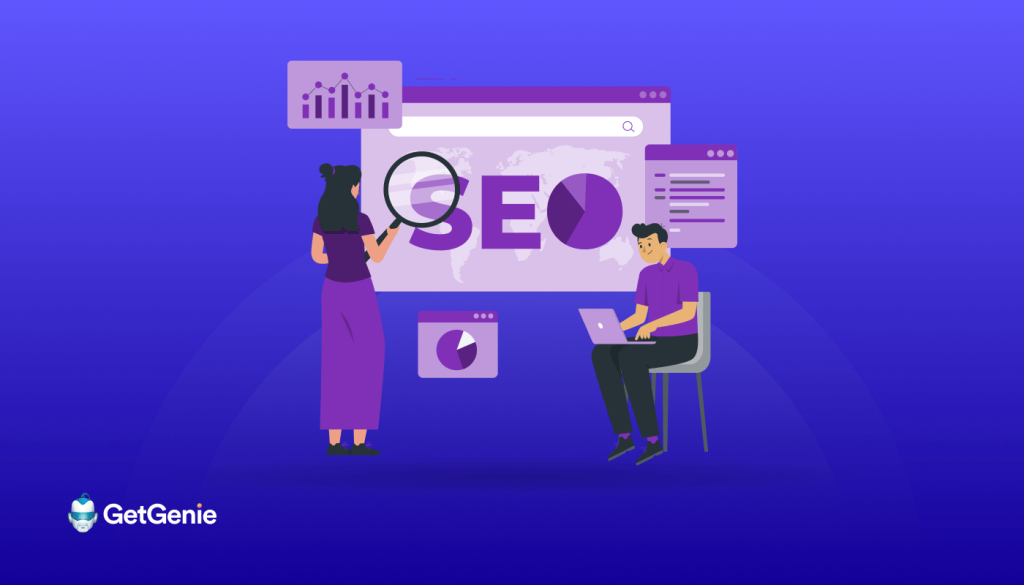 ✔ Use Clear and Persuasive Language to Encourage Conversions
Employ clear and concise language to compelling and persuasive WooCommerce product descriptions.
You should focus on benefits, emotional triggers, and a sense of urgency to motivate customers to take action.
💡 Example: You can use lines like "Enhance your productivity and style with our feature-packed smartwatch. Grab yours today and stay connected!" at the end of the product description to make it more engaging for the visitors.
✔ Include Customer Reviews and Testimonials
Utilize the power of Ai to identify positive customer feedback and testimonials.
Then, you need to integrate testimonial snippets of these reviews into the WooCommerce product descriptions to build trust and credibility.
💡 Example: "Customers love our premium Smartwatches! Kate from California says, 'The watch quality and accuracy is exceptional, and it's so comfortable to wear for long hours.'"
Benefits of using GetGenie Ai for Writing WooCommerce Product Descriptions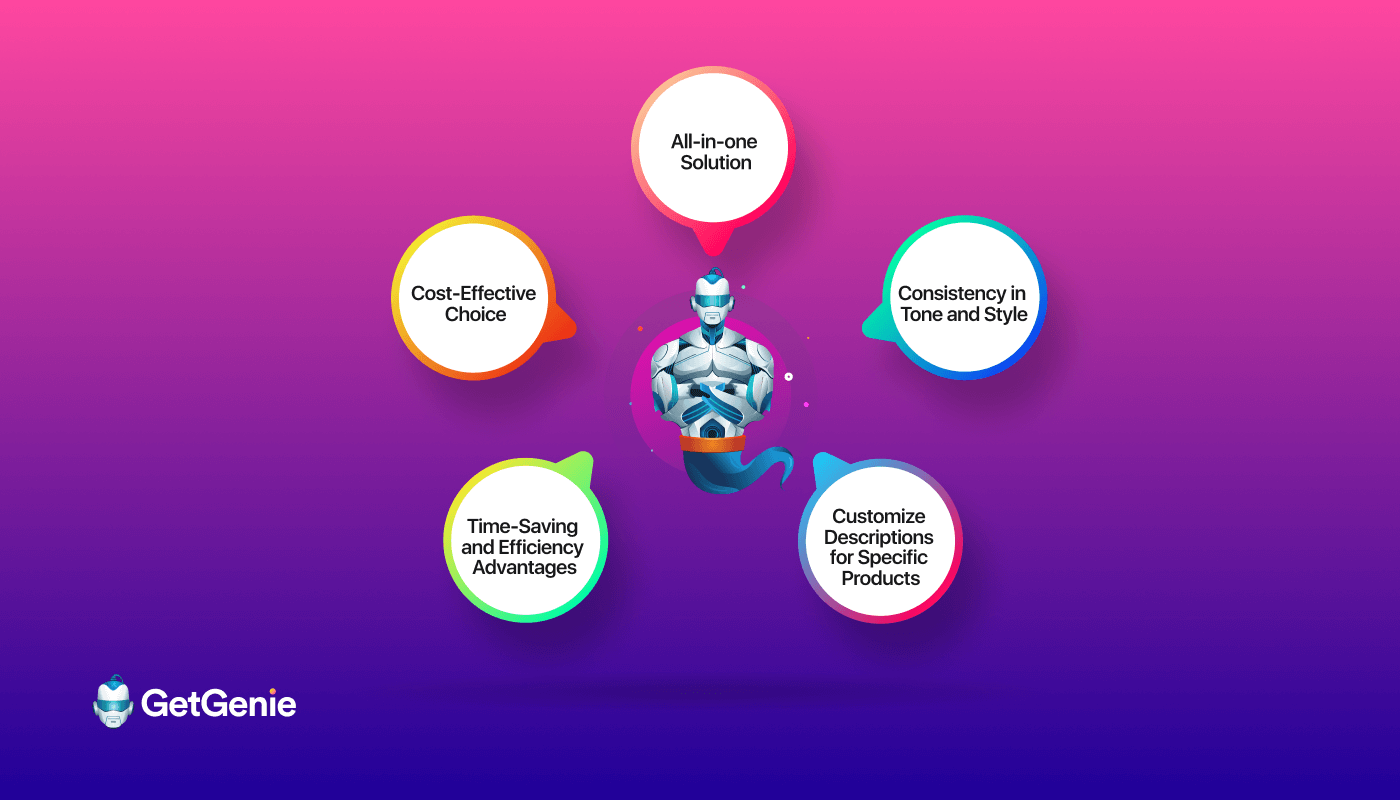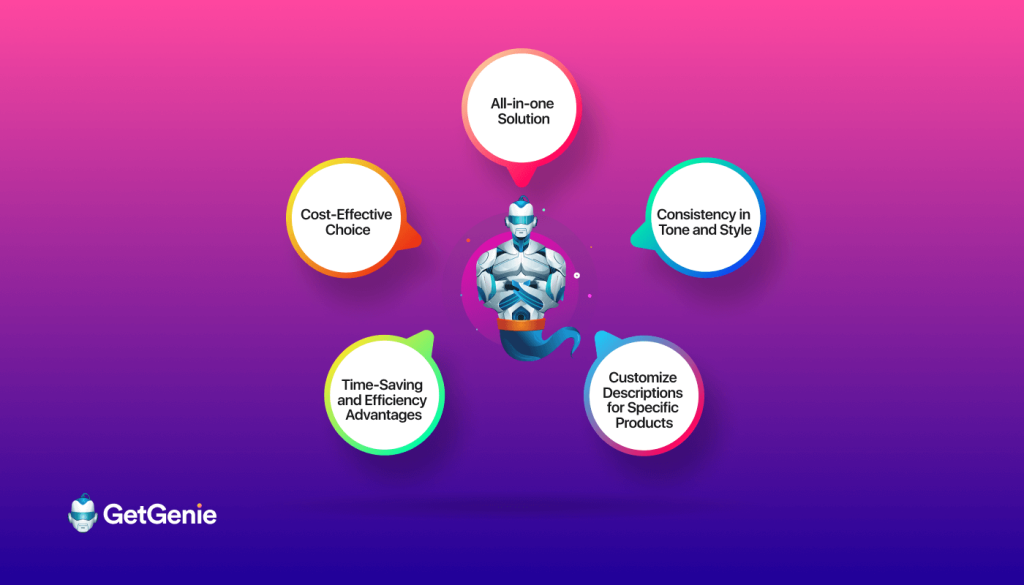 ✅ All-in-one Solution
Instead of using multiple tools or services, you can rely on GetGenie Ai as a single solution for all your product description needs. It's also available for both plugin and SaaS versions.
GetGenie Ai provides an all-in-one platform to generate SEO-friendly WooCommerce product descriptions (title, short description, long description, re-generator) for various industries and product types in less than a minute. You can also optimize them using the content rewriter, pros & cons, call-to-action, and individual WooCommerce templates.
🎯 Consistency in Tone and Style
You can maintain a consistent tone and style across all product descriptions using GetGenie Ai. It has multiple customization opinions to select a preferred language (among 33 languages) and adjust writing tone, and creativity levels.
This will help to build trust and recognition among your customers ensuring a unified brand voice.
✍ Customize Descriptions for Specific Products
GetGenie Ai allows you to input product-specific details for every WooCommerce product instead of writing generic descriptions for all. It has input fields for writing brand names, and relevant keywords to customize the product description. You can also generate up to 6 different outputs at a time.
You can write plagiarism-free descriptions as well as highlight the unique features and benefits of individual products accurately using this eCommerce product description generator.
⏳ Time-Saving and Efficiency Advantages
Writing high-quality product descriptions is no longer time-consuming for the higher speed and efficiency of GetGenie Ai.
This automatic product description generator boosts up the writing process significantly by reducing the time and effort required to create engaging descriptions.
💰 Cost-Effective Choice
Last but not least, GetGenie Ai provides a cost-effective solution with various yearly and lifetime packages.
You can write persuasive product descriptions with GetGenie Ai offering quality without the recurring expense of hiring writers.
FAQs
Can I use Ai to write product descriptions?
Of course, you can use Ai to write persuasive product descriptions. There are various Ai-powered online store description generators i.e. GetGenie Ai to produce engaging product titles, and short and long descriptions highlighting the benefits and all features of WooCommece products.
Can GetGenie Ai write unique product descriptions?
Yes, GetGenie Ai can write unique and human-like product descriptions for advanced natural language processing techniques. You can input your product name, related keywords, preferred language, creativity, and results. GetGenie Ai will personalize and produce the product description as per your needs.
What is the consideration before choosing an Ai tool for product description?
Quality of output, customization options, multi-language support, integration, output optimization, training data, accuracy, scalability, cost, etc are the primary consideration before choosing Ai tools for product description.
What is the best Ai tool to write a persuasive product description?
Based on its effectiveness and optimization abilities, GetGenie Ai is the best product description generator. GetGenie Ai offers an advanced WooCommerce wizard to write unique and customized product descriptions, saving resources, time, and costs ensuring a consistent brand image and tone.
Final Words
After the entire discussion, hopefully, now you can write persuasive product descriptions with Ai.
In that case, GetGenie Ai is an invaluable tool for WooCommerce stores. This advanced ai product description writer streamlines the process of creating descriptions for various products for your WooCommerce websites.
So what are you waiting for?
Start using GetGenie Ai today to enhance the customer's online shopping experience and boost conversions.