Multilingual Content Creation: Breaking Language Barriers with Ai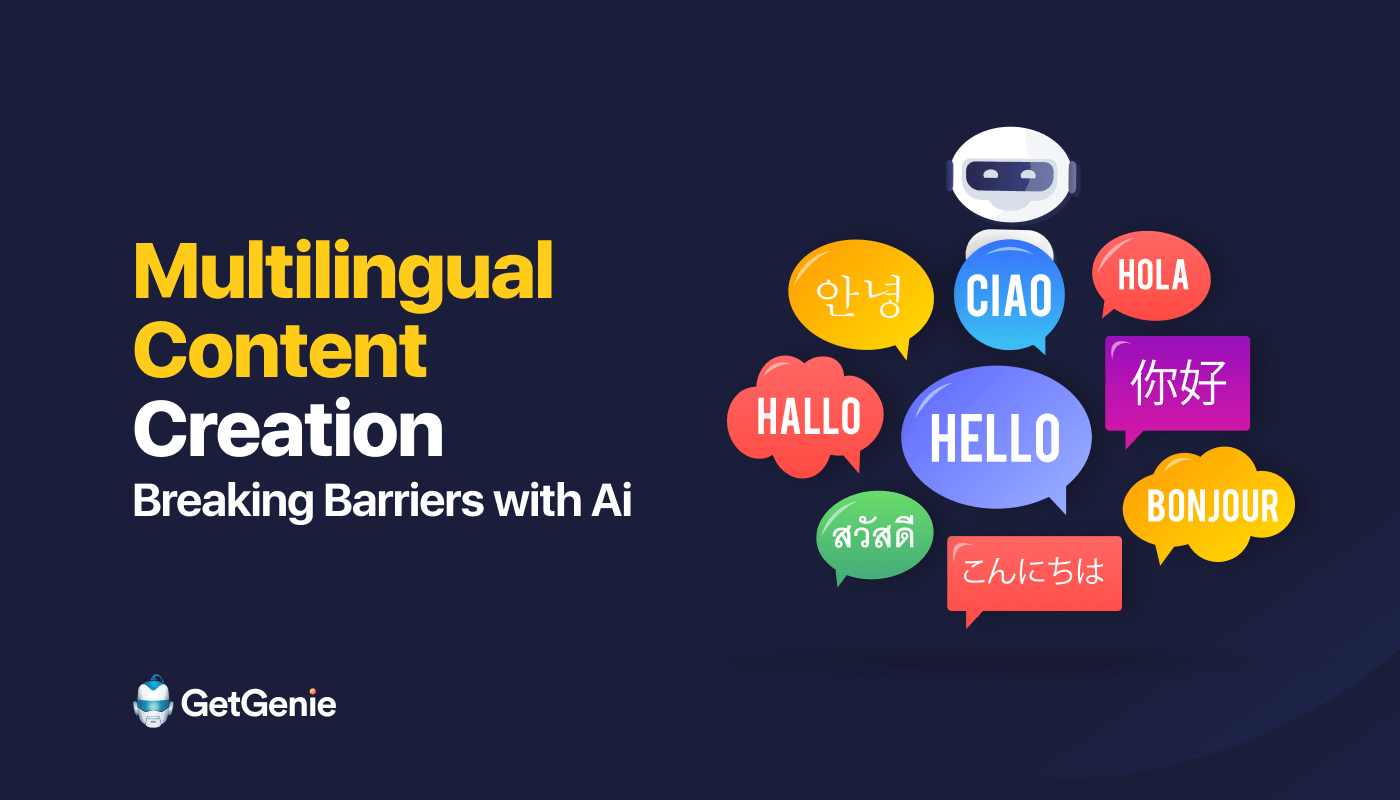 In today's interconnected world, language diversity has become a major hindrance to effective communication. It not only limits your communication but also decreases business opportunities. Therefore, whether you're a businessman or content creator, you should always focus on creating multilingual content.
Fortunately, as technology continues to advance, Ai also extends its arms toward rapid and diverse content generation to boost reach and engagement. Besides, by utilizing the power of Ai in content creation, you can break down this language barrier and build a strong bridge of communication.
On that account, here we'll explore what exactly is multilingual content creation and why we need it. Besides, we'll also learn how Ai facilitates multilingual content creation. So, without making any fuss, let's delve into the boundless possibilities of Ai-driven multilingual content creation.
What is multilingual content creation?
It refers to generating content in different languages that help to target a boarder audience. The goal of multilingual content is to make information accessible to people all over the world regardless of the language variation.
Why need multilingual content?
Multilingual content is crucial for businesses since it brings a plethora of opportunities in marketing and breaks the language barriers to make it more accessible. Here are the top benefits of leveraging multilingual content:
It allows you to target a broader audience and enhance the reach of your content.
You can offer better UX by making content available in the user's native languages.
Language is closely related to culture. By generating multilingual content, you can show respect to people speaking other languages.
It can improve SEO and website visibility.
Multilingual content marketing helps you to stay and run a business in this competitive world by ensuring globalization.
You can be more connected with the local audience by translating or generating content into native languages.
You can step into the international market and sell products worldwide, boosting sales and profits.

How Ai facilitates Multilingual content creation
Ai SEO is the number one ally for fast content creation and optimization. But, have you heard about generating multilingual content using Ai?
It's all right. It is new to many Ai writers. However, there're still some Ai writers that are capable of generating multilingual content. Here we'll talk about one of those Ai content writing tools, GetGenie Ai which streamlines multilingual content marketing by offering language support through its templates.
So, without making any fuss, let's jump into the actual process of generating content in multiple languages using GetGenie Ai.
Step 1: Select and install a multilingual Ai writer.
First, you need to install and activate GetGenie on your WordPress website. For that, visit your admin dashboard and follow Plugins >> Add New. Then search for GetGenie in the search box and hit the "Install Now" button. After that, press "Activate" to leverage all the features.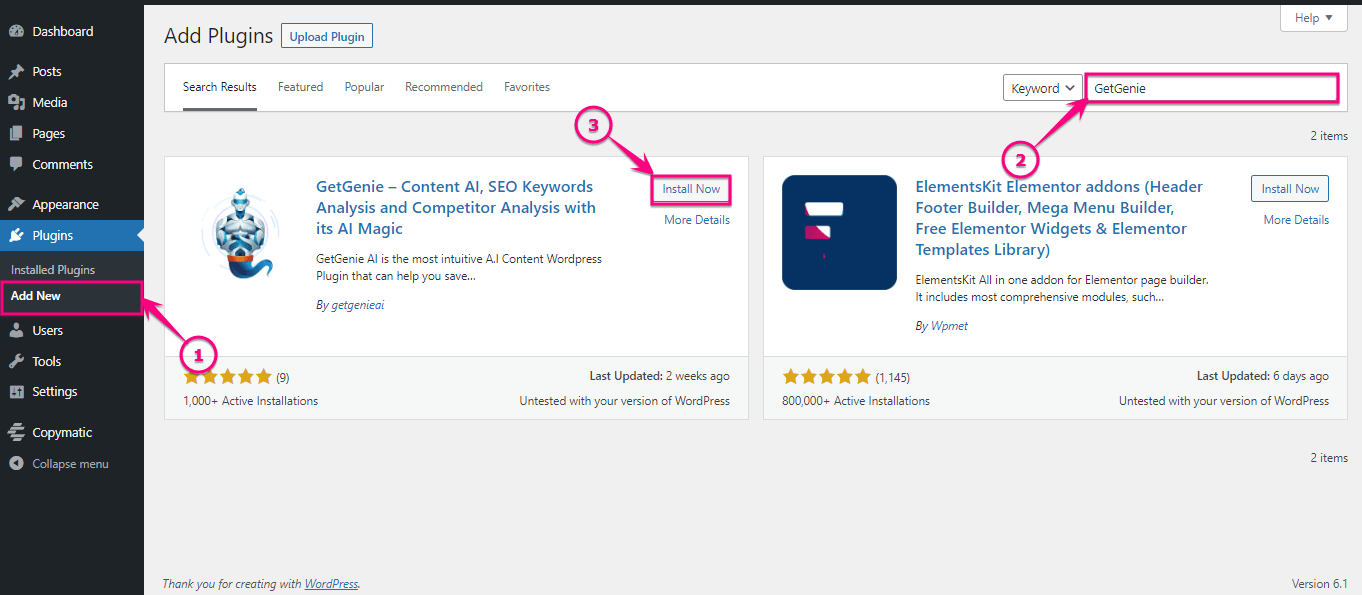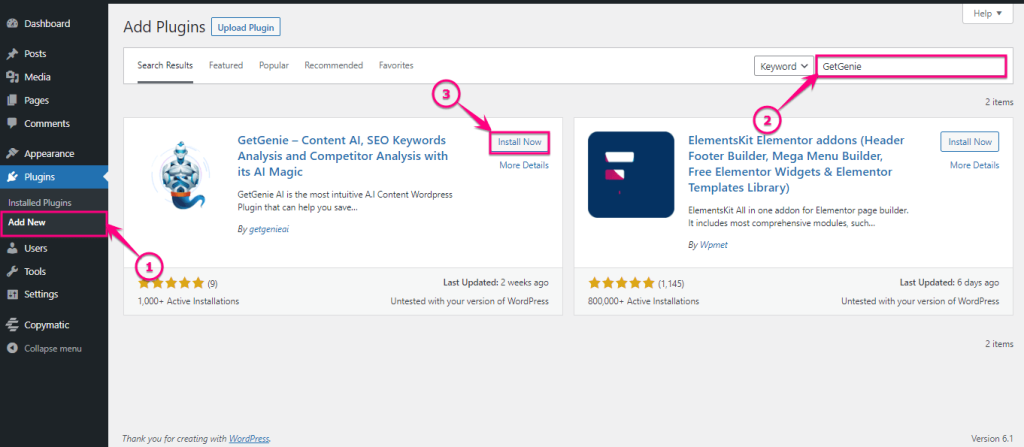 Attention: You have to
claim the credit
if you want to generate multilingual content for free. The free license offers a
2500 word limit per month
. Go for the premium package if you need more than 2500 words.
Step 2: Generate multilingual content using Ai.
In this step, we will use different Ai templates of GetGenie and generate multilingual content using those. So, let's start generating multilingual content:
Blog wizard
GetGenie's Blog Wizard template has everything that you might need for blog writing. It comes with one-click blog generation option. That's why it is one of the best WordPress plugins for blogging websites. From keyword research to content generation, it will assist you in everything. Here is how to generate multilingual content using blog wizard:
First, open your admin panel and hit the "AI Writing" that you will find under GetGenie. Then choose the Blog Wizard template.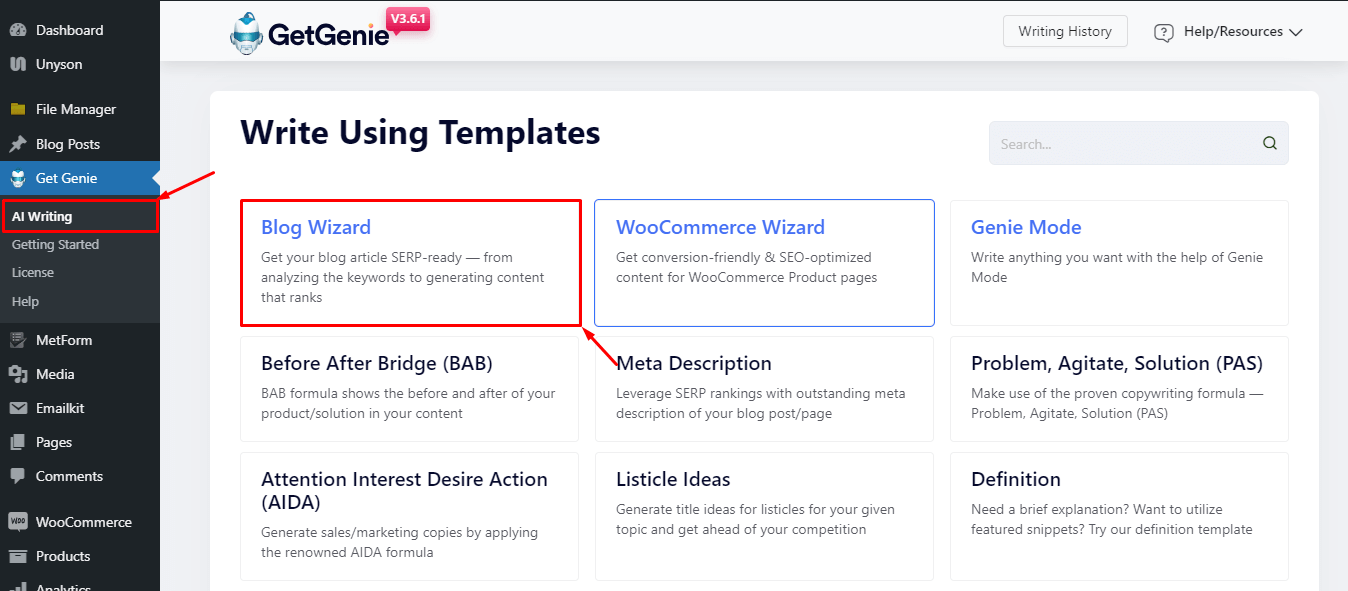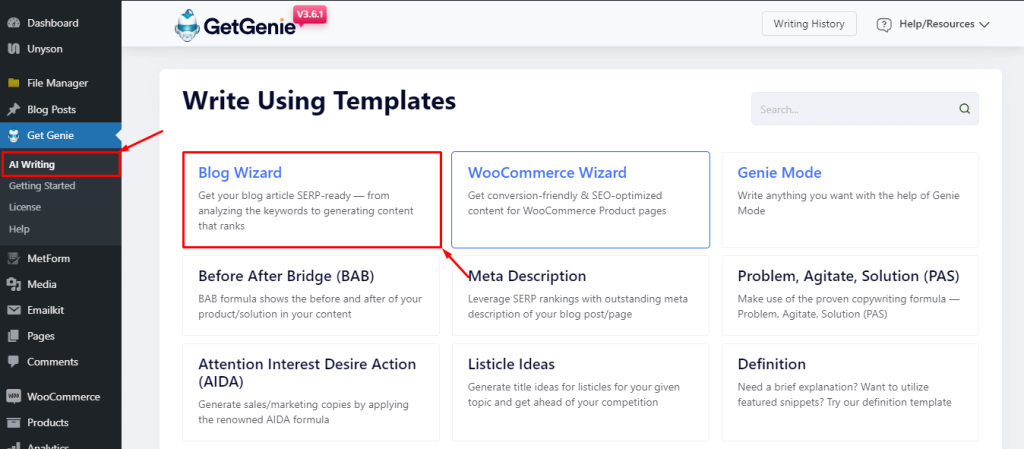 This will take you to the blog page from where you have to click the "Write For Me" button. After hitting the button, a tab will open up from the right side. Here you need to enter Keyword, Context, and SEO Mode. After entering all the information, click the "Analyze Keyword" button.
This will bring together all the keyword research data for your input.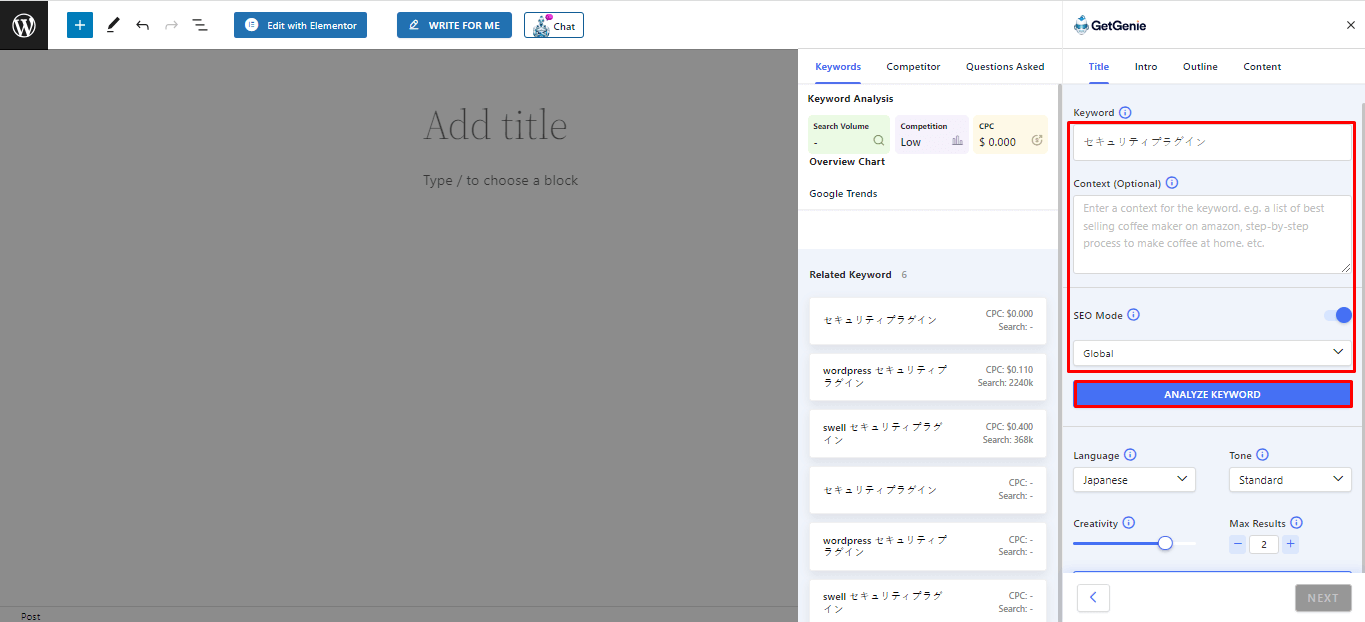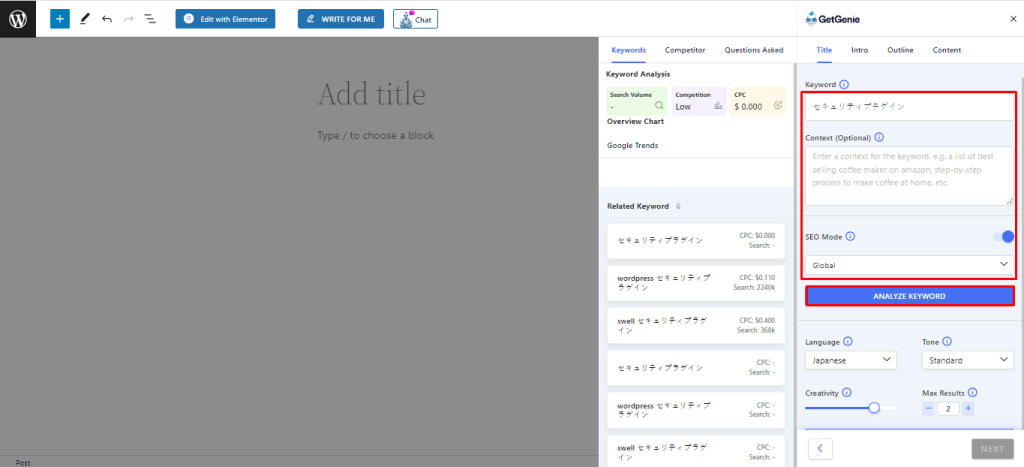 Now, set Language, Tone, Creativity, and Max Results and hit the "Generate Title" button.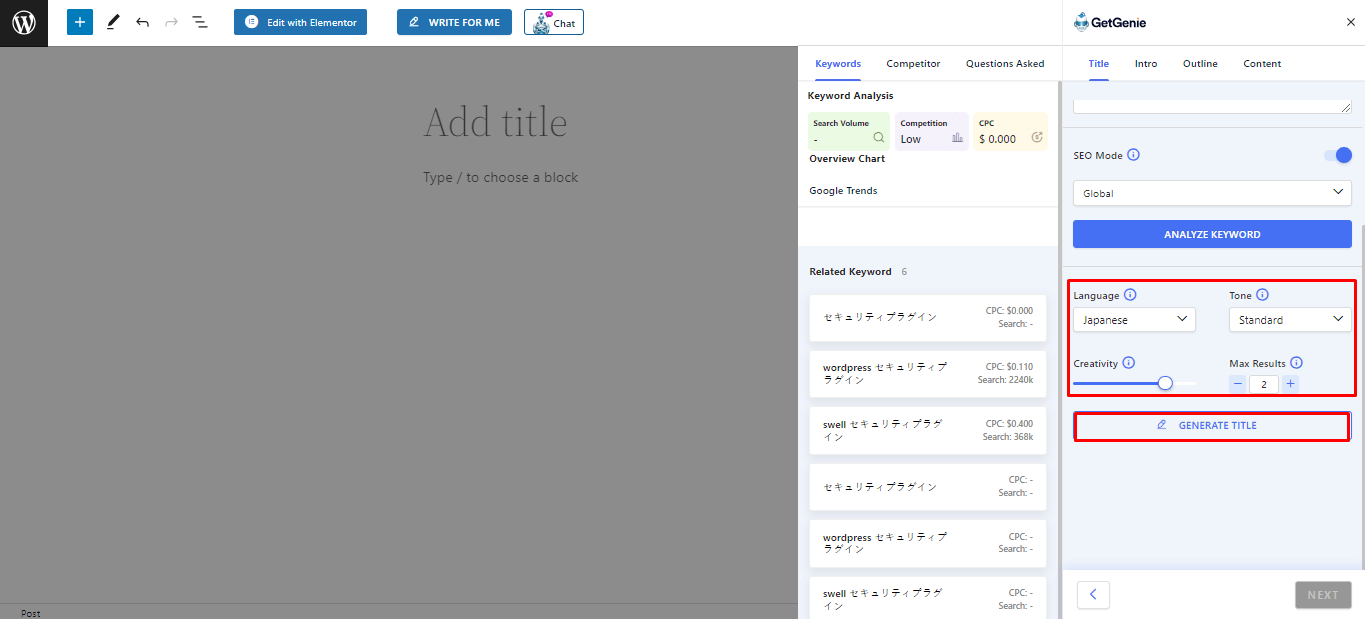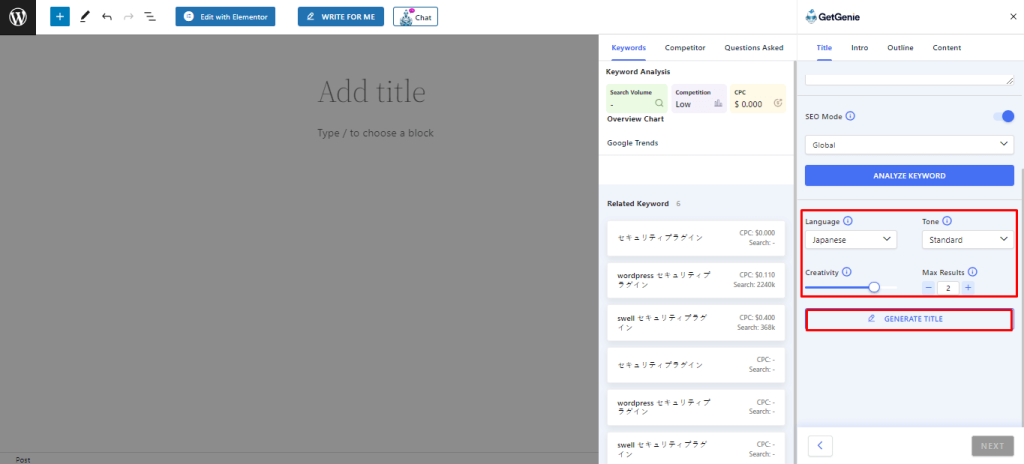 This will take a few seconds to generate titles for your blog post. After title generation, select the title and hit the "Next" button.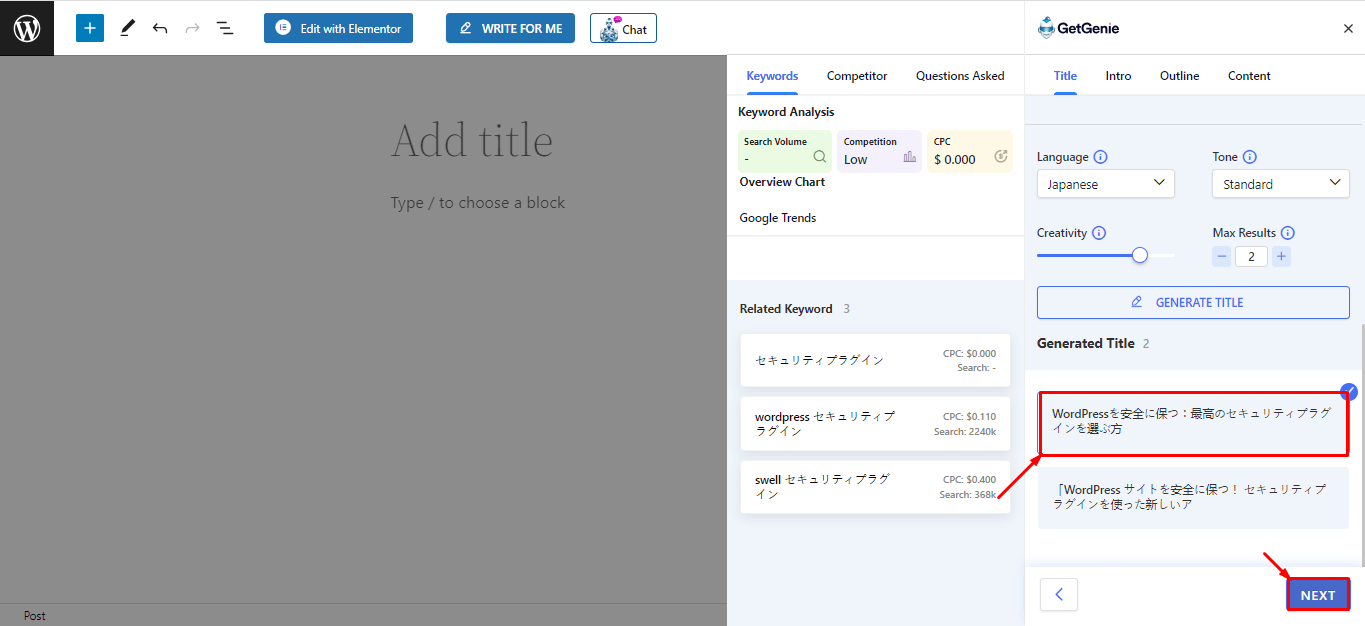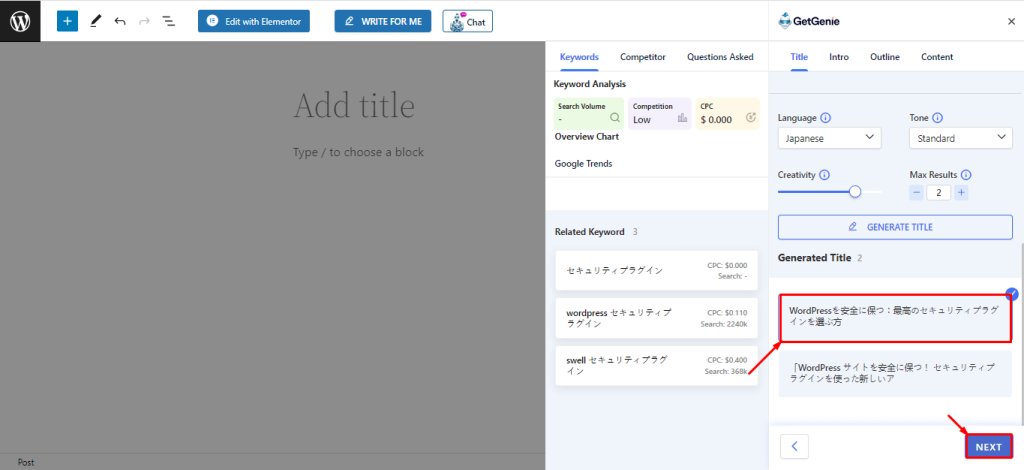 Now, this will take you to the Intro tab from where you have to click the "Generate Intro" button. After intro generation, select an intro that seems appropriate for your content and press the "Next" button.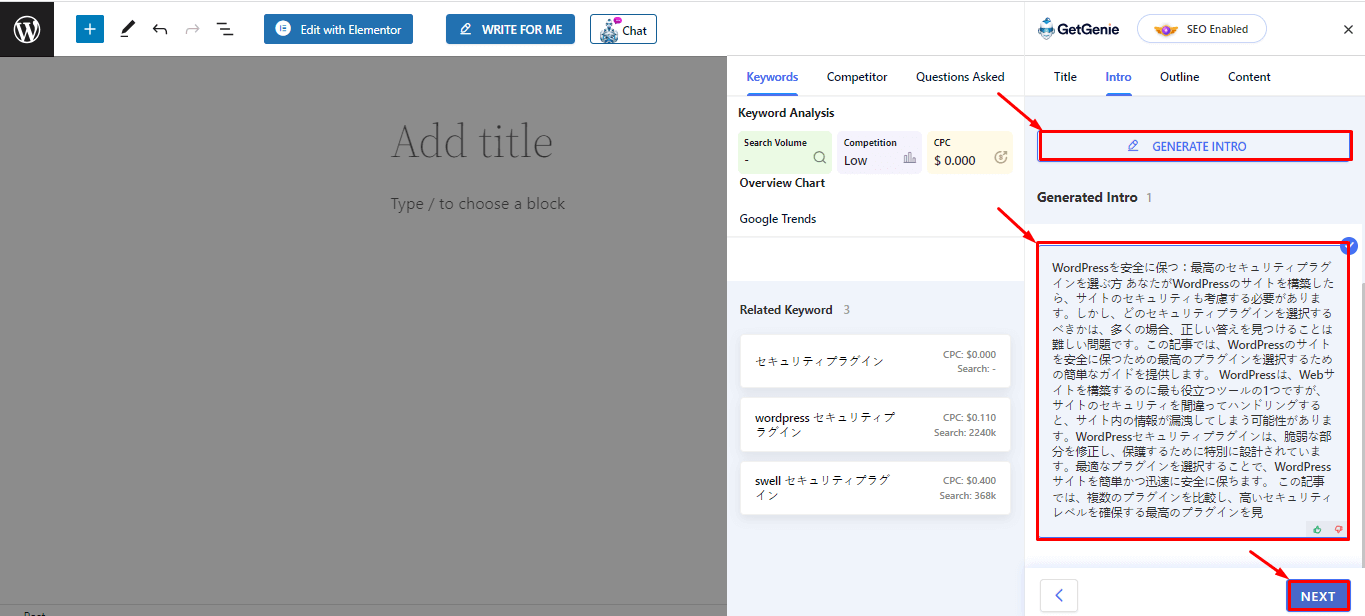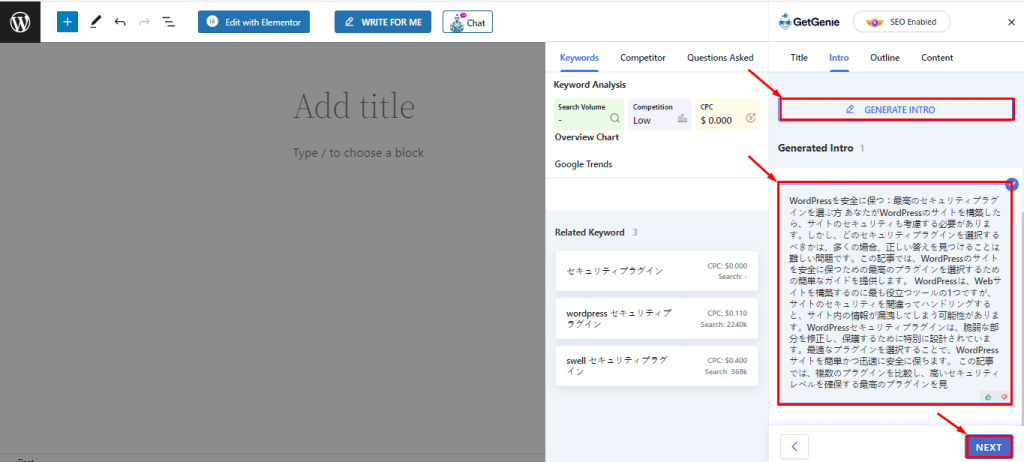 Then, you will move to the next "Outline" tab. Here it's time to hit the "Generate Outline" button which will generate the same number of outlines, you have selected in the Results. Now, add headings one by one to the outline by right-clicking the checkbox, or else hit "Select All" to add all the headings to the outline at once. After that, press the "Next" button.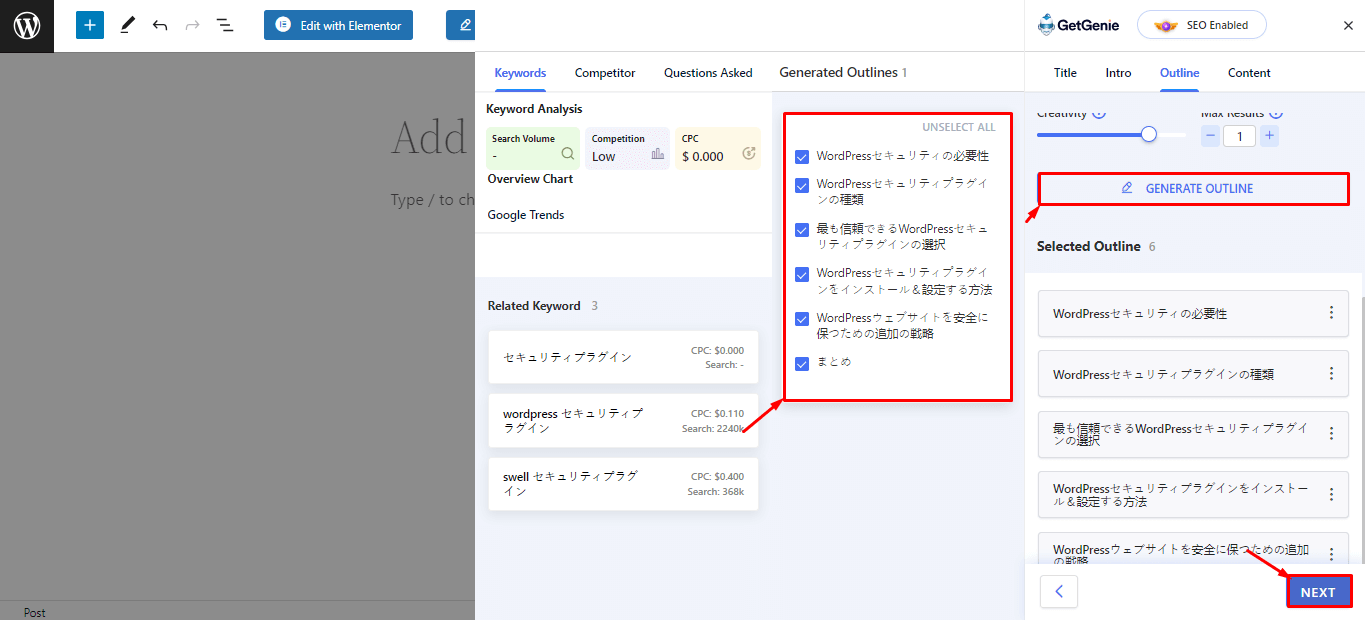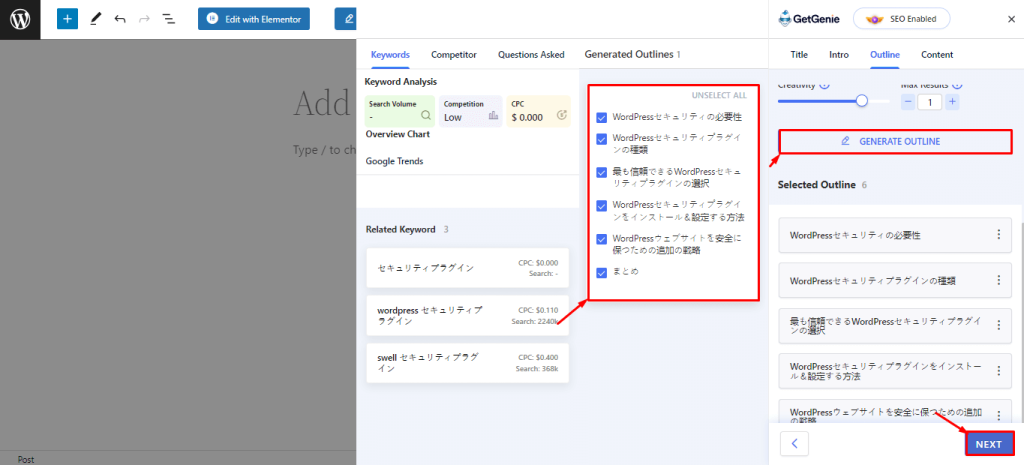 After pressing the "Next" button, it will take you to the content tab from where you can generate content for each heading. All you need to do is click the "Generate" button. This will take a few seconds to create content for your selected heading.
After multilingual content generation with GetGenie Ai, you will find two buttons:
Regenerate: You can regenerate content by pressing this button.
Continue: This option will add the generated content to the heading and take you to the next heading.
After wrapping up content generation for all headings, click the Insert button. This will add Title, Intro, Outline, and Content to your blog post. Thus, you can seamlessly generate a complete blog post in 33+ languages using GetGenie Ai.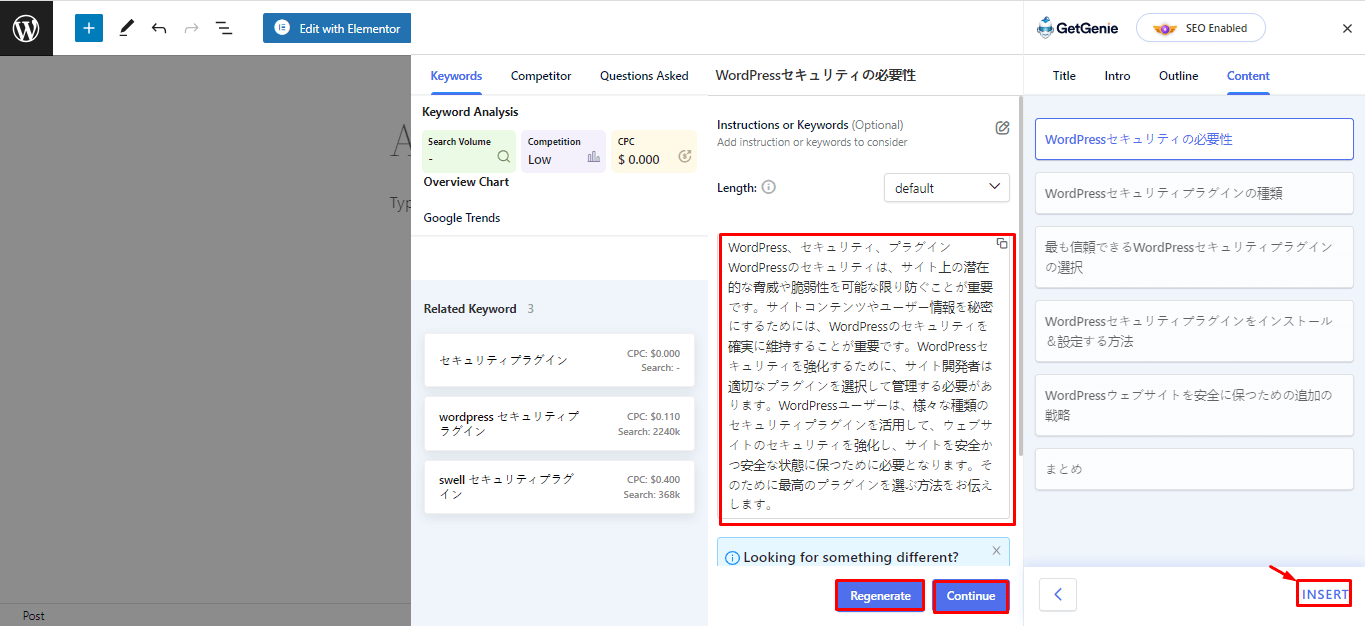 Template 1: Summary bullets.
You can also generate other content types like summary bullets through this WordPress Ai writer. All you have to do is hit the "Summary Bullets" template which will open a new tab from the right side. Here, enter the paragraph to summarize and set Language, Tone, Creativity, and Max Results. Finally, press the "Write" button.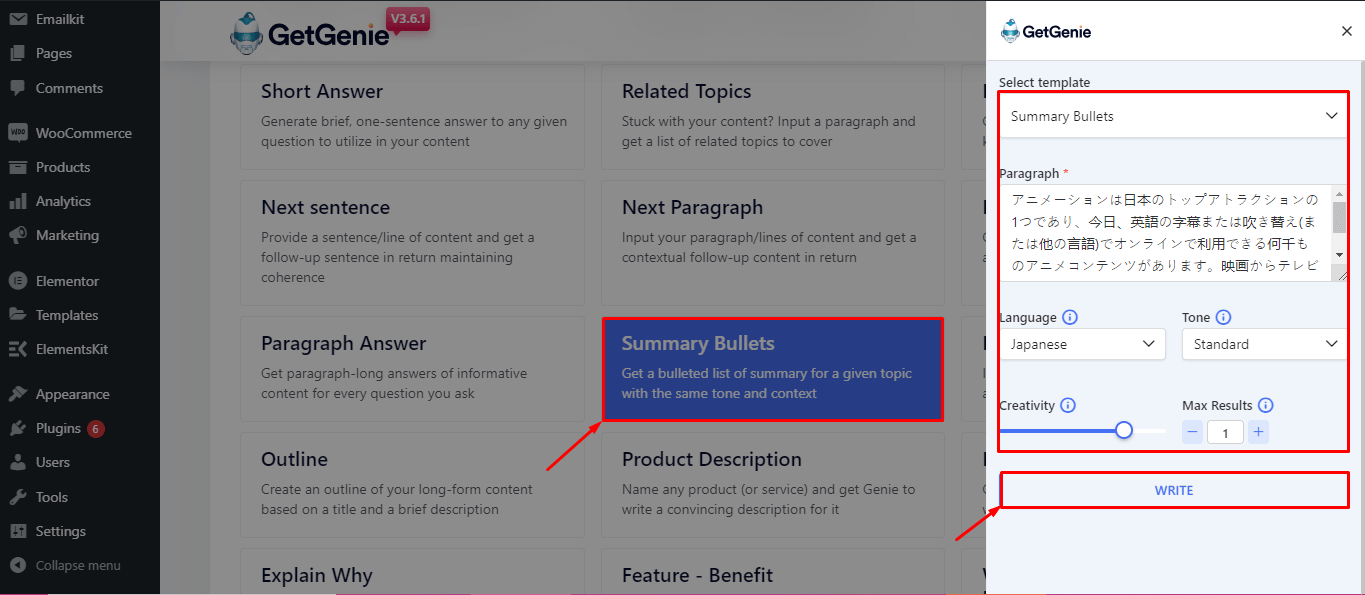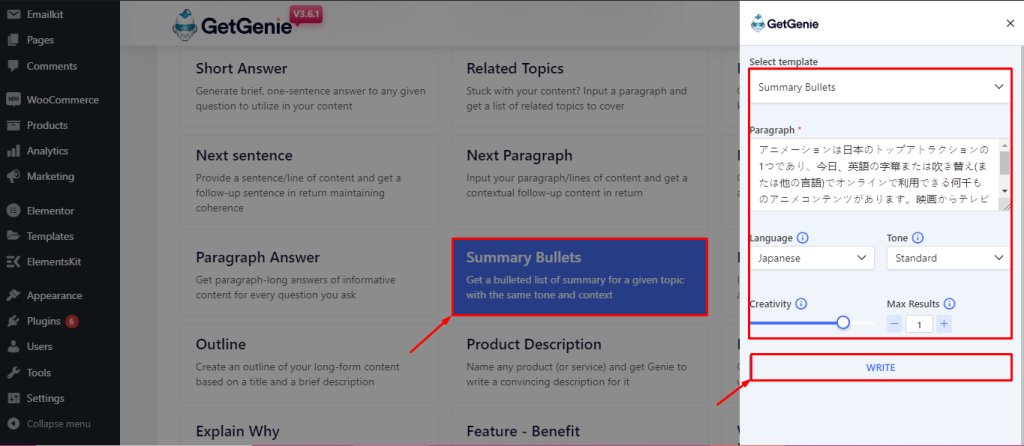 This will generate pointed summary bullets in your selected language. Then click on a suitable output to copy-paste the summary bullet on your keyboard.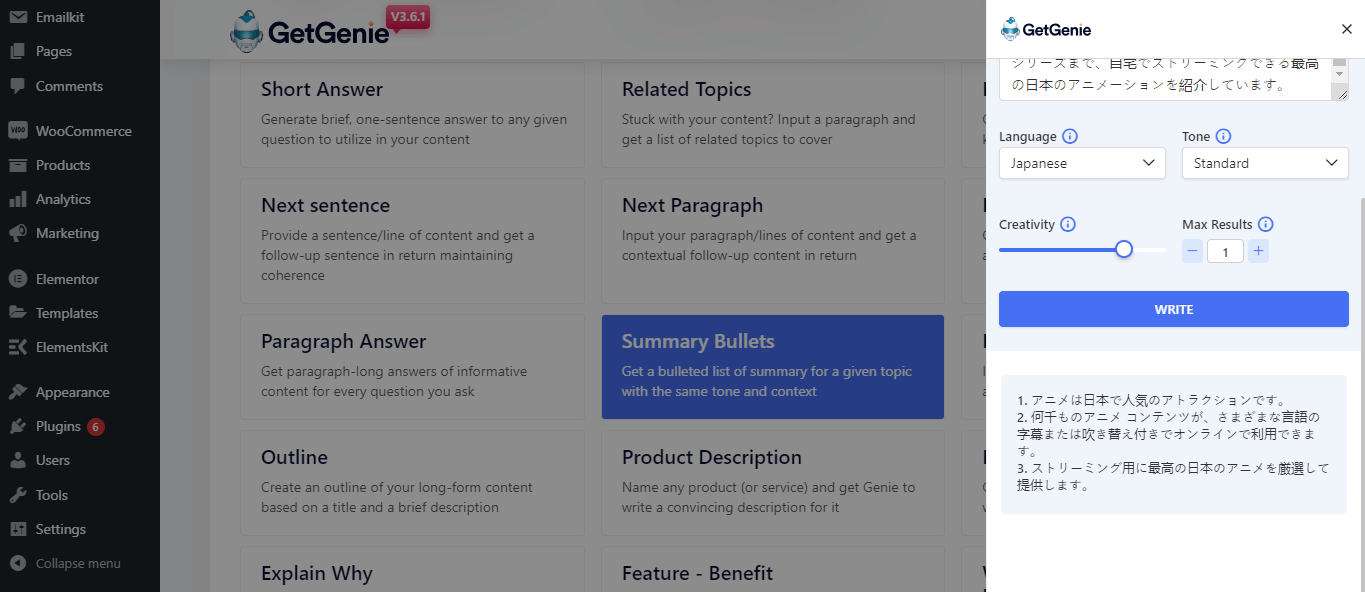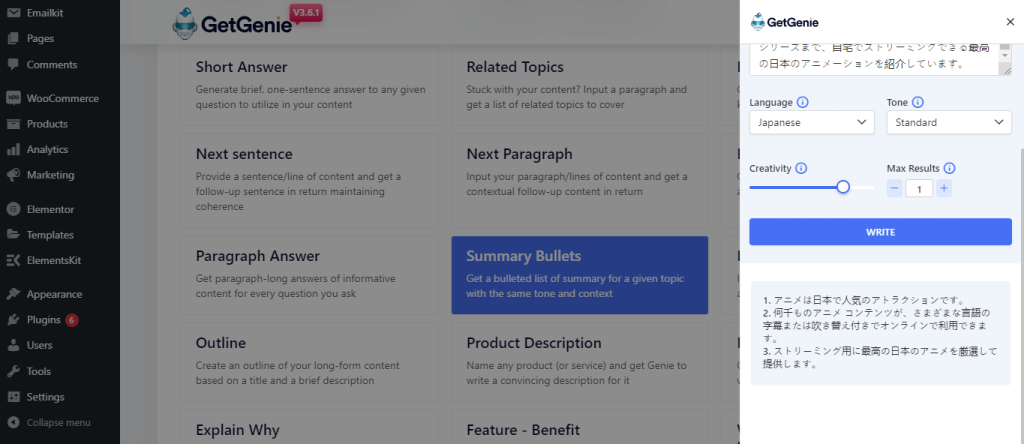 Template 2: Product Description.
Like Summary Bullets, you can generate Product Descriptions along with 37+ different content. To generate product descriptions with the dedicated Ai Template, you need to press the Product Description template and enter the Product Name, Product Brief (Optional), Language, Tone, Creativity, and Max Results. Here we are generating product descriptions in Japanese.
Finally, press the "Write" button to generate a product description with GetGenie Ai.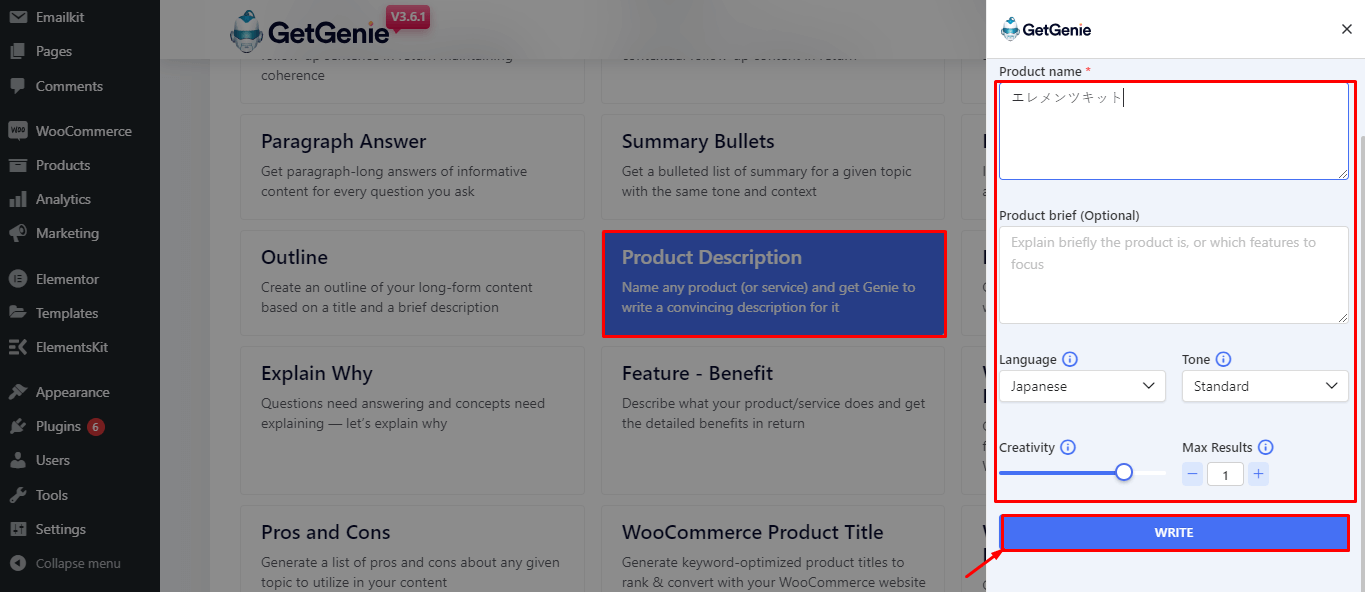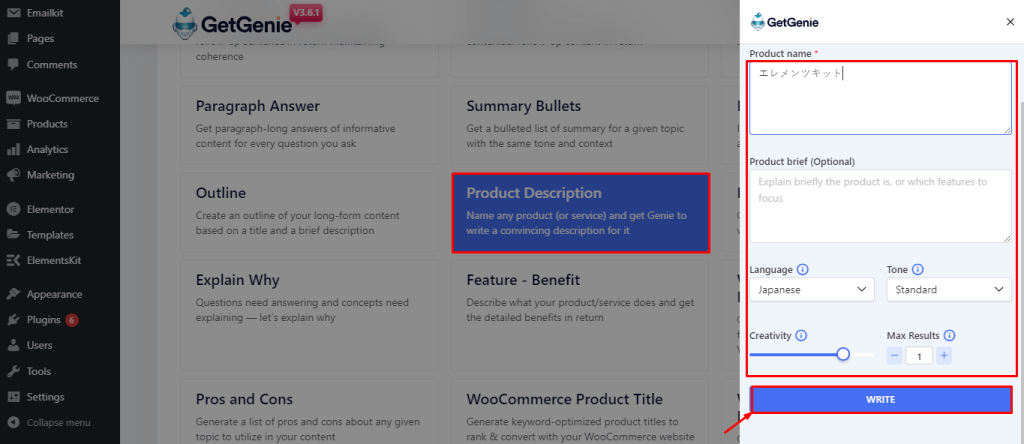 Here is the generated product description in Japanese: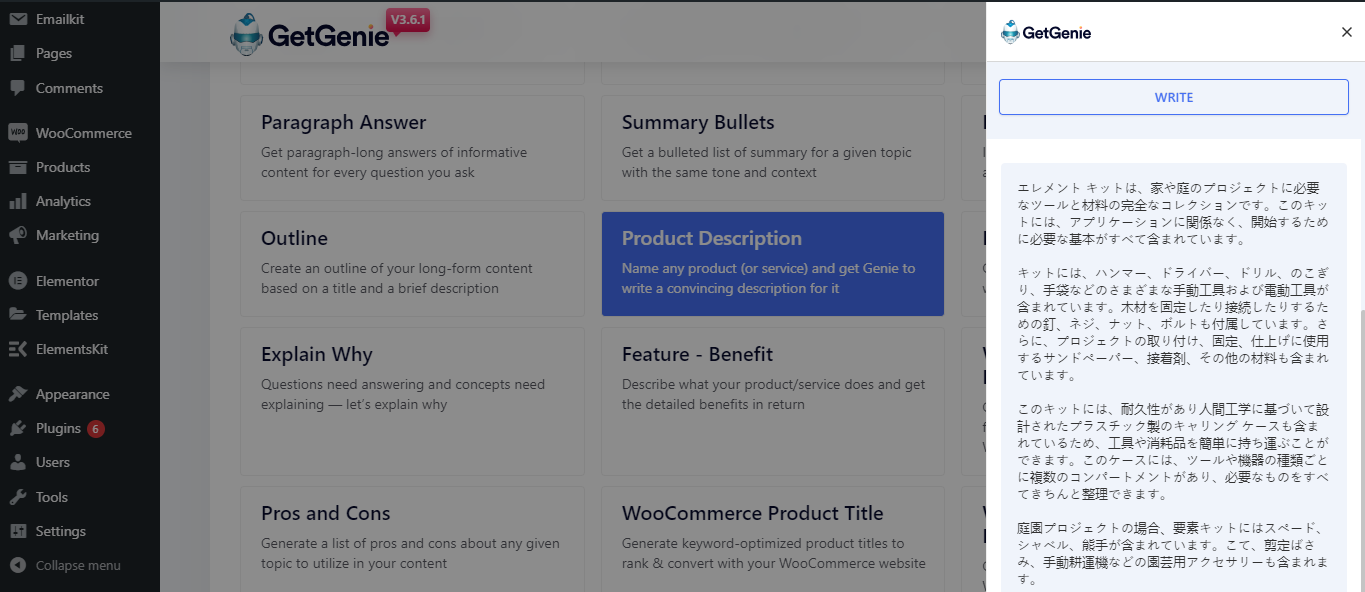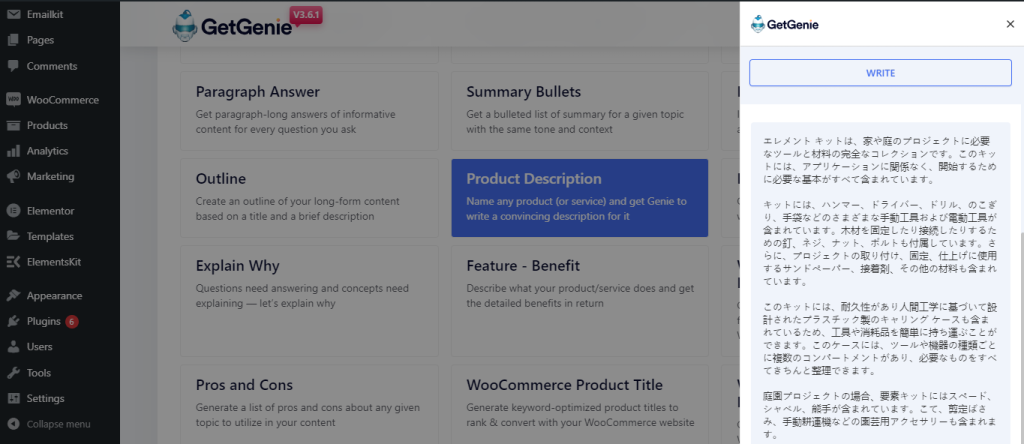 Besides WordPress, GetGenie also has SaaS integration where you can generate multilingual content using its playground. Wondering how? Check out how to access webview of GetGenie. After login and going to the playground tab, you will enjoy all the templates on the SaaS interface.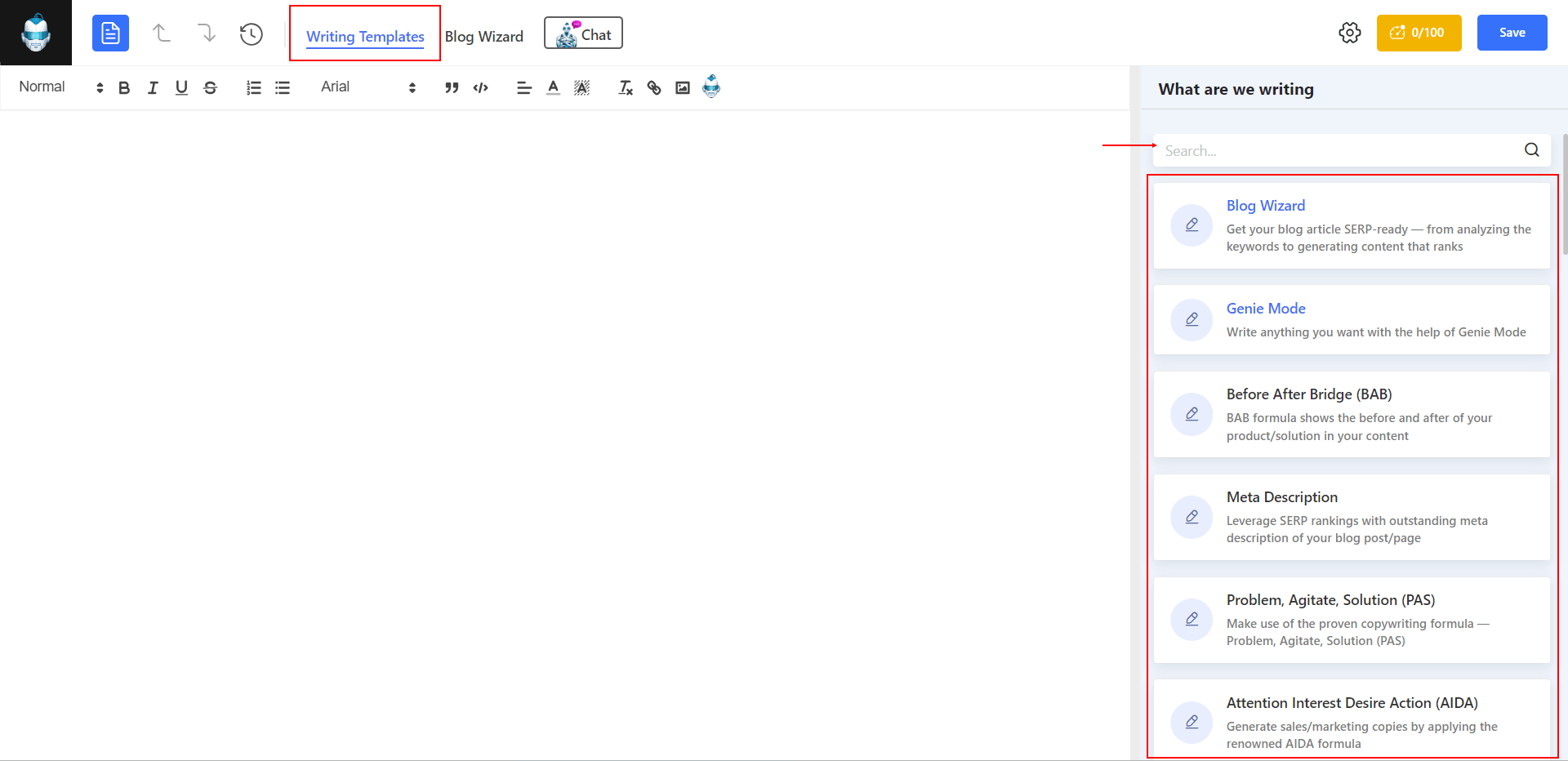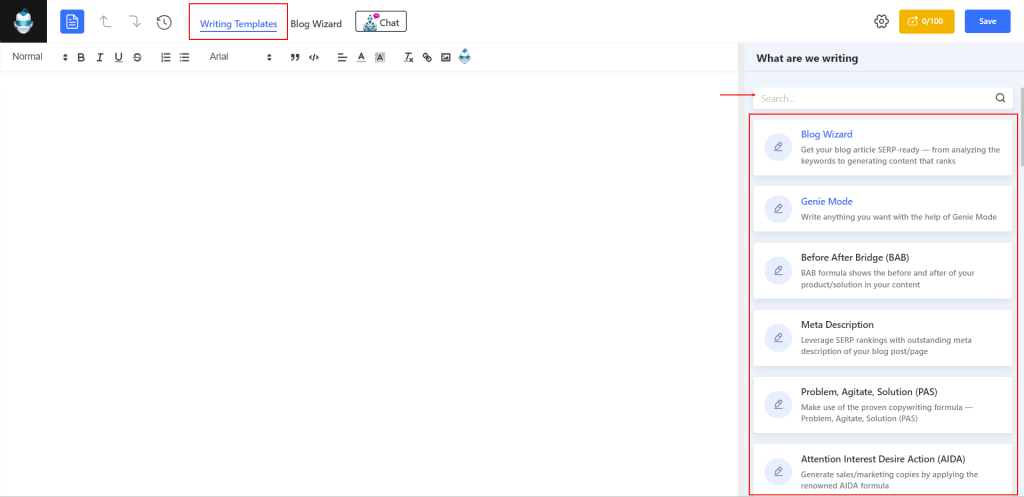 Summing up
The revolution of Ai in content creation has successfully overcome the challenges of language diversity. By harnessing Ai capabilities in content generation, you can effectively reach global audiences and continue business with a stronger vision.
Now, since you know how you're one step closer to effective marketing. Are you excited to foster your customer connection? Try the freemium version of GetGenie and see how it takes your business to a level you never imagined.