How to meet SEO Guidelines while writing with Ai?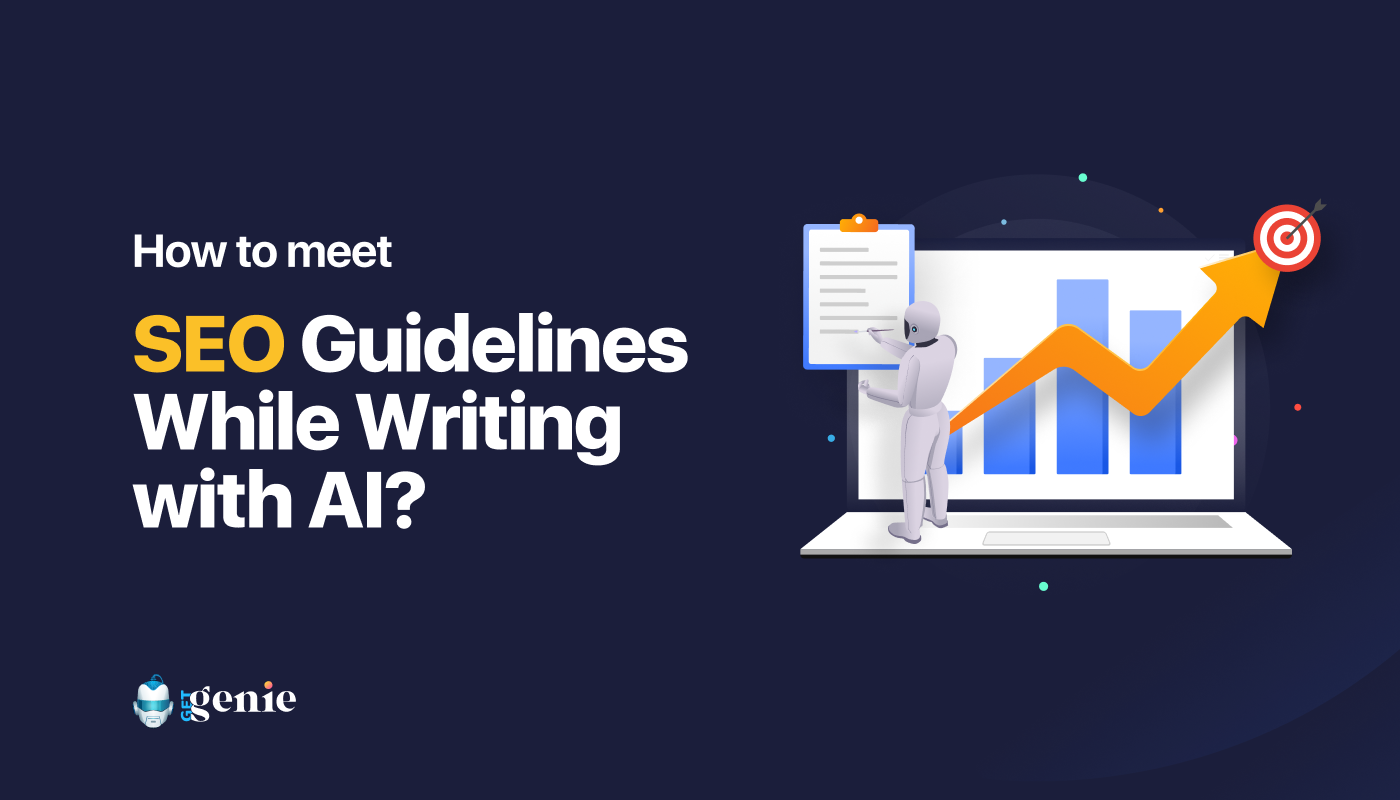 It's crucial to ensure that your content is search engine optimized if content marketing represents any portion of your company's overall business strategy, and to optimize content even when you're using an SEO AI tool.
Of course, there are companies and independent authors who focus on creating content with SEO-friendly AI tools, but they can be costly and untrustworthy.
An excellent choice for creating SEO-optimized content is an AI-powered content and SEO authoring tool like GetGenie AI 🧞.
This article will give a quick history of AI, and SEO and you will be surprised to learn about an SEO AI tool that could bring magic to your life.
However, to meet the SEO guideline, doing a proper search, looking into trends, and updating content regularly is required!
What is SEO?
It would be impossible to discuss the entire subject of Search Engine Optimization (SEO) in a single post. However, the technique of constructing a website in a way that increases the likelihood that it will show up in search engine query results is the straightforward definition of SEO.
There are various factors that go into search engine optimization, but the written content, or the words on the page, is perhaps the most important.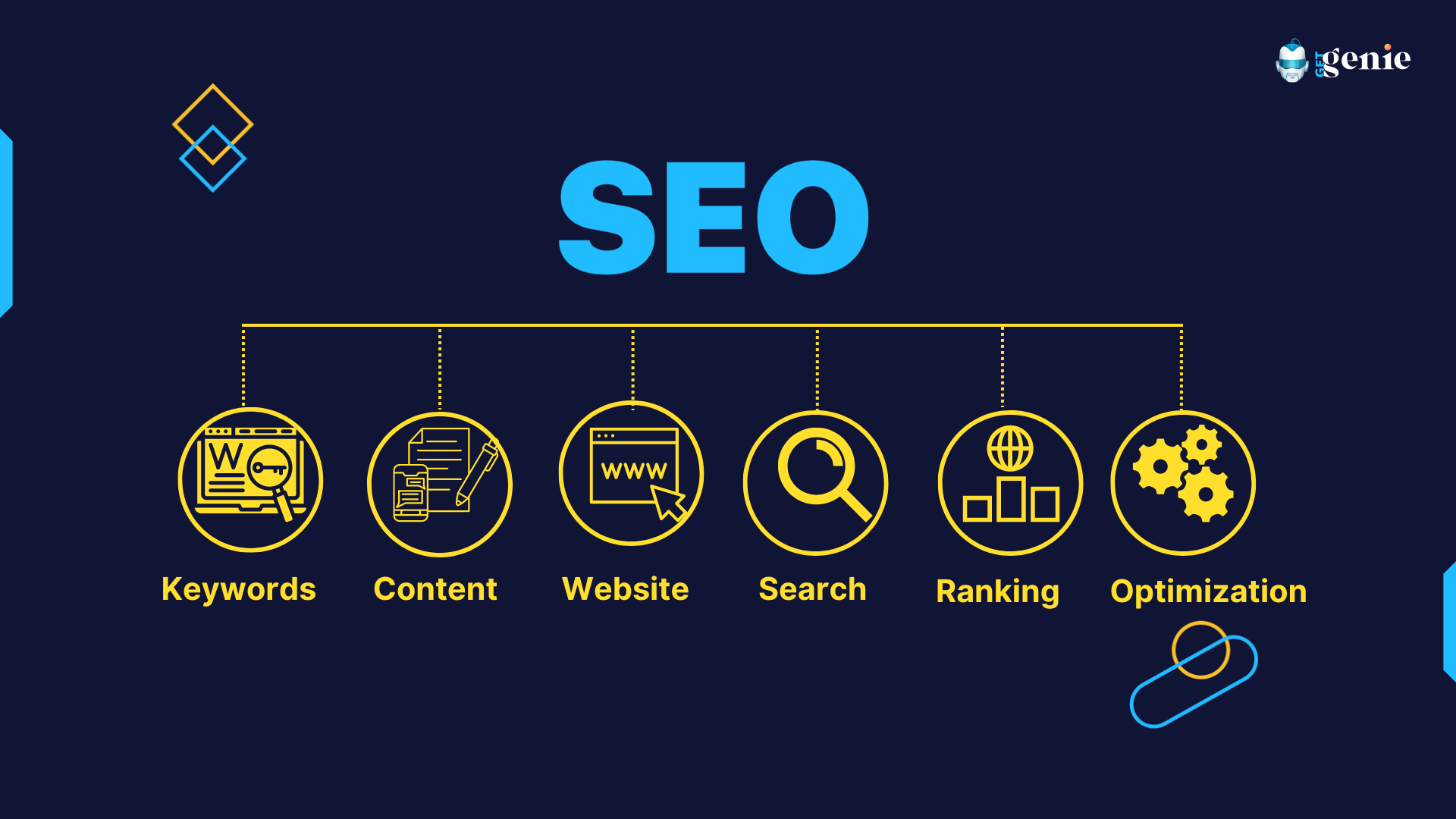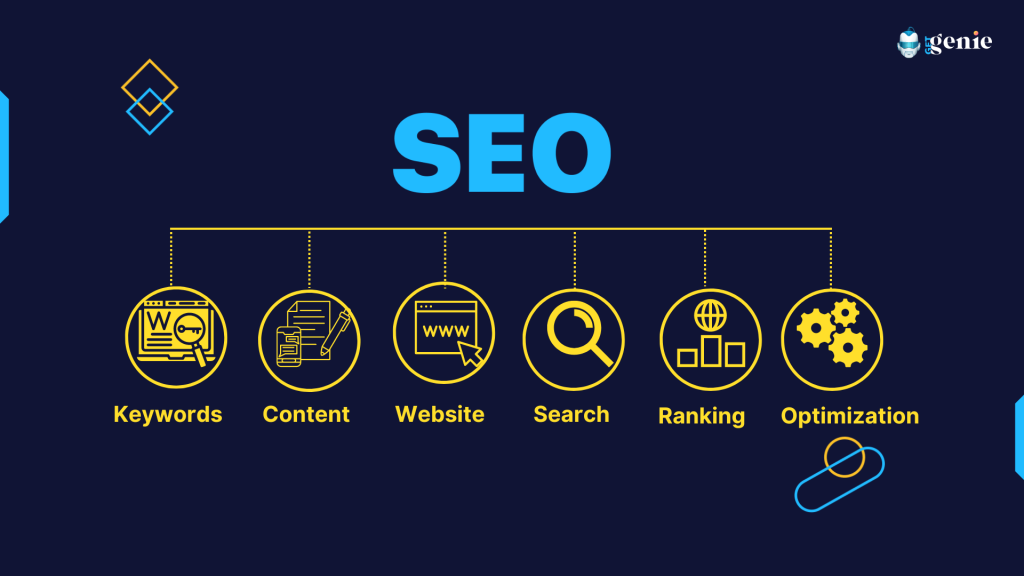 Finding the most important keywords that users in your industry are likely to type into search engines and emphasizing them in content creation should be a crucial component of any SEO plan.
SEO AI tools like GetGenie are made expressly to accomplish this.
What is AI?
Artificial intelligence (AI) is a broad phrase that encompasses a number of distinct technologies, such as machine learning (ML), computer vision, natural language processing (NLP), deep learning, and more
AI's main objective is to outperform humans at cognitive activities, which are frequently tedious and menial. It is a piece of technology made to simplify our daily lives and work.
AI has already demonstrated its ability to boost income in the corporate world.
Why is AI SEO important?
Even though AI and SEO are individually challenging fields, when combined they make it simpler to improve your website's ranks.
The user is constantly prioritized by search engines, which is something to keep in mind. They want to provide the most pertinent content they can.
As a result, SEO no longer revolves solely around keywords. It concerns:
Ideas: What concept underlies the searcher's request?
Background: What purpose does the searcher's inquiry serve?
User satisfaction: Which responses to the user's inquiry are most pertinent?
Therefore, keyword stuffing is ineffective (and has been ineffective since Hummingbird). Your content must be optimized for AI-powered search engines and have a strong link-building plan in order to rank on Google search.
Customer experience is one of the key elements that affect performance today (and in the future). And one of the finest methods that can provide website users with a great experience is using AI.
Here are four ways it can improve your SEO while writing with AI.
Ways to meet SEO guidelines while writing with AI
Because AI writing tools are capable of producing high-caliber writing that adheres to Google's requirements, they can assist you in making your material more search engine friendly.
How then can you employ AI writing tools to improve the search engine friendliness of your content?
1️⃣ Use eye-catching headings
Because AI is more adept than humans at comprehending linguistic complexity, you may utilize AI writing tools to create intriguing headlines for social media postings, blog entries, and even commercials.
The software might create headlines with a certain tone or feeling that would resonate with readers by training AI on enormous text libraries. To achieve this, look for particular terms or phrases that frequently appear in articles with high interaction rates.
2️⃣ Create a text that is easy to read
AI writing technologies can be used to create clear, legible material for SEO goals.
Because they do away with the necessity for expensive and time-consuming content creation by authors, these tools are game-changers for online marketing. The sophisticated algorithms used by the AI writing tools imitate human language. They write spontaneously in accordance with what they anticipate readers will read next.
3️⃣ Put SEO-friendly keywords to use
You've probably tried looking for the ideal SEO-friendly keyword but been unsuccessful at times. Did you realize that using an AI writing tool would allow you to quickly create a list of keywords for your blog post?
All that is required is that you give the AI your topic idea, target word count, and language style. Then an AI will produce a list of keywords associated with your subject, which is wonderful because these are actual search terms.
4️⃣ Use a meta description with lots of keywords
Because they are frequently displayed as snippet previews on search engine results pages, meta descriptions are crucial for web pages. Including relevant keywords in meta descriptions can improve a website's search engine positioning.
One advantage of employing an AI writing tool is that it may produce material that is especially targeted for the keywords of your website. This aids in eliminating pointless words and generic sentences that are common in articles written for SEO.
Meet SEO Guidelines with 🧞 GetGenie AI:
With GetGenie AI, you can create perfectly SEO-optimized content in less than 10-minutes. As GetGenie AI comes with a proper keyword analysis feature. And to experience the most remarkable AI SEO feature, first you need to visit your WordPress admin dashboard, and hover over GetGenie then click on AI Writing.
Then choose Blog Wizard from the template list.
Then input your Keyword along with Context. Then, in the SEO mode section, you need to select your targeted region and click on "Analyze Keyword."
Now an addition tab will show up on the left and you'll find 3-tabs:
Keywords
Competitor
Questions Asked
⚡ Keywords: In the keyword section, you'll find all sorts of keyword stuff. Along with its search volume, competition, and CPC rates. Not only that, but you will also find search volume trends and Google trends. A number of related keywords are also listed underneath the related keyword section.
⚡ Competitor: In the competitor's tab, you'll be able to analyze all of your competitor's data. There you will find their headers as well as a brief description. In short, you should need to move back and forth from one tab to another, you can easily research your competitors' data in one place.
⚡ Questions Asked: Here you will get all types of FAQ questions that go under the keyword we have selected. You can also take the questions for your blog's frequently asked section, by just simply clicking on them. Or on the other hand, can also utilize them for your content.
Watch and learn 👇 about the SEO feature of GetGenie AI, and experience the magic:
🔮 The Magic is Here:
GetGenie AI, your all-in-one content and SEO assistant for WordPress. It comes with 30+ AI templates that are well-structured and capable of reaching your SEO goals.
✅ Here is the template list that you'll find with GetGenie AI:
| | | |
| --- | --- | --- |
| Blog Wizard | Short Answer | Product Description |
| WooCommerce Wizard | Related Topics | Bullet Point to Answer |
| Before After Bridge (BAB) | Paragraph Compression | Explain Why |
| Problem Agitate Solution (PAS) | Next Sentence | Feature – Benefit |
| Attention Interest Desire Action (AIDA) | Paragraph Rewrite | Meta Description |
| Listicle Ideas | Next Paragraph | WooCommerce Product Long Description |
| Definition | List of Questions | Pros and Cons |
| Product Ad Copy | Paragraph Answer | WooCommerce Product Title |
| Sentence Rewrite | Summary Bullets | WooCommerce Product Short Description |
| Featured Snippet (Numbered List) | Paragraph for Heading | Taglines |
| Title Ideas | Outline | Social Media Post/Copy |
To learn more about the GetGenie AI Blog Wizard template, and its dedicated SEO optimization, keyword research, and SERP analysis. The most amazing part is that you will be able to create whole blog posts with this feature in just a matter of minutes.
👇 Check this out, guys! Watch and learn how GetGenie's AI Blog Wizard works:
Eventually, GetGenie is an AI writing tool designed to make the process of creating content easier. GetGenie simultaneously serves as an AI copywriter, AI blog writer, and AI article writer. Additionally, this unique AI content assistant is capable of performing SEO optimization so that your blog or post will rank on Google.
In a word, GetGenie uses artificial intelligence to write, optimize, and conduct research for your content and copy for you. To use the tool, you only need to provide input based on your requirements. And GetGenie will provide you with the results data as soon as possible.
The future has arrived, it's time to reconsider your technique!
For their material to appear higher on Google's search engine results page (SERP), content writers had to manually create meta tags. You can enter your keywords into artificial intelligence, and a bot will automatically generate a meta tag for your content!
This is a much more effective method of improving your SERP position, and it frees up more time for you to concentrate on generating content rather than laborious research.