Best Ai Product Description Generator Tools of 2023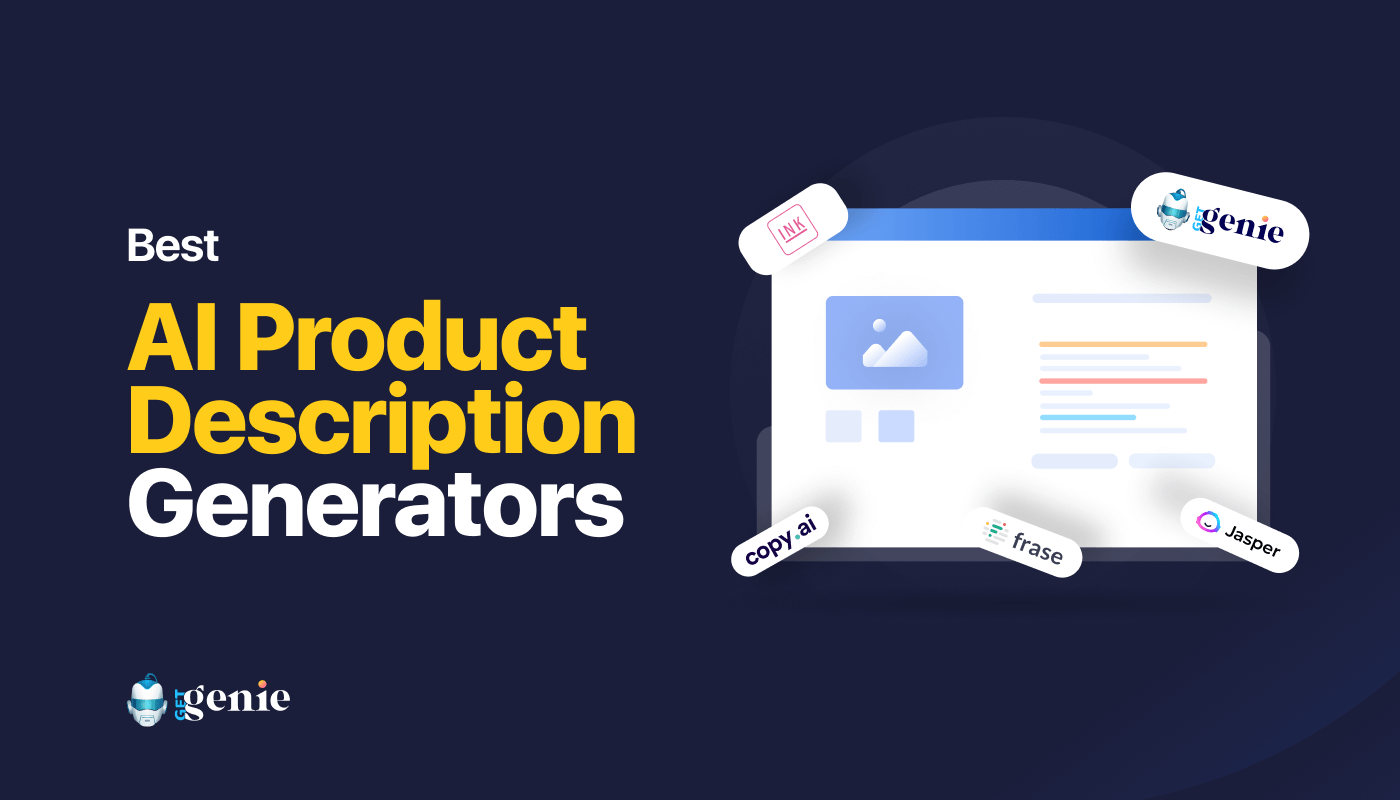 Coming up with an SEO-friendly, engaging product description that converts is not the hardest thing in the World. However, if you have to repeat the same process for hundreds and thousands of products it can be quite daunting.

Now thanks to the invention of an AI product description generator, you can generate attractive and converting product descriptions very fast. Because all you are required to do is provide some basic inputs.
To make your job of choosing the right AI product descriptor easy, I have rounded up some of the 5 best free and paid AI product description generator tools with pros and cons. Go through each of the copywriting AI tools to learn more details about their features before you pick one.
What is an Ai Product Description Generator?
An AI Product Description Generator is a tool that uses Artificial Intelligence to generate plagiarism-free, unique product descriptions for your eCommerce store. These Ai generated product descriptions are not only informative but also SEO optimized.
Moreover, the Ai copywriting tools are fast and save you a lot of time. Therefore, AI product description generators are becoming popular among eCommerce owners.
5 Best Ai Product Description Generators
Go through the list of best AI product description generator tools to learn more about each of the product in detail so you can make a well-educated decision: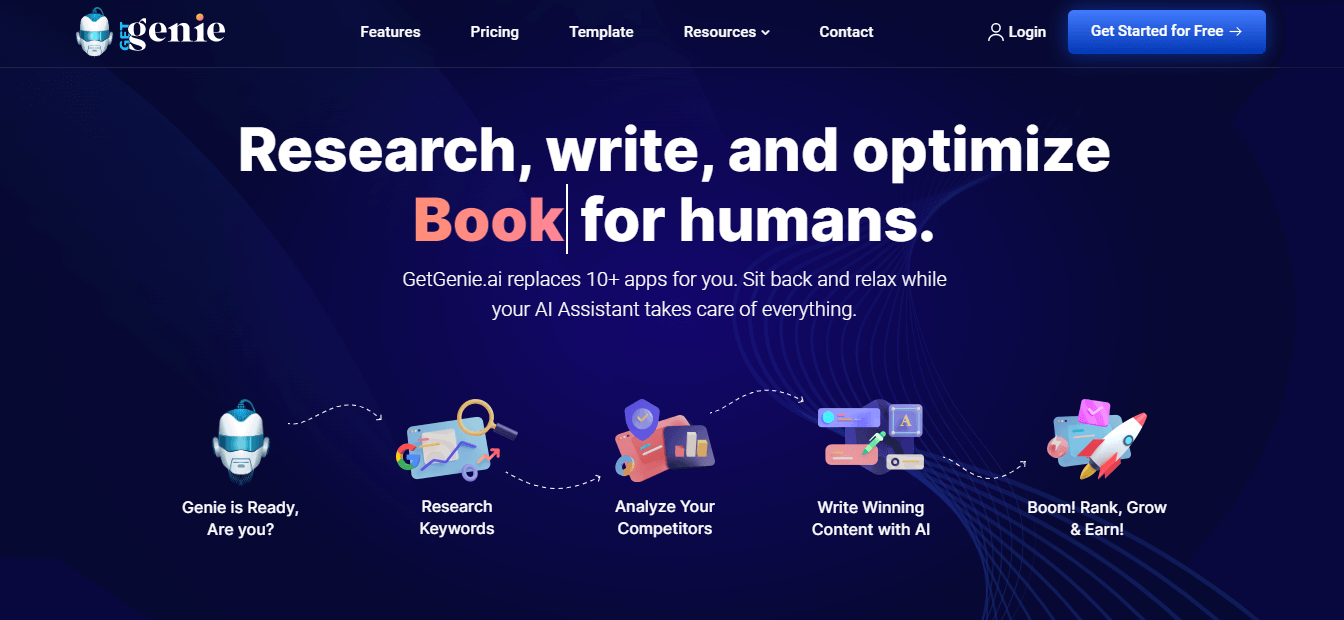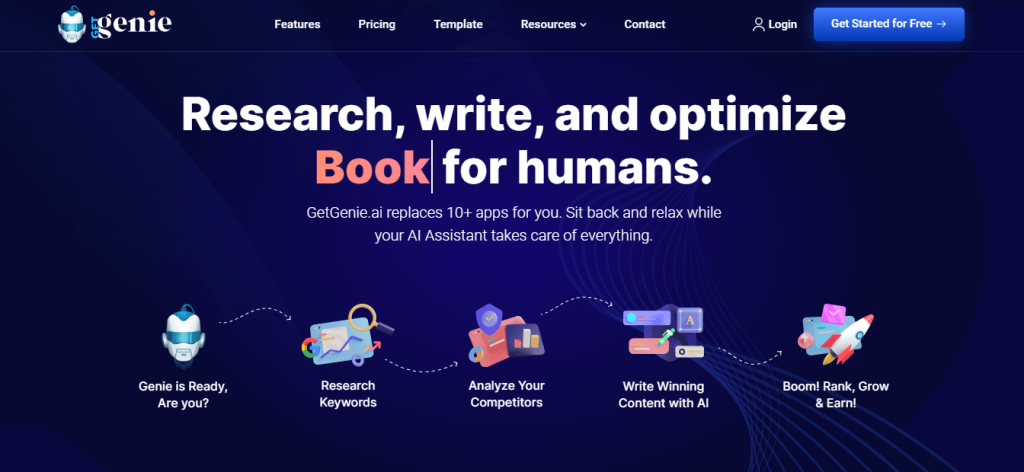 GetGenie is one of the fastest-growing best free AI copywriting and content writing tools. It is also a free ai product description generator that comes with amazing AI product description templates.
This standalone WordPress plugin provides a generic product description template along with WooCommerce-based templates such as:
✅ WooCommerce product Short Descriptions
✅ WooCommerce product long descriptions
GetGenie can be of great assistance to WooCommerce store owners who are struggling to create attractive product descriptions for tens of thousands of products. Like a blog wizard, the WooCommerce wizard of this AI writing assistant enables you to create SEO-optimized, captivating product titles, short product descriptions, and lengthy product descriptions, all of which can be added to your product right away.
Apart from a variety of product-related templates, what makes this AI writing assistant the number one option is the quality of the content it provides. You can specify the keyword or content that the tool should follow to generate product descriptions. You can also choose the number of results you want from this online Ai product description generator.
This Ai copy generator tool is capable of generating engaging and original content. Moreover, you can produce Ai generated product descriptions in multiple languages. This tool also comes with a perfect blog wizard that helps you to keyword research, competitor research, write a complete blog, and SEO-optimize the blog content from the WordPress dashboard or even from its playground in minutes. 
✨✨ Pros and cons of GetGenie:
| ✅ Pros | ❌ Cons |
| --- | --- |
| Can use the feature from WordPress's dashboard | The free version offers limited word generation. |
| 100% original Ai generated product descriptions | It's not platform-independent. However, you can easily copy the content generated on any other platform. |
| A perfect product for WooCommerce store owners | |
| Copywriting templates include AIDA, BAB, PAS, etc. | |
| Can produce multiple results in one go. | |
| Add product titles and descriptions directly to the product. | |
| Add product title and descriptions directly to the product. | |
| Can generate product description for free | |
| Compatible with both Gutenberg and Elementor. | |
| The support team is friendly and available 24×7. | |
| Proper documentation and easy to follow video guide. | |
Pros and cons of GetGenie AI
💰 Price: Starts at $19/per month.
GetGenie offers
1500 free word
generation every month in the free version. If you want to try this tool before investing money, you can install and use the free version first. 
With GetGenie AI free you will get :
👍
1 Website
👍 Unlimited Users
👍 30+ AI Templates
👍 1,500 AI Writing Words Per Month
👍 10 SEO Keyword Analysis Per Month
👍 5 Competitor SERP Analysis Per Month
👉👉Get the free version of
GetGenie.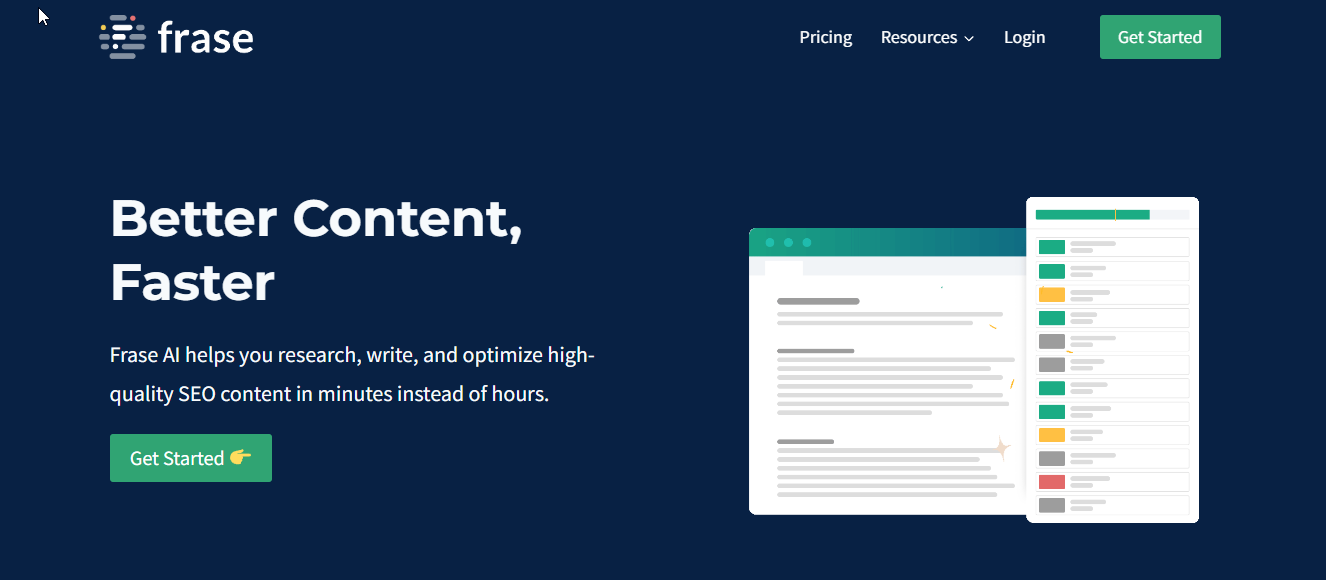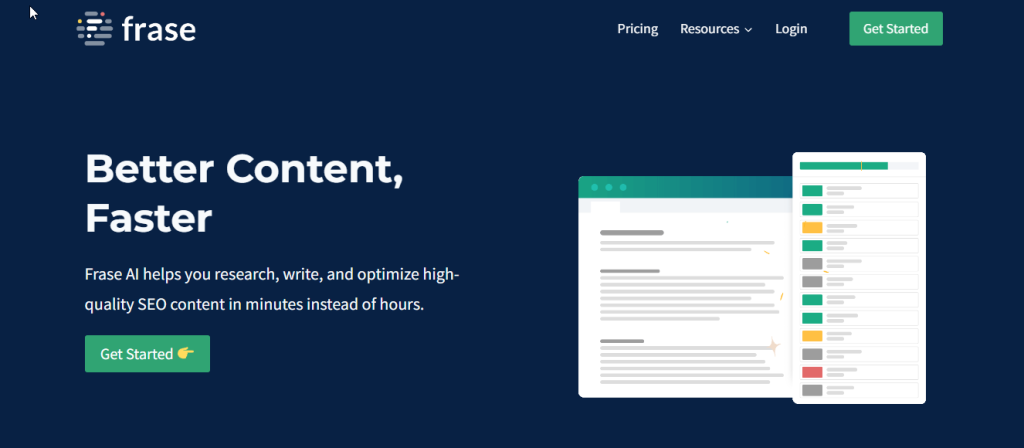 Frase is another great ai product description generator tool. This plugin is highly rated on Capterra as most of its users are happy with the quality of output this AI writing assistant is able to produce for them.
With the help of this best free copywriting Ai tool, you will be able to generate quality product descriptions without having to spend hours and hours that may be required to manually write product descriptions for a lot of products.
This intuitive Ai copy generator requires you to provide a product name, keyword, and creativity level and as a result, generate a product description using Artificial Intelligence. 
✨✨ Pros and cons of Frase
| ✅ Pros | ❌ Cons |
| --- | --- |
| Good quality output | Can't generate multiple results at the same time |
| Easy to use | No option to integrate with CMS like WordPress |
| Comes with | |
| Free online product description generator | |
| Comes with multiple writing template | |
Pros and cons of Frase.io
💰 Price: Starts at $14/per month.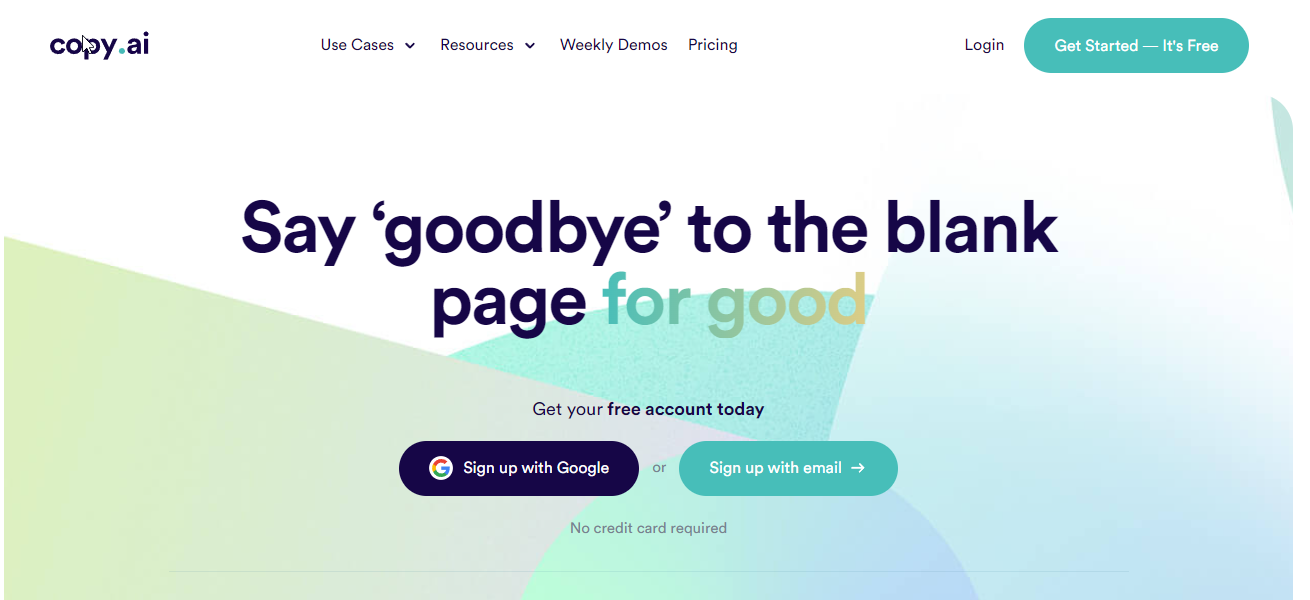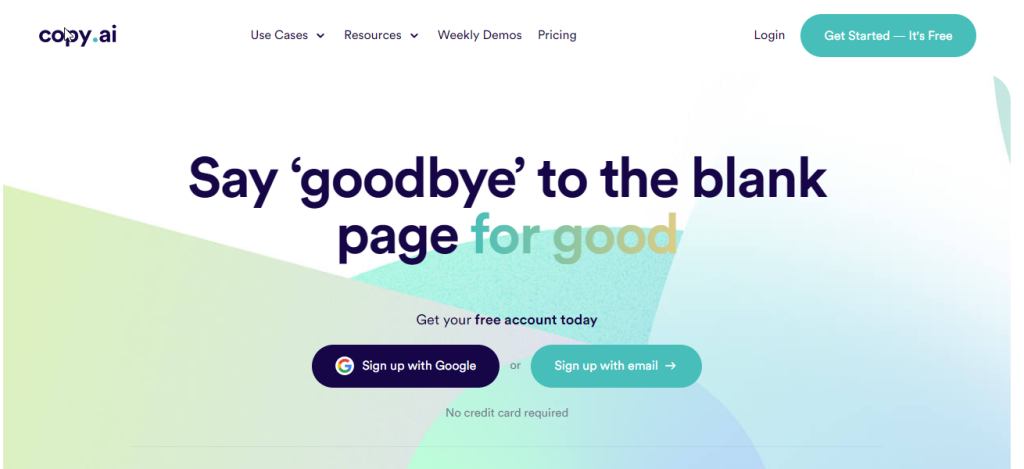 To beat your competitors' products with a compelling product description generated by AI, you can opt for copy.ai too. This fast AI writing assistant will help you get rid of writer's block and produce Ai generated product description copies that sell in a very short period of time.
In addition to the product description generator template, this AI writing assistant also can be your copy and content writing tool as it comes with 80+ writing tools and templates.  
This online product description generator ai tool requires you to provide the product name and product description (key points) to get a proper long product description as a result. On top of that, you can also select the tone that you want your product description to maintain. 
✨✨ Pros and cons of Copy.AI
| ✅ Pros | ❌ Cons |
| --- | --- |
| User-friendly | No specific template for short or long description |
| The quality of out is praiseworthy | Pro version is too pricey |
| Platform independent | |
| Can control copy's tone of voice | |
Pros and cons of Copy AI
💰 Price: $49/month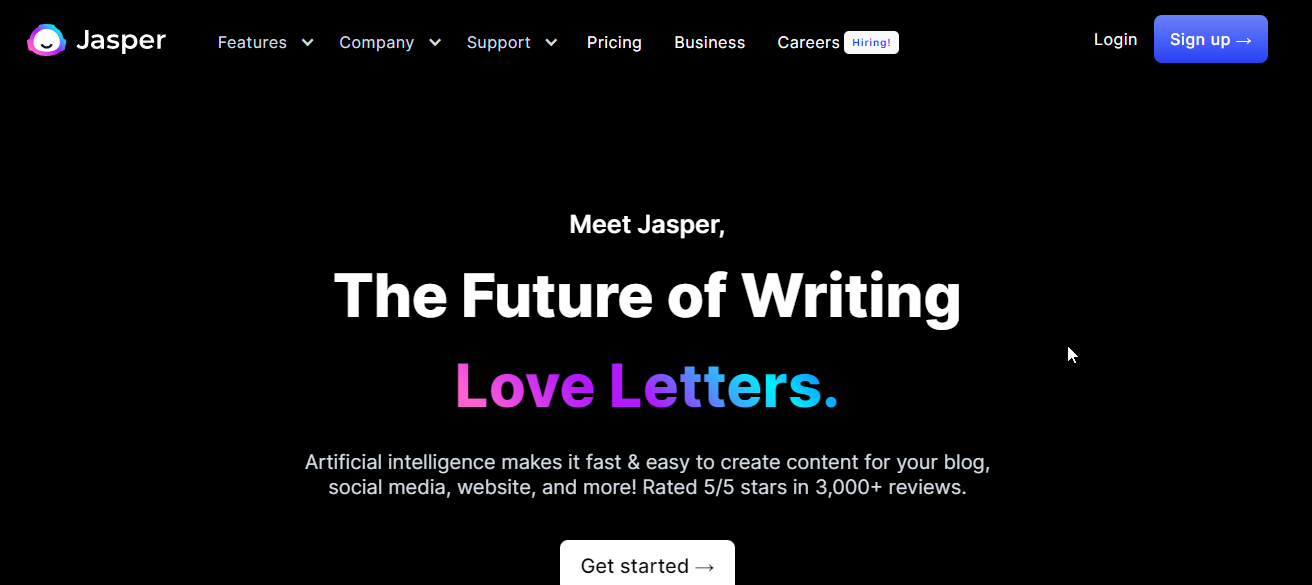 If you want to generate product descriptions that sell, then you can consider Jasper AI. This platform-independent tool generates product descriptions in under a minute. Also, it comes up with captivating content that will convince your customers to consider your product.  All you need to do is just provide the product title and some more information about the product. 
Formerly known as Jarvis, this tool is known for generating quality output so you can trust this AI assistant. Besides this Ai generated product descriptions, this AI writing assistant also can write blogs, love letters, different websites, and paid ad copies.
✨✨ Pros and cons of Jasper AI
| ✅ Pros | ❌ Cons |
| --- | --- |
| Option to choose the tone of the product description. | No WordPress plugin. |
| In-built plagiarism checker and grammar correction | Copy-pasting product descriptions from the tool to your product page can be time-consuming. |
| Easy to use product description generator | Consistently in tone for some of the tone options. |
| Multiple result options to choose from. | A little pricey. |
Pros and cons of Jasper AI
💰 Price: $40/month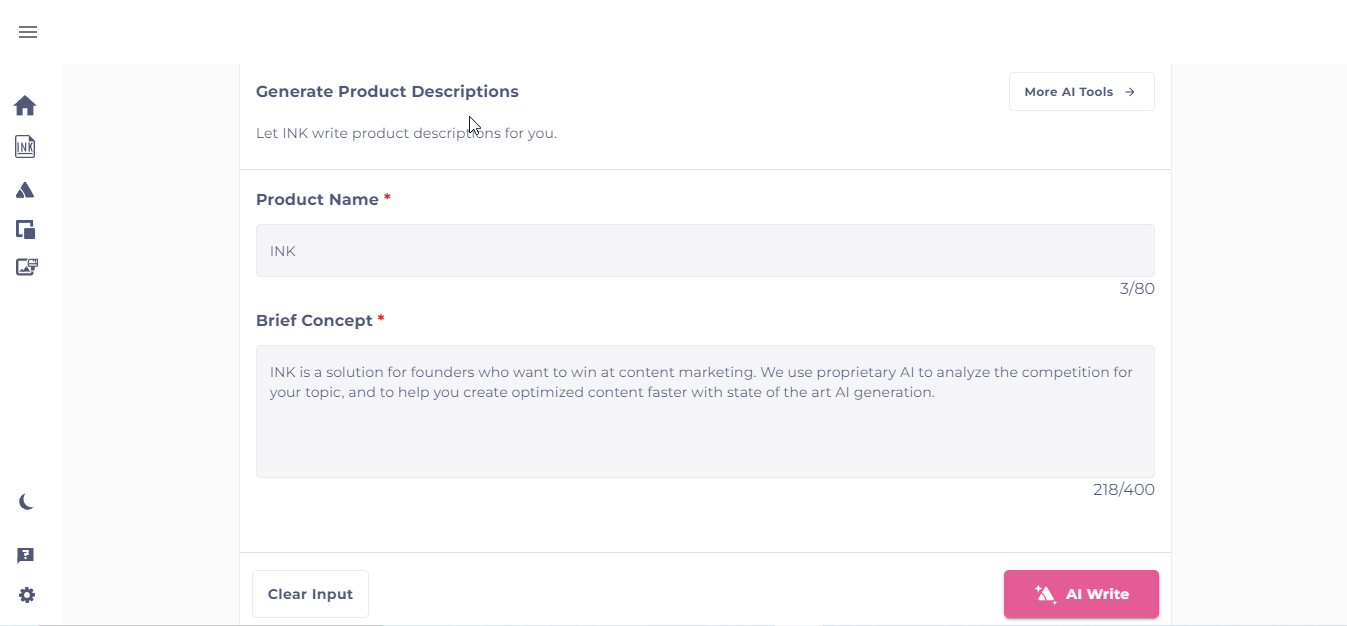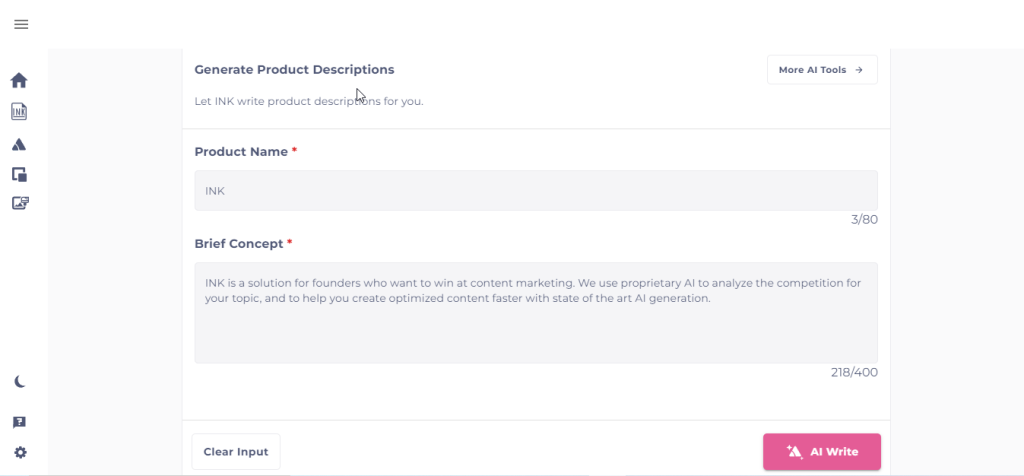 INK is also a good option to generate product descriptions online.  This plugin makes generating product descriptions a really easy task. All you have to do is provide the product name and brief content to get your results. 
Apart from this best product description generator, you can utilize this tool to generate long-form writing, ad copy, article, website copies, and so on. Another interesting feature of this Ai copywriting tool is that you can use it to generate images with the power of AI.
✨✨ Pros and cons of INK
| ✅ Pros | ❌ Cons |
| --- | --- |
| Beginner friendly tool | No option to choose the creativity level |
| Supports multiple languages | Little overpriced. |
| An extensive number of writing templates | |
Pros and cons of INK
💰 Price: Starts at 44 /month
Tips to Write Compelling Product Descriptions
Identify the set of customers that you want to target to sell your product/s
Analyze the pain points of the audience you plan to target
Conduct proper keyword research so you can rank the SERP
Always a good idea to use the powerful word that highlights your product
Make a list of the feature your product offers
Provide important information
Make sure to tell a compelling story
Maintain your brand's tone
How to Write Product Description using GetGenie – Ai Product Description Generator
🔔🔔
Writing product descriptions using AI is an easy-to-follow process. Want to know why we chose GetGenie, then watch the video below to learn more about this product 👇👇:
Here are the steps you need to follow:
Step 1: Install and Activate GetGenie – Free Ai Product Description Generator
To install this summary generator for an article, navigate to the WordPress dashboard ⇒ Plugins ⇒ Add New.
Then search for "GetGenie". Once found, click on Install Now.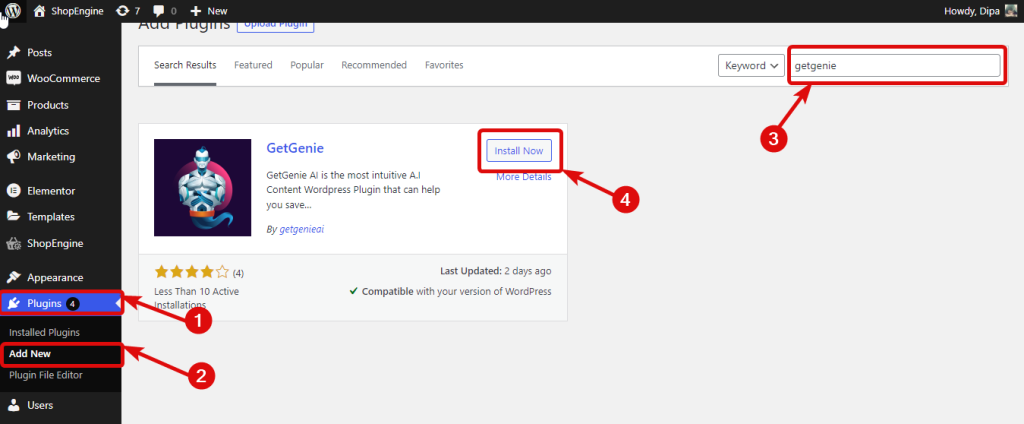 Once the plugin is installed on your system, click on "Activate".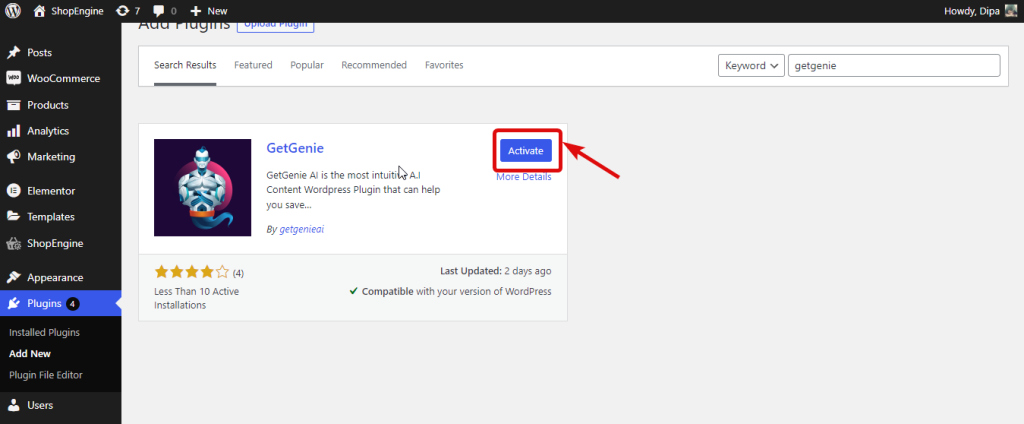 Note: The next step is to buy the license (free or pro) to be able to use product description templates. Check out our documentation to find out how to claim GetGenie AI free license. 
Step 2: Provide the Necessary Inputs
Now go to  GetGenie → Write For Me. Now click on the "Product Description Template" from the template list.
Select the Product Description template
Provide the product name
Set the Creativity Level (up to 5). This will decide how creative the results will be.
Set the Result Limit (up to 6). Choose the number of results you want.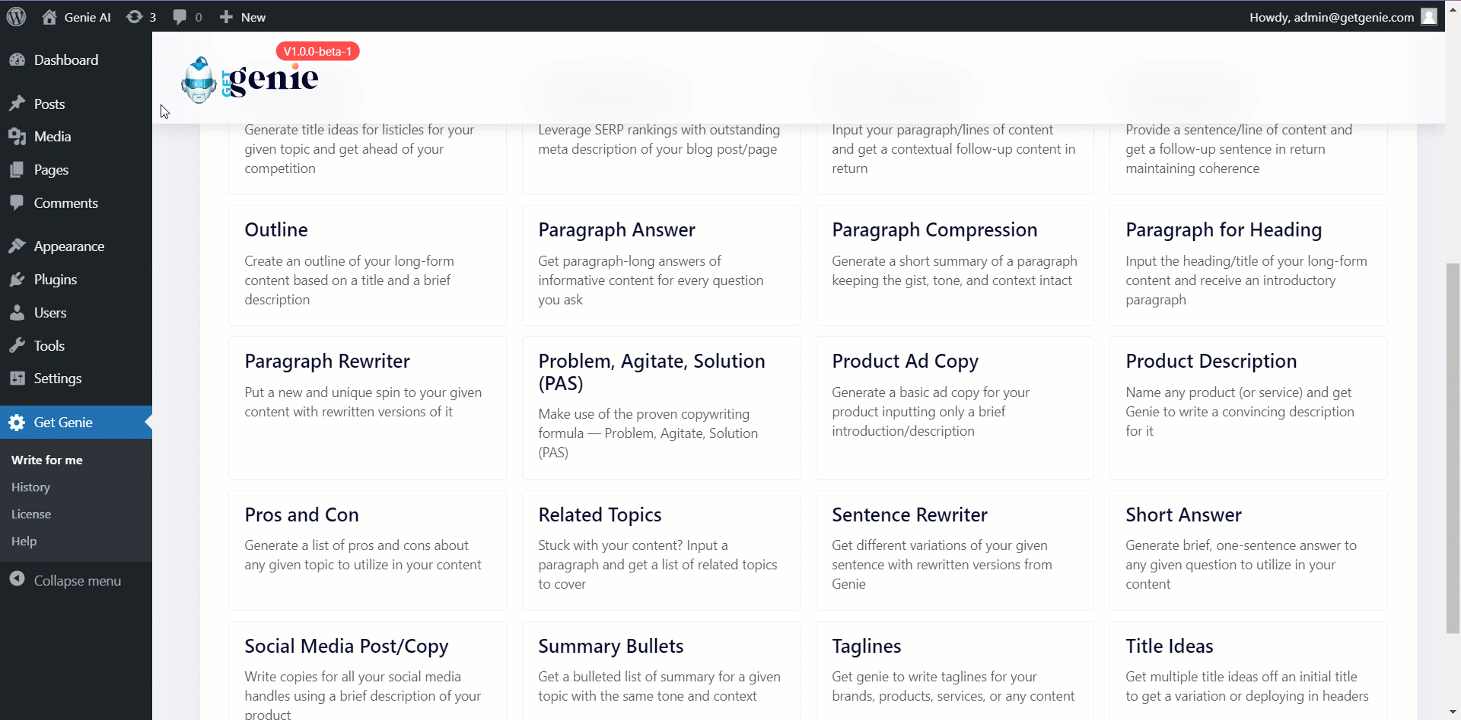 Step 3: Generate product description
Finally, to generate the description ⇒ Click on "WRITE".
Once generated, you can click on any result to copy and paste it anywhere you want to use it.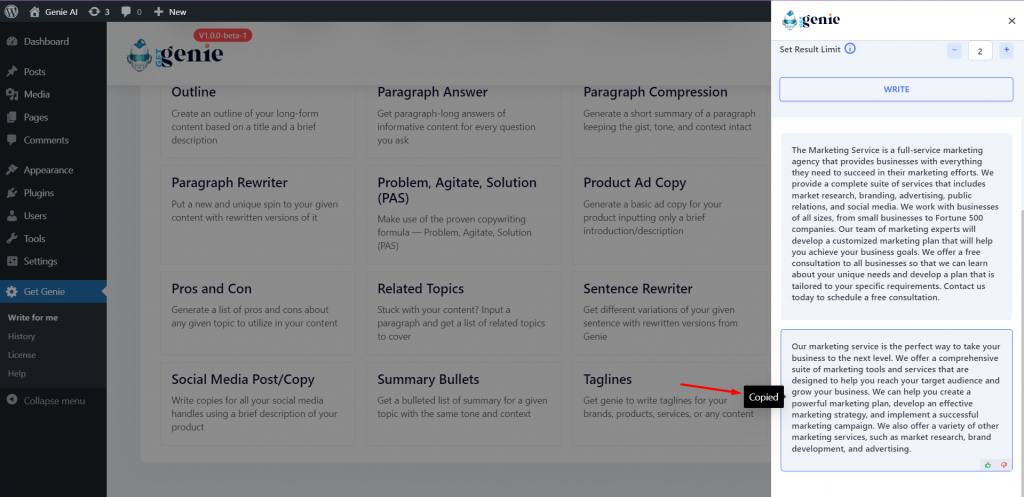 FAQs
What Is An Ideal Length Of A Good Product Description?
The length of a product description should be between 305-400 words and as a rule of thumb, your product copy shouldn't exceed 600 words. The mentioned length is good enough to highlight all the features and benefits of a product.
Are AI product description generators worth trusting?
Yes. Nowadays you will find AI product description generators that are highly advanced and trained to produce good-quality product descriptions
Final Words
Well, the list of best AI product description generator tools is pretty good, right? Which one do you like the most? 
If you ask for a recommendation, then it would be GetGenie Ai especially if you are a WordPress user. The reason is simple: it can offer you Ai generated product descriptions instantly and add them to your WooCommerce product directly. Moreover, you get to generate a title, short, and description using a single Ai copywriting and content writing tool.