Mastering Ai-Powered Keyword Research for Free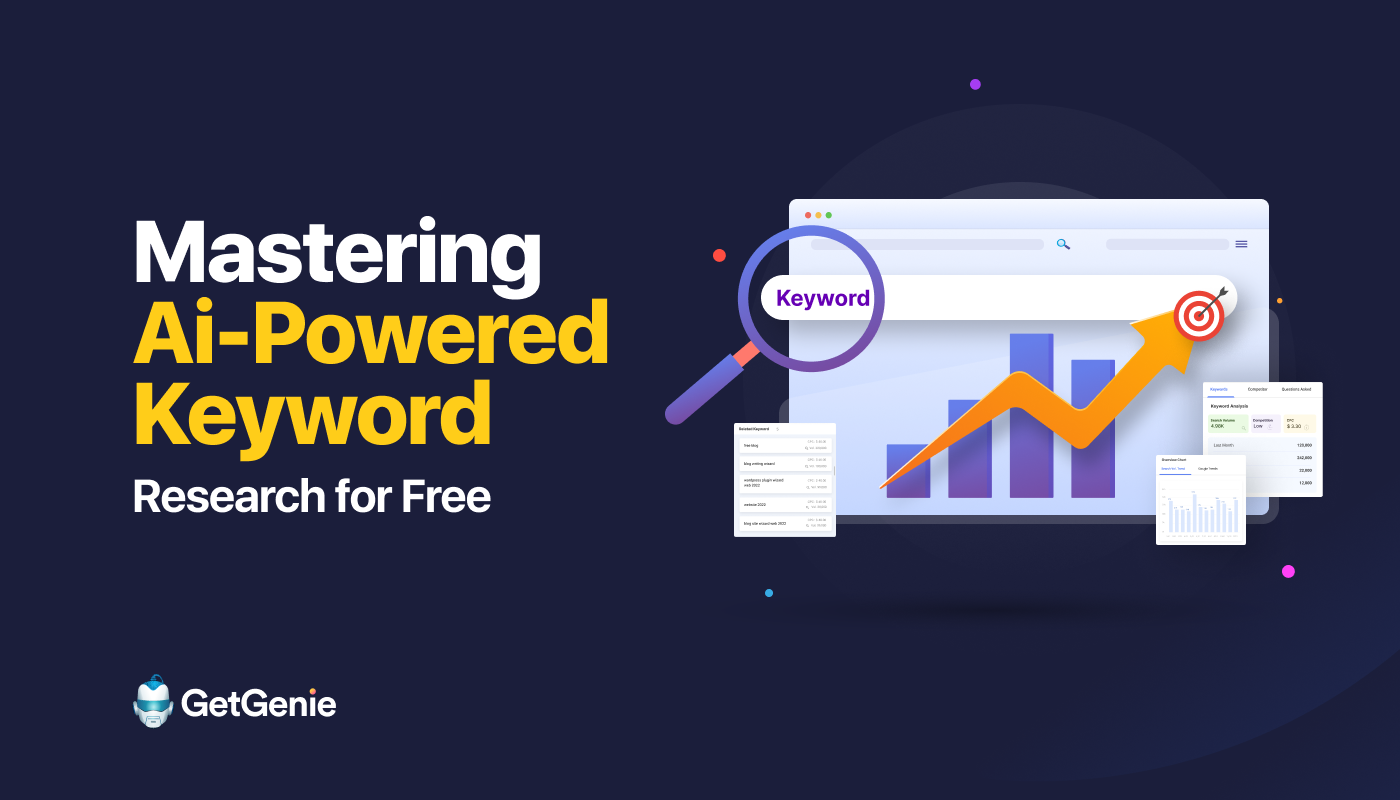 Are you getting tired of the traditional way of SEO keyword research? No worries! Explore Ai algorithms, machine learning models, and NLP techniques with us. Join this journey to master keyword research using a free Ai-powered keyword research tool.
The Ai-powered keyword research tools mark a new era of advanced optimization techniques. This cutting-edge method revolutionizes identifying, analyzing, and using keywords by leveraging its capabilities. It results in unparalleled accuracy and efficiency. 
Understanding of Keyword Research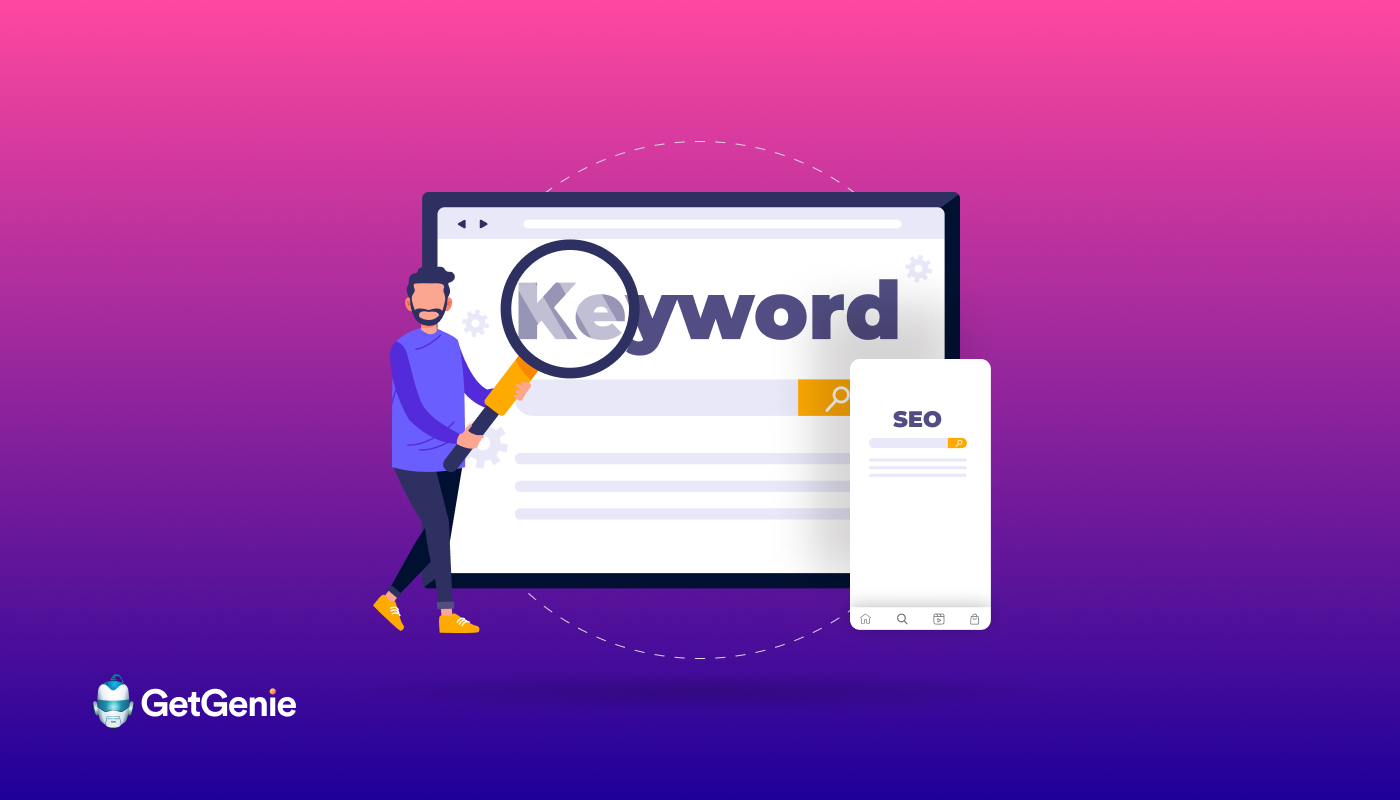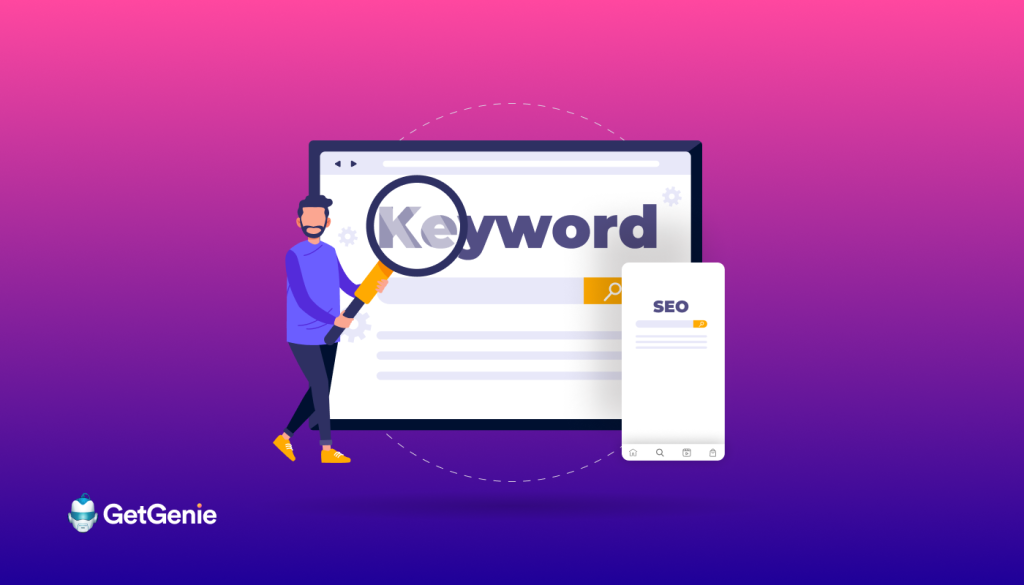 Keyword research is finding optimal words and phrases for search engines. You can pick keywords for your website or content by understanding what your audience wants. It boosts your website's visibility in search results, attracting more visitors.
To stay competitive, keyword research must be ongoing. It is because trends, user behavior, and the market change over time. Keep up with industry updates and improve your keyword strategy. Boost your digital presence with a free Ai keyword research tool. 
Traditional Keyword Research Methods and Their Limitations
Though essential in digital marketing, traditional keyword research methods come with limitations.
Let's explore some of these conventional methods and the challenges they present:
Traditional Method
Manual search and brainstorming:
One traditional keyword research method is searching for keywords and developing ideas. Although this method allows for creativity, it can take time and may only cover some of the keywords you need. It relies on personal insights, meaning you might miss essential keyword opportunities.
Google keyword planner:
Google Keyword Planner is a used tool for keyword research. It suggests keywords and provides information on search volumes and competition. It may only sometimes have accurate data, especially for less popular keywords. Moreover, it focuses more on paid advertising than organic keyword research, which may suit everyone's needs.
Competitor analysis:
Looking at your competitors' keywords can help you get ideas and understand the market. This method prevents finding unique and different keywords.
Limitations of Traditional Method
Limited user intent understanding:
Traditional methods sometimes need to consider the critical factor of user intent. Knowing why users search for specific keywords is vital for making relevant content. Traditional techniques lack an understanding of the real meaning behind keywords. It can lead to content that could be ineffective and engage users less.
Lack of real-time data:
One more drawback of traditional keyword research is the need for real-time data, search trends and how people search change. So using outdated keyword information can make it harder to keep up with the competition.
Traditional methods might need to give you timely updates on new keyword trends. Else,it can result in missed chances to optimize your content.
Language and regional variations:
Traditional keyword research methods can need help considering the language and regional differences. Understanding regional search behaviors is crucial for good information retrieval for global campaigns. Traditional methods are sometimes unable to capture these nuances. It leads to less precise keyword optimization.
What is Ai Keyword Research?
Ai keyword research uses advanced technology to find the best keywords. It improves a website's search engine ranking and attracts valuable traffic. It involves studying how users search and find popular keywords with less competition. Utilize these keywords to create content that reaches a broader audience and leaves a more significant impact.
Despite the many Ai SEO keyword research tools, keyword research can still prove inconvenient than anticipated. It is due to the cost you must spend on these Ai tools. But thanks to GetGenie, your Ai-powered free keyword research tool. This Ai tool allows users to do keyword research with a great sense of analysis.
Ai's Impact on Keyword Research
Ai for keyword research has emerged as a game-changer. This method transforms the way we approach keyword analysis. 
Let's delve into the remarkable ways in which Ai revolutionizes the process of keyword research.
Enhanced keyword identification:
Ai-powered keyword research tools bring unprecedented accuracy and efficiency to keyword identification. These tools can analyze vast amounts of data and extract valuable insights. Ai identifies high-potential keywords for the target audience's preferences and search behavior.
A deeper understanding of user intent:
Ai-powered research tools understand user intent for creating relevant and engaging content. With Ai for keyword research, users can go beyond surface-level analysis and dive into the nuances of user intent.  Ai interprets intricate search patterns and semantic relationships. It offers a profound sense of user intent and search preferences.
Real-time data and trend analysis:
Keeping up with evolving trends can be challenging with traditional keyword research methods. But, Ai overcomes this limitation by providing real-time data and trend analysis. Ai algorithms track search patterns to stay ahead of the curve and adapt their keyword strategies. 
Uncovering long-tail keywords:
Long-tail keywords with more than three words hold significant value due to their specificity and strong sales intent. It has great potential due to lower competition and higher conversion rates. Ai analyzes extensive datasets and user behavior. It identifies long-tail keywords that are specific and aligned with niche audience interests. 
Gaining a competitive edge through Ai-driven data analysis:
Ai doesn't stop at keyword identification. It also aids in comprehensive data analysis. Ai-powered tools can analyze competitor strategies, identify gaps, and reveal untapped opportunities. Although time-consuming, Ai keyword research tools offer competitive analysis templates. 
These templates help generate a list of competitors on search engine result pages (SERPs) and identify their keywords. SERP analysis is the best way to find out ranking opportunities for targeted keywords. By comparing keyword and content gaps, you can optimize existing content or create new ones to bridge those gaps.
Continuous optimization and adaptation:
The beauty of Ai lies in its ability to learn and adapt over time. Ai SEO keyword research tools refine their algorithms. These tools incorporate new data and trends to enhance accuracy and effectiveness.
GetGenie as Ai-Powered Keyword Research Tool
GetGenie allows users to do keyword research for free. You can do your keyword research by installing the GetGenie plugin on your WordPress website. With this plugin, you can avail yourself of this feature without spending a single penny.
GetGenie's free Ai keyword research feature gives you valuable insights into:
👉 Search volume,
👉 Competition, and
👉 CPC for keywords
With GetGenie, you can choose the country to retrieve information. Furthermore, GetGenie provides graphical representations of search trends and Google trends.
As the importance of keyword research has been given emphasis, we will now guide you to master your Ai-powered keyword research using GetGenie.
How to Do Keyword Research with GetGenie?
GetGenie Ai simplifies the process of keyword research for blog posts. Let us start exploring the step-by-step procedure:
👉 Step 1: Create a new post
To create a new post, you need to perform these steps:
🗸 Navigate to the WordPress Dashboard
🗸 Click "Posts"
🗸 Select "Add New"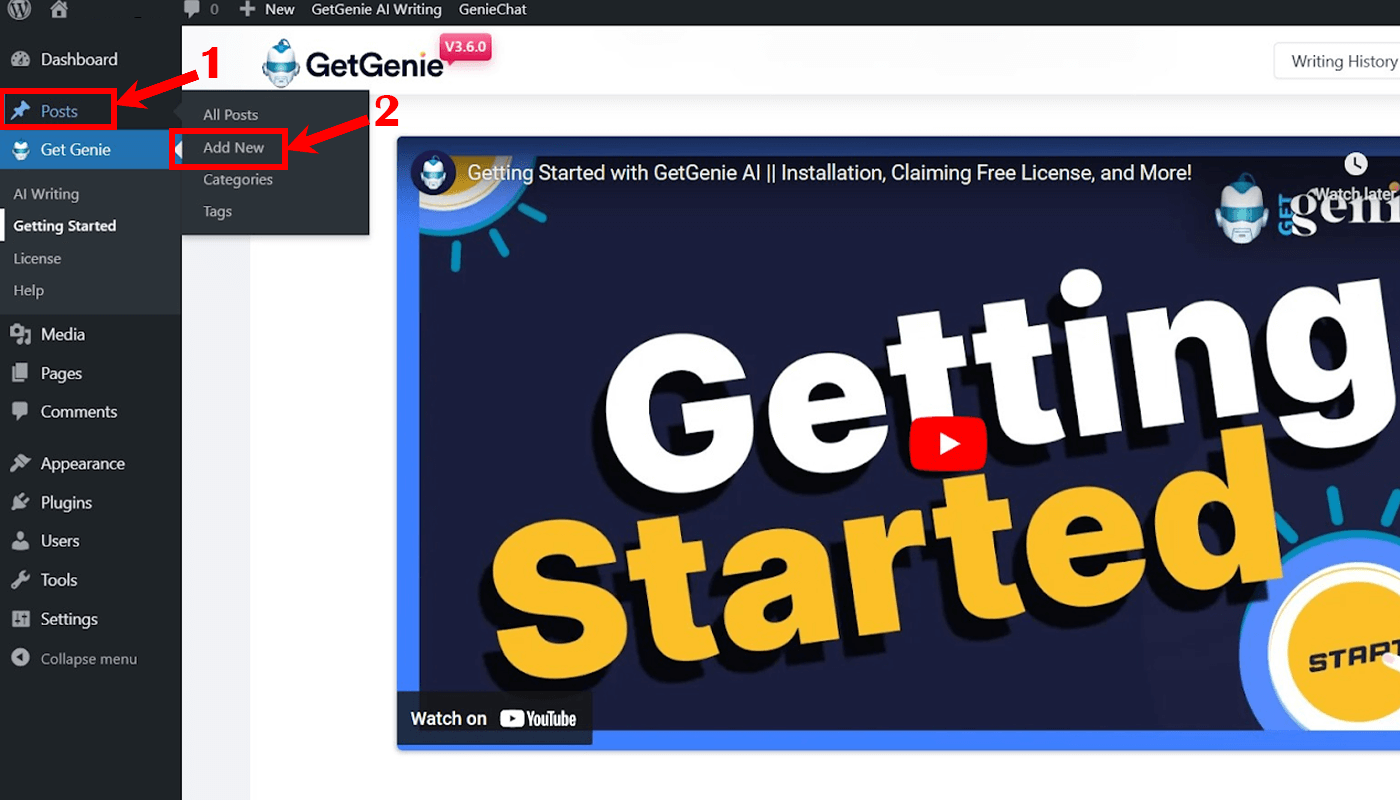 Step 2: Let GetGenie write for you
In this step you need to enable the Blog Wizard template of GetGenie to start your keyword extraction. To do that, you need to perform these steps:
🗸 Click on "Write For Me"
🗸 Choose "Blog Wizard" template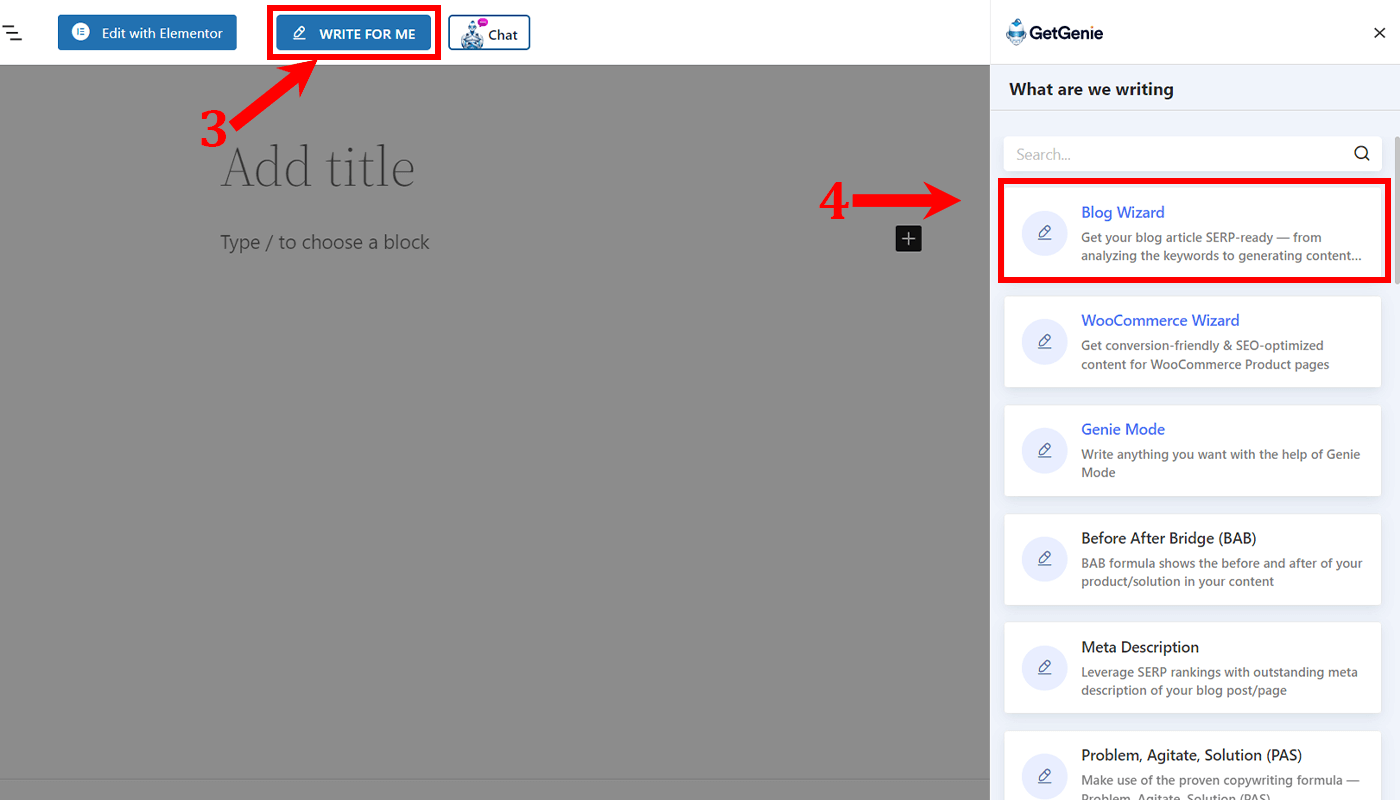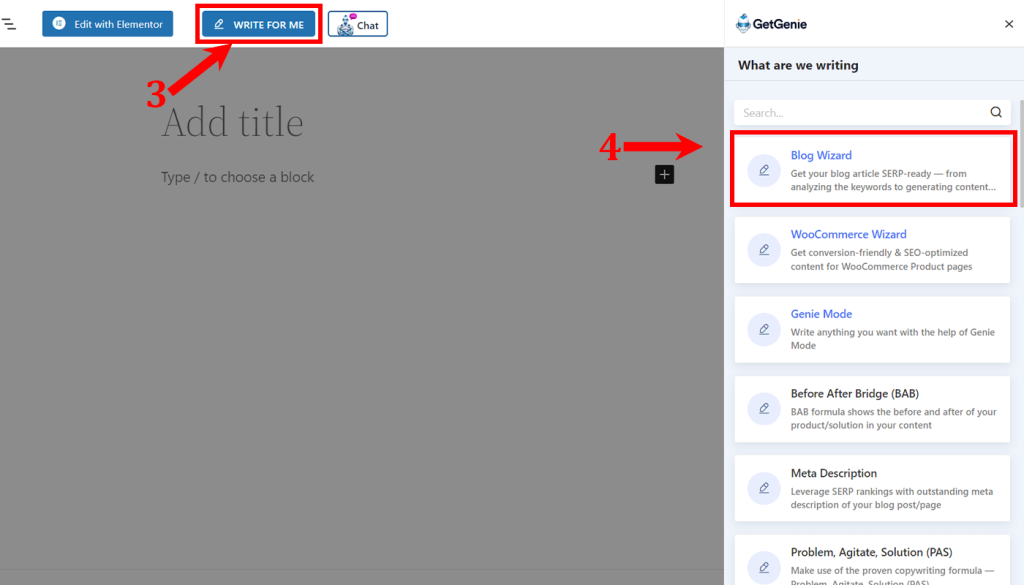 You will be redirected to a new screen where you can enter your seed keyword for keyword extraction. In this guide, we will use "beautiful" as a seed keyword.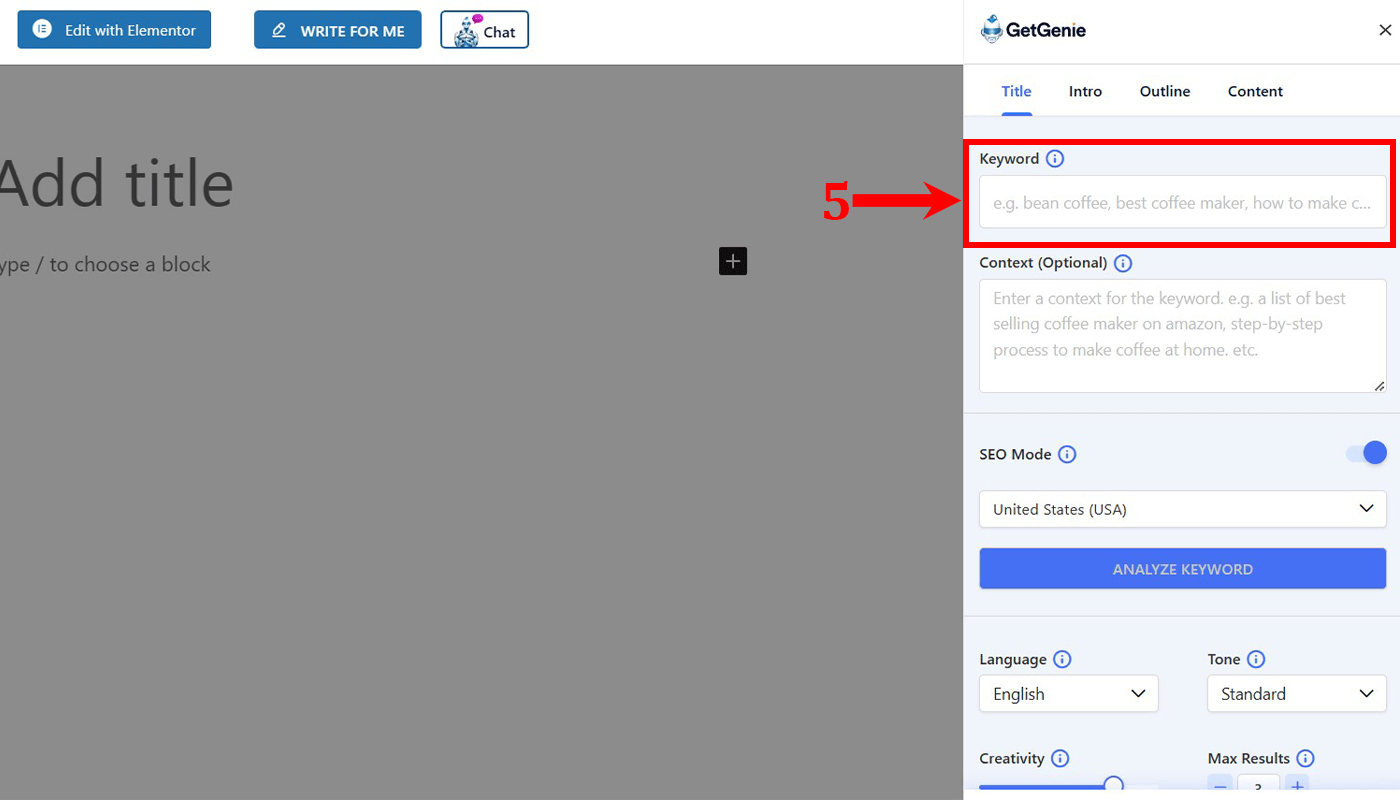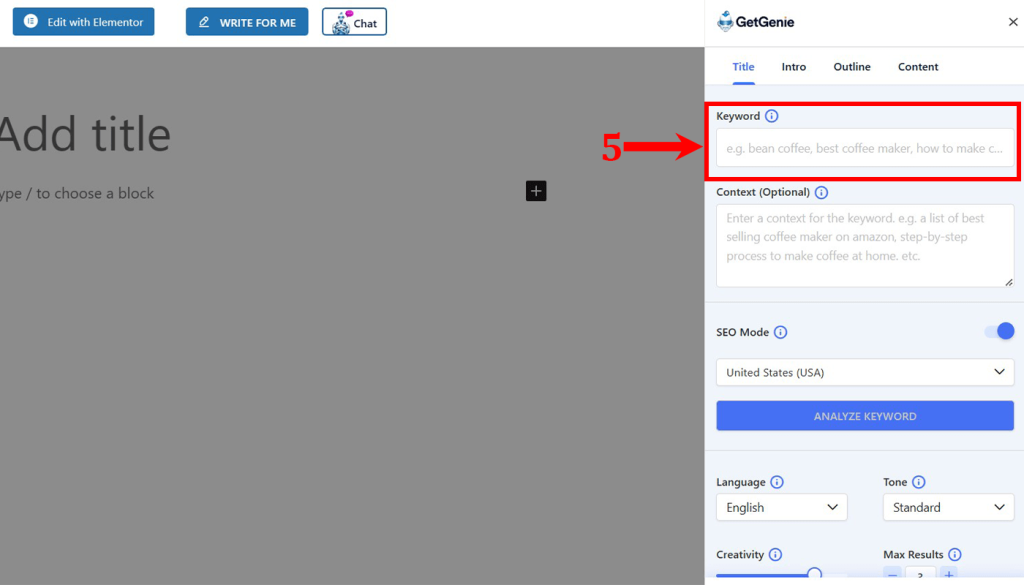 Step 3: Activate SEO Mode
After you enter your seed keyword, you need to activate the SEO Mode to start your keyword analysis. Remember to select the country for your target area or location.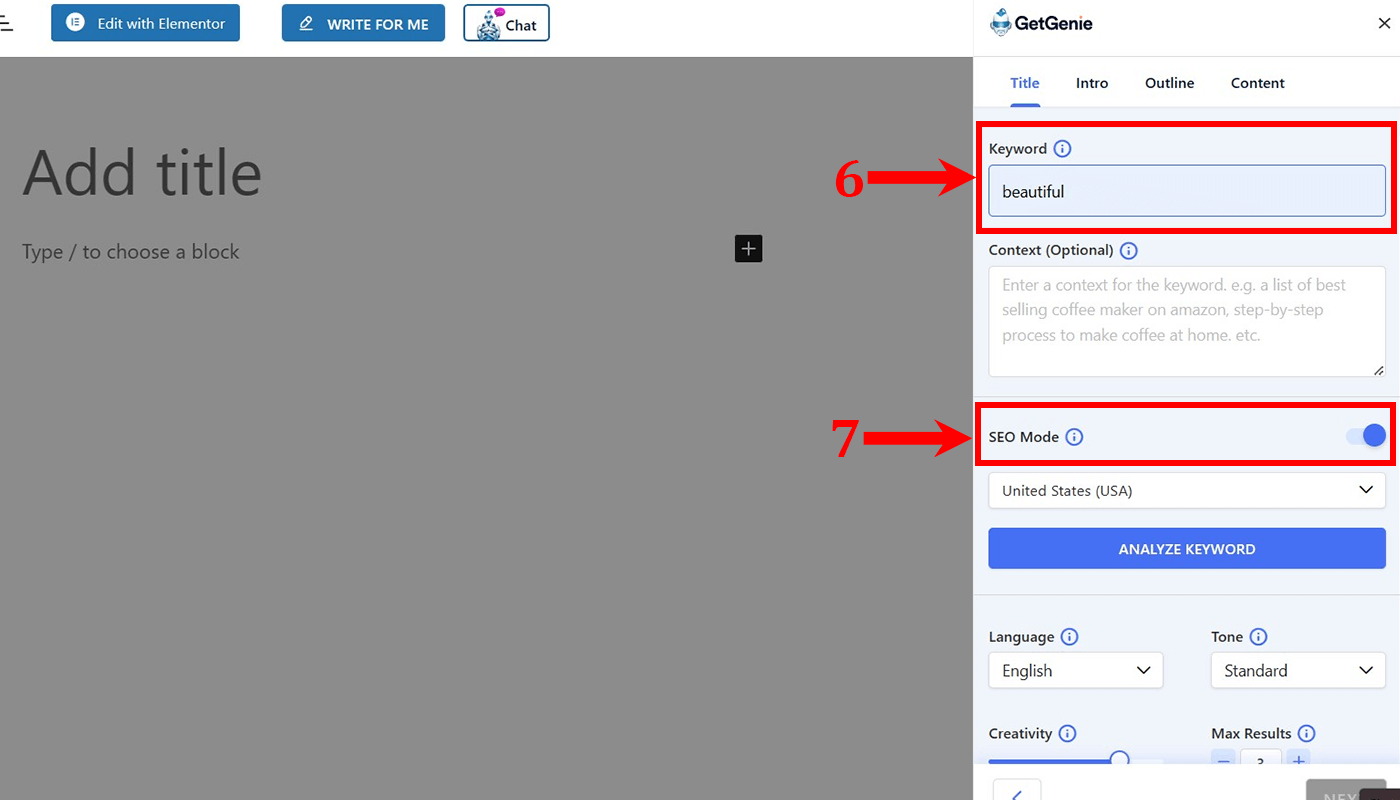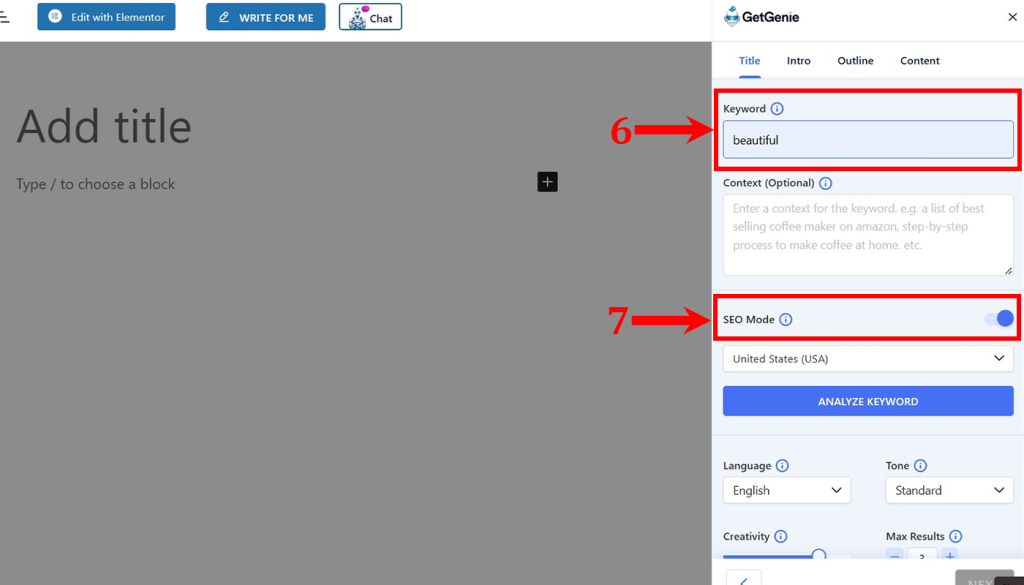 Step 4: Perform Ai keyword research analysis
To analyze your seed keyword, you need to click on the "Analyze Keyword" button.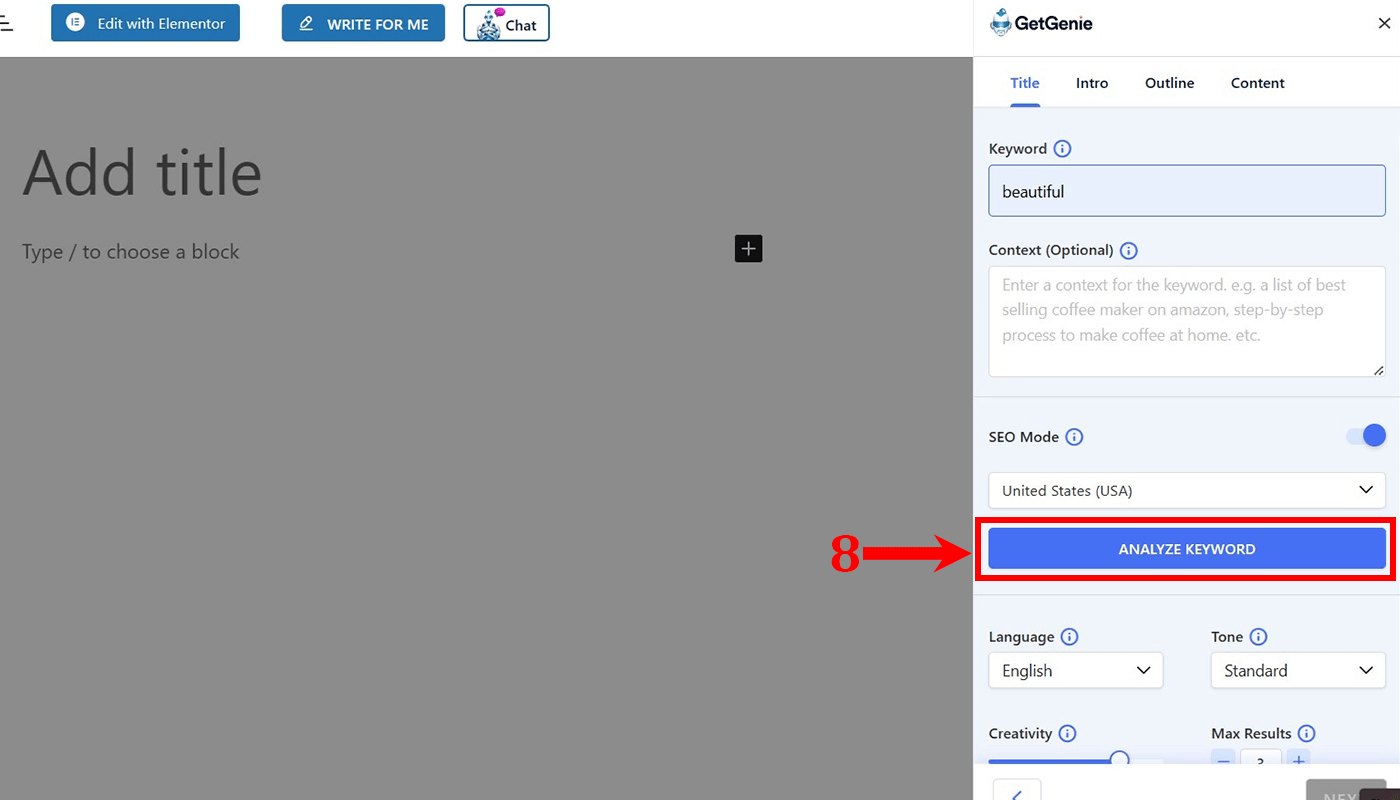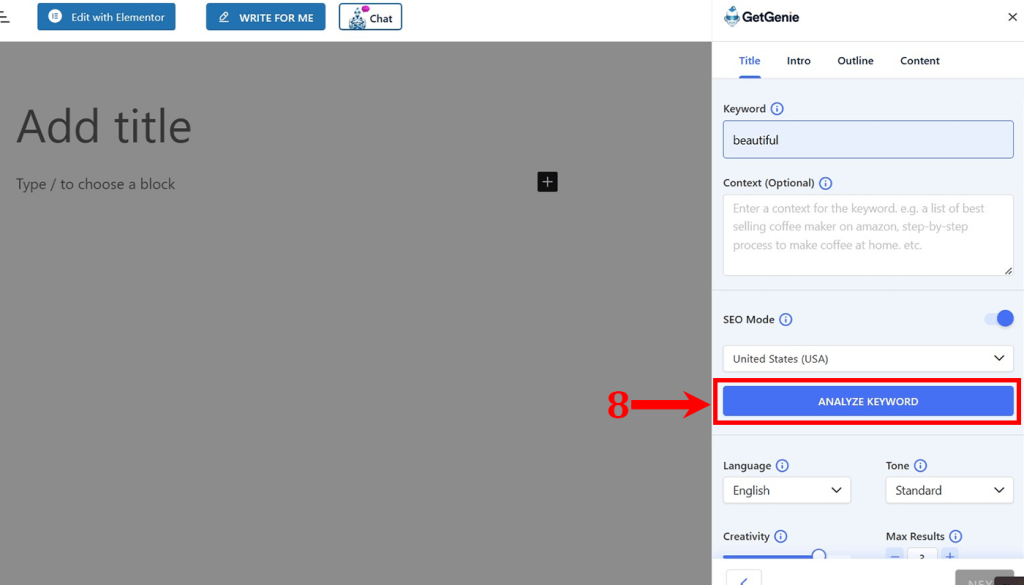 An extended tab will appear, providing various information about your seed keyword.
You'll find details such as:
👉 Search volume: Frequency in which people searched this keyword.
👉 Competition: How hard or easy the competition is for this keyword to rank.
👉 CPC: Cost Per Click for the selected keyword and country. Since paid ads take a few of the places of SERP.
Additionally, you will get to know these things:
Last month's total search volume
Average search volume within the last 12 months
Highest search volume in a month
Lowest search volume in a month
Furthermore, GetGenie also presents an overview chart of the search volume trend and Google trend which is very essential to your keyword analysis. You'll also find a list of related SEO keywords of your seed keyword, their respective Cost Per Click, and search volume. These are essential for blog posts or content writing.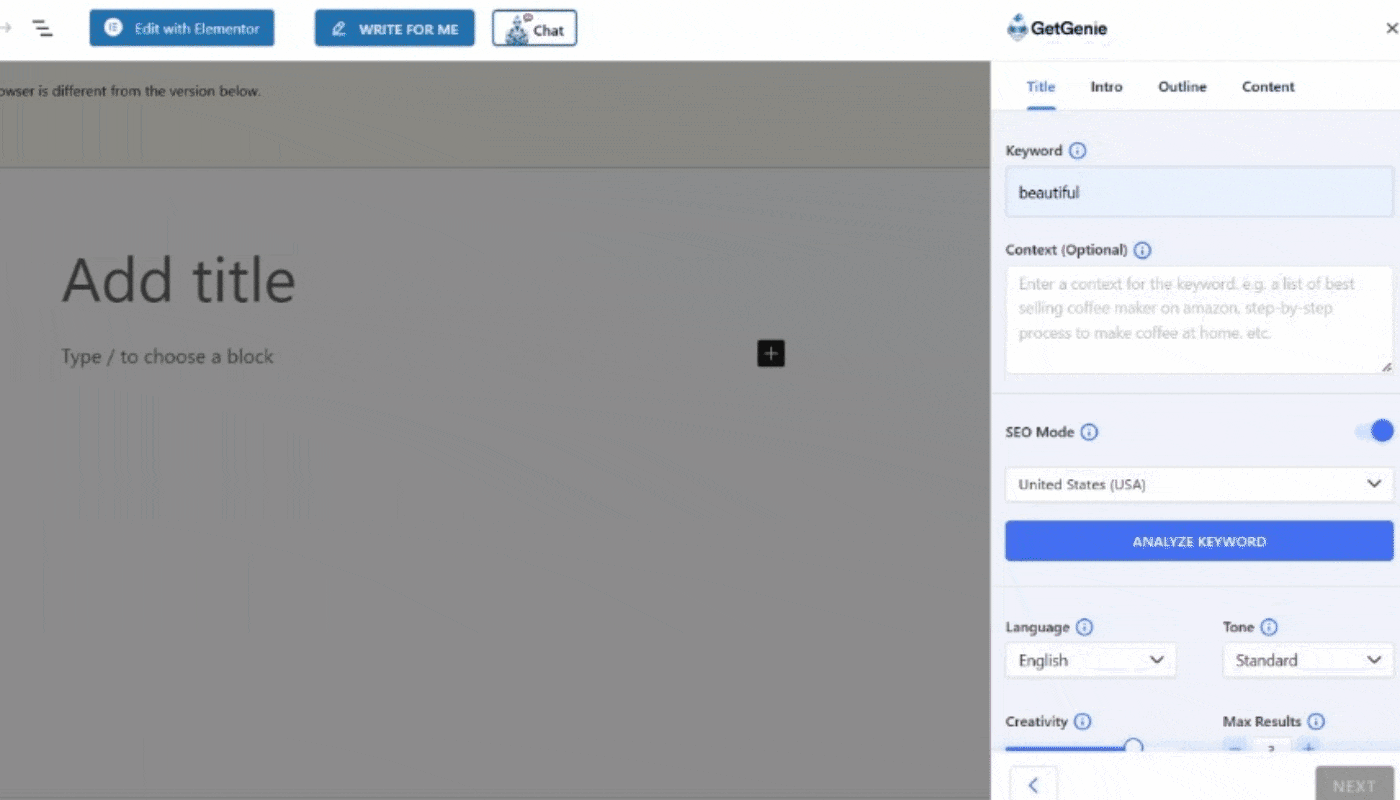 Keyword Search Volume Trend:
This bar chart illustrates the fluctuations in the search volume of a particular keyword over a recent period.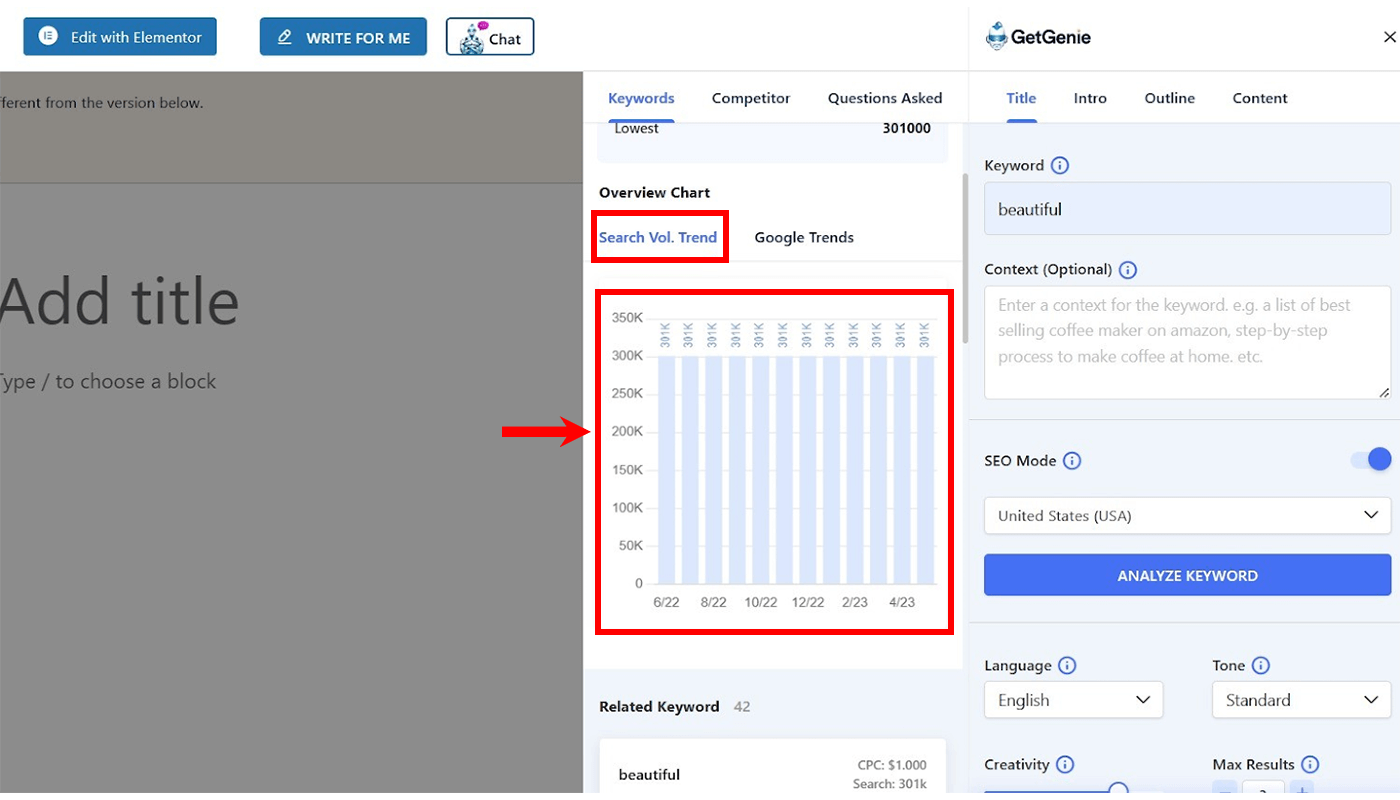 Google Trends:
This Google-powered analysis showcases the search pattern of a keyword over the past 12 months. Use this data to conduct comprehensive keyword research on Google, enhancing the quality of your findings.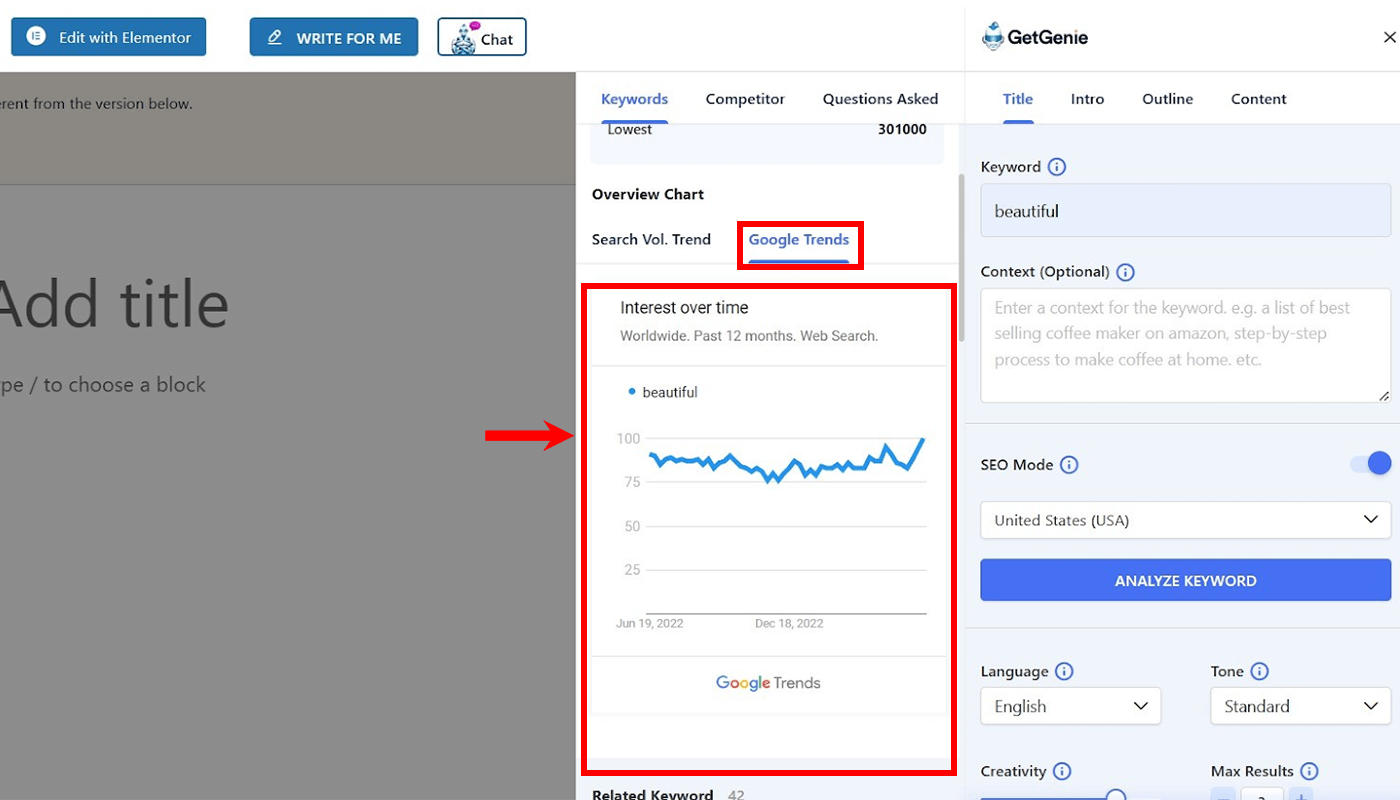 Related Keywords:
GetGenie also offers relevant SEO keywords with their search volume and CPC (Cost Per Click). Incorporating related LSI (Latent Semantic Index) keywords is an effective strategy for your blog post or content optimization. It secures the top Search Engine Results Pages (SERP) positions.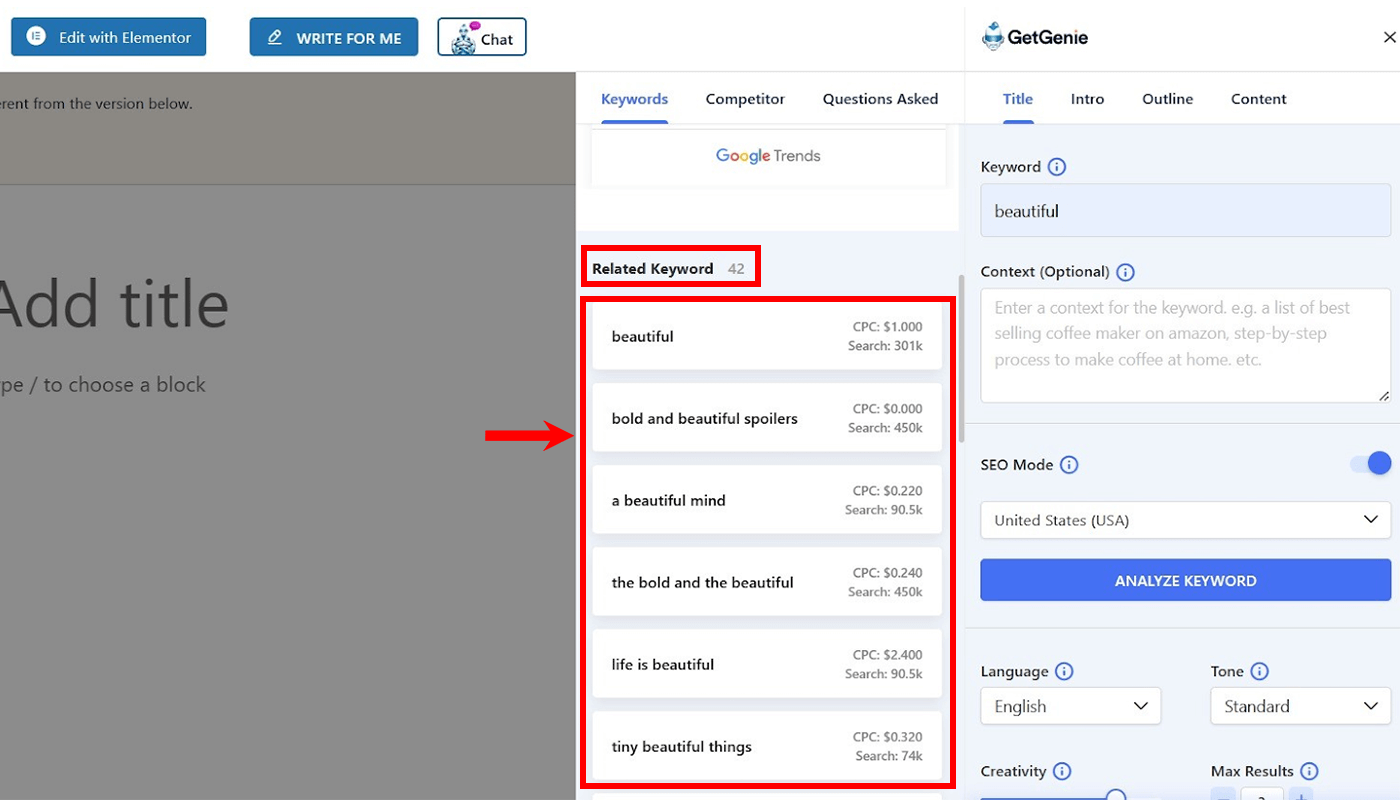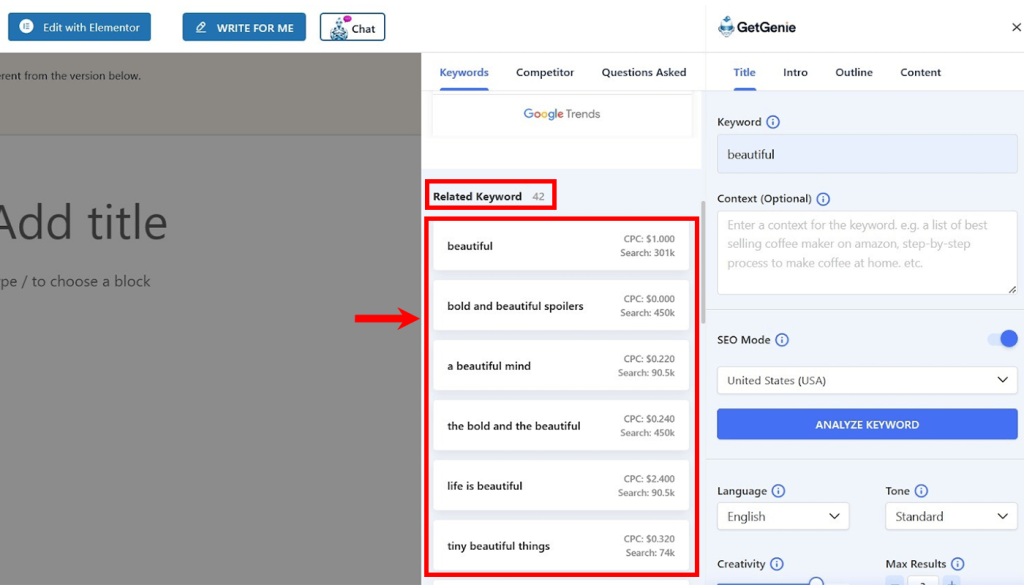 Now, you've got to know how to do your free Ai-powered keyword research. But the question is, how can we make use of this keyword research in blog or content writing?
The answer is obvious: you can make use of the data you've collected to optimize your blog or content. Considering the search volume, competition level, and CPC of your keyword, you can decide whether to proceed with writing your blog or opt for another keyword.
Additionally, based on the outcome of your investigation, you may guarantee a high likelihood of ranking in Google's search engines. The six benefits listed above that are crucial to SEO can be obtained without cost by using GetGenie's keyword research feature.

Other SEO Features of GetGenie Ai
GetGenie offers other SEO features that simplify generating optimized content.
NLP keyword suggestions:
Ai-powered authoring tools can generate NLP (Natural Language Processing) keywords. GetGenie Ai uses NLP algorithms to analyze your text and recommend pertinent keywords. You can use these suggested keywords to improve the search engine optimization of your content. It will guarantee clarity and conciseness.
Competitor analysis:
You can discover the most highly-ranked blogs and websites for a specific term. GetGenie performs a competitor's content analysis. This feature shows each competition's word count, headlines, and graphics. Additionally, you may verify all the headings and descriptions.
Content score:
The content score is a measure of how competitive your online content is.
GetGenie Ai, SEO keyword research, optimizes your content based on SEO principles. Genie allows you to get a content score for any blog post.
SERP visualizer:
With the SERP Visualizer feature, you can assess the significant metrics of your competitors' content. GetGenie introduced this feature for a quick and organized visualization of crucial metrics.
Related questions:
Incorporating FAQs can enhance your chances of ranking higher on the SERP and boost user engagement on your website. You no longer need to search various forums to compile a list of related FAQs. It lets you find all the relevant questions people are asking about your topic across platforms like Quora, Reddit, and more in one place.
Getting Started with Ai-based Keyword Research 
Ai-powered keyword research tools bring unparalleled accuracy and efficiency to the table.
It overcomes the limitations of traditional SEO methods. Leverage Ai algorithms, ML models, and NLP techniques for better keyword optimization. 
Modern keyword research revolutionizes SEO tactics, offering enhanced accuracy and effectiveness. Additionally, Ai-driven data analysis helps in gaining a competitive edge. It identifies competitor strategies and uncovers untapped opportunities.
What are you waiting for? Boost your blog's effectiveness with relevant LSI keywords and Ai-driven data analysis. Take advantage of GetGenie's potential to stay ahead in the Google search ranking.