How to Perform Ai Content SEO to Rank Better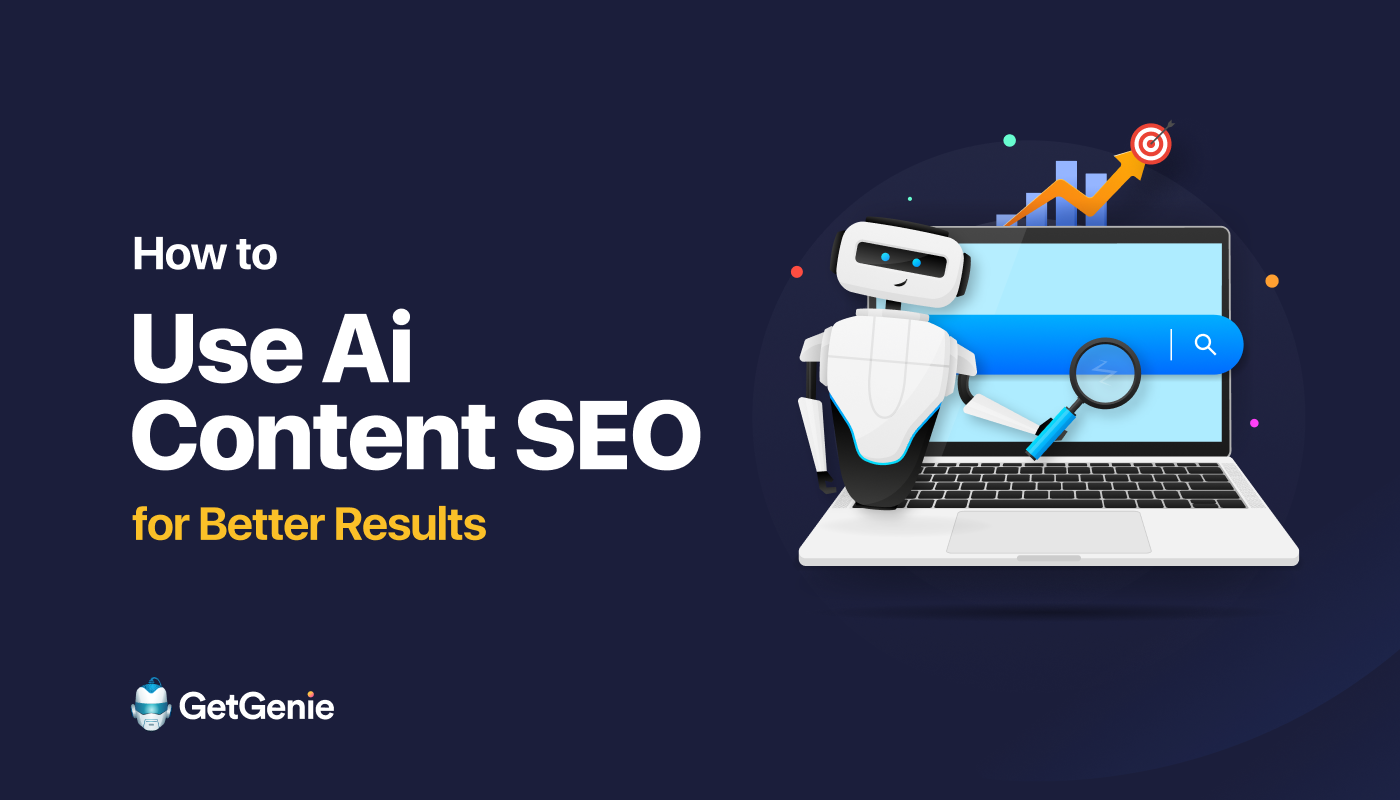 It is no wonder that artificial intelligence has become increasingly popular, particularly in the field of content marketing, revolutionizing the industry.
With AI, you can now perform content SEO and save significant amounts of time. Moreover, AI performs exceptionally well, allowing you to automate the search engine optimization process and manage larger projects.
So, how can you perform AI content SEO to stay ahead of the game?
This blog post will provide you with the necessary information to do it perfectly each time, including which tools you need.
What is AI for content?
In simpler terms, AI content refers to generating written material with the assistance of artificial intelligence. These systems are created using modern machine learning processes and unique algorithms. Most of the AI tools for content creation that we see today are generative AI.
Generative AI tools are capable of producing text, images, or videos based on a given prompt. As a user, you can provide detailed instructions or prompts to obtain the desired written material. The remarkable thing is that the advanced models of AI tools can comprehend complex commands and produce output accordingly.
For example, GetGenie is an advanced AI writing tool that offers numerous features to generate various types of content. Users can provide unique prompts or use ready-made templates to generate content.
Similarly, if you aim to generate image or video content with AI, you can utilize tools such as Midjourney and Synthesia.
What does AI SEO mean?
AI SEO refers to the practice of using artificial intelligence (AI) technology to improve search engine optimization (SEO) strategies.
Essentially, AI SEO involves using algorithms and machine learning to analyze data and make predictions about how search engines will rank content. This allows businesses and website owners to optimize their content more effectively for search engines, improving their chances of appearing higher in search results and driving more traffic to their site.
AI SEO tools can also help identify and fix technical SEO issues, analyze competitor data, and generate content recommendations. Overall, AI SEO can help businesses stay ahead of the curve in an ever-changing digital landscape.
How AI impacts SEO for content?
AI impacts SEO in different aspects. Especially content creation has become easier with artificial intelligence. Different AI tools can also perform competitor analysis and find content gap
Content creation
The best thing about advanced AI tools is content creation. Now, you can generate long-form content with just a few clicks and a little information. Even if you are trying to write a pillar page content, you can complete the entire article within a day.
If you are trying to write a small blog post on a topic, you can do it even faster.
Therefore, producing content consistently is no longer an issue. When a writer uses AI for content, there will be no writing block, and research and outline building become easy.
If you consider topical authority in terms of SEO, you can easily gain it using AI. All you have to do is choose the right topics to write about.
Keyword research and competitor analysis
We all have seen different keyword research tools till now. Most of them are based on their database. Those tools collect and scrap data from different sources and then arrange them in a way to help the user.
But now, there are AI tools that provide keywords, relevant keywords, google trends data, and more. You can even detect weak and strong competitors by doing SERP analysis.
For instance, if you are using the GetGenie AI tool, you can simply click on Fetch competitors' data and it will show all the relevant information. You can then visualize the SERP data and compare your post with the competitors.
It means you can change the entire game of search engine optimization. With the power of artificial intelligence, one can easily beat the competitors.
SEO workflow
Regardless of the size of the company, doing SEO requires a workflow so that the team can follow. Sometimes it becomes hard to ensure a few steps of the SEO workflow are going well. If the process fails in any step, meeting the monthly or yearly goal gets hampered.
But AI SEO tools almost automate the process so that there will be no lag between processes. As a result, the whole process remains consistent and you can immediately see the changes and results.
Analytics and reports
In SEO, you always need to check the analytics and performance of your site or landing page. Though the most popular analytics tool for SEO is Google Analytics, new tools are also coming in the market.
With modern AI tools, you can generate reports and filter the data easily to make decisions. Artificial intelligence-based tools make efficient reports and conduct analysis to assume what could be the result.
Why should you use AI for content SEO?
If you didn't use any AI tool for SEO, you might be wondering why you should use artificial intelligence for search engine optimization. Here are some reasons —
AI can easily analyze large volumes of data
Identify high-impact keywords and topics for content marketing
Perform competitor analysis to make decisions
Write better content with AI-powered tools
Optimize content for voice search and better search visibility
Track performance of content in real-time
Create better content that drives traffic and improves search engine rankings
How to optimize AI content with AI SEO?
Let's say you have written content with an AI tool and now you want to optimize it for search engines. You can do that by following a few steps.
Keyword optimization
The first thing you need to do is keyword optimization. In most cases, when you write with an AI, it can't place the keywords in the proper position. According to the giant search engine google, if you place keywords forcefully, it will badly impact SEO.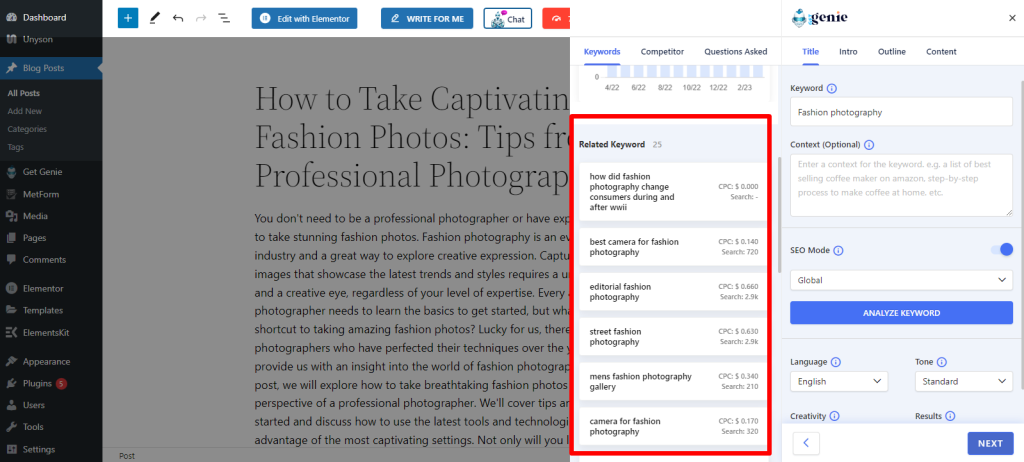 So, I would suggest finding the relevant keywords with GetGenie and then place them where it is appropriate.
Check for NLP keywords
Placing keywords randomly or targeting only relevant keywords will not be enough to rank better on the SERP. You need to focus on NLP keywords as well. It becomes possible when you follow the natural language processing, you need to use similar keywords like the competitors that are ranked. For this, simply use the content score feature of GetGenie and you will get the relevant information.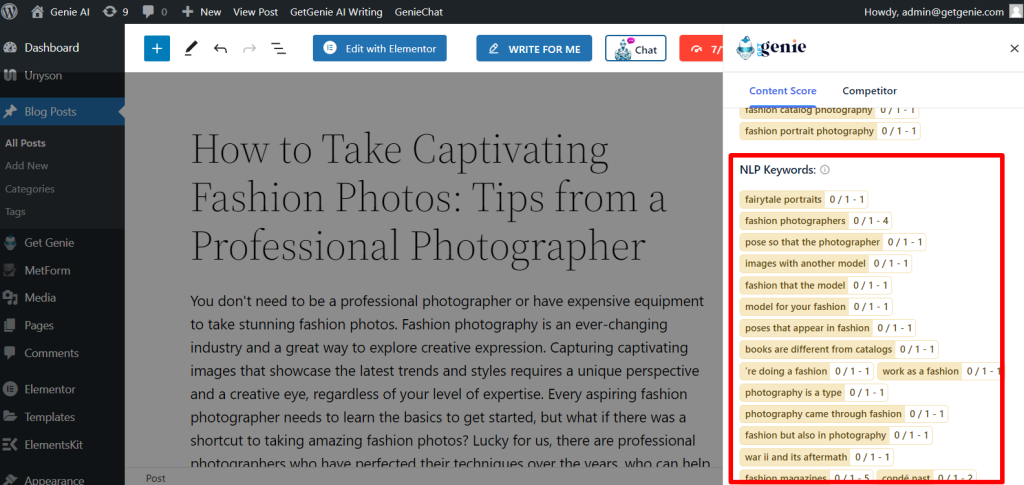 Internal linking with relevant content
In most cases, freshly baked content may not perform well. However, you can give it a boost by utilizing internal linking. So, once you have finished writing your content using AI, do some internal linking with existing content that has a better ranking and traffic. This can help improve the visibility and performance of your new content.
Look for the overall content structure
After finishing the keyword optimization and NLP keywords placement, you should go through the overall content structure to find out if everything looks well. The best way to check the overall content structure is following a content score.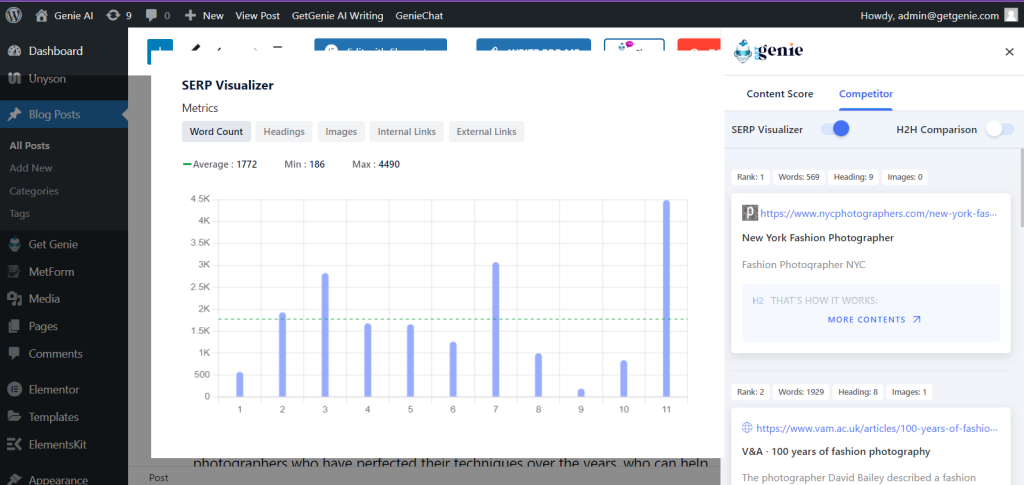 GetGenie gives you a content score based on a unique algorithm that looks for keywords, NLP keywords, number of words, images, proper placement of keywords, and other SEO guidelines. Not only the score, you will get suggestions on how you can improve the content score.
So, follow the suggestions and try to maintain the content score above 70.
Additionally, you can try to ensure that the content sounds more human-like. For this, you can follow humanizing AI content tips.
How to find market gaps with artificial intelligence?
AI SEO (Artificial Intelligence Search Engine Optimization) can help you identify market gaps by analyzing large amounts of data and providing insights that can inform your content strategy. Here are some steps you can take:
Define your target audience and their interests
Use AI tools to gather data about your target audience and their search habits. Analyze their interests, preferences, and search queries to identify topics that are not currently well-covered by your competitors.
Conduct keyword research
Use AI tools to analyze keywords related to your industry and identify keywords that are not currently targeted by your competitors. Look for low competition and high search volume keywords that you can target with your content.
Analyze your competitors
Use AI tools to analyze your competitors' content strategy, including their keywords, content types, and distribution channels. Look for gaps in their strategy that you can exploit, such as topics that they are not covering or channels that they are not using.
Monitor trends and changes
Use AI tools to monitor trends in your industry and changes in search engine algorithms. This will help you stay ahead of the curve and identify new opportunities as they arise.
Test and refine your strategy
Use AI tools to analyze the performance of your content and identify areas for improvement. Continuously test and refine your strategy to ensure that you are targeting the right keywords and topics and reaching your target audience effectively.
How to optimize existing content with AI?
To optimize one of your existing contents with AI, simply open it inside the GetGenie's dashboard — either in the WordPress dashboard or in the web editor.
After opening the content inside GetGenie's dashboard, choose 'Write for me' from the top. It will open the content optimization interface. Now give the focus keyword and secondary keywords and fetch competitors' data.
You will instantly get all the suggestions to improve the content quality. Follow each step and compare your content with the competitors' so that you can come up with better ideas.
Once you are done with the optimization, check the content score. If it is above 70, you can expect to get a better result.
Follow this existing content optimization guide for more details.
Frequently asked questions
Do you have more queries regarding AI content SEO and tools? Then go through the following questions and you will have a clear idea.
Is ai content bad for SEO?
AI-generated content is not bad for SEO. In fact, it can be beneficial for producing high-quality, optimized content at scale. However, the quality of the content depends on the input data and AI algorithm used, and it must meet search engine criteria for relevance, originality, and engagement.
Can AI automate SEO for content?
AI can automate some aspects of SEO, such as keyword research and on-page optimization, but it cannot fully automate the process. Human expertise is required for tasks such as strategy development, competitor analysis, and link building. Additionally, ongoing human oversight is necessary to keep up with algorithm updates and ensure the website stays relevant.
Is there a free AI content writer?
While there are free AI content writing tools available online, they often have limitations on the amount or quality of content that can be generated. Some advanced features may be locked and require a higher plan purchase. However, there are exceptions such as GetGenie, which offers a lifetime free subscription that allows the generation of 15,00 words per month without any feature restrictions.
Will Google flag AI content?
No, not at all! A few months ago, Google announced its policy regarding AI-generated content, stating that they are not concerned with whether the content is written by humans or AI. As long as the content is helpful to users, it will be considered good content.
Can AI replace SEO?
No, AI cannot replace SEO (Search Engine Optimization) entirely, but it can assist in improving it. While AI can analyze vast amounts of data and automate some SEO tasks, it still requires human intervention to make strategic decisions and implement the changes necessary to improve a website's SEO.
What is the best ai content writer
If you consider the features, user interface, ease of use, and perfection, there is no doubt that GetGenie is the best AI content writer. With GetGenie, you can conduct research, create content, perform competitor analysis, and rank highly.
Wrapping up
AI Content SEO can help businesses improve their search engine rankings and online visibility by leveraging AI technology to analyze data. This data can help in content creation strategies, allowing businesses to create high-quality, targeted content that resonates with their audience and improves their search rankings.
To use AI Content SEO effectively, you should focus on keyword research, competitor analysis, trend monitoring, and continuous testing and refinement of their content strategy.