10 Effective Approaches for Content Optimization with Ai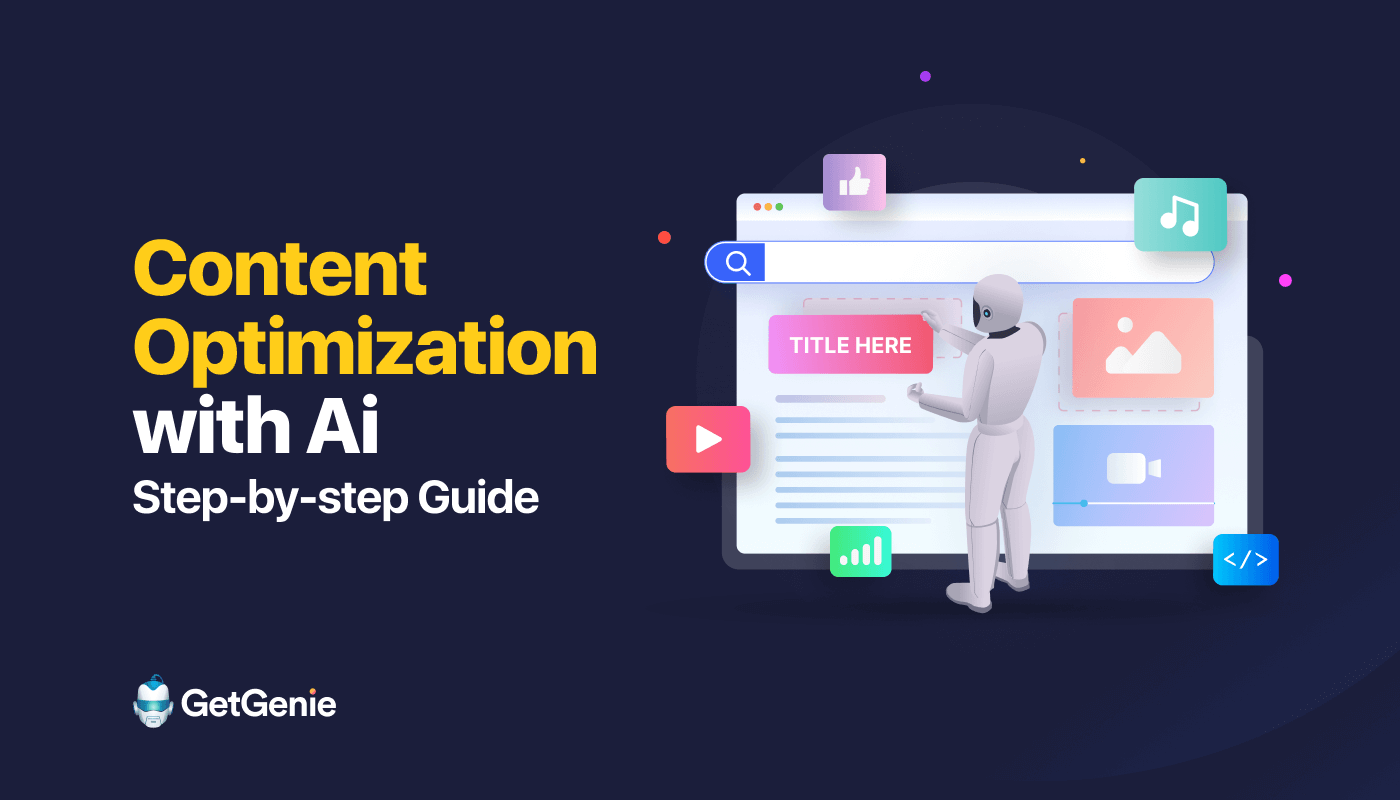 Are you looking to scale up your digital presence and drive better results? Content optimization is the solution for you!
However, there are so many ways for content optimization like manually, using Ai tools, etc. Among them, Ai optimization offers a game-changing approach.
But how to optimize content with Ai? 🤔
You can utilize Ai assistants for automated content optimization, keyword suggestions, and generating data-driven insights to get higher search visibility and better user experiences.
In this blog post, we'll show you the 10 most effective approaches for content optimization with Ai. Also, we'll learn about what is content optimization. Along with it, we'll reveal the best Ai tool and depict a step-by-step guide to using this Ai tool to optimize your content efficiently.
Let's get started to discover the fruitful ways of Ai content optimization! 🙌
What is Content Optimization and Why is it Important?
Content optimization refers to the strategic process of improving and fine-tuning digital content in order to boost search engine rankings, engage users, and enhance overall performance.
It can be blog posts, articles, web pages, social media posts, or landing page copies. The primary goal of the best content optimization system is to make them more relevant, valuable, and accessible to both search engines and human readers.
There are several reasons why content optimization system is important such as:
1. Search Engine Optimization (SEO): Ai optimized content ranks higher in search results, increasing organic traffic.
2. User Experience: Clear, well-structured Ai optimized content improves engagement and user satisfaction.
3. Audience Engagement: Optimizing content for the audience's needs can build stronger connections.
4. Loading Time: Optimized media reduces page load times, retaining more visitors.
5. Conversion Rates: Well-optimized content encourages desired actions, thus boosting ROI.
Why Use Ai for Content Optimization
Using Artificial Intelligence or Ai-based tools for content optimization can significantly enhance the effectiveness of your content strategy.
Here are the 5 major benefits of using Ai for content optimization: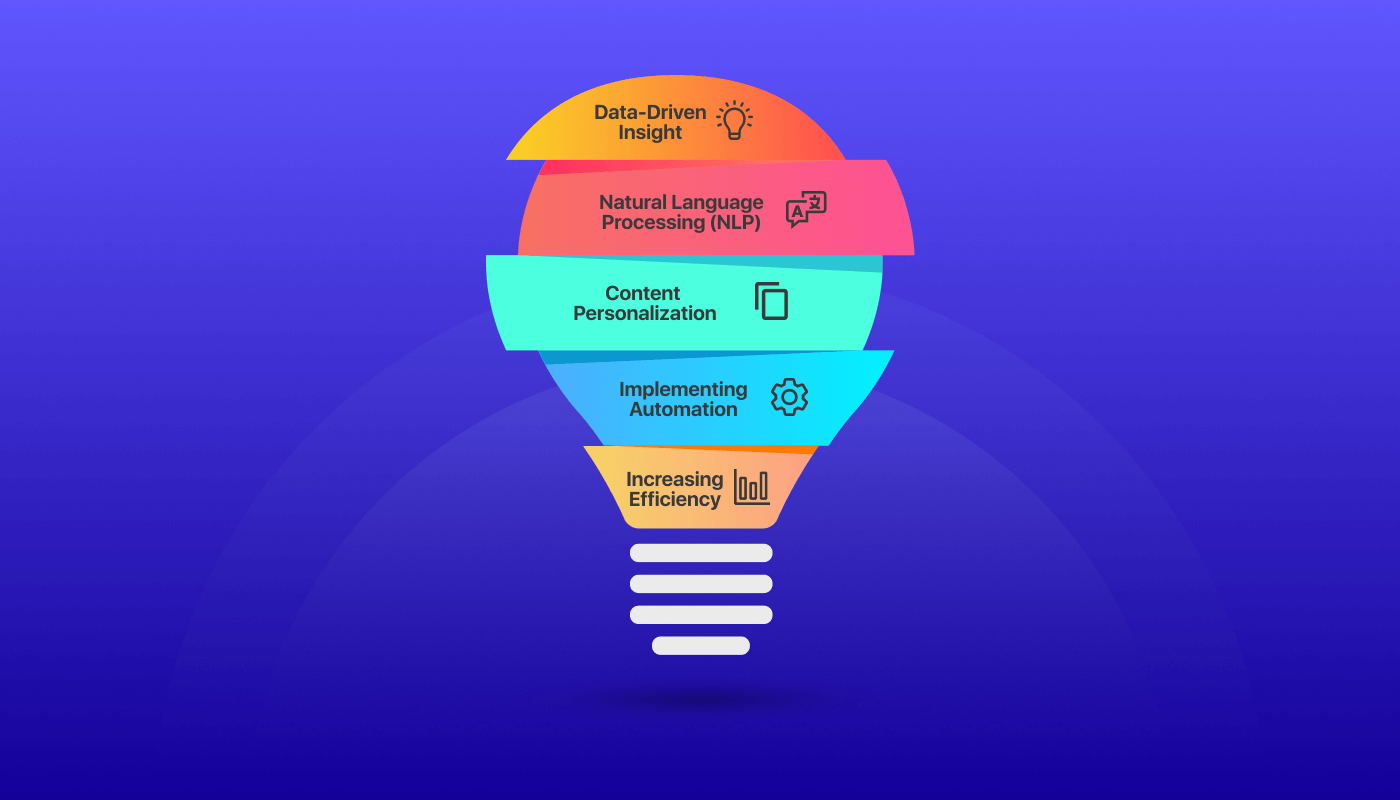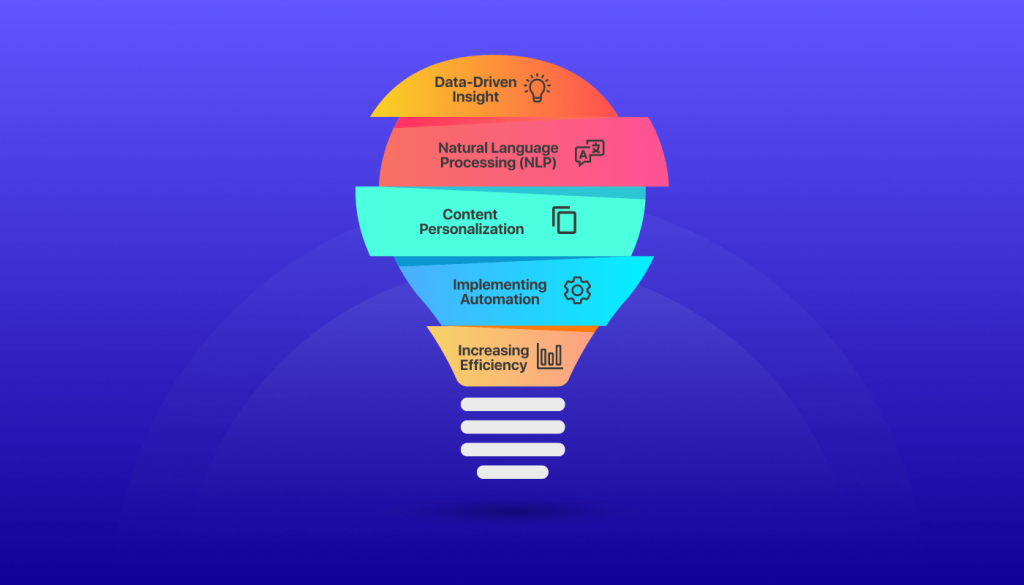 1. Data-Driven Insight
Ai optimization can provide in-depth data analysis, identifying trends, user preferences, and content performance metrics. This data-driven approach helps in refining content strategies for better results.
2. Natural Language Processing (NLP)
Natural language processing (NLP) algorithms of Ai can understand and interpret human language. That allows for better sentiment analysis and improved content quality.
3. Content Personalization
Ai can help in content recommendations and user experiences based on individual preferences and behavior. This personalization enhances user engagement and increases the likelihood of conversion.
4. Implementing Automation
You can automate and scaleupcontent optimization tasks, such as image and video tagging, content scheduling, and A/B testing using the power of Ai content optimization tool.
Ai for content optimization tools can efficiently free up human resources for more strategic and creative aspects of content creation and marketing.
5. Increasing Efficiency
Last but not least, Ai algorithms can analyze vast amounts of data and content quickly to scaleup content optimization.
You can utilize Ai tools for more efficient keyword research, content audits, and performance analysis. This saves time and resources compared to manual efforts.
Content Optimization with Ai: 10 Strategic Steps
You can streamline content optimization processes with Ai assistant ensuring more effective and efficient content strategies.
Here is a comprehensive guide on 10 effective steps of content optimization with Ai.
Let's dive into it!
Step 1: Define Objectives and Goals with Ai content optimization tool
Defining clear objectives and goals is essential for Ai content optimization to ensure a clear purpose and direction in creating and refining content.
In that case, Ai tools can analyze historical data and market trends to suggest realistic and data-driven objectives and goals.
To do so with Ai,
Clearly outline specific content optimization objectives and goals.
Define key performance indicators (KPI) such as increased organic traffic, higher conversion rates, or improved user engagement to scaleup content optimization.
Establish measurable objectives to track progress.
Step 2: Collect and Analyze Relevant Data
Next, collecting and analyzing relevant data is crucial for proper content optimization system.
You can process vast amounts of data quickly and identify patterns with the help of Ai tools. This Ai for content optimization will allow you a more comprehensive and accurate analysis.
Gather data from various sources, including website analytics, social media insights, user behavior, and competitor analysis.
Conduct research on click-through rates, and user demographics to pinpoint areas for improvement.
Use Ai tools to process and organize this data effectively to scaleup content optimization.
Step 3: Conduct Keyword Research with Ai optimization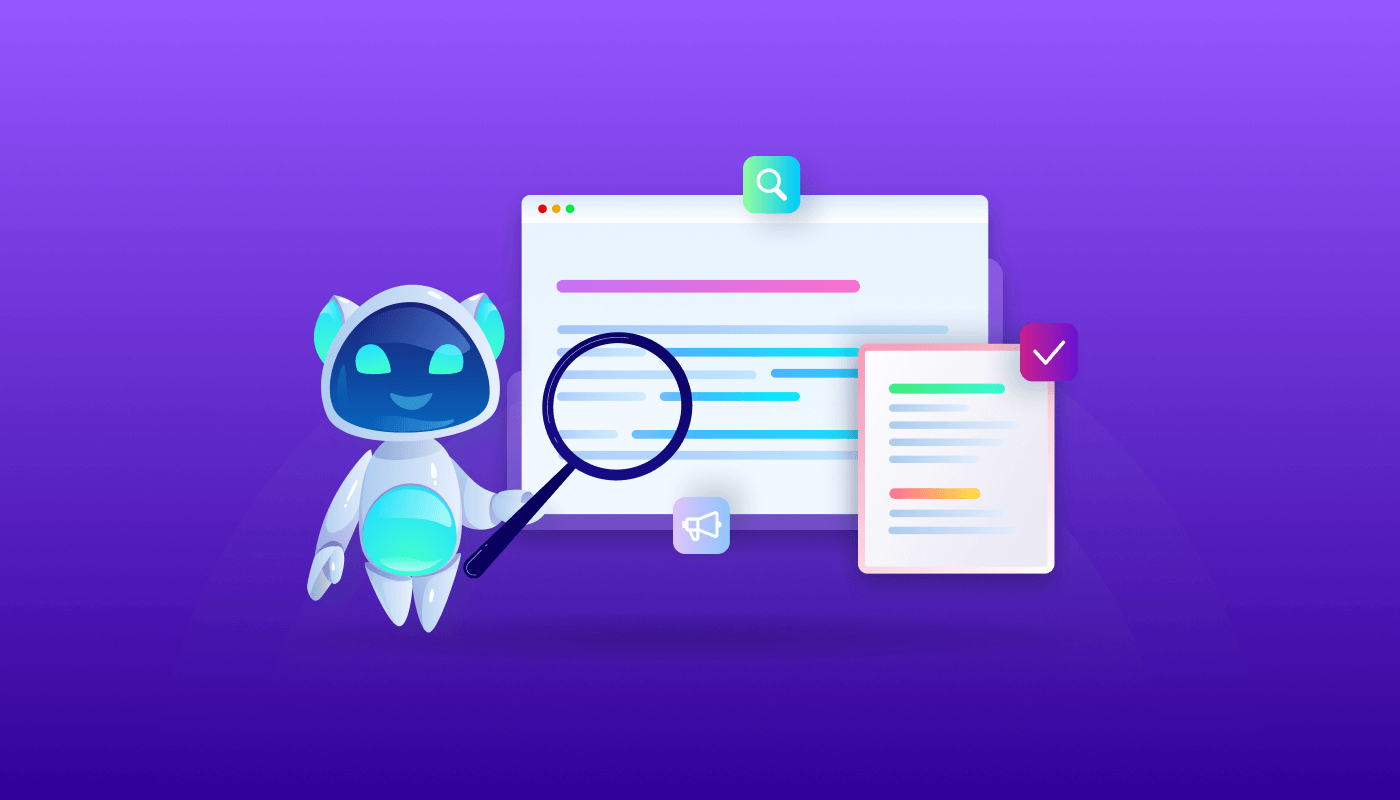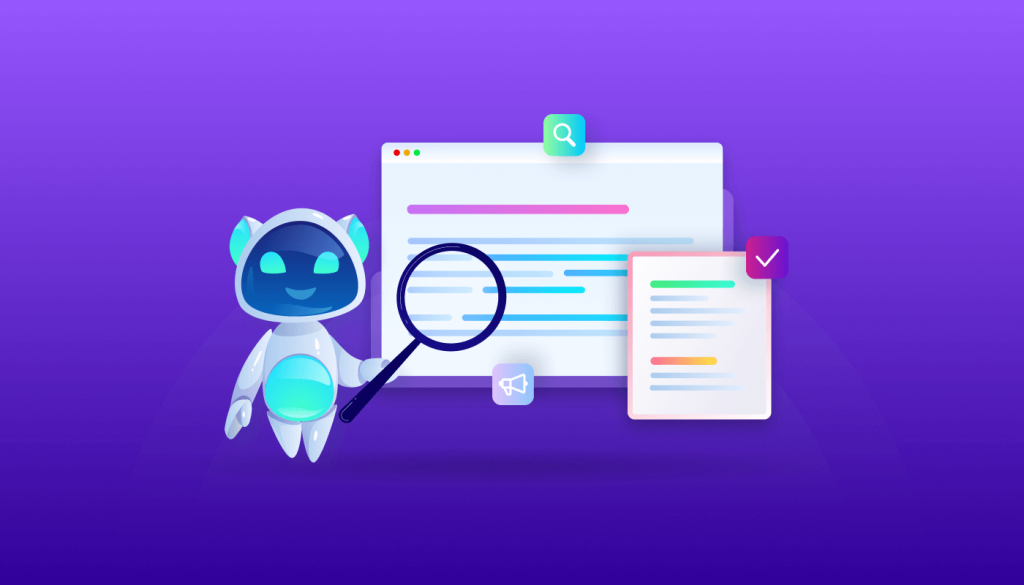 You can utilize Ai SEO assistant tools to identify trending keywords, analyze competition, and provide keyword recommendations.
Employ Ai-powered keyword research tools to identify relevant and high-impact keywords.
Analyze keyword competition, search volume, and trends to make informed choices with Ai content optimization tool.
Proper keyword research and competitor analysis with Ai tools will help identify relevant keywords and strategic insights to enhance content visibility and competitiveness in the SERP.
Step 4: Content Generation with Ai
To generate content ideas, drafts, or even complete articles, Ai content writing tools are now the game changer!
These tools will help you in content optimization efficiently. At the same time, this Ai content optimization tool helps save time and provides creative inspiration.
Utilize Ai-based content generation tools like GetGenie Ai, ChatGPT, etc. to create content outlines, product descriptions, or blog post drafts.
Ensure the content aligns with your chosen keywords, and serves the user's intent, brand voice, and style to scale up content optimization.
Use Ai software to rewrite or rephrase sections of content for better readability and engagement.
Step 5: Maintain Content Originality to Scaleup Content Optimization.
Originality in content is another vital prerequisite for content optimization. It enhances SEO rankings by preventing duplicate content issues. It also builds trust with the audience, establishing credibility and authority in your niche/sector.
In terms of ensuring content originality for better content optimization system:
Use Ai tools as assistants, not replacements, to generate ideas and suggestions.
Incorporate your unique voice, style, and perspective into Ai-generated content.
Verify content for accuracy, fact-checking, and plagiarism.
Step 6: Ai-Driven SEO Analysis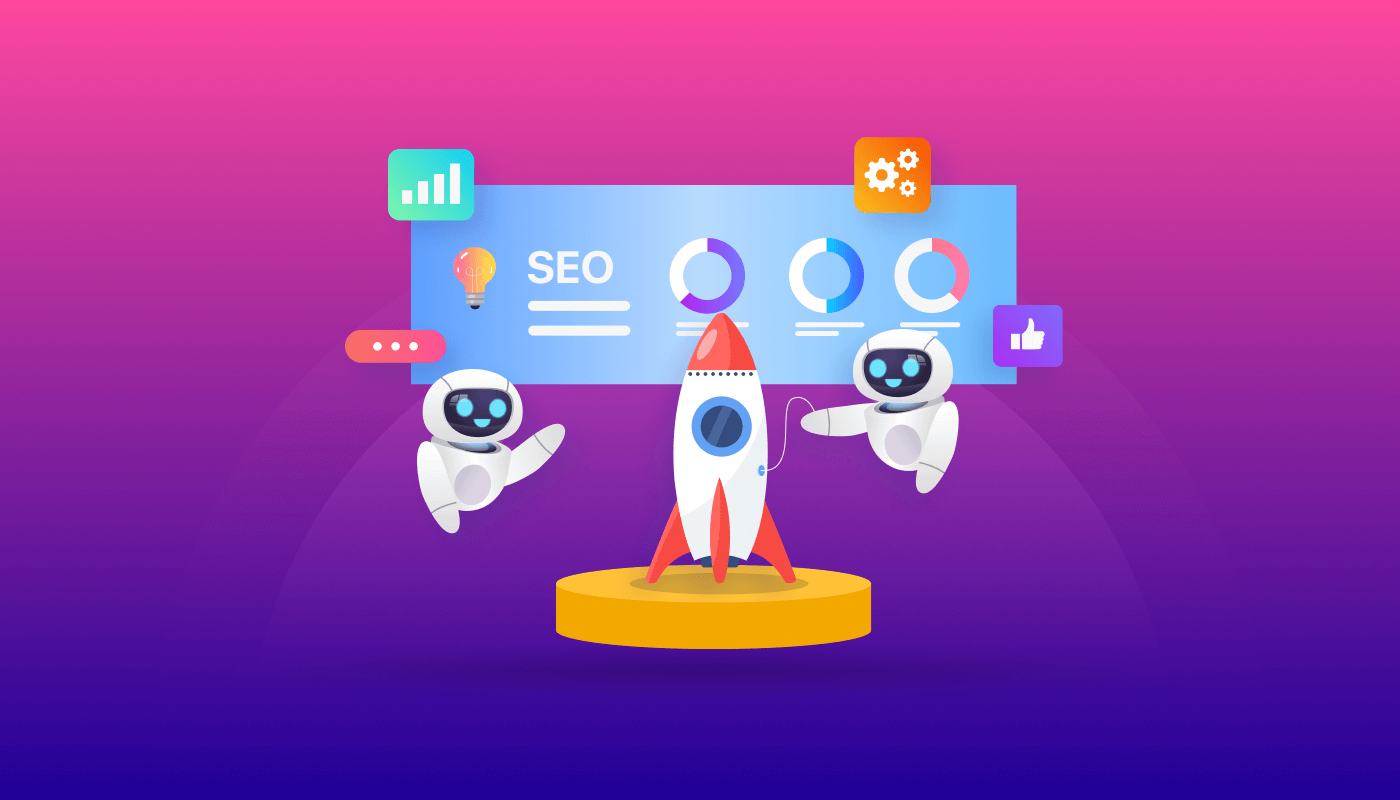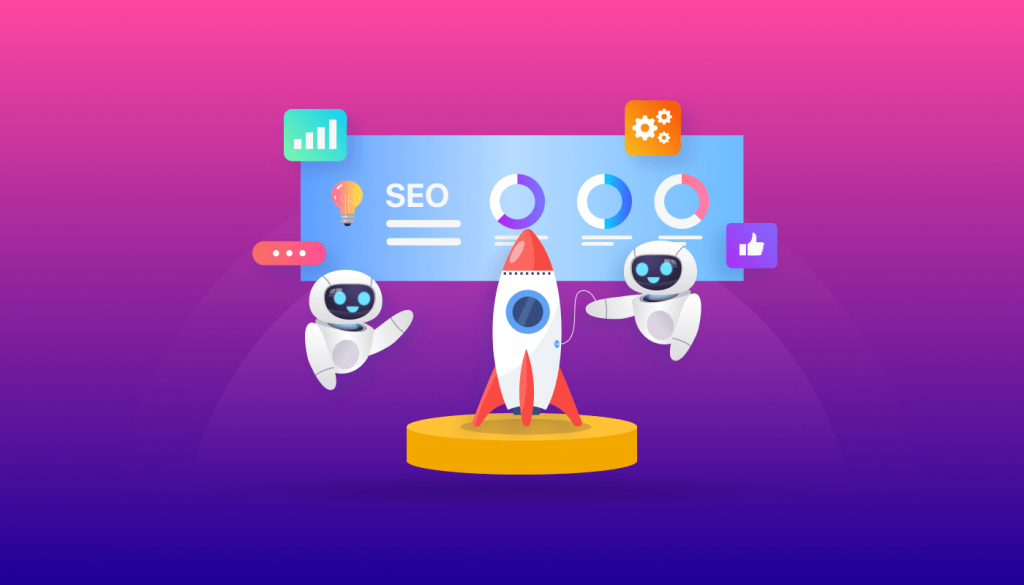 Ai-driven SEO Analysis can provide valuable insights and adapt to ever-changing search engine trends, ensuring higher visibility and engagement.
Conduct a comprehensive SEO audit using Ai tools i.e. GetGenie Ai to identify and address issues.
Monitor content scores for both new and old content to identify areas for improvement.
Monitor keyword rankings and performance using Ai-generated analytics.
Besides, Ai tools e.g. RankMath, GetGenie Ai can identify on-page optimization aspects such as optimizing meta tags, headers, and image alt text.
Optimize meta titles, meta descriptions, header tags (H1, H2, H3), and image alt text for target keywords.
Ensure content structure and formatting adhere to SEO best practices.
Step 7: Content Personalization with Ai
Advanced Ai tools can analyze user behavior to create personalized content recommendations and experiences.
Then the Ai system recommends related articles or products based on a user's browsing history and preferences.
Set clear content personalization goals to guide your strategy effectively.
Collect relevant user data, including browsing history, demographics, social media engagements, app usage, third-party sources, user reviews, etc. to build a foundation for personalization.
Utilize Ai algorithms like Machine Learning to analyze user data and deliver personalized content that aligns with individual preferences and behaviors.
Optimizing content for user interest will help you to get user engagement, increase conversion rates, and improve overall user satisfaction by delivering relevant content experiences.
Step 8: Multilingual Content Distribution
Multilingual content distribution with Ai enhances content optimization. It helps to expand global reach, improve user engagement, increase SEO visibility, and effective messaging to diverse audiences.
Utilize Ai-powered translation services like Google Translate or custom neural machine translation models to translate your content into multiple languages efficiently.
Employ Ai-driven localization tools that adapt translated content to specific cultural nuances, ensuring it resonates with regional audiences.
Leverage Ai system for multilingual content, and SEO analysis to identify relevant keywords and phrases in different languages, enhancing your content's search engine visibility across regions.
Step 9: A/B Testing with Ai Analysis
Did you know that a typical A/B test can enhance the conversion rate by up to 49%?
Ai tools can analyze A/B test results and provide insights into which variations are performing better. For that, you can conduct A/B tests to compare different content variations such as: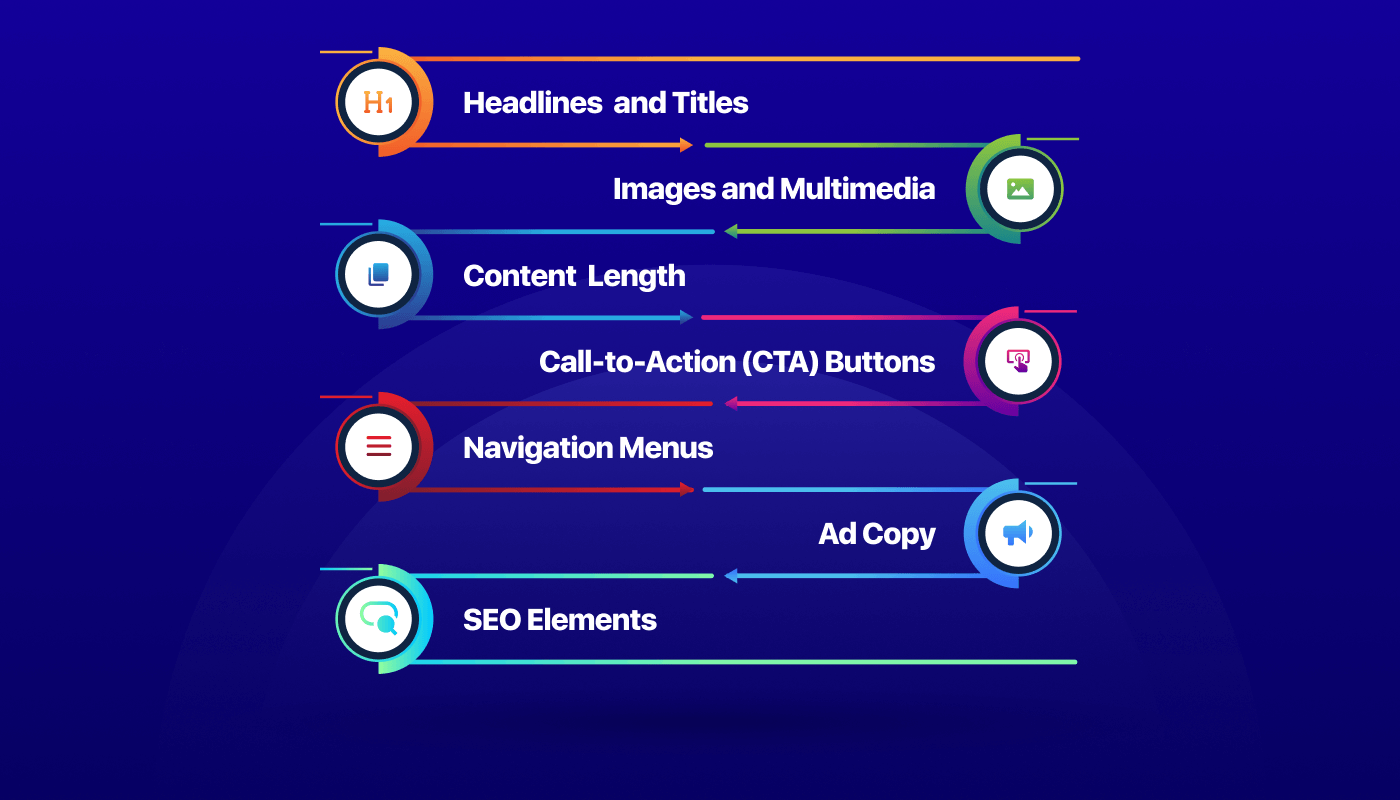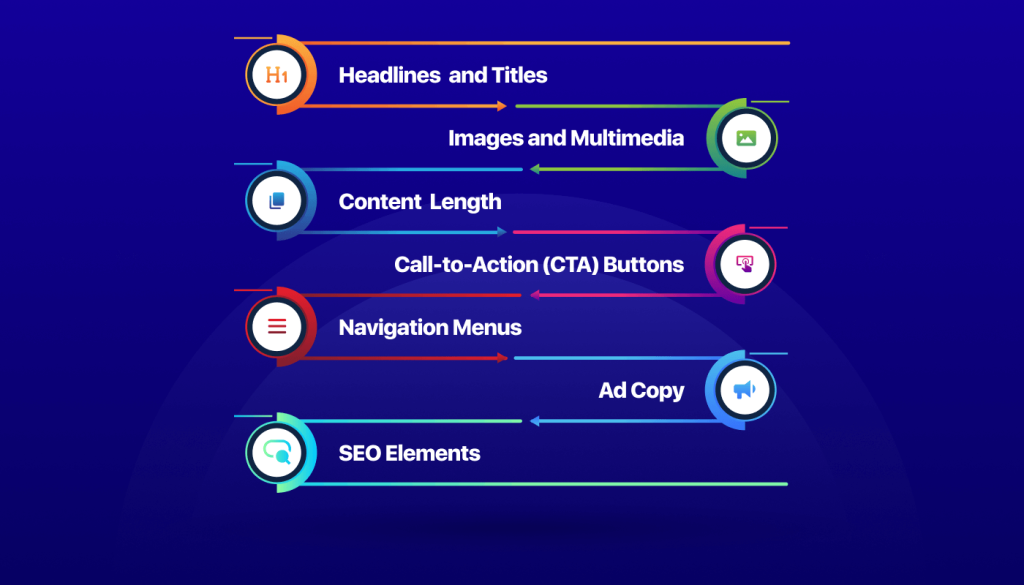 Step 10: Continuous Monitoring and Optimization
Ai tools can monitor content performance in real time and provide ongoing recommendations for improvement on Ai optimized content.
Ai systems can even alert you to a sudden drop in traffic on a particular page, prompting you to investigate and make necessary adjustments.
Continuously monitor Ai AI-optimized content performance using Ai analytics.
Set up automated Ai monitoring to track content performance over time.
Make data-driven decisions to optimize content based on changing audience preferences and search engine algorithms.
Start Content Optimization with Ai
Get ready to meet "GetGenie Ai" ~ Your personal Ai companion in revolutionizing Content Optimization system!


GetGenie, an Ai content writer comes with a dedicated SEO mode and content score measurement feature with NLP score, head-to-head competitor analysis, and other SEO factors.
With its in-depth content analysis, you can optimize both new and old content for maximum impact on search engine result pages.
Let's see how you can use GetGenie Ai to optimize your content efficiently.
Generating and Optimizing Fresh/New Content with Ai
There is no more need for manual keyword research, guesswork, writing, or trial-and-error in content optimization.
GetGenie Ai, the best free Ai content generator makes it easy to streamline both your content creation and SEO optimization to stand out from your competitors.
Let's see how this Ai content writer and SEO optimizer works:
Step 1: Keyword Analysis
With the keyword analysis feature of GetGenie Ai, you'll be able to know the search volume, user intent, "people also asked" questions and other relevant factors.
Select the "Blog Wizard" template
Input the keyword
Turn on SEO mode
Select the region
Click on the Analyze keyword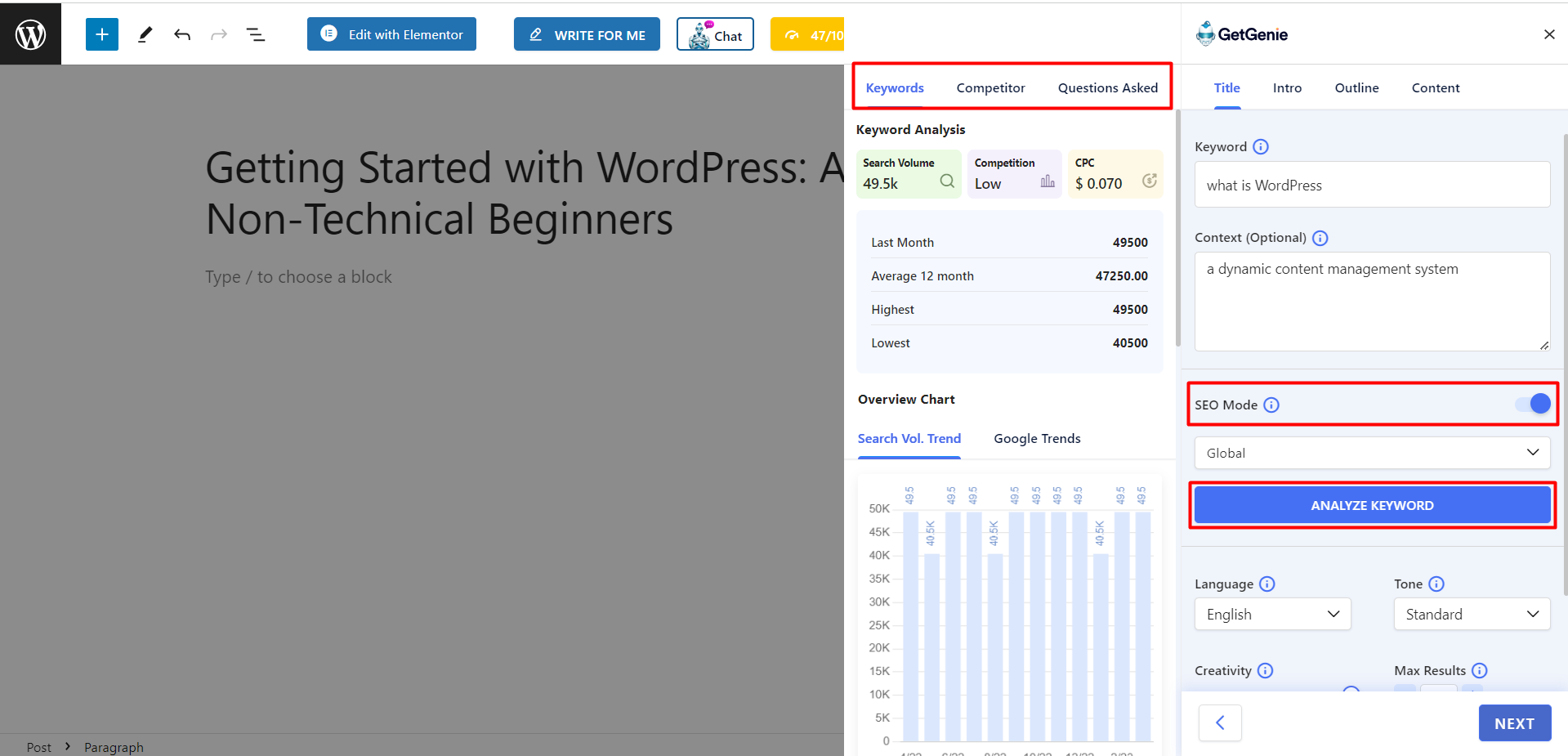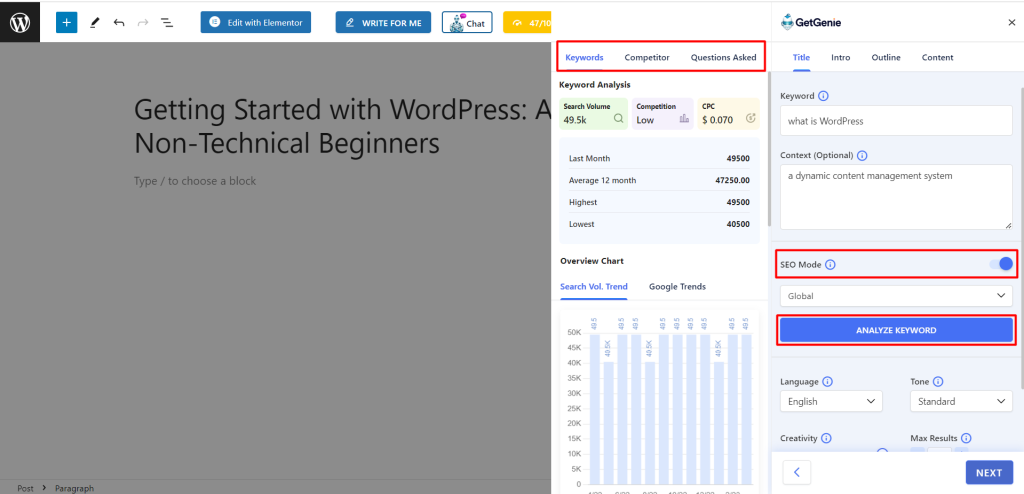 Fetch competitors' data on the adjacent tab
Here you can find the competitor's content details including ranking, word count, headings, etc.
Get user search intent and frequently asked questions on the "Questions Asked" tab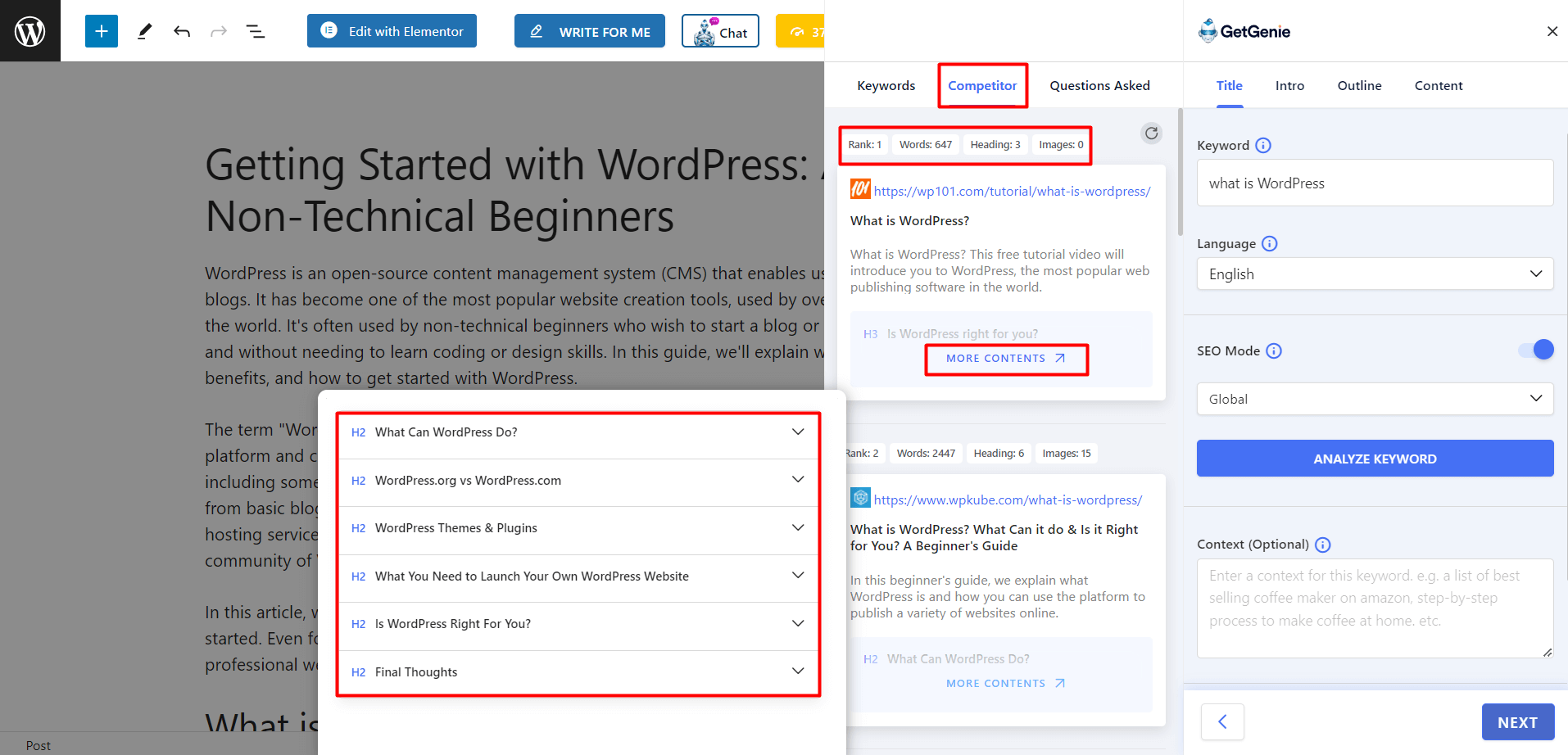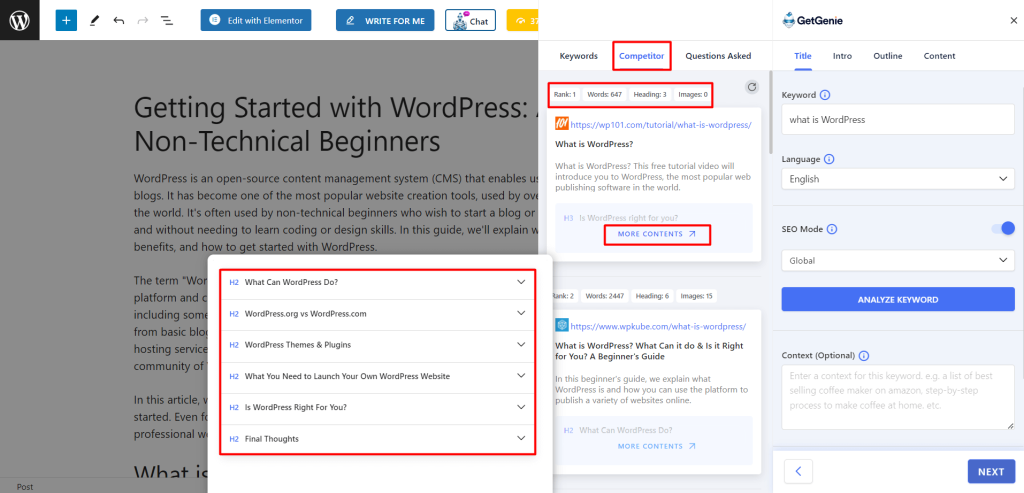 Step 2: Content Generation
Next, you need to generate titles, an intro, and an outline. After that, you can choose to create entire content at once with the one-click blog feature or you can generate them one by one manually.
Write the context of the keyword (optional)
Select the preferred language among 33+ languages
Choose the creativity level and the number of results you want
Click on "Generate title"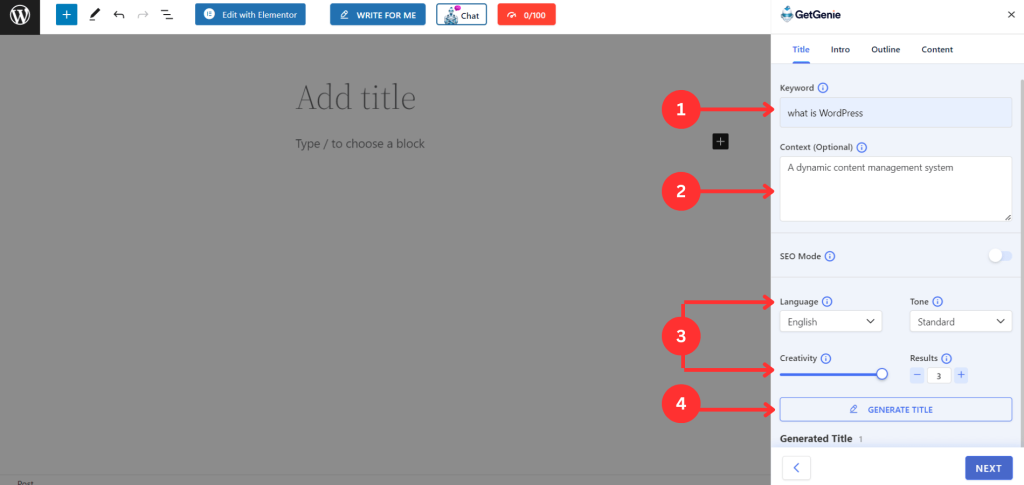 It will generate the given number of titles within a few seconds.
Following the same process, generate a blog intro, outline, and headings, and then click on "One-click blog"
It will generate and insert the entire blog post inside the editor.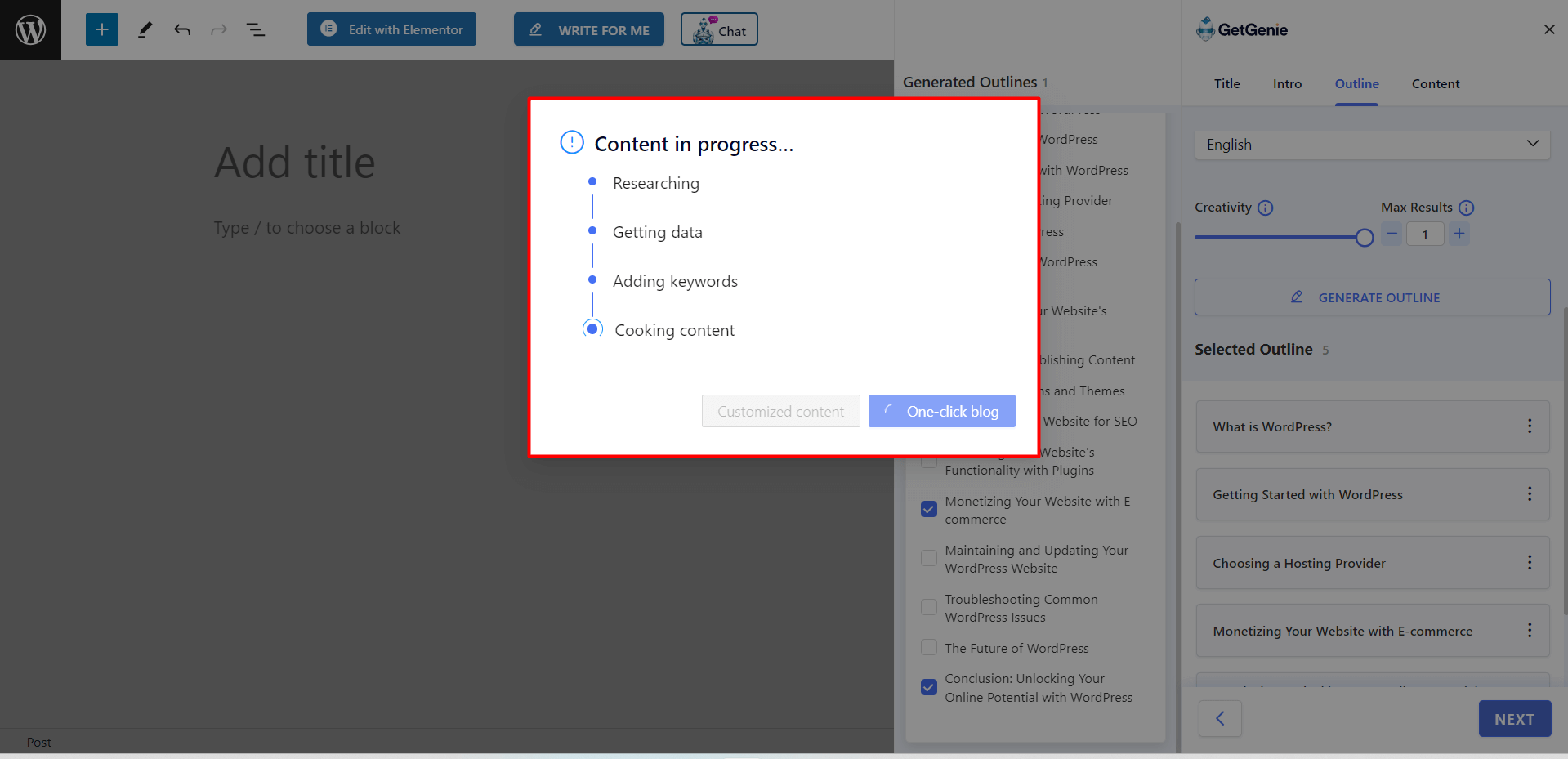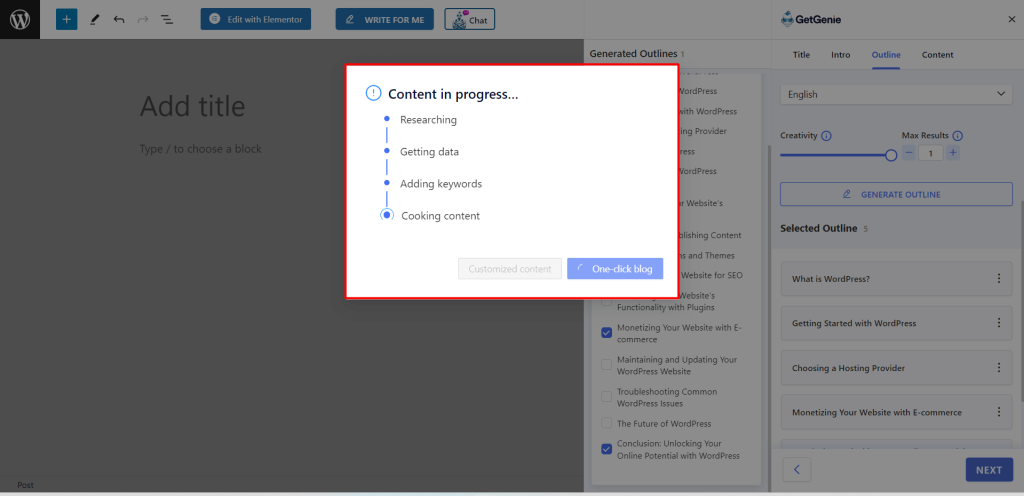 Step 3: Ai Content Optimization
For Ai content optimization, click on the content score. Here you can see the competitor's best score and readability score.
You can also see the recommended words, heading, NLP, number of images, internal links, and their ALT tags, internal links, etc.
Next, you will get the NLP keywords suggestion. Add the keywords naturally to enhance your content score for Ai optimization.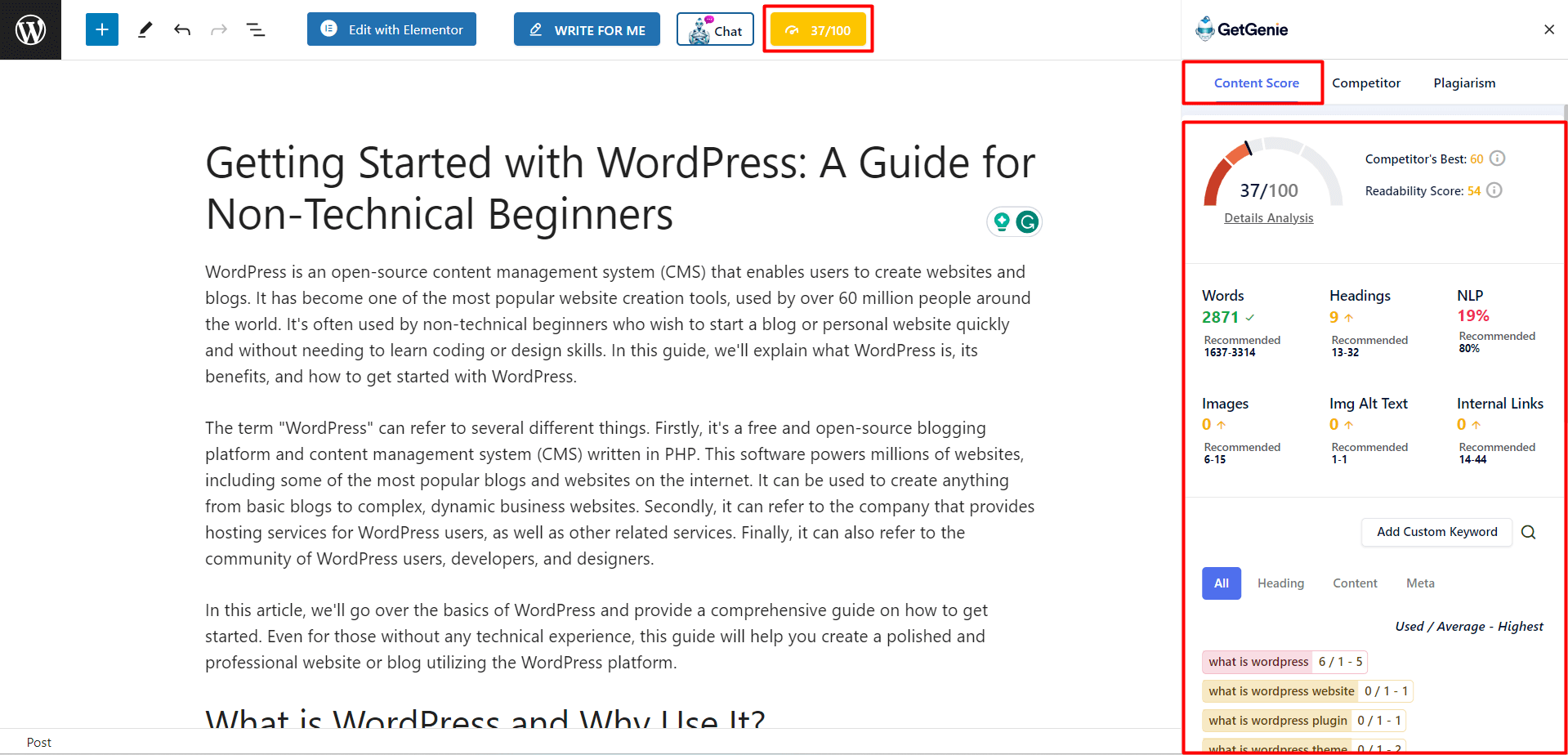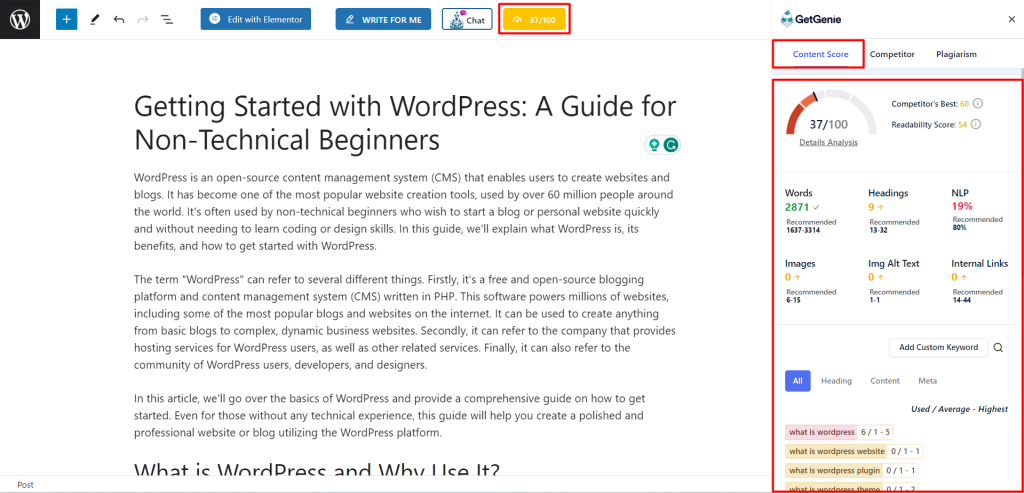 Finally, go to the competitor's tab. Here you can see the SERP visualizer as well as do head-to-head analysis to improve your content.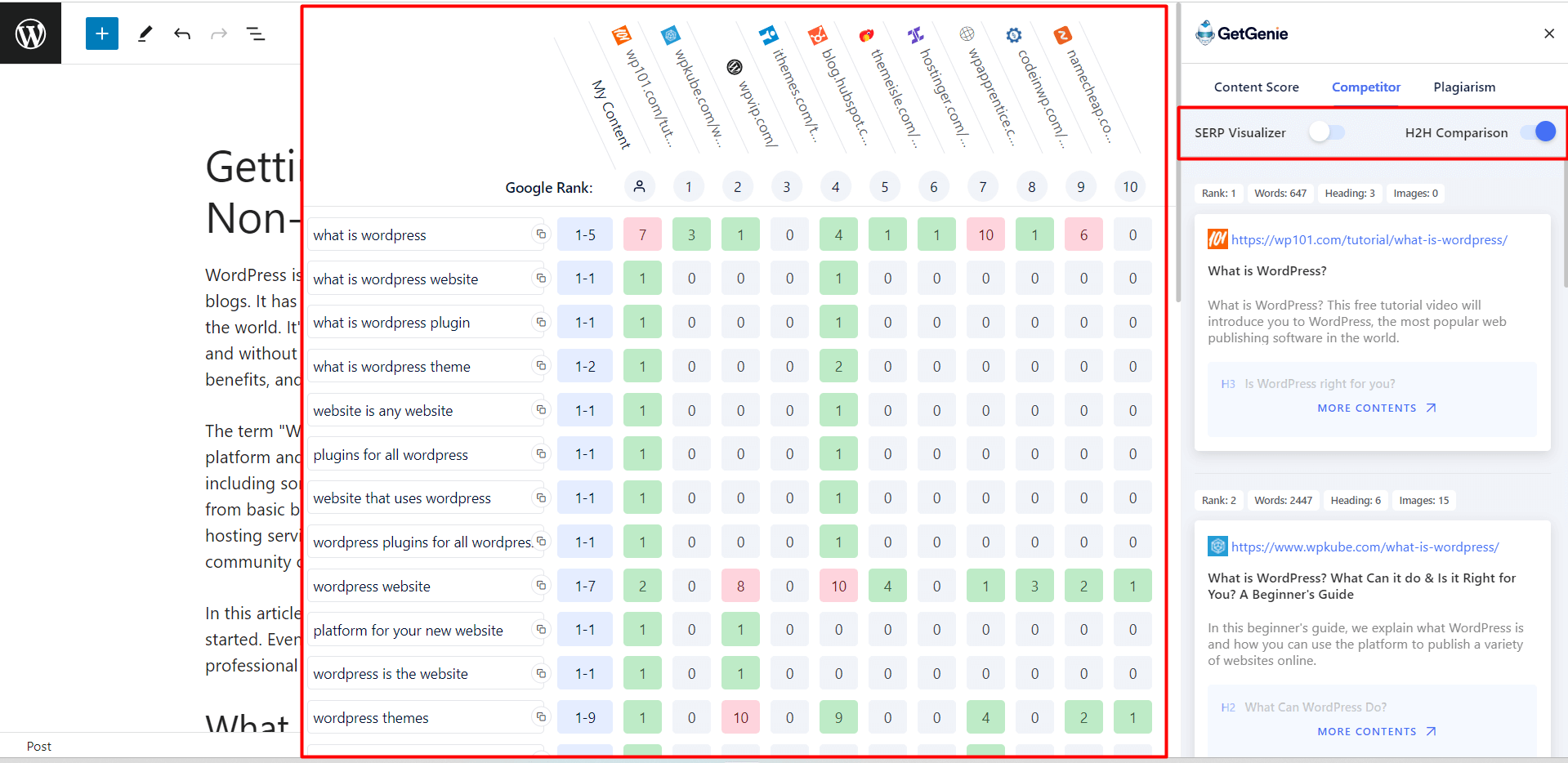 Optimizing Old/Existing Content with Ai
For old content, procedures are almost the same.
➡️ At first, open an existing blog post or paste a blog post inside the editor. Then, analyze the keyword like step 1.
➡️ After that, click on the content score for Ai content optimization, follow the recommended factors, and optimize your content for the suggested NLP keywords.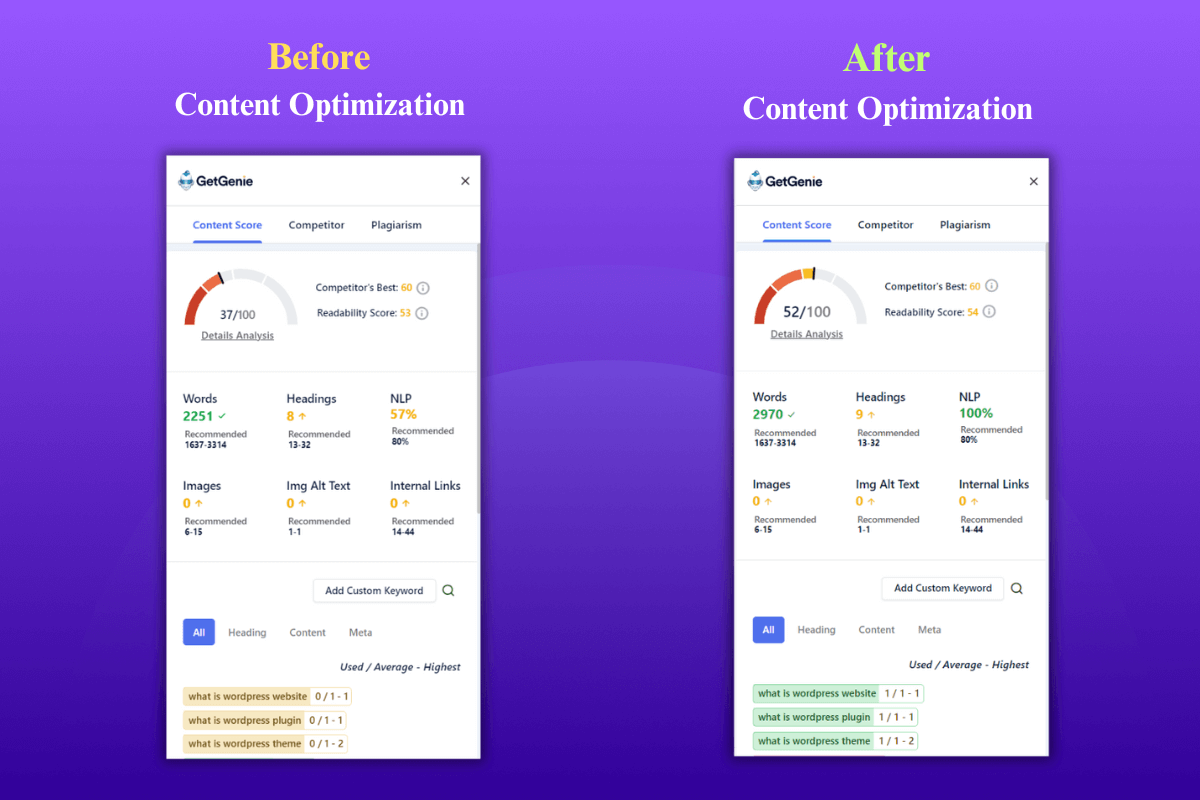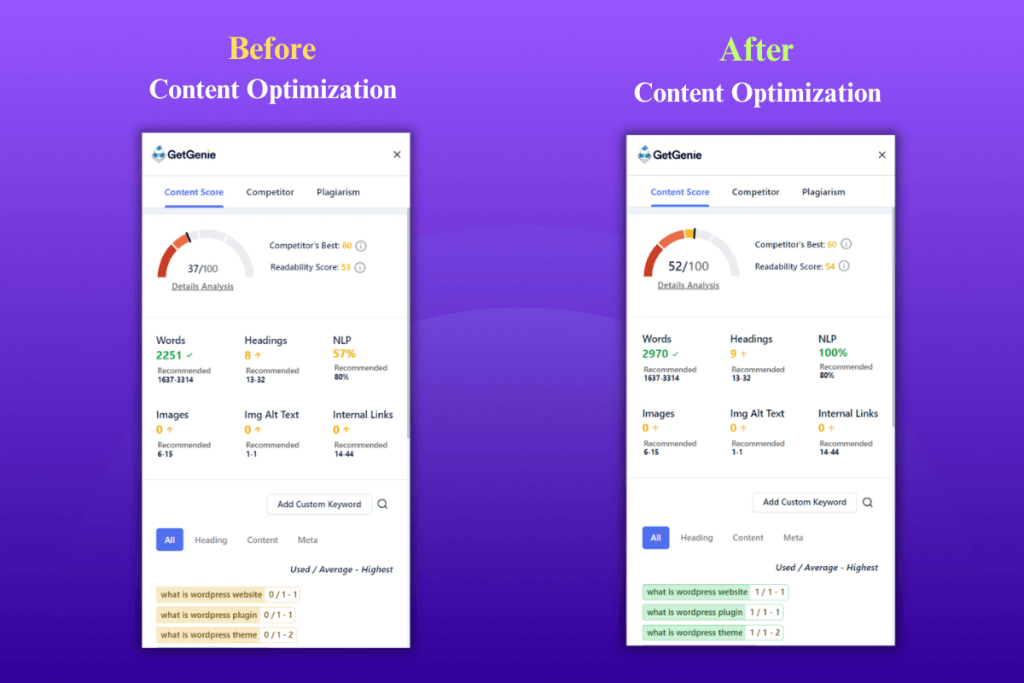 🎉
Bonus Tips 1:
You can check content originality for both new and old content from the plagiarism tab. To learn more, check out
this documentation
.
🎉
Bonus Tips 2:
If any duplicate text or plagiarism is found, don't worry. GetGenie, the best Ai SEO software has a
content rewriter template
too. You can mark the text and select the rewriter template. It will generate completely unique text for your content. 
FAQs
What are the best practices for using Ai in content optimization?
Best practices for using Ai in content optimization include:
Competitor analysis
Ai optimized Content localization and translation
Predicting user behavior
Personalized content recommendations
Optimizing content distribution
Content quality assessment
Ethical considerations in Ai usage
Can Ai help in content optimization system?
Yes, Ai can definitely play a significant role in content optimization by automating tasks, providing insights, analyzing keywords and competitors, enhancing personalization, improving SEO, and more.
Are there any challenges to using Ai for content optimization?
Challenges of using Ai for content optimization:
Data quality and privacy concerns
Initial setup, integration, and ongoing maintenance of Ai tools
Ensuring Ai-generated and optimized content aligns with brand voice, quality standards, etc.
What is the best Ai tool for content optimization?
GetGenie Ai is the best choice for content optimization due to its powerful SEO mode and wide range of content optimization features. These make it the ideal Ai content optimization tool to enhance your content's quality and visibility.

Final Words
To sum up, Ai assistants can effectively streamline content optimization processes by providing valuable insights, enhancing Ai-optimized content quality through NLP, and automating repetitive tasks.
Here we've discussed the roadmap to utilizing the power of artificial intelligence to enhance your content's impact and effectiveness.
By following the 10 strategic steps for content optimization with Ai, hopefully, you can improve user engagement as well as increase the conversion rate using Ai for content optimization.
So, what's the wait? Start your journey toward content optimization with Ai today.