How to Use Ai to Write Blog Posts Faster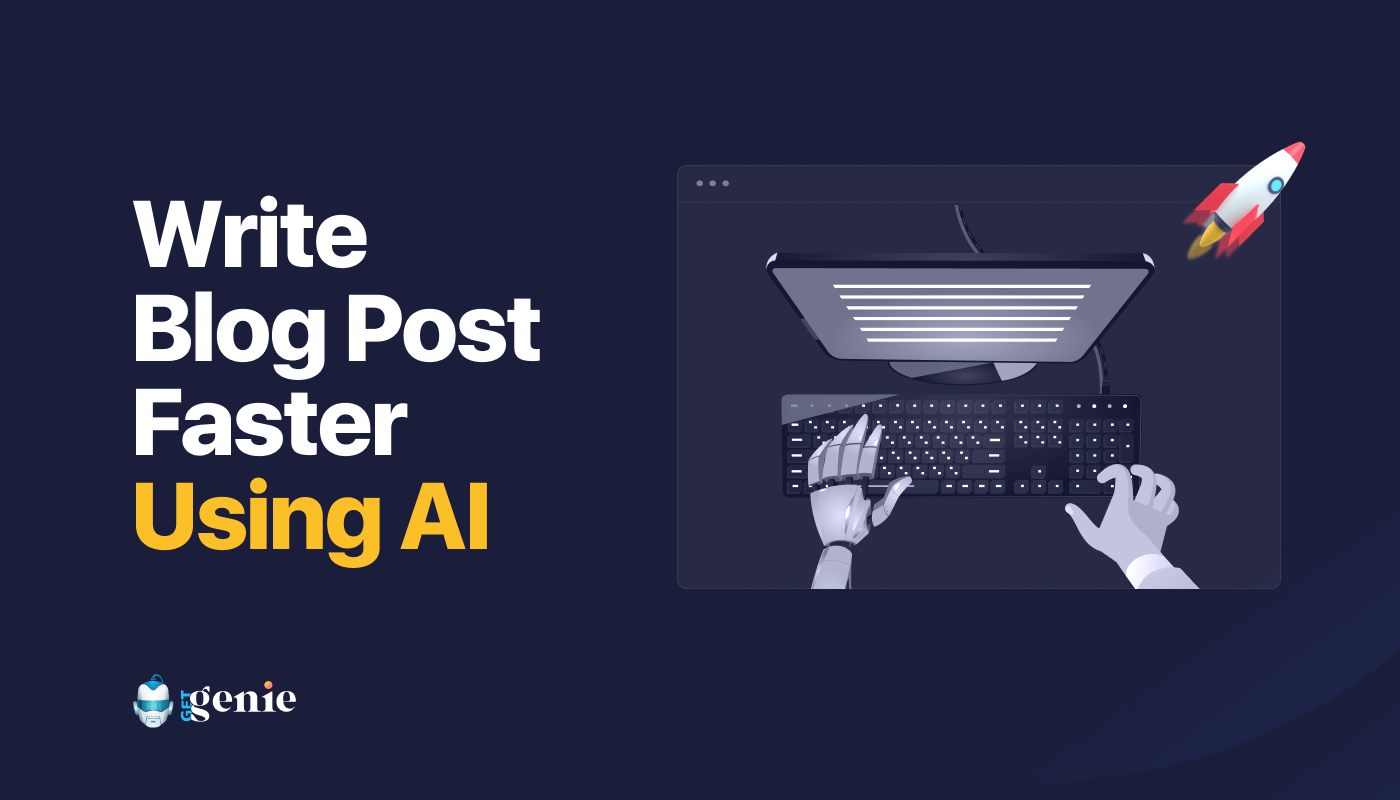 Ever wonder why Ai blog writing tools are getting popular day by day? Have you tried one for faster blog post generation? If not, then you must be confused about how to use Ai to write blog posts faster.
If you ask someone for faster blog writing tips then they will give you lots of advice but neither of those will help you to write a blog faster. Even if it does that would be a minimum.
"It has been found that most of the content writers spend 1 to 2 hours to write a blog of 500 words. Some marketers even spend more". Source- Hubspot
This time varies from marketer to marketer depending on their writing skills, experiences, etc. The good news is you can reduce this time by using Ai blog writing tools. Here you will get to know how to use Ai to write blog posts faster. However, before jumping into how to write good and engaging blog posts faster, let's go through the basics of Ai tools.
What is an Ai tool?
An Ai tool is well-known as fast content creation software that creates content using expert systems, natural language processing, and human-given templates.
This software helps to generate blog posts, newsletter copies, social media content, etc. easily within a few seconds which minimizes the increasing workload.
Benefits of using Ai tools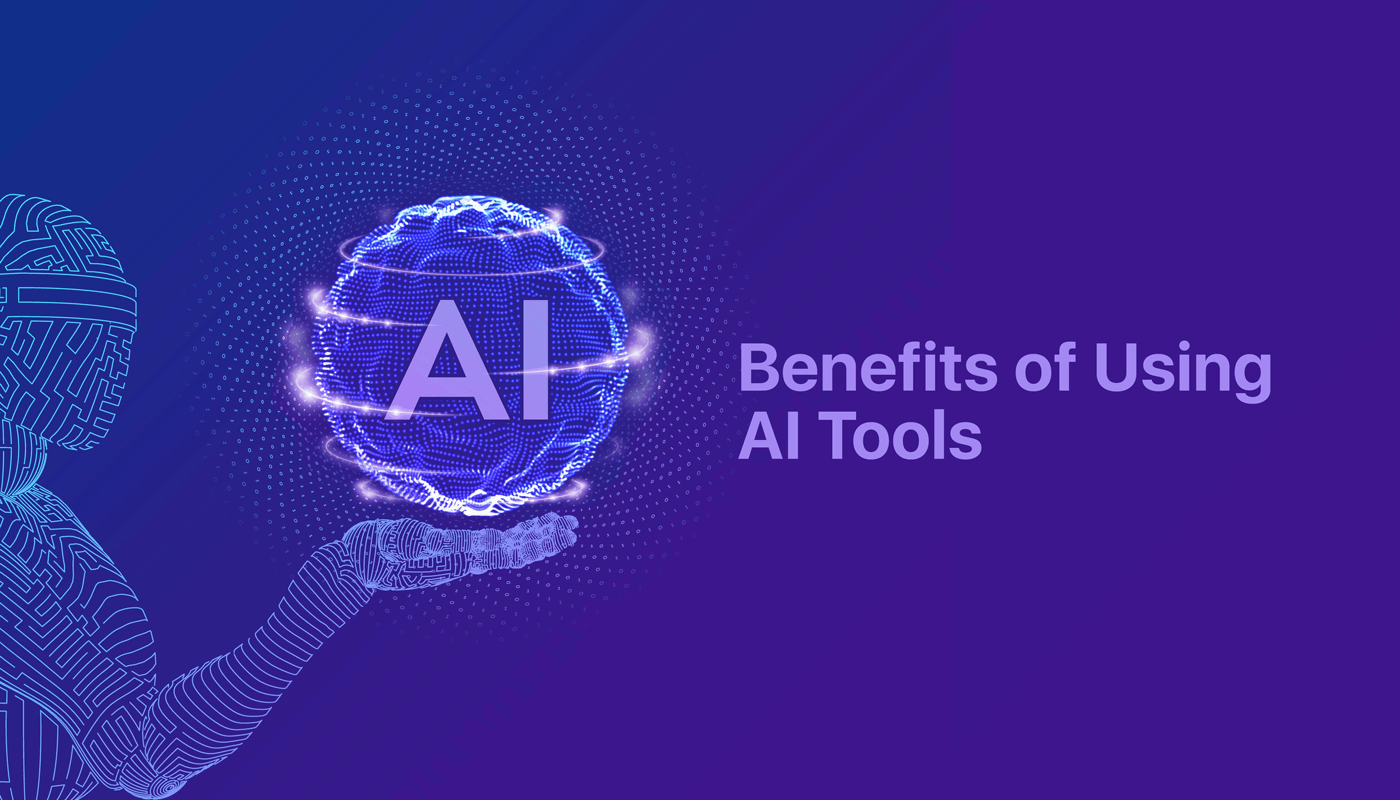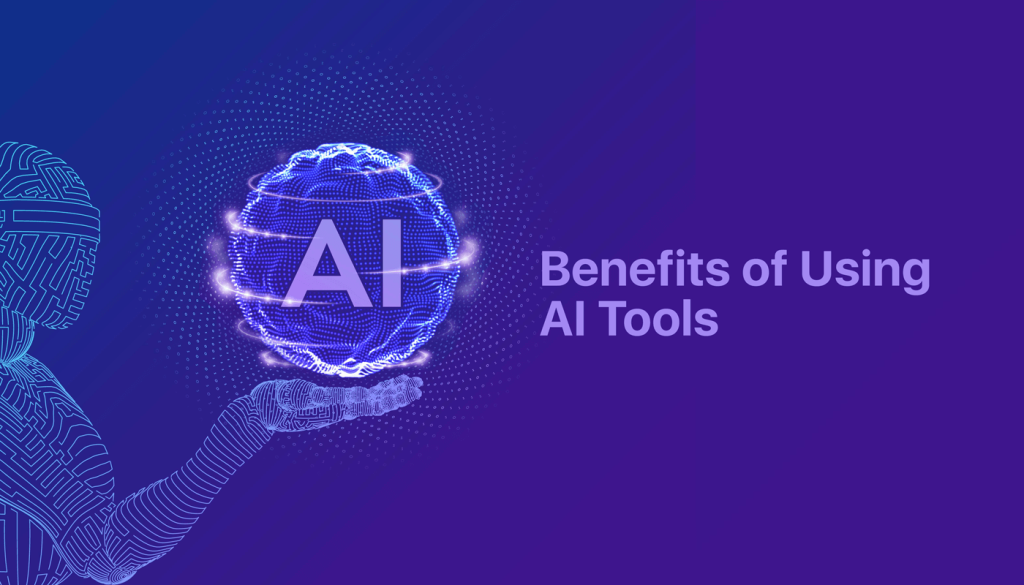 There is no doubt that in the future, an Ai writer generator will be a part of your day-to-day lives for creating fast content. People have already started to adopt it after finding out how Ai tools can save time and effort to write content faster.
Indeed, an Ai tool can't completely replace human generating content. Because it needs to be checked and proofread as every time all info is not 100% correct. Nevertheless, this Ai writer generator can provide lots of advantages that will encourage you to use this tool. Here are some benefits that are pointed out for you:
This tool will save you time and help you to do multitask as you can easily generate content for any purpose.
If you are running a small business and can't afford to hire an experienced content writer, then you can use Ai to write blog posts for your business.
This will help you to meet ongoing content demand. You know how time-consuming writing a blog post is! You can count on Ai report writing or writer generator tool to solve this issue.
It will also help you to generate well-optimized content for search engines.
You can even generate multiple content on the same topic which is very time-consuming and boring to generate for a human being.
This isn't it. You can get lots of other benefits that will be hard to present here. Now, let's come to the main point and that is how to use Ai to write blog posts faster. Keep reading to figure that out.
How to use Ai to write blog posts faster
Ai tools have come a long way since spellcheck. Now you can even generate blog posts using Ai tools which is a great advantage for content writers and small businesses. Undoubtedly, it can't replace human writers no matter how fast it writes content. But, it can facilitate them to write content faster. Want to know how?
Here is how to use Ai to write blog posts faster:
Content ideas: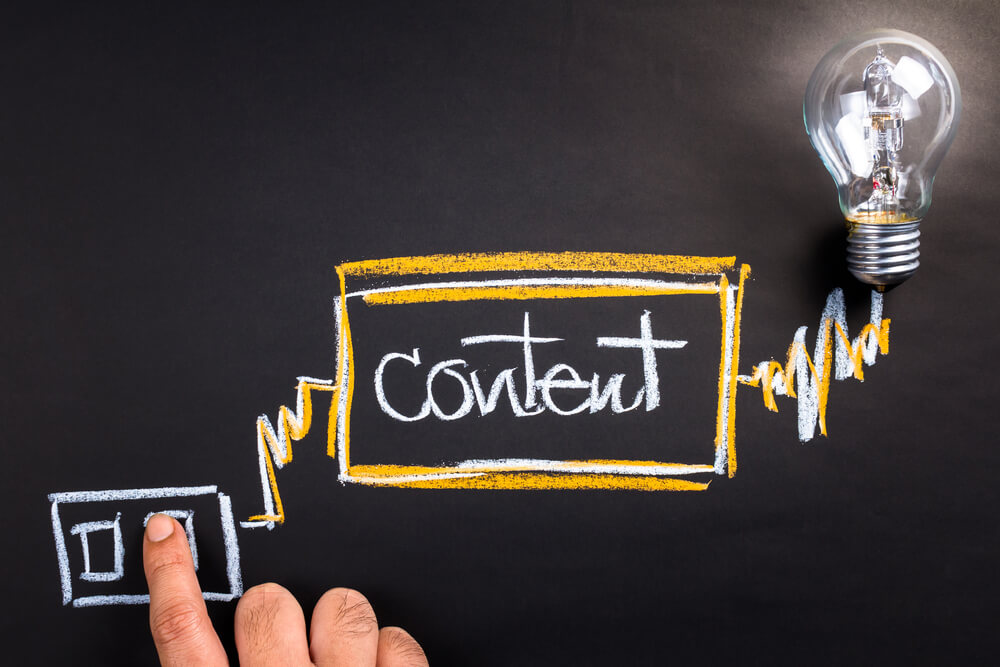 An artificial intelligence blog writer generates multiple content ideas. For example, if you put some keywords in the search box regarding a blog topic, it will provide you with different types of content ideas that you can write on. On top of that, these suggested artificial intelligence blog topics are accurate and natural.
Figuring out multiple blog ideas like an Ai tool is hard for a human being. Because they need to use another tool or search it on a search engine for getting various content ideas.
Ai writers offer an easy content ideation option through which you can generate blog ideas in no time. Such as through GetGenie's "Related Topics" template, you can generate blog ideas by going through GetGenie >> Ai Writing. After that, search for the "Related Topics" template and select the template.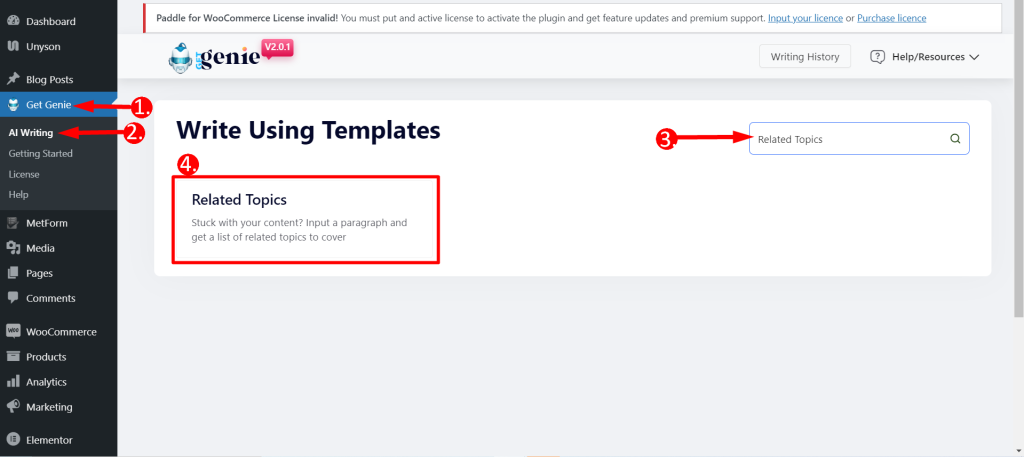 This will open up a tab from the right side where you have to provide a paragraph for the content. Also, select language, Tone, Creativity, and Results. After filling up all the input fields, hit the "Write" button.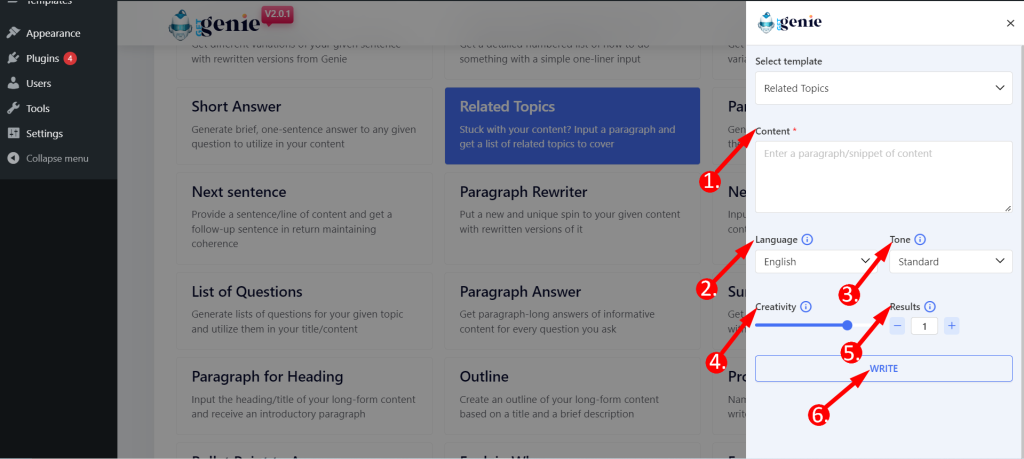 Keyword research with Ai tool: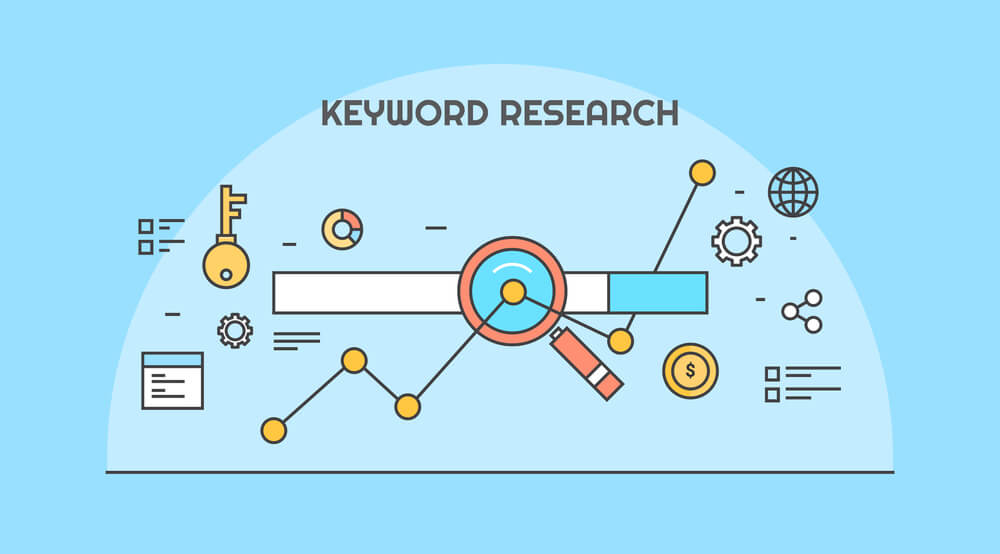 Here comes keyword research that needs to be done with proper focus. Because this keyword will bring traffic to your website. It's a wrong concept that keywords need to be chosen with higher search volume. Actually, keywords should be chosen by seeing their search volume and keyword difficulty.
With a single search, an artificial intelligence blog writing tool will list down all the keywords along with their search volume and keyword difficulty. This will help you to find out your focus and secondary keywords.
Like GetGenie's "Blog Wizard" template comes with a keyword research feature along with other features. To do that, visit GetGenie >> Ai Writing and hit the "Blog Wizard" template. This will take you to a blog page where you will find an open tab from the right side.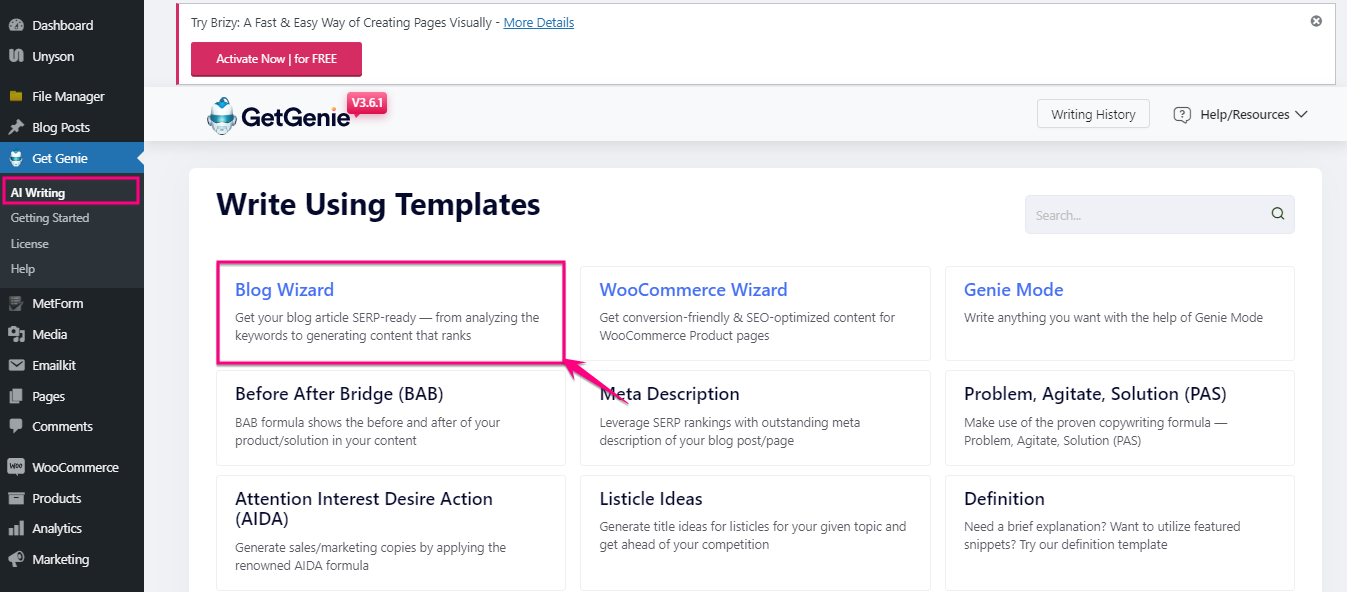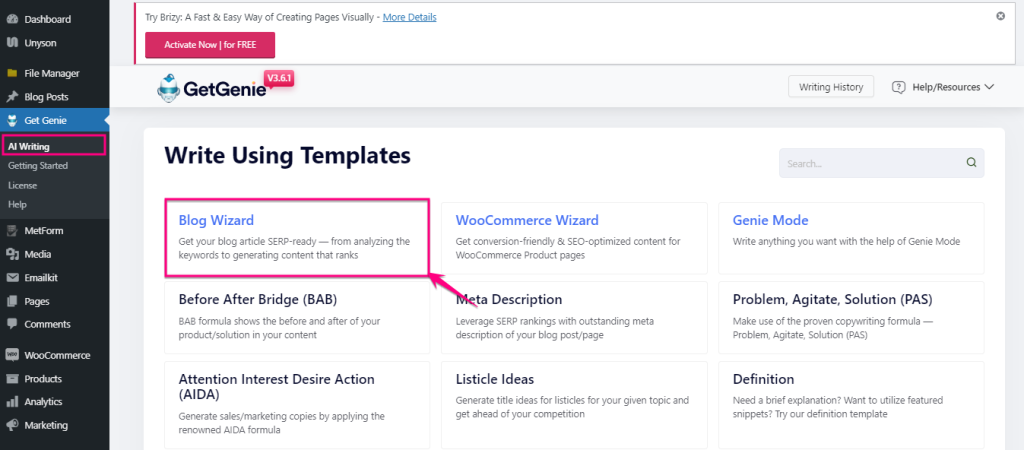 Here you have to enter a Keyword and Context along with SEO Mode. After that, press the "Analyze Keyword" button. GetGenie will take a few moments to generate all the related keywords along with their Search Volume and CPC. Besides, you can also learn the Search Vol. Trend and Google Trends data for your searched keywords.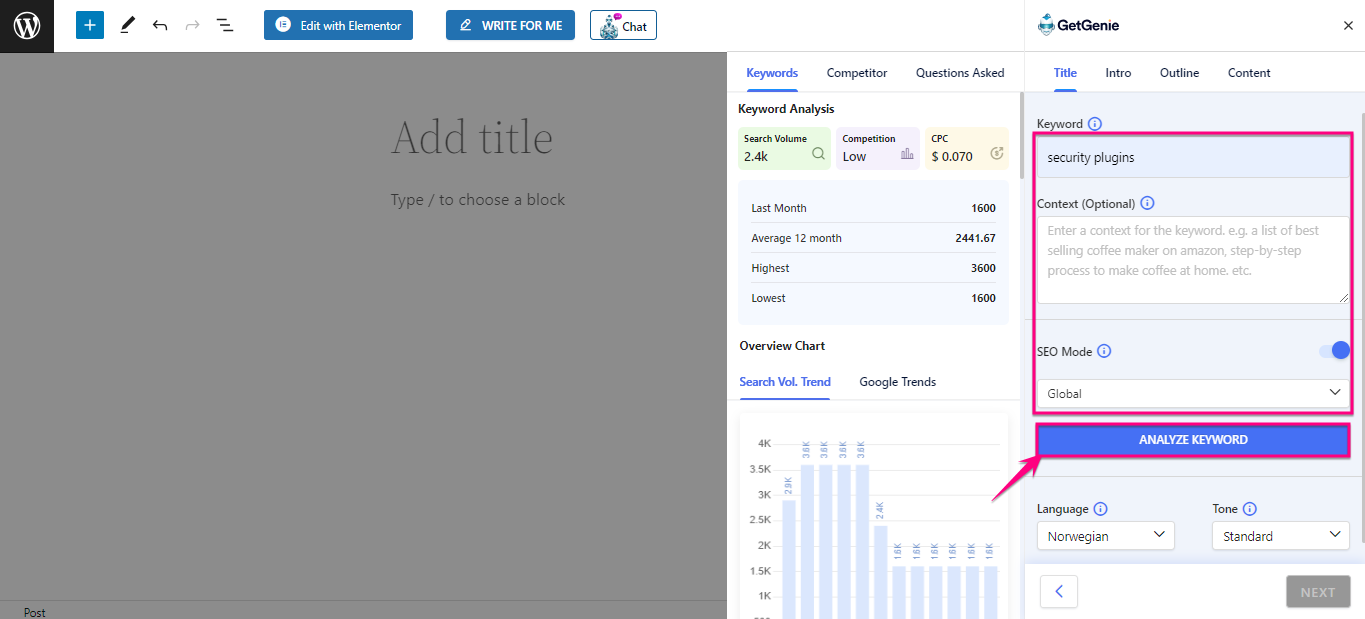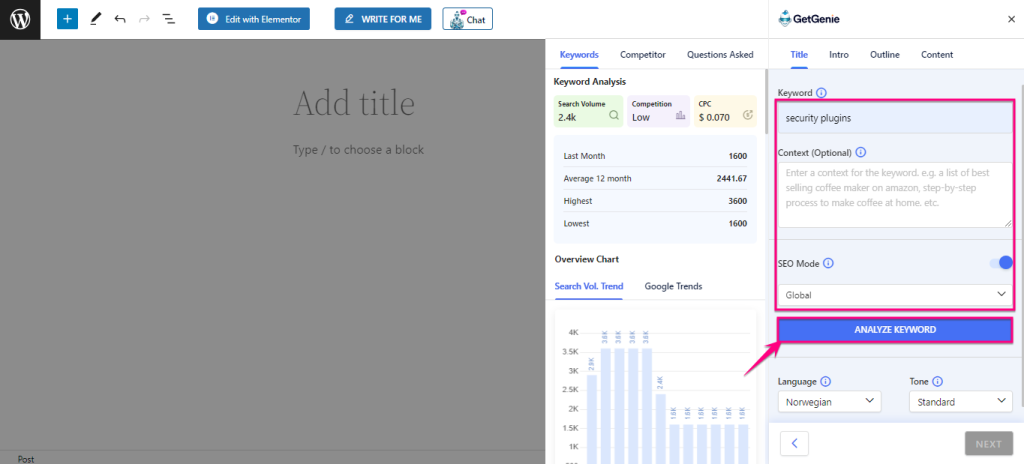 Competitor analysis: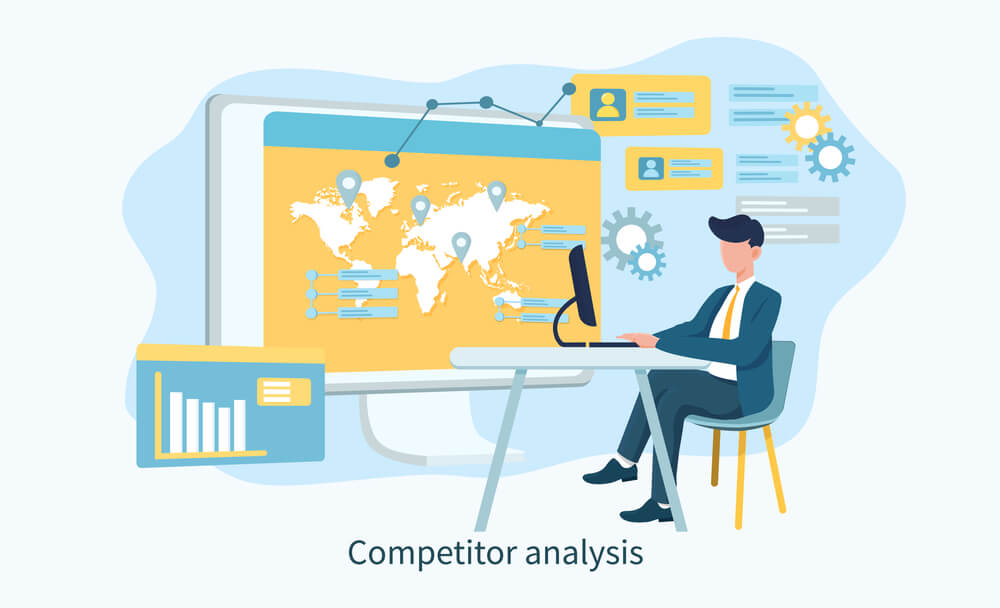 After getting content ideas, you can do competitor analysis with this Ai writer generator tool. Like which websites have written blogs on this topic, what keywords they covered in their blogs, etc.
To do all these you need to just utilize the competitor analysis feature of these Ai tools. For making use of this competitor analysis feature, go to the "Competitor" tab next to the "Keywords" and press the "FETCH DATA" option.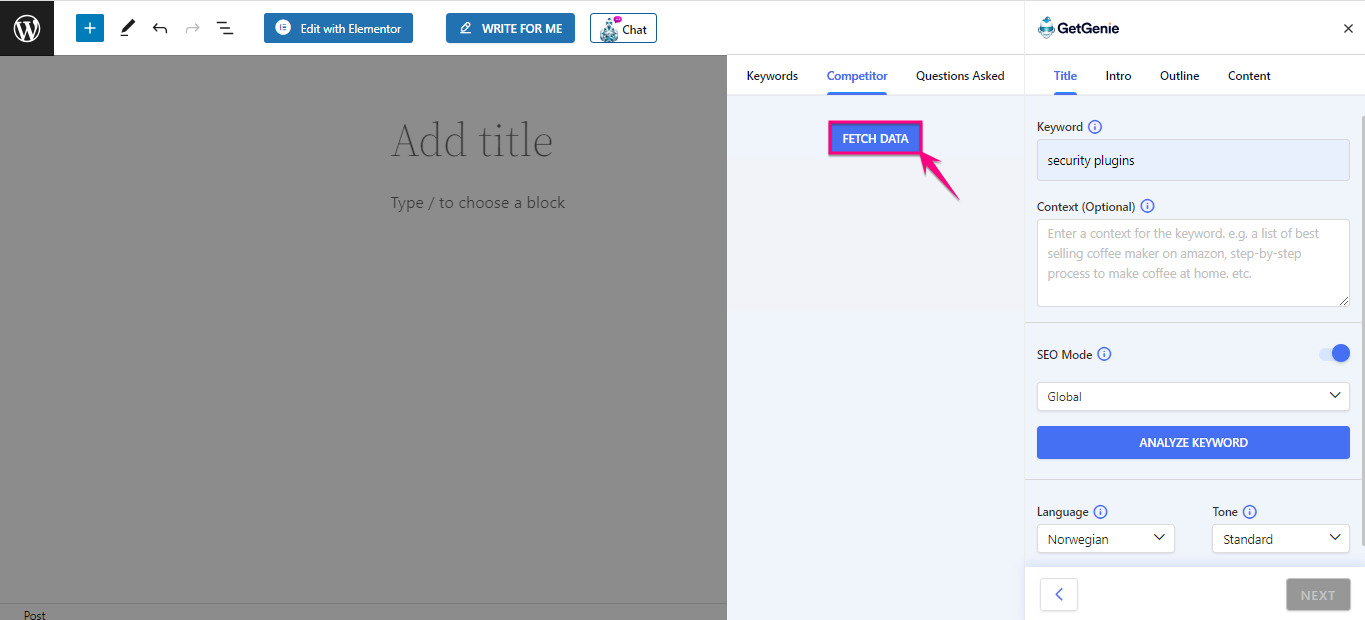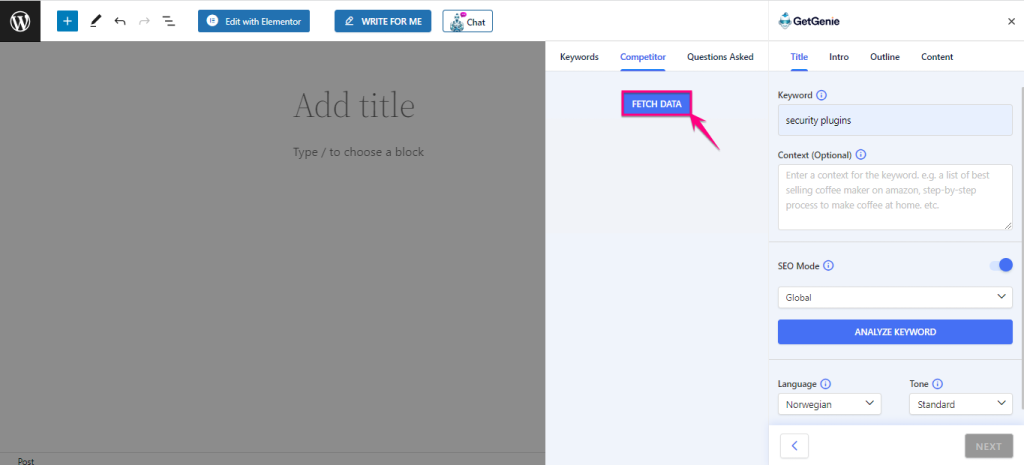 This will show up all the competitor analysis data on your screen in a blink of an eye. As a result, to do competitor analysis you don't need to use other tools.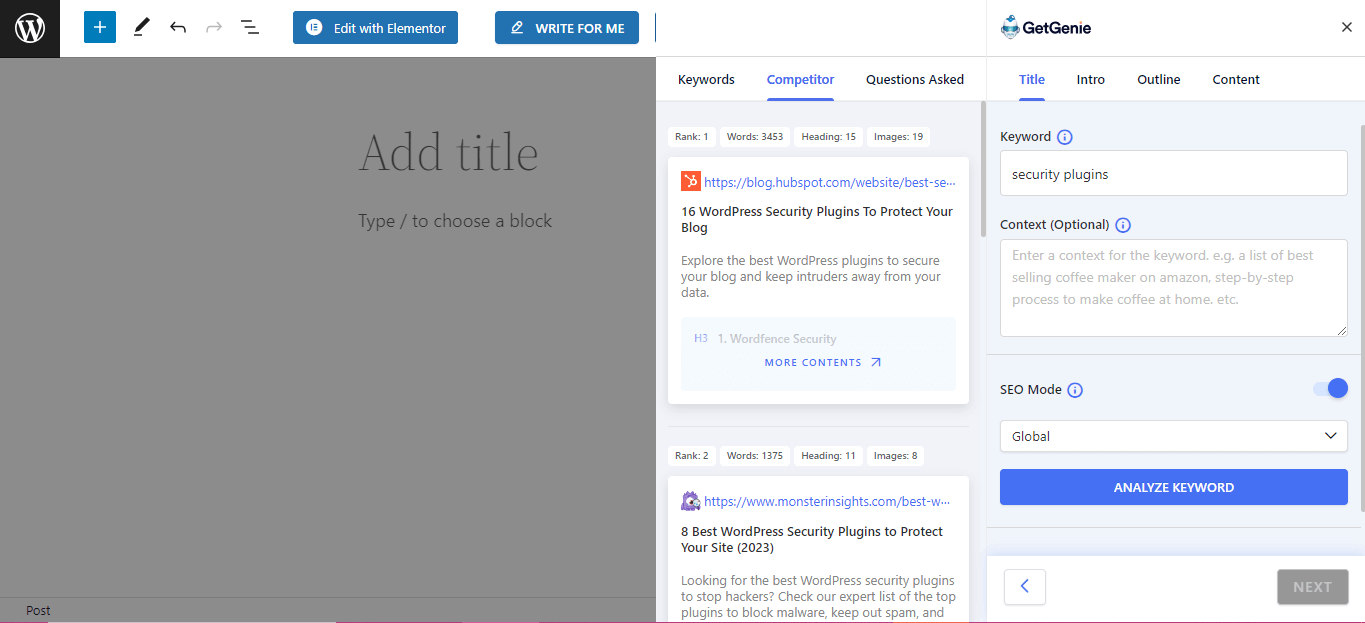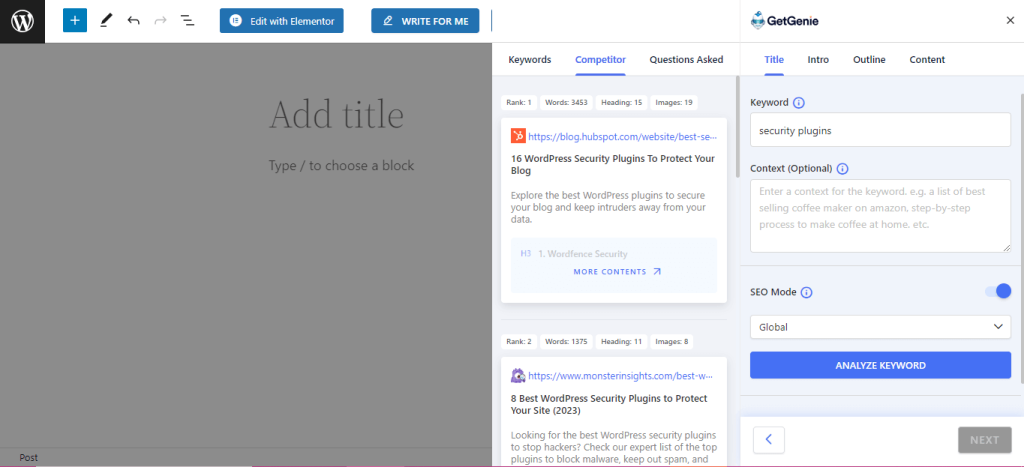 Blog title generation: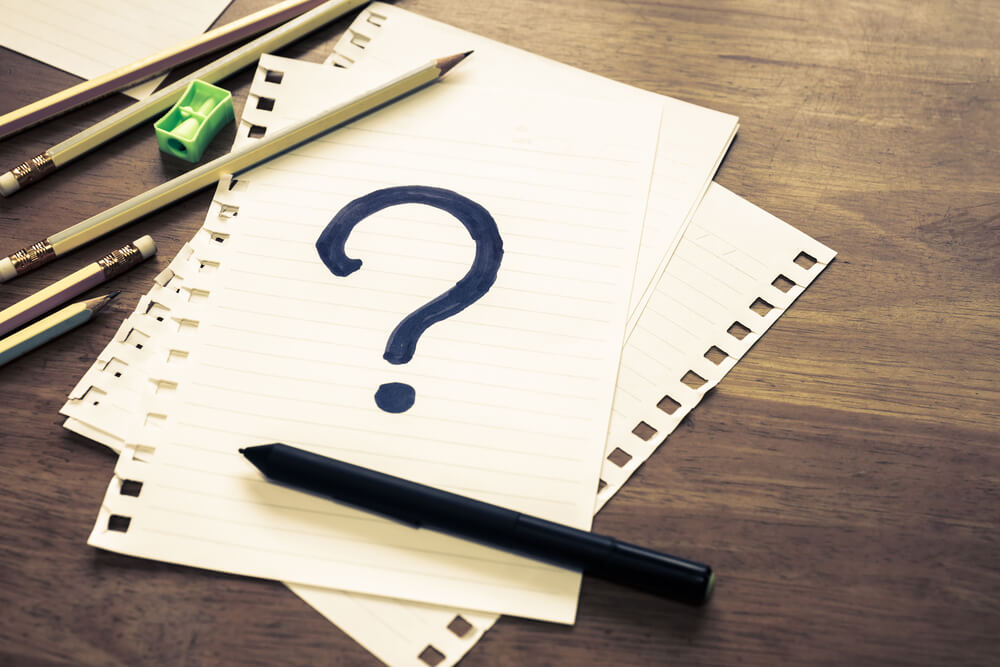 After completing your keyword research, now generate the title of your blog with the help of an Ai tool, GetGenie. Only you need to put a long-tail keyword in the title generation search box along with selecting the Language, Tone, Creativity, And Max Results. Then press the "Generate Title" button and there you will see lots of suggested titles.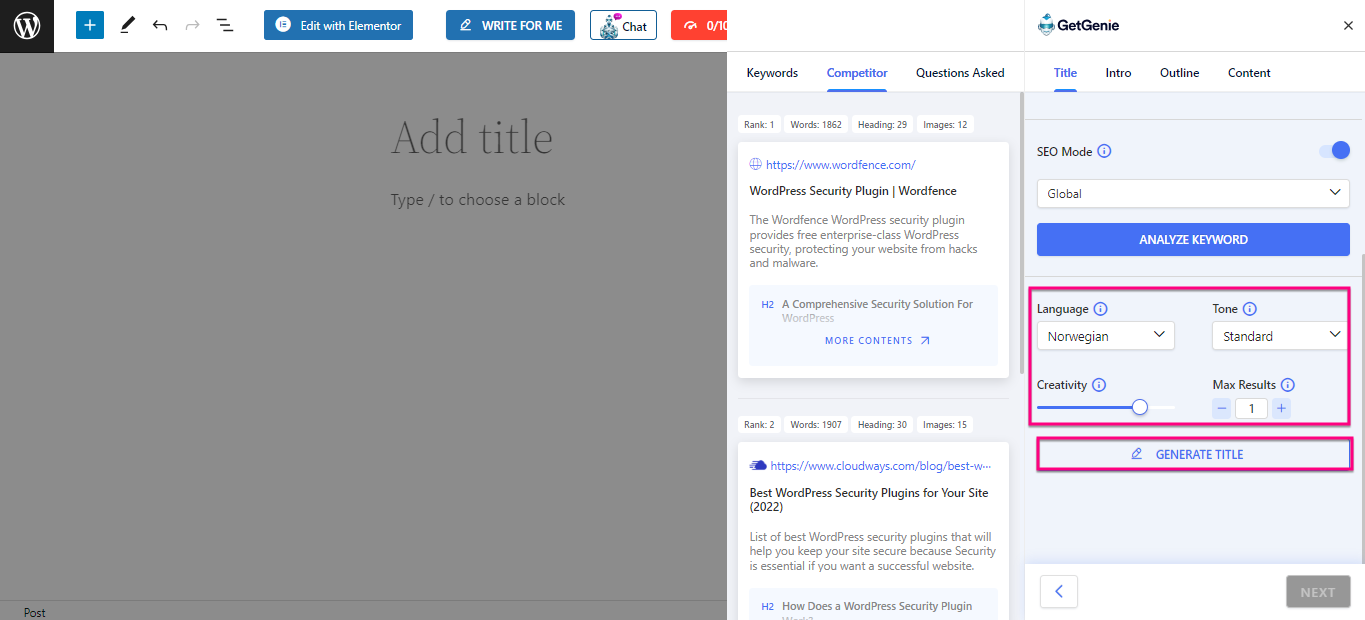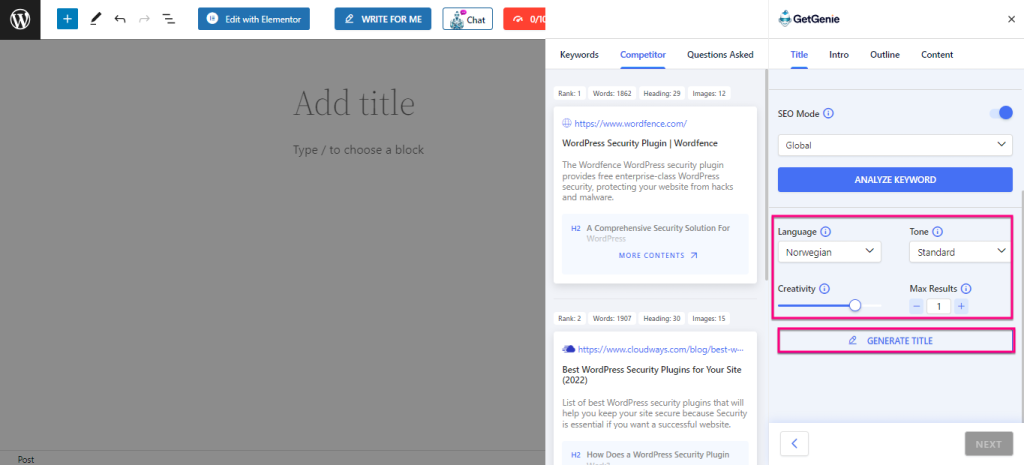 From there you can choose the most suitable one for your blog post by pressing it. After selecting one, press the "Next" button.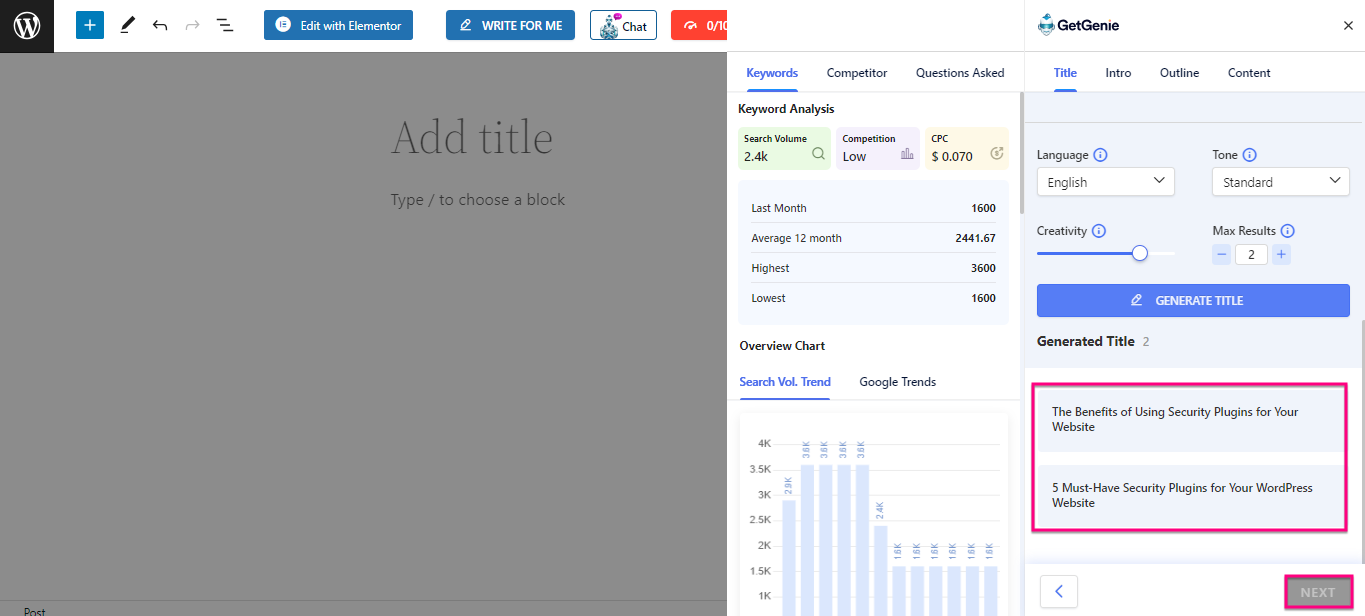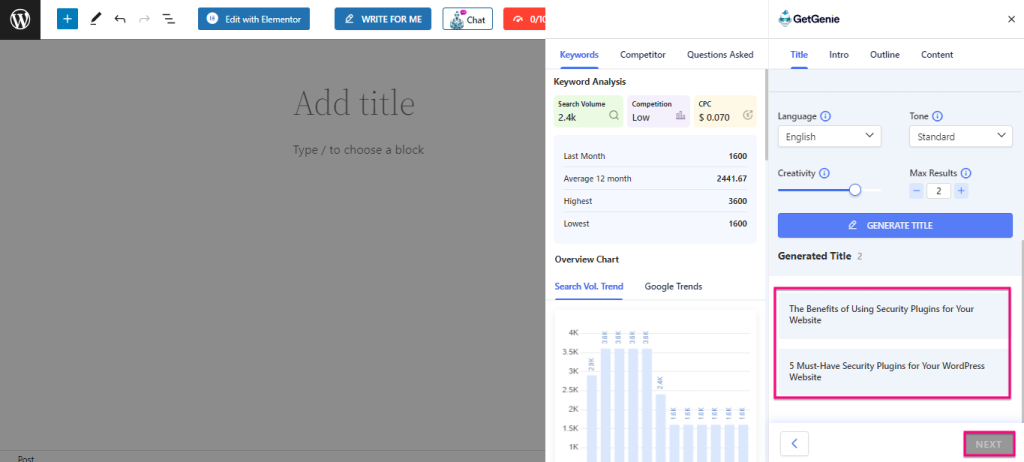 Same as the title generation part, readjust all the input fields if it is necessary and hit the "Generate Intro" button.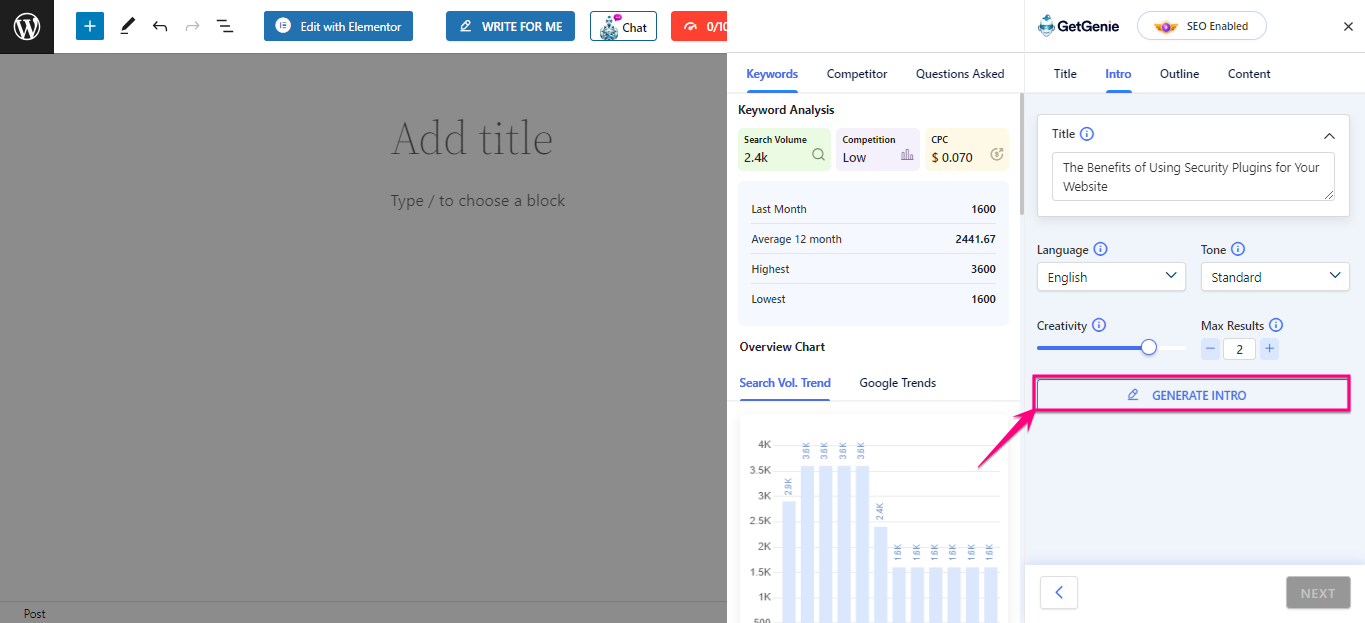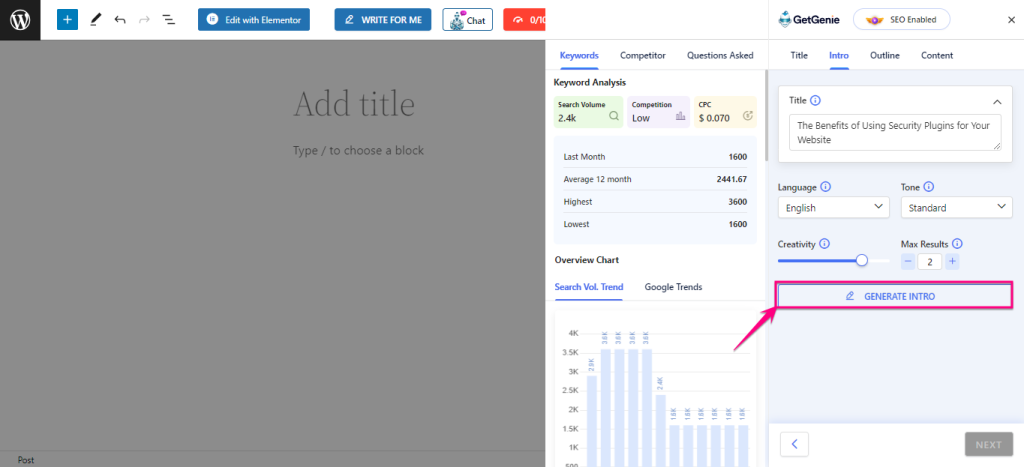 Now, select a suitable one from the Generated Intro and click the "Next" button for the next step.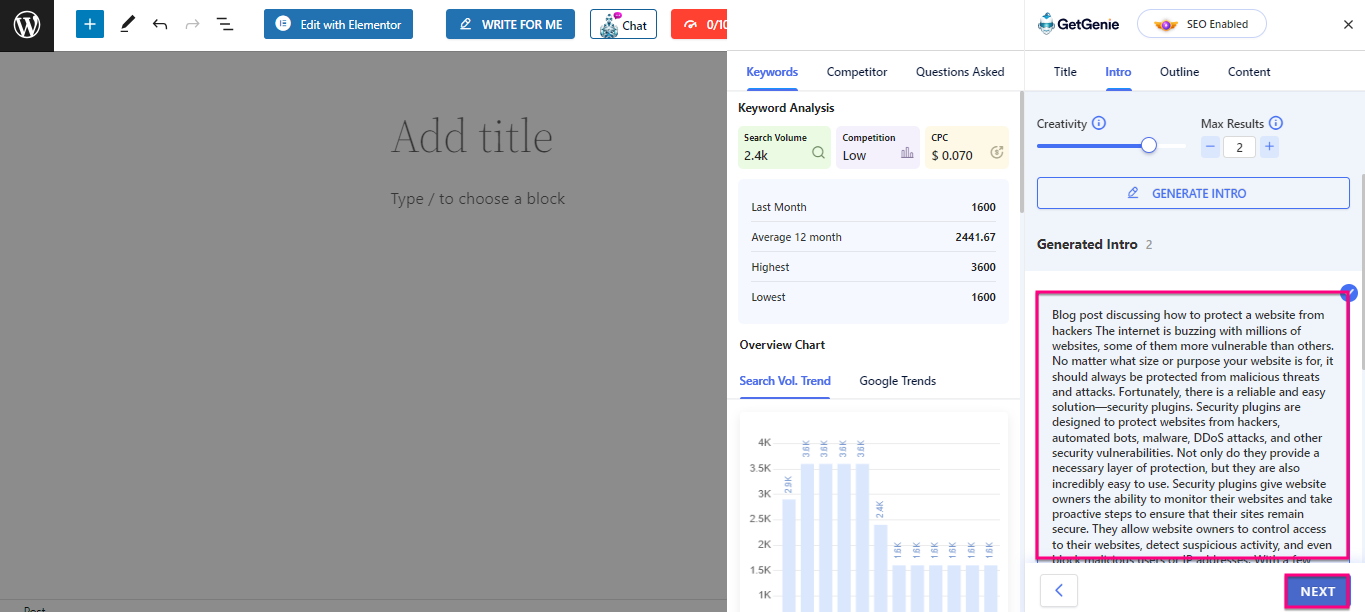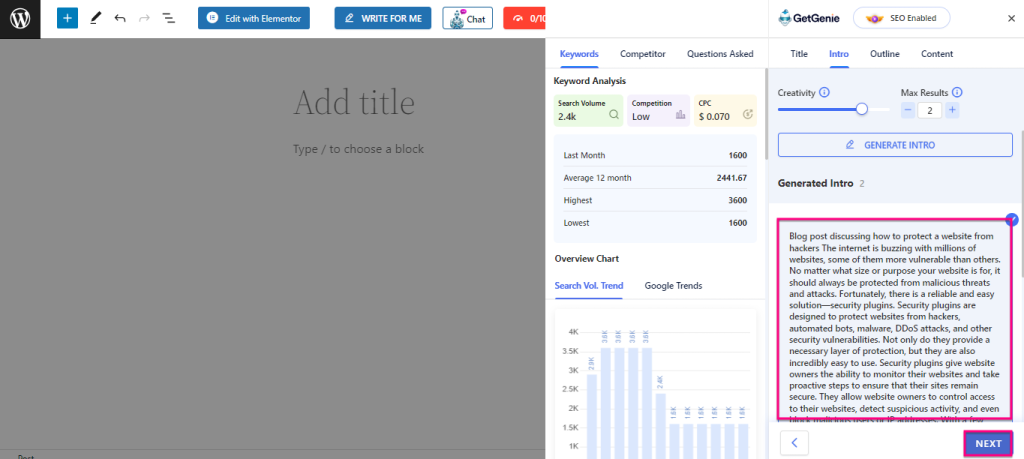 Fast blog outline creation:
You will be stunned to know how artificial intelligence software like GetGenie will suggest you multiple blog outlines that will be optimized for SEO. To come up with outlines, go to the "Outline" tab right next to Intro and hit the "Generate Outline" button.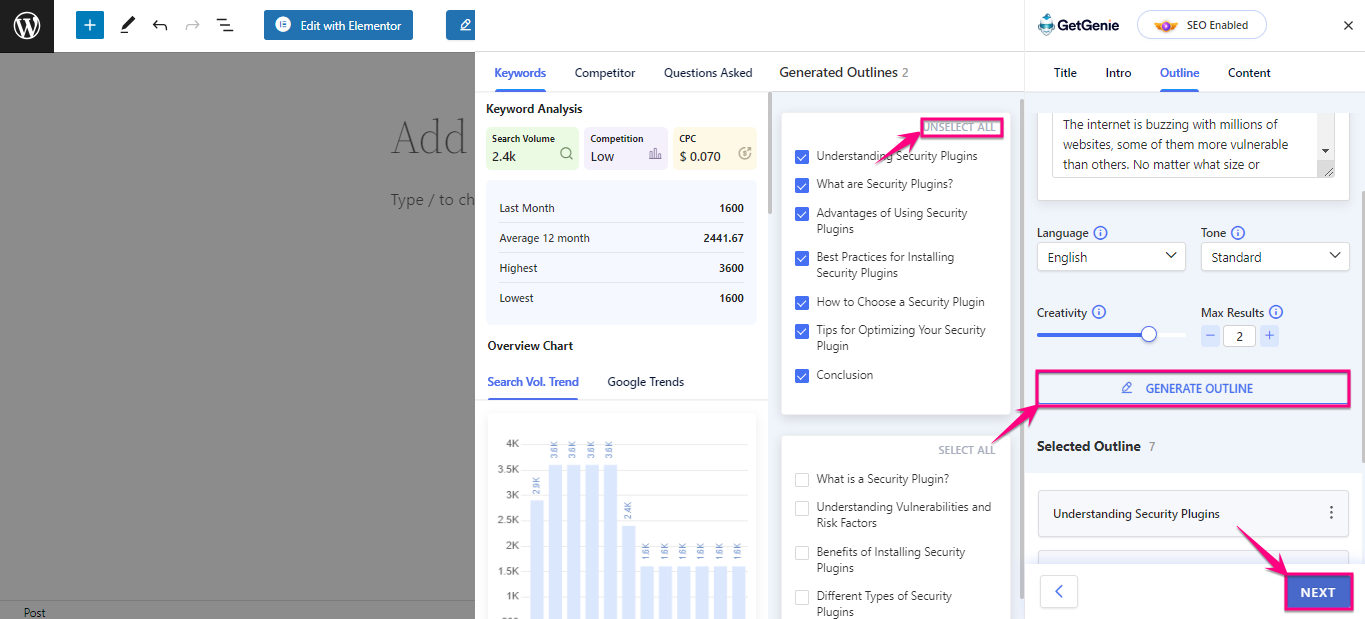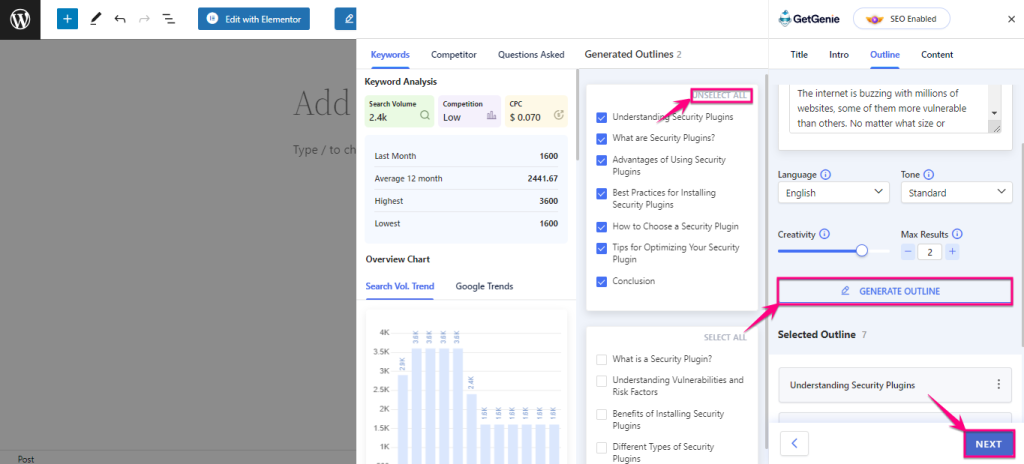 From there you can choose an outline that you want to give to your blog by pressing the "Select All" option. After choosing that outline and pressing the "Next" button, an Ai tool will generate content according to your chosen outline.
This saves a lot of time for content writers who provide content for multiple websites and also, for those who are running small businesses.
Full blog writing: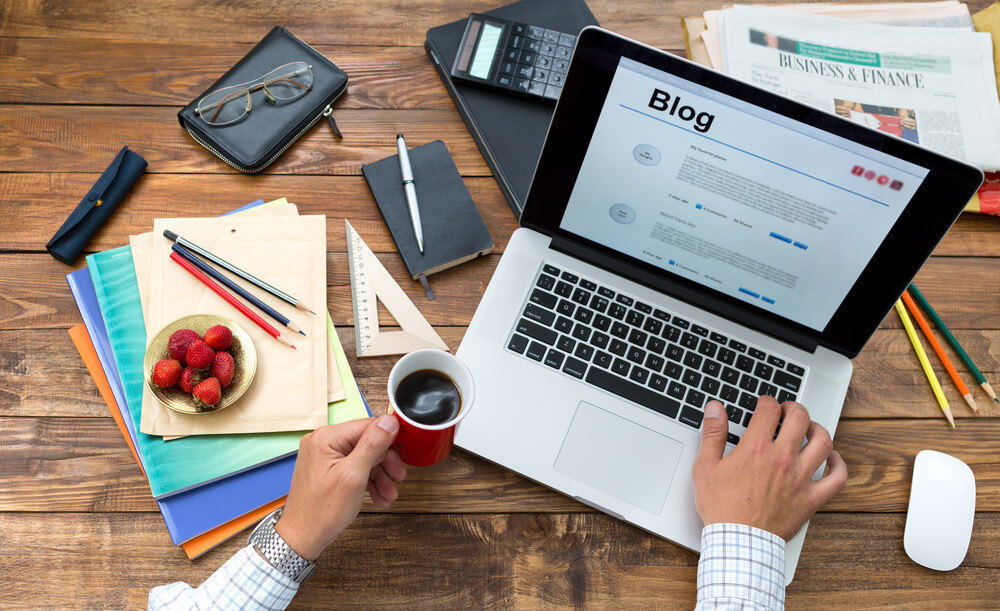 Writing the body part of a blog takes the maximum time of content writing. No matter how fast you write, you will need at least 1 to 3 hours for writing a blog of 1500 words. On the other hand, an Ai tool can generate blog posts of 1500 words within a few minutes.
For example, through GetGenie after the outline generation and pressing the "Next" button, a popup will open where you will find the following two options:
Generate manually: Through this option, you can manually generate content for each heading.
One-click blog: This will allow you to write a complete blog by pressing the One-click blog button.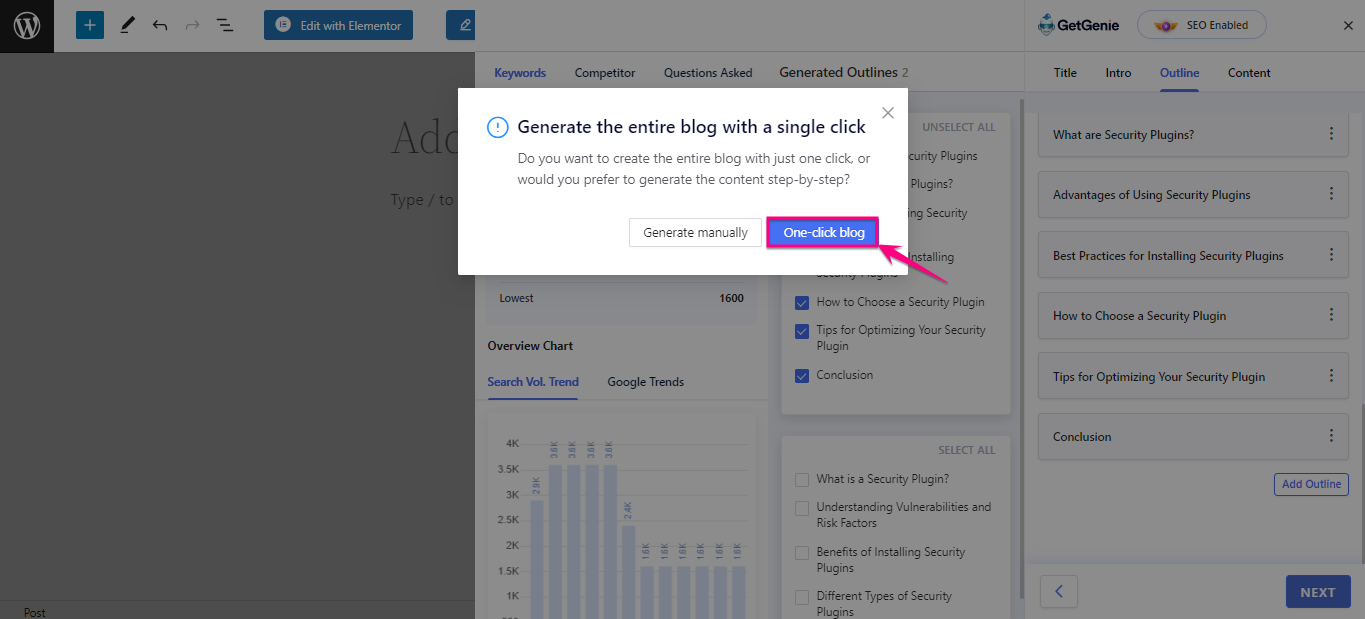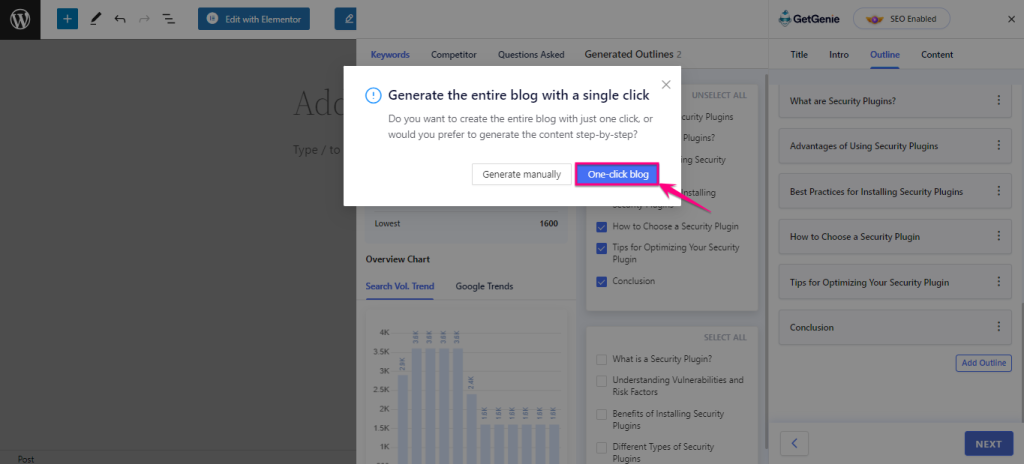 Here is what your generated blog will look like: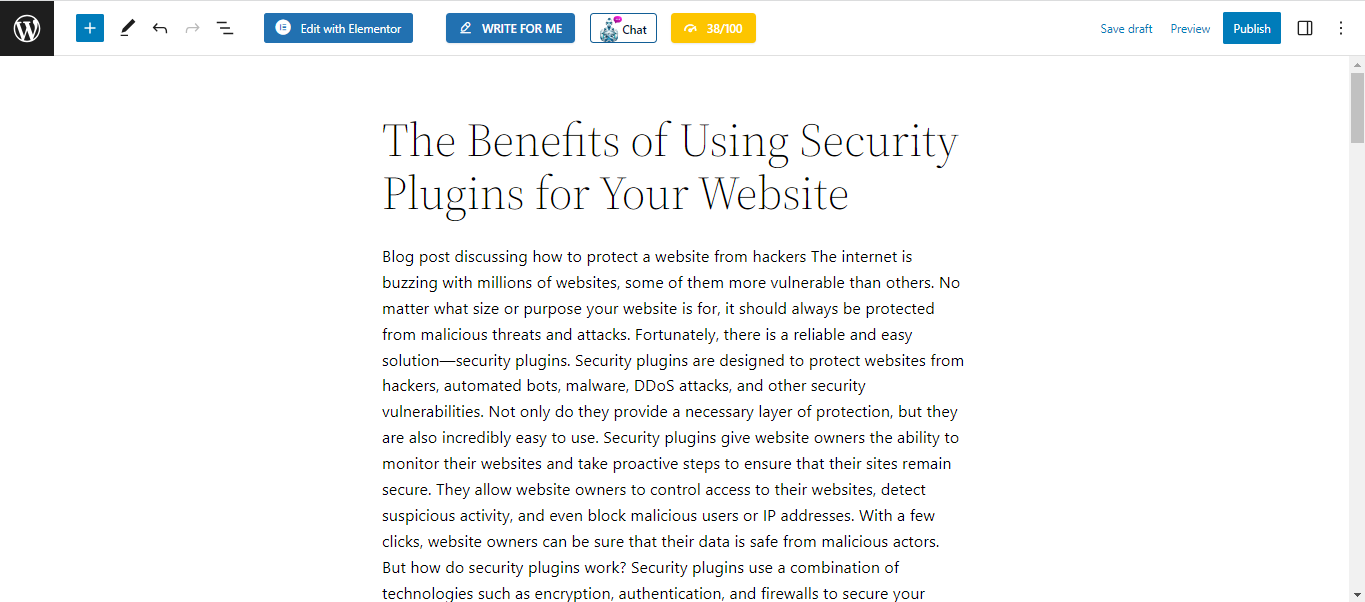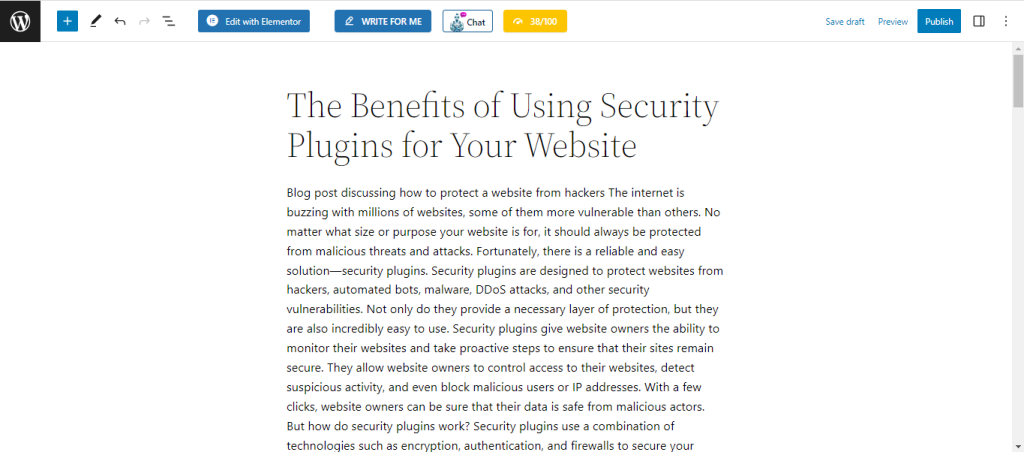 Moreover, you can also utilize the SaaS interface and enjoy all templates using the Playground of GetGenie. On top of that, you can check for plagiarism with this Ai writer.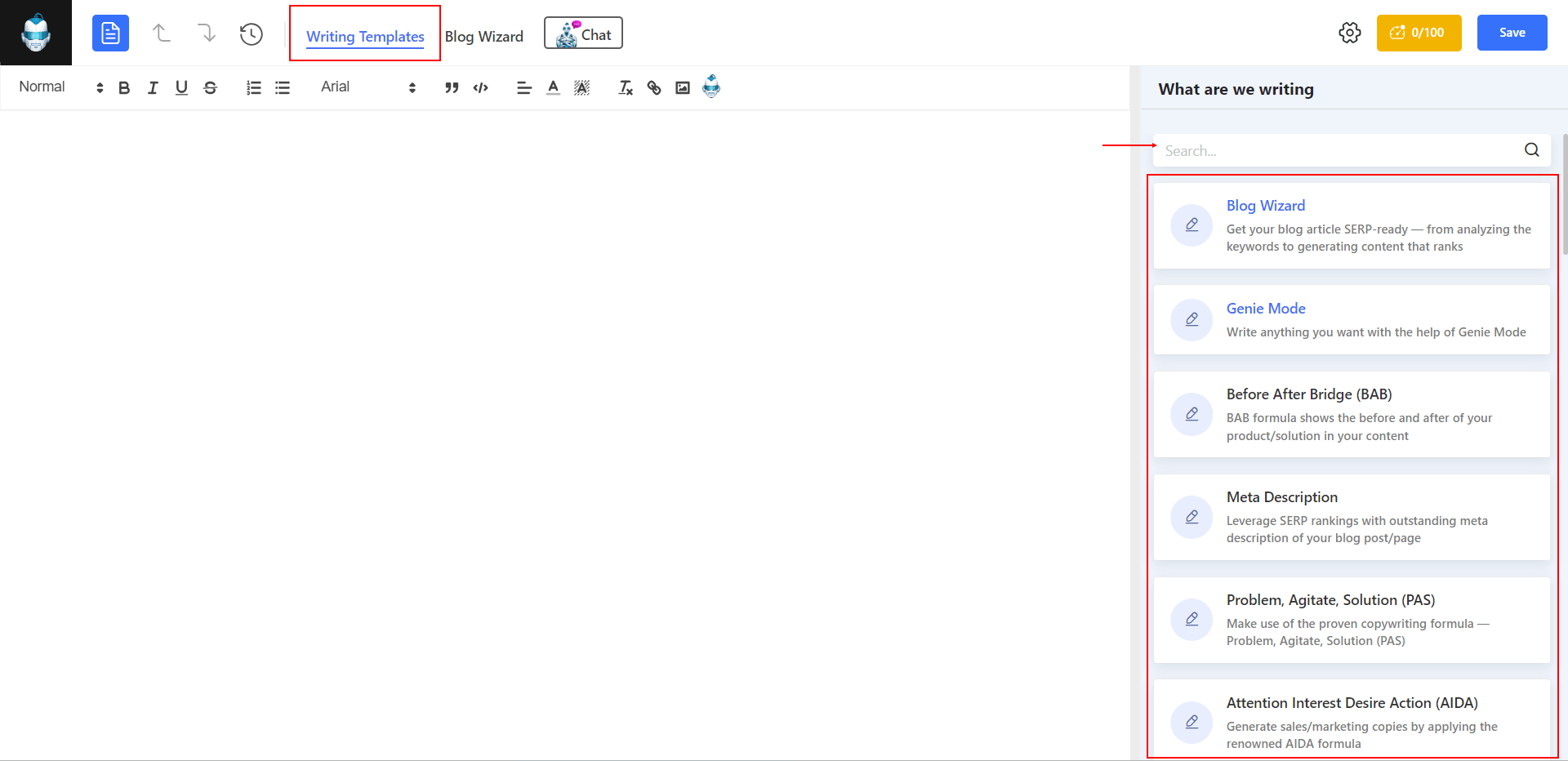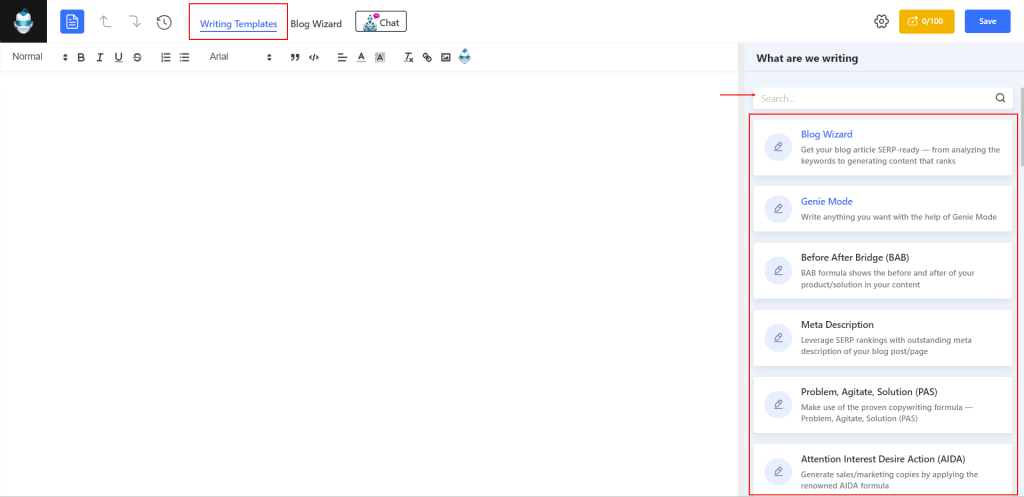 As a result, you can save lots of time that you can utilize to do other important tasks. Besides, you will get no chance to complain about the quality. Because these blogs will be optimized and free from plagiarism. Still feel confused about whether writing a blog with an Ai tool is reliable or not. Read out the blog " Can you rely on Ai content writing tools for blogs".
Meta description generation:
When someone searches for something on the search engine, the second thing that gets noticed after the title is the meta description. Visitors read the meta description before reading a full blog. So, it needs to be well optimized for SEO.
Ai tools create a well-optimized meta description that contains the focus keyword. For example, if you use Ai like getgenie.ai to write blog posts then you can create an optimized meta description within a few seconds.
To do that, you have to select the "Meta Description" template from GetGenie's template list.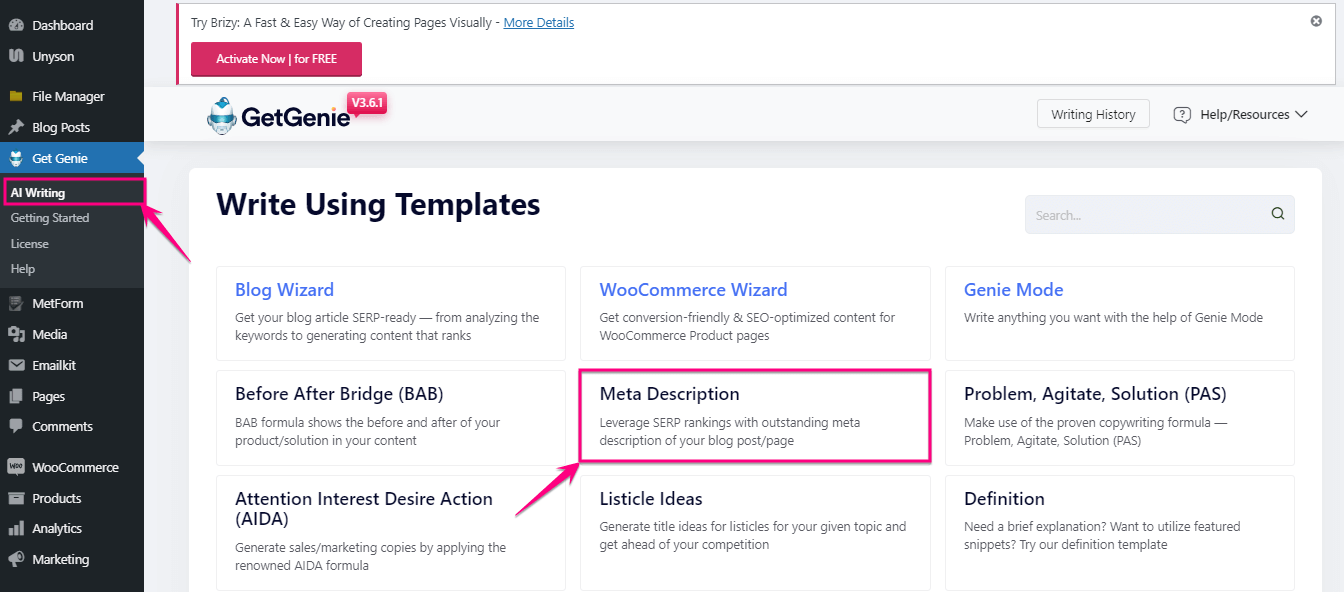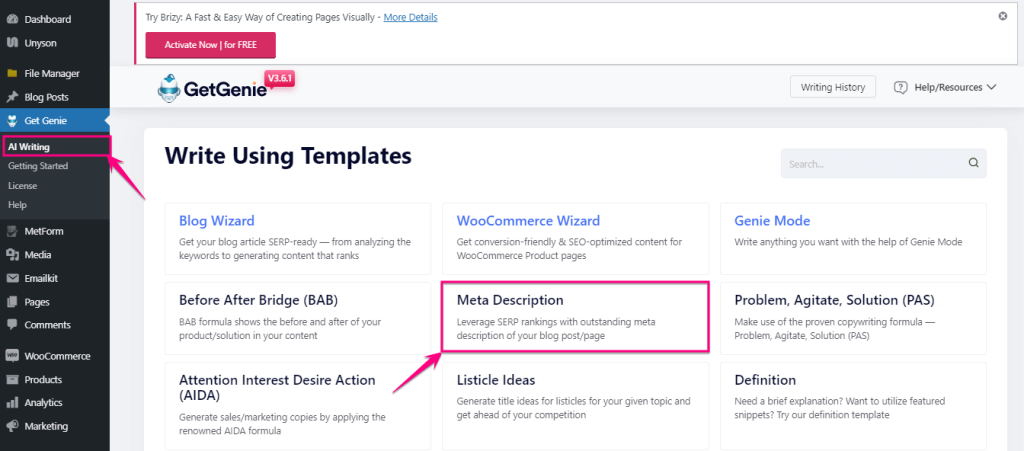 After pressing the template, you have to enter the Blog Post Title, Focus Keyword, Language, Tone, Creativity, and Max Results. Then press the "Write" button.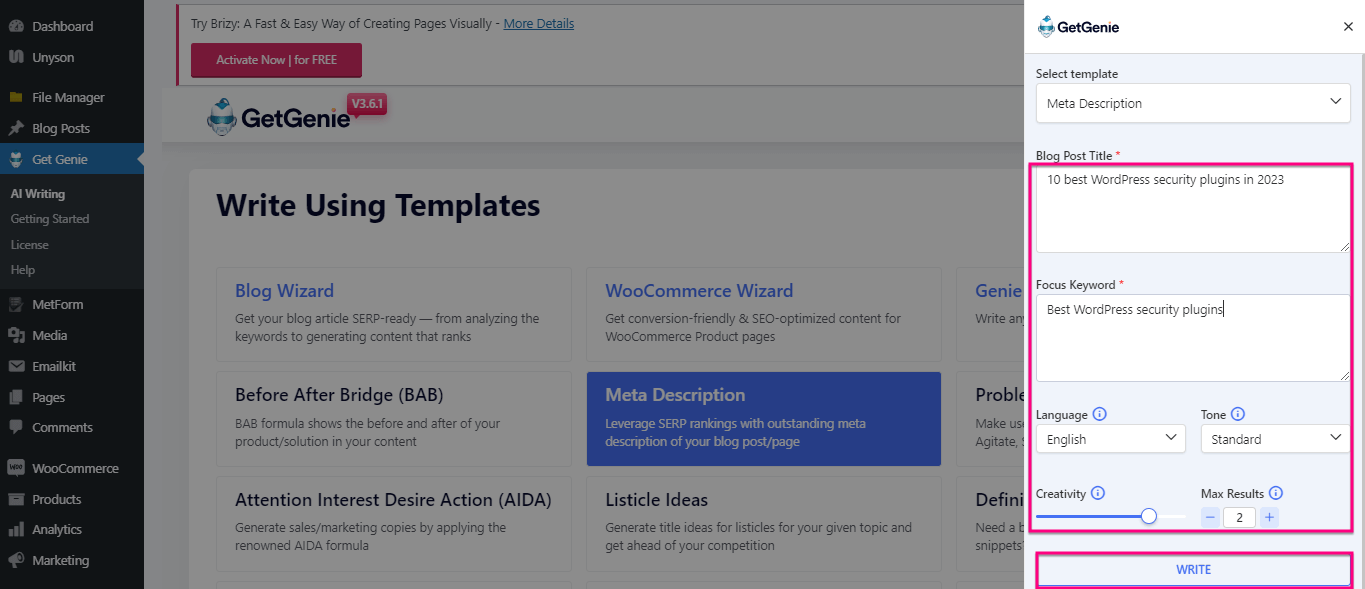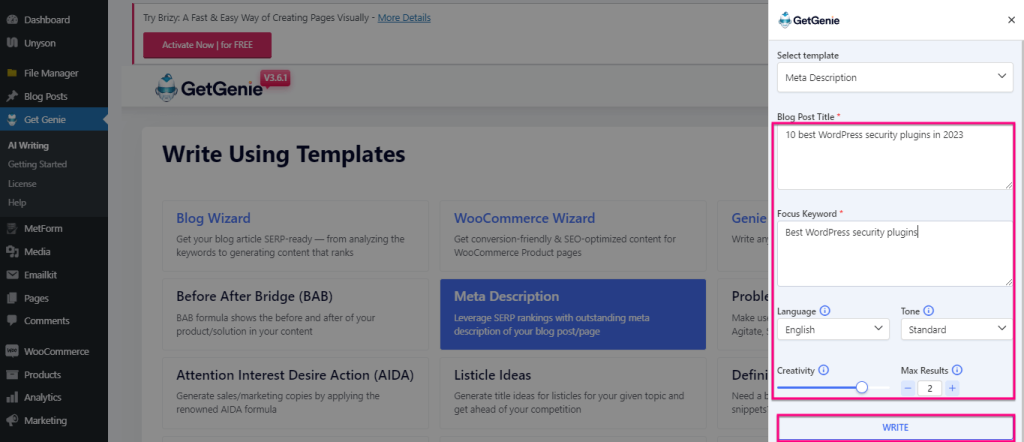 After pressing the "Write" button, you will find generated meta descriptions by this Ai template. Besides, you can regenerate the meta description as many times as you want.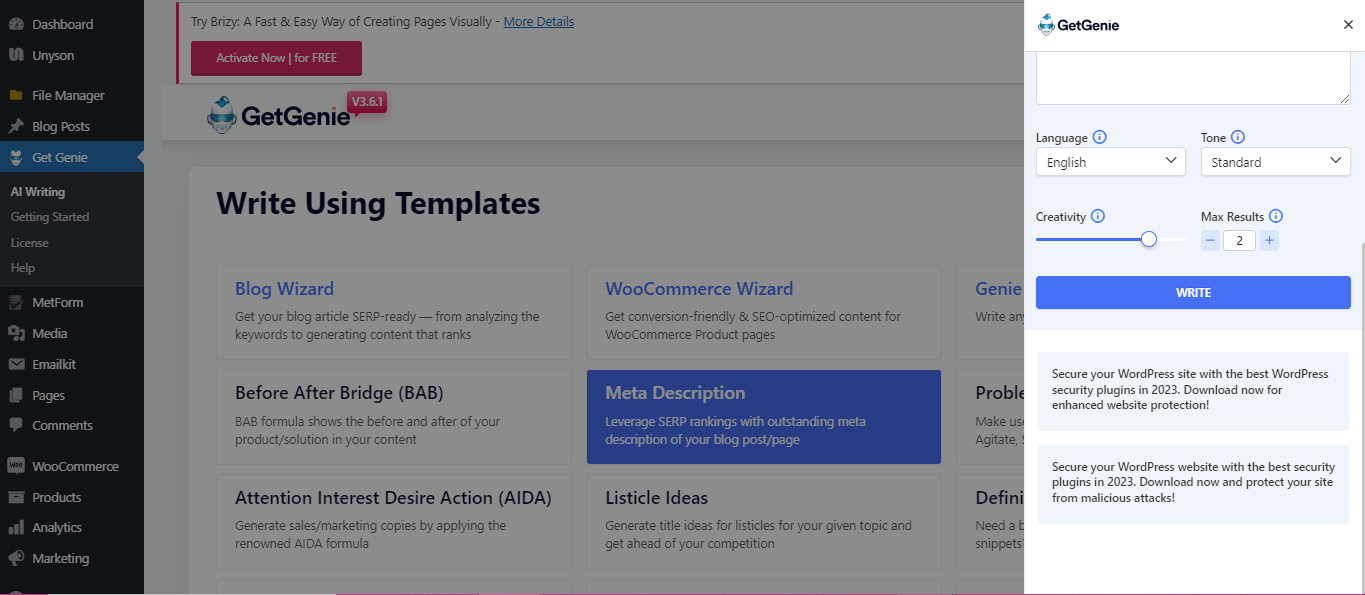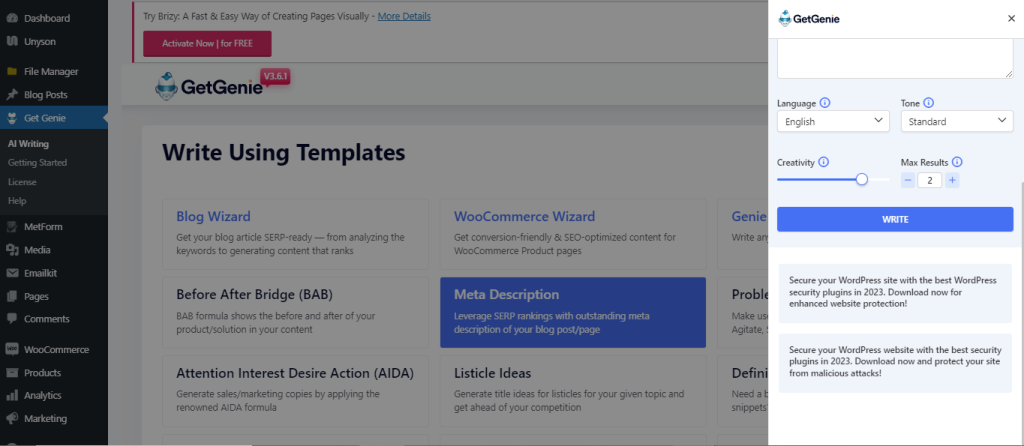 Grammatical error checking:
The final step of writing and publishing a blog is proofreading and grammatical error checking. If you use Ai to write blog posts then you can easily do it by using the Chrome extension of Grammarly. You don't have to copy-paste the whole content on the Grammarly website to find spelling mistakes or grammatical errors.
Ai tools Like getgenie.ai allow you to do grammatical error checking with a single click. That means you can do every small or big content writing subtask with the help of an Ai tool.
Which Ai tool can turn out the best Ai blog writer?
Ai tools have added a new edition for fast and quality content creation. Though these tools can't replace content writers or bloggers, it is super effective when it is used by human beings.
Due to the ongoing demand, people are focusing more on building Ai blog writers that will assist and guide how to write blog posts faster. As a result, lots of Ai tools are available in the market. But, all of them are not compatible with writing quality blogs. Some might be compatible but those could be turned out pricey.
That's why you need to check out its compatibility, price, features, and everything before picking one. GetGenie.Ai can turn out the best Ai blog writer since this tool will provide every option for writing a quality blog that will rank high on search engines.