8 Best Ai Image Generator: Top Picks in 2023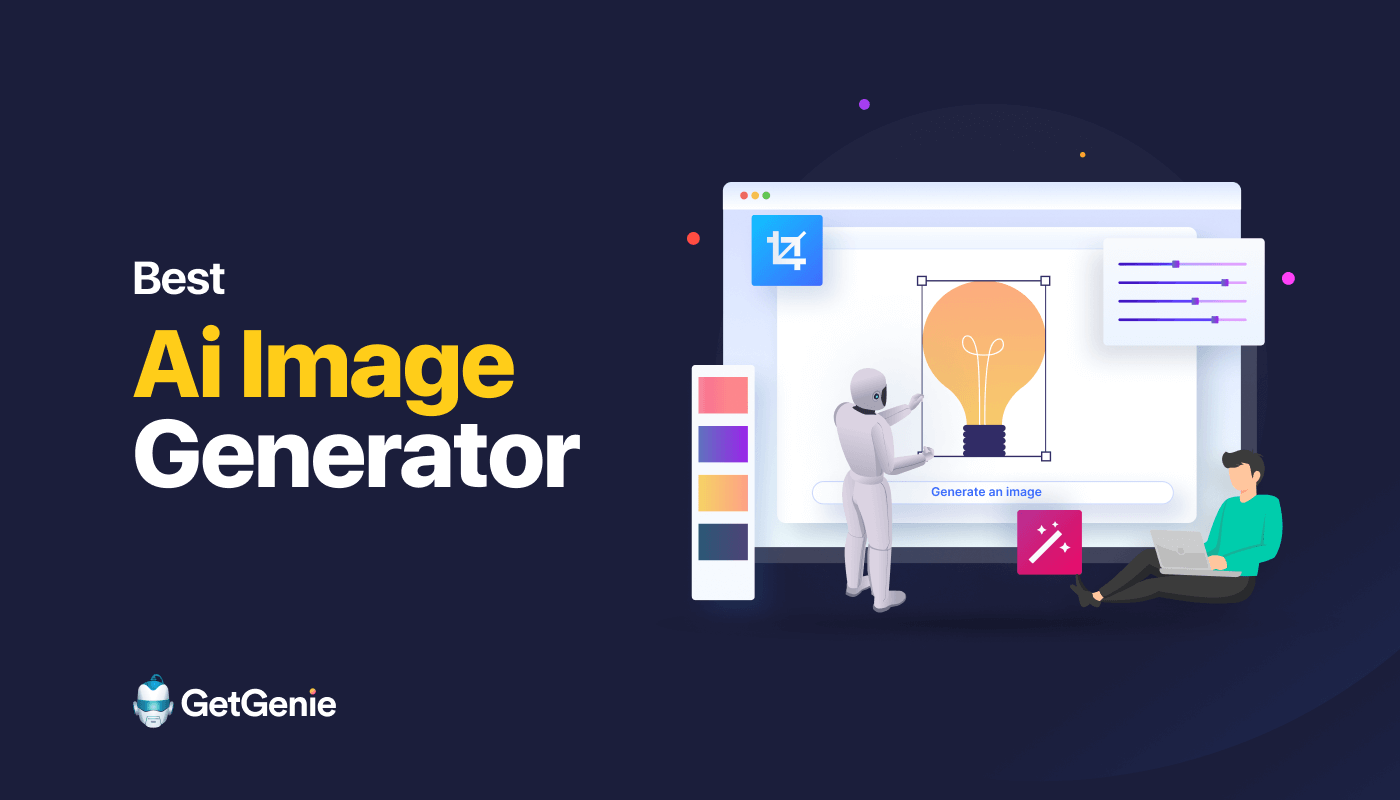 Artificial Intelligence (Ai) has not only revolutionized the world of technology but has also embedded itself in the creative realm. Ai image generator, in particular, has emerged as a powerful tool for individuals and businesses alike.
In this article, we'll delve into the fascinating realm of Ai image generator and unveil the top picks for 2023. Let's embark on a journey to explore how these cutting-edge tools can transform your creative endeavors.
What are Ai Image Generators
Ai image generators are software or tools powered by advanced machine learning algorithms. These systems have been trained on vast datasets of images, enabling them to generate new, unique visuals. They employ neural networks, a system inspired by the human brain, to create stunning images, often indistinguishable from those produced by human hands.
The Ai image generation process involves pattern recognition, where the Ai system analyzes existing images to understand colors, shapes, and structures. It then combines these elements to craft entirely original artwork including photographs and designs. This Ai image generator technology has found applications in various industries, from art and design to marketing and entertainment.
5 Benefits of Using Ai Image Generators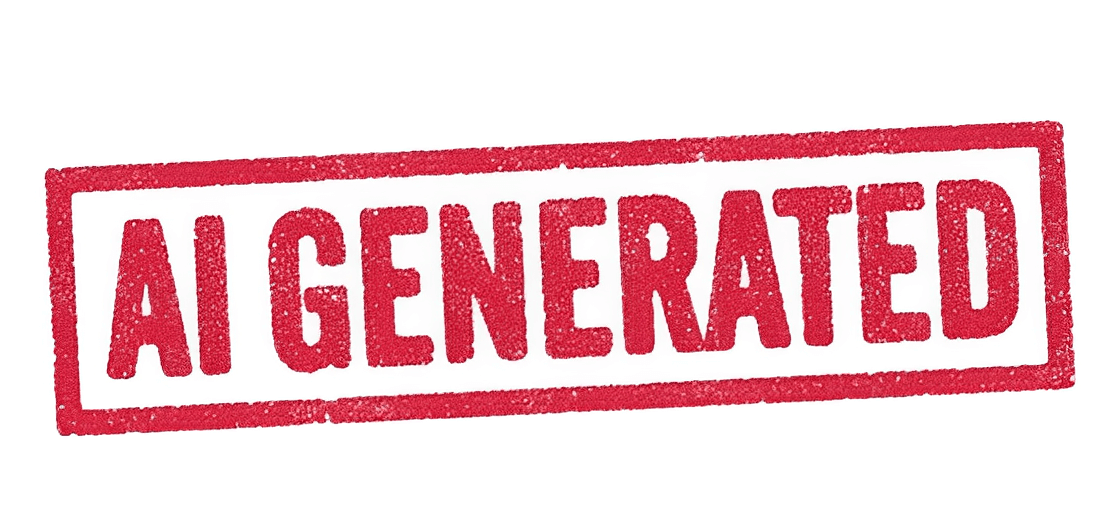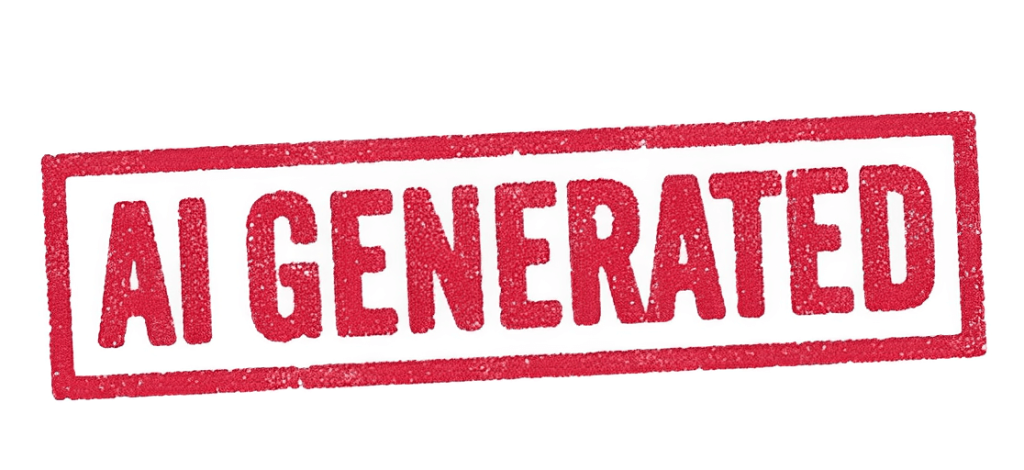 🏅 Unlimited Creativity: Ai image generators unlock boundless creative possibilities. They can produce artwork including graphics and designs that transcend human limitations. Whether you need fresh content for your website, eye-catching marketing visuals, or unique artwork, Ai generators will get you covered.
🏅 Time Efficiency: Generating images manually can be time-consuming. Ai image generators provide quick results, saving you valuable time. In a matter of seconds, you can have a library of images to choose from.
🏅 Consistency: Ai ensures consistency in your visual content. It can replicate styles, colors, and themes effortlessly, making your branding cohesive and professional.
🏅 Cost-Effective: Employing designers or photographers for every visual need can be expensive. Ai image generators offer a cost-effective alternative without compromising on quality.
🏅 Adaptability: These tools cater to a wide range of industries and purposes. Whether you're an e-commerce business, a social media manager, or an artist, Ai image generators can adapt to your unique needs.
Best Ai Image Generator Tools
Explore the fascinating world of Ai-powered image generation and witness the fusion of technology and creativity like never before. As we continue on our journey, you will also be able to decipher which is the best free Ai image generator to be availed of that suits your requirements. Here are our top 8 picks.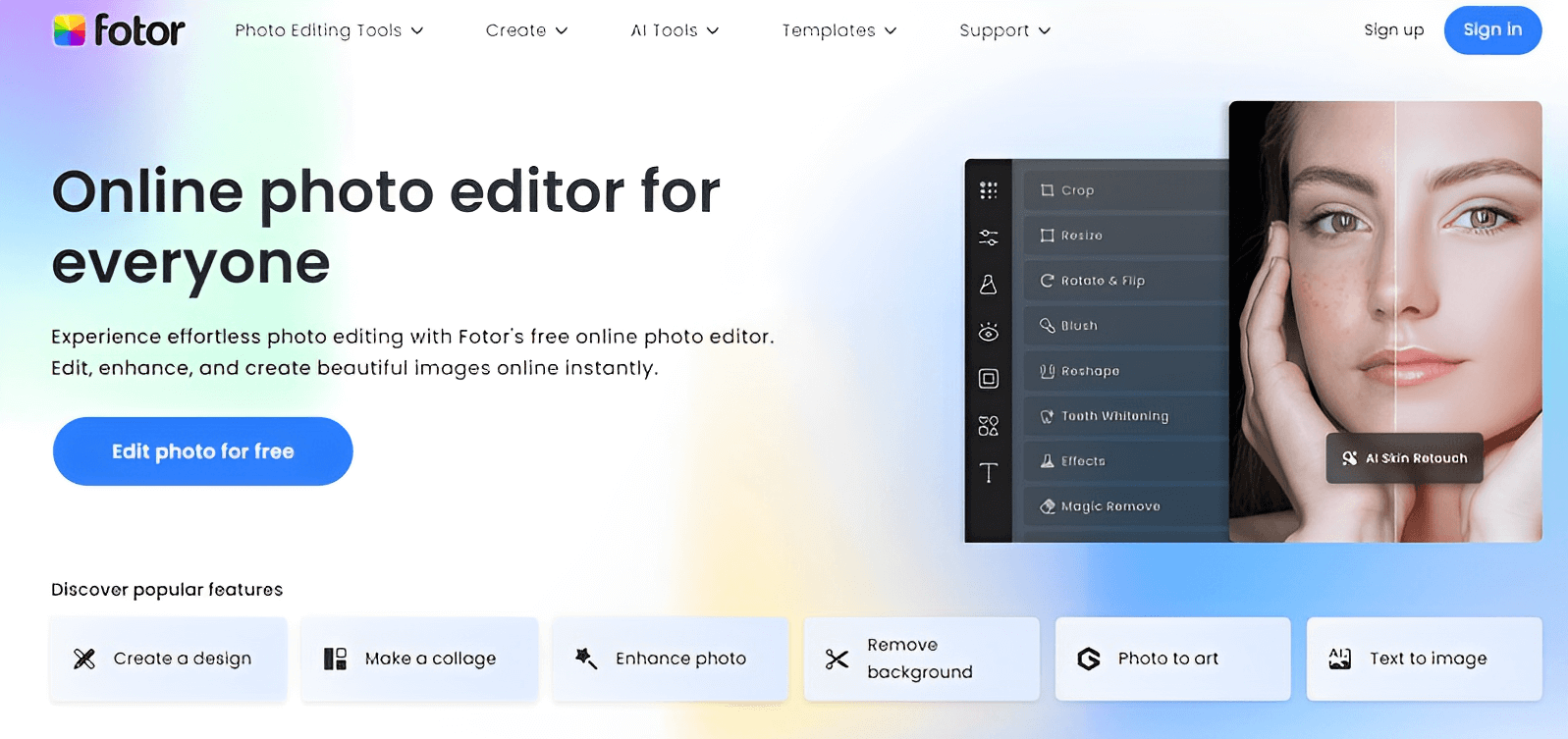 Fotor is an incredibly versatile and user-friendly tool that empowers individuals to effortlessly enhance their photos and craft stunning graphics across a wide array of devices. Whether you're a professional photographer, a social media enthusiast, or just someone looking to add that extra sparkle to your images, Fotor offers a seamless editing experience. One of its standout features is the free Ai image generator, a game-changer for creative minds. This innovative tool takes the simplicity of turning text into captivating images to the next level.
By harnessing the power of artificial intelligence, Fotor's Ai image generator transforms mundane text into eye-catching visuals, sparing users the hassle of time-consuming image searches or laborious editing. With Fotor, ideas come to life effortlessly, making it an indispensable asset for anyone seeking to elevate their visual content.
Key Features:
➡️ Text-to-Image Generator
With Fotor's Ai image generator, you can input text prompts and watch them transform into images in a few clicks. This opens up endless creative possibilities, all within an online platform and in a matter of seconds.
➡️ Customizable Ai Image
Fotor offers customization options for image style and ratio. After generating, you can edit images using Fotor's free photo editor. The Ai features help enhance and refine images, add fun effects, remove backgrounds, include captions, and more.
➡️ One-tap Skin Photo Enhance
Fotor's Ai skin retouch tool streamlines online face editing. Just upload your image, click "1-tap skin retouch," and the editor enhances your picture, fixing red eyes, whitening teeth, smoothing skin, and removing imperfections from portraits.
How to Create Ai-Generated Images with Fotor:
Input your desired text prompts into our Ai photo generator box.
Select your preferred aspect ratio from various image styles like 3D, oil painting, or cartoon.
Specify the number of images you want.
Click "Generate" to produce Ai photos.
Click the "Edit" button to customize your Ai images. To enhance your image, you can add text, filters, and other stickers from our Fotor photo editor.
Download your Ai pictures and share your perfect Ai-generated photos. Or incorporate them into Fotor's graphic design projects, such as posters, flyers, and presentations.
Pricing:
Fotor Basic – Free
Fotor Pro – $8.99 per month
Fotor Pro+ – $19.99 per month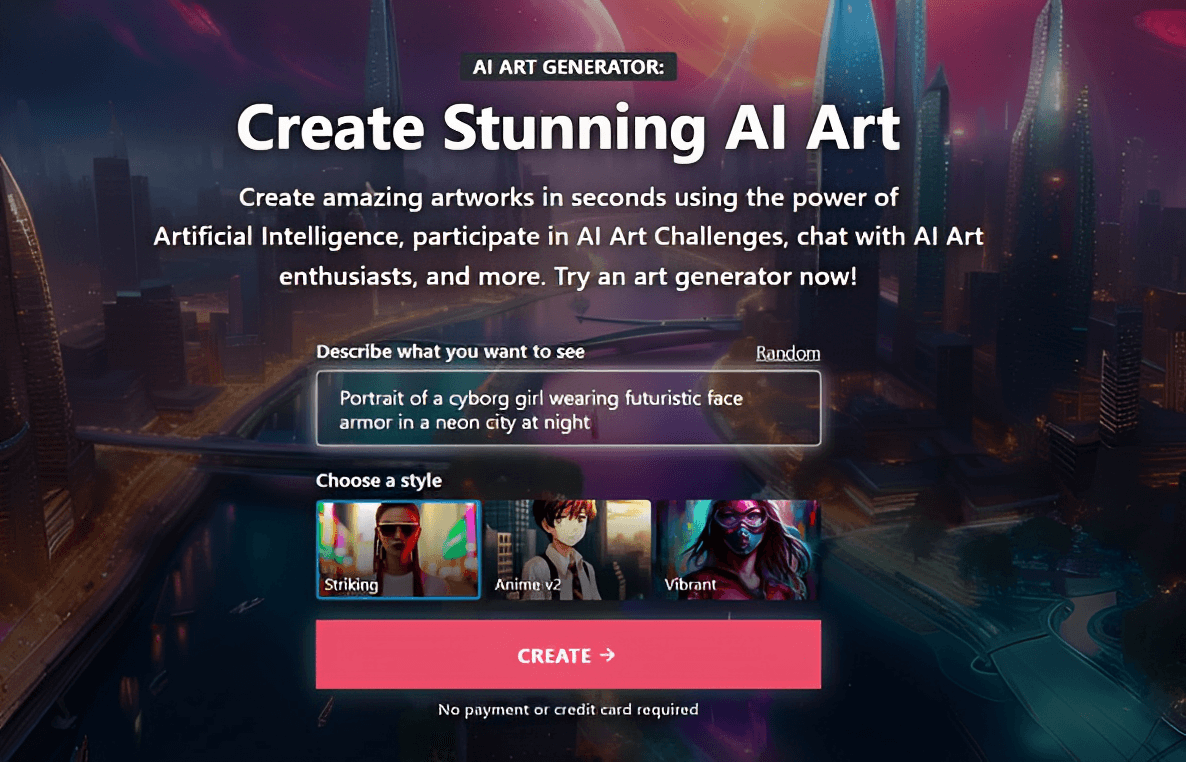 The NightCafe Creator stands as a revolutionary Ai image generator, offering a plethora of cutting-edge techniques for the creation of captivating digital art. Among its impressive array of features, one that truly stands out is the neural style transfer, which allows users to seamlessly transform their ordinary photos into breathtaking masterpieces. With this tool at your disposal, the realm of artistic possibilities expands exponentially.
Moreover, NightCafe Creator's text-to-image Ai feature further cements its position as an innovative powerhouse in the realm of digital art. This remarkable capability allows you to transcend the boundaries of traditional artistry by crafting visual masterpieces from mere written words. Simply input your text prompt, and watch as the generator weaves a remarkable image that encapsulates the essence of your words.
Key Features:
➡️ Text-to-Image Ai Art Generator
Create stunning artwork from a simple text prompt using NightCafe Creator. Type in your idea, whether it's a cultural reference, poem, lyric, or random phrase, and let the Ai transform your words into art.
➡️ Stable Diffusion Image Generator
NightCafe Creator employs an advanced Ai algorithm called Stable Diffusion to produce coherent images based on text prompts. It excels at generating faces and realistic 3D scenes. It makes it versatile for artistic or photographic-style images.
➡️ Neural Style Transfer
This technique lets you apply the stylistic characteristics of one image to another. NightCafe Creator simplifies this process, allowing you to create captivating artwork.
How to Create Ai-Generated Images with NightCafe:
Navigate to NightCafe Studio.
Tap the "Create" button.
Choose the Stable algorithm that suits your preferences, such as Coherent, Artistic, Style Transfer, or Stable.
Enter your desired text prompt.
Pick one of the 25 available presets provided by NightCafe.
Click "Create" to generate your inaugural art piece.
Pricing:
NightCafe Basic – Free
NightCafe Ai Beginner – $5.99 per month
NightCafe Ai Hobbyist – $9.99 per month
NightCafe Ai Enthusiast – $19.99 per month
NightCafe Ai Artist – $49.99 per month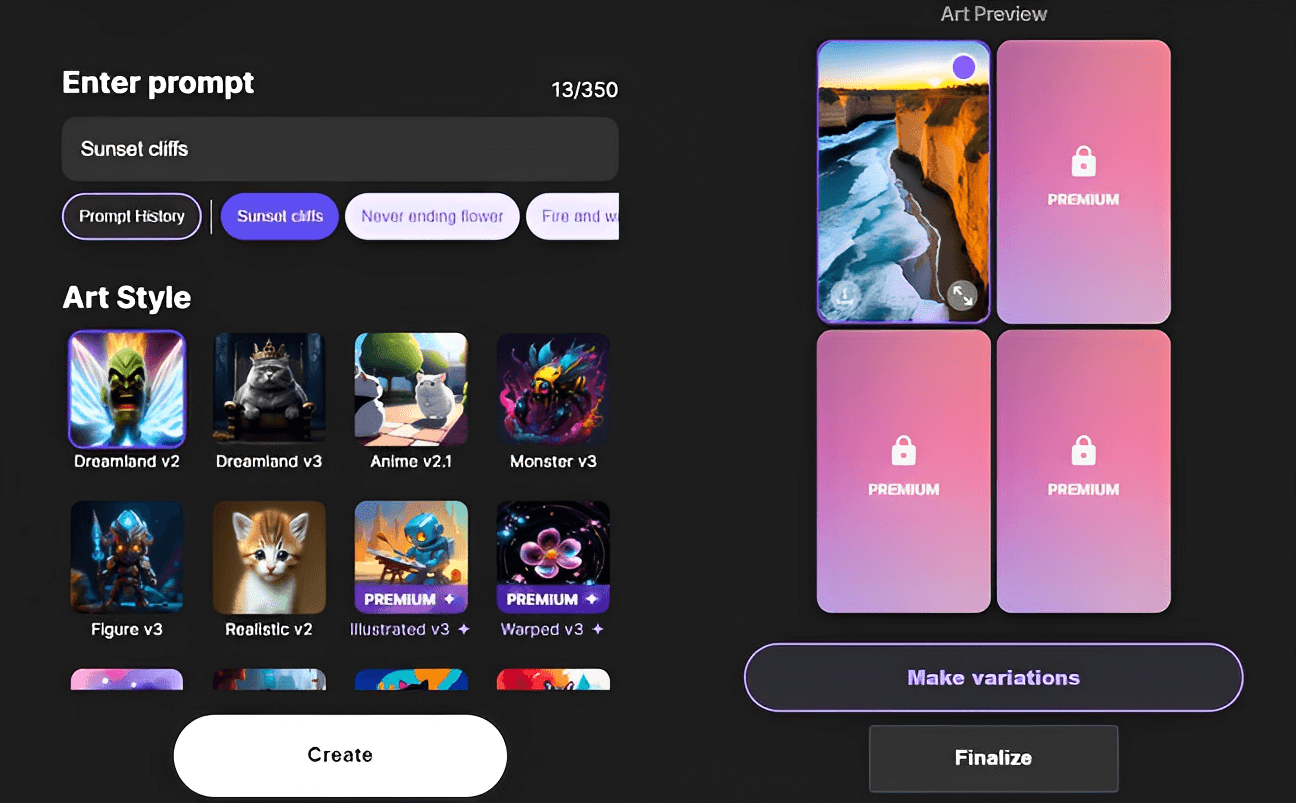 Dream by WOMBO stands as a remarkable Ai Image Generator tool, offering users a gateway to unleash their creative potential and craft awe-inspiring artwork effortlessly. With this tool at their fingertips, users have the power to breathe life into their artistic visions. It operates on a simple yet impactful principle: you provide a prompt that ignites your imagination, and then you select an art style that resonates with your vision.
In mere seconds, the tool harnesses the capabilities of artificial intelligence to seamlessly merge these elements into a captivating piece of artwork. It's a transformative process that turns ideas into visual marvels, making artistry more accessible and exciting for everyone.
Key Features:
➡️ 42 Unique Artistic Styles
Dream by WOMBO caters to all, from seasoned artists to someone craving novelty. Dream by WOMBO offers a palette of 42 diverse art styles, ranging from flora and memes to realistic and HDR.
➡️ Generate Outputs All At Once
Save time by generating up to four outputs simultaneously. This feature allows you to produce many renditions of your artwork and compare them. It enables you to select the most appealing one.
➡️ Never Replicates Artistry
Each creation is one-of-a-kind and original, ensuring your work garners attention. This Ai Image generator adapts artistry to infuse more intricate and lifelike details. It guarantees a unique outcome every time.
How to Create Ai-Generated Images with Dream:
Access the Dream by WOMBO platform and press the "Start Creating" button.
Within the Dream by WOMBO workspace, provide the prompts for your desired artwork. You can also enhance the generated art by selecting your preferred style.
Preview the art produced by WOMBO's Ai.
If you're content with the generated art, you can download it.
Pricing:
Premium – $9.99 per month
Premium – $89.99 per year
Printing Cost – starts at $20; price varies depending on the size & style of your artwork.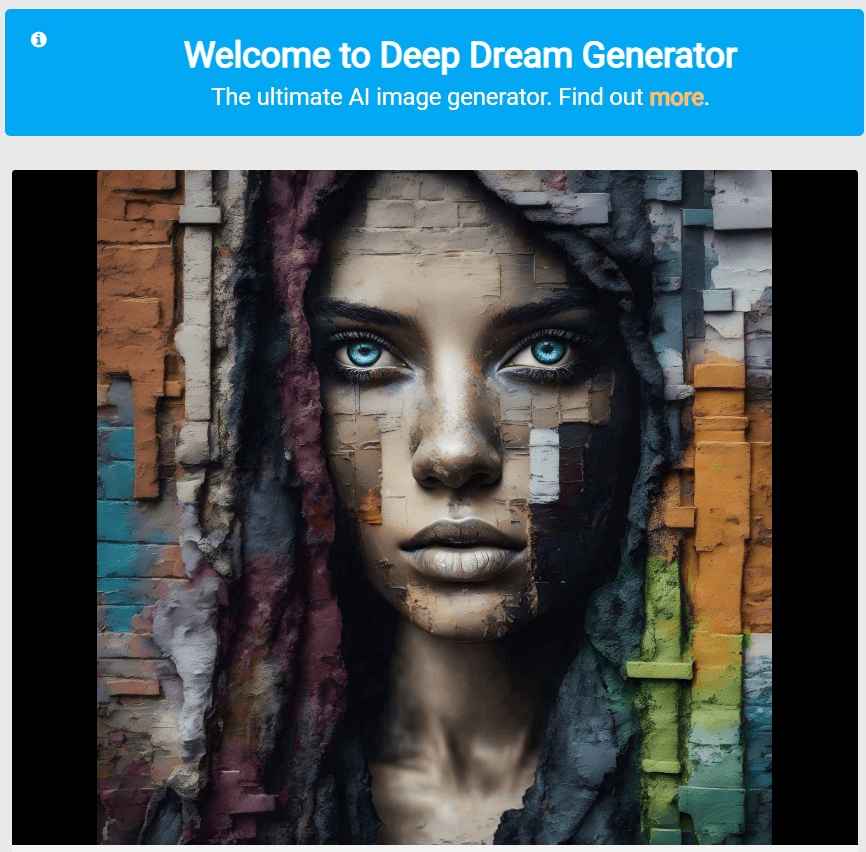 Deep Dream is a versatile tool that serves as both an Ai image generator and an Ai design instrument, offering users an exciting realm of creative possibilities. At its core, this innovative tool harnesses the power of neural networks to craft striking images that draw inspiration from pre-existing visuals or textual input. It's a fusion of art and technology where your imagination can run wild.
What sets Deep Dream apart is the immense depth of its capabilities, and this depth is a result of rigorous self-training. Through extensive learning, Deep Dream has become a proficient artist in its own right, employing advanced Ai algorithms and methodologies to scrutinize and interpret countless images.
Key Features:
➡️ Ai-Powered Image Generation
Deep Dream Generator uses advanced Ai algorithms to turn regular images into stunning masterpieces. It also handles high-resolution images up to 4K, ensuring sharp and detailed results.
➡️ Deep Dream Styles and Effects
The Deep Dream Generator has three main Ai art modes: Text 2 Dream turns text into images, Deep Style generates images from a base image, and Deep Dream creates psychedelic and abstract art.
➡️ Community Interaction
Deep Dream incorporates a built-in social feature. Users can share their creations, follow fellow artists, and explore diverse art styles.
How to Generate Ai Art with Deep Dream Generator:
Create an account on Deep Dream Generator.
Click the 'Generate' button and upload the image you want to transform into Ai art.
Choose an image style from options like Thin Style, Deep Style, and Dark Style.
Generate the Ai art by clicking the "Generate" button.
Download the Generated Image and share your final artwork on social media platforms.
Pricing:
Basic – $0
Advanced – $19 per month
Professional – $39 per month
Ultra – $99 per month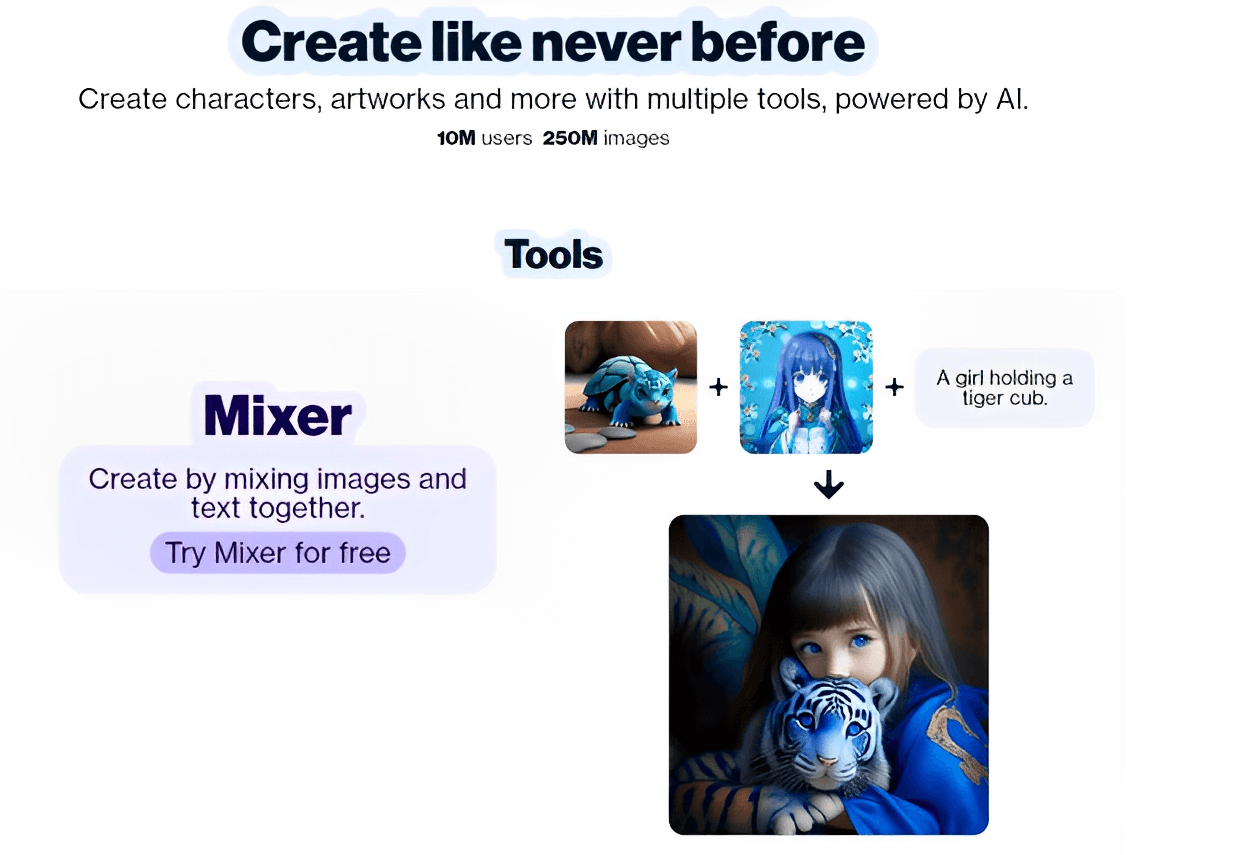 Artbreeder is an advanced Ai image generator that focuses on enhancing image quality through artificial intelligence. It allows users to improve their images and explore various variations using sophisticated Ai algorithms, resulting in clearer, more detailed, and visually appealing creations. Artbreeder is like a digital playground where your images can be transformed into stunning visual gems through Ai enhancements.
What makes Artbreeder unique is its ability to bring your images to life in surprising ways. Beyond static visuals, it enables you to animate your images, adding dynamic motion and an extra dimension of expression and storytelling to your creations.
Key Features:
➡️ Harnesses Generative Ai
Artbreeder uses Generative Ai as its core technology. This type of Ai is all about creating new data, not just organizing what's already there. Artbreeder specifically uses BigGAN and StyleGAN models to make this happen.
➡️ Private Mode Functionality
In private mode, the images you create remain confidential and are neither visible nor utilized by anyone at any point. If you stop your subscription, your private images will remain secure. Please note that this feature is exclusive to paid plans.
➡️ Google Drive Synchronization
For added convenience, you can synchronize your Artbreeder account with Google Drive. It is to ensure the safety and organization of your photos. Please be aware that this feature is accessible only through paid plans.
How to Generate Ai Image with Artbreeder:
Visit the Artbreeder website and complete the registration process to create your account.
Navigate to the category of your choice where you'd like to generate an image.
You can either select an existing image for modification or upload one to adjust your image using the "Children" or "Genes" tabs. The "Children" tab presents variations of your image generated by Artbreeder. While the "Genes" tab lets you fine-tune different aspects of the image.
If you wish to combine or "breed" two images together, access the "Breed" tab.
Once satisfied with your creation, save and download it.
Pricing:
Free – $0
Starter – $8.99 per month
Advanced – $18.99 per month
Champion – $38.99 per month
StarryAi is an Ai image generator that turns text into captivating visuals. It's accessible through web and app versions, making it easy for users on iOS and Android devices to get creative anytime, anywhere. StarryAi relies on two Ai models, Altair and Orion, to achieve its impressive results. Altair, one of these models, uses the VQGAN-CLIP model to create visually stunning artwork from user-supplied text prompts.
Whether you're a seasoned artist seeking new avenues for inspiration or a novice looking to embark on a creative journey, StarryAi's amalgamation of technology and artistry paves the way for innovative and captivating visual storytelling.
Key Features:
➡️ Diverse Art Styles:
StarryAi provides various pre-existing art styles, from impressionism to surrealism, contemporary to classic. Users can select an art style that aligns with their creative vision.
➡️ Customization Options
StarryAi offers extensive customization features, empowering users to fine-tune and personalize their artwork. You have full control over the creative process, from choosing models, styles, and aspect ratios to incorporating initial images.
➡️ Cross-Platform Accessibility:
Whether you favor Android or iOS devices, StarryAi ensures easy access to the realm of AI art through its cross-platform compatibility.
How to Generate Ai Images Using StarryAi:
Register a profile.
Choose from options such as "Art," "Photos," "Illustrations," or "Your Styles."
– "Art" allows you to generate images in various artistic styles.
– "Photos" creates high-quality, lifelike images.
– "Illustrations" lets you generate illustrations in three styles: 3D, Detailed, or Flat.
– "Your Styles" enables the creation of a unique style.
Input a prompt to generate an Art image in the upper left corner.
Click the 'Generate' button to create your image.
Share your work and connect with other creators.
Pricing:
Free Version – 5 credits only
Starter – $11.99 per month
Unlimited Pro – $37.99 per month
Unlimited Pro Max – $79.99 per month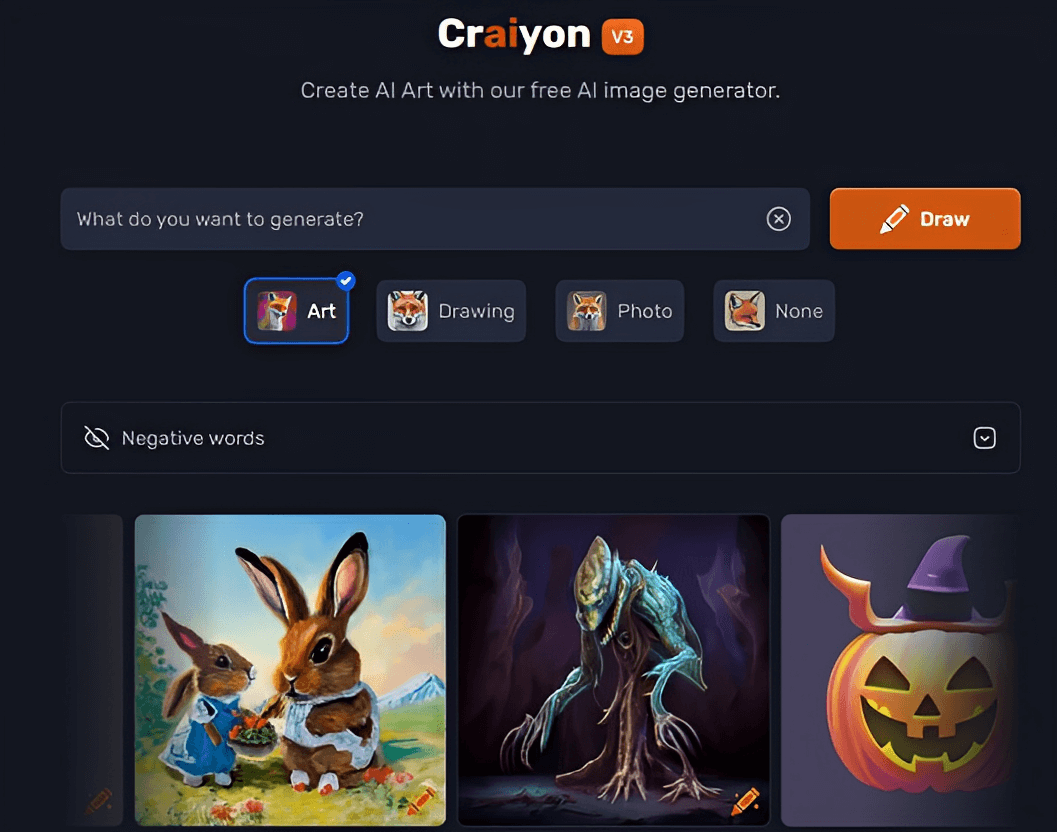 Craiyon is a remarkable Ai image generator tool that takes textual prompts and turns them into one-of-a-kind visual masterpieces. At the heart of its creative process lies the powerful DALL-E Mini technology, which excels at interpreting primary text inputs and translating them into captivating images that embody the essence of the user's vision.
Beyond its prowess in image creation, Craiyon offers an exciting dimension with its print-on-demand services, enabling users to bring their artistic creations to life on tangible canvases like t-shirts. This unique blend of Ai-driven image generation and the opportunity for real-world artistic expression makes Craiyon a versatile platform that empowers artists and enthusiasts alike to explore their creativity and share it with the world in innovative and tangible ways.
Key Features:
➡️ Customization Options
Craiyon lets you customize images with control over colors, shapes, textures, sizes, and compositions, ensuring your desired visual style and brand consistency.
➡️ Style Transfer
Craiyon stands out in style transfer, letting you apply famous artists' styles or recreate specific aesthetics like Van Gogh's brushwork or Bauhaus minimalism, resulting in stunning and unique creations.
➡️ Diverse Image Categories
Craiyon includes various image categories, such as objects, landscapes, characters, and custom illustrations, offering options like "Animated Cat Painting," "Futuristic City," and "Traditional Costume." It broadens creativity with a wide range of visuals.
How to Generate Ai image With Craiyon
Go to the Craiyon website and register for an account.
Select your desired image category.
Generate the image.
Review and enhance the generated image.
Download it in the format and resolution you prefer.
Pricing:
Basic – Free
Supporter – $6 per month
Professional – $24 per month
Enterprise – Custom Pricing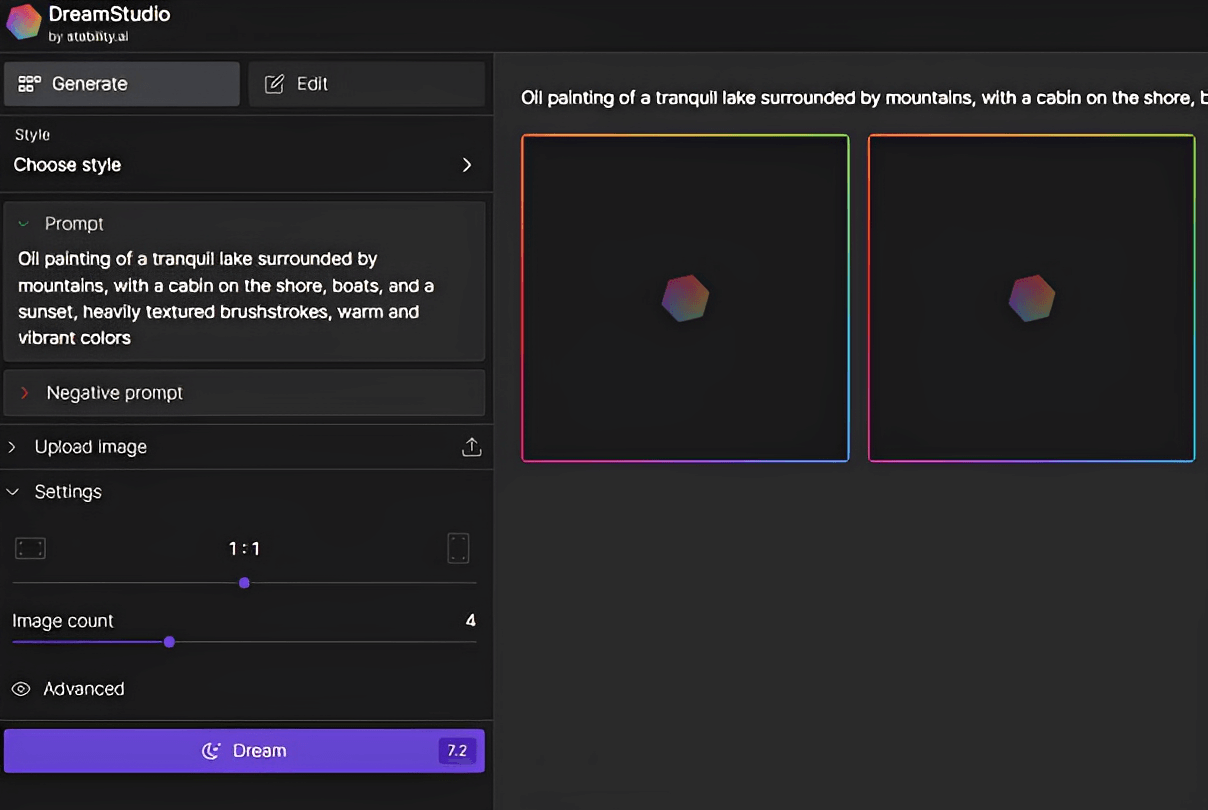 DreamStudio is a comprehensive platform that provides a powerful array of Ai-driven generative design tools, specifically designed to revolutionize the process of image creation. Through the utilization of natural language processing, DreamStudio takes user prompts and seamlessly transforms them into visually captivating images, bridging the gap between imagination and reality. This innovative generative media tool stands as a beacon for creative minds, offering an avenue to not only explore but also amplify their artistic potential.
With DreamStudio at your disposal, the possibilities for crafting remarkable visuals are limitless, making it an indispensable resource for those who aspire to breathe life into their creative visions.
Notable Features:
➡️ Ai-Enhanced Image Editing
DreamStudio uses artificial intelligence to transform images in unique ways, offering features like content-aware fill, intelligent upscaling, and automatic object removal. This streamlines and speeds up the image editing process.
➡️ Support for Vector and Raster Graphics
DreamStudio Ai seamlessly accommodates vector and raster graphics. It allows effortless work with diverse file formats and smooth transitions between image types.
➡️ Text and Typography Enhancement Tools
Elevate your visual content with advanced text and typography tools with custom fonts and effects. It elevates your artwork's visual appeal with captivating text elements.
Generate Ai image with DreamStudio.ai:
Sign up on DreamStudio's website. You get 200 credits as a new user, and you can buy more later if needed.
After logging in, you'll see a screen with options on the left and right. On the left, type in what you want your image to be. Use the right-side options to change style, quantity, and other details
Adjust everything as you like, then press the "Dream" button to create your image.
If you're happy with it, click the big "download" button to save your image.
Pricing:
Free – 25 free credits only
$10 per 1,000 credits (~5,000 images)
How to Choose the Right Ai Image Generator
Selecting the right Ai image generator is crucial to harness its full potential. Here are some factors to consider:
🏅 Output Quality: Evaluate the quality of images produced by the generator. Look for tools that offer high-resolution output with sharp details. By considering this factor, you will be able to answer the question, "What Ai image generator produces realistic images?"
🏅 Ease of Use: User-friendly interfaces and intuitive controls can save you time and frustration. Ensure the tool aligns with your technical skills.
🏅 Customization: Some generators allow you to fine-tune images to your preferences. Check if the tool offers customization options to match your branding.
🏅 Compatibility: Ensure the generator integrates seamlessly with your existing software or platforms, whether it's a website builder, design software, or e-commerce platform.
🏅 Cost: Consider your budget and the pricing structure of the tool. Some offer pay-per-use models, while others have subscription plans.
🏅 Reviews and Recommendations: Research user reviews and seek recommendations from professionals in your industry to make an informed decision.
Conclusion
Ai image generators are redefining creativity in the digital age. These tools not only enhance productivity but also open up new realms of artistic exploration.
By harnessing the power of Ai image generators, you can elevate your visual content, streamline your creative processes, and stay ahead in an increasingly competitive digital landscape. Explore the top picks for 2023 and unlock the potential of Ai in your creative journey.