SEO with AI – Beginning of a New Era of Organic Marketing
In today's digital marketing, Search Engine Optimization has become an essential part of ensuring the online visibility of virtual businesses. Therefore, nowadays, online businesses are greatly focusing on optimizing content for Search Engines.
They are continuously seeking new ways for better content optimization. Luckily, due to the advancement of Ai, businesses now have intelligent tools that can highly reduce content optimization efforts and unimaginably boost organic marketing.
So, in this blog, we will talk about all the possibilities and opportunities that come with SEO with Ai. Besides, you will get introduced to the best Ai SEO software for content marketing. So, without further ado, let's jump in…
SEO with Ai: Opportunities that bring into organic marketing
Organic marketing is vital for any type of business. Real success comes from organic marketing which is mainly possible by focusing on SEO.
Thanks to the massive revolution of artificial intelligence, performing organic marketing is becoming easier. Because now, Ai can assist in generating well-researched and engaged content with its SEO features.
Here are the main opportunities that Ai can bring to the plate for winning organic marketing with SEO:
1. Easy and fast keyword research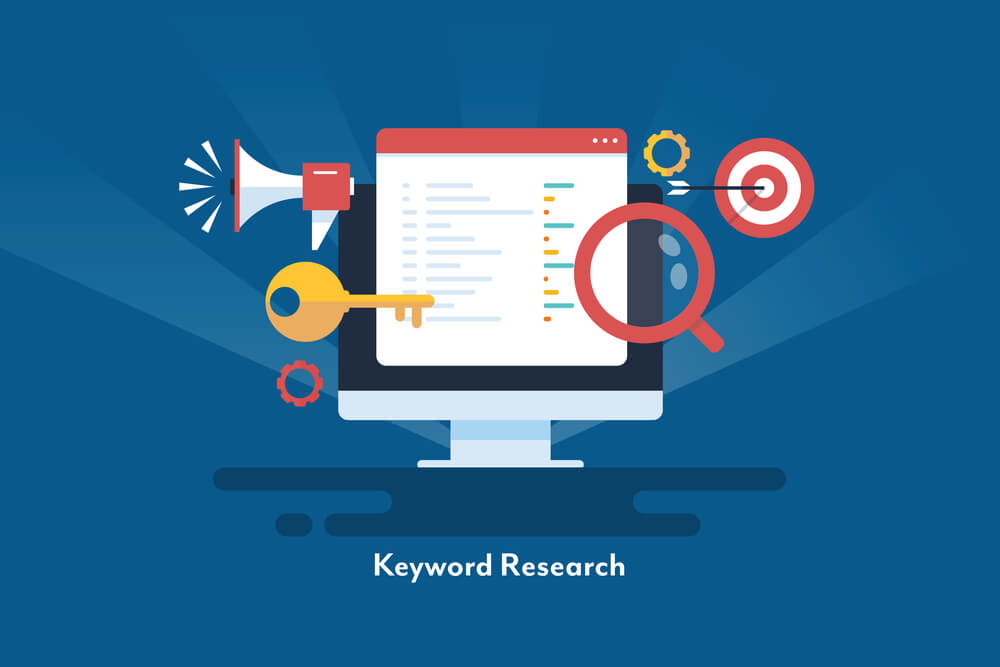 Whether you are writing a blog post or website content, keywords are essentials to rank on the Search Engine. However, doing keyword research requires time. Now, Ai minimizes the time that a writer needs to do keyword research.
Thankfully, with the expanded features of Ai, you can get to know keyword data with all the necessary metrics on a specific topic in less than a few seconds.
2. Search volume and Google trend data
Researching and learning about Google trends on each topic is tiring as well as time-consuming. Besides, it is very much needed for ranking on Search Engines. That's why Ai brings a new feature for finding Google trends effortlessly. This not only gives your content a direction but also helps to craft well-converting content.
3. Winning competitor analysis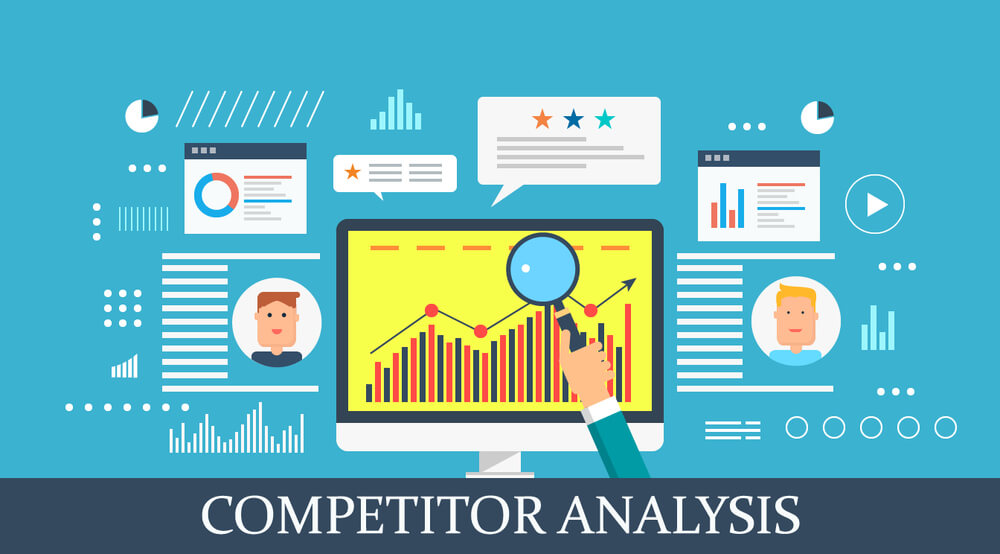 Just like keyword research, Ai also helps in doing competitor analysis. Ai SEO tools let you carry out competitor analysis and assemble all the data in one place. This helps you to write the best content by implementing all the competitor analysis data.
4. Content score
The content score is helpful in ranking on Search Engines. Since it assists you in optimizing your content more for the Search Engines. Ai SEO tools also utilize this feature to craft excellent content. As a result, you will get suggestions for better optimization based on the Google ranking factors.
5. Head to Head comparison
Head to Head comparison is a unique feature of Ai. This feature will help you with finding out all your competitors ranking keywords and their positions on a specific topic in a single place. Therefore, you don't have to invest time in competitor data analysis.
6. Search Engine Result Page Visualizer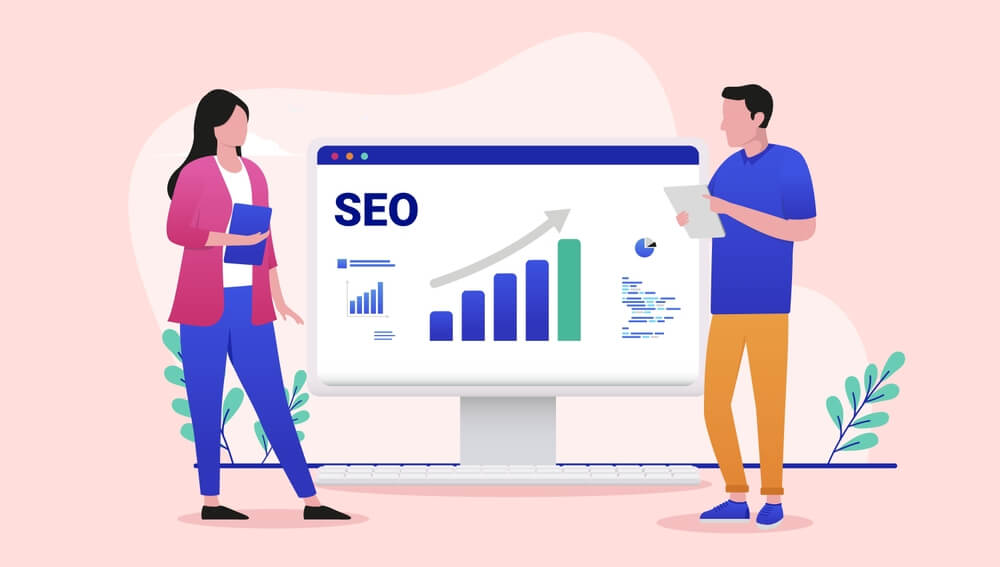 If you want to view and compare competitors' data in a graphical format, Ai also has that option. Although only a few Ai writing assistants have this option Such as GetGenie. There are different metrics like Word count, headings, images, internal links, and external links.
Here you can use each category and compare your competitors' data in a graph. Besides, you can view each category's average, min, and max numbers. Accordingly, you can improve your content for better ranking.
7. NLP keyword suggestion
Apart from the keyword research option, Ai also has an NLP keyword suggestion feature that lists all the relevant keywords for a specific topic. By including these keywords, your content ranking possibilities will increase more.
Challenges and Limitations of Ai in SEO
Although SEO with Ai brings lots of opportunities in organic marketing still, there are several challenges and limitations that are hard to ignore. Here are some key limitations of utilizing Ai in SEO:
Human touch: This is the biggest disadvantage of using Artificial intelligence in SEO. The human touch is missing in Ai's written content. That's why it is hard to connect with your audience as empathizing can't be done correctly.
Accurate data requirement: You need to put accurate input to get the most suitable output. It is not possible to generate the right output by giving incorrect data or inputs.
Incorrect and biased output: It is possible to get incorrect and biased output from Ai as it always generates output based on the available resources on the internet. That's why if someone provides wrong information, it might use that as a source and generate a biased output.
Tutorial content: You won't be able to write tutorials or step-by-step guidelines with Ai. This is another limitation of using Ai for content creation.
Overall, while Ai has the potential to revolutionize SEO, there are several challenges that need to be overcome to keep ahead in the game of SEO with Ai.
Best Ai SEO software to boost organic marketing
There are several Ai SEO software in the market to streamline organic marketing. However, all don't add the same values and functions to your organic marketing. Some are more effective and some are less.
Here we are presenting the best Ai SEO software according to its features, output, and UX: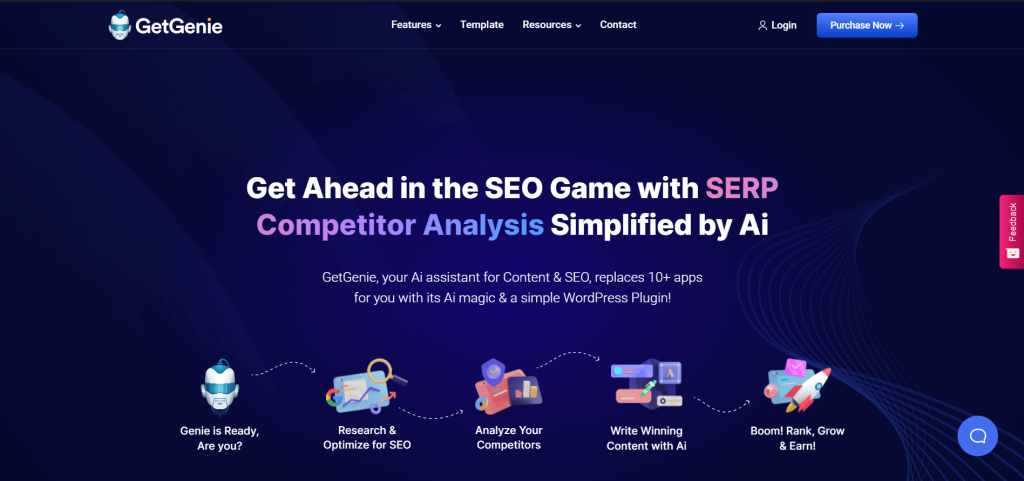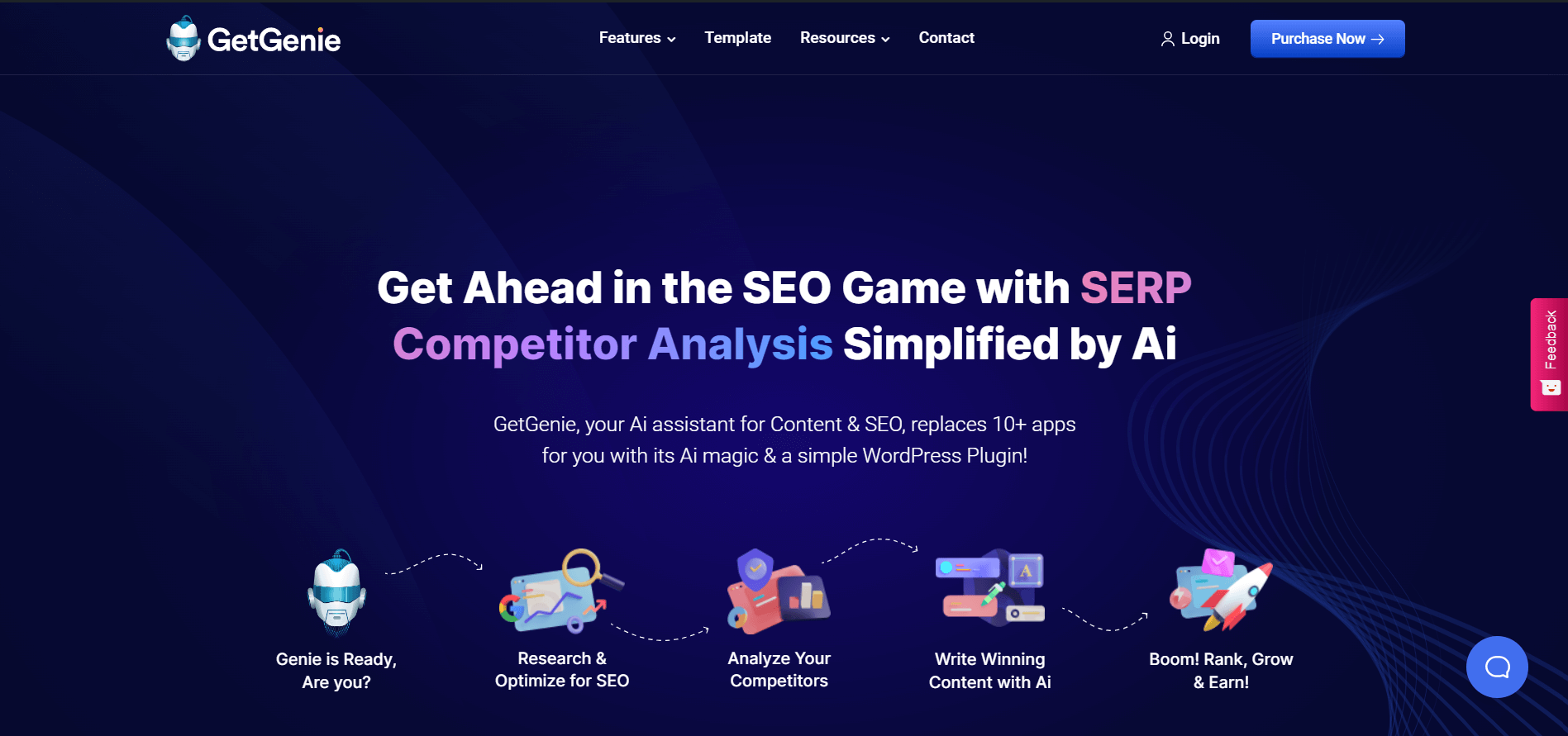 This is one of the most effective Ai writing assistants that can generate content within a few minutes with its 33+ Ai templates. Besides, you can regenerate content as many times as you want. Also, it comes with many more features such as:
You will get to do keyword research and competitor analysis using this Ai writer.
It suggests NLP keywords for content.
GetGenie has the option to find search volume and Google trend data.
It shows content scores based on Google ranking factors and built-in algorithms.
Also, it has options for Head to Head comparison with your competitors and Search Engine result page visualization.
GenieChat, an Ai chatbot is available in this Ai writer that allows you to chat with 22+ Ai personalities.
It will launch a browser extension soon.
All these features and options make GetGenie one of the best Ai writers available in the market.

Final thoughts on using Ai in SEO
SEO with Ai offers opportunities for businesses of all sizes. With the help of Ai powered tools, businesses can get insights into their target audience and optimize content accordingly. Still, Ai can't replace human creativity but it does assist you to win and stay competitive in the game of organic marketing.
That's why, by embracing Ai powered SEO strategies, you can improve your online reach and visibility to drive your business to higher growth.