How To Update Old Blog Posts For SEO With Ai Content Assistant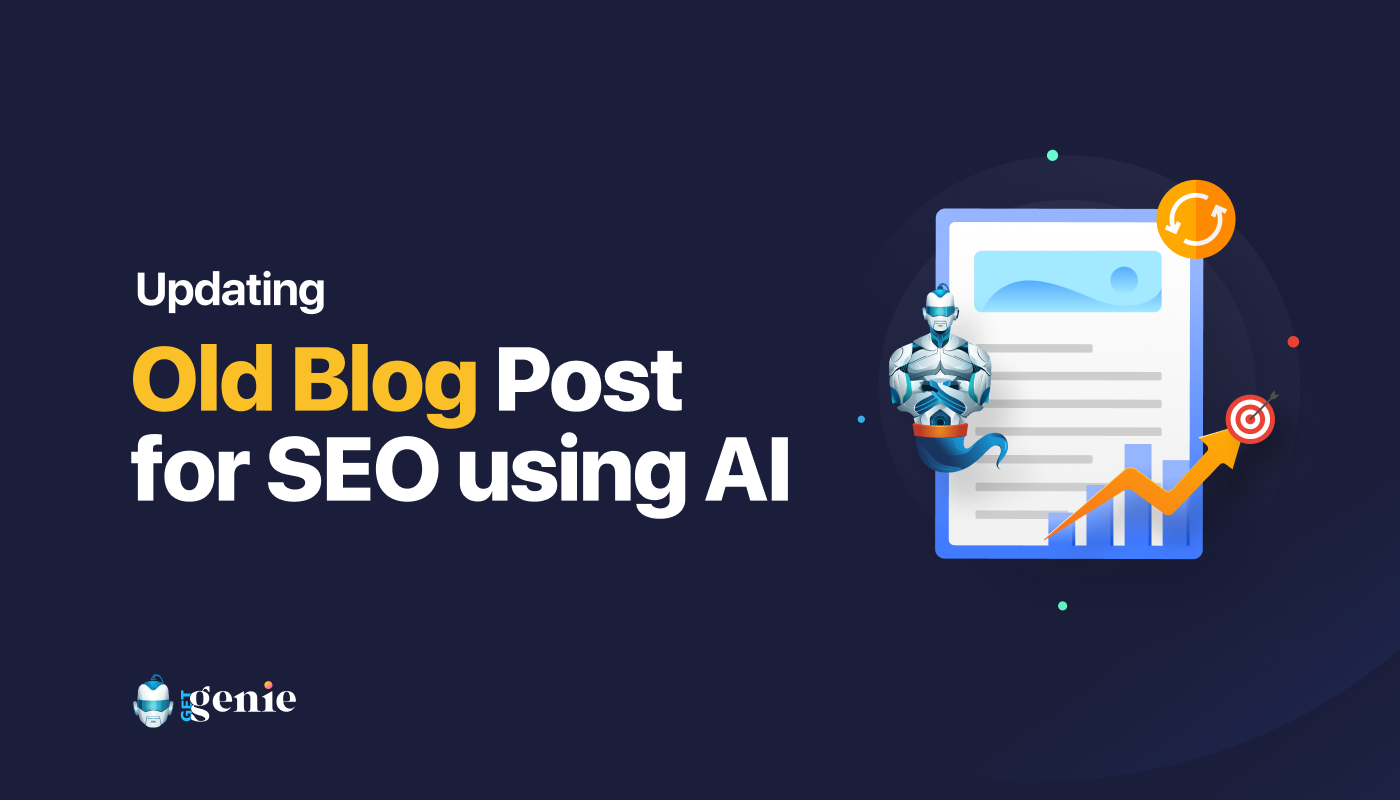 For most blogging sites, old blog posts are like the elephant in the room. Whether it's because they're outdated or just not ranking well, updating old blog posts is a great way to give your old blogs a new life and improve your site's overall SEO.
But how to optimize blog posts for SEO without starting from scratch? And what should you be focusing on to make sure the updates are effective?
While updating a blog post SEO, you should start from the basics by researching keyword search volume for existing keywords then re-analyze competitors' content and revamp the on-page SEO by modifying the content.
How about, you don't have to do all this on your own? An AI content and SEO assistant can take care of all this for you.
In this post, we'll share some tips on how you can update old blog posts for SEO using AI content assistant By the end, you'll know exactly how to update blog posts for SEO and give your old content a boost so it can start ranking higher and reaching more people.
Why does updating old blog posts important for SEO
Google likes old content but with the latest information.
Make the content relevant with up-to-date information.
To fill up the content gaps.
Change in keyword search volume.
Overall, readers like up-to-date content
How to prioritize blog posts to update keeping SEO factor in mind
Before you get motivated and start planning to update all your blog posts, let us pull the string here. You definitely know how to SEO the blog posts that you are about to publish. But when it comes to optimizing old blog posts, there is more than just regular optimization. You don't need to edit every blog post on your website. Instead, prioritize the blogs that really need modification to get better results in terms of SEO and structure them to rank higher on the search results.
But how would you prioritize the blog posts to update regarding SEO? You should pick blog content that falls under the following criteria:
Decay in traffic: Old blog posts that have lost organic traffic over a period of time.
Content with potential rank: Content that ranks in the top 10, but not in the top 3 search results.
Good impression but no clicks: Content that ranks higher on Google but not getting traffic.
Higher bounce rate: Articles that have a good amount of traffic but visitors don't spend a significant amount of time or don't take any action.
Outdated information: Content with information, data, and numbers that are out of date.
Use Google Search Console Tools to find out which blog posts fall under this category and start updating the SEO for wordpress blogs on a priority basis.
How to update old blog posts for SEO
Let's now get into the steps of optimizing and updating blog posts based on SEO factors. Starting from keyword research all the way to rewriting the article.
1. Research on existing keywords as well as new keywords
First, create a keyword report. This report should include the previous and current search volume of the keywords you used in your article. And, how your content is performing with those keywords.
While some keywords remain consistent over time, others may fluctuate in terms of search volume. So, if you find some of the keywords' search volume has dropped significantly, you may target a new relevant keyword and optimize your blog post's SEO for the new keyword.
2. Analyze competitors' content
Then inspect the content that ranks higher on the search results. Obviously, you did the competitor analysis when you posted the article. However, over a period of time, competitors may also update their content. Moreover, new content may rise up in rank.
Therefore, you need to analyze your competitors again before updating your blog post. Then find and fill up the content gap while updating the blog.
3. Rework with on-page
The next step of blog post SEO optimization is to rework your content. Changing the blog title, meta description, and subheading can refresh your content. If your content has a good impression but not getting the expected traffic, optimizing snippets can help to a great extent. Make sure the title and meta description describe your blog properly and attract the searchers to click on it.
4. Get new backlinks
Backlinks have a significant impact on SEO. It is one of the top Google search rank factors. Therefore, getting more high-quality backlinks will help boost the SEO optimization of your blog post.
Make use of GetGenie AI content assistant – update posts directly in WordPress
Updating blog posts from scratch is a lot of hassle. Instead, you can utilize AI in your writing to get better output. GetGenie AI content assistant can help you optimize your blog post SEO efficiently with minimum effort.
GetGenie is the ultimate WordPress AI assistant for Content & SEO.
Amazingly, you don't have to put any extra effort into updating your WordPress post. GetGenie AI integrates with the WordPress post interface and provides every option to update blogs. Starting from keyword research, GetGenie AI covers competitor analysis and generates meta titles- meta descriptions, and all aspects of blog writing.
Let's demonstrate how to update old blog posts for SEO with assistance from GetGenie AI.

How to update SEO for WordPress blog posts with GetGenie AI
GetGenie AI content and SEO assistant integrates with WordPress Gutenberg editor and Elementor. So you don't have to take the hassle of copy-pasting your article from one interface to another. Just open your WordPress post in editor mode. There you will find the "WRITE FOR ME" button at the top bar. Click on the WRITE FOR ME button to launch the GeGenie Blog Wizard interface.


Using GetGenie AI's Blog Wizard, you can analyze existing keywords, research new keywords, generate new titles, analyze competitors' blogs, and so on.
Get SEO score of an existing post
On the Blog Wizard, first, enter the focus Keyword and the context of your article. To get SEO score, enable the SEO Mode. Once you enable the SEO mode, the option to analyze keywords appears. Select a region and click on ANALYZE KEYWORD button.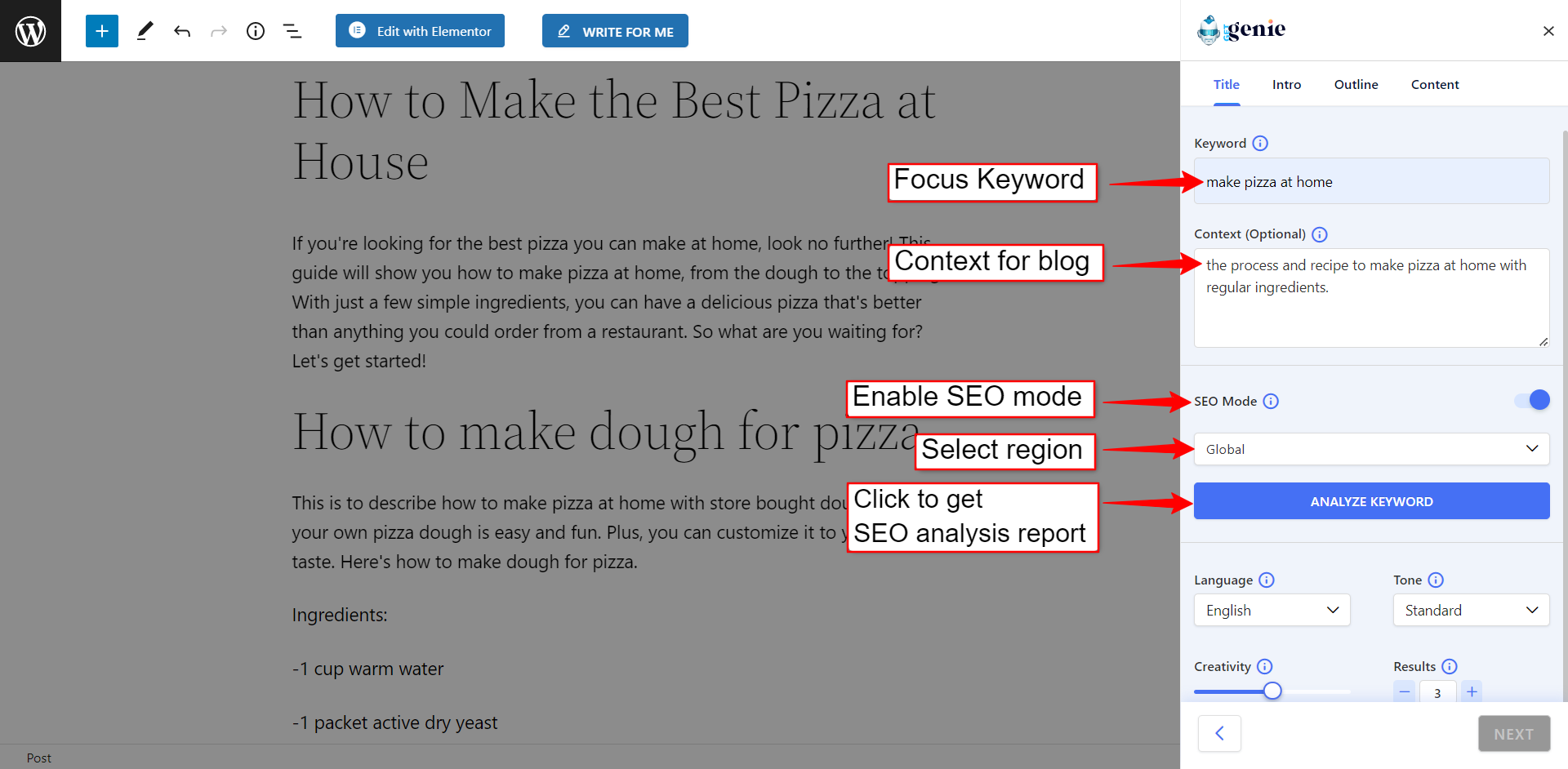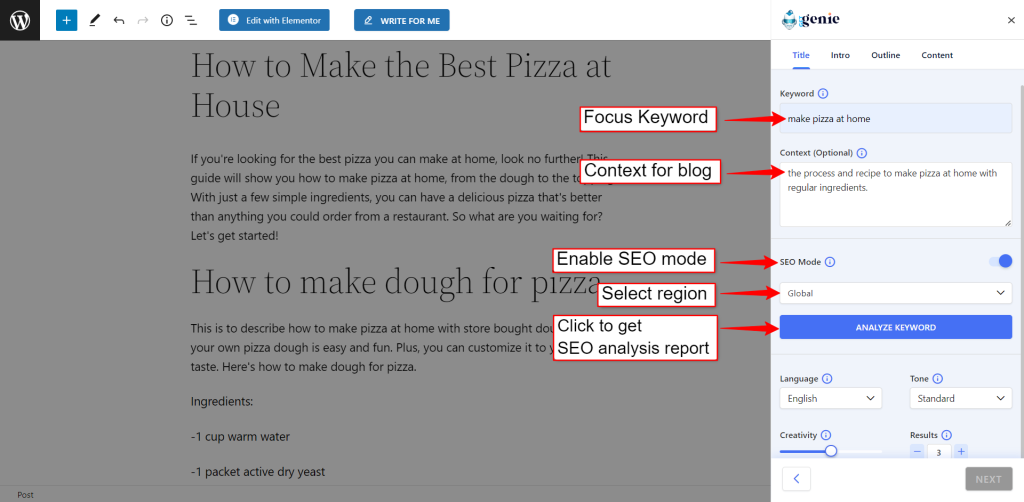 You will get a keyword report that consists of keyword analysis, an overview chart of search volume trends, and a list of related keywords.
Now to get the SEO score of your existing post, you have to fetch data. For that, go to the competitor's tab from the keyword report and click on the fetch data button.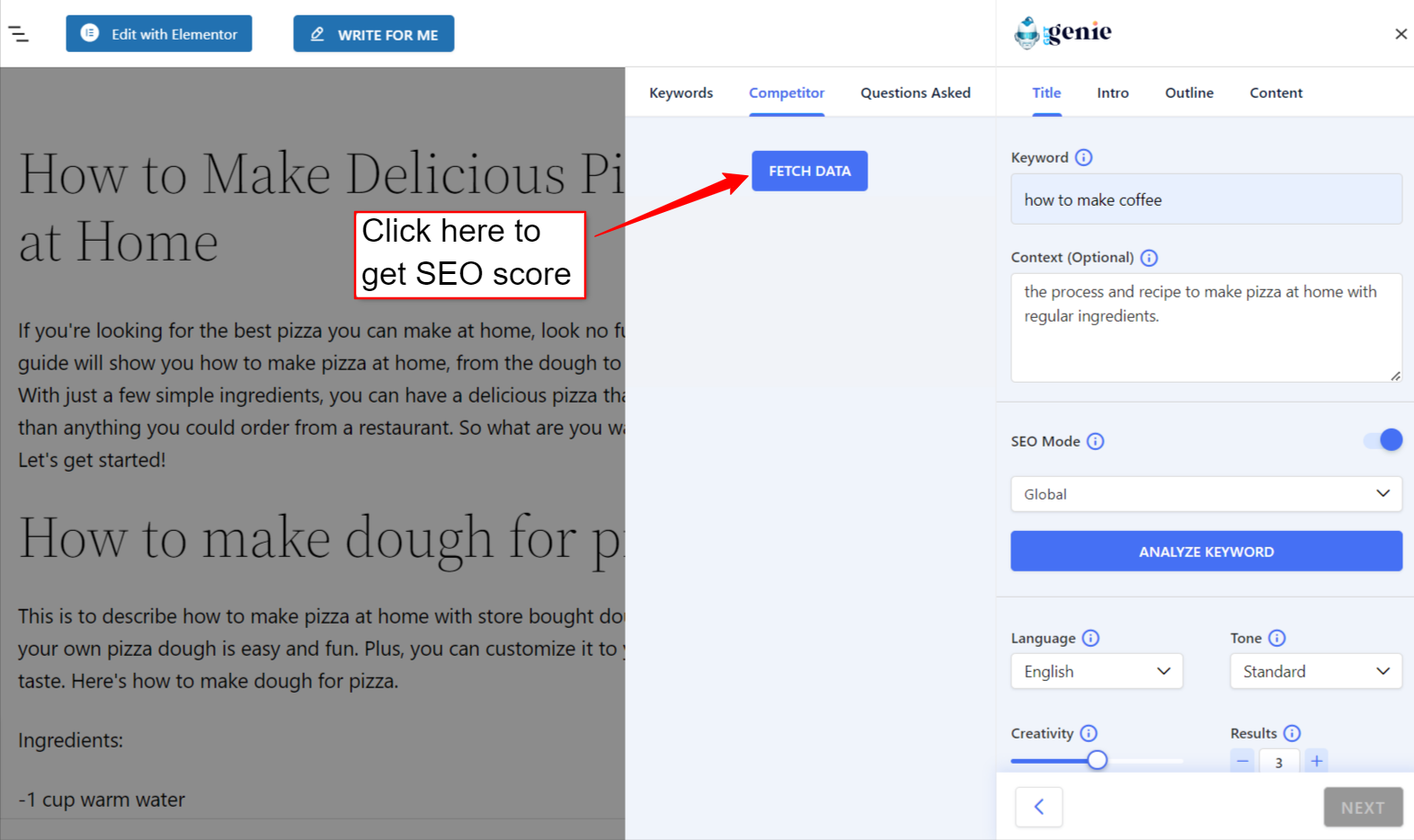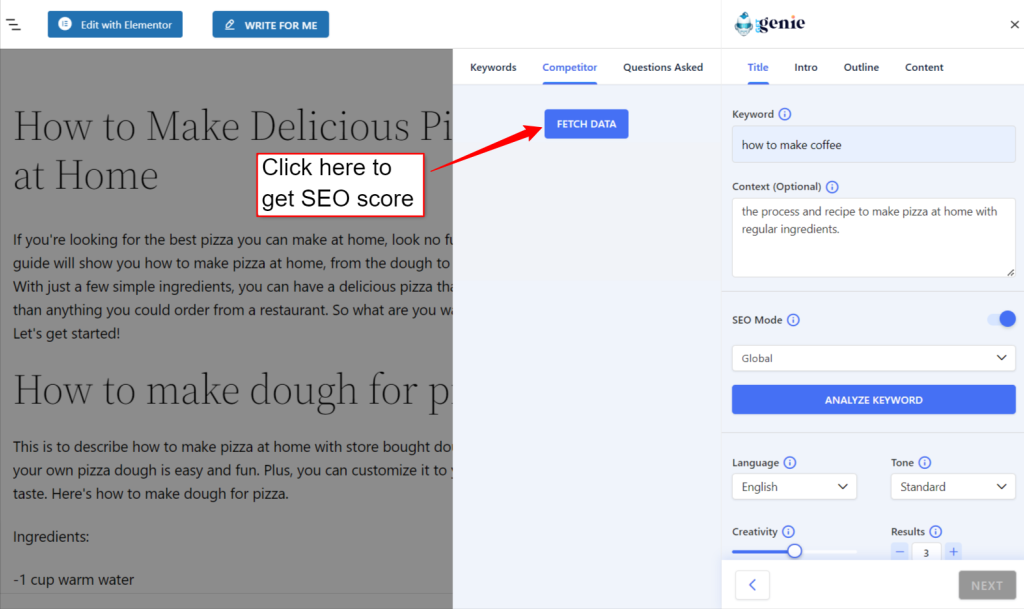 Analyze old keywords and target new keywords
The Keyword Analysis includes the search volume of your focus keyword with a detailed report on the average search volume of the last 12 months including the highest and lowest values. Besides, it shows the competition level and CPC for your focus keyword.
The Overview Chart shows a graph of the Search volume trend and Google trends of your focus keyword.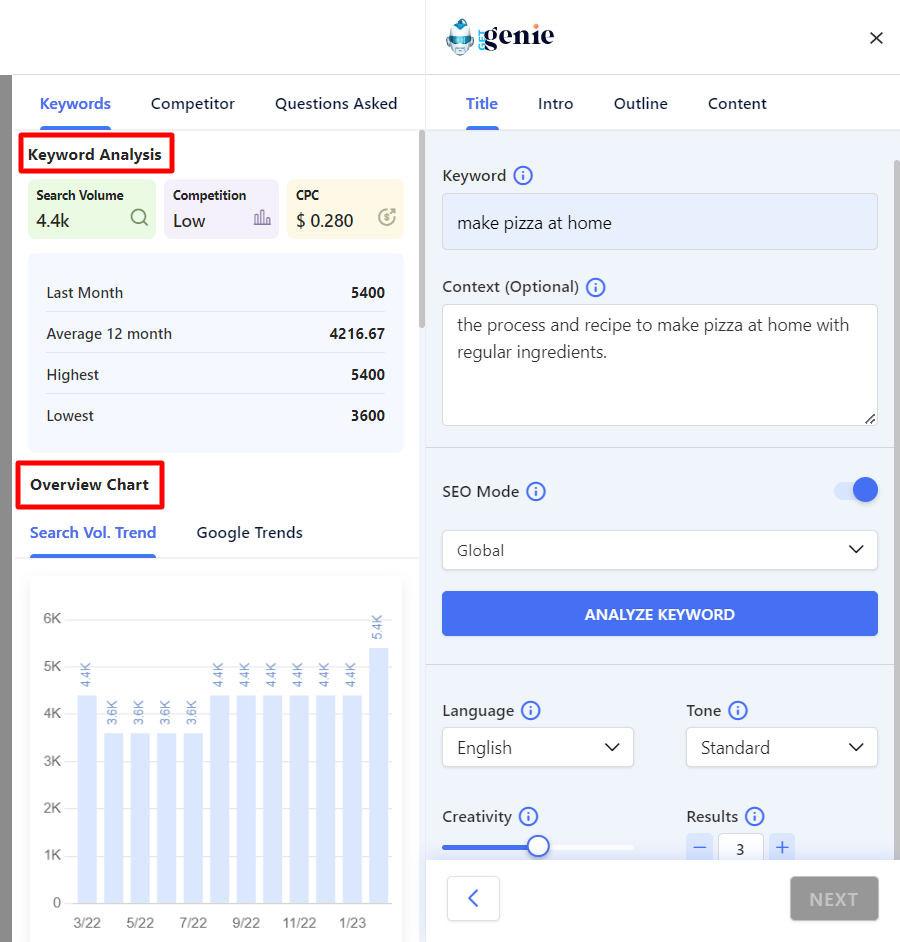 Based on this keyword report, you can get a summary of how the focus keyword for this article is performing. If you think the search trend has dropped, you can consider new keywords from the Related Keyword suggestions.
You can choose a new keyword from the related keyword list. Then analyze that keyword in a similar process and use the keyword on your blog post.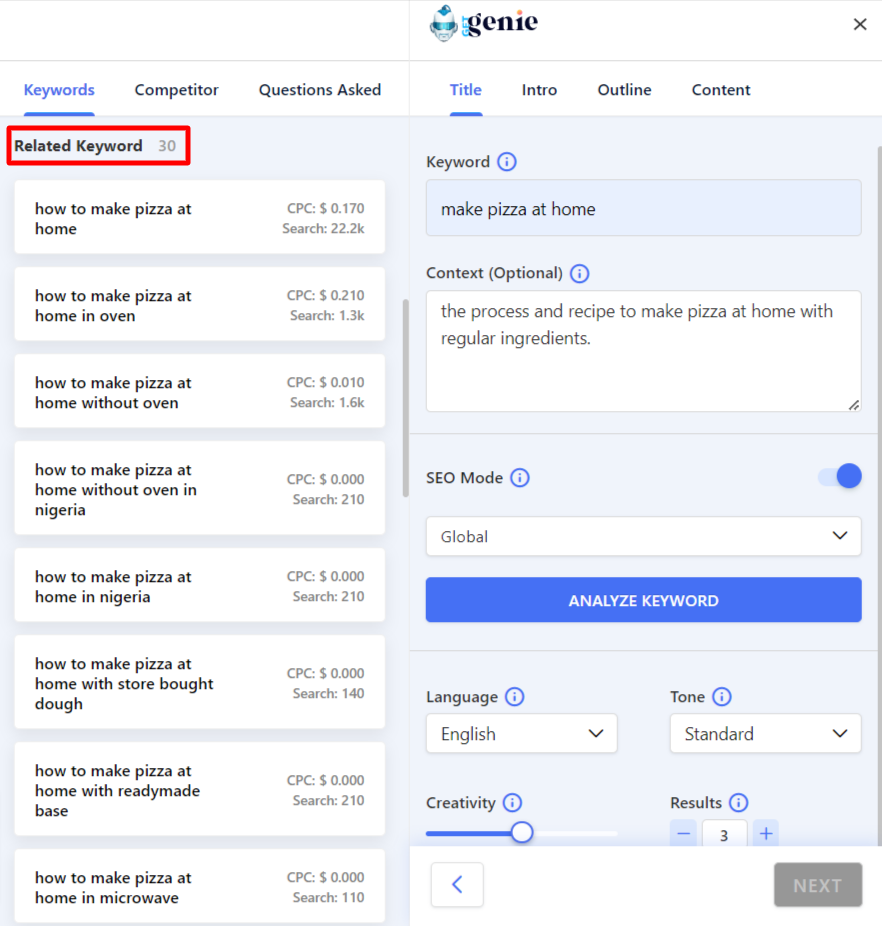 Competitor analysis
The next step is to inspect the competitor's content. For competitor analysis, switch to the Competitor tab and click on the FETCH DATA button. (Note: It may take some time to fetch data. Meanwhile, you can use other GetGenie features)
Once the data fetching is complete, you will see a list of pages that rank on the focus keyword. The competitor analysis shows the number of words, headings, and images that each content includes.
By clicking on MORE DETAILS, you can see an expandable list of the subheadings (H2, H3, and so on) that a competitor's blog includes. You can click on any subheading to expand the content inside the subheading.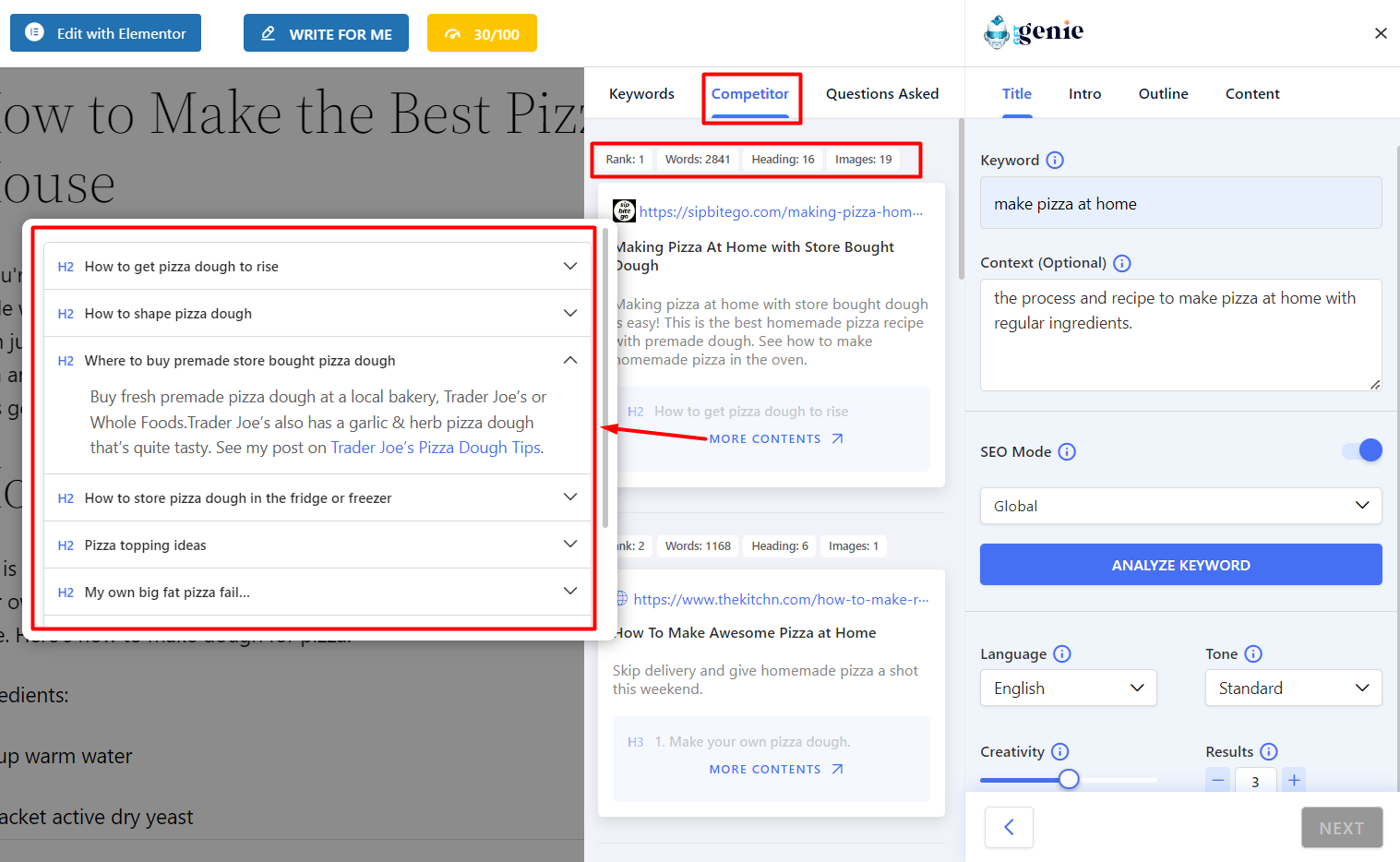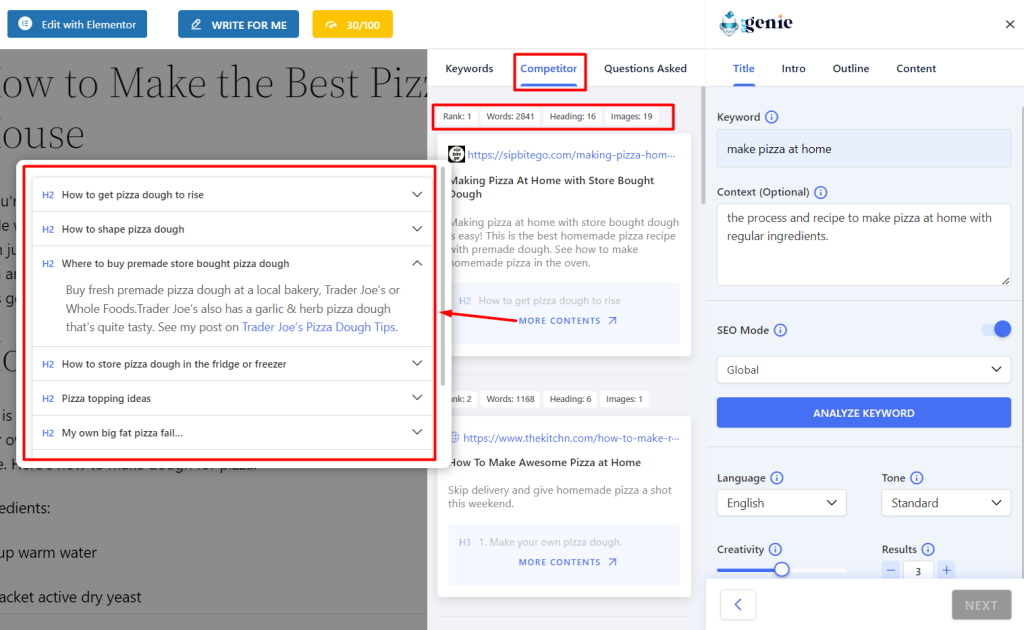 Using these details you can optimize your blog posts SEO so that it can beat those competitors on the SERP and rank higher.
Use FAQ to rank the Featured Snippet
Google often highlights content that directly answers the question asked in the search term. Therefore you can include questions that people frequently ask related to the topic of your article. GetGenie AI provides a list of questions under the Question Asked tab. You can use those questions and add an FAQ section to rank the Featured snippets.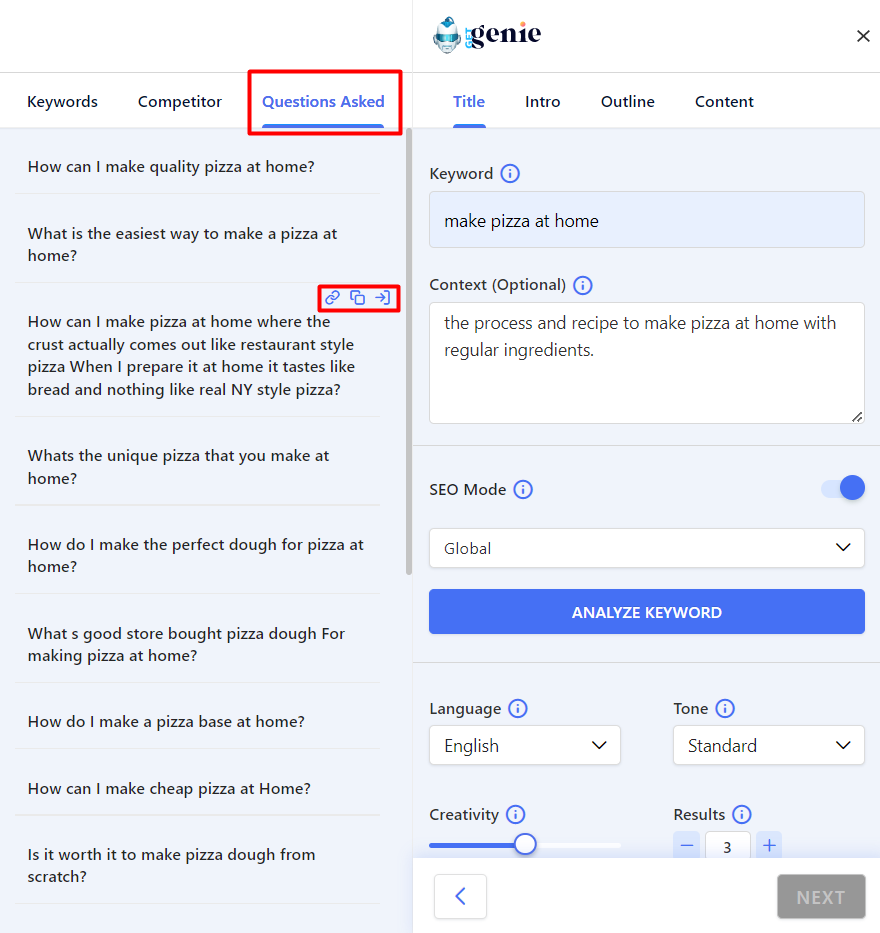 Also, you can use the Featured Snippet template to generate a numbered list in your blog post.
Consider updating the Title
An effective title can massively help your blog to rank higher on search results and drive more traffic to it. You can generate SEO-friendly and click-worthy titles with AI-generated headlines.
With Blog Wizard, you can generate title ideas for your blog post. On the Blog Wizard, after entering the keyword and context, you can generate a new title for your article. You can set how many variations you want from the Set Result Limit and set the Creativity Level of generated title(s) between 1 to 5.
GetGenie AI can generate content in 33+ languages. So you can choose your preferred language to get content. Besides, you can choose the content tone.
Remember, a Creativity Level of 1 generates fewer creative titles, whereas a Creativity Level of 5 generates the titles with the highest creativity.
You can also use the GetGenie Title Ideas template to get SEO-friendly and creative title ideas for your blog.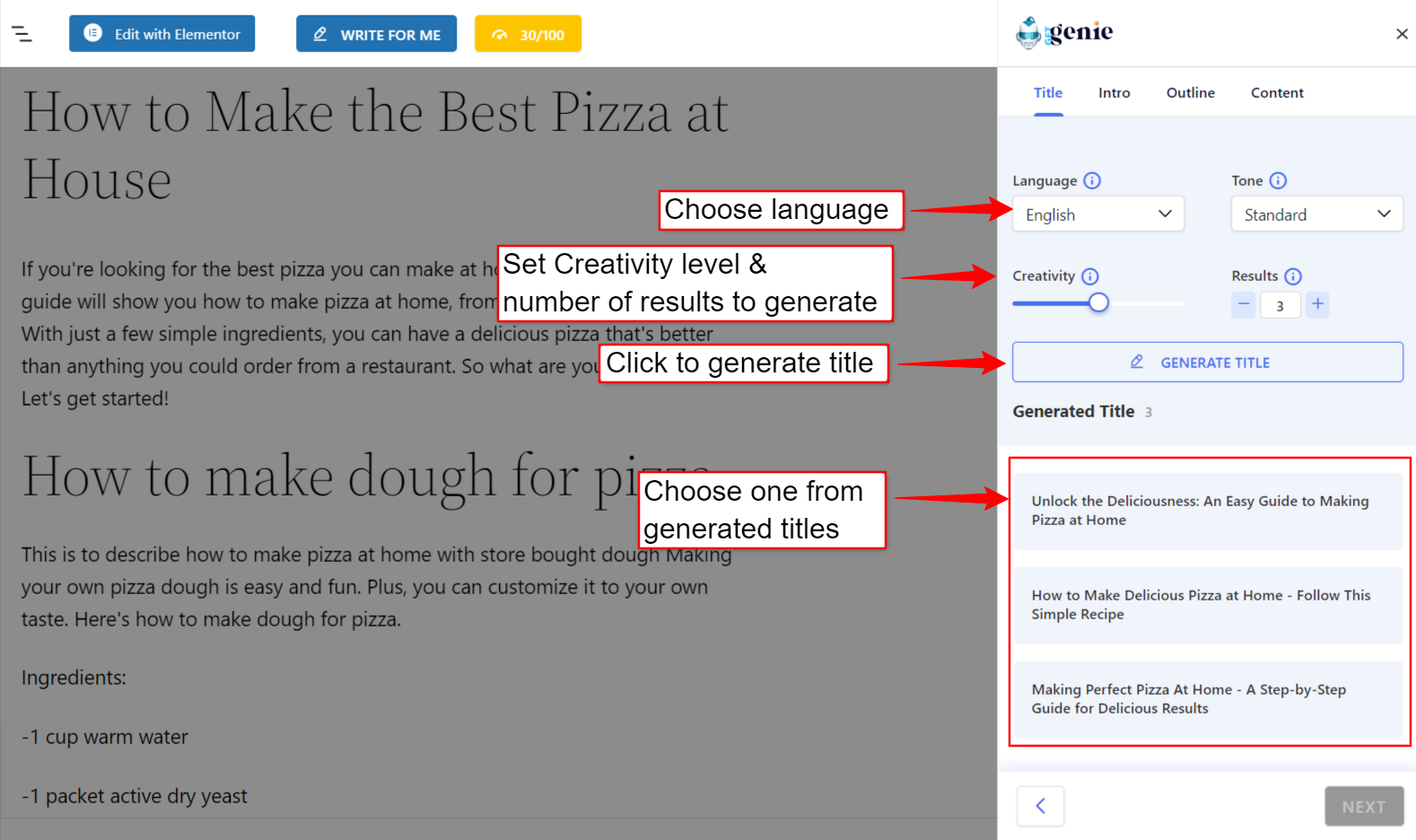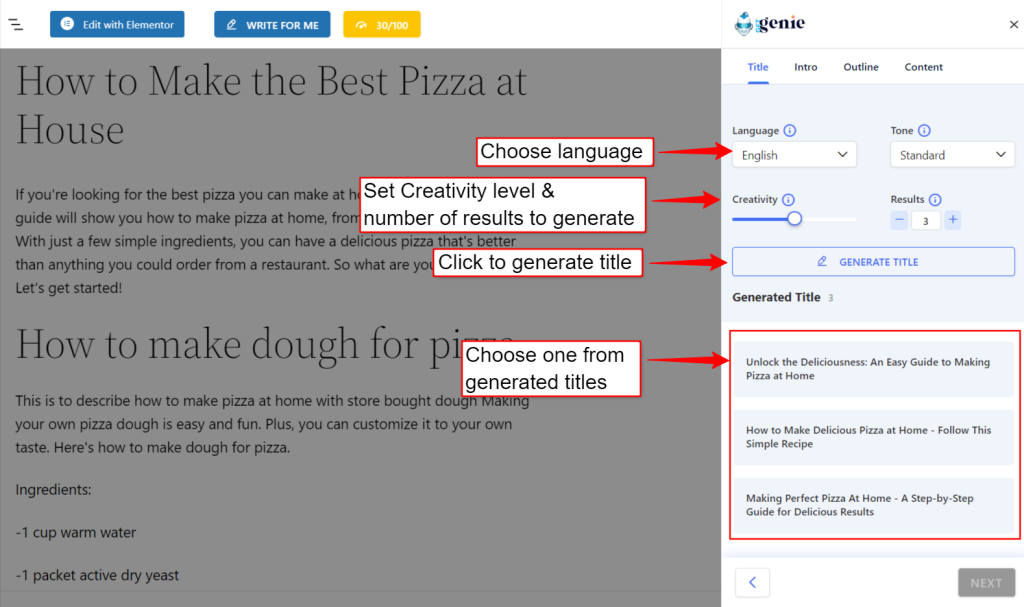 Make changes in the blog intro
Besides, you can consider making some changes in the blog intro or generating new content based on the keywords.
Go back to Blog Wizard. Once you generate a title, the next step is generating a blog intro. After setting the Creativity Level and Result Limit, you can generate an intro based on the blog title. Select an intro and proceed to the next step.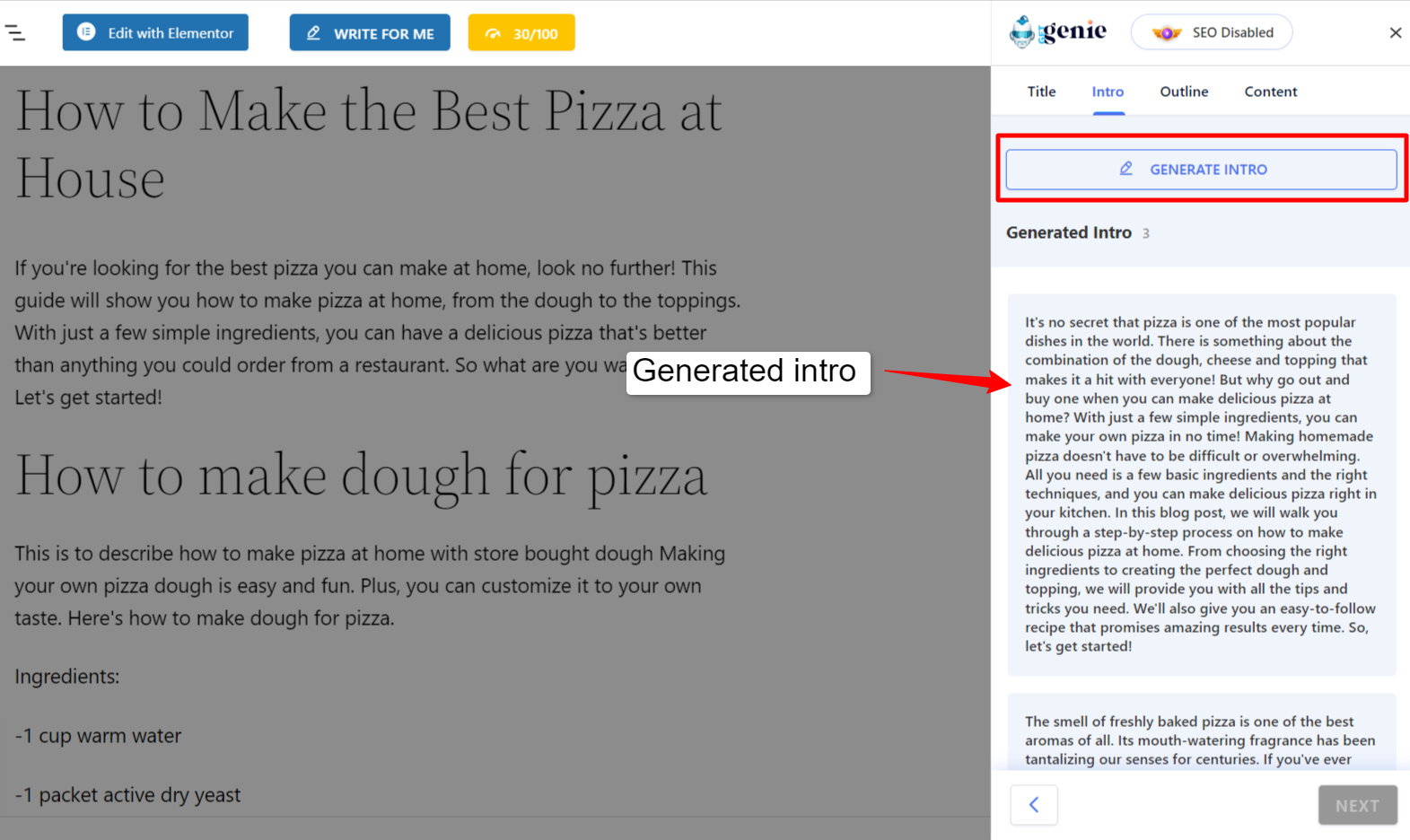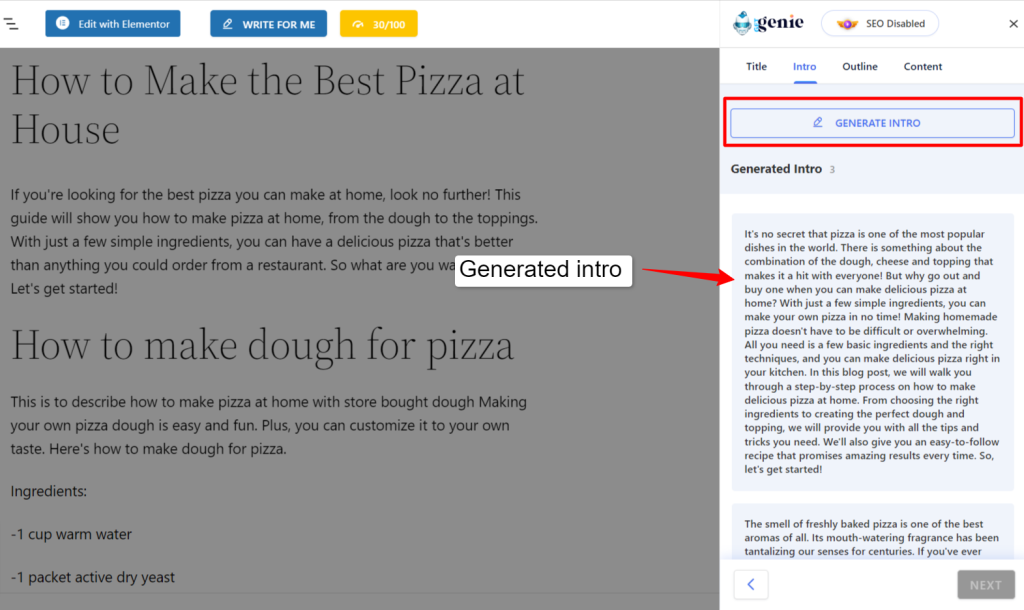 Update Meta description
To generate SEO meta descriptions, GetGenie has an individual template. Using the GetGenie Meta Description template, you can enter the Blog Post Title and Focus Keyword to generate a meta description that may help you boost the SEO of your blog post.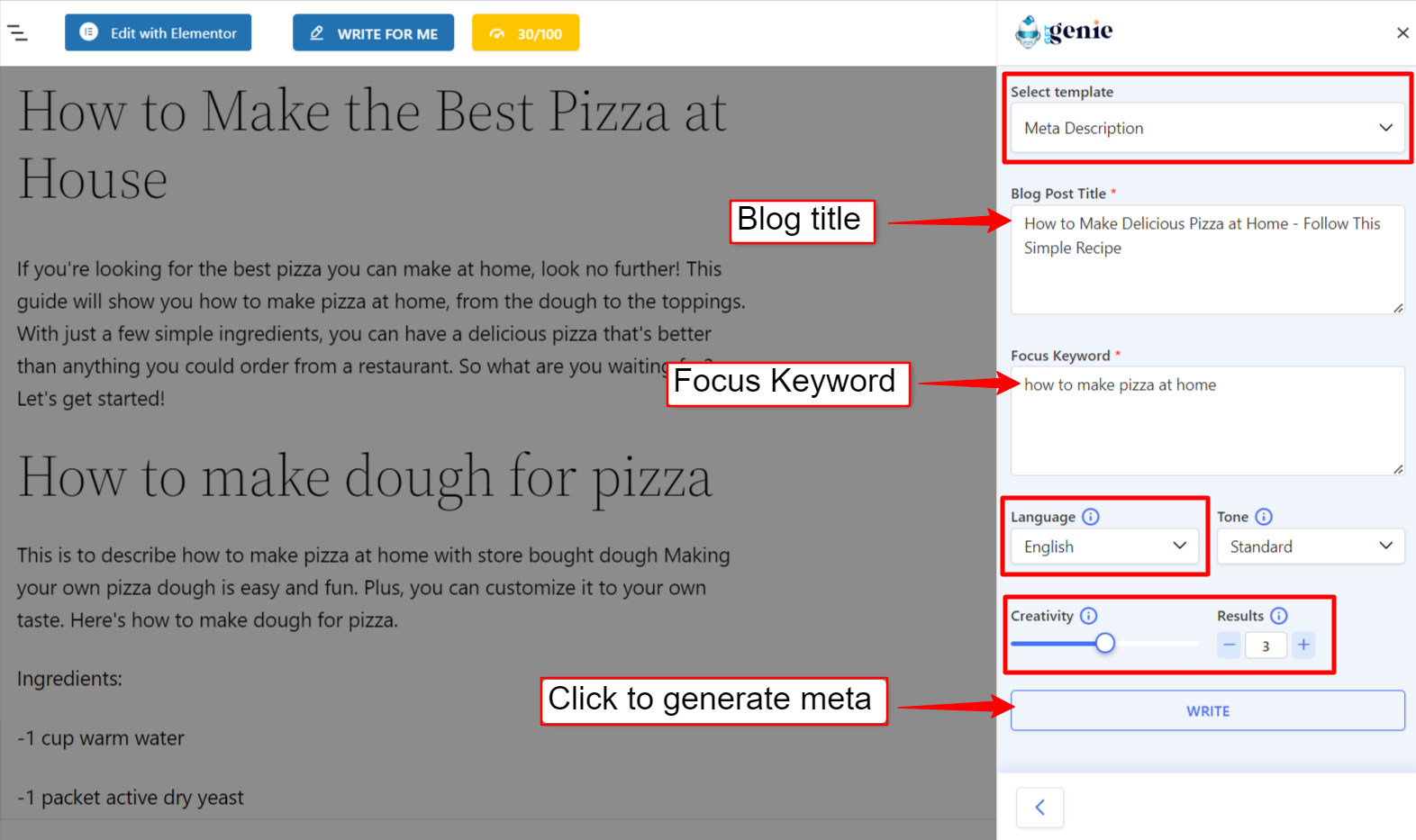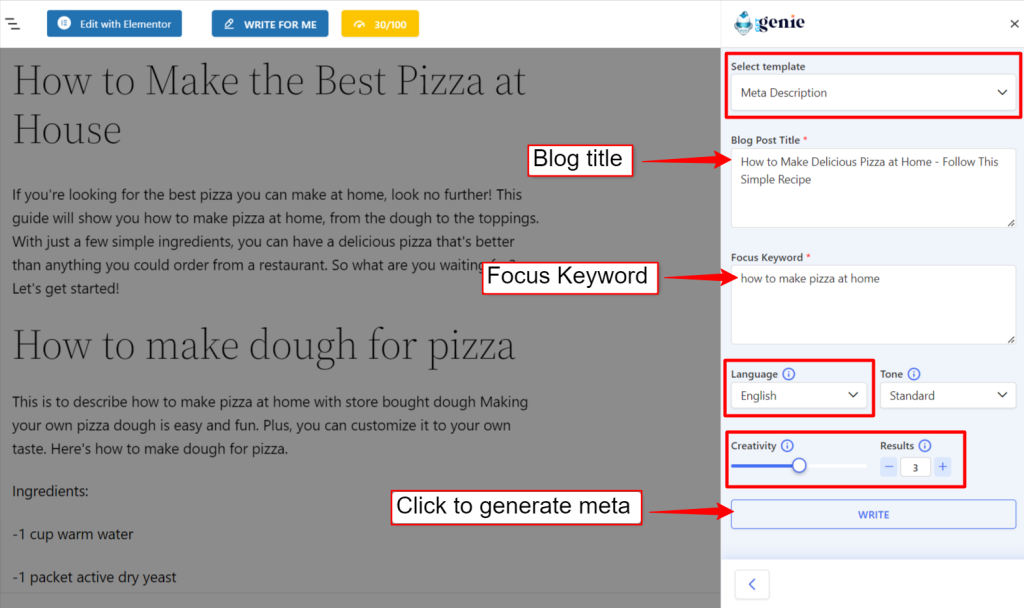 Rewriting a blog post using GetGenie AI content assistant
In order to refresh your existing blog post, you may consider making some changes in the content structure and rewriting the blog post partially. GetGenie AI has amazing features and templates to rewrite and restructure your content.
Generate a new content outline: Use the Blog Wizard template to generate a content outline.
Add content under new subheadings: Use the Expand Outline feature to add content under subheadings. Furthermore, use the Continue Writing feature to stretch a paragraph.
Rewrite SEO blog content: Use templates like Paragraph Rewriter and Sentence Rewriter to rephrase your article content.
Moreover, GetGenie AI comes with 37+ templates to help you write content faster and easier. You can utilize those templates to generate reliable content.
The Results: How GetGenie AI improves SEO of an old blog post
We used a sample blog post to demonstrate the results of updating an old blog post for SEO using GetGenie AI content and SEO assistant.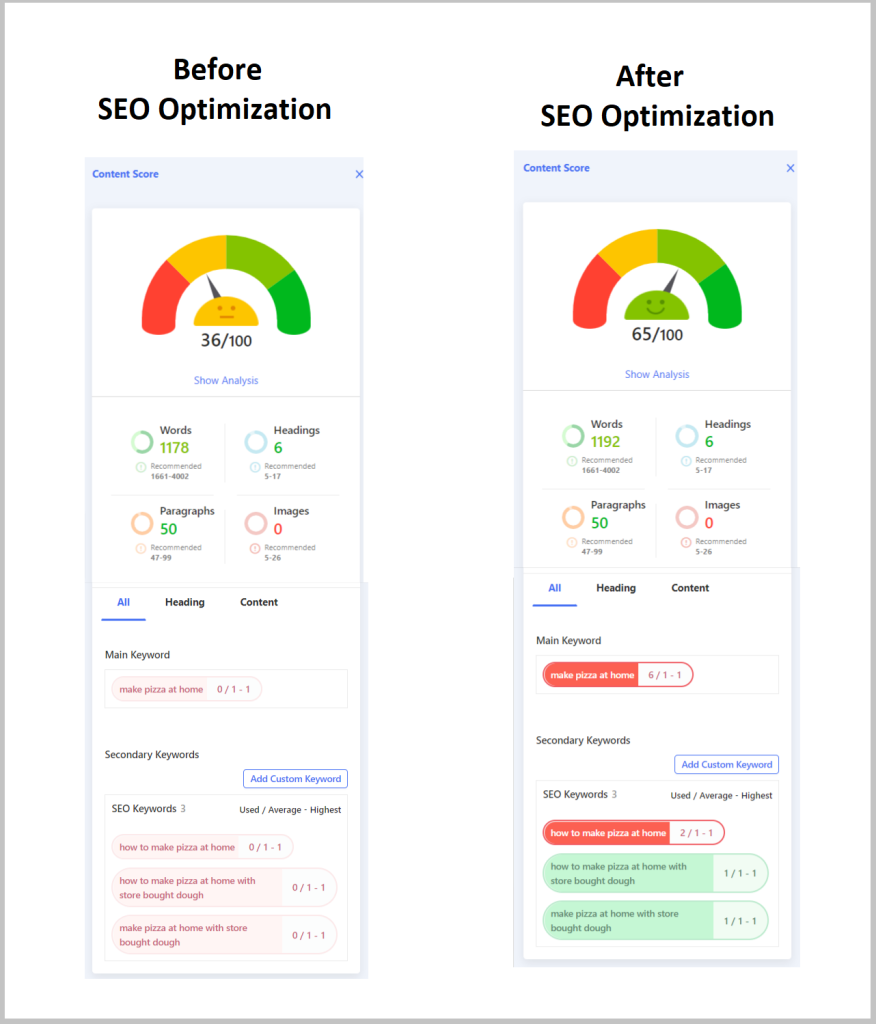 Content Title: How to make pizza at home
SEO score before SEO optimization: 36 out of 100.
Measures Taken:
Keyword analysis and targeting new keywords.
Re-analysis of competitors' content
Keyword optimization
Updated blog title.
Updates meta description.
Made changes in the intro.
Added new subheadings to the outline.
Re-written some of the content.
Result: SEO Score after optimization – 65/100.
Wrapping it up
Blog post and SEO are two correlated terms in content generation. After updating the blog post, we examined the SEO score before the optimization and after the optimization. The GetGenie AI content and SEO assistant provides an SEO score for your WordPress post. When you enable SEO mode in Blog Wizard, an SEO Score meter will appear at the top of the post.
We used demo content to demonstrate the process. From the following image, you can see that the SEO score was 36 out of 100. Then we updated the blog by adding the suggested keywords, made changes in the titles and subheadings, added a numbered list, and other procedures.
After updating the blog post, the SEO score rises to 65/100. It is to mention that, this is just a sample. You can improve the SEO performance of your blog post to the maximum.