How to Make the Most of Ai Blog Writers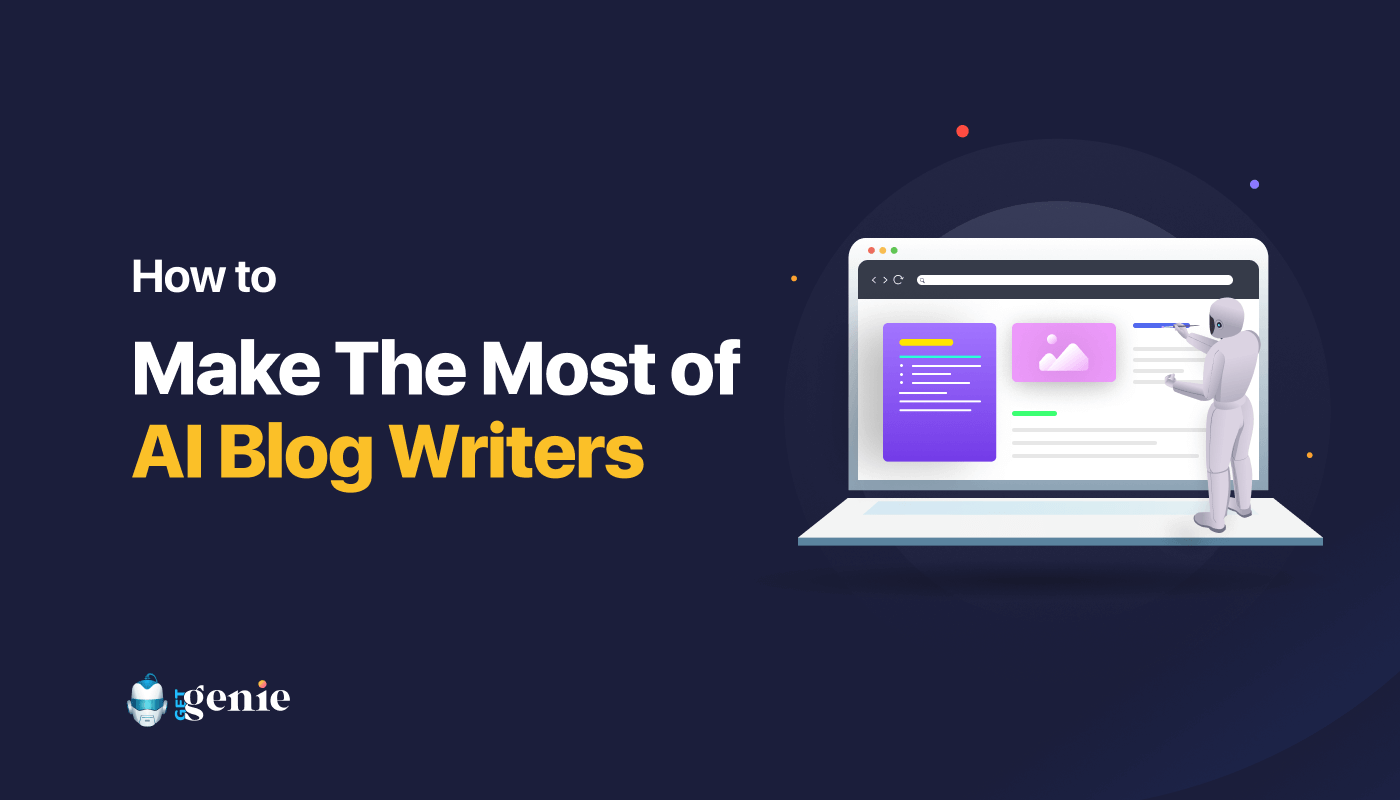 The primary objective of blog writing is to inform and enlighten readers, isn't it? Nowadays, blog writers seek to convert website visitors too. So, they play dual roles in educating readers and converting visitors.
If you are an e-commerce business owner or a marketing lead hunting for blog writers, you can avail of AI blog writers besides hiring human blog writers. This is because the perks of AI blog writers are considerable! Some of the tasks that AI blog writers can accomplish will blow you away.
With that, in no way, do I mean that you can bank on any AI blog writers available in the market. Many of the existing AI blog writers perform poorly due to technical and non-technical issues. Obviously, you have to conduct your research and track down the best AI blog writer to make the most of it.
Before I walk you through how to make the most of AI blog writers, let's discern what an AI blog writer is.
What are AI Blog Writers:
AI blog writers are basically AI content tools meant to write blog posts from scratch. With the power of artificial intelligence, AI blog writers create texts based on the given input. Different AI blog writers work differently and it depends on the way they have been programmed.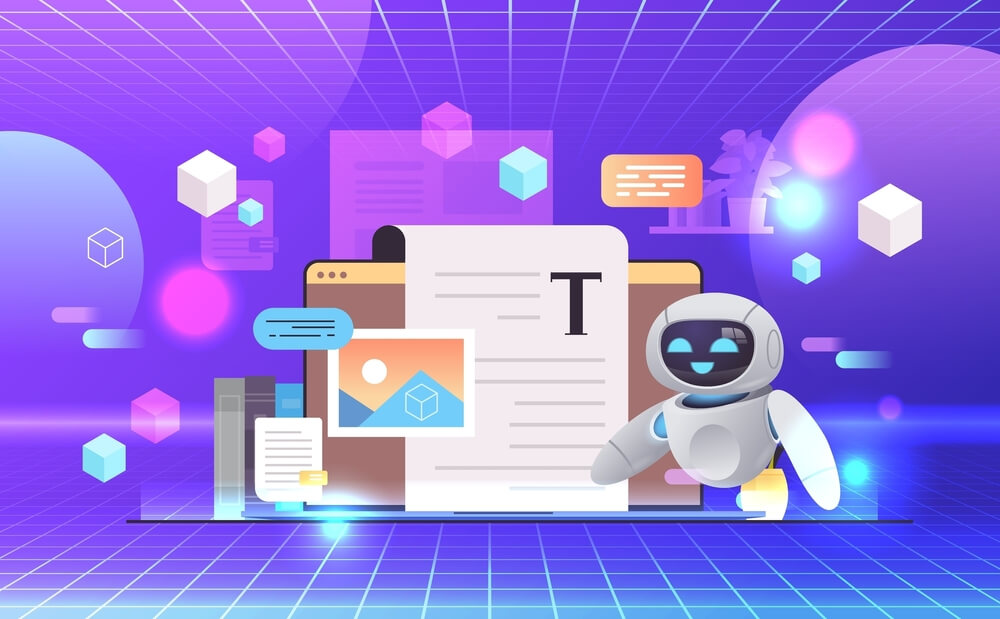 Some AI blog writers function with one click while others follow a step-by-step process. GetGenie, an AI Assistant, for example, follows 5 steps to generate a blog and that includes a blog title, intro, blog outline, and finally an entire blog.
How do AI Blog Writers Work:
Roughly all the AI blog writers today work with the power of OpenAI's GPT-3 language learning model. This language learning model was trained on a dataset with billions of words to generate the desired output. These words are sourced from ebooks, articles, blogs, and webpages to train the model.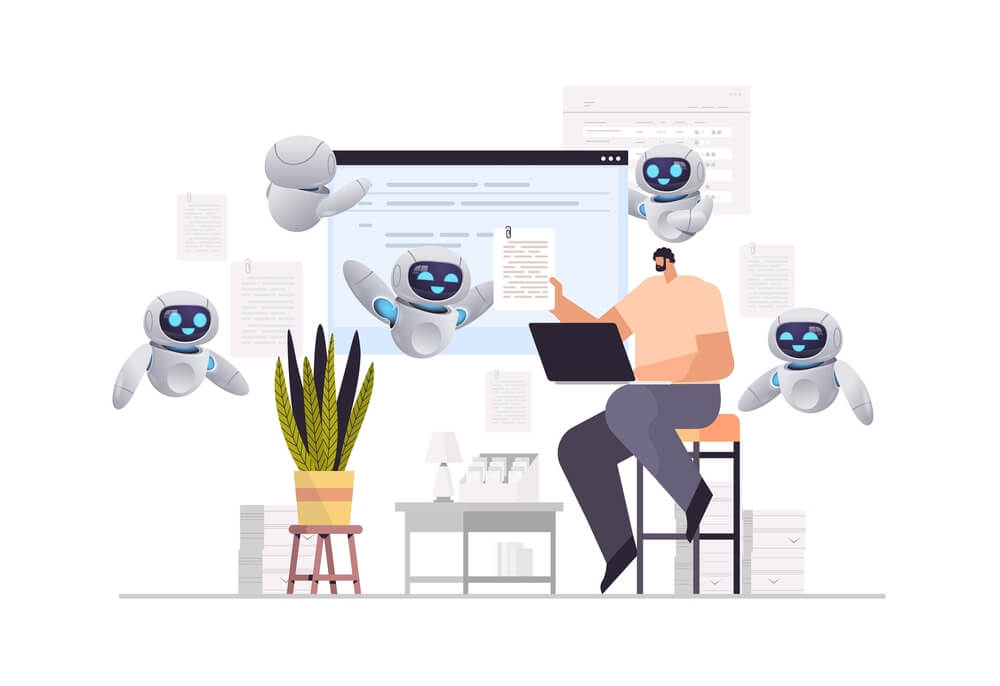 When provided with a text prompt, the robot processes the prompt with deep learning technology, predicts the likely word to come based on the previous word, and returns a sentence as an output. This is how the model generates content, including an entire blog post.
Wondering about the accuracy? Obviously, the content is unlikely to be 100% correct every time. This is because it's machine-generated content, so it can't guarantee flawless content. In that case, human intervention is essential.
How to Make the Most of AI Blog Writers:
Even though AI blog writers will generate content automatically for you, you have to play a major role in order to generate a top-rated blog post. Additionally, only blog writing isn't sufficient, instead, your post has to be SEO-friendly.
That's why you need to leverage an SEO-friendly AI blog generator. When you think about an AI blog writing tool with SEO features, GetGenie comes to the forefront. It has all the necessary SEO features, including keyword analysis, SERP analysis, and content score.
So, not wrong if you consider GetGenie as an SEO tool besides a content tool.
Let's understand how to make the best use of AI blog writers at length-
Break the Shackle of Writer's Block:
Writer's block is a common phenomenon for any content writer. Oftentimes, you undergo a state when you are out of words to proceed with your writing. That means you fail to develop writing ideas and entirely get stuck. Not that your writing capacity is limited, rather it happens due to overstressing yourself.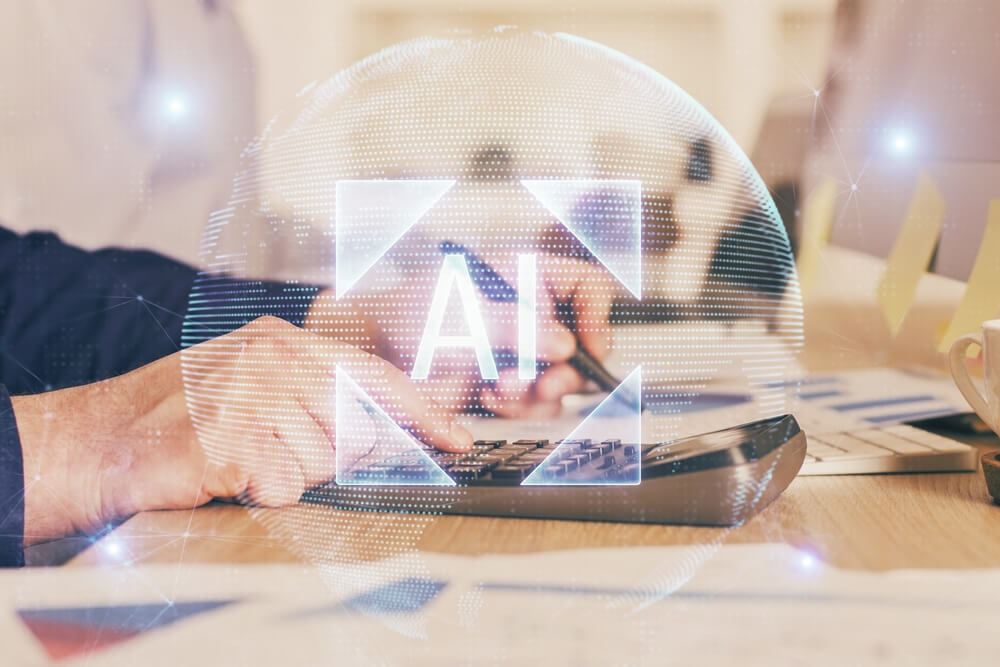 AI blog writers are cracking tools to break through writer's block. Whether you need ideas about a blog title, intro, outline, or any other part of a blog, AI bog creators can assist you in this case. And the best part is that the process is super simple and time-saving.
Generate your Blog Outline Straightaway:
Writing a blog outline is the earlier step of writing a blog post. And it takes a considerable amount of time to create a nice-looking blog outline. This is because it's the ideation and organization phase of your blog writing. In this step, you decide what info to add to your blog post.
Why not whip up the blog outline with an AI blog writer then? A premium AI blog writer can not only expedite the process of creating a blog outline but also create a well-organized one, worthy of taking inspiration to produce your blog post.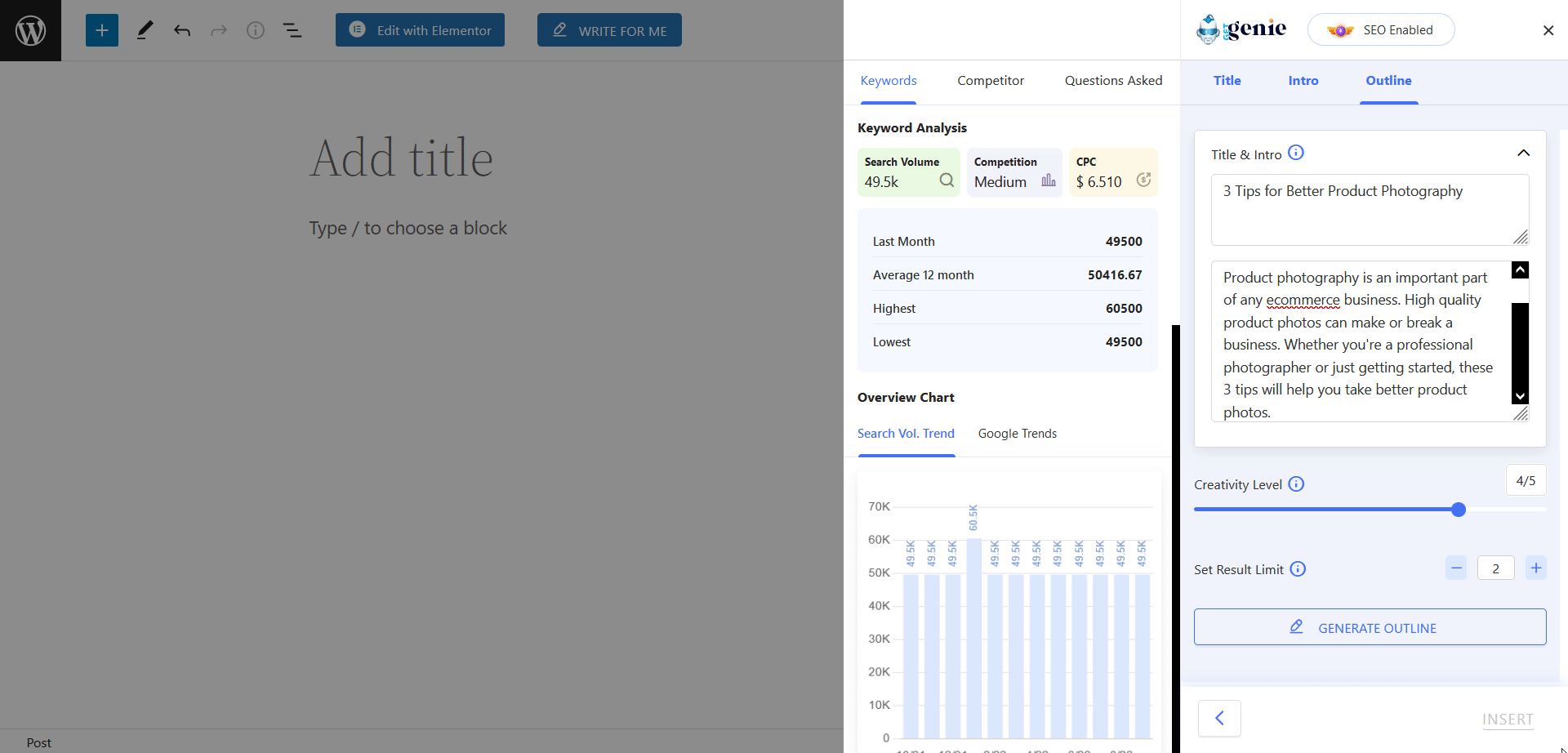 Provide a Crisp and Relevant Input:
When you leverage an AI content assistant or an AI blog assistant, you want an informative, relevant, and overall peachy write-up. For that, you have to provide crystal clear instructions. What I mean by it is that you have to input clear and relevant info to your AI blog writer.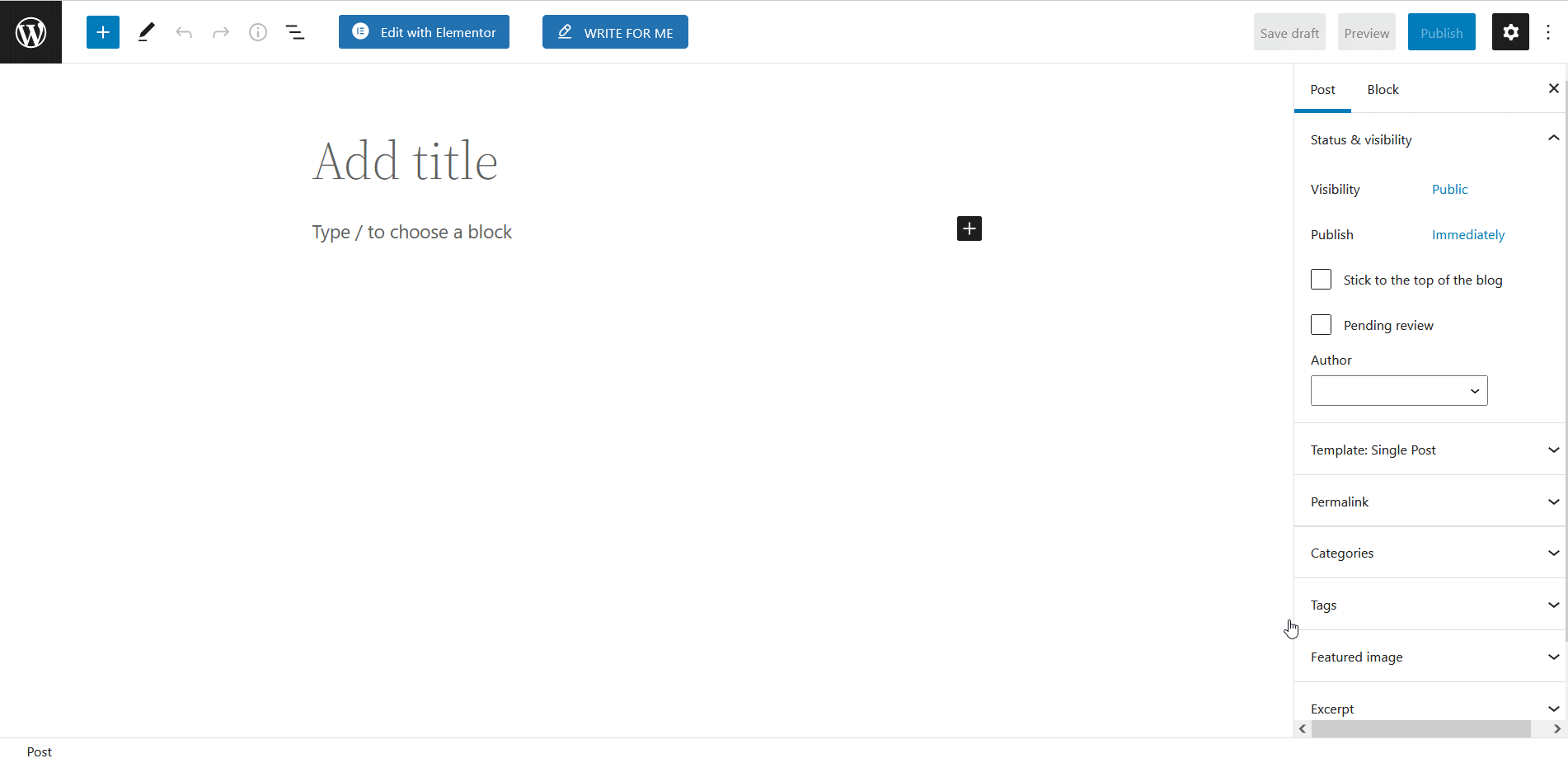 If you deploy GetGenie for example, you have to provide a keyword related to the topic of your blog post. You can optionally add a context either. Make sure that both these pieces of data are evident, relevant, and to the point.
Keep Yourself Open to Cherry-pick Data:
A good AI blog tool analyzes ample data and displays scores of options to choose from. These pieces of data include keyword suggestions, competitors' blog links, and questions asked from forums like Quora, Reddit, etc. But it's not wise to blindly take up all the data from your AI tool.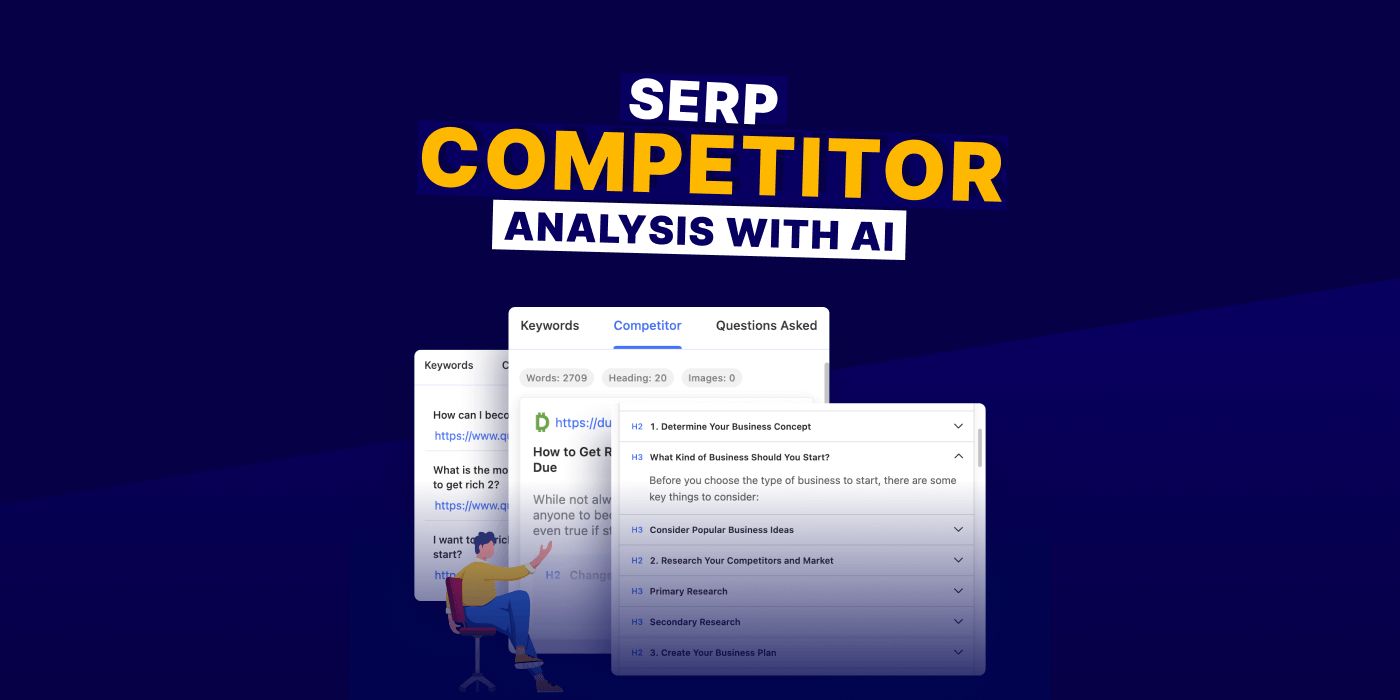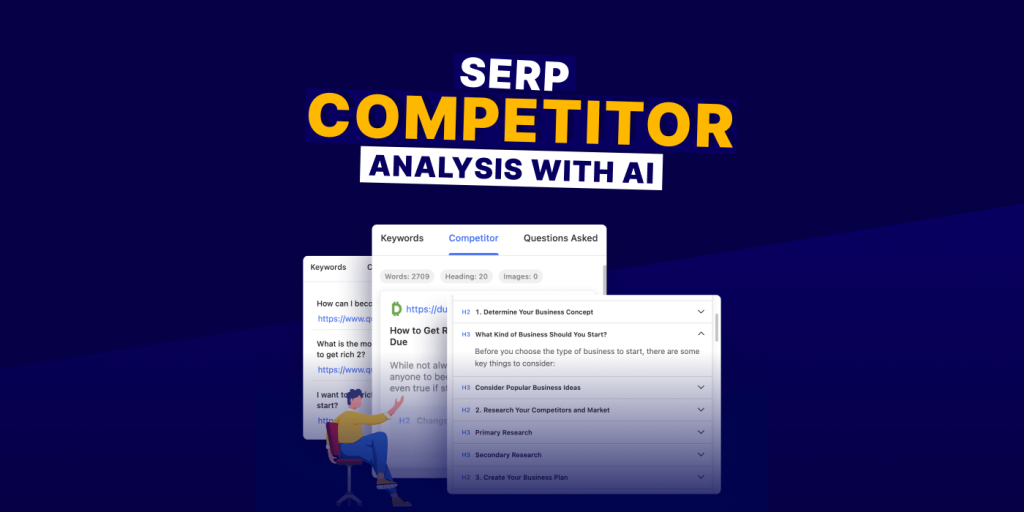 Instead, pick and choose data that suits your needs. From the list of keywords, select the ones that are relevant to your blog and can bring profitable traffic to your site. Likewise, pick those questions from the tool which align with your topic and are likely to benefit the readers.
Research your Chosen Topic:
Although you may be using an AI content tool, it doesn't negate the fact of carrying out topic research. In fact, peachy tools like GetGenie will provide you with the opportunity to conduct topic research. GetGenie offers options for a competitor or SERP analysis through links to related blogs.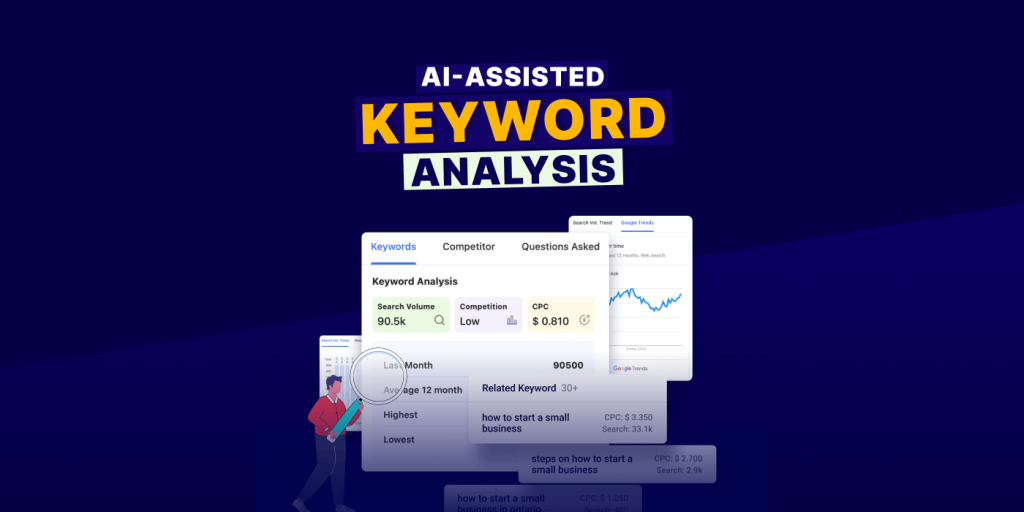 All you have to do is visit these blogs and check how they have laid out their content. What sorts of info they have added to their pieces? How did they use the focus keyword and secondary keywords? This analysis will help you to optimize your content in the best possible way once the post is created.
Generate your Entire Blog:
Bit confused about the heading? Maybe, thinking why should I generate a blog if I am using an AI blog writer? Absolutely, your AI blog writer will generate the blog. But what I mean by it is the command that you should give to generate your blog.
Once your blog title and outline look perfect, let your AI blog writer generate the blog. In this case, different AI blog writers function differently. Take GetGenie for example, it will only generate the blog title, intro, and blog headings. Besides, it will show you a content score with suggestions to improve the post further.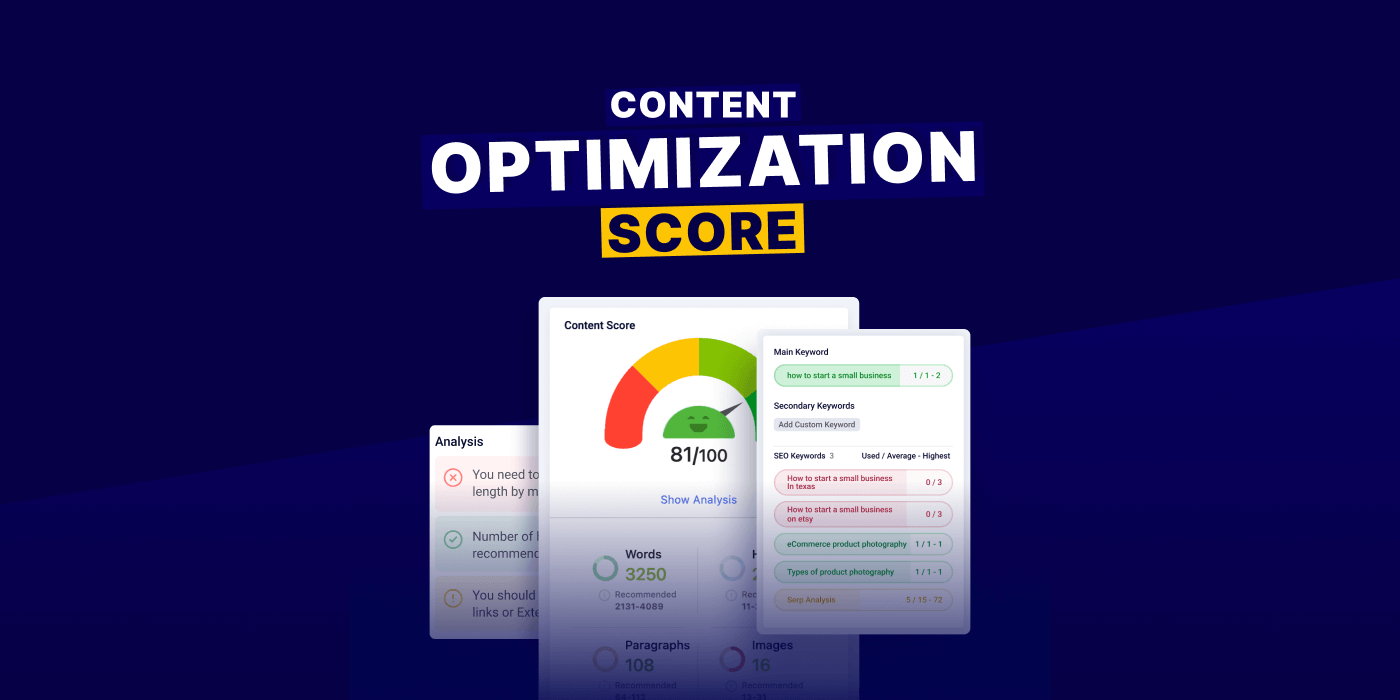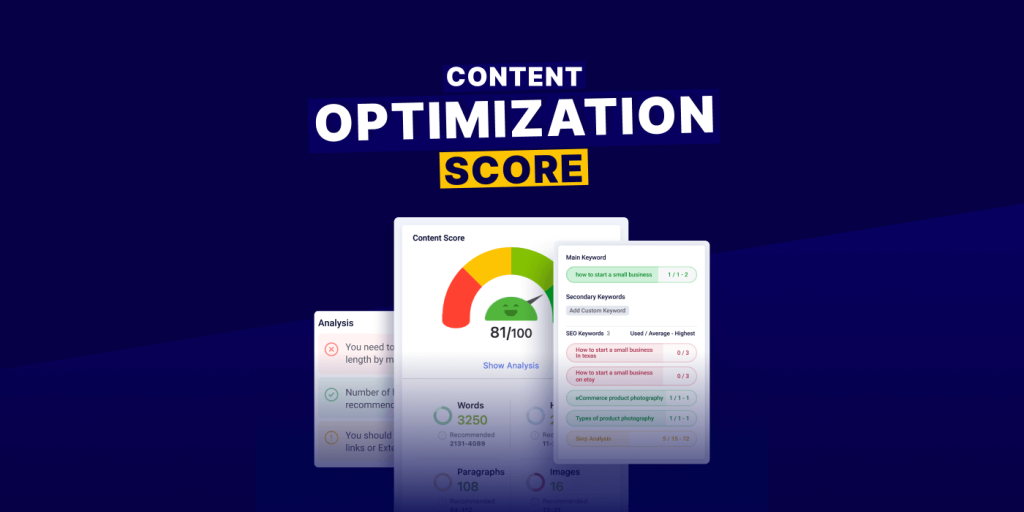 Then, you have to manually expand each of the headings to create your complete blog. And the best part of GetGenie is that it can rewrite sentences and paragraphs. So, if you aren't pleased with any sentence or paragraph, you will always have the option to rewrite it.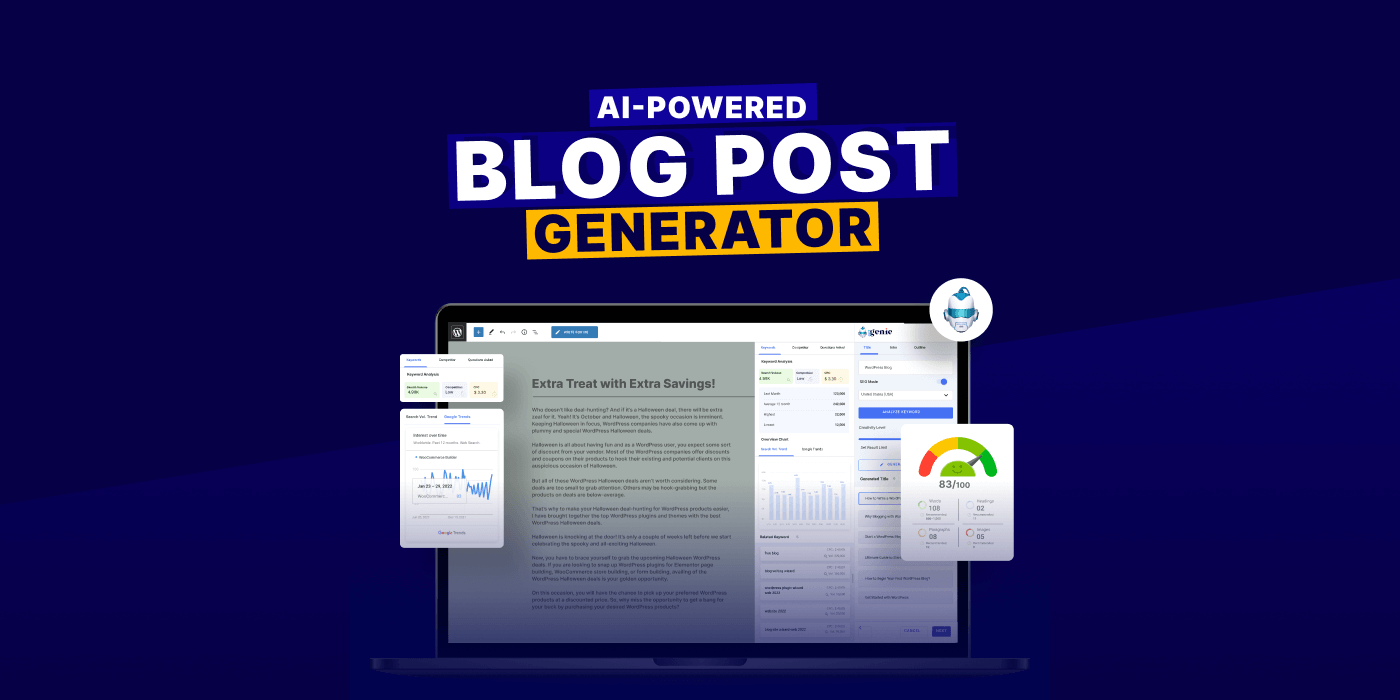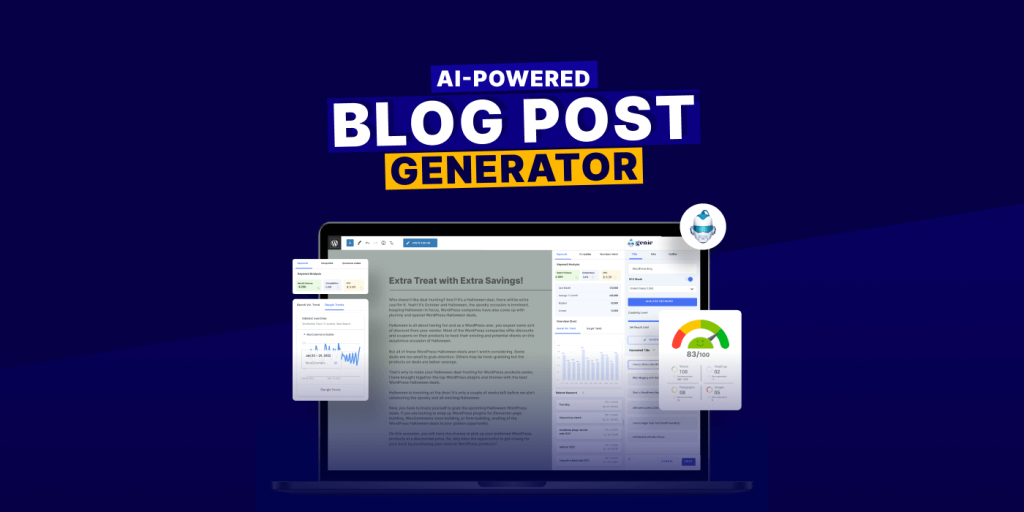 Edit and Proofread Multiple Times:
Last but not least, it's proofreading and fixing the visible issues in your blog after your AI blog writers produce the entire write-up. As your AI blog writer is a tool, it's pretty normal for it to slip up. At times, it can create sentences that make no sense.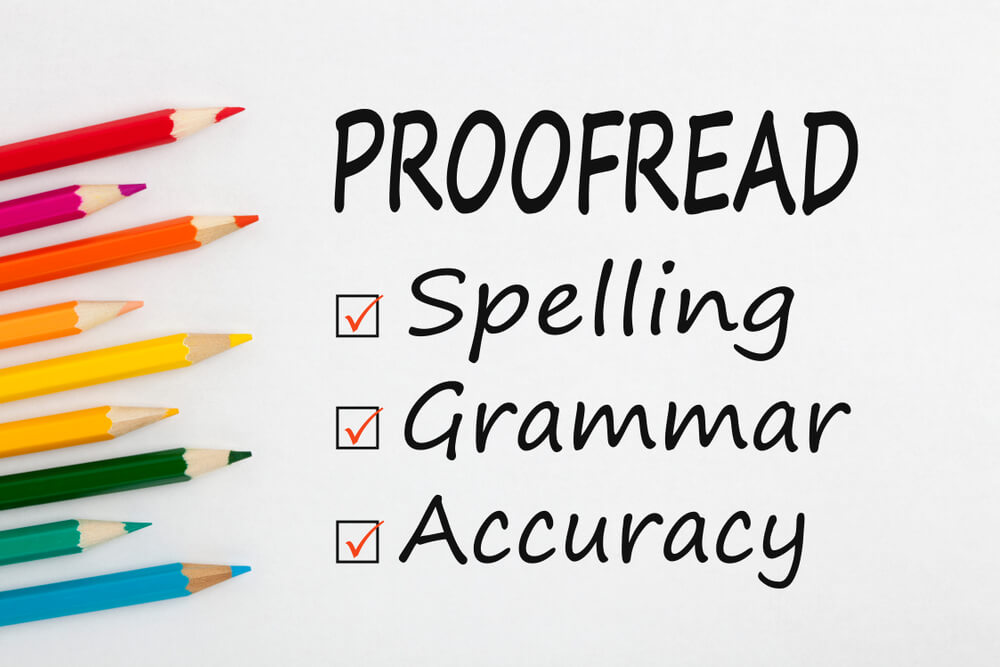 Sometimes, sentences may look absolutely perfect but some of them may not suit your brand voice. In that case, you have to edit them manually. You can try rewriting these sentences with your AI blog writer or you can even write from your own knowledge to fit your brand tone and voice.

Over to you:
I have guided you on how to make the best use of an AI blog writer. Now, the ball is in your court! Remember that it's key to conduct holistic research to pick up the best AI blog writer as many of the AI blog writers available in the market are buggy and shoddy.
As introduced before, GetGenie is one of the best AI blog writers available at your fingertips. Besides getting a quick blog generator, you will get a whole lot of other features in GetGenie. Wondering if GetGenie is a paid or free AI blog writer? Well, it comes with both free and paid versions.
Even the paid version comes with 3 different plans. Depending on your requirements, you can go for any of the paid plans. So, up to grab GetGenie to get your blogs generated with the power of AI?