Magical Ai Content & SEO Assistant – GetGenie Hits 1000+ Active Installations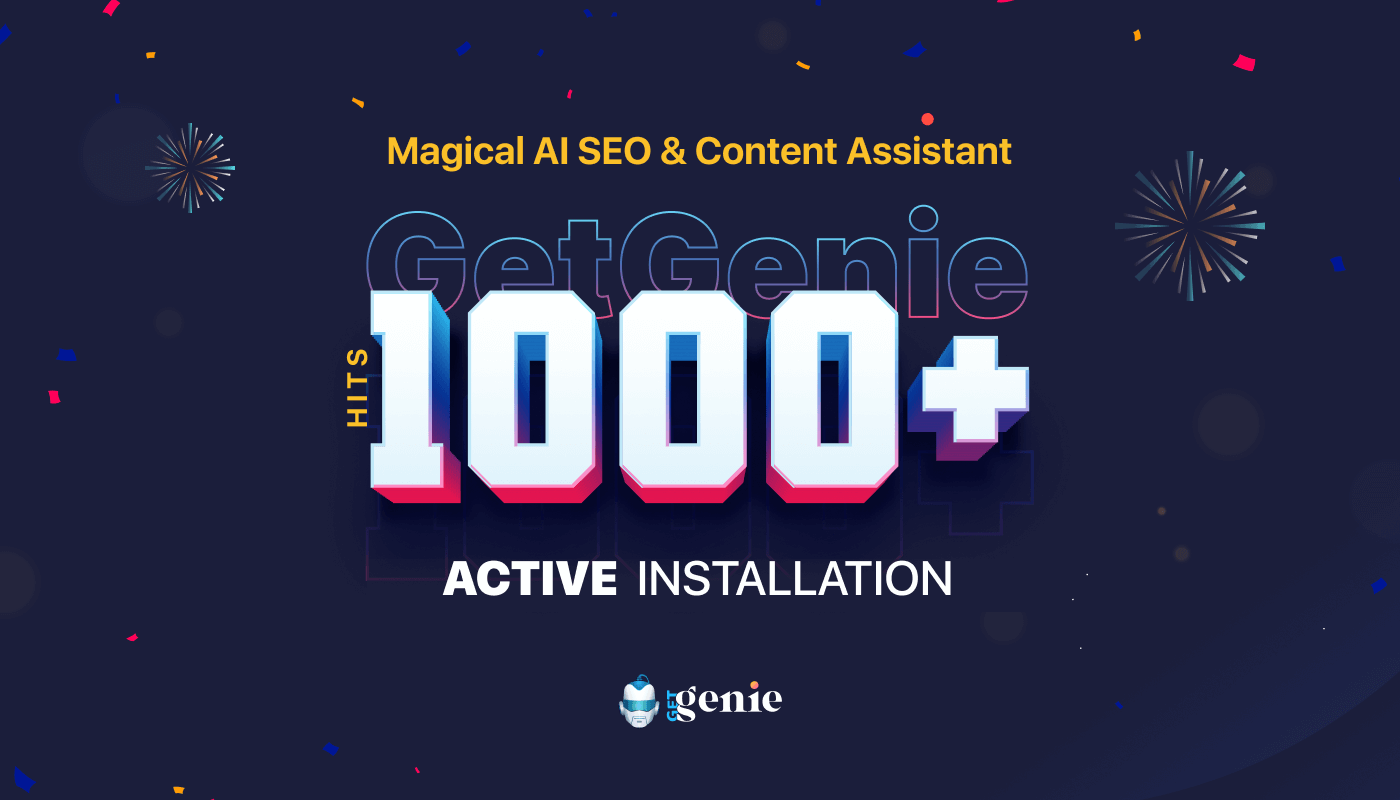 We are thrilled to announce some super exciting news: GetGenie AI, your SEO and content assistant for WordPress, has just accomplished an outstanding milestone.
In less than 4-months, we've successfully accrued 1000+ happy users worldwide! 🥳
It is truly delightful to assist this amount of people in a very short time; and all the phrase goes to our dedicated users, who have supported us endlessly.
Nevertheless, a big shoutout to our GeGenie AI team, who have worked day and night to make this AI SEO and content assistant tool accomplished.
Our journey of outstanding growth towards a thousand users:
There are a number of artificial intelligence (AI) tools available.
What makes GetGenie AI standout is that it is not just an ordinary WordPress AI tool, it will provide you the freedom to write in a fun, fast, and remarkably easy manner.
We'll jump to discuss in detail about GetGenie's magical features. But before that let's look into our first mile toward of a thousand users:
Looking back on our trip so far, it's astounding how quickly our progress grew so massively and super quickly.
What GetGenie AI can do for you?
GetGenie AI can provide you with all types of content writing, along with SEO solutions. From SERP analysis to keyword research, keyword suggestions, Google trends analysis, and so on!
Here are the focus elements that you'll endure with 🧞 GetGenie AI:
🧐 Research SEO keywords
💻 Analyze SERPs and competitors
🔠 Language support
🔑 Keyword suggestions
💪 Helps you to rank higher
You must be wondering how GetGenie your AI SEO and content assistant collects all this useful data.
Well, you will be pretty surprised, GetGenie is capable of collecting all sorts of data directly from Google, Quora, and Reddit. It also analyzes your content/keyword search volume, its competition rank, and CPC rates.
This means 'all at one place', you will also be able to research your keyword's SEO ranking in a specific region 🌐
GREAT news! 📢
GetGenie Black Friday is on the run 💨
Get up to 50% off – Claim NOW 👇
🆓 Avail 1500 words for FREE… each month!
After installing and activating GetGenie, you can avail yourself of 1500 words for free, which will be renewed each month (for a limited period of time). To experience the magic of GetGenie you should definitely get the free license and enchant your write-up!
👇 Watch and get your 1500 words license activated:
Your all-in-one SEO and content assistant is finally here. GetGenie's latest monthly and LTD deals are also available. More details are mentioned below!
Why should you choose GetGenie AI?
With GetGenie AI you will get 32+ pre-built templates which are more than enough to create any content with proper keyword research, SERP analysis, language support, and SEO optimization at any time…
All you have to do is select the template > input your Data (e.g. keyword/product name/paragraph etc) > choose your language type and click on Write… you're all good to go.
In one sentence, GetGenie is a magical AI SEO and content tool which gives you the floor to enhance your writing skills without doing much work… WHY?
Because every write-up can be done with just a few clicks!
Don't miss out… Enter this magical world of 🧞 GetGenie AI
If you have enchanted your writing skills with GetGenie, here are some of the important features which will bound you to get GetGenie AI in your life:
🔮 Writing blog in minutes:
Well, you're missing out on a great deal, because only with GetGenie AI you can create complete SEO-optimized, unique blog content in minutes.
You must be wondering, HOW?
Because GetGenie AI's Blog wizard feature will help you in creating blog content in just a matter of minutes. Not only that, you can conduct SERP analysis along with keywords, all in one place.
Don't believe me… Watch it yourself 👇
You can also look over all the headers of your competitors and add them to yours, or customize it on your own. In other words, GetGenie your AI SEO and content assistant will work as a shield in creating the best content possible.
🔮 Create eCommerce product content in seconds:
GetGenie AI can also assist you in creating eCommerce product details, and long and/or short descriptions in just a few clicks. All you need to do is just input your product name along with a small product context and you're all set.
🔮 Update your social site content effortlessly:
You can generate social media content with GetGenie AI too. So no need to worry about who's going to write the social content, GetGenie AI will do it for you.
🔮 Create content in your own language:
Currently, GetGenie AI supports six respective languages (English, French, Arabic, Hebrew, Spanish, and German). Due to high language support demands, we will be adding more languages in a few months.
We're not finished yet…
✨ More magical elements:
Well let me make it short, with GetGenie AI your WordPress AI content and SEO assistant you will find everything and more regarding content writing.
✅ Let's take a quick look at them:
👉 Provides resourceful answers to questions starting with "why"
👉 Writes a relevant follow-up paragraph for the given paragraph
👉 Rewrites a paragraph without tweaking the meaning of the paragraph
👉 Creates scores of varying questions on a given topic
👉 AIDA Framework: Generates copies with the formula- Attention-Interest-Desire-Action
👉 BAB Framework: Creates copies with the formula- Before-After-Bridge
👉 PAS Framework: Produces copies with the formula- Problem-Agitate-Solution
👉 Provides a variation of listicle ideas on a given topic
👉 Give a title/topic and receive a meta description in return
👉 Get a comprehensive definition from reliable sources
👉 Presents the pros and cons of a topic from trusted sources
👉 Provide a short description and take a look at the related topics
Conclusion
Lastly, thanks to all of our users once again for believing in GetGenie's magic! 🎉
Only because of your love and support Genie's magic will get bigger and better over time…
And for those who have experienced GetGenie's magic, well you should at least try it out.
GetGenie AI WordPress content and SEO assistant is loaded with sophisticated capabilities, making it more compelling for handling all aspects of your content creation, including research, writing, and optimization. Your only responsibility is to give yourself a set of instructions. and it won't take long to complete the task.