Top 10 Must-Have Ai Tools for Bloggers in 2023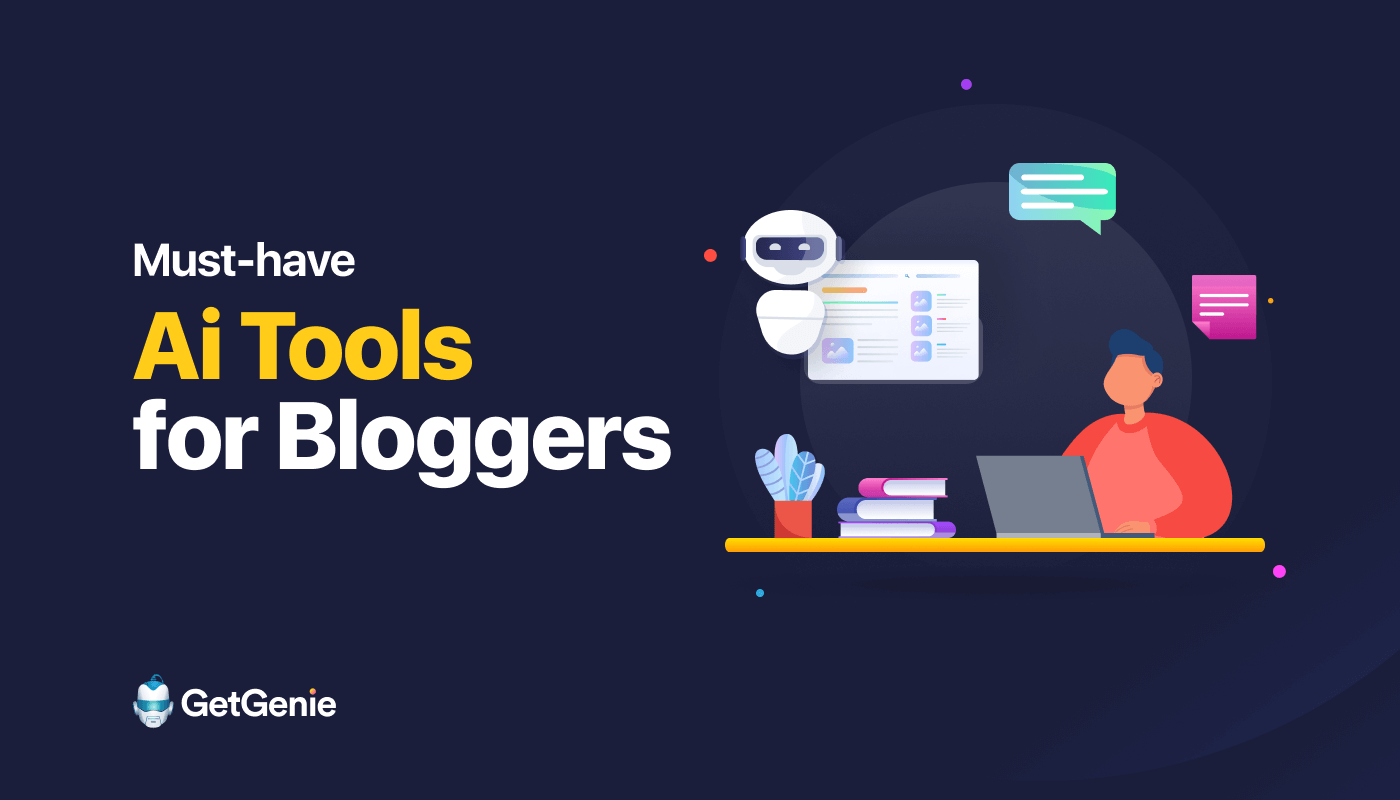 The impact of Ai has been transformative across many industries, and blogging is no exception. With the rapid advancement in Ai technology, you can now access a wide range of Ai tools that streamline your workflow, improve content quality, boost SEO efforts, and enhance overall productivity.
In this article, we will explore the top 10 must-have Ai tools for bloggers in 2023, empowering you to take your blogging game to the next level. At the end of this journey, we hope you will be able to determine which Ai is the best for blogging.
Exploring Ai Blog Writing
Before we dive into the top 10 excellent Ai tools for bloggers, let us first define what Ai blog writing is and, as a blogger, why you should consider Ai.
What is Ai Blog Writing?
In today's fast-paced digital world, bloggers constantly search for innovative tools and techniques to enhance their writing process and captivate their readers. Ai blog writing is an emerging technology that leverages artificial intelligence. It is to assist bloggers in creating high-quality content efficiently.
By employing sophisticated algorithms, Ai blog writing tools can generate engaging articles. They suggest relevant topics, improve grammar, and even emulate the writing style of specific authors.
Why Consider Ai for Blogging?
Ai has made remarkable strides in recent years, and its integration into the field of blogging offers numerous advantages. Here are a few compelling reasons to consider using Ai for your blogging endeavors:
✔️ Enhanced Efficiency
Ai blog writing tools automate time-consuming tasks, such as generating topic ideas, conducting research, and proofreading. It allows you to focus more on crafting compelling content and engaging with your audience.
✔️ Improved Content Quality
Ai tools provide real-time suggestions for enhancing grammar, syntax, and readability, resulting in polished and error-free articles that resonate with your readers.
✔️ Streamlined Workflow
Ai-powered tools can streamline your writing process, from initial brainstorming to final editing. It ensures a seamless and efficient workflow that saves you valuable time and effort.
✔️ Increased Productivity
You can increase your productivity and output by delegating specific writing tasks to Ai. It will enable you to publish more content and expand your blog's reach.
✔️ Consistency and Branding
Ai blog writing tools can learn and emulate your unique writing style, helping you maintain consistency across your blog and reinforce your brand identity.
✔️ Keyword Optimization
Ai-powered tools analyze search trends, perform keyword research, and suggest optimal keyword placement, maximizing your blog's visibility and search engine rankings.
✔️ Personalization
Some Ai blog writing tools can tailor content to specific audiences, adapting the tone, style, and complexity level to suit your target readership's preferences.
Excellent Ai Tools for Blog Writing
Now, let's dive into the top 10 Ai tools used for blogging. These tools have garnered widespread acclaim for their exceptional features, functionality, and ability to revolutionize the blogging experience.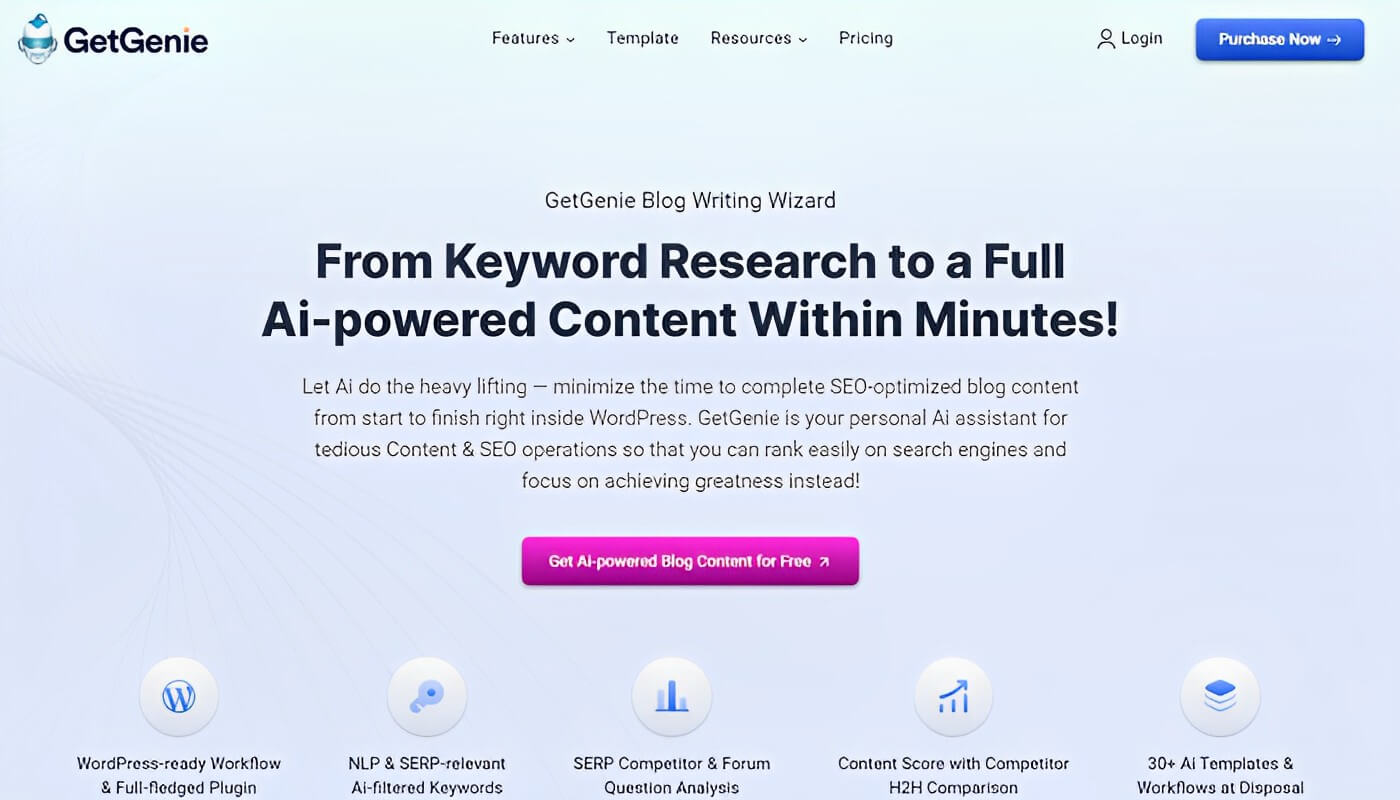 GetGenie offers a 1 Click-Blog Generator and Blog Wizard features. With these features, generating complete blog content has been a lot easier in just 30 seconds or less. You can create compelling SEO-driven articles based on your chosen keywords and content outline. GetGenie can also analyze the potential of the written content by checking the content score.
This 1 Click-Blog Generator feature is integrated with the Blog Wizard template of GetGenie and has an almost similar content generation process. You can set properties for language, creativity level, and result. Then, generate titles, intros, and outlines using the blog wizard.
Key Features :
WordPress-ready Workflow & Full-fledged Plugin
The GetGenie Ai Content writer empowers you to create various content types, from blog posts to email copy. Moreover, this Ai writer integrates with popular WordPress page builders like Elementor. It expands its compatibility and versatility.
NLP & SERP-relevant Ai-filtered Keywords
Content creation is only complete with ensuring its SEO-friendliness. GetGenie Ai employs NLP algorithms to analyze your text and provide suggestions for relevant keywords. Utilize these keywords to optimize your content for search engines.
SERP Competitor & Forum Question Analysis
After conducting keyword analysis, GetGenie presents a list of competitors as part of its SERP analysis. It allows you to gain insights and assess the competitive landscape.
GetGenie fetches relevant questions related to your keyword from forums like Quora and Reddit. It offers valuable insights and potential ideas for your content
Content Score with Competitor H2H Comparison
GetGenie enhances on-page factors with its Content Score, surpassing mere keyword suggestions. It includes a list of recommendations, including word count, headings, paragraphs, and images.
Using NLP, head-to-head comparison evaluates top content pieces with specific keywords. This analysis helps understand competitors' Google positions for those keywords. With the GetGenie Ai writer tool, you can conduct an H2H comparison against your targeted SERP competitors.
37+ Ai Templates & Workflows at Disposal
Using the diverse range of innovative templates, GetGenie provides for Ai-powered content creation. It maximizes productivity and minimizes time spent on writing tasks.
Pricing:
Available in free version
Writer: $19/month
Pro: $49/month
Agency: $99/month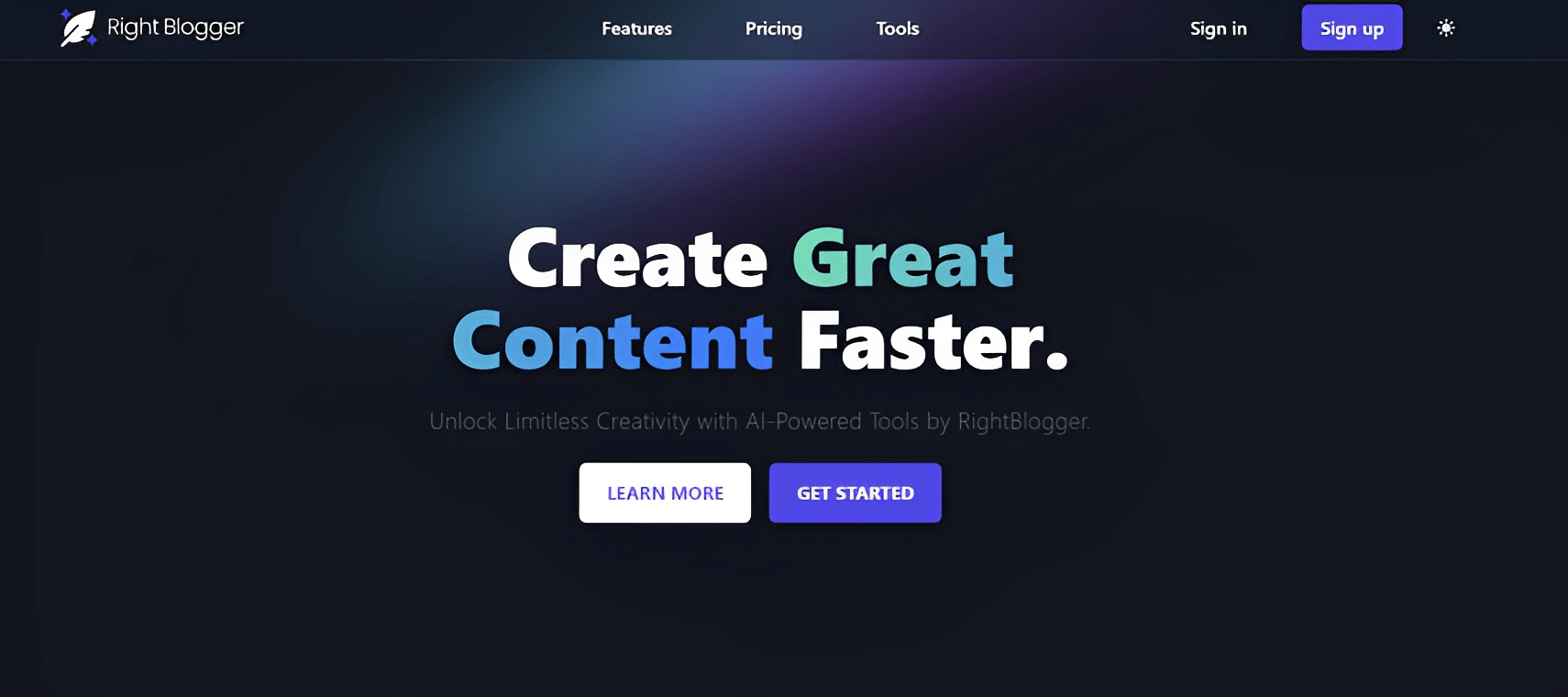 With RightBlogger Ai, you'll never have to worry about writer's block again. Simply input your topic or keyword, and watch as RightBlogger Ai generates a range of compelling ideas and outlines to jumpstart your writing process. From attention-grabbing introductions to captivating conclusions, RightBlogger Ai helps you craft engaging and impactful blog posts that resonate with your audience.
RightBlogger has a seamless integration as you can copy and paste blog post outlines and titles directly into your WordPress website or other blogging platforms.
Key Features:
Provide any blog's URL (domain name) and RightBlogger will present you with a plethora of inspiring ideas that perfectly align with that particular blog. It's the ideal solution to overcome writer's block effortlessly.
Fond of listicles? With this tool, you can promptly create captivating lists by entering your preferred topic or keyword.
In need of rephrasing a passage or rearranging a paragraph to repurpose it for another post? The rewriter tool is your invaluable ally.
This enhanced version of my free keyword research tool enables you to discover the most optimal keywords to shape your posts around.
Struggling to conjure a captivating headline for your blog post? Fear not. RightBlogger provides an enhanced and customizable rendition through its free blog title generator tool.
Pricing:
$29.99/month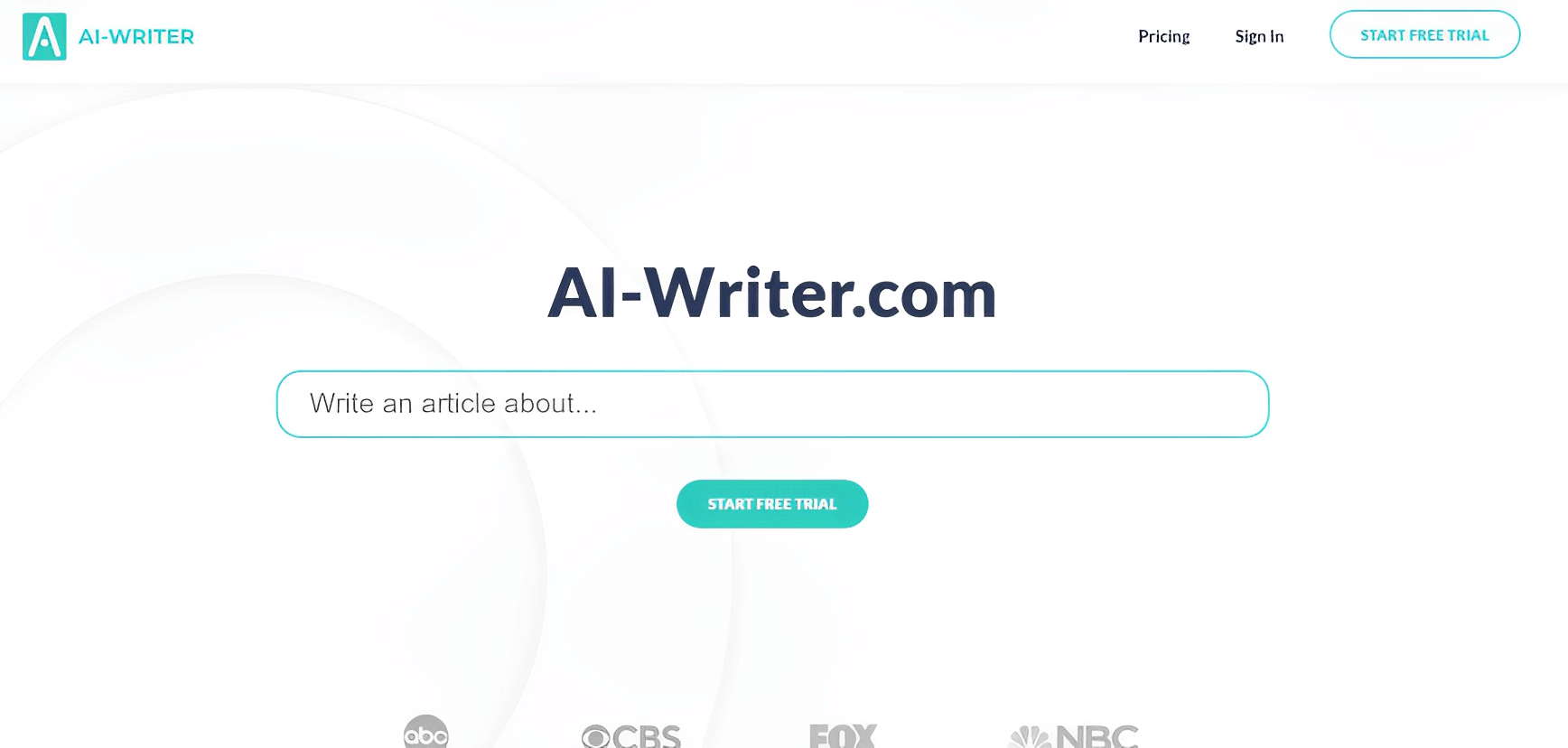 Ai-Writer enables you to craft captivating blog posts based solely on a captivating headline. Its primary focus revolves around generating complete posts directly from your headline. This streamlined approach allows for the efficient creation of long-form content. It boasts a built-in SEO editor, empowering you to edit and optimize your content for search engine rankings.
Key Features:
This feature can help you find the words Google is looking for to ensure higher chances of ranking. It has a built-in "Publish to WordPress" functionality to seamlessly publish your Ai-generated content to your WordPress blog.
One particularly useful attribute is the "Verifiable Citations" option, available for each paragraph. This feature facilitates fact-checking within your Ai-generated content, as it provides visibility into the specific sources from which the Ai writing assistant derived the information.
This feature allows you to recreate your existing blog content into a new version. In just 2 minutes, your existing blog is reworded.
Pricing:
Basic Plan: $29/month
Standard Plan: $49/month
Power Plan: $375/month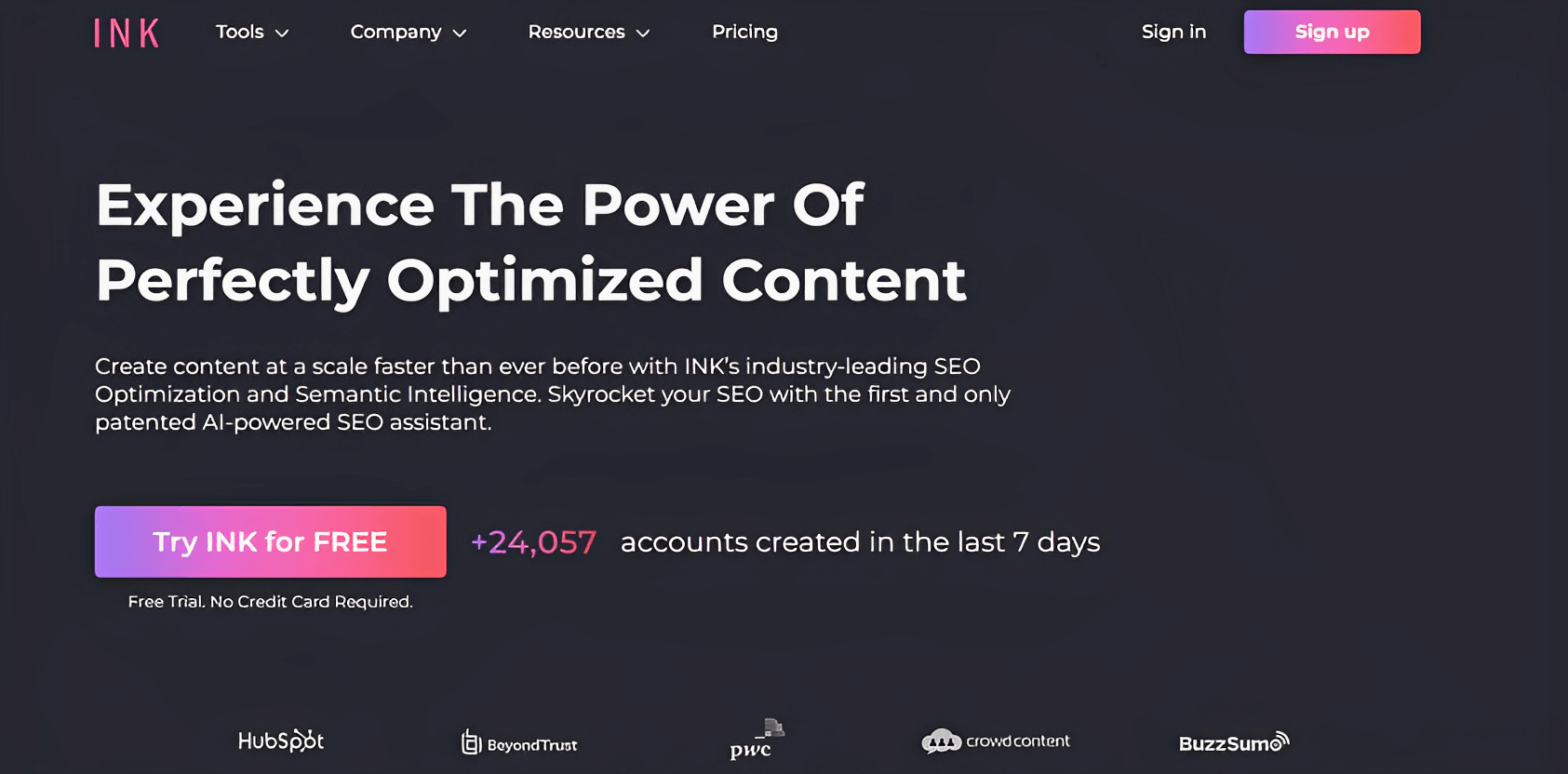 INK presents a compelling opportunity to explore, as this Ai-powered tool offers the versatility to create captivating written content as well as stunning artworks as it includes photos, illustrations, images, etc. Its comprehensive suite of built-in SEO tools empowers you to optimize your existing content effortlessly, or you can entrust INK with the task of generating the written material for you. You can input your primary keyword, and INK will guide you through specific actions to ensure optimal optimization for that particular keyword.
Key Features:
This feature allows you to find keywords for your topic. You just need to input your primary topic, target audience and objective.
This INK's feature ensures your content for your blog is free from plagiarism and ensures that your content has a human tone. While writing, this Ai automatically checks your content in the background.
By just adding your key phrase, INK will provide you with the SEO score of your content with the identified areas where you could improve your SEO score.
This feature is one of a kind as it frees you from clustering your list of keywords manually. By pasting your list of keywords or dragging a file, INK will give you clustered/grouped keywords (similar keywords).
A ChatGPT-like tool, giving you plenty of options for the types of content you can create. It allows you to create visuals from a text prompt.
Pricing:
Professional: $39/month
Enterprise: $99/month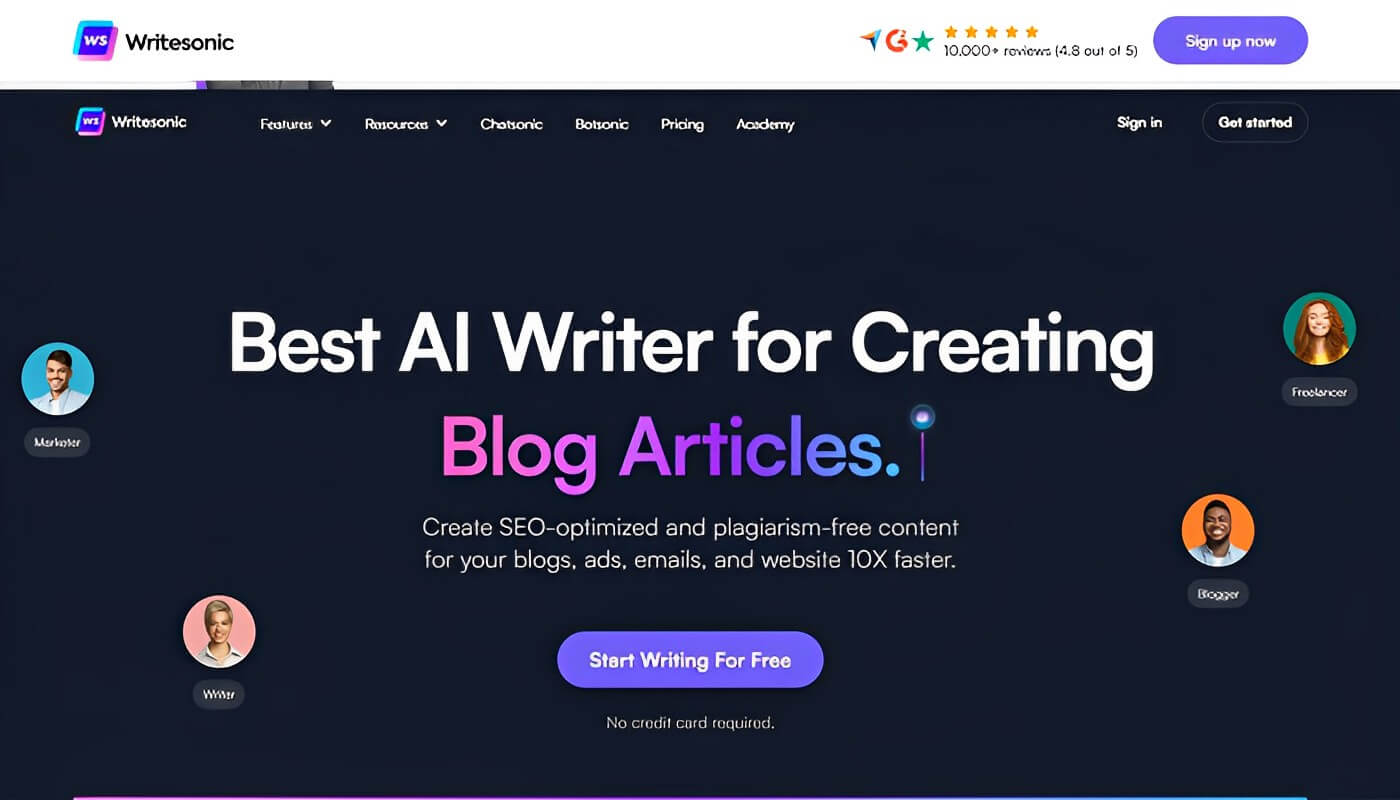 With this SEO-optimized content maker, you can create material at a rate ten times faster than before. Create landing pages, blog articles, product descriptions, and more with WriteSonic Ai. You can leverage WriteSonic Ai to enhance your existing content by rewriting it.
Its advanced Ai with GPT-4 powers digs into top-ranking Google search results to build a comprehensive and factual blog for you. In addition, you can upload your documents, PDFs, and add links to your previously written blog that will make your blog highly personalized and optimized.
Key Features:
With Writesonic, you can update your existing blog article and incorporate keywords.
Through this feature, you can lengthen your article to sound more professional without any mistakes.
Writesonic allows you to create your blog content in more than 25 different languages breaking the language barrier.
Pricing:
Available in Free version
Unlimited: $20/month
Business: $19/month
Enterprise: Starts at $1000/month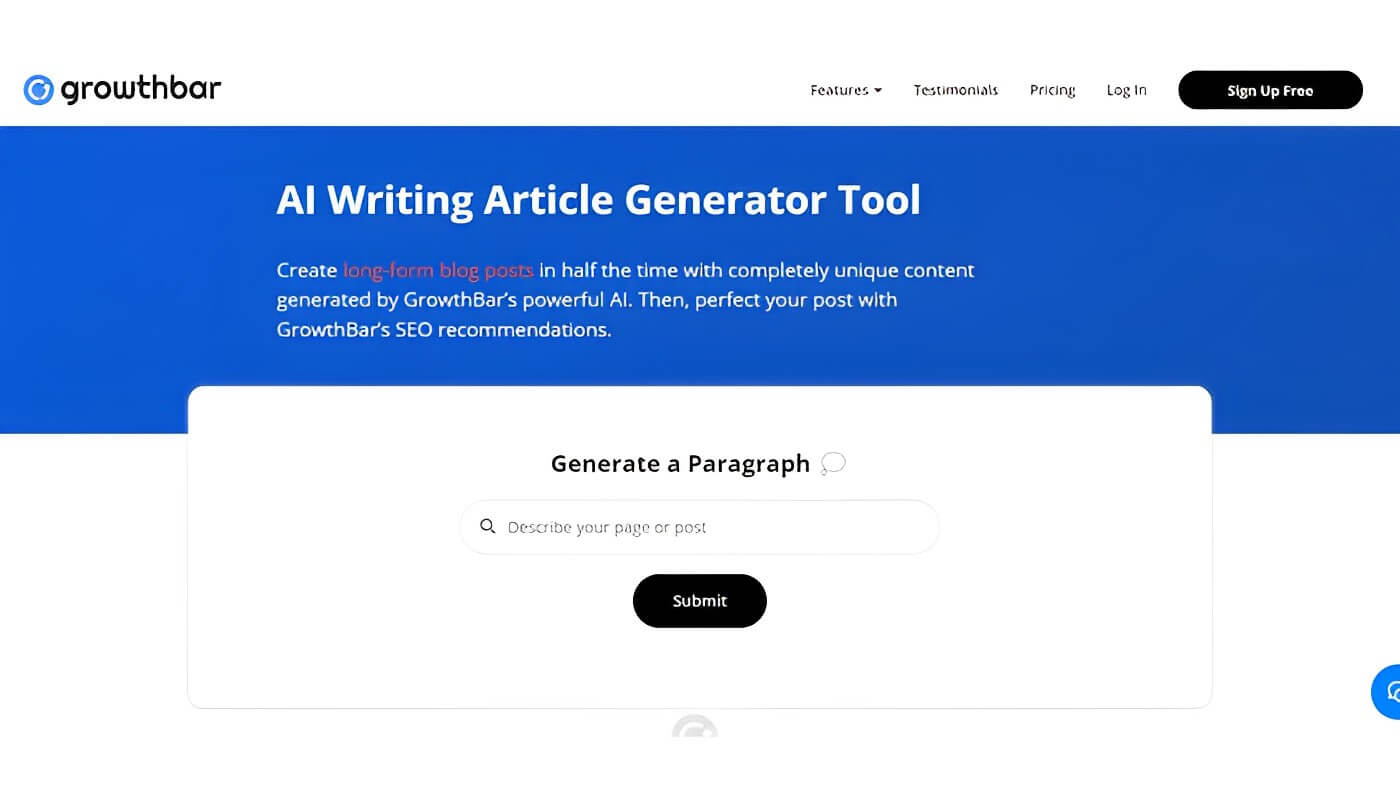 GrowthBar employs generative Ai and natural language processing (NLP) to speed up your blog post-writing process and optimize your content for SEO. Utilizing your target keywords, it scans the web and employs GPT-3 to analyze various data points. It generates content outlines, introductions, word counts, headers, internal links, etc.
Key Features:
GrowthBar enables you to input any search query and receive an array of headline ideas, frequently asked questions, and other useful information. You can then easily create an SEO-optimized blog outline by simply dragging and dropping the content.
Moreover, with GrowthBar's outline feature, you can also generate a title and introductory paragraph to kickstart your article writing process.
With this feature, you can easily import any article from the internet into a text editor with a single click of a button. GrowthBar then offers step-by-step guidance on how to improve the article, allowing you to enhance its quality and performance.
This feature allows you to rewrite a paragraph of up to 300 words free from plagiarism.
The tool can generate 100% unique blog ideas with Google-ready titles.
The tool allows you to generate long-tail keywords with difficulty score, search volume, and cost-per-click estimate.
With this feature, you can determine your competitor's organic traffic, keywords, and backlinks which are essential in winning the competition.
Pricing:
Free 5-day Trial
Standard: $48/month
Pro: $99/month
Agency: $199/month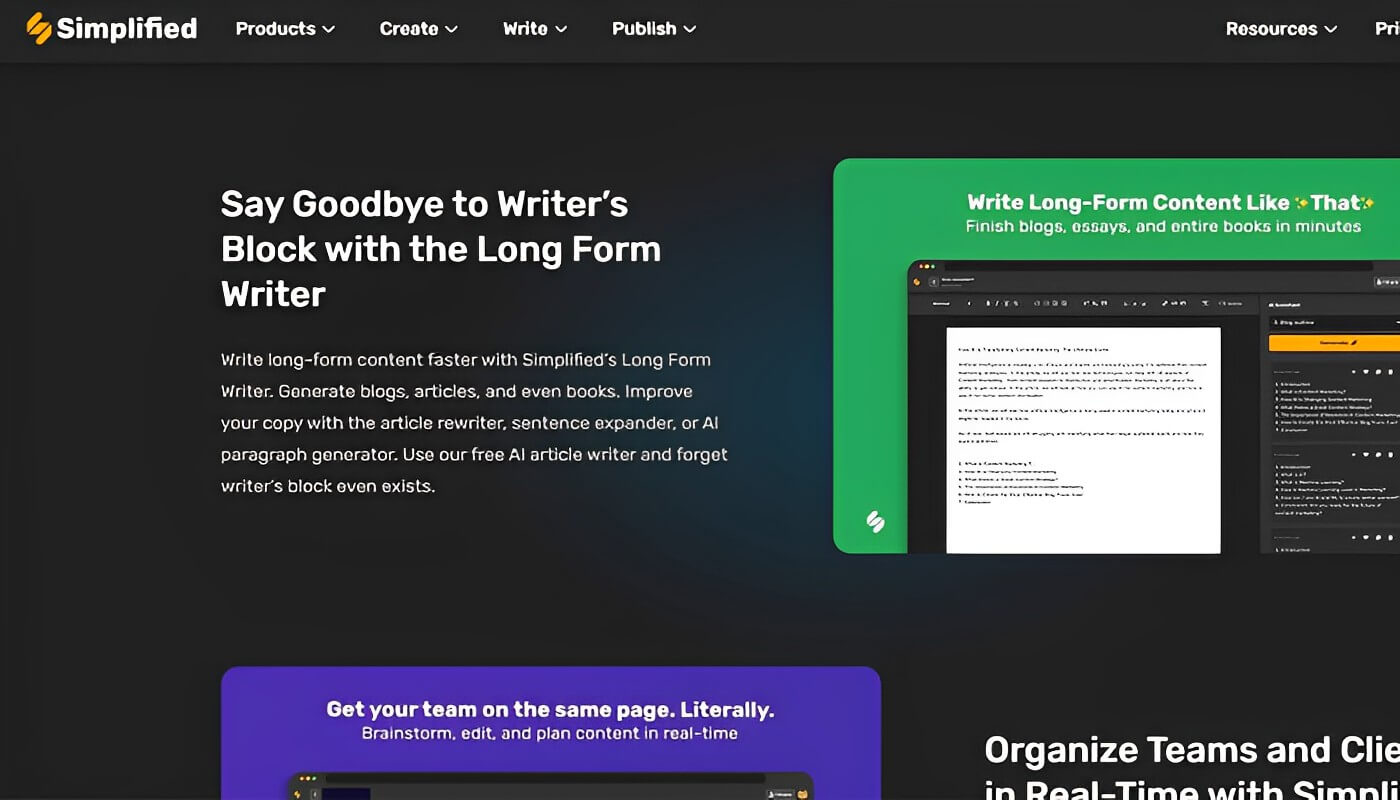 Simplified Ai is an Ai-powered writing tool designed to accommodate various content types. It includes blogs, advertisements, websites, and social media posts. By providing keywords or prompts, Simplified Ai can generate customized content for you. It also offers the ability to enhance your content's SEO and boost conversion rates.
Key Features:
Speed up the creation of extensive content, whether blogs, articles, or even books.
Enhance the quality of your writing using tools like the article rewriter, sentence expander, or Ai paragraph generator.
Diversify your writing style by crafting blogs in over ten different tones.
Expand your reach and connect with wider audiences as the platform supports over 30 languages.
Simple taps create 10,000-word long-form content.
Editing templates are free.
Guest users collaborate.
Design elements are optional.
Pricing:
Available in free version
Small Team: $24/month
Business: $40/month
Growth: $100 per month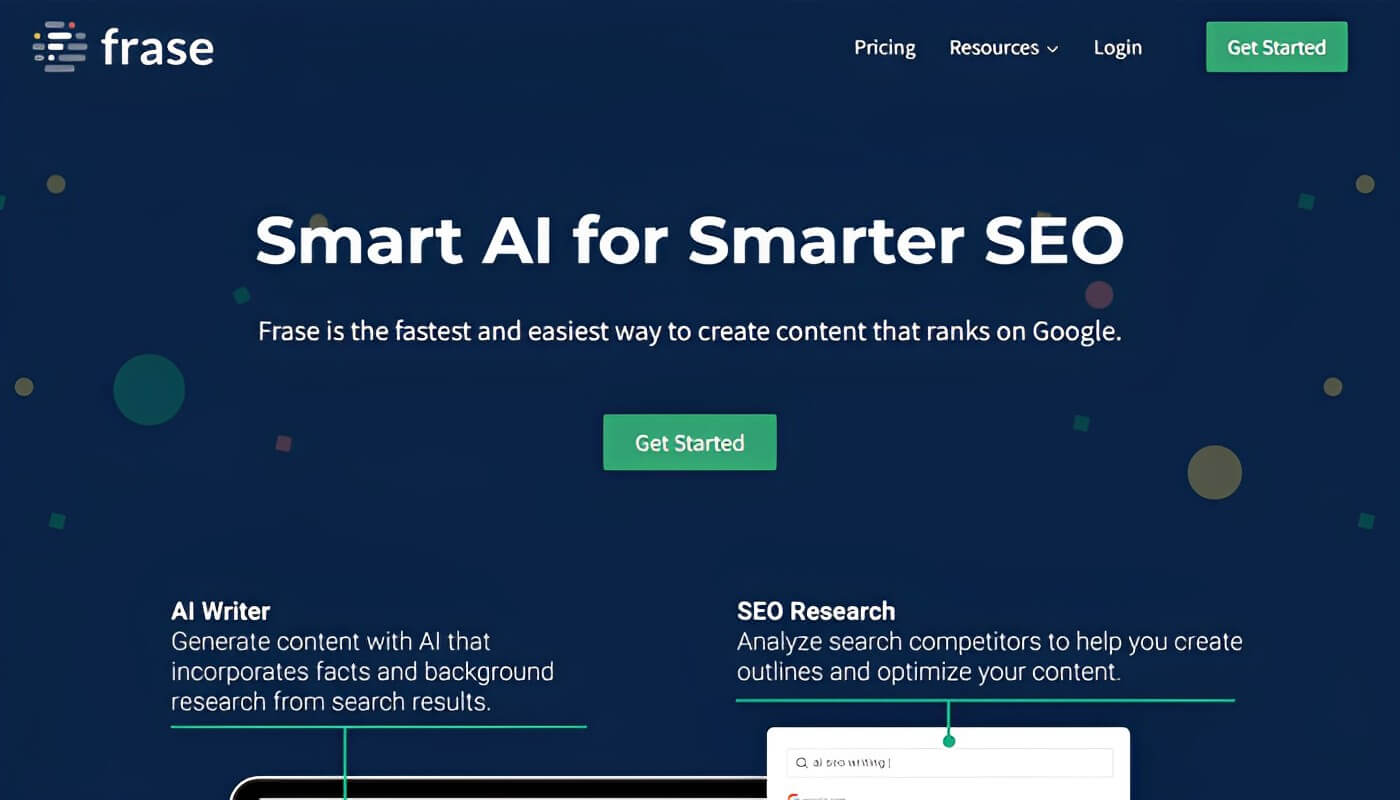 Frase is an app for content writing that aids in researching and generating SEO-optimized content. Powered by Ai technology, it streamlines and accelerates the writing process. Frase provides valuable context by suggesting keywords, headings, and queries to enhance your content creation experience. That way, you can better understand the suggestions and save time building context around keywords you wish to include.
Key Features:
Utilize Outline Builder to create a well-structured outline and transform it into a complete draft.
Effortlessly generate content elements such as blog introductions, persuasive copywriting formulas, FAQs, headings, and more.
Generate SEO-optimized content by analyzing top search results.
Create well-researched topic briefs with relevant subsections, queries, headings, and keyword counts based on your target search.
The content editor is intuitive, clean, and easy to navigate, saving in real-time and displaying word count.
Simplify collaboration with freelancers and colleagues through our user-friendly in-product tools to enhance teamwork and streamline the process.
Receive comprehensive reports on competitor websites and their keywords.
Various templates
Pricing:
Solo Plan: $14.99/month
Basic Plan: $44.99/month
Team Plan: $114.99/month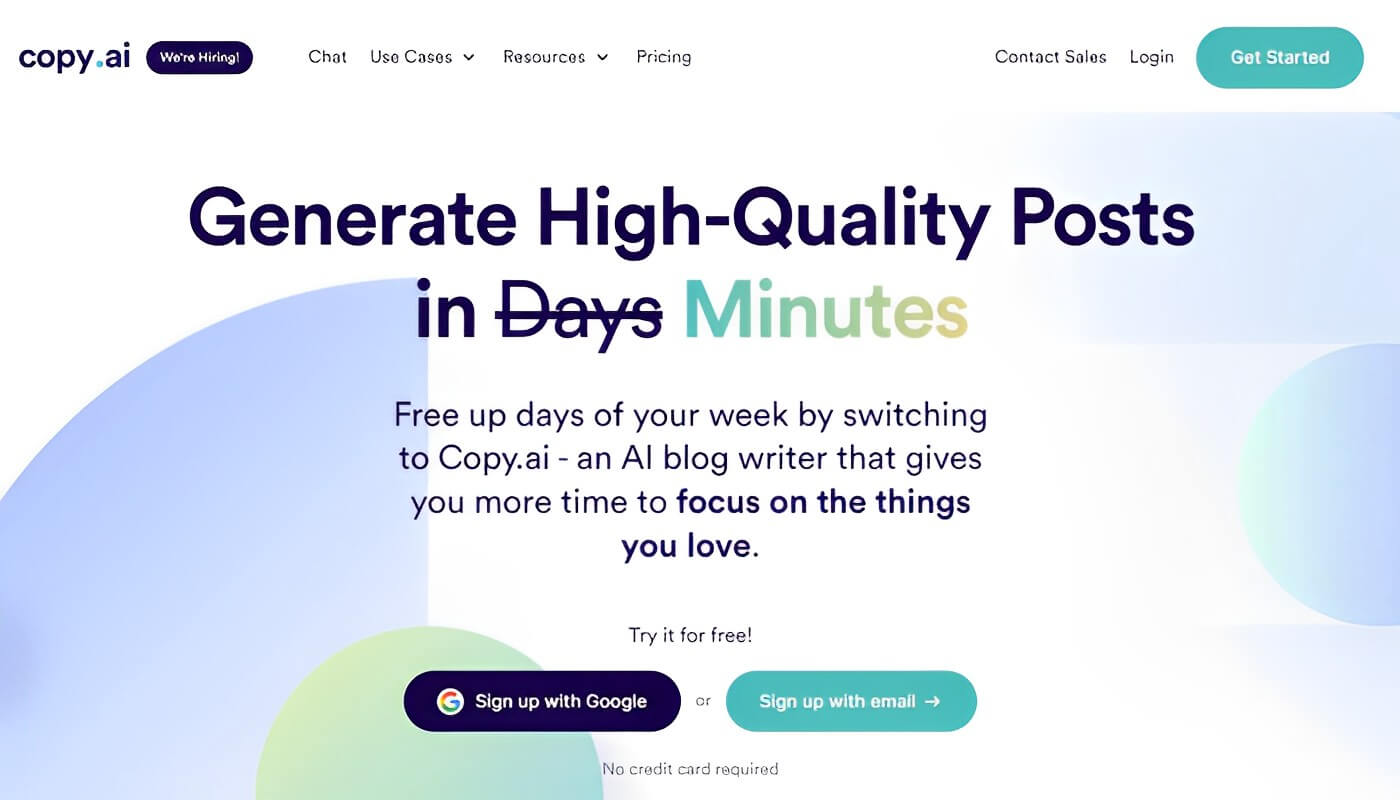 Copy.ai content writing assistant specializes in rewriting existing content and generating original content. In addition, it has a distraction-free UI that helps you focus better on your content writing. With a simple process, you can swiftly and effortlessly generate various types of content.
Key Features:
Generate extensive content, including blog posts and other long-form written pieces.
With the freestyle tool, you can define the content type, establish main points, and select a desired writing tone.
Write your initial draft or focus on specific paragraphs within a post.
Rework your existing copy.
Brainstorm potential keywords for research and prioritization, and
Create multiple meta-description options to choose from.
Pricing:
Available in free plan
Pro: $49/month
Enterprise: Custom Pricing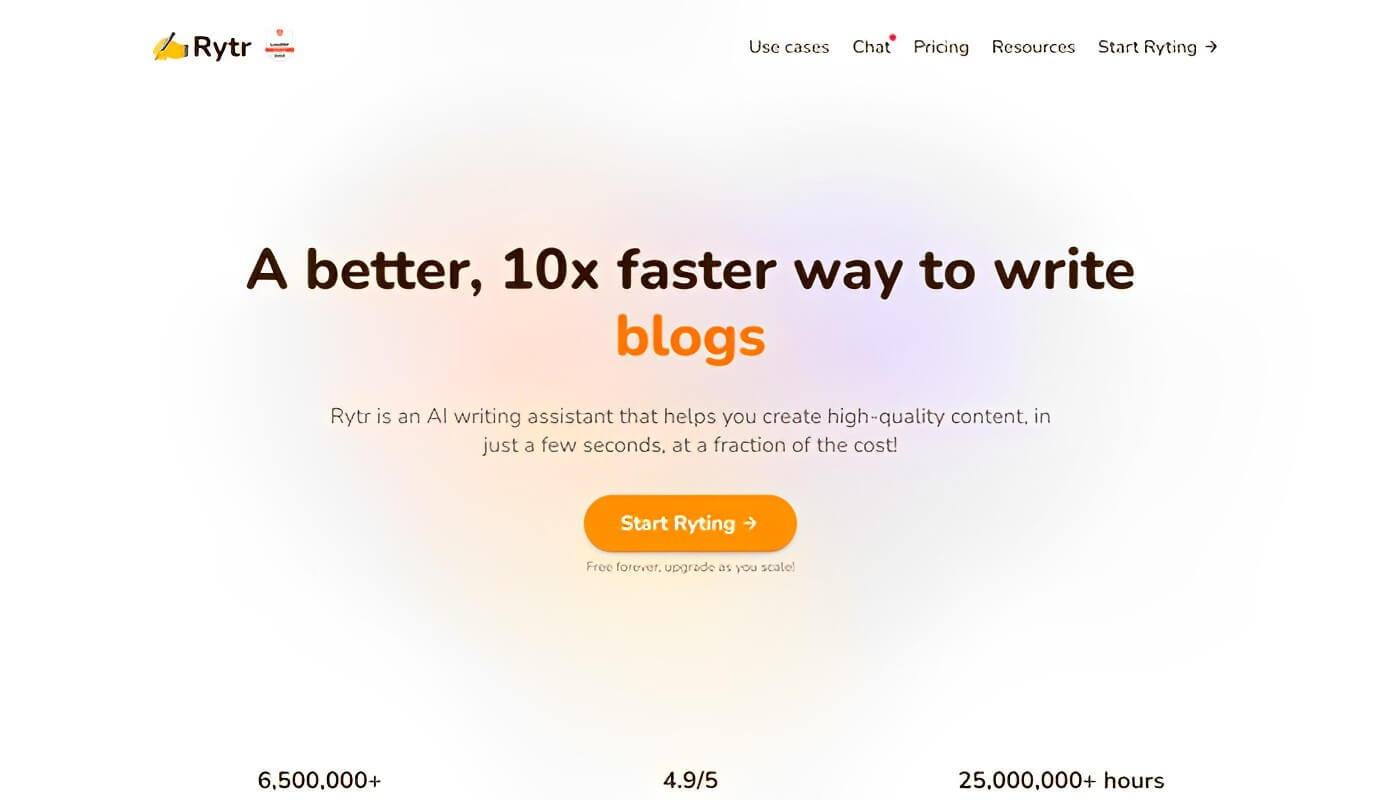 Rytr is a versatile Ai writing tool capable of generating various content types. It can be utilized for website copywriting, crafting marketing and sales copy, composing complete blog posts, and virtually any other writing task. It is all done through a simple online portal.
Key Features:
Generate innovative content across a wide range of industries and topics.
It caters to all writing requirements with over 40 use cases and templates.
Choose from over 30 languages, enabling you to write in your preferred language.
Express any written content with precision by selecting from a diverse range of over 20 tones of voice.
Leverages scientific copywriting formulas such as AIDA and PAS to deliver exceptional quality output.
Aids in optimizing titles and meta descriptions for your blog posts.
Pricing:
Available in free plan
Saver: $9/month
Unlimited: $29/month
Why Use GetGenie Ai for the Best Blogging Experience?
GetGenie Ai is an exceptional choice for bloggers seeking a comprehensive and versatile Ai tool. It allows users to enhance their blogging experience. It has advanced capabilities, a user-friendly interface, and powerful features which makes it a top choice as the best Ai blog writer by many. Additionally, it offers bloggers unparalleled assistance and support throughout their writing journey.
Here is a brief overview of the entire process on how you can generate your SEO-friendly content.
Input your seed keyword which your content will be evolving.
Check keyword data, SERP competitors, and forum questions for SEO.
Select your blog title and introduction from multiple options.
Build the outline of your blog based on the Ai-provided suggestions.
Lastly, expand the heading and check your content score, and your article is ready for publication.
Here are some key reasons why you should let GetGenie Ai handle your blogging endeavor:
✔️ Enhanced Writing Experience
GetGenie Ai employs state-of-the-art natural language processing algorithms. It provides bloggers with precise suggestions, grammar corrections, and content optimizations. This tool ensures engaging and error-free writing.
✔️ Customization and Personalization
GetGenie Ai understands the importance of maintaining your unique writing style and voice. It learns from your preferences. Its suggestions align with your brand identity and writing goals.
✔️ Keyword Optimization
GetGenie Ai offers intelligent keyword suggestions and optimization recommendations. It enables you to create SEO-friendly content. It ensures your content resonates with your target audience and drives organic traffic.
✔️ Content Research Assistance
GetGenie Ai provides valuable insights, statistics, and topic suggestions based on extensive data analysis. It empowers you to explore new ideas and create highly informative and relevant content.
✔️ Efficient Workflow Management
GetGenie Ai streamlines your writing process. It offers seamless integration with popular blogging platforms.
✔️ Continuous Improvement
GetGenie Ai regularly updates its algorithms and incorporates user feedback. It is to ensure that bloggers receive the most advanced and effective writing assistance available.
Final Thoughts on Ai Blog Writing
Ai blog writing is revolutionizing the way bloggers create content. It enhances efficiency and guarantees quality articles. Ai helps bloggers to stand out in the crowded digital landscape. Bloggers who embrace these tools can gain the following:
💡 Competitive edge,
💡 More readers, and
💡 Authoritative voices in the respective niches.
So, why wait? Choose now your best Ai blog writer from the top 10 Ai tools for bloggers and embrace its power to take your blogging to new heights!
[100% Hassle-Free Money Back Guarantee]