How to Develop a Winning Content Strategy with AI Tools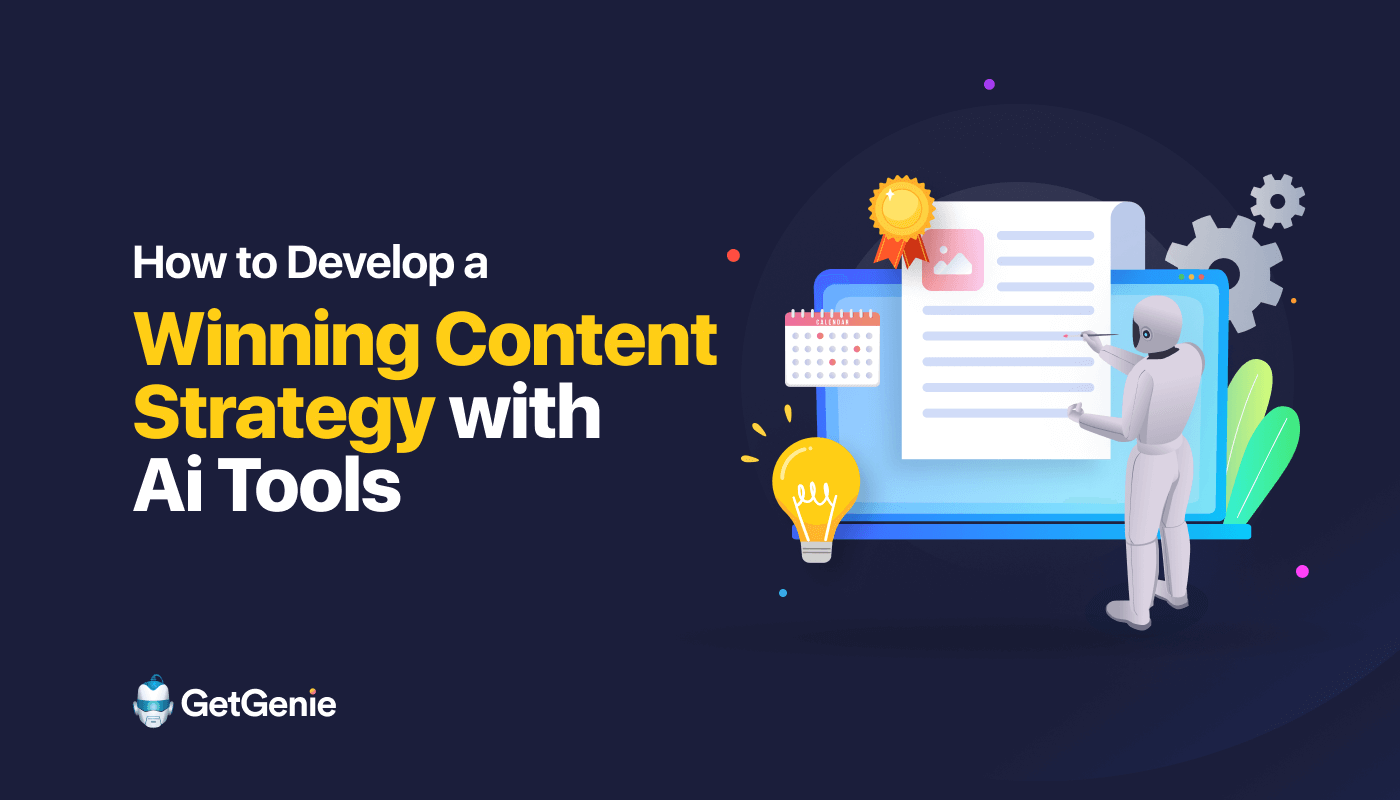 Building a content strategy with AI isn't a breeze. To pick up how to develop a content strategy with AI, you need expert guidelines. But everyone dealing with AI content strategy isn't an expert.
The good thing is that this post will not frustrate you as I will cover the ins and outs of developing a top-notch content strategy with AI in this post.
Before I put forth a tidy guideline, let me tell you that I have recently developed a content strategy with an AI tool to run my website's content marketing. To my surprise, the outcome was mind-blowing!
In no time, not only did my website's traffic explode but also started converting visitors. And the AI tool was none other than GetGenie itself! Don't just buy my words rather I will show you here how GetGenie helped me to create a killer content strategy.
Before moving to the point, let's get to know why content strategy with AI is crucial and lucrative —
Why Develop a Content Strategy with AI:
Among the fields AI has revolutionized, content writing as well as marketing is noteworthy. You can carry out tons of content-related tasks with AI in a matter of seconds and minutes. That too with accuracy and contentment.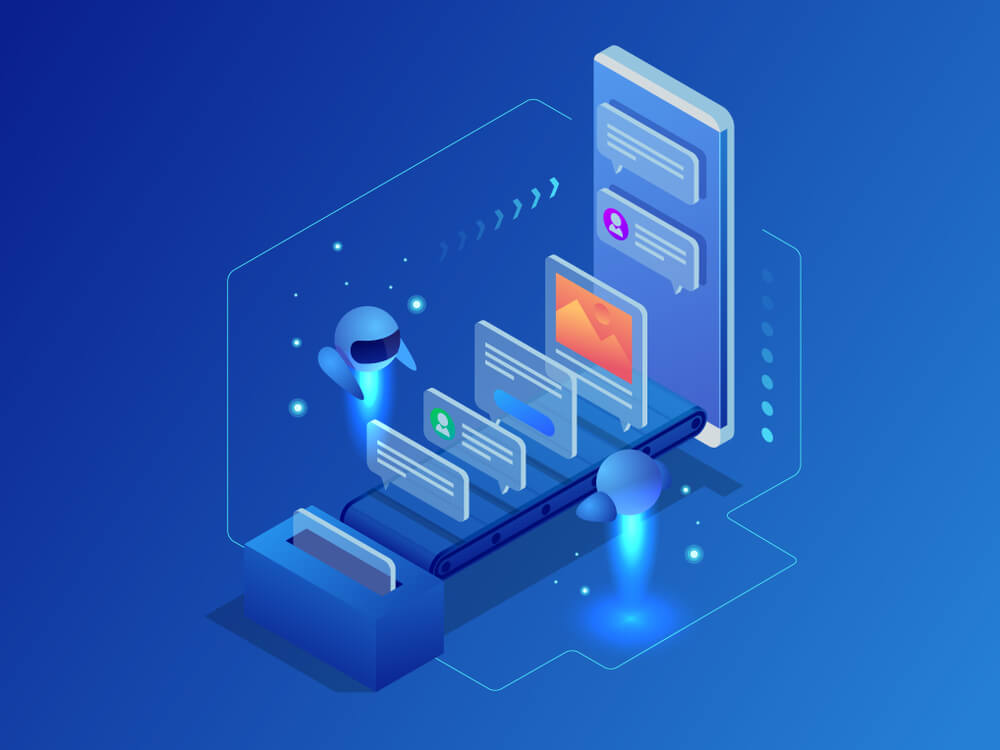 Check out the core reasons why you should create an AI content strategy for your marketing team –
Formulate a list of creative and fruitful content that packs a punch
Extract useful and relevant data from credible sources in a flash
Get handy insights backed by data-loaded websites and resources
Enjoy the liberty of content customization with fascinating AI features
Generate structured and first-rate content efficiently
Take result-oriented suggestions to optimize as well as tune up your content
Scale up revenues and profits multiple times cost-effectively
How to Develop a Content Strategy with AI:
Before I present to you how to build a content strategy with AI, let me tell you that all the AI content tools are not worth considering to create your content strategy. You must do your research before choosing AI tools for the job.
Discover Your Target Audience at First:
Finding and understanding your target audience is the very first job you should carry out to create your content strategy. With the traditional method, you usually visit various platforms, including social media, and try to find as well as understand your audience primarily based on demographic data.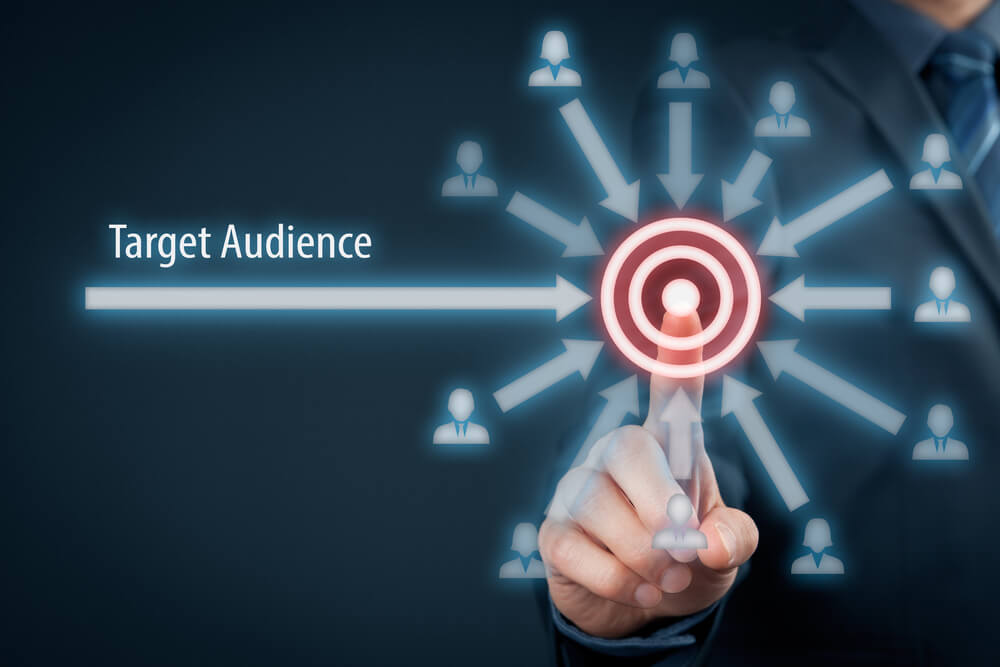 However, with AI-assisted tools, you can get more crucial audience data related to purchase behavior & interests, browsing history, etc. in addition to demographic data. This enables you to gather accurate and holistic info about your target audience.
Qualifyed.AI and GapScout are 2 cracking AI target audience research tools that you can count on to precisely discover and discern your prospects.
Conduct Keyword Research to Equip Content Topics:
Right after understanding your target audience, you need to start conducting keyword research in your niche. AI tools can act as a driving force to help you carry out keyword research at a blazing-fast pace. By doing keyword research, you can gather dozens of metrics of different keywords.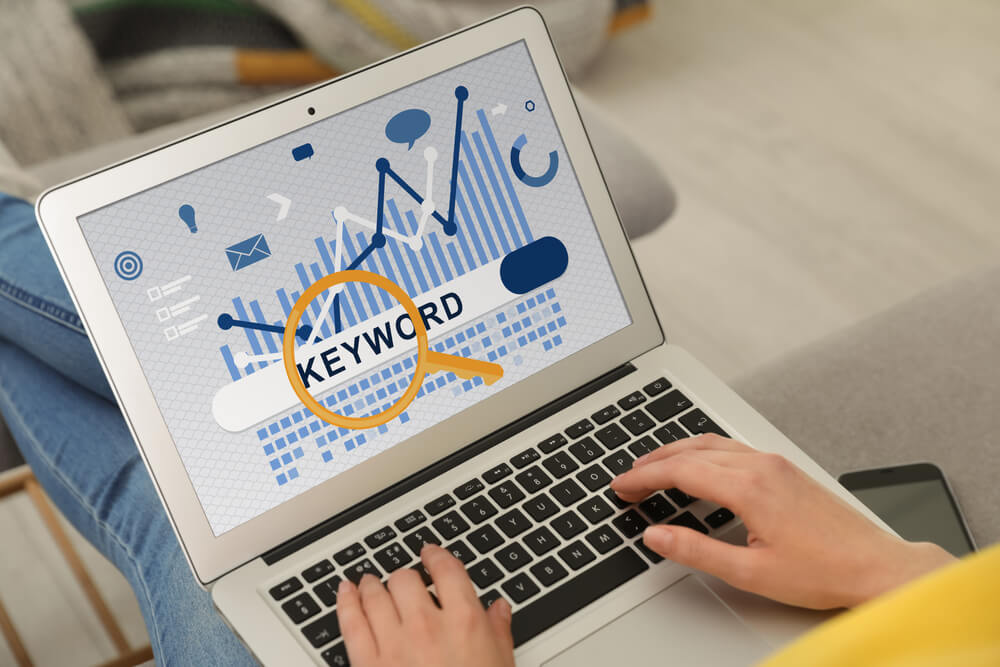 For example, AI keyword research tools will provide you with search volume, keyword difficulty, keyword trends, and other relevant details of various keywords. These data will assist you in grasping whether you should write a content piece targeting a specific keyword.
Out of a slew of AI keyword research tools available at hand, you can consider availing of GetGenie. GetGenie provides all the relevant details of a particular keyword to ease your keyword research job.
Find Content Gaps to Plug the Gaps:
Finding content gaps is a pivotal part of developing a content strategy. This is something you can do by analyzing competitors' content. AI has the magical power to carry out content gap analysis by analyzing your competitors' websites.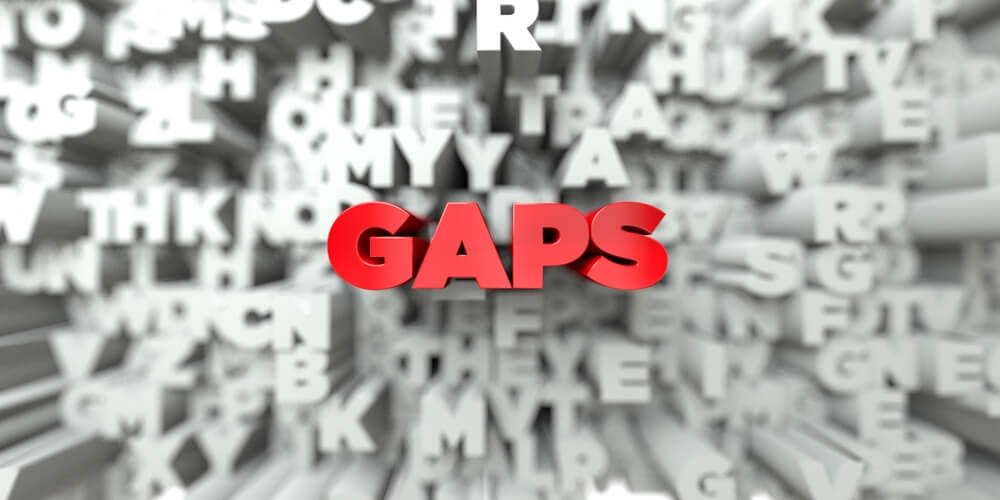 AI tools, featuring content gap analysis bring up a list of keywords that your competitors targeted to craft their content pieces. This will provide you with the opportunity to identify the keywords that you haven't targeted in your content pieces and cover them in your content.
Apart from that, AI tools can also run content audits, market research, etc. to help you optimize your website's standing and performance. Among the AI tools available for content gap analysis, SEMRush and Ahrefs are worth considering.
Generate Content on the Listed Topics with an AI Tool:
Now, comes the most integral part of a content strategy and that's content creation. When you create content with human writers, it takes up a substantial amount of time. Hence, the alternative way is to embrace AI tools to generate content in no time.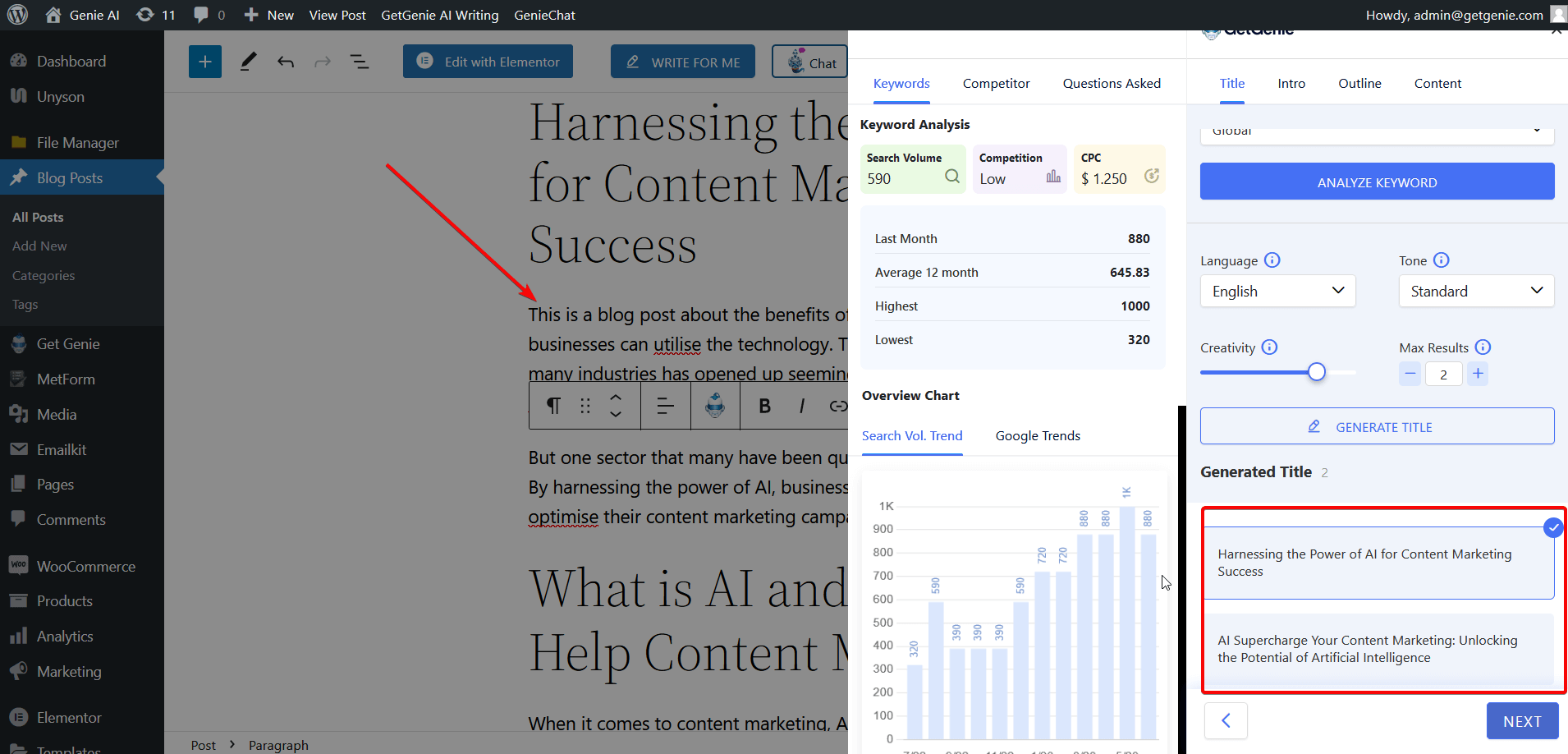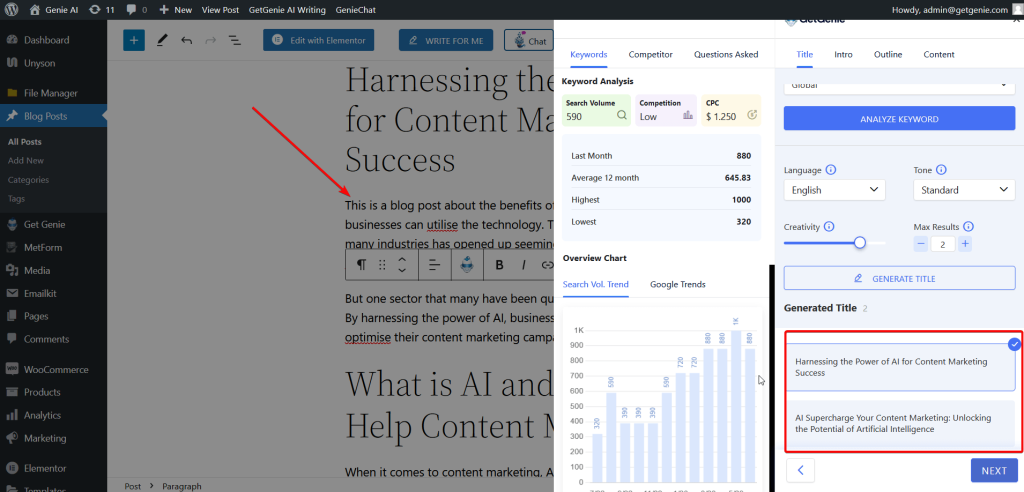 AI tools will let you generate content both section-wise and in one click. The process of generating content depends entirely on the tool you are using.
If you leverage GetGenie, you will have the option of generating both a one-click blog and a section-wise blog. The step-by-step blog post also includes a killer outline with GetGenie's free AI outline generator.
The best part of generated content with AI content generator is that it yields top-notch content maintaining accuracy, relevance, flow, and context.
Make Your Content SEO-friendly to Rank Higher:
You are done creating content with the help of AI. But is that sufficient? Of course, not. You have to optimize your website's content to open up the chances of ranking on Google's 1st page. In other words, you have to make your content SEO-friendly.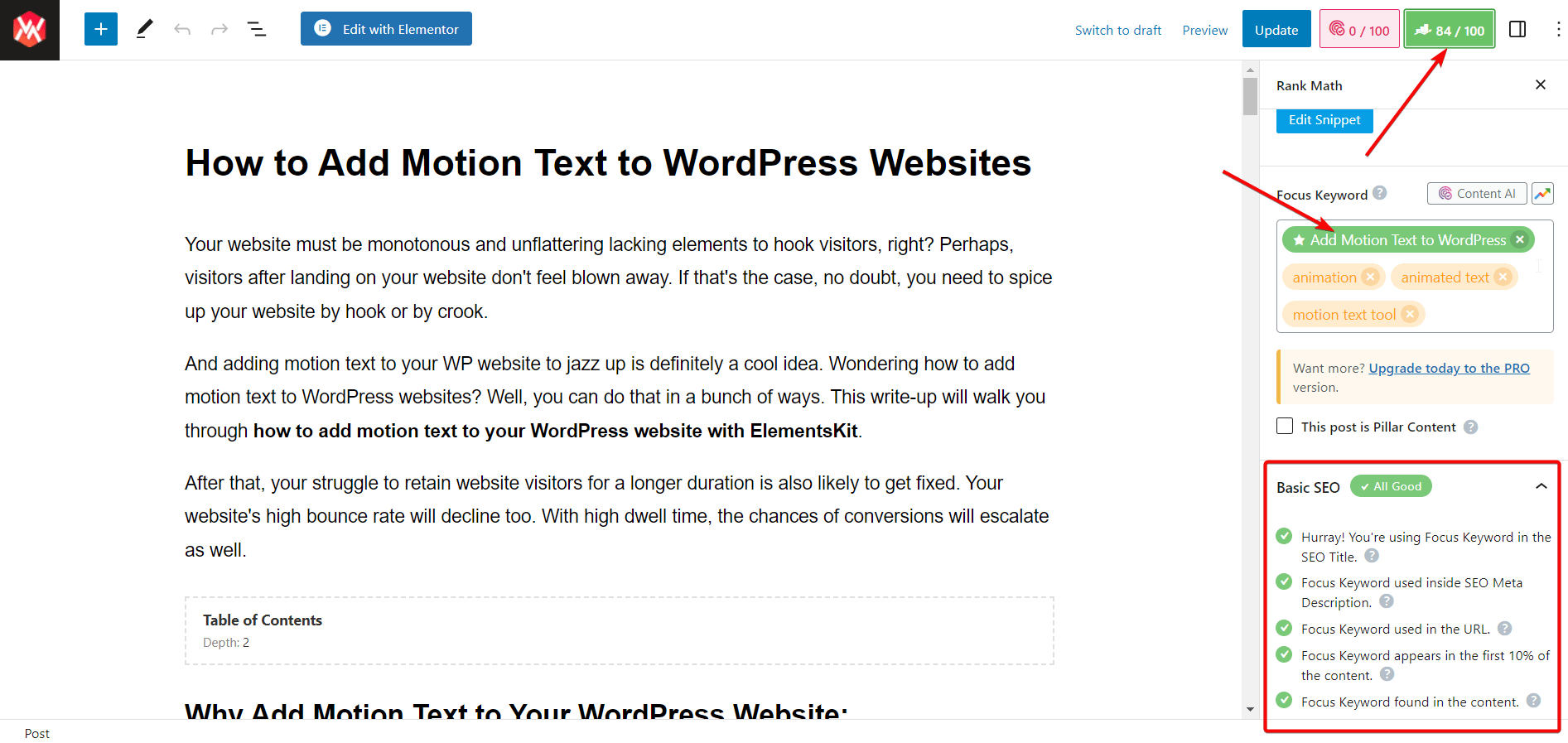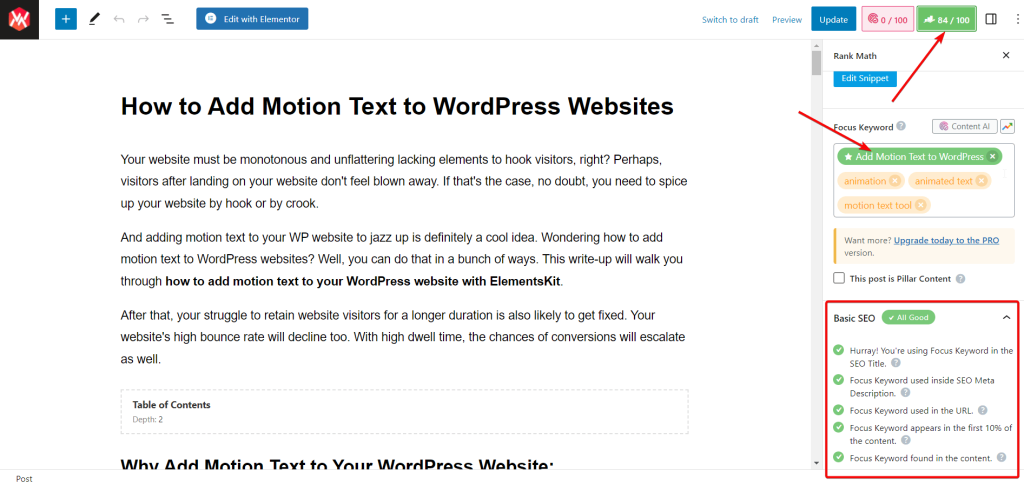 Top-grade AI SEO tools will provide you with all the necessary suggestions to optimize your content holistically. These AI tools will provide data on on-page, off-page, and technical SEO as well.
RankMath, SEOquake, and PageSpeed Insights are 3 cracking AI SEO tools that you can use for on-page, off-page, and technical SEO.
Don't Forget to Share Your Content on Various Social Platforms:
Everything is done. Oh, wait! You are done strategizing content with AI technically but strategically not yet! To maximize the reach of your content, share content on as many social media handles as possible. This will ensure your content gets social traffic in addition to organic traffic.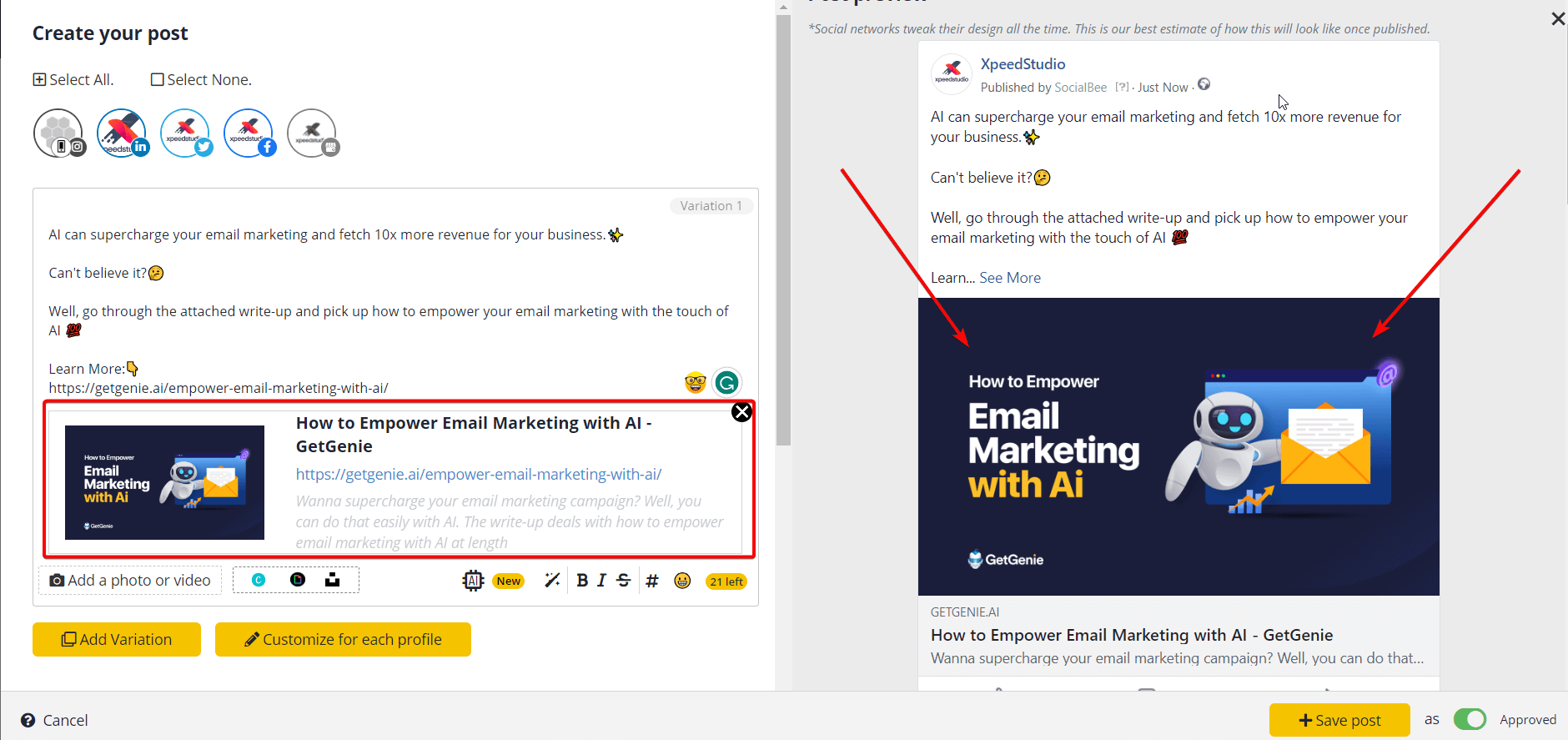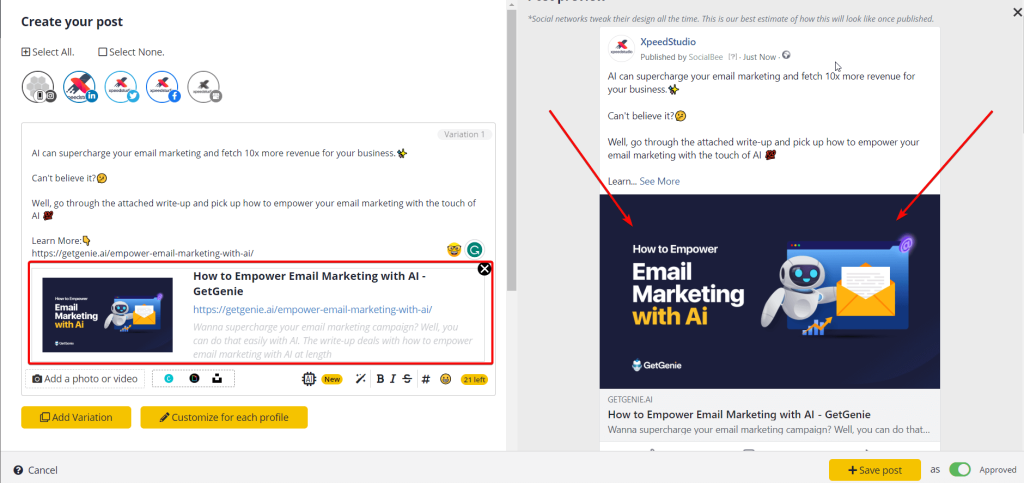 But surely, it's sickening to share blog posts one after another manually! Leveraging the power of automation (not AI precisely) to share content on different social channels can spice things up. No doubt, you have to choose the right tool for the job.
Social Bee is an awesome social sharing tool. You can avail of it to automate scheduling social media posts containing your website content. It's a cool content strategy for social media, isn't it?
Ready to Adopt AI for your Content Strategization?
Hopefully, you are convinced about the utility of AI in developing a content strategy. Not only does it develop a killer content strategy to uplift your marketing efforts but also speeds up the entire workflow. This is something you would always desire as a content lead or a business owner.
Many people talk about the importance of AI tools for content strategization. But few of them, including authors, truly lay out the process of utilizing AI tools to develop an effective content strategy.
However, I have walked you through an easily understandable sequential process of using AI for creating a content strategy. And also recommended some versatile AI content tools, including GetGenie to facilitate the job. If you are happy with my tips, don't forget to share the post with your acquaintances.