Future of WordPress with Ai — What You Need to Know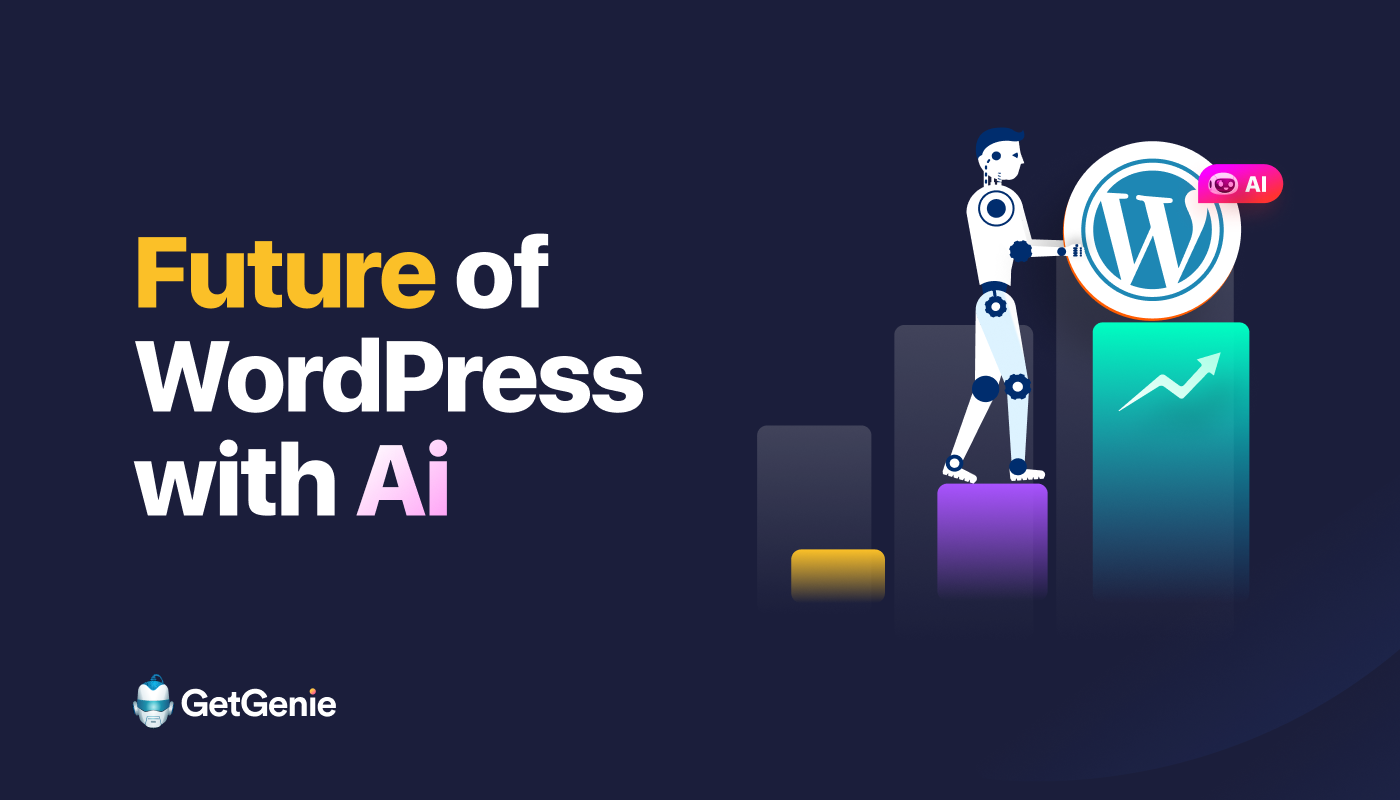 Ai integration in WordPress CMS is not a new thing anymore. We already have noticed tons of artificial intelligence based tools that are dedicatedly developed for WordPress. The question is, what is the future of WordPress with Ai?
Also, how Ai integration in WordPress is going to shape the future of WordPress CMS?
We are hearing a lot about new tools for — design, content creation, SEO, graphical assets, and more. The number is overwhelming and you could get confused by seeing them.
This blog post will introduce you to some amazing tools at the end that would make life easier for WordPress users.
Potential impact of Ai in WordPress
Artificial Intelligence (AI) has a significant impact on WordPress, revolutionizing its ecosystem. AI integration in WordPress makes websites more efficient, user-friendly, and intuitive. AI-powered plugins automate tasks like content creation, image generation, and SEO optimization.
Features like AI chatbots, content tagging, and internal link creation enhance user engagement. Advancements in natural language processing and machine learning further boost AI capabilities.
AI adoption in WordPress is on the rise, with users leveraging AI-powered tools to enhance their websites.
How Ai can impact the future of WordPress with Ai
The Ai industry is still evolving and we can assume it will continuously come with new ideas.
Content creation
Content creation for WordPress websites will be easier in the future, and it is currently happening.
For instance, the GetGenie Ai plugin allows you to write any type of content effortlessly. It has a dedicated plugin for WordPress that allows users to use all the features without leaving the WordPress dashboard.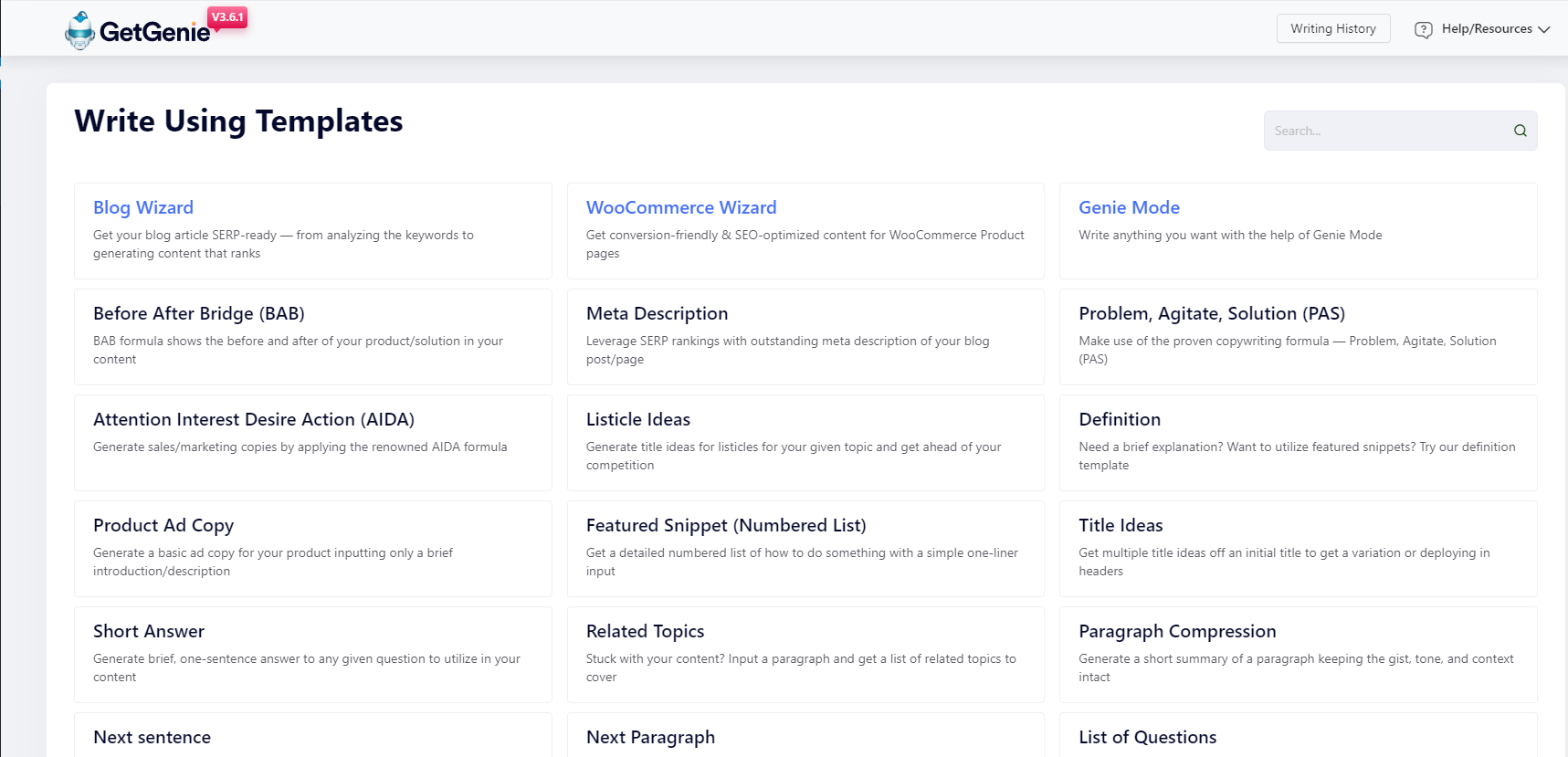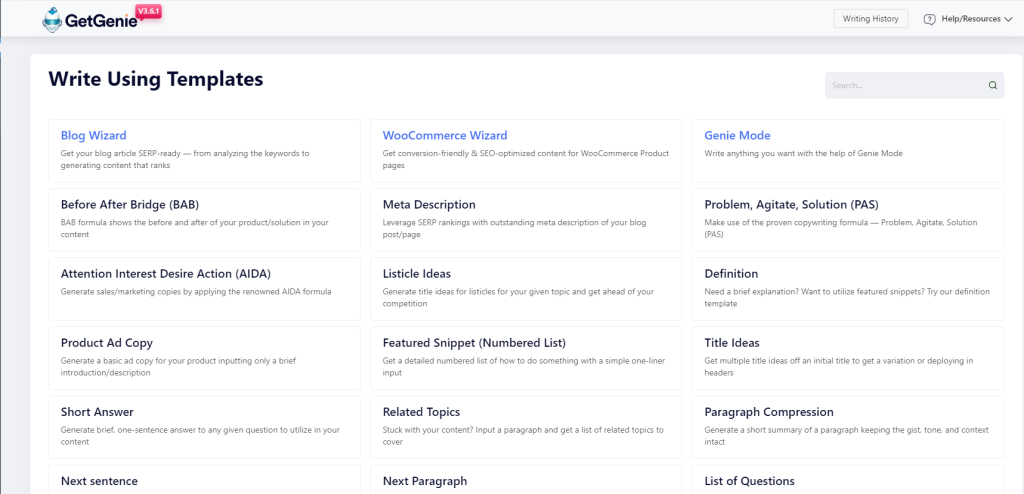 AI tools for WordPress are extremely user-friendly, enabling anyone to start creating content. When I mention "content," it extends beyond blogging or similar forms. Artificial intelligence can assist you in generating copies, emails, landing page content, and much more with just a few clicks.
The fascinating aspect is that users do not need to employ additional tools to discover keywords for their content. AI-powered tools already provide such options, allowing users to find relevant keywords, conduct competitor analysis, and produce excellent content.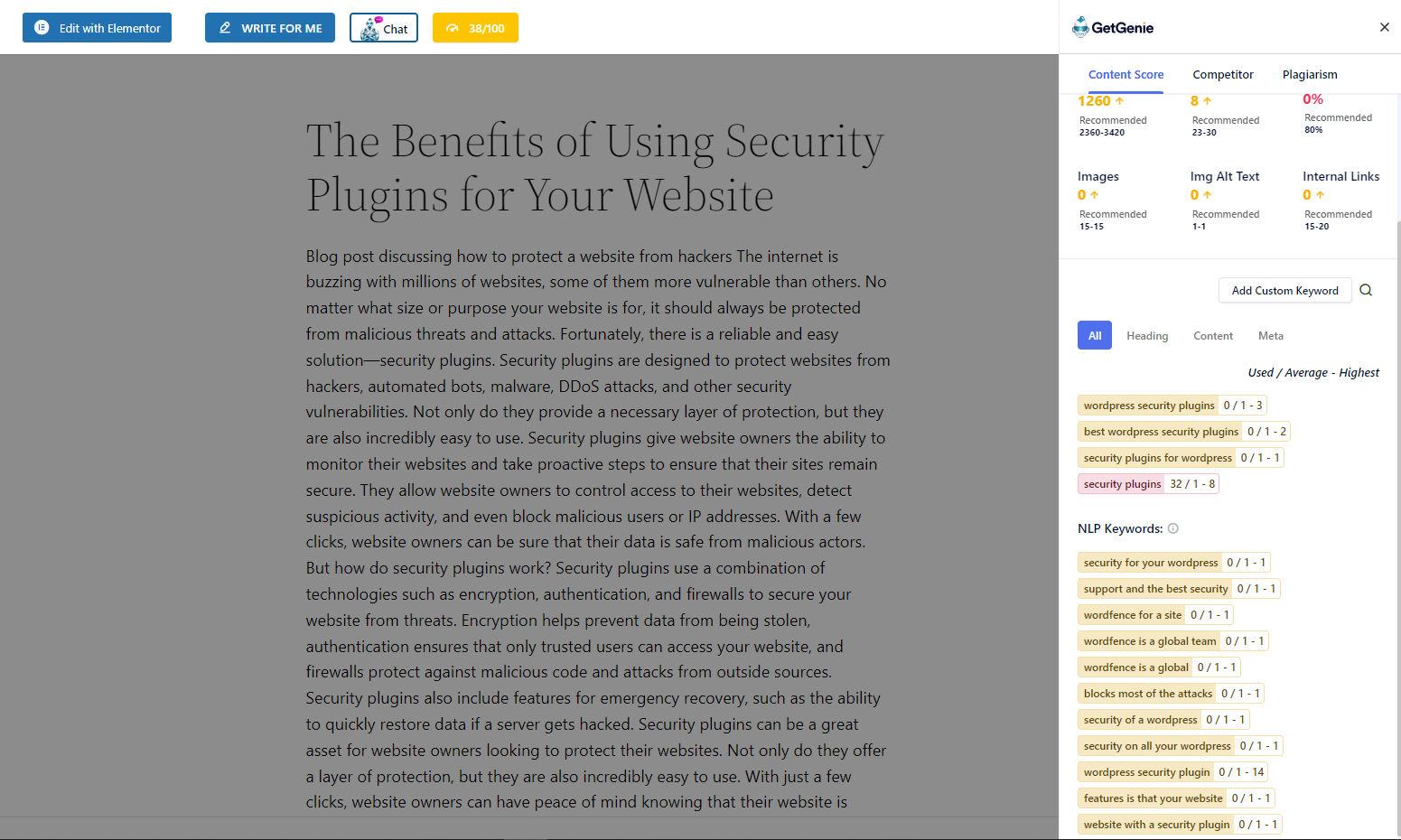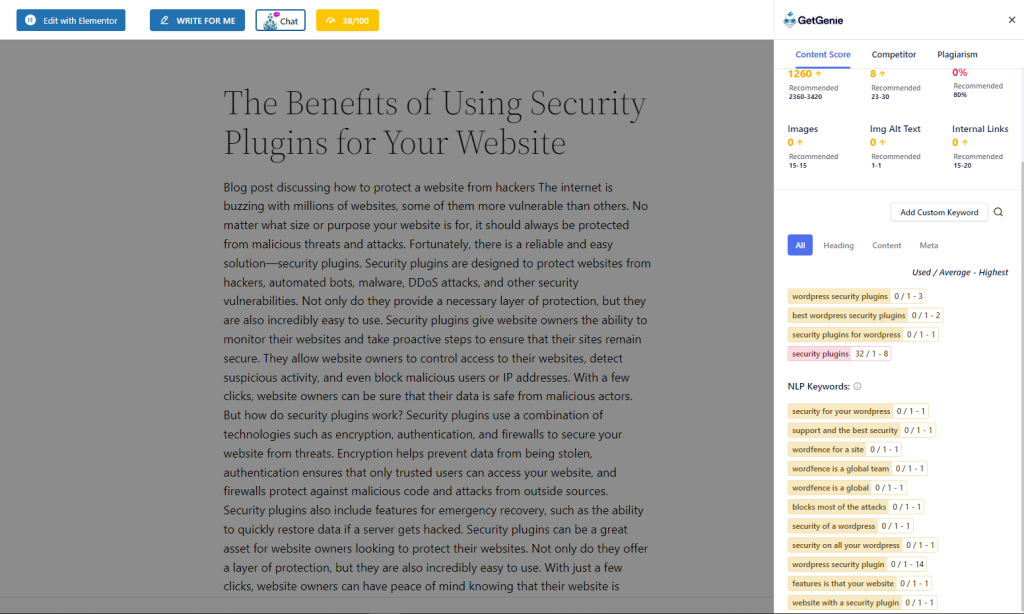 I strongly believe that in the future, it will be possible to generate even more personalized content based on the reader's persona. Furthermore, customization will be feasible on live sites, enabling WordPress websites to display content tailored to the readers' interests.
Search engine optimization
Undoubtedly, there is no value in publishing content unless it ranks on the search engine. However, if you are going to do paid promotion for your content, you might be able to bypass Search Engine Optimization.
But for those who desire organic traffic, they must engage in Search Engine Optimization, and artificial intelligence can play a significant role for WordPress users.
Wondering how?
You can perform Ai content SEO and grab tons of organic traffic.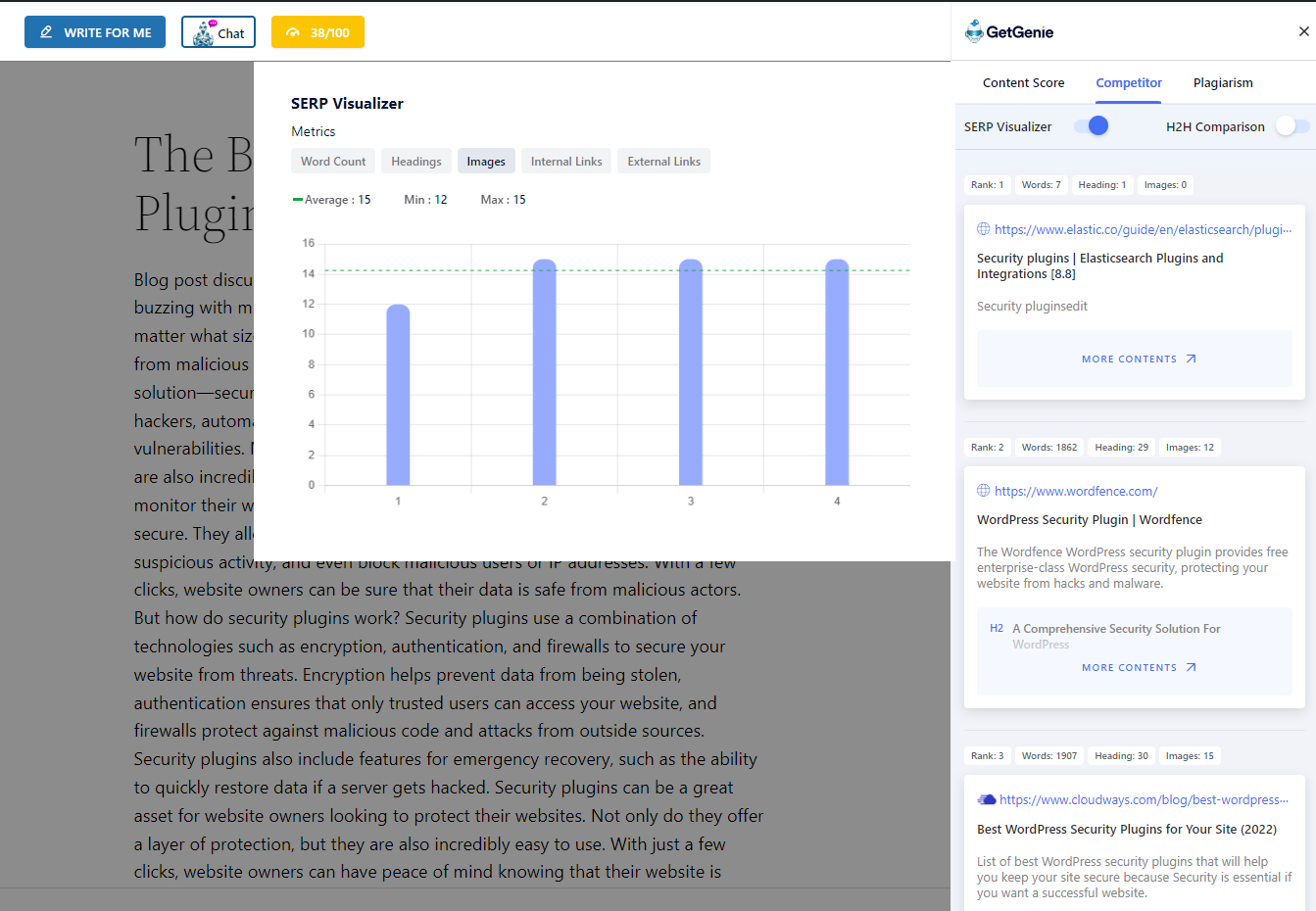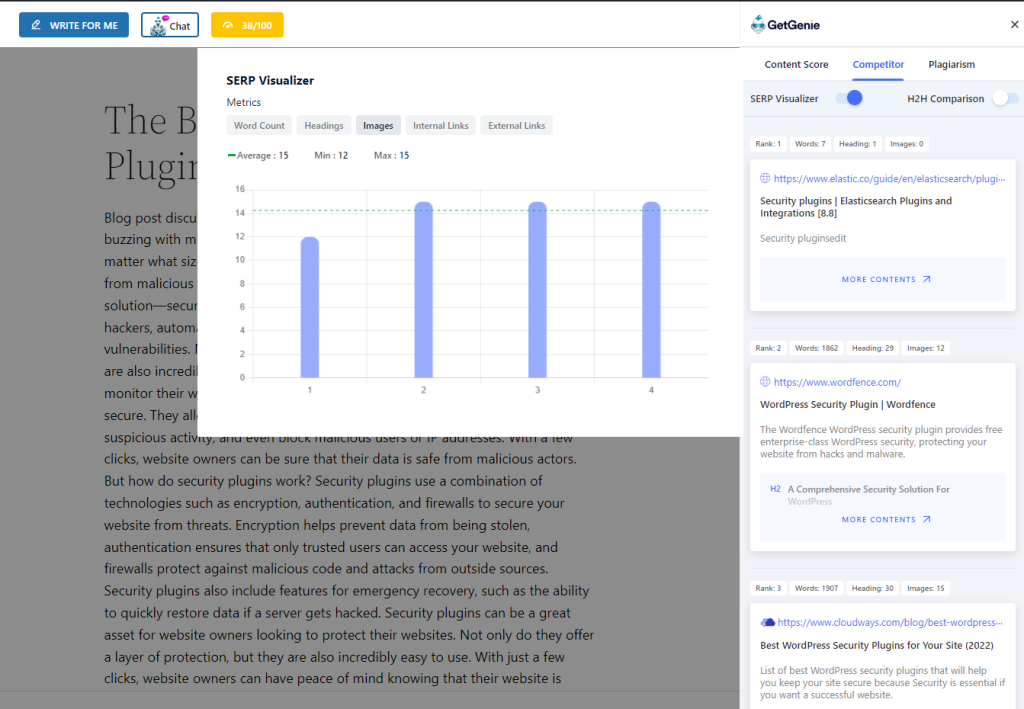 Well, the process could start with drafting the content. As mentioned earlier, there are certain AI-powered tools for WordPress that help with keyword research, allowing you to find the right keywords to target.
Next, you can utilize natural language processing models to suggest keywords that enhance the authenticity and user-friendliness of the content.
Once you are done, the content scoring system of AI tools will help identify the quality and potential of the content.
All of these tasks can be performed without leaving the WordPress dashboard.
Chatbot and support
Are you familiar with ChatGPT? If so, then you must know how it responds to queries. It functions like a chatbot but provides more sophisticated answers.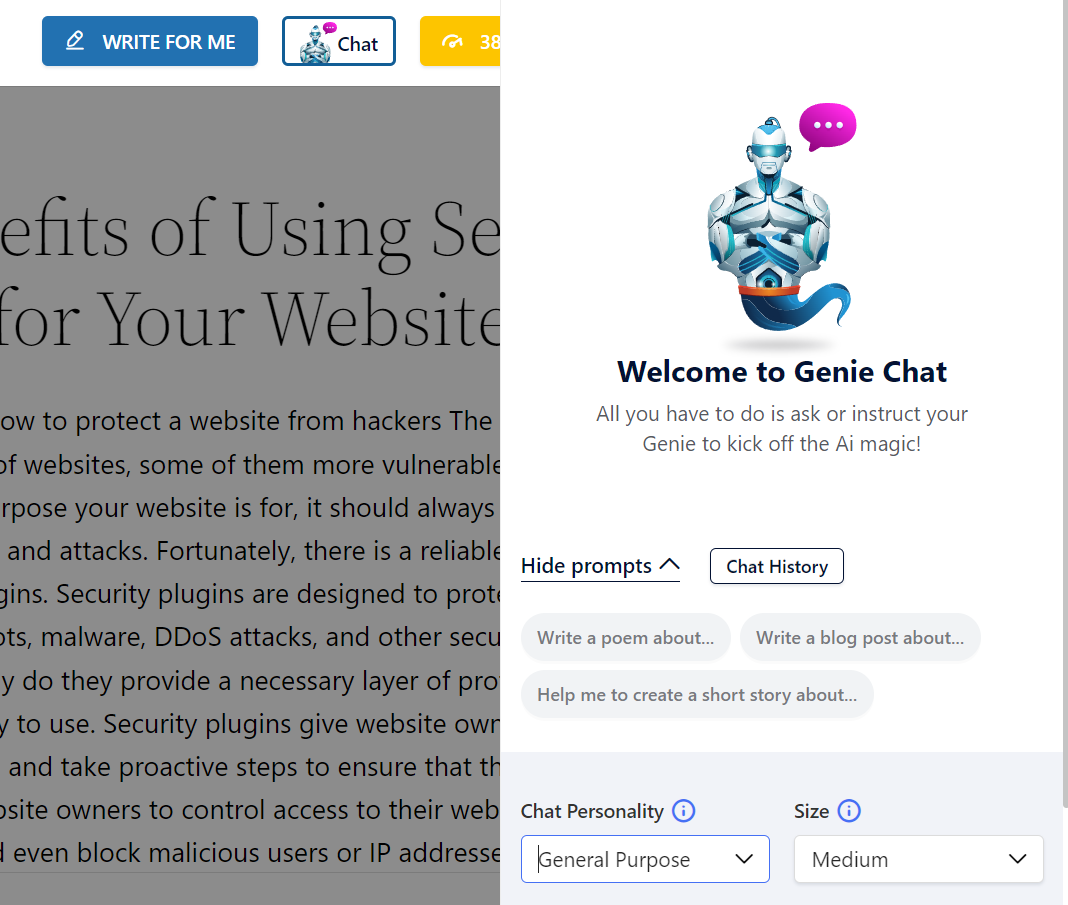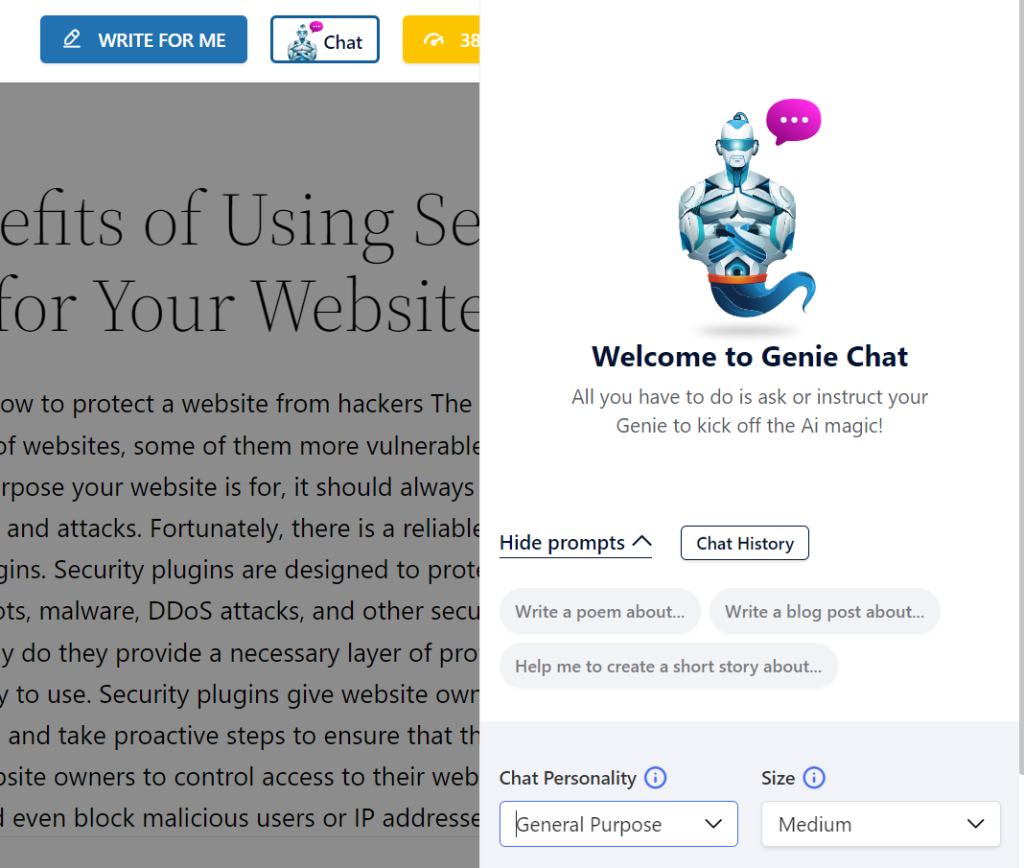 The same capability is going to be possible for WordPress sites. Although we haven't seen many tools for such features yet, it is certain that in the near future, we will see some amazing tools for WordPress chatbots.
So, handling too many customer queries at a time will not be a challenge. Ai might come with canned responses and live responses based on the queries.
In terms of business reputation, having a good chatbot and support is a great thing. We will surely see the updates in WordPress soon.
Graphic assets
No matter what kind of WordPress website you're building, you always need graphical assets, don't you? It can often be difficult to manage these assets by hiring a designer, and doing it yourself can also be challenging.
Artificial intelligence can make this process easier. There are already tools available that can generate images based on users' commands. With such tools, the user simply needs to write a prompt with the details about the desired graphical asset, and the AI-powered tool instantly provides a response.
The integration of such AI tools in WordPress will significantly speed up the site updating process. Tasks such as finding relevant images for blog posts, designing featured images, adding graphical elements, and more will be just a few clicks away.
Analytics
Site analytics is crucial for the future of WordPress with Ai. By utilizing artificial intelligence and analyzing data, website owners gain valuable insights that shape their WordPress sites.
Understanding user behavior and preferences through analytics enables data-driven decision-making, optimizing user experiences, and tailoring content to target audiences. AI-powered tools, like image generation and chatbots, further streamline site updating and enhance efficiency.
Analytics allows tracking campaign success, measuring conversions, and identifying areas for improvement. It empowers informed decisions, effective resource allocation, and focuses on strategies yielding the best results.
In conclusion, site analytics is vital for the future of WordPress with AI. Leveraging data and AI improves WordPress sites, provides exceptional user experiences, and drives business growth.
UI/UX
One of the most crucial aspects of a WordPress website is its UI/UX. If the user interface is not well-designed, the overall user experience will be affected.
Ai can assist in measuring user experience based on the user interface, making interface changes easier without the need for coding.
While there are currently limited AI tools available for these tasks, we can anticipate the development of amazing tools for improving WordPress websites' UI/UX in the future.
Existing Ai tools for WordPress in the market
Now, let's get introduced to some amazing Ai tools for WordPress that are already available in the market.
GetGenie Ai — If you want to write great content with search engine optimization within WordPress dashboard, GetGenie would be the best choice for you.
Elementor Ai — If you want to build a WordPress site with a page builder that can generate custom codes based on your command, try out this.
RankMath — RankMath checks if you have written optimized titles, meta, and H tags. You can enhance the content optimization quality.
All in One SEO — It works like RankMath. If you need suggestions to optimize content, you can try it.
AI Image Lab – Free AI Image Generator — It's an image generator plugin for WordPress. If you want to generate graphical assets inside WordPress, try out this.
You can also check the complete list of WordPress Ai tools to find out which one you need.
Final words
The future of WordPress is bound to change significantly. We need to wait a few more days to discover the potential tools that will emerge in the market. However, one thing is certain: the integration of artificial intelligence will make the WordPress CMS even more user-friendly.
I strongly recommend using the currently available tools to familiarize yourself with AI in WordPress.