Can You Generate Unique Content with an Ai Tool with no Plagiarism?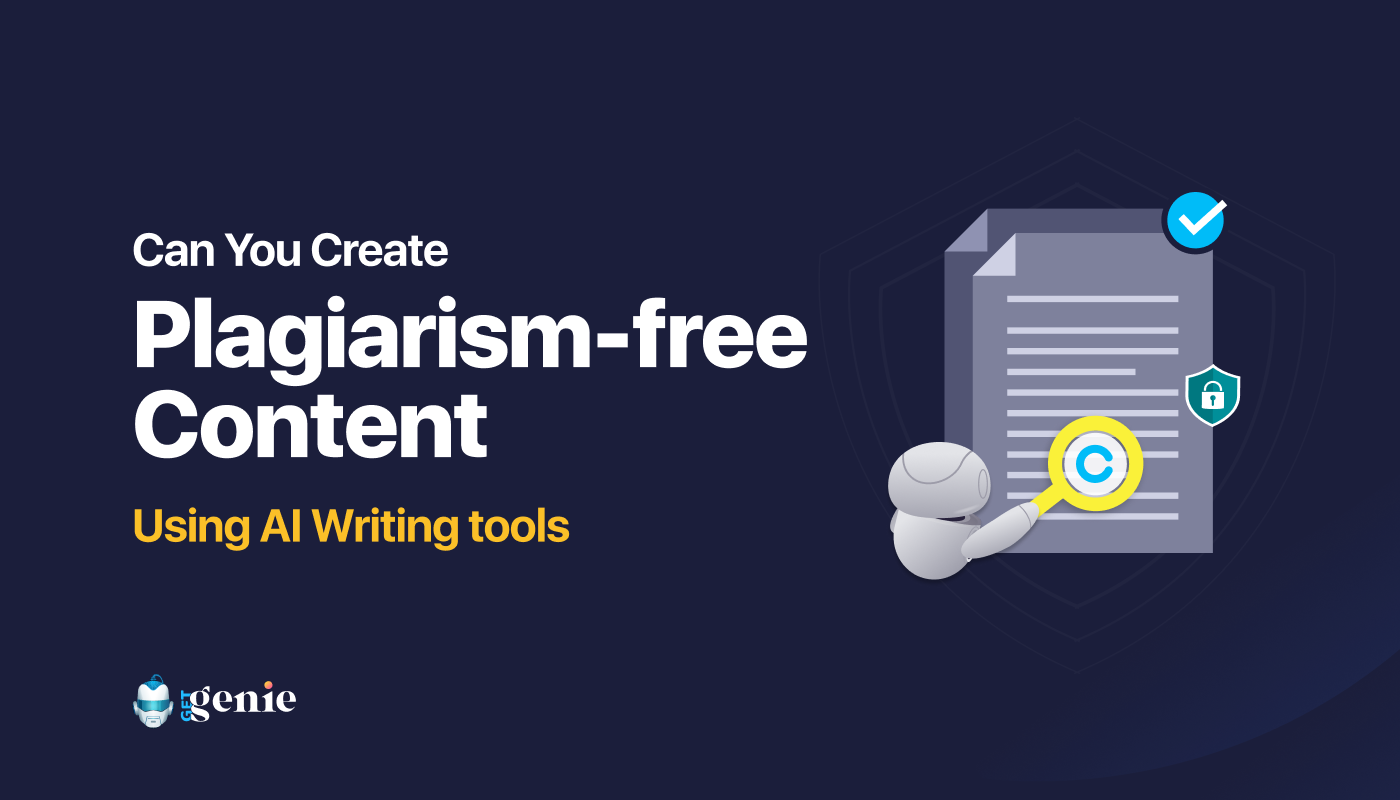 Confused whether you can generate unique content with an AI tool with no plagiarism?"
Or Looking for an easy way to generate unique content?
Then, you have landed in just the right place. In this article, you will get an answer regarding whether you can create 100% original content using AI tools.
And also, you will get acquainted with a super-advanced level unique article generator that will let you generate unique content with no plagiarism. So keep reading…
What is plagiarism?
Plagiarism is the act of using someone else's creative work as your own without giving any proper credit. When it comes to writing, plagiarism is using words, ideas, or information from a source without giving due credit.
Related: AI Content Writing Tools: Are they Worth Trying out?
Why content should be unique and plagiarism free?
One should always use original content both for academic assignments and website copies. Especially when it comes to website copies or blogs it's non-negotiable. You should never compromise with your content's uniqueness.
The reason that makes it mandatory for you to use original content is Search Engines like Google ask creators to strictly avoid plagiarism and emphasizes using original content.
Google tries hard to index and show pages with distinct information

Google
While Google doesn't provide penalties on a monetary basis, it will adjust your domain's rating if it finds duplicate content. So, the hope with which one usually copies someone else's quality content will actually come to no good.
Basically, if you are not going to use original content for your website, then the whole purpose of your content ( to rank on the SERP) can never be achieved.
Benefits of using unique content
Avoiding the bad effects isn't the only thing to consider when it comes to plagiarism-free original content. You can enjoy a long list of advantages of using original content. Here are some of the few:
Get More Visitors to your website:
Digital marketing is mostly focused on content marketing. And original content can help you get the most out of your marketing efforts. Plagiarism-free, original content helps you to rank on the SERP page, and sealing the top places on SERP will help you to gain more organic traffic to your website.
Your website's content represents your brand. With original content, you can create a unique experience for your visitors with the right message. Plagiarism-free content sets your brand apart from others and improves your brand value.
Turn website visitors into returning customers
With an improved brand value, using original content will also help you gain customers' trust. And when you earn customers' trust, you also gain returning customers. Returning customers are very important for sustainable growth in any business.'
Increase Social Media Reach
When you add original content to your website, you increase your chance to get more social media reach. Nowadays, sharing content on social media is one of the trending things in marketing. Original, enticing content may impress your website visitors to share content on social media which will boost your social media reach.
Related: Can you Rely on AI Content Writing Tools For Blogs?
Can AI writing tools Generate Unique Content that is plagiarism-free?
Yes!
AI writing tools are now capable enough to create original plagiarism-free content. As these writing tools can detect duplicate content, it aids them to generate new fully original content for you.
If you are thinking about how can the AI machine write original content then, you have nothing to worry about? As said before, you with your human limitation can not check all the content on the web which is necessary to ensure your content is non-plagiarized.
So if you think logically, then you will find that AI writing tools have a better possibility of generating plagiarism-free original content and can do this job more efficiently.
Now the next important question is which AI writing tools can help you generate plagiarism-free content, right?
Fort that move to the next section.
Related: How AI in Content Marketing can Fuel the Growth?
A little bit about GetGenie AI: The ultimate unique article generator
GetGenie AI! That's the name of the ultimate AI writing tool that will help you to generate 100% plagiarism-free content.
This unique article generator uses a Generative Pre-trained Transformer 3 (GPT-3) language model to ensure original and quality content. This phenomenal language model was created by a San Francisco-based company named OpenAI.
GetGenie AI uses this marvelous language model to create any type of content with zero plagiarism.
When I say, any type of model, I actually mean any type of content. Because GetGenie AI helps you create content which includes:
Blog Articles
Landing Page Copies
Short/long Paragraph
Headlines/Taglines
Social Media Copies
Email Copies,
Video Scripts
and Fictional/Non-Fictional content.
Sounds too good to be true! It's normal to get surprised how so many features are available with these great AI tools. But all this is possible because the team behind this WordPress plugin put in their hard work to build one plugin that will do the job of 10!
Yes! 10! This unique article generator offers the functionality of 10 popular AI content tools (Surfer, Jasper, Writesonic, etc.) in just one plugin. As a result, you can now research, write and optimize your content using just one plugin and that's Get GenieAI.
Last words on plagiarism free content and unique article generator
Now you know, how important it is to use plagiarism-free content when it comes to ranking on the SERP and your business's growth.
However, the good news is you can leverage different unique article generators to create plagiarism-free content. AI content tools have come a long way to provide you with high-quality content that is absolutely plagiarism-free.
However, you shouldn't go for any random article generator because not all article generators will help you get totally original content. To get human-like original content with the assurance of no plagiarism, you should opt for GetGenie AI.