How to Write Website Content with Ai Content Writers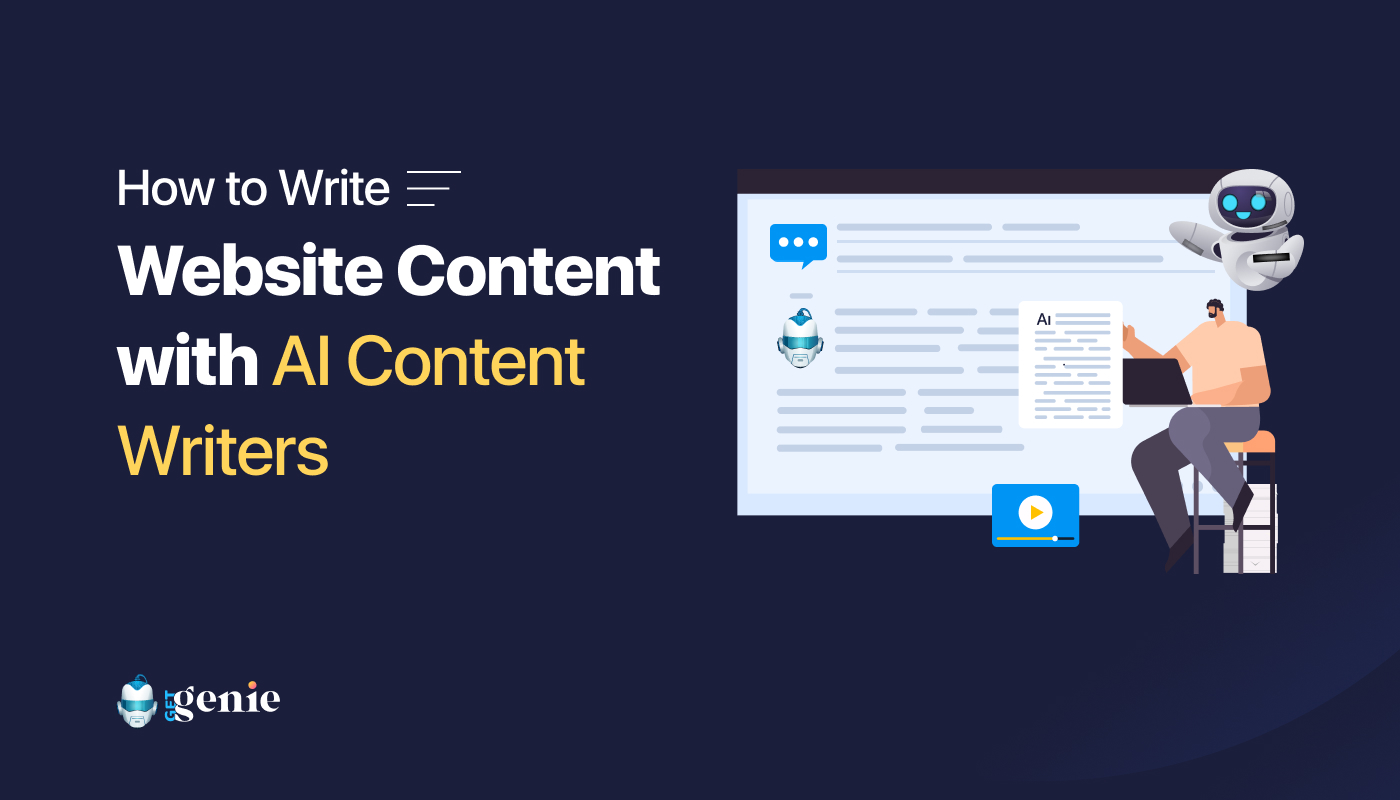 Website content carries plenty of weight when it comes to gripping visitors. That's why you need to write and publish peachy content for your website. With crappy content, you can somehow build a website but that won't serve the purpose.
Besides human content writers, now we have AI content writers at hand. And AI content assistants can write killer content but for that, you have to maintain certain guidelines. This write-up will predominantly deal with the method of writing website content using AI content writers.
Why Create Website Content with AI Content Writers:
By now, you have already fathomed the importance of writing website content with AI content tools to some extent. But to make you better understand, I will list out the core reasons why you should avail of AI content tools to generate website content.
Research by Deloitte shows that 73% of AI adopters believe AI is "very" or "critically" important to their business today, and 64% say AI technologies enable them to establish a lead over competitors.
Let's check them out —
Acts as a time-saver for human content writers
Lets you focus more on creative and innovative tasks
Takes over repetitive tasks that are tedious for human content writers
Brings out optimum content quality
Available at an affordable cost
Productivity maximizer
A perfect medium to overcome writer's block
How do AI Content Writers Complement Human Writers?
Right at the get-go, let me make a point very clear. As per my research, AI content writers can advance a lot but not at the level of replacing human content writers. Instead, it has the potential to complement human writers by facilitating their tasks.
A bunch of subtasks human content crafters perform while writing a piece of content. Likewise, they execute many repetitive tasks separately which minimizes their efficiency.
This is where AI content tools or AI content writers come into play. AI content writers can easily take over these fragmented and repetitive tasks. With that, not only your efficiency will improve but also you can focus on more value-rich tasks that AI content writers may not craft well.
How to Write Website Content with AI Content Writers:
Now, we are at the core part of this write-up. That is, writing website content with AI content creators. Before diving deep into that, let's take a glimpse at the common subtasks that human content writers execute to craft website content.
The primary goal of your website
Specification and research of target audience
Understanding customers' needs
Determining content topics no matter if it's a business site or a blogging site
Conducting Keyword Research on the content topic
Competitor's Analysis to know more about keywords in the given niche
Writing and then optimizing the content
Proofreading the content to ensure accuracy
Finally, publishing the content and updating it regularly
Now, it will be easier to perceive how you should write your site content with AI content generators. Certain tasks you will do as a pro content writer while some tasks you will assign to your chosen AI tool.
Let's take a look at the content tasks that you can accomplish through your AI content writer-
Title Generation:
AI content writers can generate your content title easily without any hassle. You just have to provide your target keyword. And that's it! AI content writers will generate a title for you.


In order to get top-notch title suggestions, you can leverage GetGenie that's on its way to be launched soon. GetGenie will provide you with multiple title variations based on the keyword you will input. From there, you can pick your preferred content title.
Definition:
AI content writers can write peachy definitions on any given topic. Just provide a brief context and you are done. You will get the definition from your AI content generator.


GetGenie possesses the power to create a top-notch definition of any topic based on the brief context you provide. Owing to the top quality, the content is likely to rank and get a place in featured snippets.
Bullet Points to Answers:
When you write blog posts or even social media content, many times you need bullet points to present your data. With AI content writers, you can execute that in a hassle-free manner. All you have to do is provide context, and voila! Your bullet points are created.
Explain Why:
While writing on a particular topic, certain points need elaboration. Like questions need answers, concepts need explanations. AI content tools can carry out that in the best possible way.


Make use of AI content assistants like GetGenie to get relevant, readable, and understandable explanations of your desired points.
Feature-Benefit:
This is a super handy addition of AI content writers, especially of GetGenie that can list out the benefits of a product or service based on the features you pinpoint.


Featured Snippet (Numbered List):
With this feature of AI content writers, you will get a numbered list of "how to do something" just by giving a one-liner input.


List of Questions:
This is an amazing feature of many AI content creators including GetGenie that will generate lists of questions that you can avail in your content.
Meta Description:
Meta description is key to SERP ranking and the good news is that AI content assistants can create meta descriptions. So, you can easily leverage it in your content.


Next Paragraph:
Oftentimes, human content writers struggle to start a new paragraph after finishing one. This is where a number of AI content writers come in handy as they can create follow-up paragraphs instantly and speed up your content writing process.
Paragraph Compression:
It's a very common task for a content writer to extract and write the essence of a paragraph. Tools like GetGenie can do the job of keeping the context and tone intact.
Pros and Cons:
When we write about a product, it's likely that we talk about the pros and cons of the product. With AI tools like GetGenie, you can easily get a list of pros and cons in the given context.


Intro Generation:
Once your content's title is generated, you can move on to generate an intro of the content. Obviously, the point of generating an intro comes if the content is an article or a blog post. Otherwise, this point doesn't come into question.
Blog Outline Generation:
Again, this part also comes into question if your content is a blog. After your title and intro are generated, you can easily create your blog outline with an AI content assistant.


GetGenie has the magic to produce a mesmerizing blog outline in a matter of a few seconds that you can follow to craft your blog.
Have your Say:
AI content writers have many benefits to offer that we can't disregard. Efficiency and unique content in writing are pivotal and this is exactly what you will get by using AI content assistants.
I have already listed out the core tasks that AI content generators are able to do and these will ease the writing process of human content writers.
But which AI tool can do the job of writing website content optimally? Well, there are many tools that you can rely on but GetGenie can be a cool pick for generating top-notch website content.
So, the bottom line is AI content writers can produce website content but it also requires a human touch. With the combo of both human effort and AI technology, outstanding website content can result in. And that will be understandable, digestible, and palatable too!