How to Avoid Plagiarism While Using ChatGPT and Ai Tools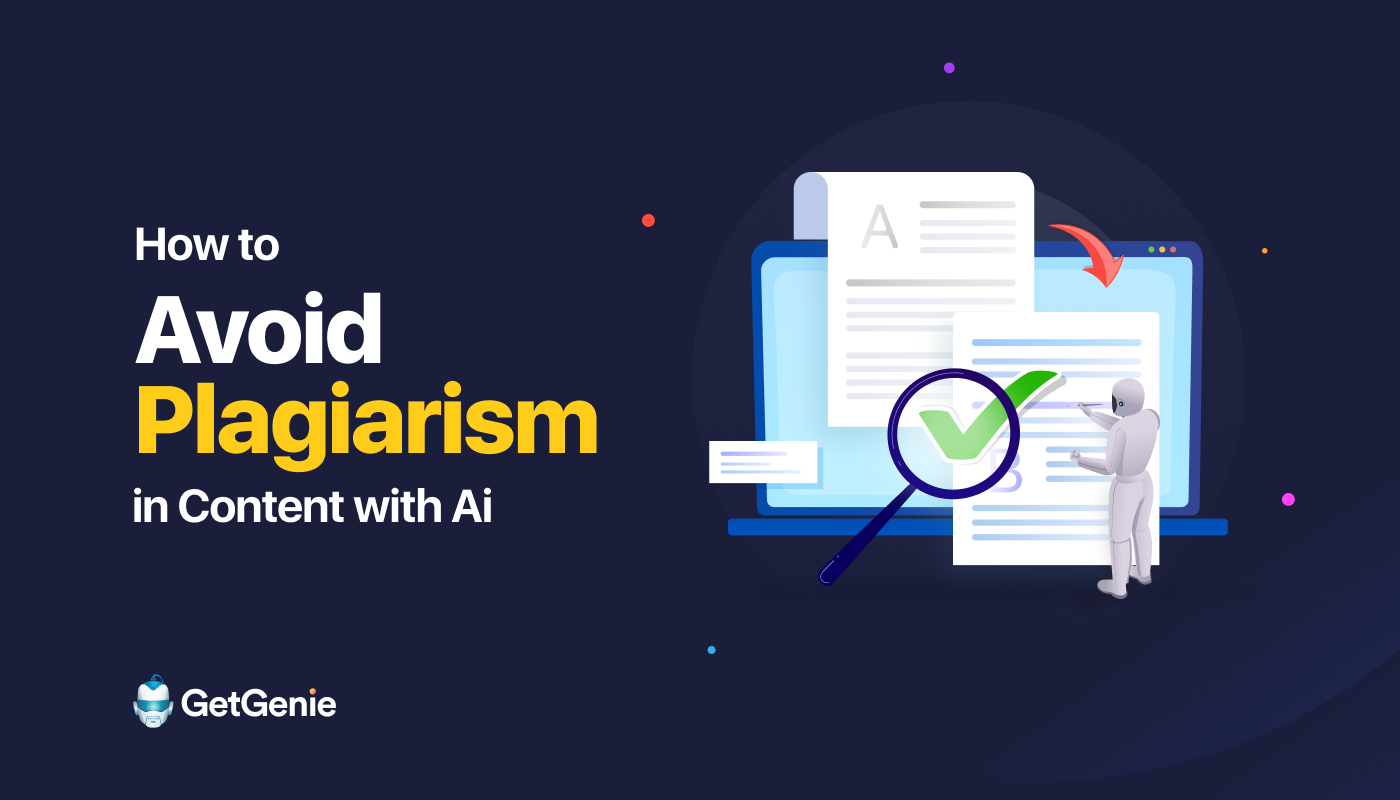 ChatGPT is the most popular name in the Ai writing industry, as it enables you to write on almost any topic with the assistance of this tool.
However, a new concern is arising, which is plagiarism with Ai.
If you are writing something that is going to be published online, you need to ensure that you are not plagiarizing anything.
So, the question is, how to avoid plagiarism while using ChatGPT or any Ai tool? This blog will guide you through the things you need to know.
How ChatGPT and Ai help in writing
ChatGPT is the most advanced language model developed by OpenAi. It's a powerful tool that generates human-like text responses based on given prompts.
Trained on a vast amount of data, it can understand and engage in conversations, provide information, and assist with various tasks.
This Chatbot Ai tool utilizes deep learning and neural networks, specifically the Transformer model architecture, to process and generate coherent and contextually relevant responses. It finds applications in chatbots, language translation, content creation, and more.
Ai writing tools work in a similar way using different writing models, mostly from OpenAI. The main difference is that these tools are often trained by their owners to handle more advanced information.
What is plagiarism?
Plagiarism in content refers to the act of using someone else's work without obtaining proper permission or acknowledging their contribution.
It involves various forms of intellectual theft, such as directly copying someone's words, sentences, or paragraphs and presenting them as your own.
This type of plagiarism is known as "word-for-word" plagiarism.
Another form of plagiarism is paraphrasing without giving credit.
Paraphrasing involves rewriting someone else's work using your own words.
However, if you don't acknowledge the original source and claim the ideas or information as your own, it still constitutes plagiarism.
It is important to provide proper citation or attribution to the original author to avoid this type of plagiarism.
How much plagiarism can be expected with ChatGPT Ai?
It's hard to tell how much plagiarism you'll find in ChatGPT's generated content.
However, as previously mentioned, the language model is developed using text input, and its responses are generated based on previous data.
Therefore, it is possible for instances of plagiarism to occur in the output at any time.
But in most cases, the plagiarism percentage won't cross more than 20% (talking from personal experience).
Also, it could vary based on the topic. Moreover, the percentage of plagiarism might depend on the prompts.
If you can provide a unique prompt, there is a good chance that the content will be unique.
Strategies to avoid plagiarism with ChatGPT and Ai tools
Plagiarism is a serious offense that can have severe consequences in academia, professional settings, and even in personal communications.
When using ChatGPT and other Ai tools, it's important to be mindful of potential plagiarism risks and take proactive measures to avoid them.
Here are some strategies to help you steer clear of plagiarism while utilizing ChatGPT and Ai tools:
Understand the basics of plagiarism
First, educate yourself about what includes plagiarism.
For instance, plagiarism involves presenting someone else's work, ideas, or words as your own without giving proper credit.
Look for different forms of plagiarism, including direct copying, paraphrasing without attribution, and others. A better understanding of plagiarism will help you to stay safe while writing and generating content.
Use ChatGPT as a writing aid
Don't consider ChatGPT or any Ai tool as an all-in-one content generator. Instead, consider ChatGPT as a helpful writing aid that assists in critical thinking and creativity.
Utilize the Ai's suggestions and prompts to enhance your writing.
Along with that, ensure to incorporate your unique perspective, voice, and analysis. Remember that the responsibility for the final content rests with you.
Cite and attribute sources properly
When combining information or ideas from external sources, ensure that you cite and attribute them correctly. ChatGPT might generate text that resembles published material, so it's essential to acknowledge the original authors. Use proper citation styles based on the type of information.
Verify and cross-check information
Ai tools can provide quick and convenient access to vast amounts of information. However, it's crucial to verify the accuracy and reliability of the data before using it in your work. Double-check the facts, statistics, and claims generated by ChatGPT by consulting reputable sources independently.
Develop your research skills
Enhance your research skills to gather information from diverse sources, including ChatGPT and AI tools, so that you can critically evaluate their credibility. This will help you provide accurate and original content while reducing the risk of inadvertently plagiarizing existing material.
Effective research ensures that you have a solid understanding of the topic, allowing you to contribute authentically to the conversation.
Edit and revise your work
This is the most crucial step to avoid plagiarism with any Ai tool.
After using ChatGPT or any Ai tool, thoroughly review and edit the generated content to ensure it aligns with your original intent and style.
Make necessary revisions, rephrase sentences, and add personal insights to avoid any unintentional similarities with existing text. The more input you provide from your end, the more unique the content becomes.
Utilize plagiarism detection tools
Let's say you have successfully done all the above steps. There is a good chance that the written content still has some plagiarism. For this, leverage plagiarism detection tools to check your work for any instances of unintentional plagiarism.
These tools can compare your writing against a vast database of existing content to identify potential matches.
Popular plagiarism checkers include Copyscape, Grammarly, Turnitin, etc. I have mentioned some plagiarism tools in the later part of the content.
Seek human feedback
When in doubt about the originality or appropriateness of your work, seek feedback from peers, instructors, or professionals. They can provide valuable insights, identify any potential issues, and guide you toward maintaining integrity in your writing.
Stay informed about Ai ethics
Stay up to date with the latest discussions and advancements in Ai ethics.
"Understanding the ethical implications of Ai usage, including the potential for unintentional plagiarism, will help you make informed decisions and use Ai tools responsibly."
Popular plagiarism detection tools
Currently, there are different tools to identify plagiarism in written content. Here are some commonly used tools:
The most popular and reliable plagiarism detection tool is Copyscape. It is a widely used online plagiarism checker that allows you to check the originality of your content by comparing it to web pages across the internet.
It can help identify whether specific text has been copied from other online sources. It works as Pay as you go. So, you can affordably check all your content.
While Grammarly is primarily known as a grammatical error finding tool, it also includes a plagiarism checker feature. Grammarly scans text against a large database of web pages and documents to flag any potential instances of plagiarism.
Plagscan is a comprehensive plagiarism detection tool used by educators, businesses, and content creators. It checks documents against a large database of sources, including academic journals, websites, and publications, and provides detailed reports highlighting potential instances of plagiarism.
DupliChecker is a free online plagiarism checker that scans text for similarities across the web. It allows users to compare their content with various sources and provides a percentage of similarity along with highlighted text sections.
However, you will find some other tools as well. In some Ai tools, you will get plagiarism detection features as well.
Wrap up
In conclusion, to avoid plagiarism while using ChatGPT and Ai tools, it is crucial to understand plagiarism and apply the techniques to make the content unique. After using all your techniques, try to use plagiarism detection tools like Copyscape to make it better.
If you want to avoid plagiarism with Ai, use GetGenie. Download it for free 👇👇