7 Best Copywriting Frameworks for Better Conversions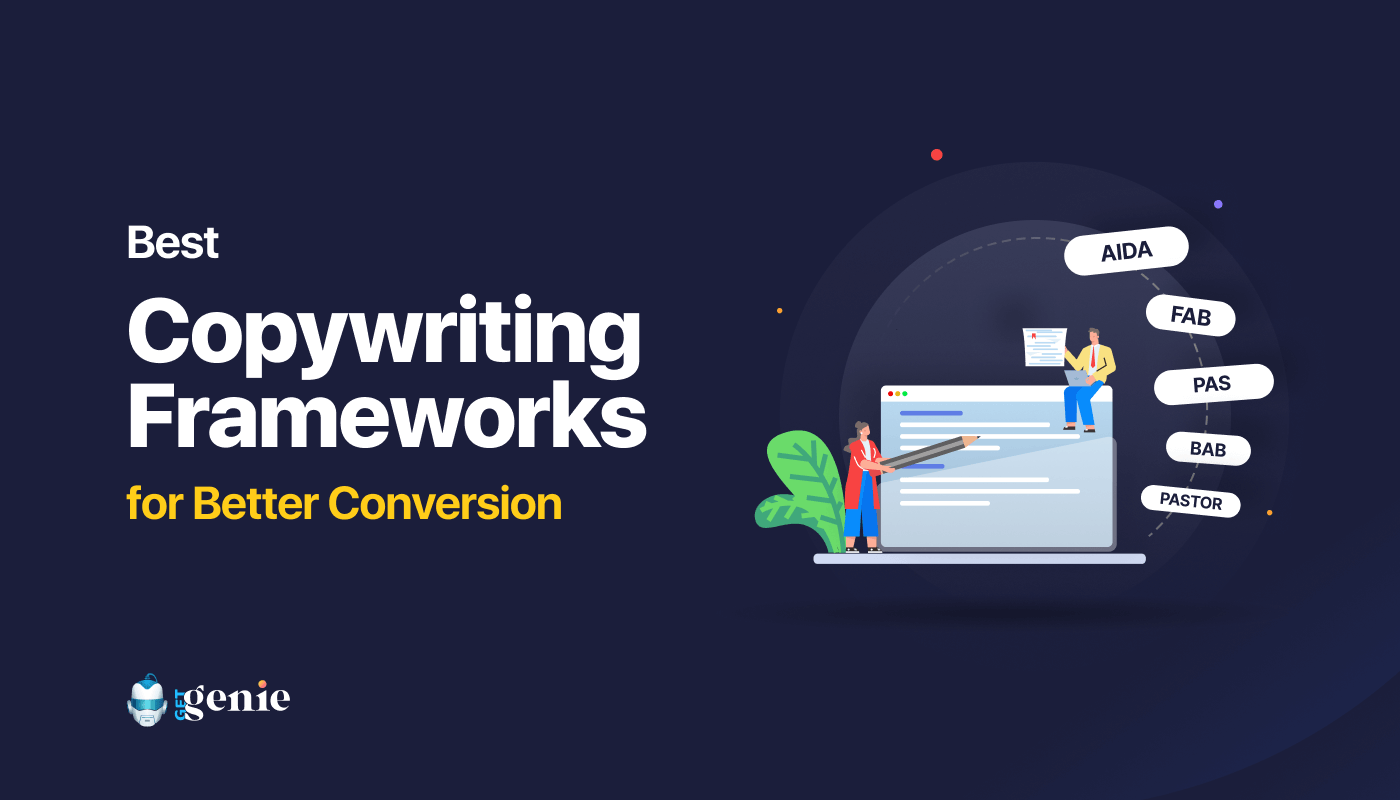 Copywriting frameworks help you to present the message you're trying to tell your customers in a form that's as persuasive as possible.
Convincing your customers to buy your product is the main goal of every marketing task and writing copy is no different.
Copies are a powerful tool for any promotional activity of your product and company as it represents your brand. However, just maintaining your brand's tone is not enough, especially if it's not persuasive enough to convince your customers to convert and actually purchase your product.
To make sure each sentence you write is focused to get your customers to buy, you need to follow copywriting frameworks. A lot of copywriting frameworks have been developed over the years. In this blog, we have talked about 7 of the best copywriting formulas you can follow for better conversion with examples so you get a better understanding.
What is a Copywriting framework?
The copywriting framework represents a well-structured and precise process of writing copy with multiple steps designed to influence the consumer's mindset to buy your product or convert. Usually, a copywriting framework is a step-by-step guide that copywriters use to write copies while keeping various factors in mind that may impact a customer's decision to buy your product successfully.
Converting a targeted audience to become your customer is a task easier said than done. One needs to keep many things in mind while writing a copy which can become a rather tough and overwhelming task. A copywriting framework is what makes the copywriting task less stressful by providing a format that helps you to apply multiple factors in your copy.
Why use a copywriting framework?
Writing copies without a framework can be done but that's not the most efficient way. You should use a copywriting framework because it's the best and most efficient way of writing copies that brings in results. Here are some advantages of using copywriting formulas:
Know exactly what to write and how to write
Following a framework helps to maintain consistency
Captivate and persuade readers
Write copies much faster
Boost conversion rates
7 Top Proven and Popular Copywriting Frameworks
Now that you know what copywriting frameworks are and the importance of using such frameworks while writing copy, let's have a look at the top most popular copywriting frameworks with examples:
1. AIDA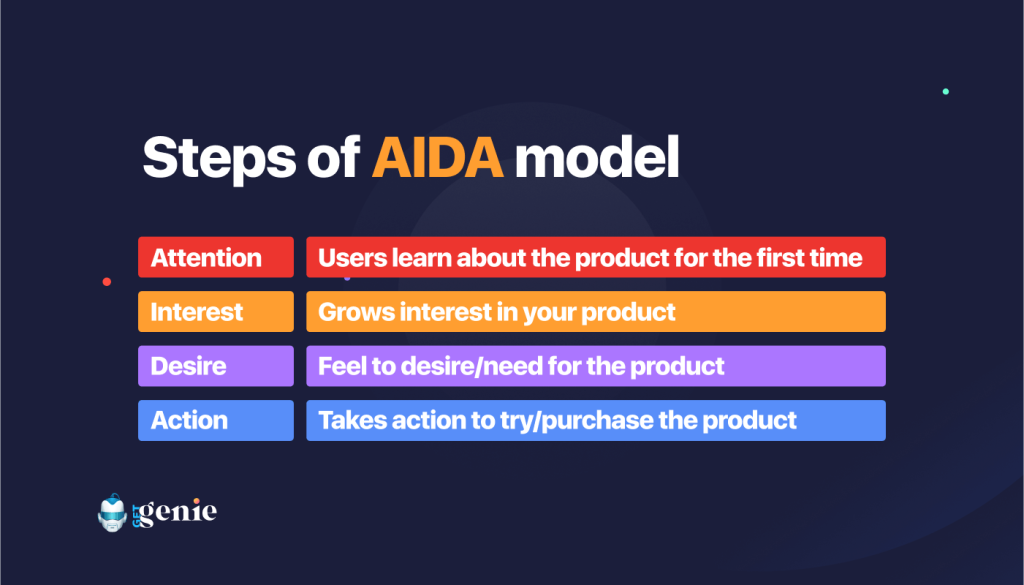 AIDA is one of the most popular copywriting frameworks out there that consists of 4 steps; Attention, Interest, Desire, and Action. This framework helps you to come up with copies that let users through all the steps from knowing your product to finally purchasing it.
Let's have a look at the four steps of copywriting framework AIDA:
Attention: The first step is to let people know about your product and service. You need to grab people's attention towards your product by hooking them up with a catchy line.
Interest: Here you need to provide information about products that users find interesting so they want to know more about your product. The information should be crisp and clear.
Desire: This is the step where users will grow and desire to purchase your product. So, this is where you will let people know how your very product/service can solve their problems or benefit them.
Action: In this last stage, you encourage users to buy your product by giving them discounts or simply telling them what to do (what action to take) to purchase the product.
Example of AIDA copywriting framework:
Here is an example of a sales copy for a platform that offers an online exercise class based on AIDA. 

✅ Attention: Are you struggling to lose weight despite a strict diet?

✅ Interest: Now you can lose weight without following any strict diet just with regular exercise at home.

✅ Desire: Our 20min workout videos are made for people who want to lose weight fast without doing any strict no-carb, no-sugar diet. Start your journey of fitness today.

✅ Action: Signup and get 20% OFF! 
2. PAS (Problem, Agitate, and Solution)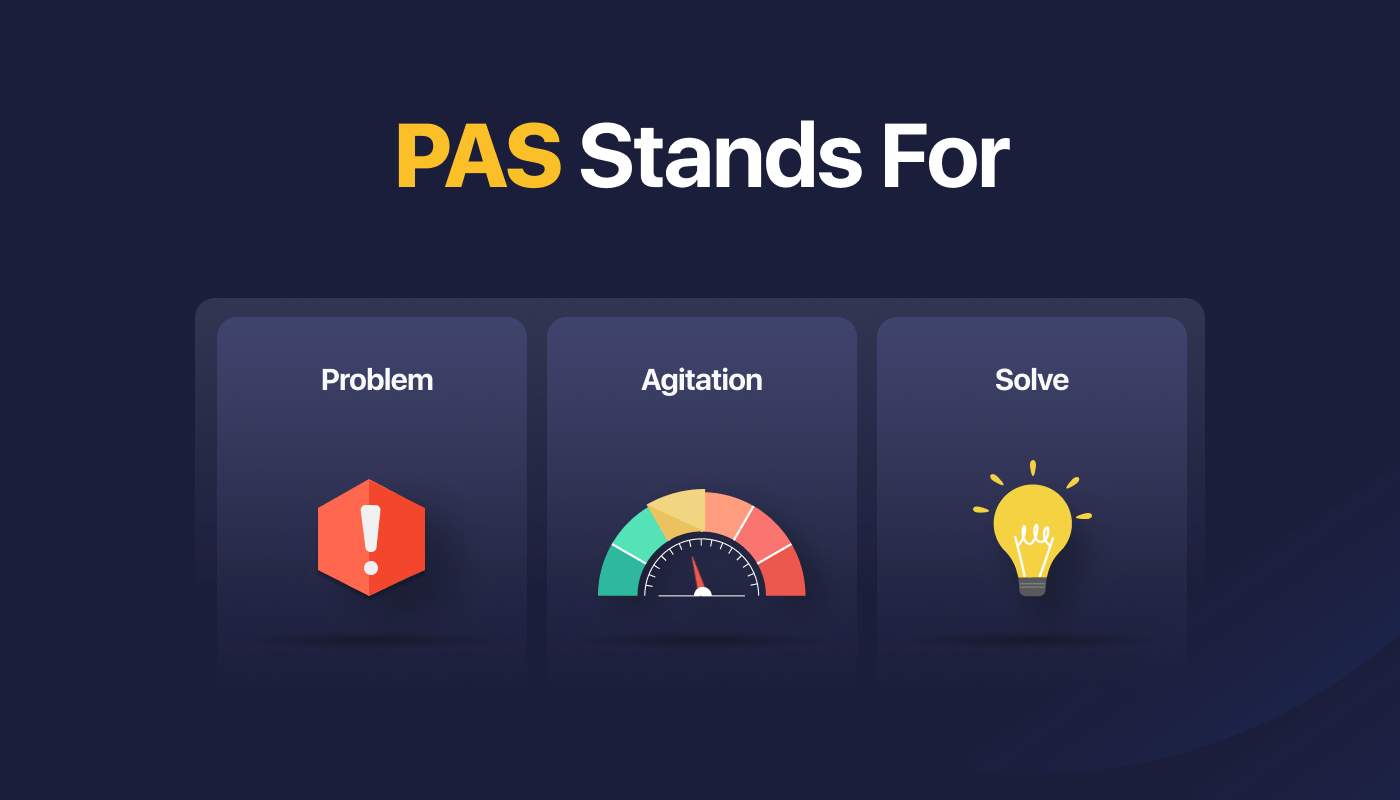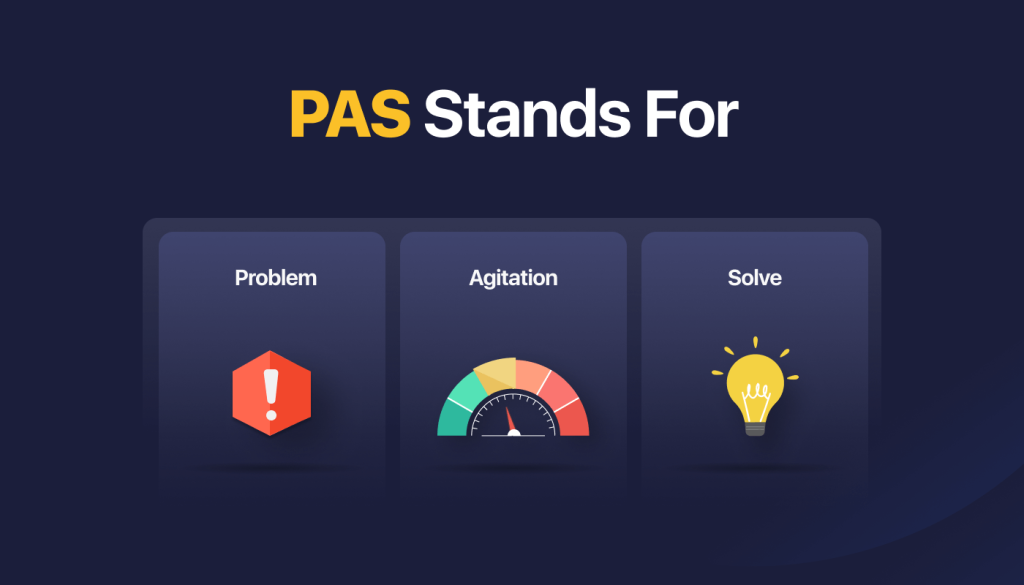 Copywriting framework PAS is another highly effective framework that stands for Problem, Agitate, and Solution. This framework works in three steps as just mentioned. The steps are designed to make the audience realize the problems they are facing and how your product can solve them.
Here are the steps of PAS:
Problem: Here you need to highlight the problem that your audience is facing. Remember! You need to highlight the pain points of your potential buyers that your product/service can solve.
Agitate: Next, you need to focus on how troublesome life can be if you don't solve the problem they are facing. Basically, agitate them to desperately look for an immediate solution.
Solution: In this stage, you will show how your product can solve the problem your audience is facing with efficiency.
Example of PAS copywriting framework:
Here is an example of PAS copywriting for almond milk targeted at tea lovers with lactose intolerance:

✅ Problem: Can't do without tea but are lactose intolerant?

✅ Agitate: While milk tea tastes yummy, it can lead to gas, bloating, and even diarrhea in the worst-case scenario for people with lactose intolerance. But without tea, it's hard to get your day started, right?

✅ Solution: Switch to almond milk to enjoy tea without any bloating or health issues. Almond milk is lactose-free. Start your day with tea made of almond milk, not gas!
🔍🔍 To learn about how AI can implement the PAS framework in copies in a few moments check the video below:
3. Before After Bridge (BAB)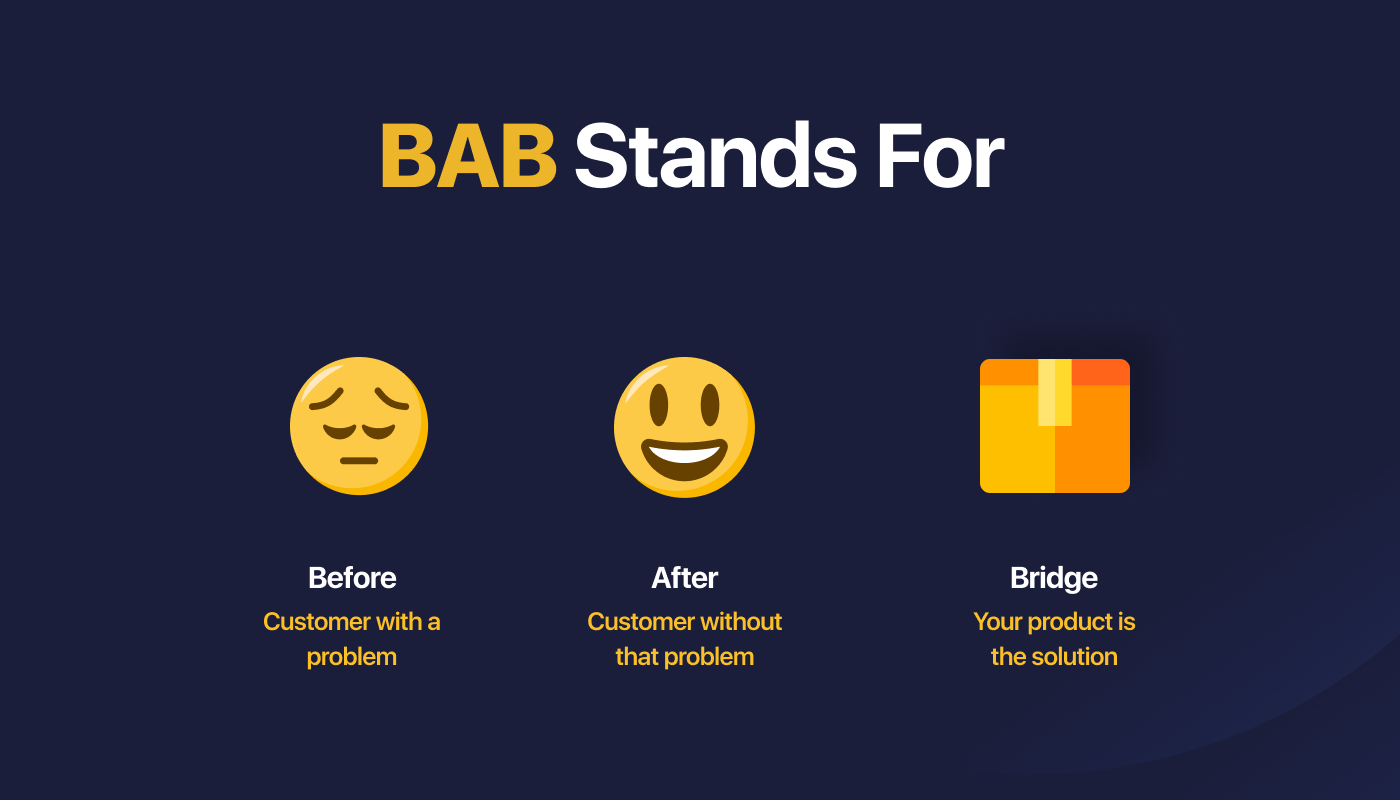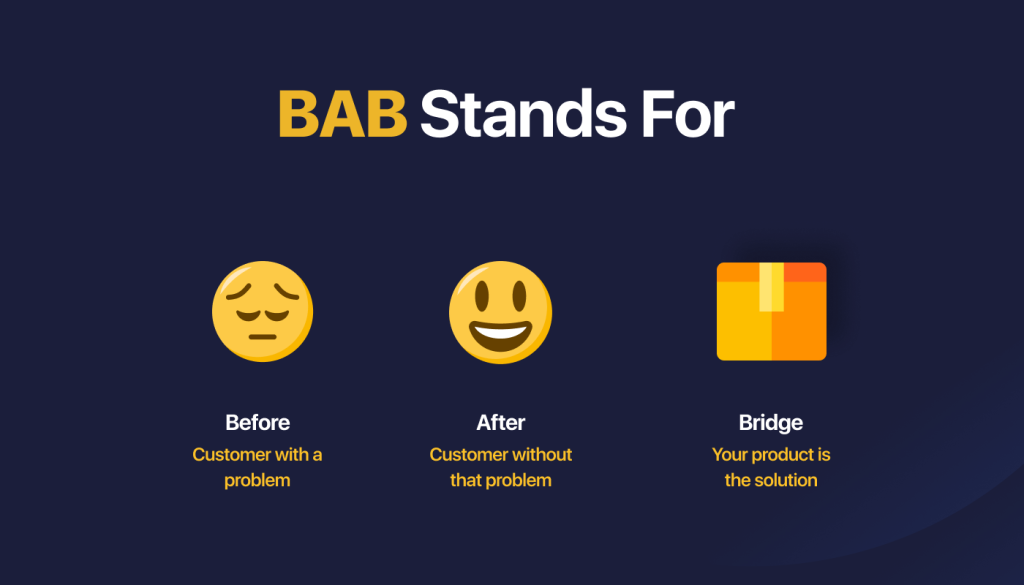 BAB stands for Before After Bridge. The best way to sell your audience something is to show them how your product can solve their problem. This is exactly what the BAB copywriting framework aims to do.
Here are the stages of the BAB framework:
Before: This step describes a world where a user is facing a certain problem and how the problem is making his life difficult.
After: Here you will show the scenario where the problem is solved and customers don't have to worry about the problem anymore.
Bridge: In the final stage, it depicts how your product is the bridge that can solve the problem the user is facing and help users get to the other side of the world where there is no problem.
Example of BAB copywriting framework:
Here is an example of a BAB copywriting framework that promotes blog writing AI tools like 
GetGenie.
✅
Before
Spending days trying to write a blog post? Not able to produce enough content due to a shortage of time?
✅
After:
 What if you could just provide a blog title and keywords and have a full-length plagiarism-free blog post in just a few seconds? Imagine writing 10 times or 20 times more blogs in the time you currently take to write just one blog post.
✅
Bridge:
 Well, that's exactly what users of GetGenie AI are doing. GetGenie AI generates a complete blog with competitor analysis and SEO optimization based on inputs within a few moments. Try GetGenie Today!
✨✨ GetGenie AI Content tool can generate copies based on BAB in a few seconds, you can check out the whole process in the description below 👇👇
4. FAB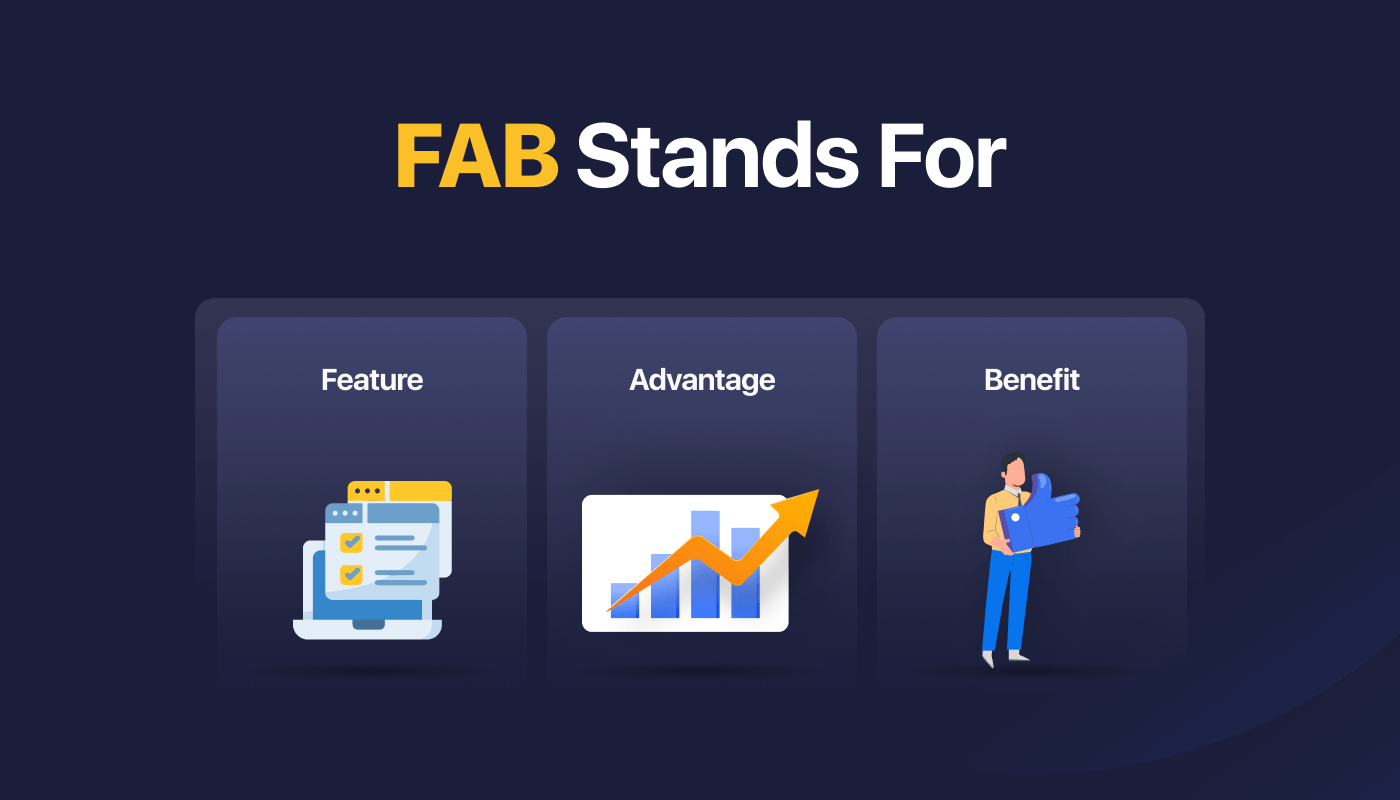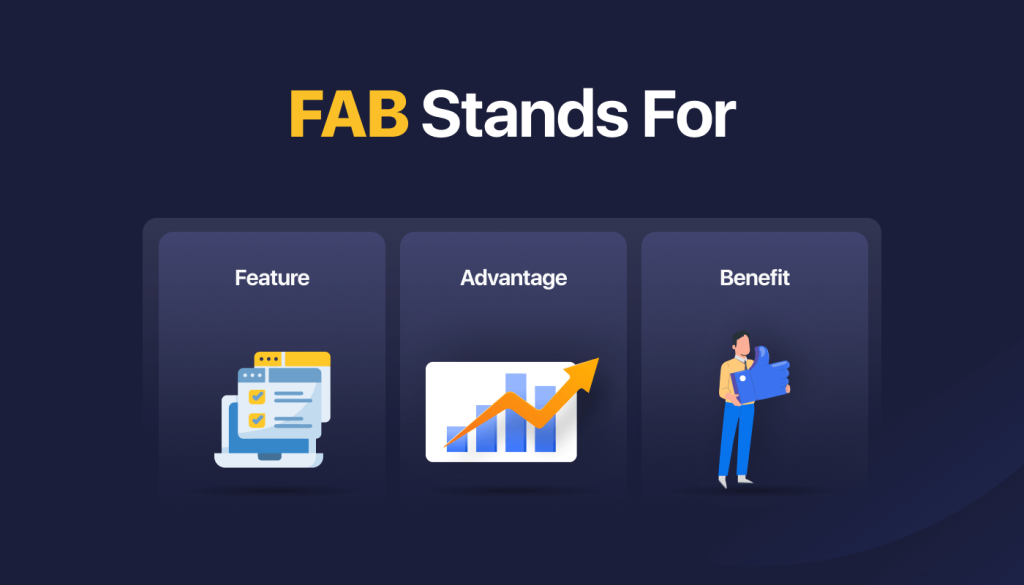 FAB stands for Feature, Advantage, and Benefits. This is another effective framework to get the user's attention to your product. This formula highlights your product's features and the advantages of using your product so you can easily convince customers to purchase the product. Here are the steps of FAB :
Features: In the first step, you are supposed to talk about your product or service. For example, what the product is about or what services you offer, and so on. Basically, important features of your product/service.
Advantages: Here you will highlight the advantages of using your product. For example; how your product/service can solve a customer's problem. In addition, you should highlight the other ways your product can help the users.
Benefits: Now tell the customers what's in it for the customers and what will customers gain from this. Basically why choosing your product and service would be a decision worth taking.
Example of FAB copywriting framework:
Here is an example of a FAB copywriting framework based on the
best Ai writing tool GetGenie
.
✅
Features:
 An AI-based WordPress plugin that offers 30+ templates to write copy and content.
✅
Advantages: 
No need to buy multiple tools/plugins or worry about plagiarism as it produces plagiarism-free content. You will get multiple types of content using the same tool.
✅
Benefits: 
Get more done in a short period of time while saving a bunch of money.
5. 4 P's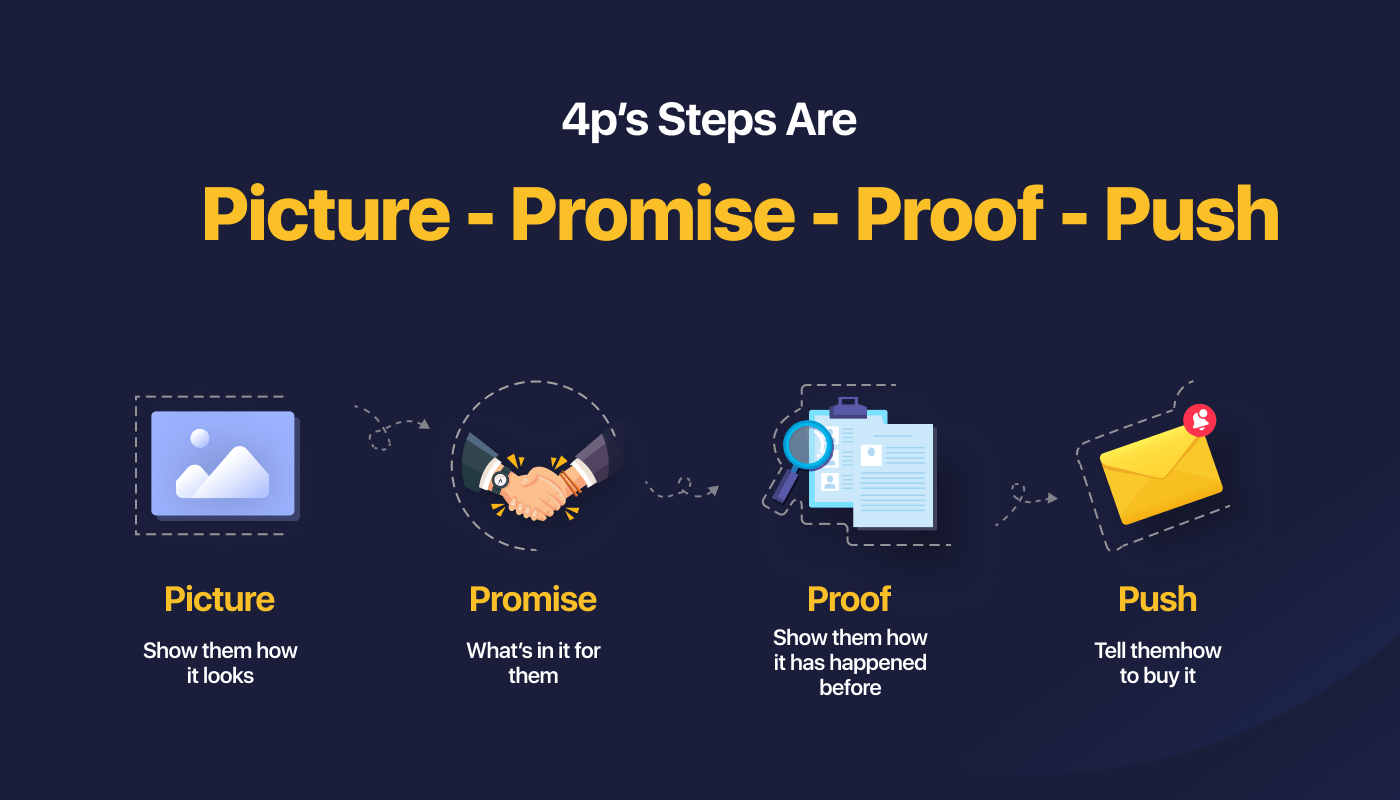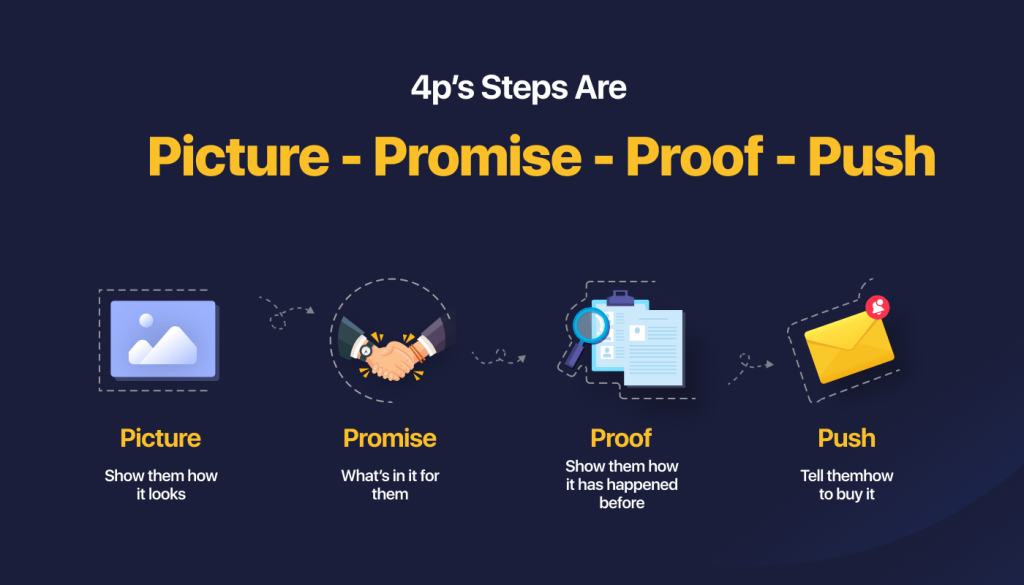 Another persuasive copywriting framework is the 4 P's. The 4 P's stand for Promise, Picture, Proof, and Push. This is different from the 4 P's of marketing. Along with copywriting, this framework works great with audio and video as well.
Picture: First, you need to create a picture of the problem your users are facing or something that they aspire to become or to have.
Promise: This is the first step where you hook up your audience and you do it by making a promise. A promise to help them get rid of their problem or have them achieve what they aspire to.
Proof: In this stage, you need to back up your promise with proof to gain the customer's trust.
Push: Push though sounds a little negative but it's an important step of 4 P's copywriting framework where you encourage the audience to take action.
Example of 4 P's copywriting framework:
Here is an example of 4 P's copywriting framework based on an all-rounder WooCommerce builder- 
ShopEngine
:
✅
Picture:
 Not getting enough sales?
✅
Promise: 
Customize your WooCommerce templates with ShopEngine to give users a better experience which will surely boost sales.
✅
Proof: 
More than 20k website owners around the world are leveraging this revolutionary eCommerce builder to boost their sales.
✅
Push: 
Get ShopEngine now and save 20%.
6. PASTOR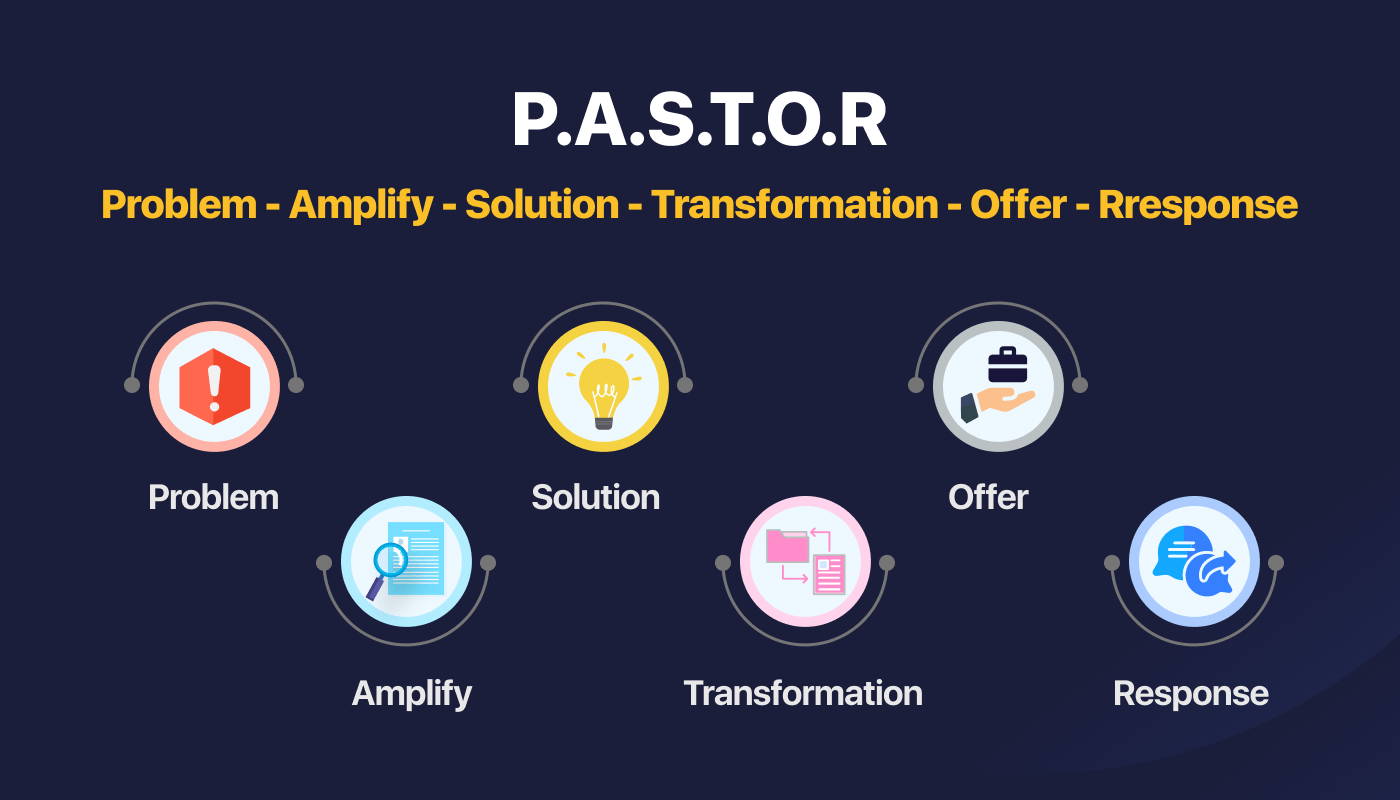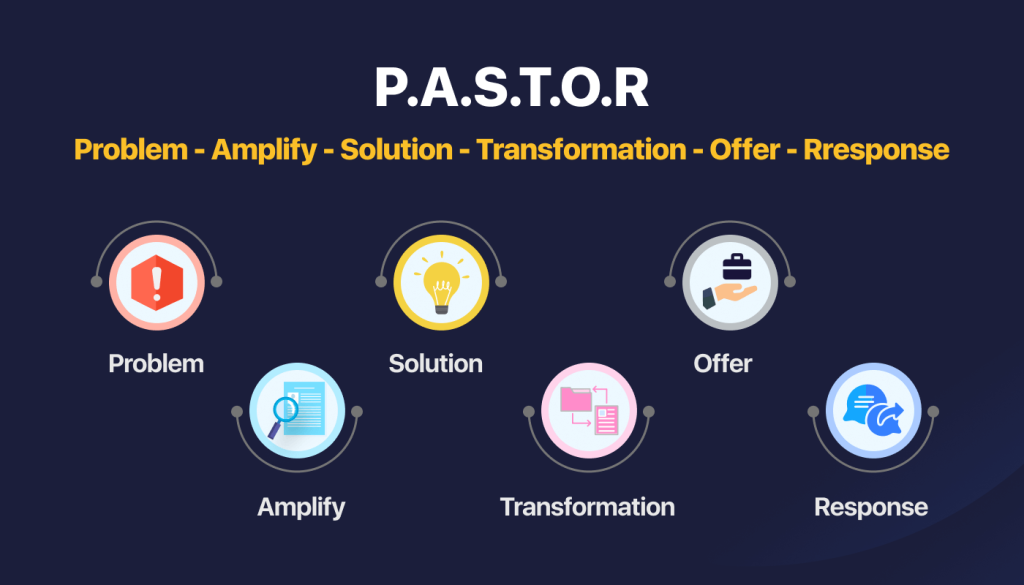 The PASTOR is a copywriting framework that helps you to write strong, persuasive copy which stimulates your customer's mindset about your product and buys them. PASTOR stands for Problem, Amplify, Solution, Transformation, Offer, and Response. Let's have a look at what each stage means:
Problem: Address the problem you plan to solve with your product. You need to think from the user's point of view so they can relate to the problem better.
Amplify: After you mention the problem, try to highlight how not solving the problem is a big mistake and how much trouble a client is facing due to the problem. In short, amplify the problem you initially talked about.
Solution: Now comes the solution, here you will describe how you plan to solve the problem to make your customer's life easier.
Transformation: Focus on telling stories about how you solved similar problems for another client. This way clients will have more reasons to trust you.
Offer: In this step, you will describe the service/product you are offering to them because by this stage they would be interested in the solution you plan to offer them.
Response: In the last stage, you will tell them about the steps they can take to use/purchase your service/product to solve the issue they are facing.
Example of PASTOR copywriting framework:
Here is an example of a PASTOR copywriting framework based on an AI writing tool 
GetGenie
:
✅
Problem: 
Struggling to expand your content marketing strategy because you lack manpower?
✅
Amplify:
 Not expanding your content marketing strategy can slow down your growth. On the other hand, hiring qualified writers can cost you more than your budget.
✅
Solution: 
Leveraging an AI-based content writer like GetGenie can help with both. You can expand your marketing strategy without having to worry about spending a huge amount of money on writers.
✅
Transformation: 
GetGenie has helped hundreds of content managers to publish quality plagiarism-free content with minimal effort as it produces content within minutes. All you have to do is provide a few inputs.
✅
Offer:
 GetGenie offers 30+ content and copywriting templates starting at the price of $19 only.
✅
Response: 
Buy GetGenie now to enjoy 20% OFF on annual plans.
👉👉 Can you create
plagiarism-free content with AI
writing tools? Click
here
to find out.
7. QUEST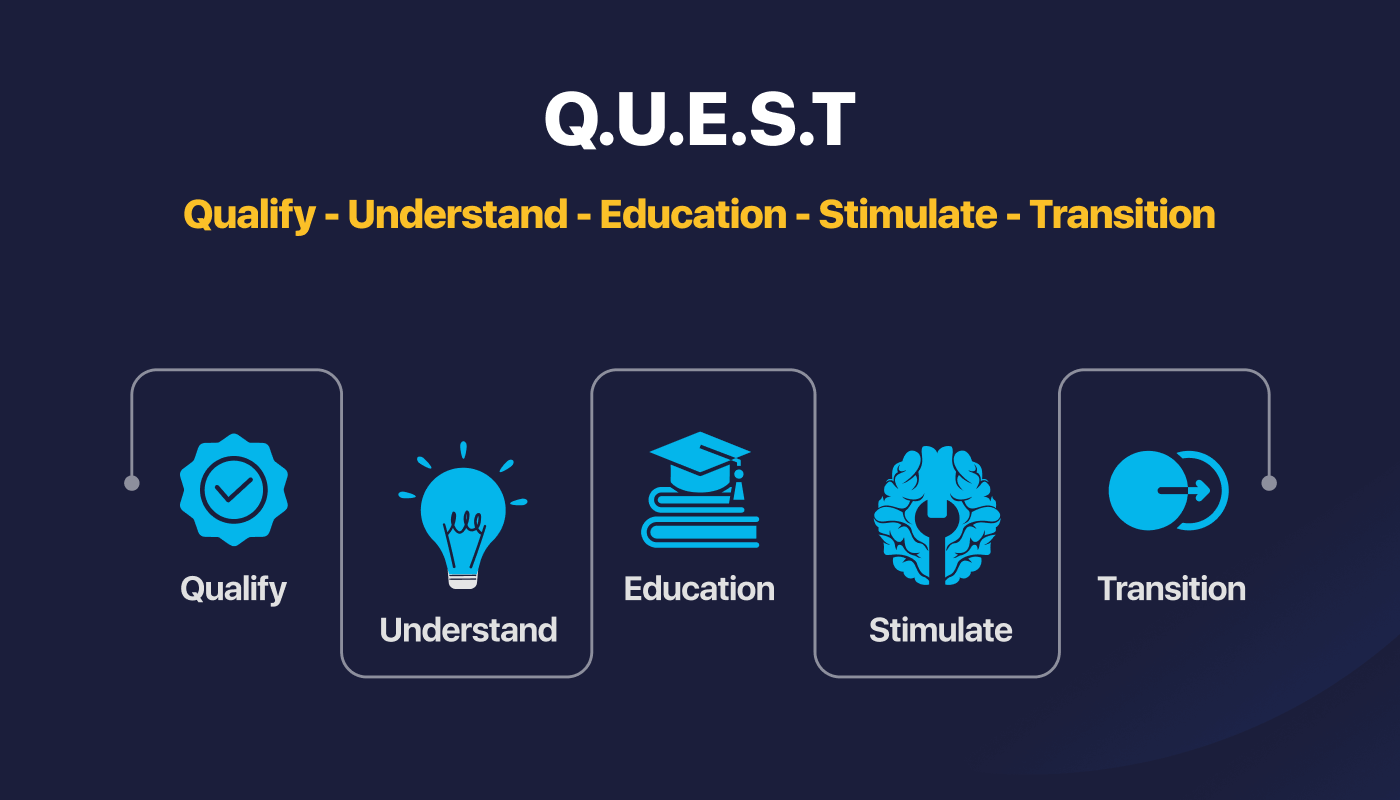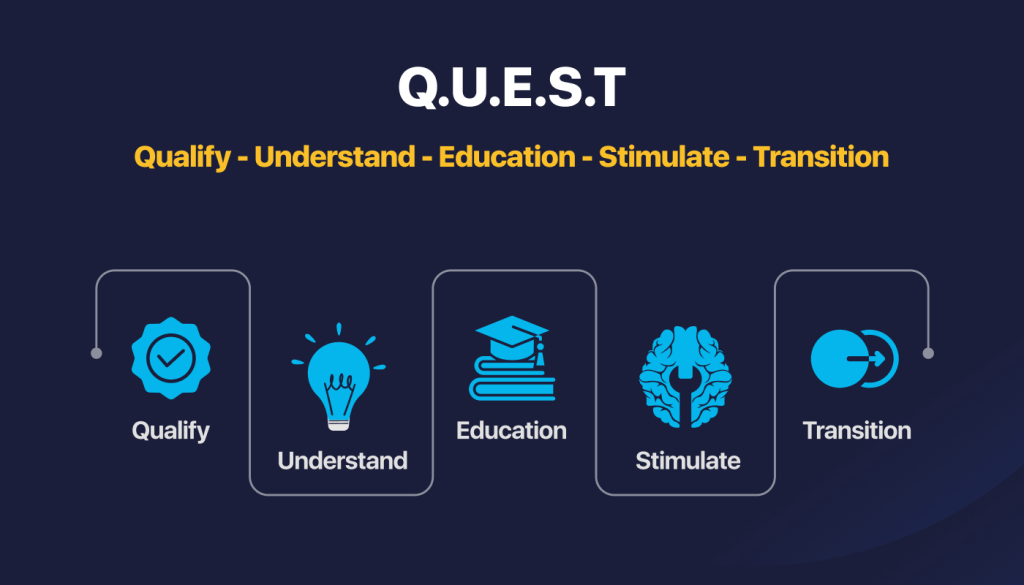 QUEST stands for Qualify, Understand, Educate, Stimulate, and Transition. Let's get to know what each of these represents:
Qualify: Writers can qualify the audience, or describe their target demographic. This way, they are pointing out a section of readers who most likely need to buy a certain product or service.
Understand: In this step, writers practice empathy and compassion to try to convey that they understand the experience of their target audience.
Educate: At this point, writers educate the reader on a solution to a problem they may be experiencing.
Stimulate: Writers can try to stimulate the reader by engaging them with powerful words and distinctive brand identity. They can use colors and graphics in tandem with their copy to improve its aesthetic.
Transition: Writers should eventually "transition" the reader or encourage them to become a customer. A common method of doing this is including a link to a product description where a customer can buy it.
Example of QUEST copywriting framework:
Here is an example of the QUEST copywriting framework based on an all-rounder WooCommerce builder- 
ShopEngine
(Copy starts from the second step):
✅
Qualify:
 Here target audience is WooCommerce store owners or developers with slow websites due to the usage of multiple plugins that they use to customize or enhance their site. Once you know your audience, then you start writing.
✅
Understand:
 Too many plugins can slow down your website. However, in this competitive world, you need advanced features to keep your audience hooked up to your eCommerce site.
✅
Educate: 
Installing a single lightweight plugin like ShopEngine with many advanced features can help you to deal with such issues.  
✅
Stimulate:
 ShopEngine is an all-in-one solution with 20+ eCommerce modules and 15+ WooCommerce templates. Moreover, this superlight plugin doesn't require you to compromise your website's speed.
✅
Transition:
 Buy ShopEngine today and start your journey of a faster website and even faster growth.
Wrap up
I hope the explanation and example of each copywriting framework have made it rather clear to you the importance of using such a framework.
But you need to keep in mind, you shouldn't just follow any random copywriting framework, before choosing a framework you need to consider your product/niche and your audience. If you choose the right framework for your niche, then you would be on your way to achieving a boost in your sales. 
The good thing is, now you can use artifical intelligence to write copies using different copywriting frameworks.
For instance, GetGenie the WordPress Ai writer has four different copywriting templates to write copies instantly.
If you have any questions regarding any of the frameworks listed above or want us to add any favorite framework of yours, do let us know in the comment box.
Also if you are a writer who uses any of the frameworks, do let us know which one you use.