How to Use an Ai Summary Generator for Article to Write Summary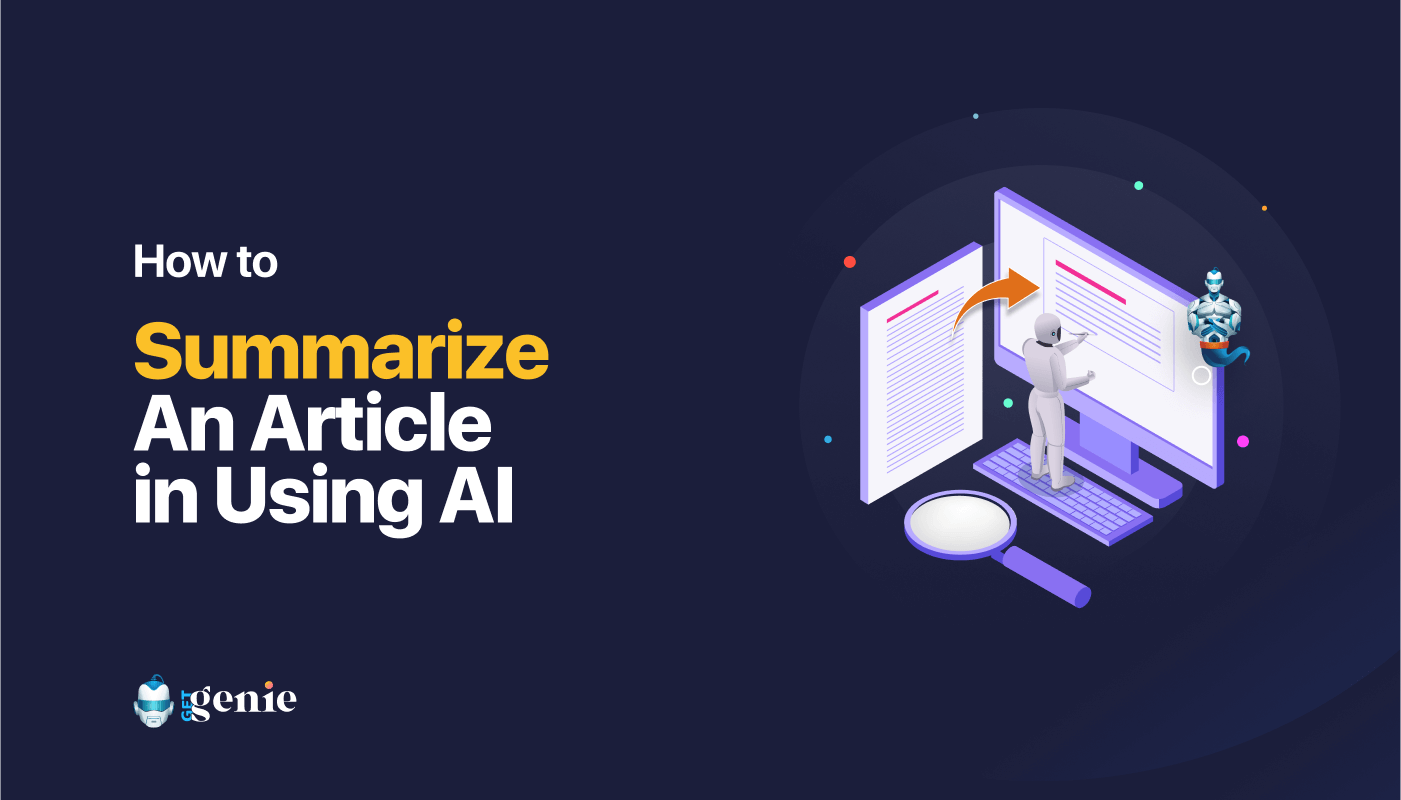 A summary of an article provides a concise overview of what is inside that write-up. It is the piece of content that will encourage the users to read the whole article.
Since articles tend to be pretty lengthy, most people want to know what to expect in the article beforehand and summaries do exactly that. A summary tells a user what the long piece of content is all about without wasting any time as these are extremely short in length compared to the original piece of content.
While the idea sounds simple, writing an effective and precise article summary can be hard at times. For this, you need to follow a proper guide which has been discussed in this blog. On top of that, you will also learn how to use an AI summary generator for articles to write a summary in less than 2 mins. So, keep reading…
What is a Summary?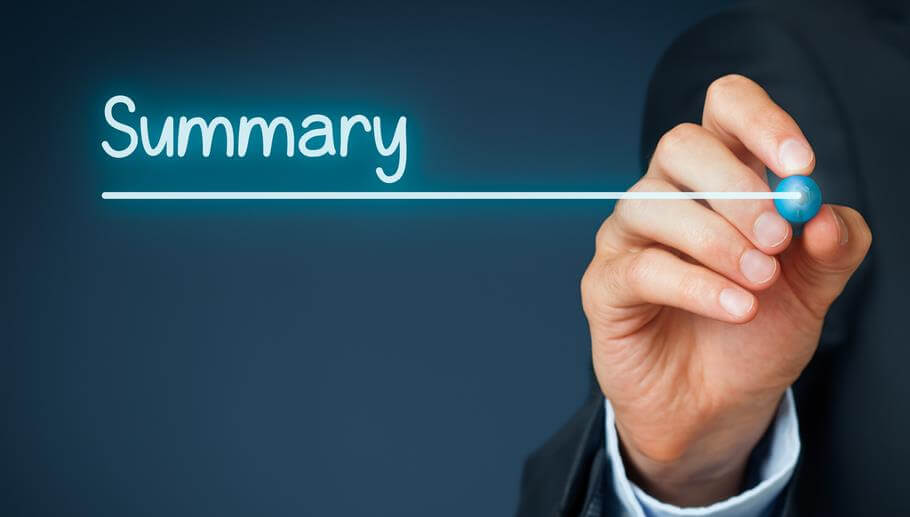 A summary is a brief overview of a large piece of content. So, a summary basically gives you an idea about what the long content of a piece has to offer and what it does while keeping the essence intact.
In summary, you are not supposed to mention each and every detail but you must mention the information that tells the reader about the content's gist. It's an effective way of letting users know what a long piece of content has to offer them.
How to write a summary: A proper step-by-step guide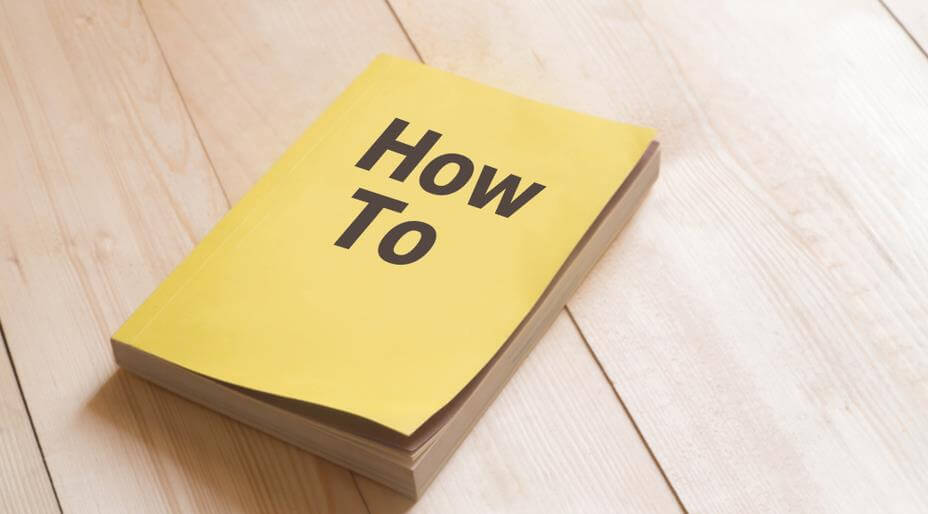 Writing a proper summary can be divided into 5 steps. Here are the 5-steps one needs to follow to write a perfect summary for an article:
Step 1: Read the complete article
The first point is obvious. You must read the article in order to know what's written in the blog and only when you know what's written can you come up with a summary.
While some may believe that scanning or skimming through an article is enough to write an effective summary, it's really not! It's always recommended to read the complete article from A to Z.
Step 2: Understand the main idea
Once you read the whole blog, you will understand the main idea behind writing that piece of content. Just reading through the blog is not enough, you need to read it with full attention to understand the main focus point of the article.
Step 3: Identify and note down the main points
Once you read the whole article and understand the Gist, you can again skim through it and note down the key points that you believe you must highlight in your summary. It's a good trick to give special attention to the intro and closing notes along with the heading as it will help you to understand the author's motive for writing that piece of blog.
Note: Only note down the relevant important points, and ignore the irrelevant and not-so-important information.
Step 4: Write the summary
Once you have understood the article and got the highlighted points noted down, it's time to write the summary in your own words. Remember to not use the same sentence as the article uses to avoid plagiarism. You can always paragraph sentences to make them sound unique and avoid plagiarism at the same time. You basically have to write down your understanding of the write-up with key points in mind and zero-copy-paste.
Step 5: Proofread and check grammatical mistakes
Once you have written the summary, try to proofread it once or twice to ensure that's the summary written well enough to represent the article. Also, proofreading is an important step to ensure there are no grammatical mistakes. To err is human! So, make sure you read the article and fix any grammatical mistakes if you find one.
How to use AI to summarize articles
The best way to come up with an article summary with the precise output is to use an AI summary generator for articles. AI tools are concise sentence generator. Utilizing the natural language processing (NLP) technology, AI summary writers can generate the precise AI summary of article.
Here is how to use AI to summarize articles:
Compare the features of AI summary generator tools before choosing one.
Choose an AI summary writer tool that suits your requirement. There are many options available such as GetGenie AI.
Install the AI tool to summarize articles that you have chosen.
Explore the options of the AI summary writer tool and adjust according to you need.
Finally generate AI summary of article. Time it takes to generate article summary with AI may vary based on the article length, server delay time, and your internet connection.
This is an overview of how to use AI to summarize articles. In the next section of this guide, we will show you a hands-on experience to generate article with GetGenie AI. Let's get into the details:
How to Use an AI Summary Generator for Article to Write a Summary
AI can help you to come up with crisp and error-free article summaries in no time. For that, you'll need an AI summary writer for summarize your content. There are few AI tool to summarize articles that you can use. In this guide, we are using GetGenie AI. If you are using WordPress for publishing articles, this one is particularly helpful for you.
Follow the steps below to generate a summary using an AI article summary generator:
Step 1: Install and activate the AI writing assistant GetGenie
The first step is to install an AI writing assistant tool. This is a standalone WordPress plugin that comes with a Paragraph Compression template that you can easily use to generate an article summary.
To install this summary generator for an article, navigate to the WordPress dashboard ⇒ Add New. Then search for "getgenie". Once found, click on Install Now.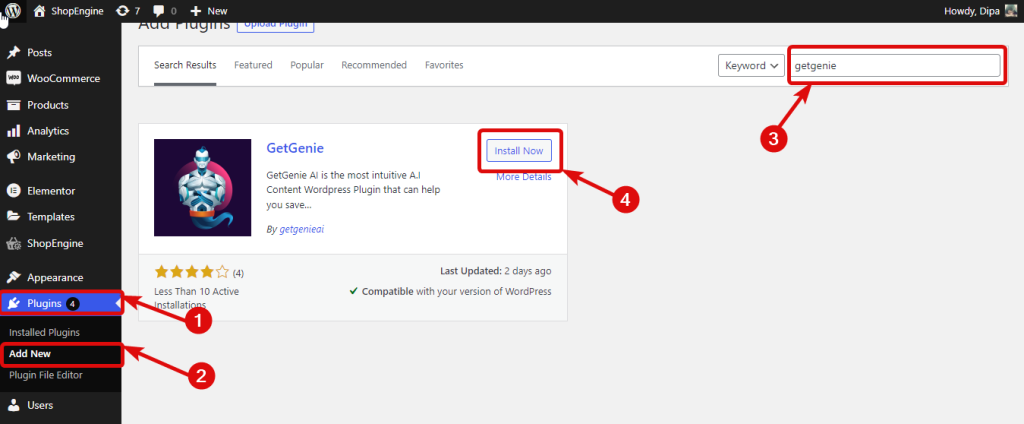 After the plugin is installed on your system, click on Activate.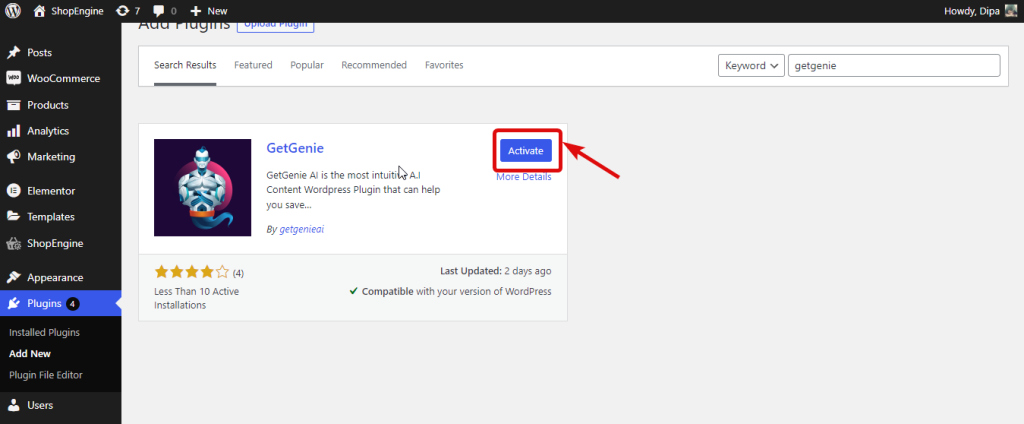 Step 2: Generate the article summary
Now navigate to GetGenie ⇒ Write For me. Now click on the Paragraph Compression template from the template list.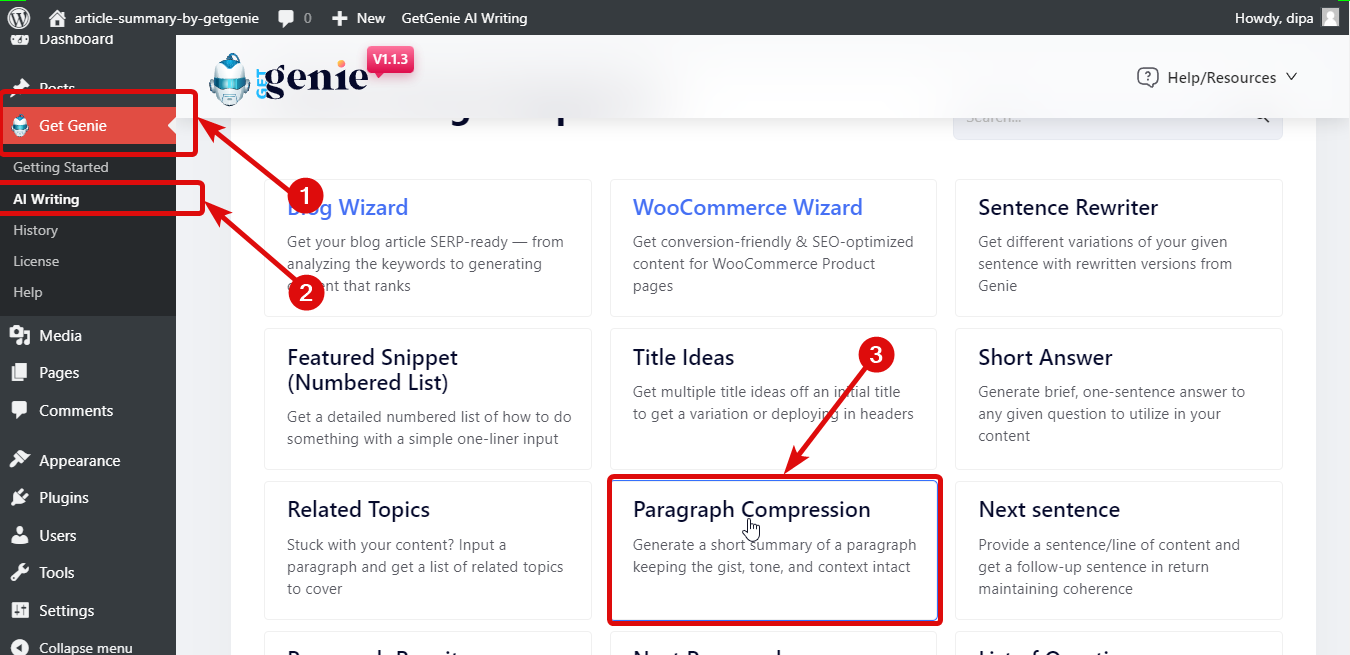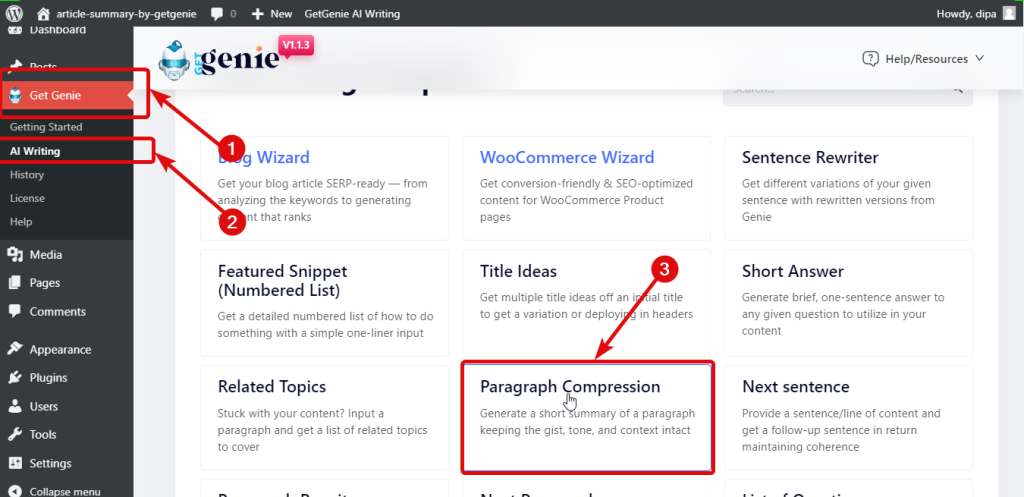 Provide the following information to summarize an article:
Paragraph: Here copy and paste the article that you want to generate a summary for.
Language: Chose your preferred language.
Tone: You can also choose the tone you want your summary to have.
Creativity Level: Choose the creativity level (out of 5). This value will set how creative your results will be. Creativity level 4 is usually recommended.
Results: You can also choose how many results you want to produce. The limit is 10.
After you provide all the information carefully, click on Write to get the results.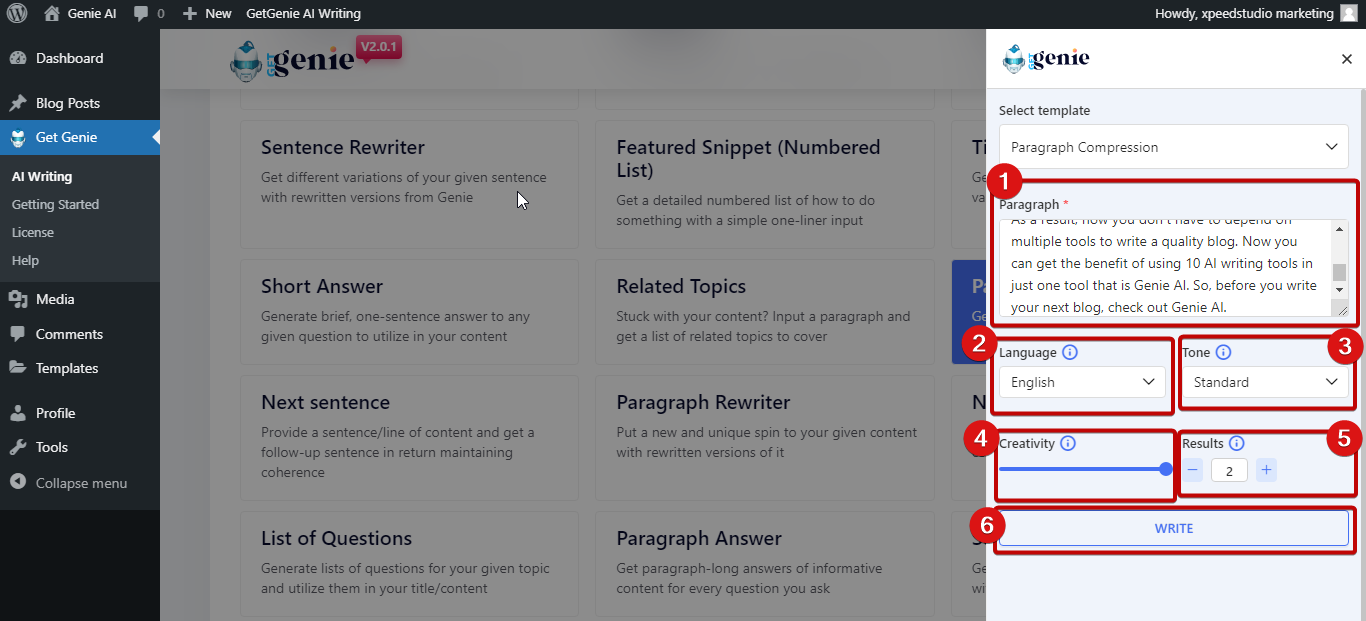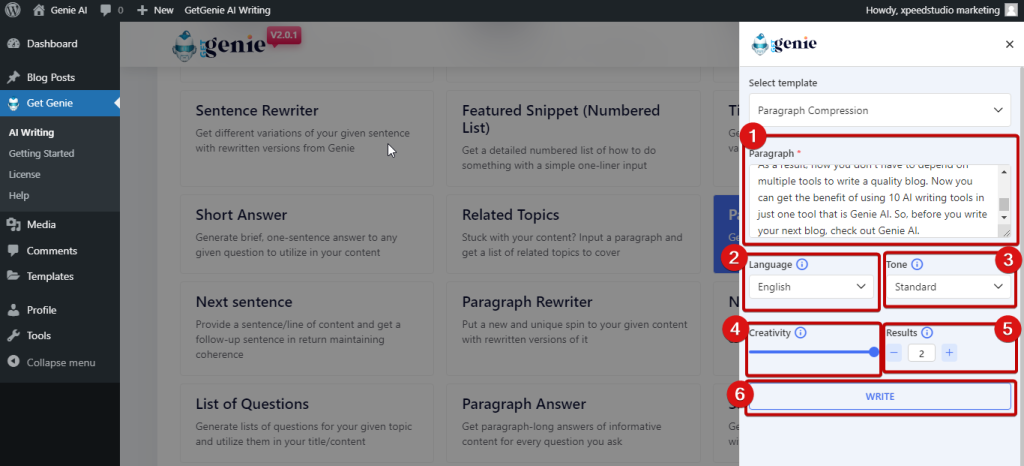 Here is a preview of how the article summary gets generated by GetGenie AI: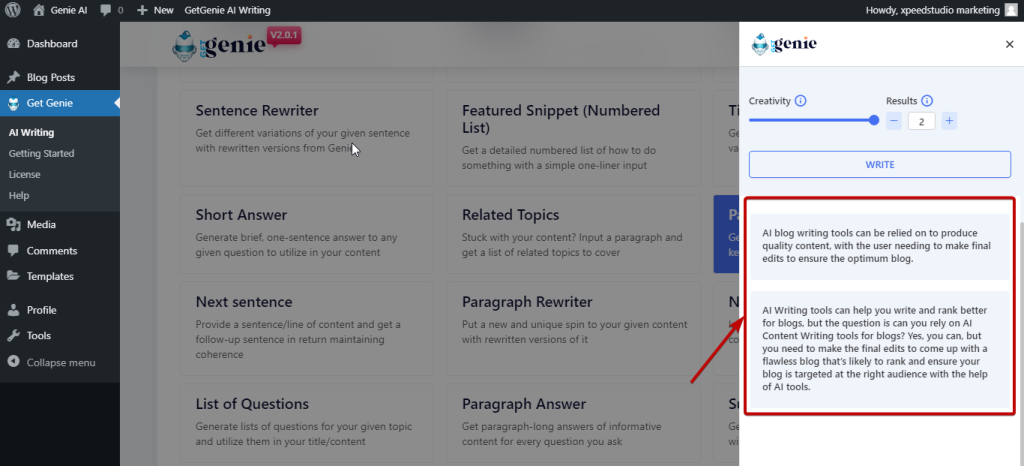 You can now click on it to copy it and use it wherever you want. You can also choose to rewrite the generated content using GetGenie"s rewriter template.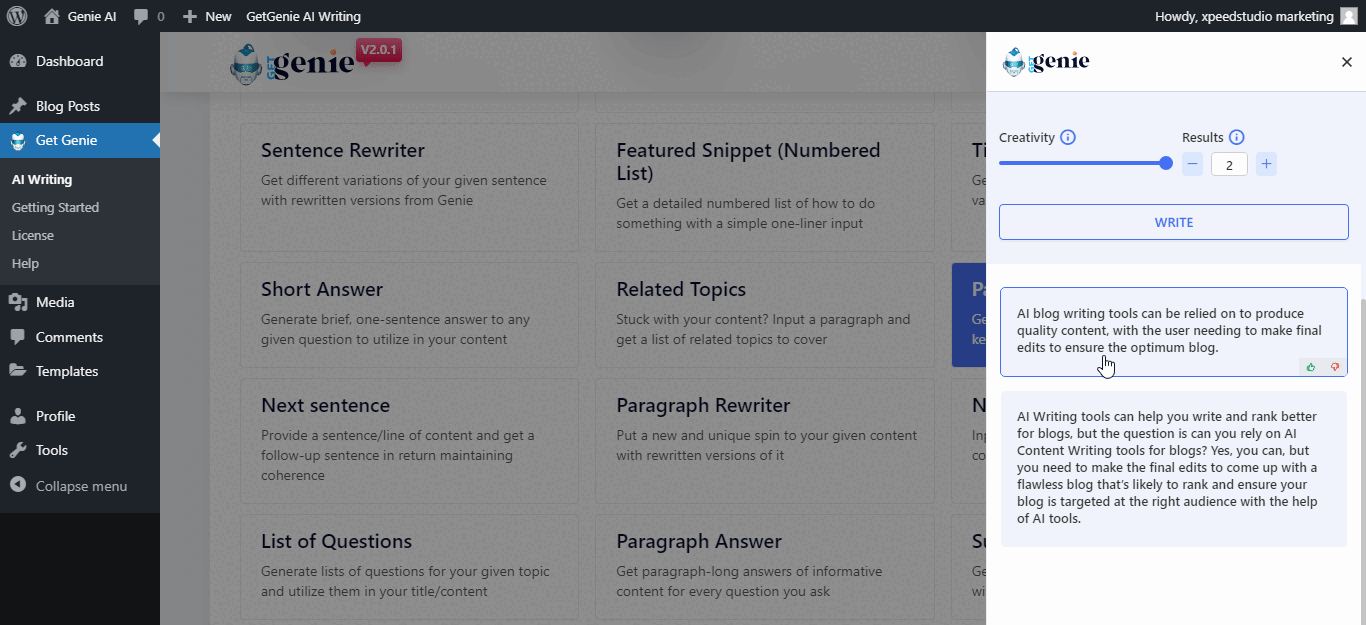 Why do you need an AI tool to summarize articles
Now that you know how to use AI to summarize articles, the question may still knock on why you need AI to generate summary of articles for better output.
AI article summary generators can summarize articles efficiently and accurately. This makes it helpful for researchers, journalists, students, and anyone who needs to quickly understand the essence of an article.
Here are how you can get help using AI tools to summarize articles:
AI tools can save you time:
AI summary writers can quickly analyze long content and extract the most relevant information from it. Ultimately saving your time compared to manually reading and summarizing the article.
Article summary by AI ensures consistency:
AI tools generate content based on a pre-defined set of rules or parameters. Therefore, article summary generators can maintain consistency for every article regardless of the number of articles or the level of expertise. Whereas, human consistency can get affected by many things.
AI provides summary of articles in multiple languages:
Many AI content tools like GetGenie AI supports multi-language content generation. If you have a diverse audience base of different language backgrounds, this can be particularly helpful. AI tools generate article summaries directly in different languages, making it easier for non-native speakers to understand.
Tips to Write an Effective Article Summary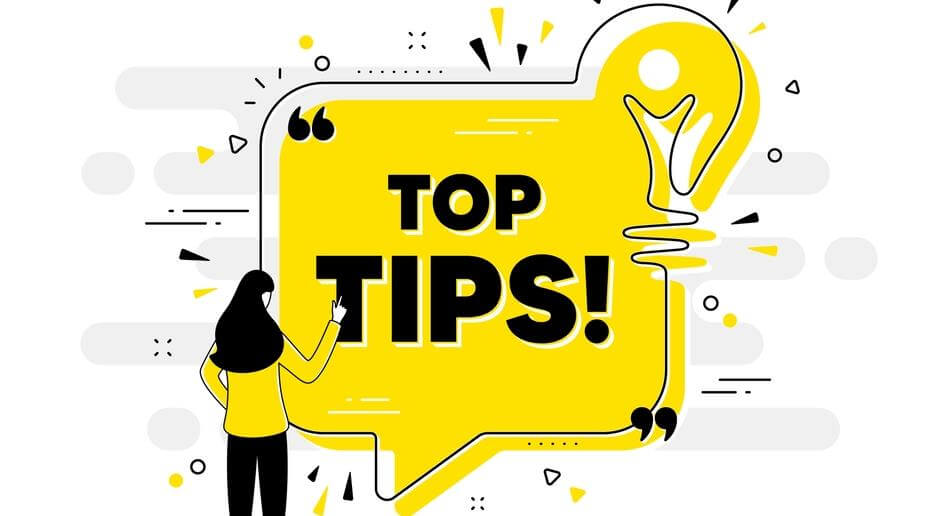 Now, you know the process of writing an article summary manually and using an AI tool. But it's always a good idea to keep some things in mind to make your summary effective and impactful. Here are some tips to write a great summary:
Ensure the main idea is intact in your summary.
Don't make your summary unnecessarily long, try to keep it as brief as possible.
Write from an objective point of view, don't judge the piece article.
Use proper transitional words so it conveys the right message with the right tone.

Closing Notes on Summary Generator for Article
A summary can be the deciding point for a reader whether they want to proceed with reading the whole article or not. So, while the length is small, the significance of an article summary is in no way small or trivial.
Follow the steps mentioned in this blog to write an article that entices your audience to read the article and in case you need a shortcut to come up with an awesome article summary, you can always take the help of an AI writing assistant. If you've followed this guide you already know how to use AI to summarize articles
One such AI summary generator assistant is – GetGenie AI. This is a one-stop solution for all sorts of writing along with writing an impactful summary. This WordPress plugin comes with a 30+ writing template that you can use to write a blog, emails, product description, etc in a few steps and a few moments. So, do try this AI writer.
Frequently Asked Questions: