Rytr vs Jasper vs GetGenie: The best AI Blog Post Writer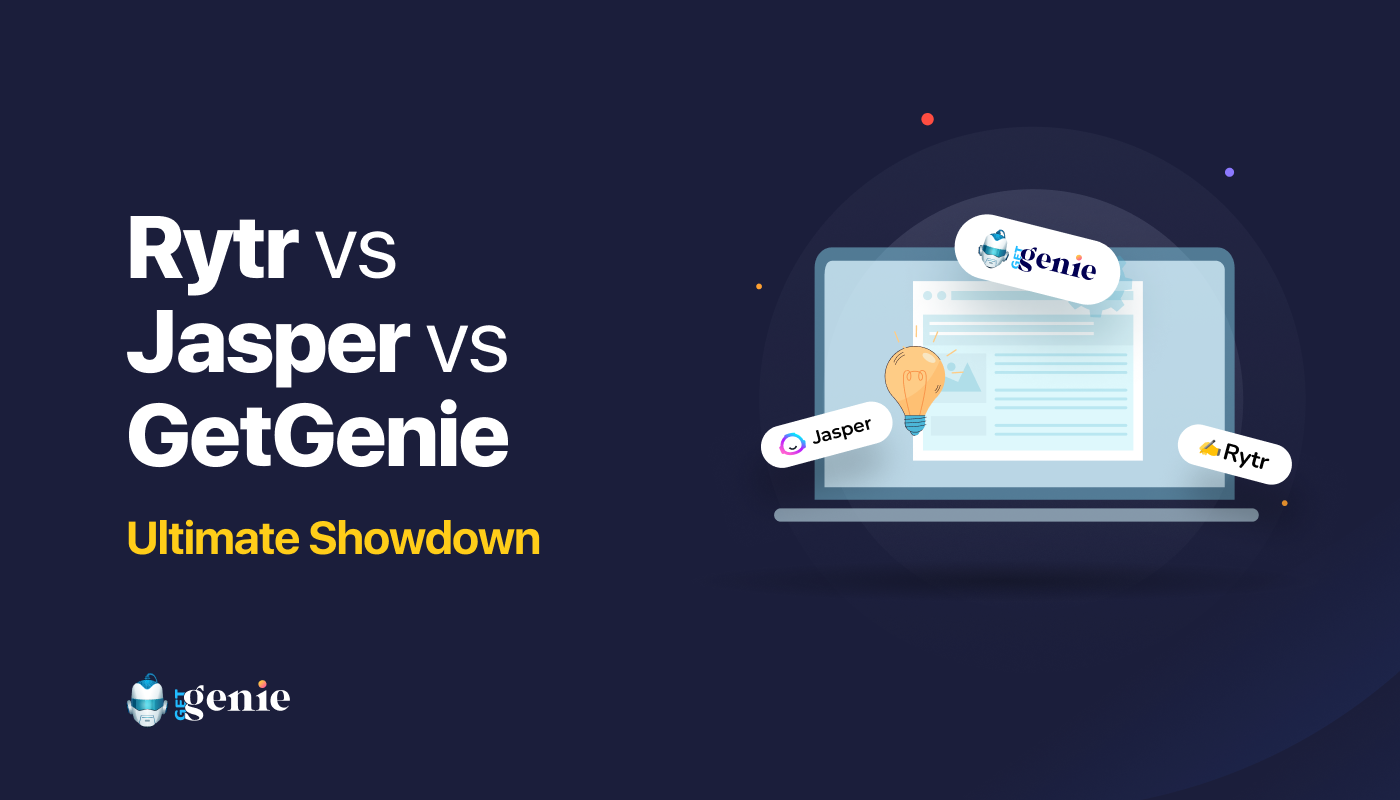 It's been a long time since we got introduced to AI writing tools. No wonder now there are tons of AI writing tools in the market. Rytr, Jasper, and GetGenie are some of them that use advanced technology to write content.
The problem is, once you go through all the tools, you will get confused. Considering this fact, here I am writing the Rytr vs Jasper vs GetGenie AI.
After going through the comparison, you will surely know which tool would be the best option for you.
Overview of Rytr
Let's first discuss the Rytr content writing AI tool. It works as an assistant for the writer and generates content based on the user's input. The primary goal of this tool is to speed up the content production process. There is a wide range of use cases for this tool — writing blogs, emails, copies, social media posts, and more.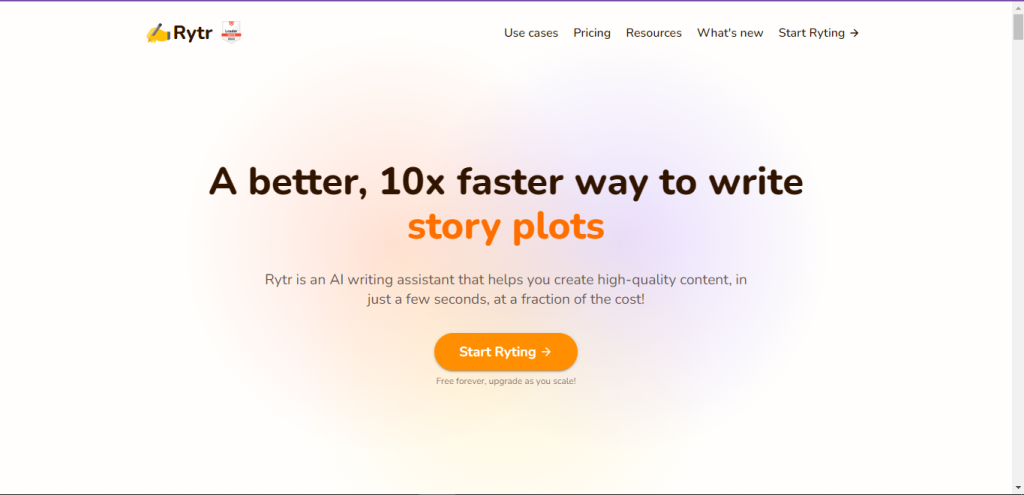 To make things easier, it offers keyword suggestions based on provided context. Users can perform the whole thing inside the Rytr's dashboard.
Advantages
Beginner-friendly navigation and features
Offers plugins to work with WordPress and Shopify
Provides API to integrate with third-party tools
Pricing starts from a free subscription
Disadvantages
The content output quality is not much satisfactory
SEO features still need improvements
Overview of Jasper
Jasper is the most popular AI writing tool in terms of content writing. Users can write almost any kind of stuff just with a few clicks. Compared to similar tools, its content output is better. However, Jasper doesn't have any additional features like search engine optimization or content score.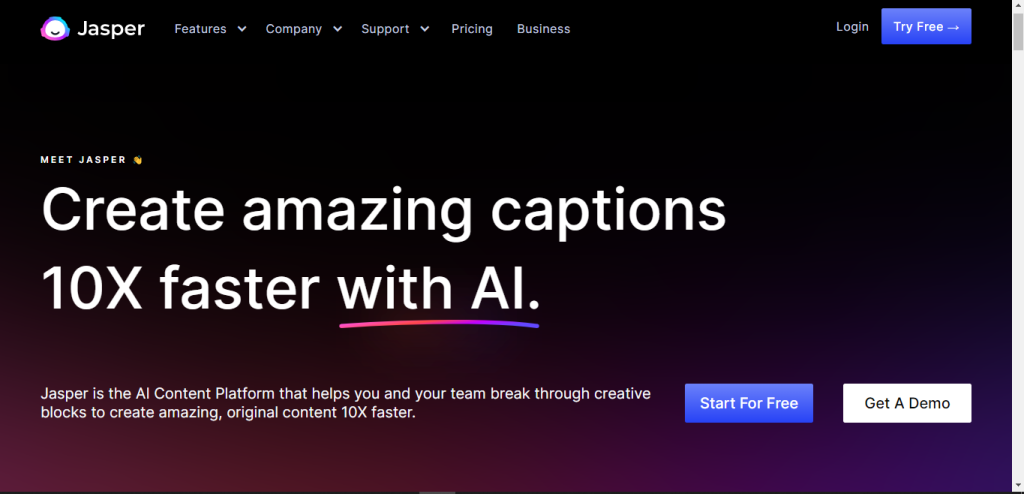 Whether you are an advertiser, article writer, or social media copywriter, you can start using this tool. But recently they have provided the graphical art feature.
Advantages
Content output is satisfactory
Features to write any kind of content
Ready templates to write content instantly
Can generate graphical works based on user's input
Disadvantages
Pricing is too high
Doesn't work directly inside WordPress dashboard
Overview of GetGenie AI
GetGenie is the best WordPress AI content writing tool in terms of all-in-one features. The best thing about this AI writing assistant is that you can write content directly inside the WordPress dashboard.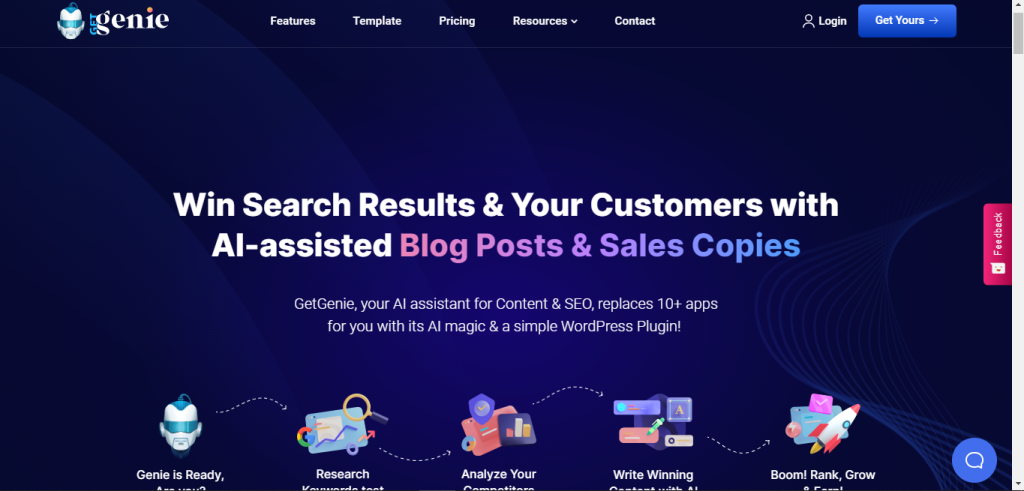 While writing content, GetGenie suggests keywords based on competitor analysis. Moreover, it suggests improvements and provides a content score. Besides writing blog posts, it allows you to write social media copies, sales copies, product copies, and more.
Advantages
Content output is highly satisfactory
Built-in SEO features to increase the chance of getting better ranks
Generates content inside the WordPress dashboard
Tons of ready templates for one-click content generation
Disadvantages
Comes as WordPress plugin only and doesn't have standalone dashboard
Feature comparison: Rytr vs Jasper vs GetGenie
If you really want to know about the AI writing tools I am discussing here, you should go through the features in detail. However, you don't have to as here I have compared the features for you.
Ready Templates for Content
AI writing assistants are meant to make life easier. The goal is to let users give instructions so that the AI takes care of the writing. But the way of writing for different purposes is not the same, right? Having templates for different use cases makes it easy.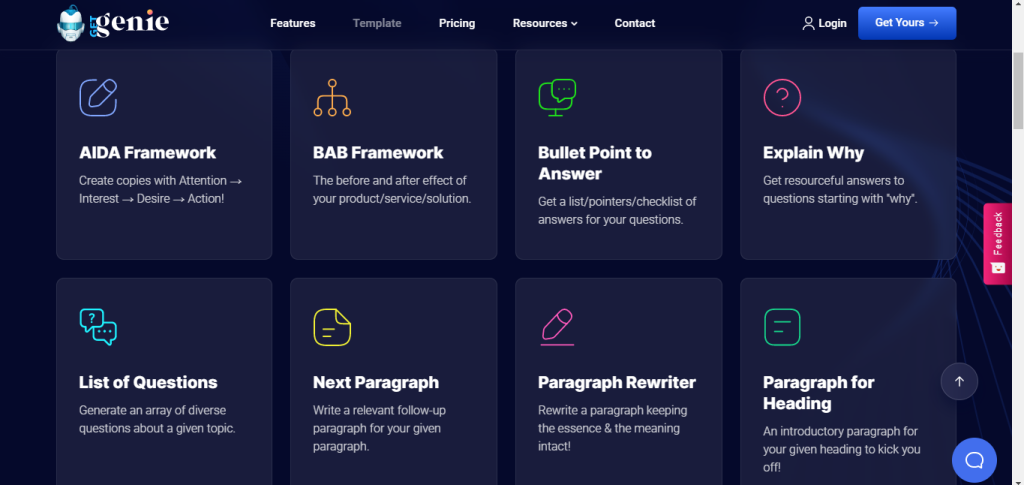 All three tools in the list provide ready templates for content generation. Rytr, Jasper, and Getgenie provide almost the same number of templates for content. With each of these tools, you can write copies, blog content, product descriptions, and more.
Winner: Considering the number of templates, all of them are in the same position.
One-Click Content Generator
Though the main purpose of content writing tools is to help writers to write content fast, some people might want to generate content with a single click. For this, AI writing tools often offer one-click content generation features.
With Rytr, you can write content just by selecting a particular category. You can then just click on the output tab and get content instantly.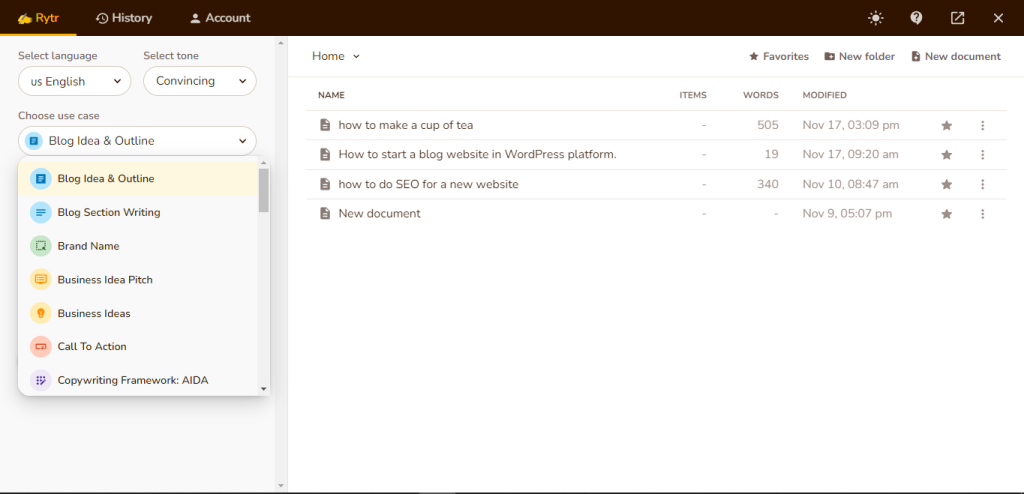 Jasper provides a similar feature to Rytr where users can simply select a recipe, give context and get the content instantly.
With GetGenie AI, you can select a template that you need, provide the necessary information and get the content. However, GetGenie is the only AI writing tool that allows writing inside the WordPress dashboard.
Winner: Each of the tools I have discussed here are providing the feature. So, there is no particular winner.
SERP Analysis
There is no point in writing content without knowing what your competitors are covering in their posts. That's why it is essential to perform SERP analysis before even writing a single word. The problem is, it is too time-consuming to check your competitors one by one. Also, tools for SERP analysis are expensive.
Unfortunately, only GetGenie provides the SERP analysis feature. You can just go to your WordPress dashboard and select GetGenie AI to write your content. Once you give the keyword, it will show all the data from competitors — keywords, headings, content, number of words, images, and more. It means everything in one place. GetGenie even provides google trends data for the inserted keyword.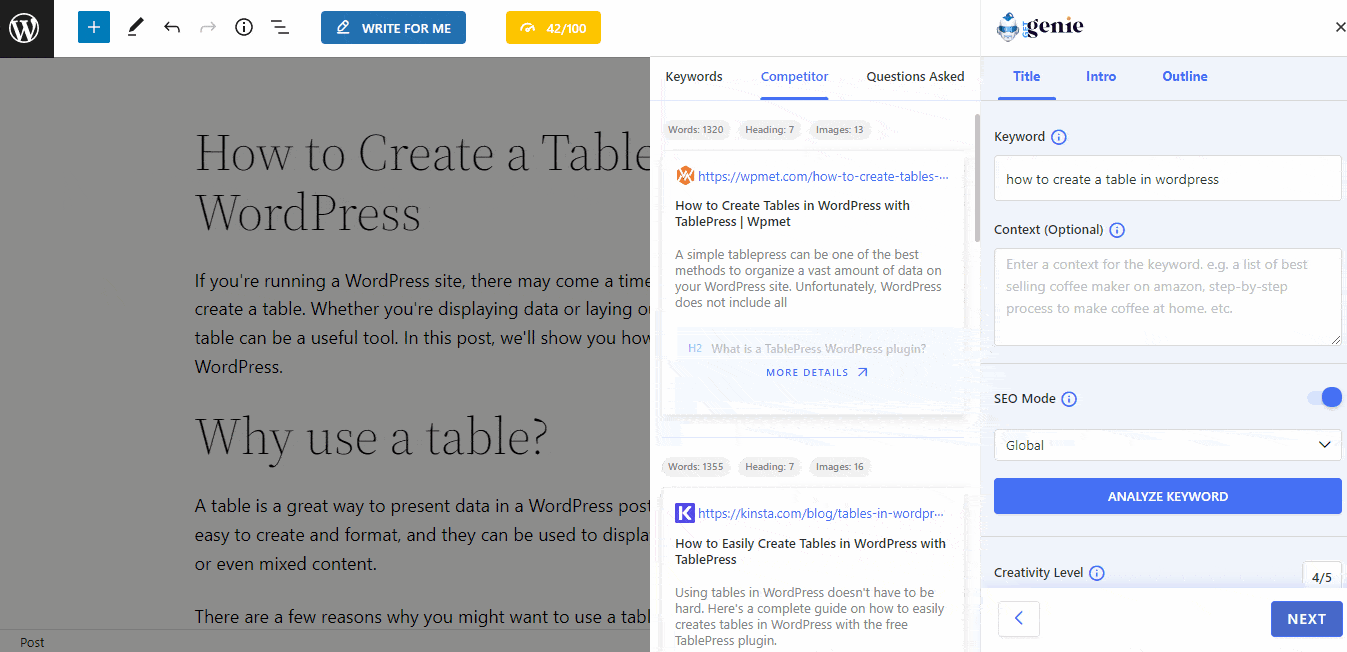 On the other hand, Rytr and Jasper don't have any features like this. You can only find relevant keywords for your search query.
Winner: Clearly GetGenie AI is the winner.
Keyword Suggestion
Most of the time AI written content fails because of SEO lackings. But when you have the keywords that are required to use in the content, you can expect to get better results. So, if your AI writing tool is providing that, you should go for it.
Let's first consider Rytr. They have a template named keyword extractor. You can give content for keyword research and select the number of variants. Rytr will generate a few keywords that you can target. However, the number of keywords is often not good enough.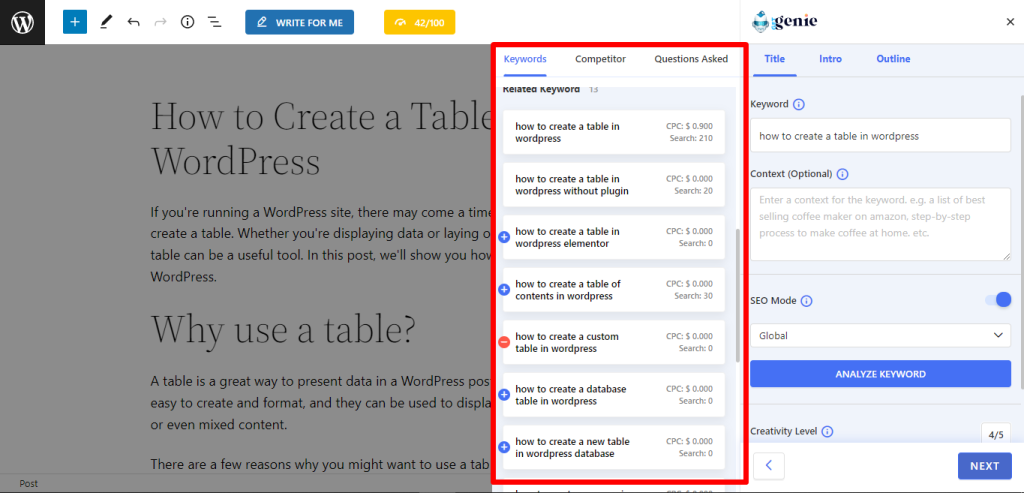 On the other hand, Jasper doesn't have any features like keyword research or keyword extraction.
GetGenie AI is totally different from others when it comes to keyword suggestions. It extracts all the potential keywords from SERP and shows them to the users. So, after generating the content, it becomes easy to optimize the content for target keywords.
Winner: GetGenie AI is the clear winner.
Content Outline Builder
The first step of writing content is building an engaging content outline. A detailed content outline makes it easy to cover all the necessary information inside the content. So, you might want to take the help of artificial intelligence.
Each of the AI writing tools in this list comes with a content outline builder feature. But the way of building outlines is different for them. For instance, with the Rytr AI writing tool, users can get keywords under the headings.
On the other hand, Jasper doesn't have such feature and needs additional resource for keyword research.
GetGenie is different. It provides a list of potential keywords to target. You can check the competitors' content outlines and hack some headings from them. It is time-saving and increases the chance of beating the competitors.
Winner: As GetGenie AI comes with competitors' outline details, it is the winner.
Tone of Voice
Humans are different and the same in their way of writing or telling something. What about getting different tones of voice with AI writer tools? Yes, it is possible with some popular artificial intelligence tools.
Rytr offers a wide range of tones of voice to generate a write-up. Some of the tones of voices are Appreciative, Humble, Awestruck, Joyful, Thoughtful, Humorous, etc. While generating the content, you can select the voice of tone.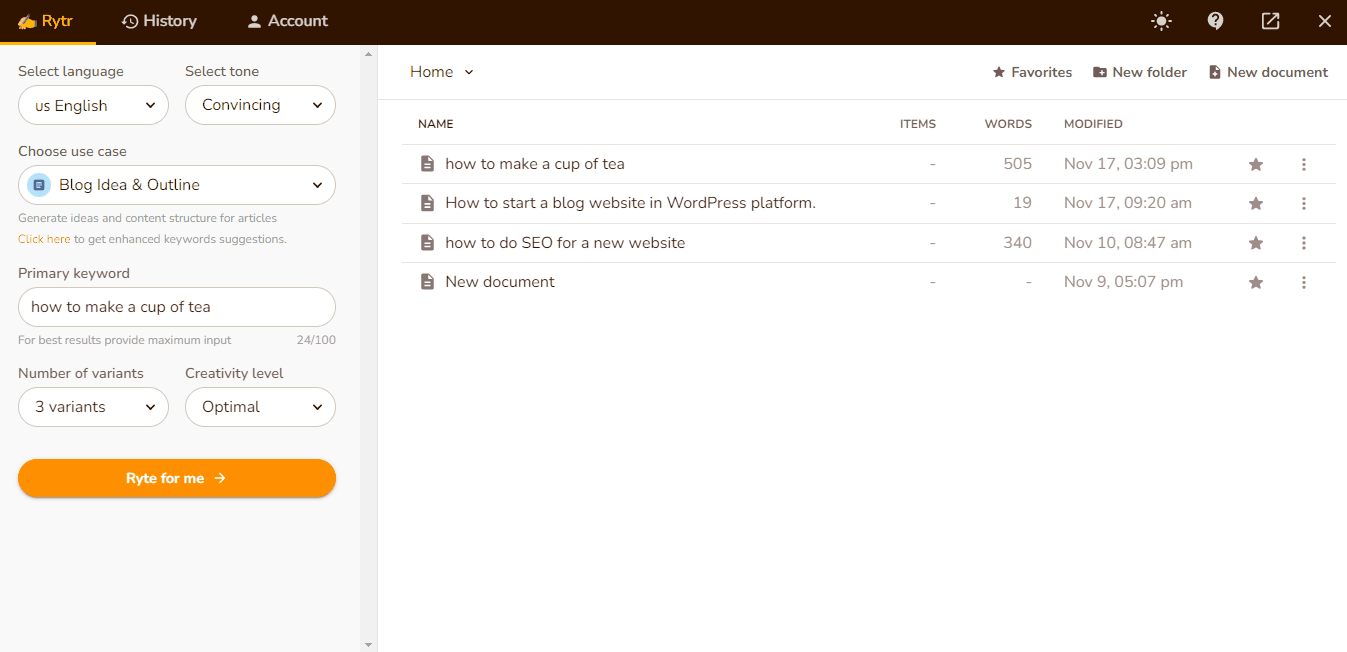 Similarly, Jasper offers different tones of voice to write content. For example, you can try joyful, sad, professional, angry, etc. voices.
But there are no such features with the GetGenie AI writing assistant. Though it is an upcoming feature of the tool, currently there are no such features.
Winner: Comparing the number of tones of voices, Rytr is the winner.
Multilingual Support
It is needless to say that most bloggers write only in English. But what about if you are running a content publishing business for a certain region? For instance, you might want to target only Spanish people for your blog. In that case, your AI writing assistant needs to have support for that language.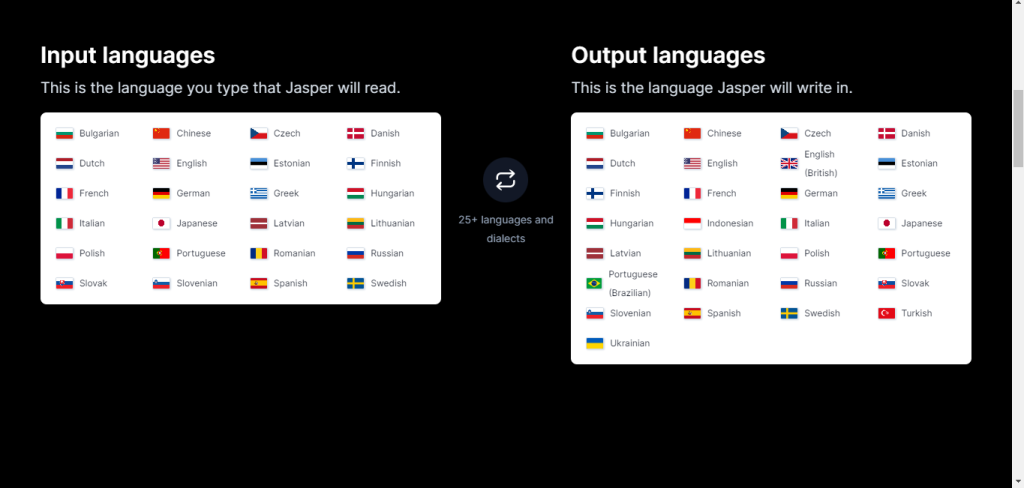 Thankfully, all the tools that we have discussed here come with multilingual support. So, you don't have to worry about it. However, the number of languages will vary for tools. For instance, GetGenie currently has only 5+ language support while Jasper supports 25+ languages.
Rytr provides almost the same number of language support as Jasper.
Winner: Rytr and Jasper are the winners of multilingual support.
Quick comparison table for Rytr vs Jasper vs GetGenie
| Features/Tools | Rytr | Jasper | GetGenie |
| --- | --- | --- | --- |
| Ready Templates | Available | Available | Available |
| AI technology that used | GPT-3 | GPT-3 | GPT-3 |
| SERP analysis | Not available | Not available | Available with details |
| Keyword suggestion | Available | Not available | Available |
| Copywriting frameworks | Available 2 frameworks | Available 2 frameworks | Available 3 frameworks |
| Social media copies | Available | Available | Available |
| Content score | Not available | Not available | Available |
| Content outline builder | Available | Available | Available |
| Plagiarism checker | Not available | Not available | Not available |
| Multilingual support | 25+ languages | 25+ languages | Available |
Frequently Asked Questions
After going through the Rytr vs Jasper vs GetGenie comparison, you might still have some queries. For this, check out the following frequently asked questions and answers.
Is Jasper worth it?
If you consider only writing content not any kind of optimization, Jasper could be a good tool. But considering the price and other features, GetGenie is the best alternative.
What is the most promising AI tool?
Currently, GetGenie AI is the most promising AI writing tool in the market. If you check the roadmap of GetGenie AI, you will see that the tool is continuously releasing new features and promised to give more in the upcoming days.
Does GetGenie AI content score work?
Yes, GetGenie's AI content score works great. The scoring system works based on an advanced algorithm that analyzes multiple factors. If you can maintain a content score above 80, you can expect to get better results.
Can I rank AI-generated content?
Yes, you can rank AI-generated content on the SERP. But you need to be aware of content quality, optimization, and authenticity.
Wrapping Up
After reading the Rytr vs Jasper vs GetGenie AI writing assistant comparison, now you know that GetGenie is the ideal solution for you. It is time to start writing all your content and save time to focus on other marketing materials.