AI vs Manual Content Writing: Who Holds The Pen?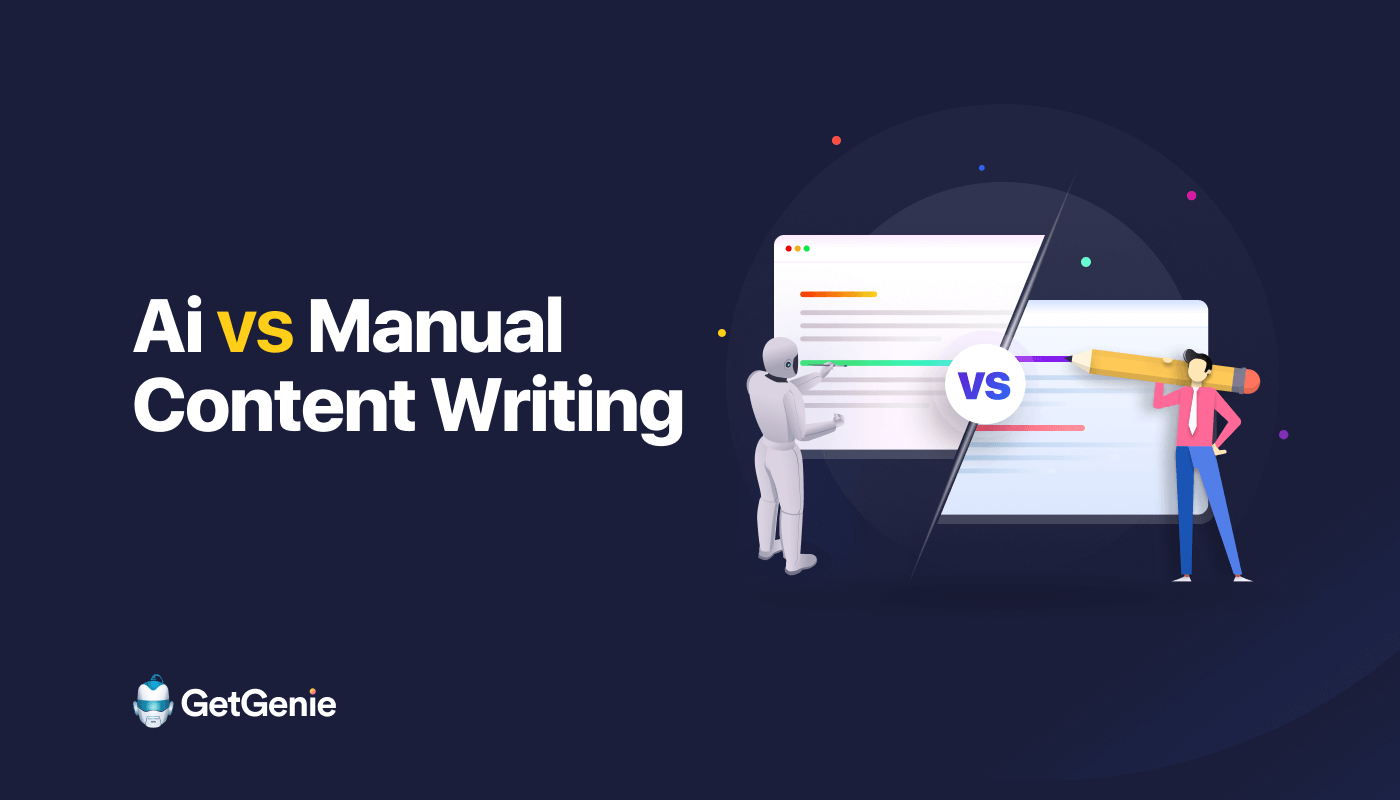 The world of content creation has experienced a notable transformation due to the substantial revolution of artificial intelligence. Due to this immense revolution the debate of "Ai vs manual content writing" has become very common among writers, marketers, and business owners.
Therefore, it has become of paramount importance to unveil the conclusion of Ai vs human which is the best for content creation. So, here we go.
In this blog, we will walk you through the nitty and gritty of the comparison of Ai vs manual content writing. Also, we will conclude which one is the best for content creation. So, let's take a tour of Ai vs manual content writing.
Ai vs human-generated content: Basic difference
| Ai created content | Human written content |
| --- | --- |
| 1. It's easier to maintain consistency with Ai. | 1. Humans can't maintain consistency while content creation. |
| 2. Ai can generate wrong data due to insufficient resources or manipulation by resources. | 2. Like Ai, Human-generated content is not error-free. There are high possibilities to find grammatical and data errors in human written content. |
| 3. Ai needs less time for content generation. | 3. Human needs hours to write a complete blog post. However, it depends on the skill of the writers. |
| 4. Ai output is dependent on human input. | 4. Humans don't require input like Ai. |
| 5. Ai uses available online resources to make decisions. | 5. Humans can think critically and provide logical output. |
| 6. Topicn ideation is easier and faster with Ai which takes less than a few minutes. | 6. Humans need more time and effort to generate a list of topics for blogs or any other content. |
| 7. It's easier to regenerate content using Ai. | 7. Tedious task for a human to regenerate or rewrite content. |
| 8. It's highly scalable for vast production. | 8. Not as scalable as Ai. |
| 9. Can generate content in multiple languages. | 9. Not possible to generate content in multiple languages without the help of a translator. |
What is Ai generated content?
This refers to any writeup or content that is written by Ai. For example, if you use artificial intelligence for content writing then, the generated writeup will be called Ai written content.
These Ai content generators analyze human input, built-in algorithms, and available online resources to come up with well-fitted content. Although, the results can vary according to the given inputs.
Ai vs manual content writing: Advantages
In this cut-throat digital world, Ai and manual content both carry noteworthy significance or strengths for quality and rapid content creation. Where Ai is best for fast content research, creation, and optimization; manual writing is well-known and preferred for quality writeups. Besides, these bring together many more opportunities. Let's explore the benefits of Ai and manual content creation:
Opportunities of Ai created content
Here are the benefits that you can enjoy through Ai written content:
Swift content research and ideation: Ai has achieved remarkable success in the field of content research and ideation. It is capable of generating a long research plan in a fraction of a second.
Efficacious competitor analysis: Strategic planning is the pillar of a successful business. And this planning can be more effective if competitor analysis is properly carried out. Thankfully, now Ai is highly trained and skilled in competitor analysis so that you can gather all competitor data in one place with just a few clicks.
Rapid content writing: Besides content ideation and competitor analysis, Ai is also prominent for fast content writing. By providing appropriate instruction or input, Ai will hand you the content in no time that you're asking for.
Better optimization: Ai is also competent in content optimization. It will give you suggestions based on rich algorithms and Google ranking factors so that you can get easy guidelines to optimize your content.
Easy content regeneration: It's one of the miraculous features of Ai that allows you to regenerate content as many times as you want.
Consistency and Scalability: Ai can maintain consistency while generating content. Besides, it's also scalable for vast production. You can blindly rely on Ai tools for consistent output and scalable production.
Multilingual support: Ai can also cover multilingual writing. Most of the Ai writers on the market come with multilingual content writing abilities which eliminate the hiring of a decipherer or using a translator.
Data-driven insights: Artificial intelligence is highly beneficial for generating data-driven insights which assists you to come to the right business decision.
Opportunities for human-written content
Human-written content also includes opportunities like Ai writeup. Let's check out the primary opportunities associated with human-written content:
Creativity and originality: Human-written content is creative and original that is rich with the information your audiences are looking for. With the edition of human intelligence, powerful content can be generated that ranks well on SERP.
Personalization and emotional connection: It's crucial to establish an emotional connection with your audience. Human writers can write content sympathizing with the pain points of their targeted audiences. Besides, personalization is also involved in human content. As a result, these bring greater chances for engagement and conversion.
Tutorial content creation: It's another excellent advantage of human-written content. Because manual content writing will give you the privilege of writing tutorials the way you want.
Storytelling capability: Storytelling indicates writing story-like content that undoubtedly boosts engagement. Human writers can exactly utilize this capability and bring better results.
Holding brand voice: Writers can keep the brand voice intact in their content, resulting in a successful promotion.
Ai vs manual content writing: Limitations
The debate about whether Ai or Human is suitable for content creation can be concluded by checking out their demerits. So, here we have listed down all the shortcomings that come along with these two content writing:
Drawbacks of Ai content
Despite the facilities of Ai content, it also includes demerits that are hard to ignore. Here are the primary drawbacks of Ai written content:
Lack of human creativity: The absence of human creativity is the biggest disadvantage of Ai writers which can never be overcome no matter how advanced revolutions happen in the landscape of artificial intelligence.
Repetitive content: Sometimes artificial intelligence generates repetitive content that is detrimental to a brand or business. This harms not only a brand's reputation but also SEO which can make you suffer in the long run.
Ethical concerns: It doesn't fit for a writer to completely rely on these tools. That's why most of the time writers partly use these tools for research and content creation.
Absence of human emotion and empathize: Ai neither write with emotion nor empathize with the target audience.
Lack of brand tone: Maintaining brand voice in your content is tough when you're writing with Ai. Due to this reason, people move from Ai to human writing.
Require human guidance or input: Another biggest limitation of Ai writing is it needs human guidance or input. Without appropriate input, it can't provide you with the result you're looking for.
Drawbacks of Human written content
Human written content, while rich in artistry and uniqueness, it does include some drawbacks which should be discussed beforehand. So, here are the limitations of human written content:
Time and effort-consuming: Manual writing can be a deadly dull task since it requires lots of time and effort. That's why sometimes quality might fall apart because of wearisome.
Less scalable: Manual content creation is less scalable than Ai. You are only able to generate a few pieces of content if you opt for manual writing.
Human errors: Human written content is not unerring like Ai. That's why, grammatical error and plagiarism checking is a must in human-created content.
Expensive content creation: This content creation is expensive as you need to hire multiple writers for multiple projects.
Limited expertise: Writers won't have the same level of expertise on every topic. They might feel more comfortable writing on specific topics.
Ai vs human content: Use cases
Language adaptation: Ai is trained to generate content in all the supported languages. Whereas, you need to hire an interpreter or use a translator to generate multilingual content.
Critical thinking and problem-solving: Humans can think critically and solve newly arrived complex problems. On the contrary, Ai can create general outputs and solve predefined problems based on whatever input you provide.
Consistent and scalable output: Ai is well-known for its consistency and scalability. But, humans can't maintain consistency while generating output.
Personal touch and brand-ability: Humans can personalize content and hold the brand voice in their content. On the other hand, it's quite hard for Ai to do it. Although, it can be possible by offering optimizing input.
Future collaboration of Ai and human content creation
Human or Ai no matter what you choose both include some drawbacks and significance. Although the bliss is one complements another. It means the limitation of Ai is the strength of a human writer. Therefore, the sagacious attempt is to utilize both so that the world can witness an unprecedented fusion in content creation. Here are more reasons why you should collaborate with Ai and humans:
Hybrid content generation:
Hybrid content generation means creating content combining human effort and artificial intelligence. This model combines both Ai and human strengths and generates more polished outputs. For example, you can redeem the fast research and content writing abilities of Ai and maintain its creativity, originality, and personalization by optimizing and writing some parts manually. Now the question is which Ai and SEO assistant?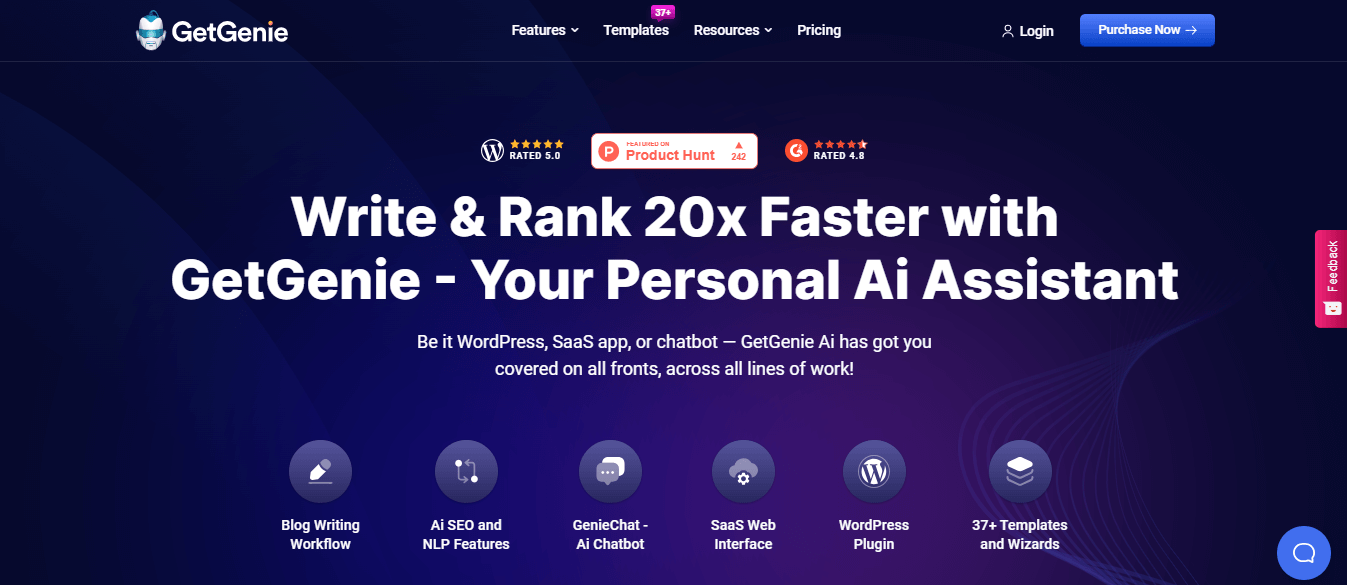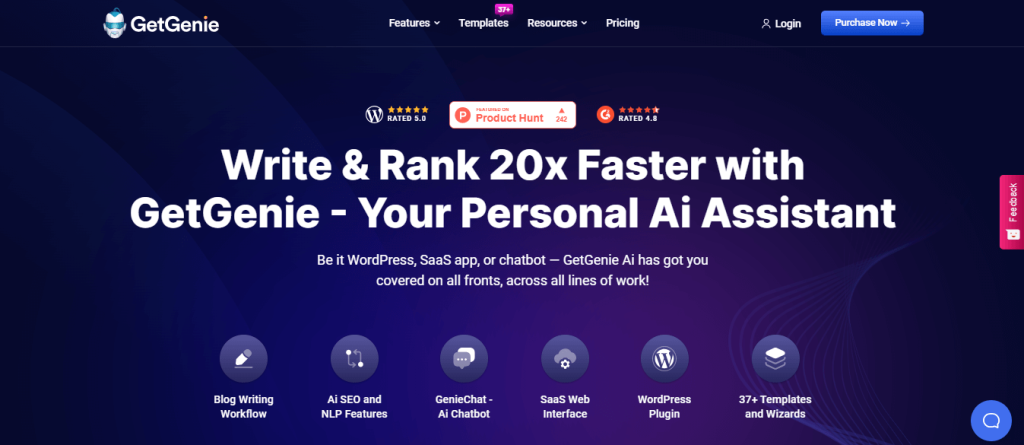 WordPress Ai writing assistant, GetGenie can revolutionize maximum content writing tasks for you. This Ai writer comes with the Blog Wizard template for one-click blog generation and step-by-step content creation. Besides, Blog Wizard includes keyword research, competitor analysis, SERP Visualiser, H2H comparison, meta description generation, and outline creation.
On top of these exclusive features, if you're not a WordPress user, you can also utilize the webview of GetGenie to generate blogs or any type of marketing content with its 37+ Ai templates.
Tool-driven content with better optimization:
By following the hybrid content generation model, you can write highly optimized content that ranks without a hitch. Ai like GetGenie shows content scores and suggestions for better optimization after writing down the content. These scores are given based on Google ranking factors and built-in algorithms.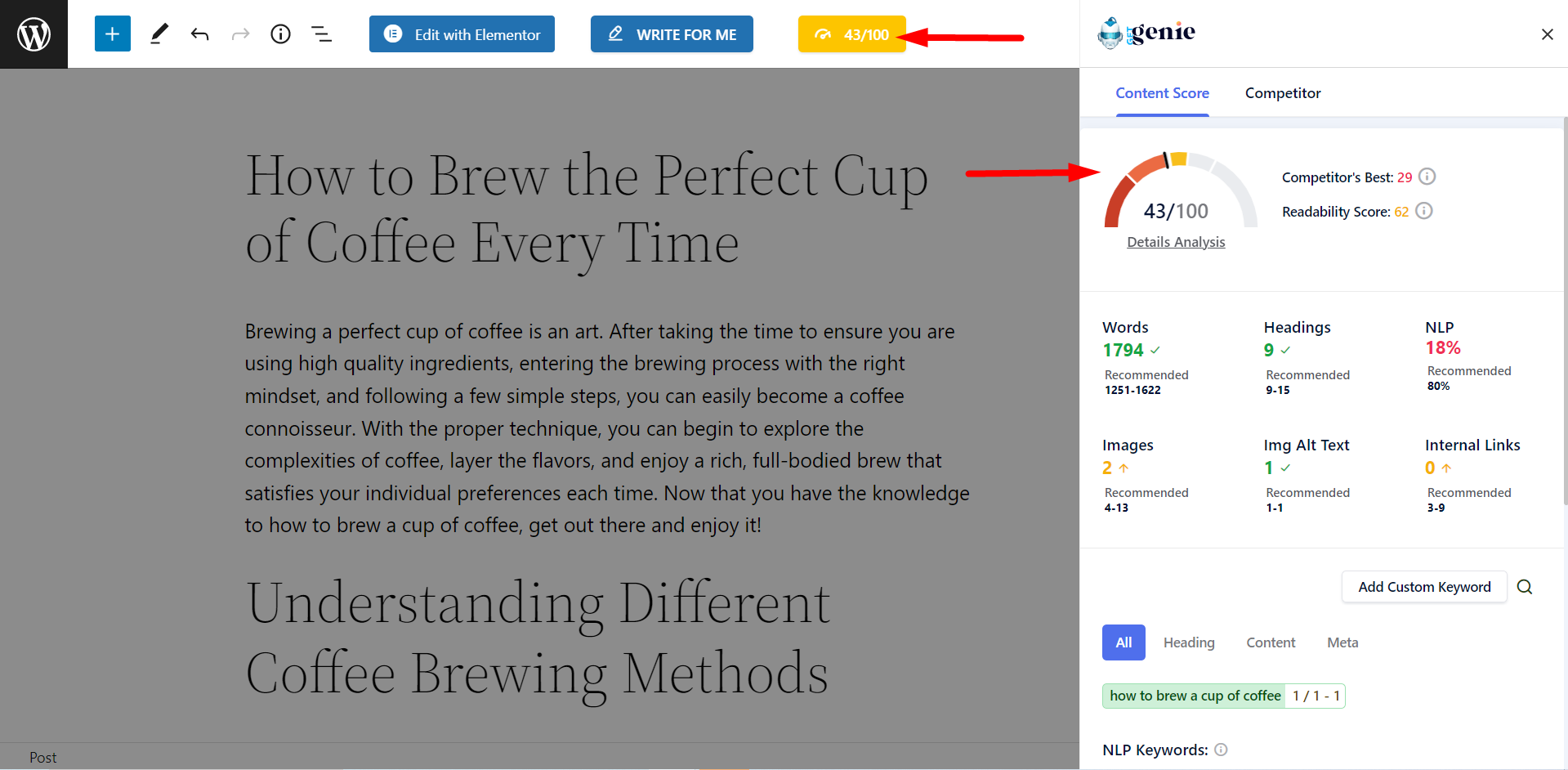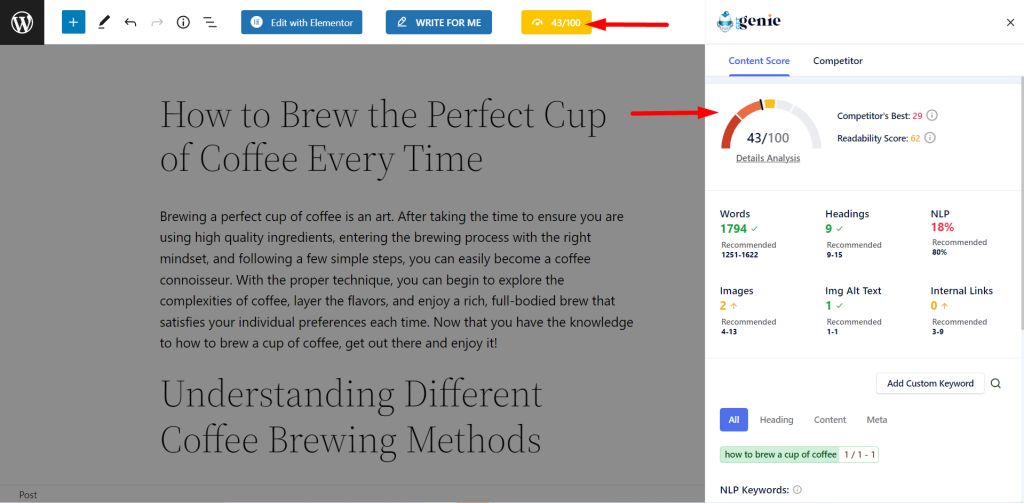 Furthermore, after optimizing content with GetGenie, it has the option to identify plagiarized content.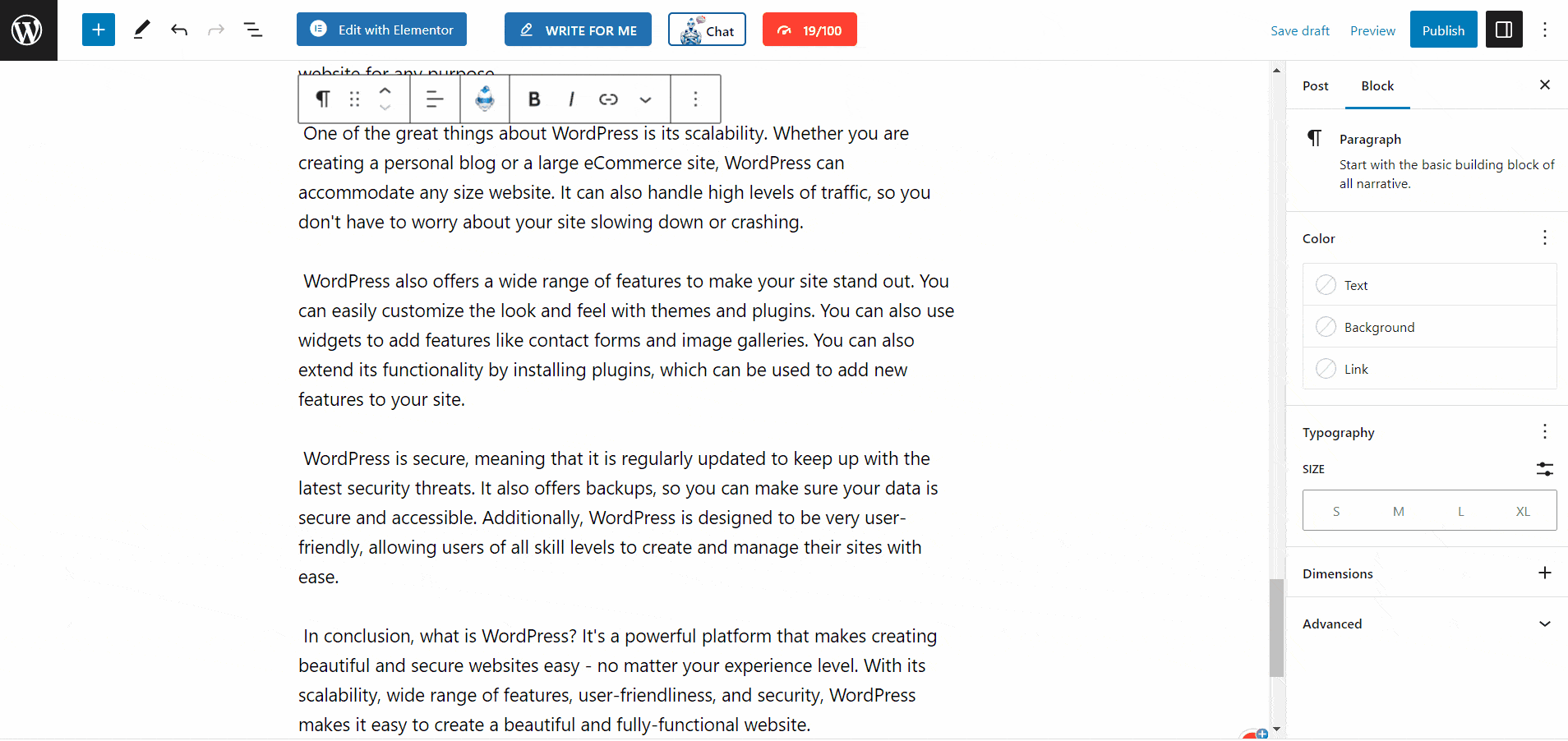 Wrapping up
The differentiation of "Ai vs manual content writing" has included valuable insights regarding the merits and demerits of both solutions. Also, the discussion makes it evident that neither Ai nor human writing stands alone as a definitive solution. Instead, a hybrid model seems more pertinent to strengthen content creation.
Because this hybrid model overcomes the shortcomings of Ai and human content writing. So, reinforce your content creation by leveraging the adroitness of Ai and human writing.