How to Scale Content Marketing Growth for Maximum Result: 8 Steps Guide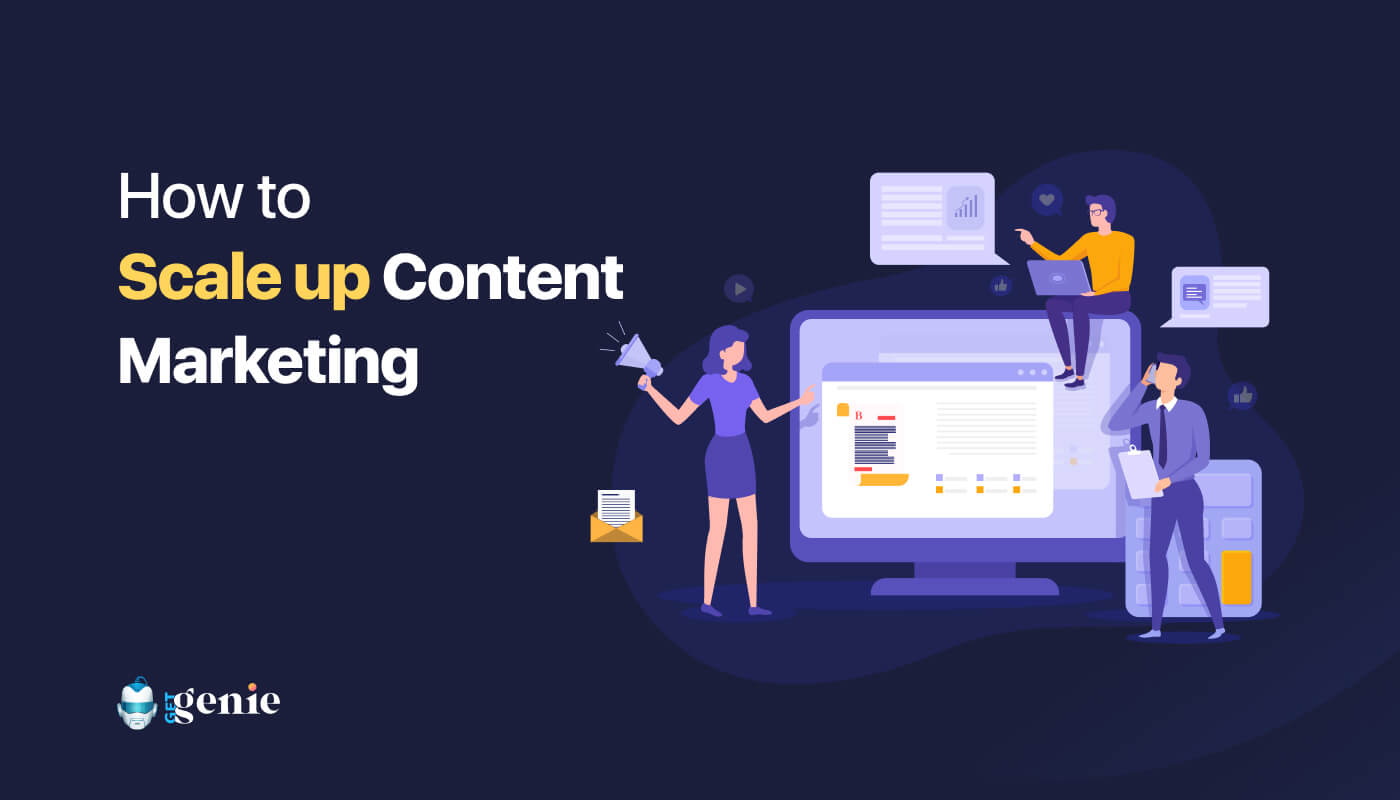 Does your content marketing strategy bring out the desired outcome?
Are you one of those who don't believe content marketing needs a proper marketing strategy?
Content marketing when done on the right scale and the right way can multiply your brand's success.
Creating content that is valuable to your customers and will bring the success you crave needs a plan.
An effective content strategy needs to be followed with proper execution to get you results.
But how to come up with a high scale content marketing strategy? Or, how to scale content marketing for better results?
If you are not sure about how to come up with a marketing strategy to scale up your content marketing, then this blog is for you.
What is content marketing?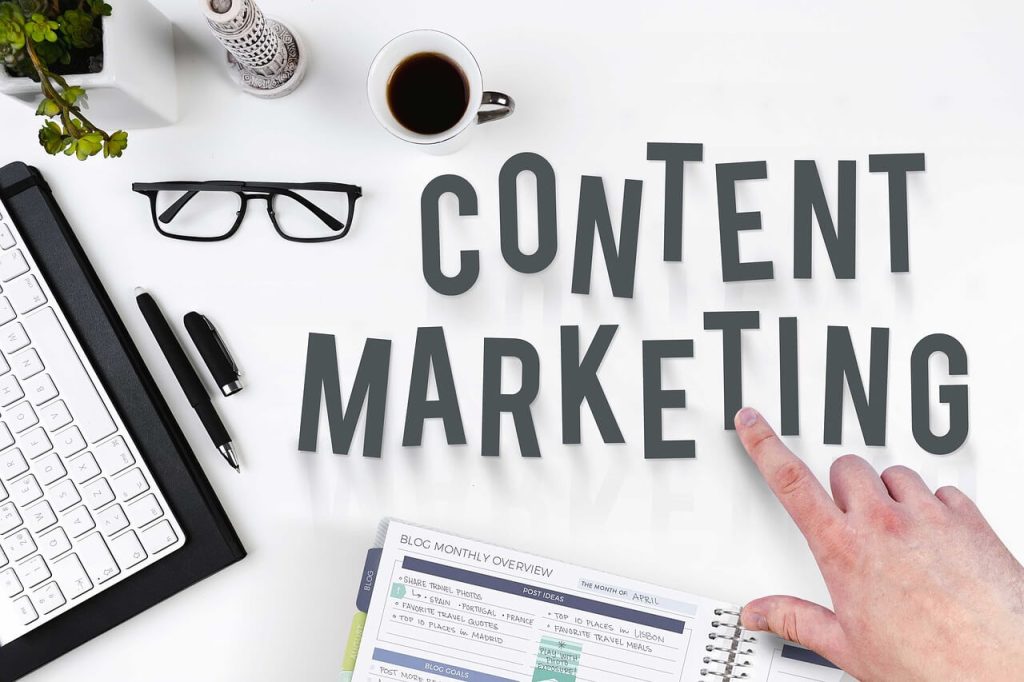 Content Marketing is a kind of marketing strategy that focuses on creating and distributing different forms of content such as blogs, videos, podcasts, infographics, etc consistently to a specific audience with the aim of increasing sales in the long run.
Content is king

Microsoft founder Bill Gates
Content marketing is focused on the fact you can convince users to buy the product by highlighting the benefits rather than features. So, usually, it makes a strategy to provide different sorts of content which will eventually convince your users how your product can add value and solve their problems.
Content marketing is an effective way of getting success because as Gates says it's time for the content to rule the world.
🤔🤔 Nowadays many people are taking the help of
AI writing assistant to scale their content marketing
process. Is it a good idea to rely on AI tools for scaling content creation and marketing❓❓
👉👉 Click
here
to find out.
Why scaling content marketing is so important
You should always think big when it comes to content marketing because the benefit of scaling up content marketing is not ignorable. Here are some of the reasons why you should scale up your content marketing:
✅ Become your customer's go-to brand:
Scaling content marketing can turn your brand into your customer's go-to brand. Customers don't have time to find new brands. Usually, most people tend to stick to a brand they use and are fairly satisfied.
If you want your customers to change their minds and try out your brand scaling content, then you must scale up your content marketing strategy. Besides, you can also adopt the elements of content marketing strategy.
✅ Gain Customer trust
People tend to trust authority when someone knows what they are doing. And having a strong consistent brand voice at a large scale, using a great content marketing strategy can build a strong voice for your brand and customer's trust.
Besides, having a consistent brand voice that knows what they are doing makes your brand recognizable and distinct in the crowd of thousands of other products.
✅Staying Relevant
Staying relevant is the game one needs to play to survive. Nowadays people have too many options and they are too busy on their favorite social media platforms. Unless you make efforts to stay relevant through great content on popular platforms, you will very likely lose your customer loyalty.
Posting different types of content on social media can up your game of staying relevant. However, you need to target a defined audience for your product.
✅ Increase website traffic, engagement, and conversion
When you promote your website on social media platforms through varieties of content, it will increase traffic to your website. And don't forget that SEO-optimized content can also bring you organic traffic.
With the increase of website site traffic resulting from a smart content marketing strategy, you will also enjoy more user engagement and conversion on your site.
✅ Market Product using AIDA
AIDA stands for Attention, Interest, Desire, and Action. These are four steps of nurturing an audience into a customer. And content marketing can help you to execute this marketing strategy most effectively.
For example, you can build awareness through informative blogs, generate interest through newsletters, create desire using demos, ebooks, etc., and finally collect leads through case studies.
Now that you know how important content marketing is to growing your business, let's have a look at how you can form a flawless content marketing strategy.
How to scale up content marketing: 8 steps guide to ensure content marketing growth
Here are some useful tips that businesses from any niche can follow to get the guide on how to scale content marketing or ensure content marketing growth:
Step #1: Break down the content creation process into smaller steps
You can think of content creation as one job but if you want to produce quality content then it's recommended to break down the content creation process into tinier steps. Breaking down the content creation process into multiple smaller steps will ensure all the steps are completed efficiently giving a great result. This might become one of the best content-writing practices.
Creating an SEO-friendly blog can be divided into different steps to scale content creation:
Finding keywords
Choosing the content format
Creating content outline
Writing the content
Graphics & Screenshots
Editing
Publishing Content
Promoting Content
Now if you are thinking "I can do all these steps by myself", then you are right. But the question is if you do all the tasks by yourself then how many blogs can you publish in a month to scale up content creation?
With all due respect, even if you put your best efforts together you can not produce more content in comparison to content produced when multiple experts do their part.
And that's the reason, segmentation of content creation tasks is so important.
Note: You don't necessarily follow the steps I have just mentioned but do make sure to divide tasks into reasonable subtasks that work for you.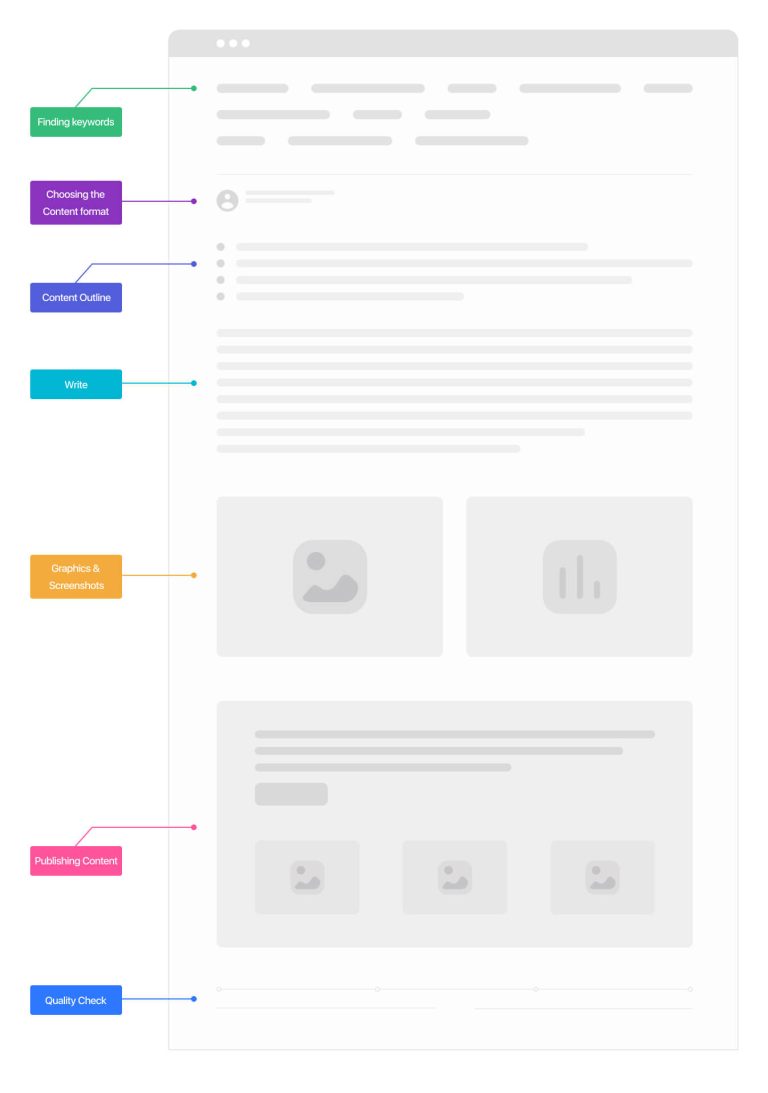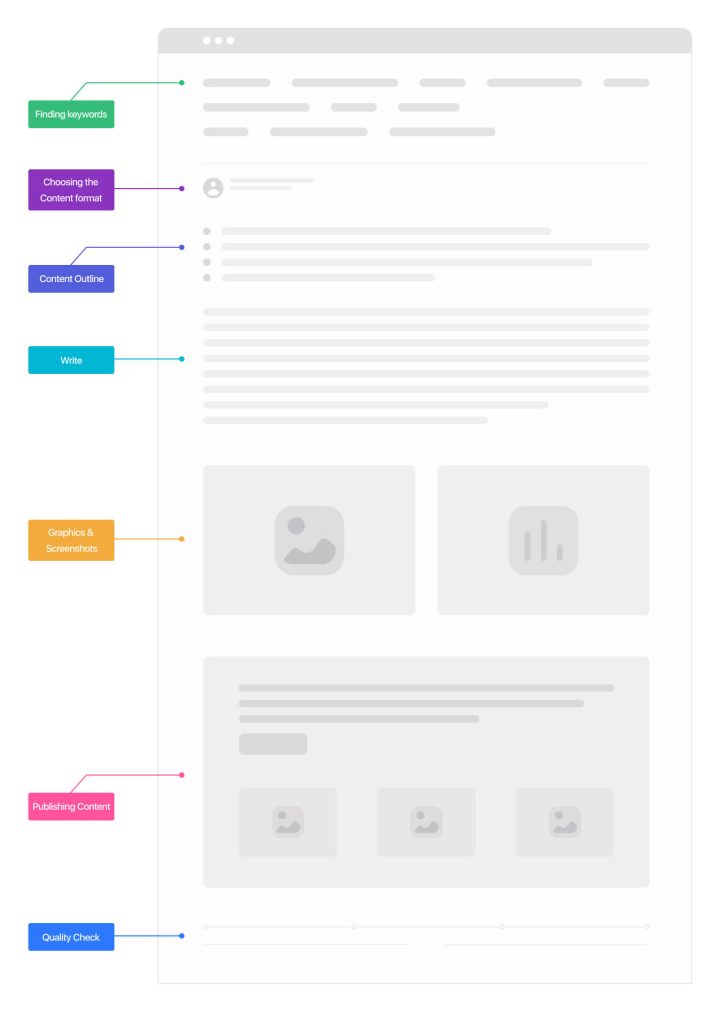 Step #2: Create an organized content calendar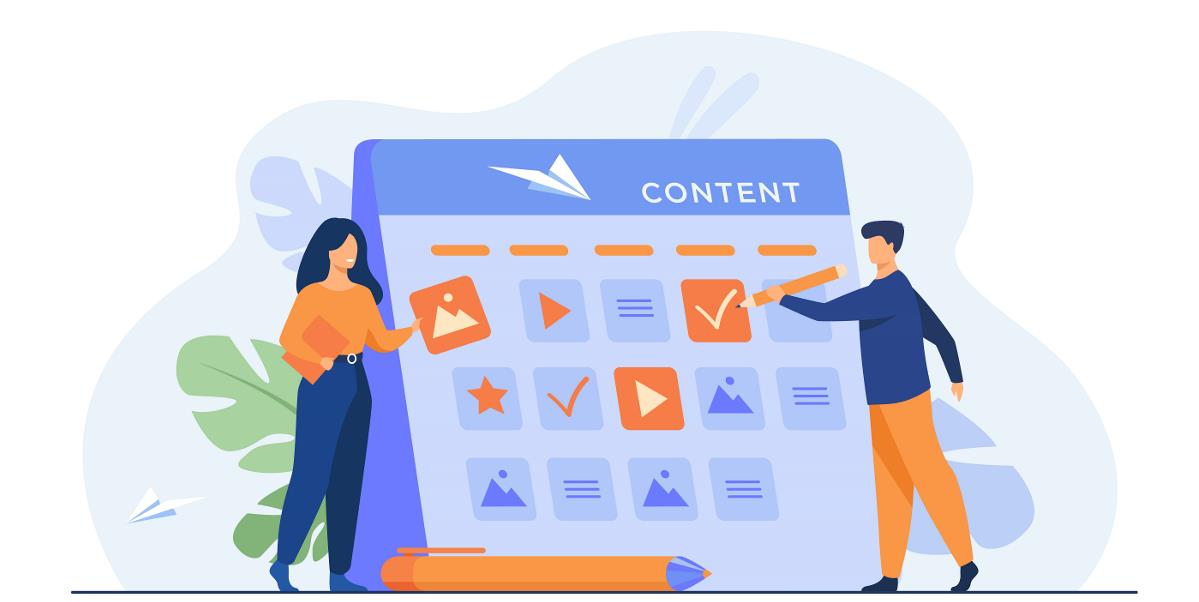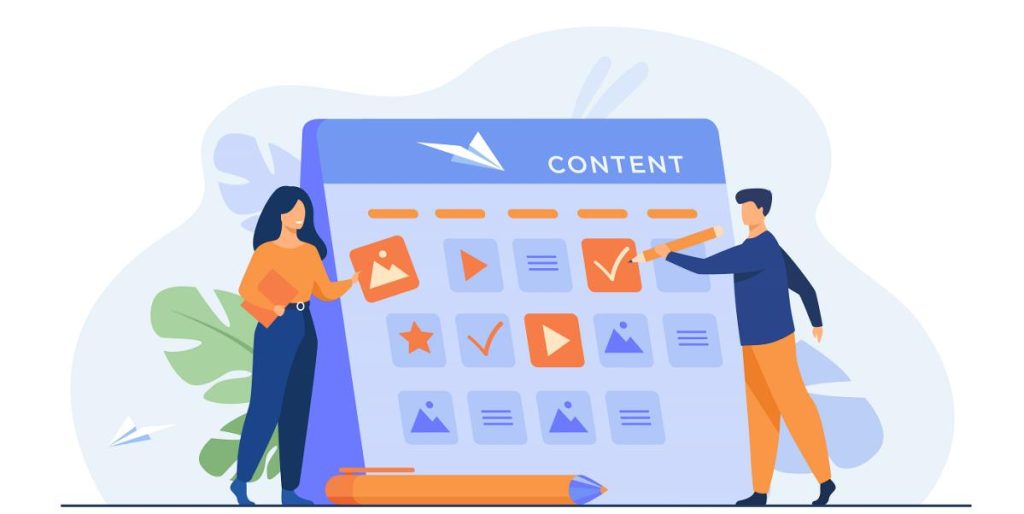 Once you have your subtasks, make a calendar to organize all content with the subtasks. This way you will know which content is at which stage of the creation process. You can use Google Sheets to organize and maintain your content calendar.
Maintaining a Google sheet to maintain your content calendar also helps save communication time as all the related people can see the progression of each content. So, your editor won't have to go asking your writers to know when they will be finished writing a piece of content.
You should organize a content calendar for different social media platforms as well.
Note: If your content marketing calendar is too big to maintain in a Google Sheet then you can opt for tools like Asana to maintain your content calendar.
Step #3: Plan out 3 months' content in advance
Speaking of organized content, you should keep in mind that it's always a good idea to plan 3 months of content.
Why 3 months specifically? Well, I won't say you can't plan content for more than 3 months. But three months is a good duration because you don't want to plan content too far in advance.
Because then it may put your content's relevant factor in danger. You should always go with the trend that's running in your niche and this seems like a good duration to prepare a calendar with the trends
Along with the trends, you should also consider the keyword search volume and your audience while preparing and planning content.
These 3 months' content is not something you can not change. Depending on different events and requirements you can tweak the calendar once in a while. However, don't change too much as it will spoil the content marketing strategy that you had started with. That's why preparing 3 months of content is the best practice to follow.
Step #4: Create a general guideline for your content
As I have mentioned earlier you need to have a consistent tone in your content to gain customers' trust. And to maintain a consistent tone it's important to have a general guideline.
General guidelines can include the tone you want to portray in your content, the structure of content, some grammatical guidelines, SEO guidelines, graphics-related guidelines, etc.
Usually, a team has multiple people working on different content that will go on the same site. Therefore, it's always helpful to have a guideline each one follows to depict the same brand voice in their content.
Step #5: Create outlines for upcoming posts to scale content creation
Some writers think they can start writing without a vision and come up with impeccable content. Honestly, it might be true but for the rarest breed of writers.
And for the rest of us, preparing an outline beforehand for writing the blog is a more practical approach to coming up with an efficient blog that will not only rank on the SERP but also engage your audience.
So, when you are about to start a new blog, first come up with the heading or the outline that you want to follow with the important information you want to cover on those heading. This way, you have a proper structure to follow to produce a perfect blog.
In addition, you don't have to worry about missing out on adding information which could be an issue in case you are planning to write spontaneously without a proper outline. Moreover, preparing an outline beforehand will allow writers to jump to the writing immediately and solve the problems of creating content at scale.

Step #6: Write content based on firsthand experience
Though it may not apply to all writers, write-ups based on experience tend to bring in a lot more success than those written from a general perspective.
Why? Because people love proof!
Just like people tend to buy products with great reviews from other people, they love to read stories that talk about a strategy that someone already used to gain success.
Talking about a strategy that already worked for you is always a better idea than telling people about a strategy that may work that you have not tried yourself.
So, if you have success stories that may interest your audience, it's always recommended to incorporate those stories into your content.
Step #7: Hire qualified people with specialized skills
It seems so obvious! I know but it's still worth mentioning.
Why?
Because for some reason when it comes to content creation, especially blogs and articles, people tend to think having a person who can put together a few words is good enough.
Well, it's good enough to produce content that is useful.
If you want to create quality content then you need to hire writers who are experts in your niche. Don't consider your audience a fool. If your content is not of good quality, it's highly likely they will reject it even if SERP doesn't.
Another mistake most people make is not hiring enough staff. If you want to scale your content marketing strategy then you will need enough manpower. Because with less manpower, you can never imagine getting the solution to the problems with creating content at scale.
You can expect to have a team of 2 to 3 members and scale your content marketing strategy to go big.
Ideally, to scale up your content marketing process, you need to have the following posts on your team:
☑️Content Writer: Hire qualified writers who know your niche. Only when the writers know your niche and are experts can they come up with content people will buy. Writing a 2k words technical how-to blog with a lot of jargon will not add any value to your customers.
☑️ Editor: If you want to scale your content marketing, you will need an editor who will dedicatedly review your content to ensure all the content are aligned with your company vision and content guideline. Trust me, being an editor is a full-time job and you will need a separate editor if you want to grow your content marketing.
☑️ Content Strategist: It might come as a shock, but it's not mandatory that a good writer will also be good at coming up with new ideas and creating a content marketing strategy. There, hire a content strategist who will work on creating an impeccable strategy to bring up an effective idea that will make sure all your marketing efforts are benign as a result.
☑️ SEO Expert: Mostly a content marketing strategy's success is based on organic traffic. And you need to have a first-class SEO game going to seal the organic traffic. Hire an SEO manager who will finalize the keywords you should target and also ensure your content is optimized for those keywords.
☑️ Social Media Manager: Having great content needs to be followed by great promotion. For that, you should hire a social media manager who will manage the promotion of content on different platforms. Remember, each platform is different so the promotion style should also be different. Besides, social media email marketing is also an area one must explore for promotion.
Step 8: Repurpose content should be part of your Content marketing strategy
So much work goes into creating one piece of content. Should a piece of content be used only once?
Hello no!
You can write once and use that multiple times to multiply the results.
Repurposing can be done in many ways. You can create a different version of the same content for example create a video of your how-to blog. This way, you can target the audience who loves to read as well as the audience who prefers video tutorials.
You can also repurpose the same article by sharing it on different platforms like Medium. Therefore, This will solve the problems of creating content at scale.
Final words on scaling up a content marketing strategy
Learning how to scale content marketing is a continuous process of working, and improving from your previous actions/mistakes. I have tried to put up a content marketing strategy that you can follow irrespective of the niche you work with.
However, scaling up content strategy requires manpower, and hiring the right manpower requires money. So go through the blog again and list down the tips that fit your ambition and budget.
One thing you need to keep in mind, you don't need a bunch of people and prepare content for a whole year in advance to be successful in content marketing.
Take the first few steps, break down the tasks, organize your content, come up with a proper content calendar then take the further steps according to your ability, need, and speed.
In case you are thinking of using an AI writing tool to scale your content marketing, you can use GetGenie AI. This AI assistant software actually does the magic of granting all your requirements for writing content and optimizing for SEO. With this software, you will get —
SAAS as well as WordPress interface.
SEO features such as keyword research, competitor analysis, H2H comparison, SERP visualizer, etc.
Landing Page Copies
Product Descriptions
Headlines/Taglines
Social Media Copies
WooCommerce wizard
Email Copies
Video Scripts
and Fictional/Non-Fictional content.
Yes! You read it correctly. It can produce practically all sorts of content you can ask for — that too in a few moments. This tool is capable of doing the number of tasks that previously 10+ tools would do to scale content creation and marketing.
All the best!
Do share with your content marketing strategy, if you want to add anything to the list mentioned above.