Top 5 Ai Tagline Generators for your Business' Quick Branding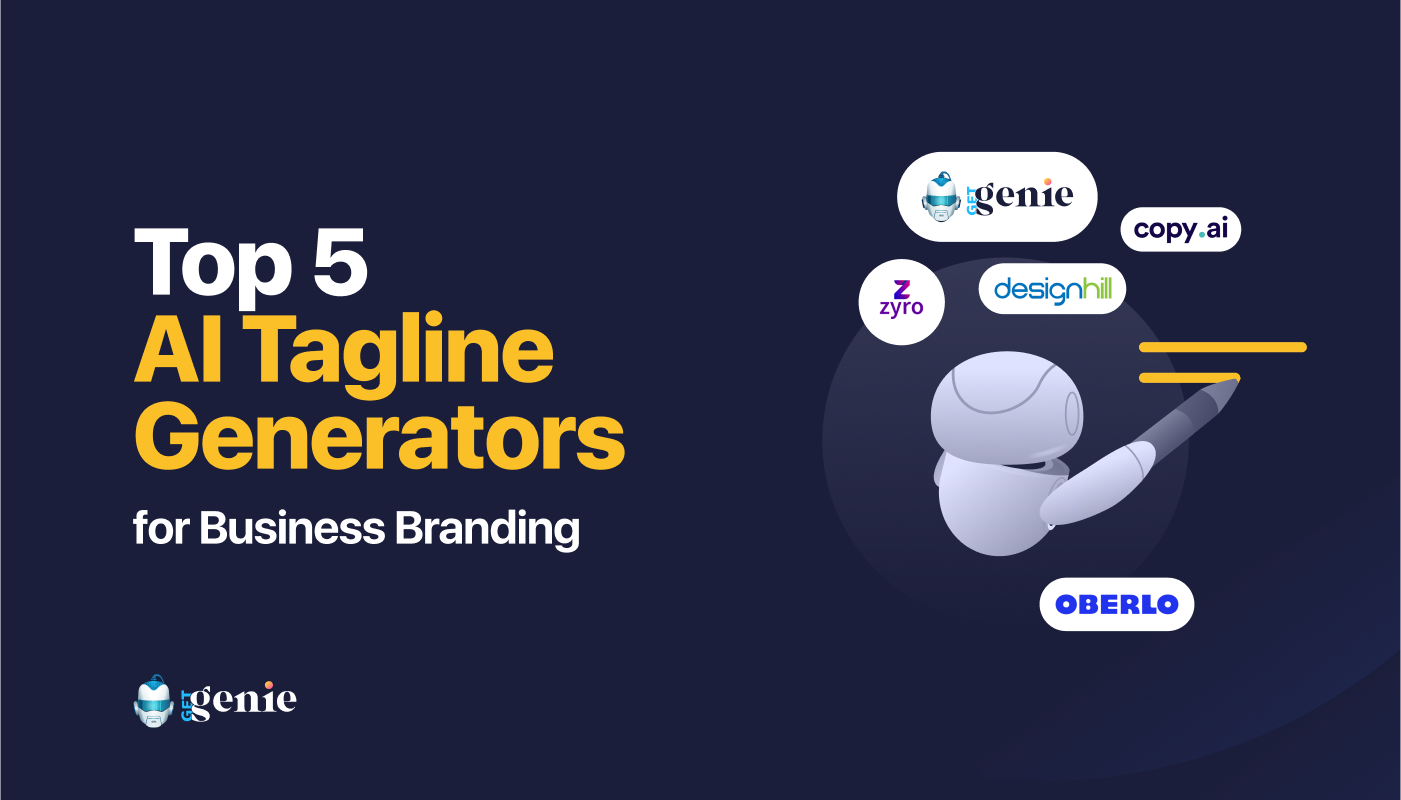 AI tagline generators have hogged the limelight lately. Perhaps you are thinking of availing of these AI tools to generate your business tagline and speed up the process of branding. But how to figure out the best-in-class tagline creator AI tools?
That's why I have come up with this write-up. I have conducted thorough research on the premium AI tagline generators available in the market. And I can assure you that these AI tools will generate peachy business taglines in a matter of seconds.
Before I dive deep into the top 5 AI tagline generators, let me give you an overview of AI tagline generation. This will be helpful if you have a shallow idea about AI tagline generation.
What is AI Tagline Generation:
When we say AI tagline, that doesn't mean that the core definition of the tagline changes. To put it simply, AI tagline generation means creating a punchline or a catchphrase for your business with an AI tool. Here, instead of a human being writing the tagline, an AI tool does the job.
However, some of the AI tagline generators available in the market lack creativity, consistency, and relevance to generate taglines or slogans. So, you need to be selective before grabbing one.
Why Make Use of AI Tagline Generators:
If you have your own business, you should already know how taglines uplift your business or brand. When it comes to AI for tagline generators, they go one step ahead to level up your business. Wondering how?
Let's take a look at some of the perks AI tagline generators can bring to your business-
Generates taglines in a matter of seconds
Maintains premium content quality
Saves your precious time
Easy to deploy
Creates multiple sets of taglines
You'll find numerous AI tagline generators free which come with premade templates. So, if you wish to turn your business into a brand in a short space of time, tagline creator AI tools can play an effective role through the quick generation of taglines. So, not a bad idea at all to let AI taglines communicate your brand's message!
Top 5 AI Tagline Generators for Quick Branding:
I have dilated upon the core benefits you can derive from utilizing AI tagline generators. Now, we can proceed to get acquainted with the top 5 AI tagline makers.
Let's check out the round-up-
GetGenie may sound like a dreamy name but it's at your disposal now. Yeah, you heard it right. GetGenie is a WordPress & SaaS AI Content & SEO Assistant that automates your content writing superfast. And the best part is that it boasts a whole lot of features, including AI tagline generation.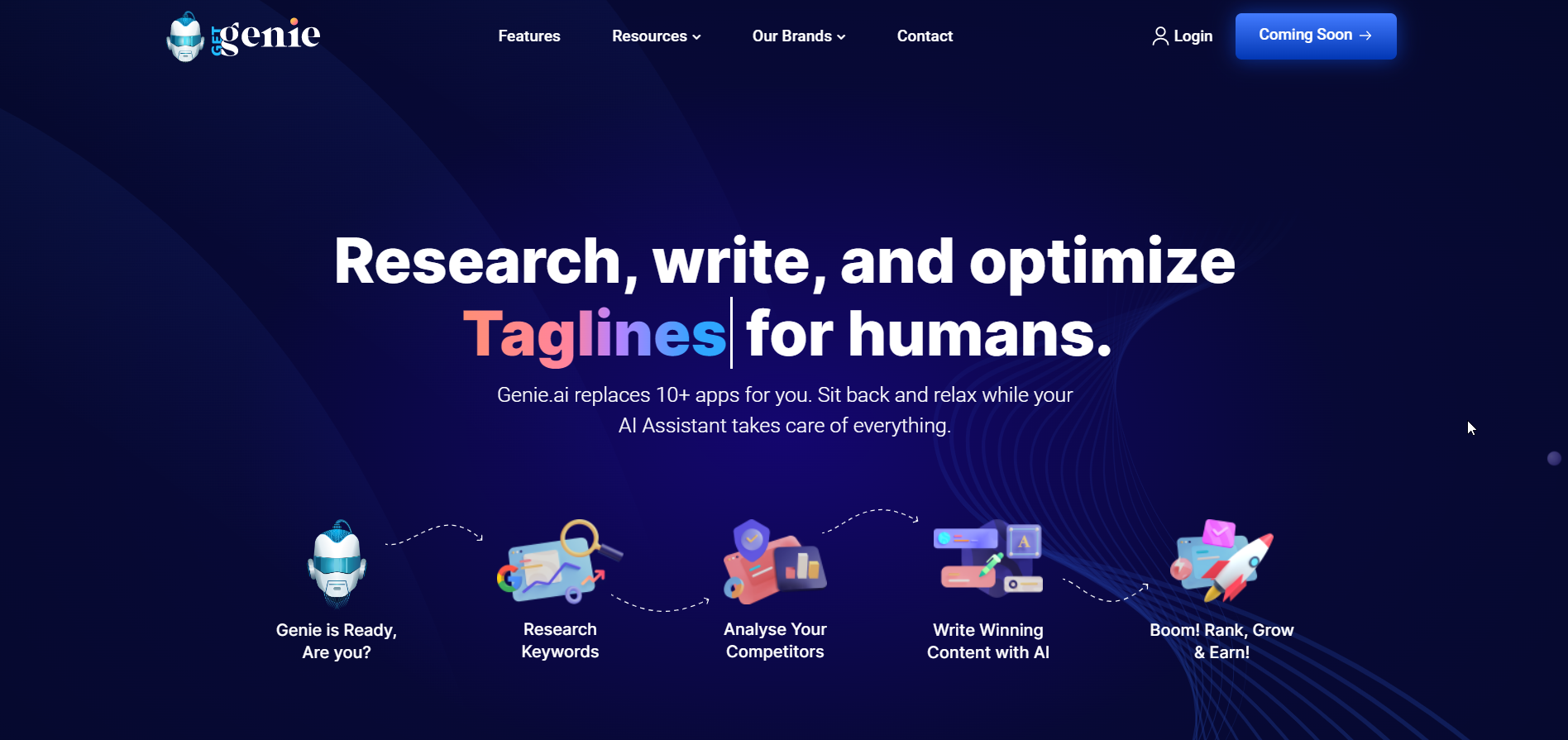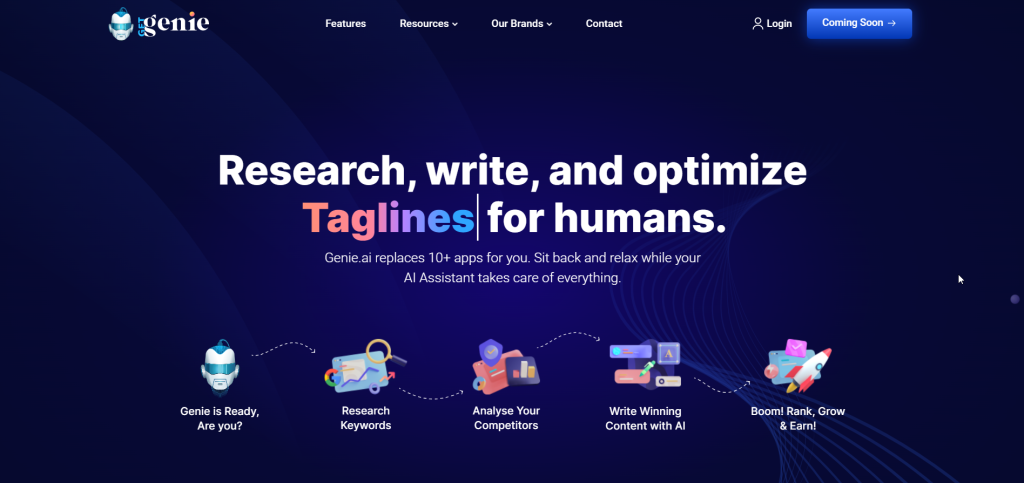 GetGenie's tagline generation is fast and efficient. It will enable you to generate alluring and punchy taglines, no matter what your niche or topic is. Wondering how GetGenie will work as an AI tagline generator? Well, GetGenie has a tagline generator template that will let you create your desired tagline.
All you have to do is provide a context as input to GetGenie. In return, GetGenie will generate multiple taglines. The stellar aspect of the tool is that if you don't like the taglines, you can regenerate taglines by altering your context.
Why GetGenie Tagline Generator:
An all-in-one WordPress & SaaS AI content writing tool featuring tagline generation
Compelling design and user-friendly interface
Provides multiple taglines based on giving short context
Allows tagline regeneration
Generates top-quality content
Up to 2,500 words generation under the free plan
SaaS web editor is available for non-WordPress users
Pricing:
GetGenie boasts both free and paid versions. The paid version has 3 plans: Writer, Pro, and Agency.
Free and paid versions both offer identical features with differences only in limits of word generation, keyword analysis, and SERP analysis per month.
You can pick up the GetGenie AI's "Writer" plan for creating taglines at $13.3/Month, the Pro plan for $34.3/Month, and the Agency plan for $69.3/Month, if billed Annually.
Zyro is a very popular AI-powered slogan generator that can create fascinating slogans or taglines for you. No matter whether you are a webmaster or you own a business, you can make use of this peachy AI tagline tool to generate taglines.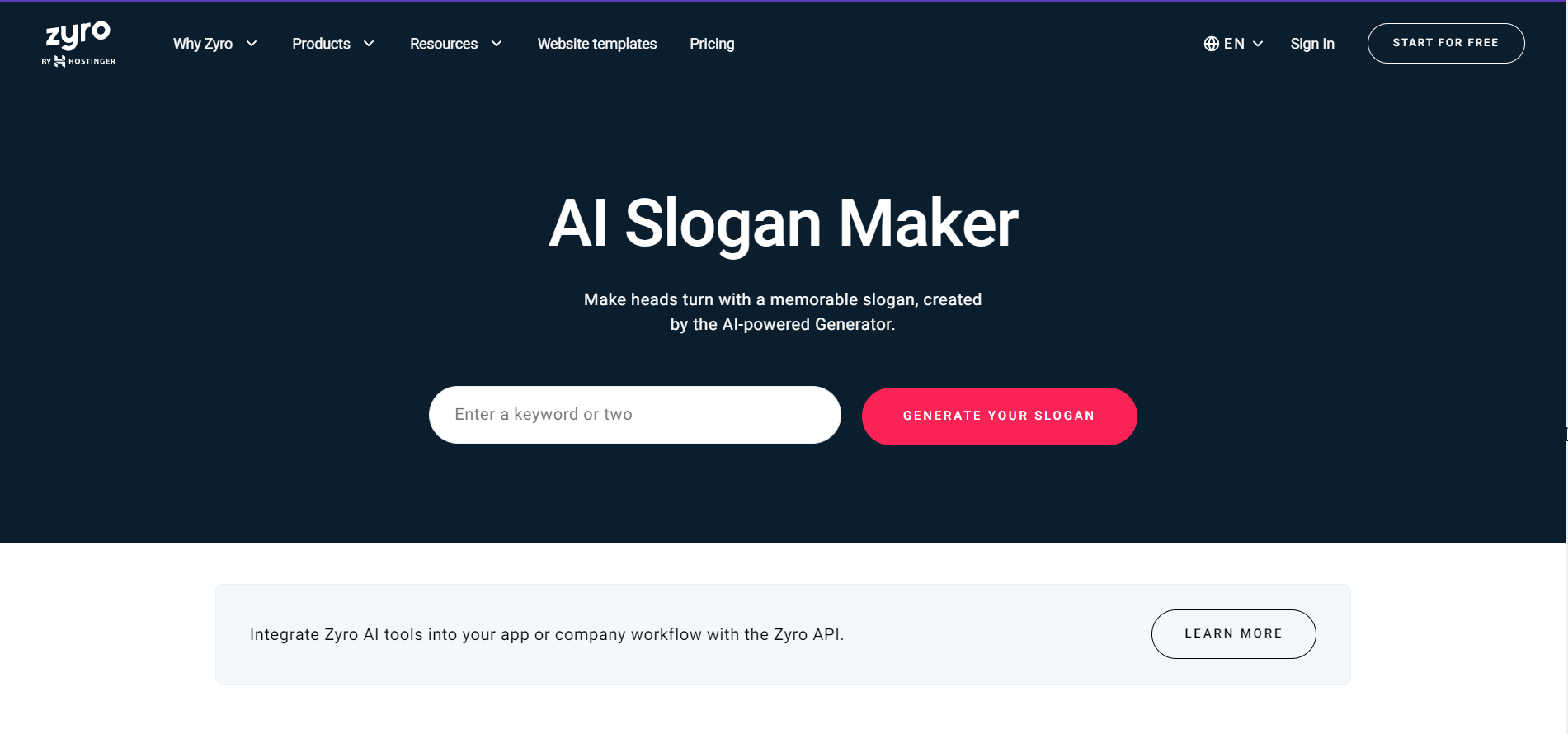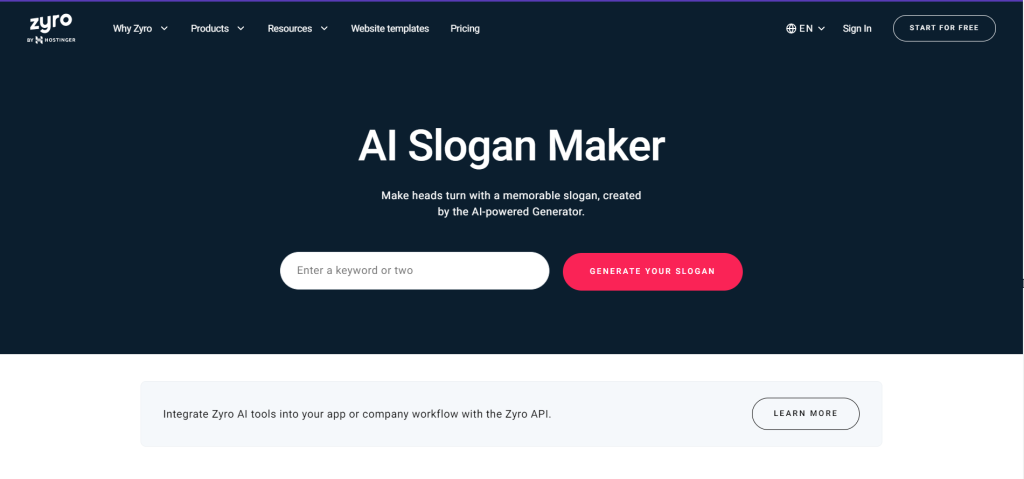 Zyro's tagline generator works by providing you with a bunch of suggestions from which you can pick your preferred tagline. What you have to do is provide a keyword and based on that a host of suggestions will show up.
Not only that, if you click the "Generate" button again, a new set of suggestions will appear. In case you didn't like the earlier ones, you can pick your tagline from the new suggestions. In a word, Zyro can be your go-to tagline generator AI tool to derive creative taglines.
Why Zyro Tagline Generator:
Easy to use and comes with handy features
Provides a great deal of tagline suggestions
The basic package is free to use
Extends diverse inspiration and thoughts
Pricing:
The Website plan comes at $11.99/Month and the Business plan comes at $14.99/Month.
If you are looking for a cool and classy tagline generator AI assistant, DesignHill can be one of the best options for you. It provides you with readable and digestible tagline suggestions that you would love to use for your brands or business.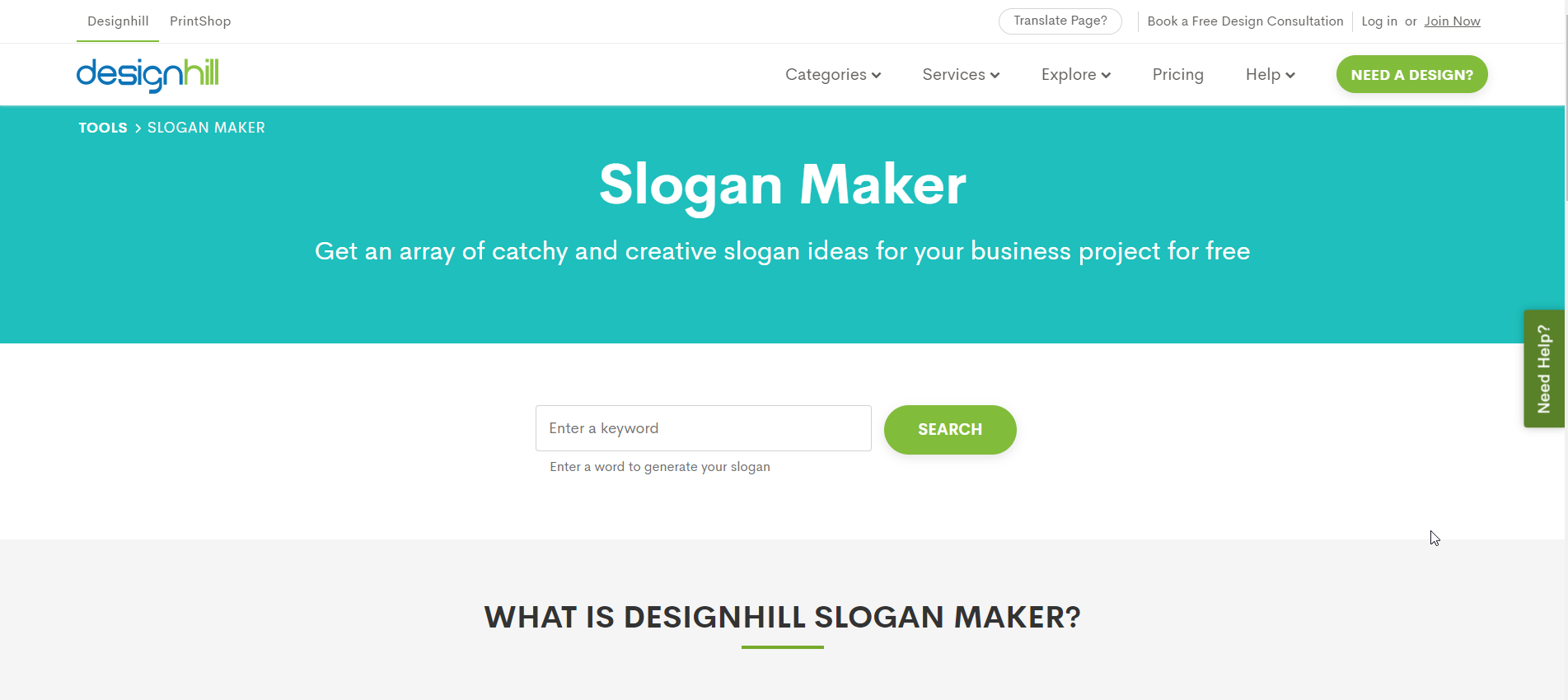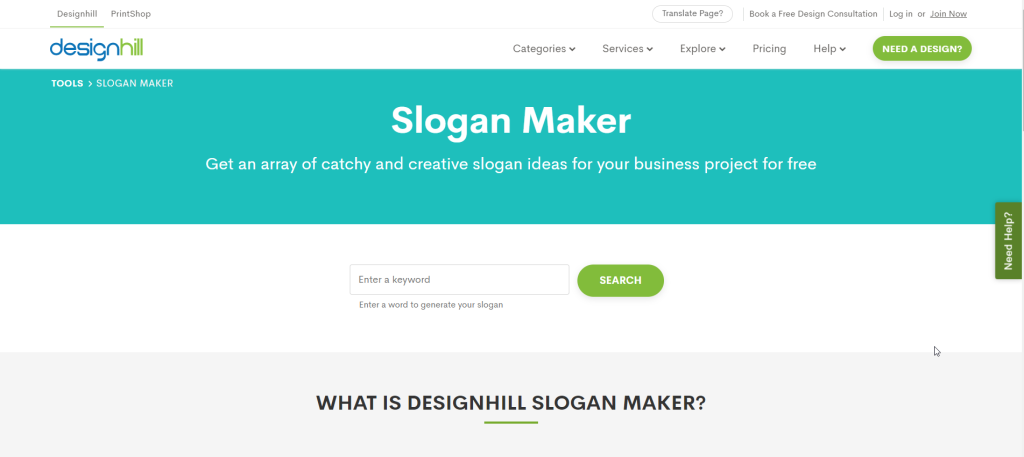 You started a business and need a tagline for it. But you neither have a multi-dollar marketing budget nor do you have the time to brainstorm or explore. This is where this complimentary but effective AI slogan generator will come to the rescue.
The catchy facet of this DIY tool is it's optimized for your branding and business, regardless of your niche. Even if you just need ideas and inspiration, DesignHill is all set to provide you with a plethora of ideas in a matter of a few clicks. So, ready to deploy it?
Why DesignHill Tagline Generator:
Offers ideas and inspirations
Provides hundreds of options to select from
Saves valuable time
Completely free to use
Pricing:
The slogan maker feature of DesignHill is free although other features cost under different plans.
The next AI tool for the tagline generator that I have for you is Oberlo. No matter whether you want to jazz up your business logo or event, you can avail of the Oberlo AI business slogan generator to create a tagline. Oberlo can create spectacular taglines for your business or brand.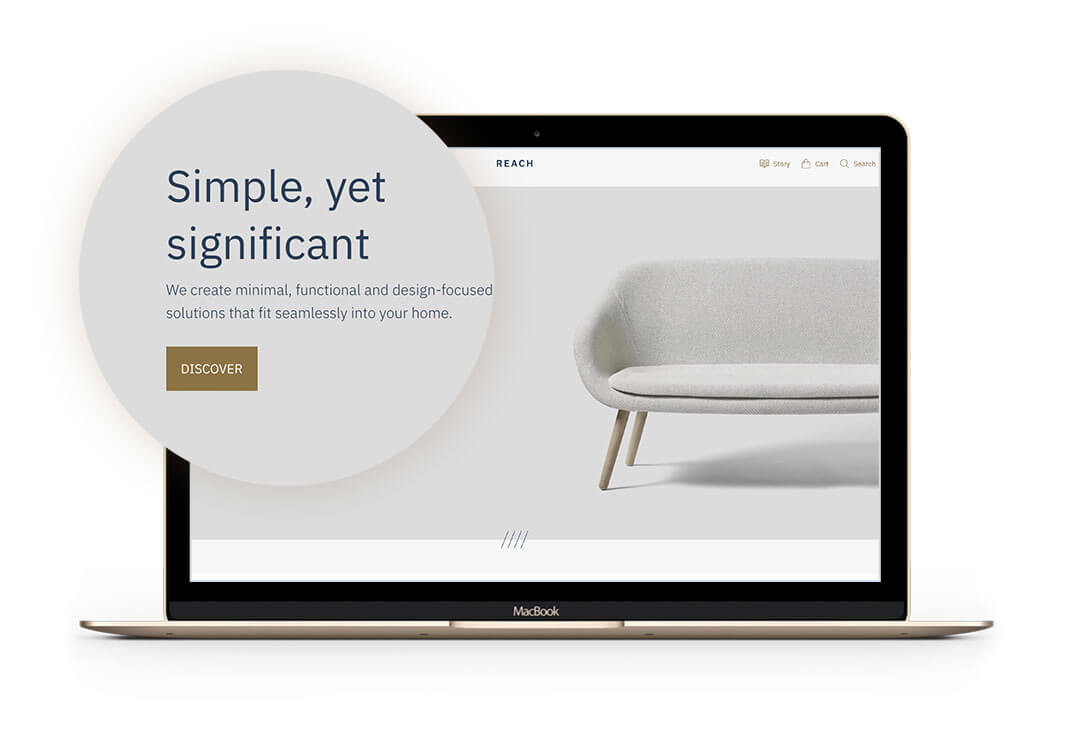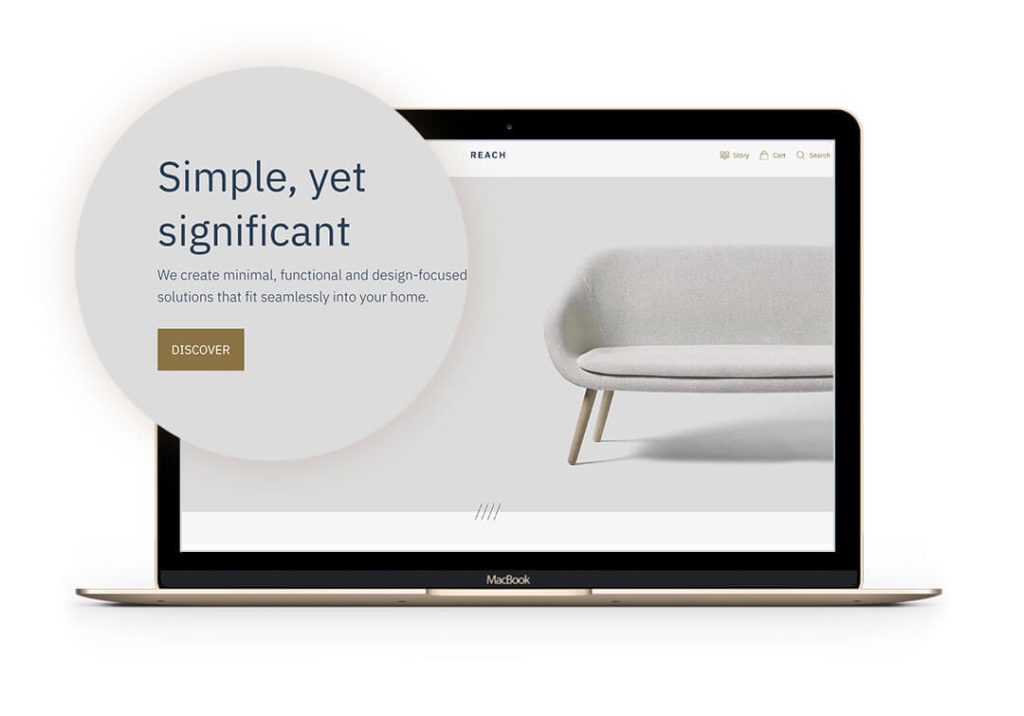 The cool thing about this AI slogan tool is it's free and generates taglines in a hassle-free manner. Like most of the other AI tagline tools, you just need to provide the keywords or queries and Oberlo will generate captivating taglines for you in return.
An example will clarify the point better. Let's say, you kicked off a business of men's fashion items. In this case, if you just type the keyword "men's fashion items" in the search box, Oberlo will return you a number of taglines free of cost!
Why Oberlo Tagline Generator:
Provides scores of options to select from
Saves time like the other similar tools
Easy to deploy
Free to use
Pricing:
Oberlo's slogan generator feature is free to use as well.
Last, but not least, I have Copy.AI for you which is a magnificent AI copywriter at hand. But it also features an AI slogan generator that you can utilize. This tagline generator AI tool is easy to use and able to generate engrossing but palatable taglines for your business.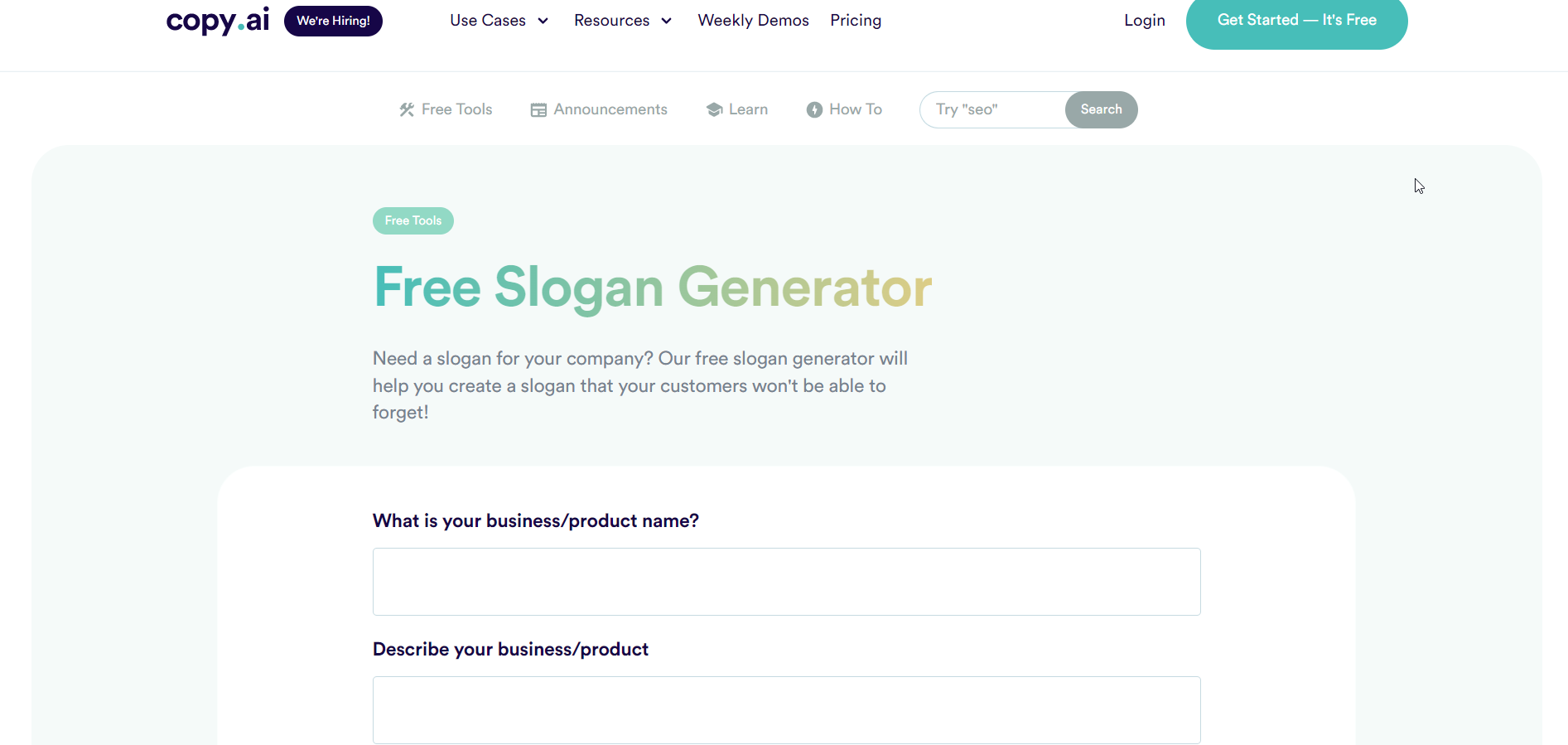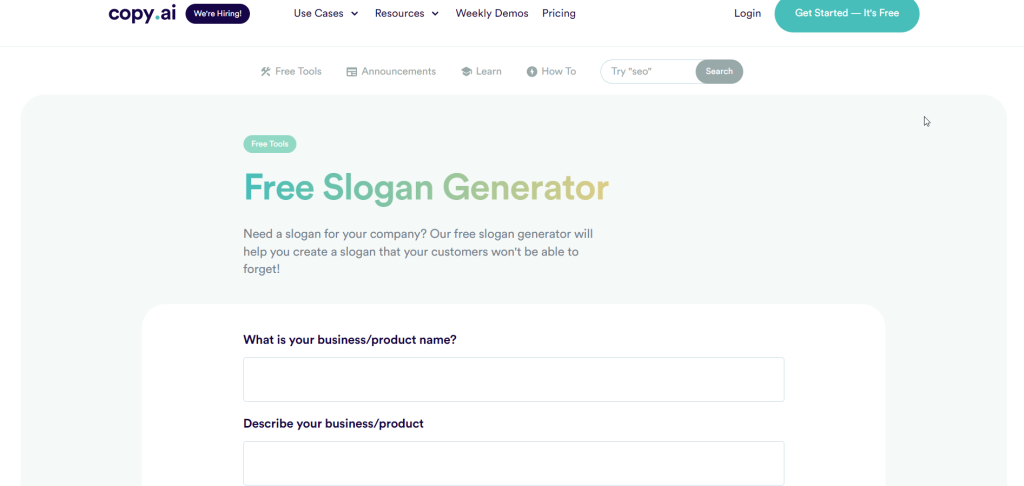 Copy.AI comes with a modern and techy interface grabbing your attention and influencing you to make use of their platform. As input, you just have to provide your business/product name and business/product details.
Immediately after that, innovative and enticing taglines will show up one after another. Now it's up to you to decide which one suits your needs. Once you finalize the tagline, just click the "Copy" button next to the tagline and deploy it to your brand. After that? Boom!
Why Copy.AI Tagline Generator:
Generates catchy and easy-to-understand taglines
Smooth and sophisticated interface
Produces top-grade content
Displays a number of tagline options
Pricing:
It comes with both the Free and Pro versions. The Pro version costs $36/Month if billed annually.
Share your Thoughts:
Taglines or slogans have the power to connect your target audience with you in no time. But for that, you have to generate catchy, enticing, and digestible taglines. And this is something top-quality AI tagline generators can do in no time.
Thankfully, you can get easy access to the best-in-class tagline generator AI tools nowadays. The above round-up has featured the best 5 available AI tagline generators. Now, you be the judge and cherry-pick the one that suits your needs.
However, if you are hunting for a holistic WordPress AI content assistant including a tagline generator, GetGenie can be a perfect option for you. With GetGenie, you can automate any type of marketing content in addition to generating killer taglines!