How to Use Ai For Social Media: Step-by-Step Guide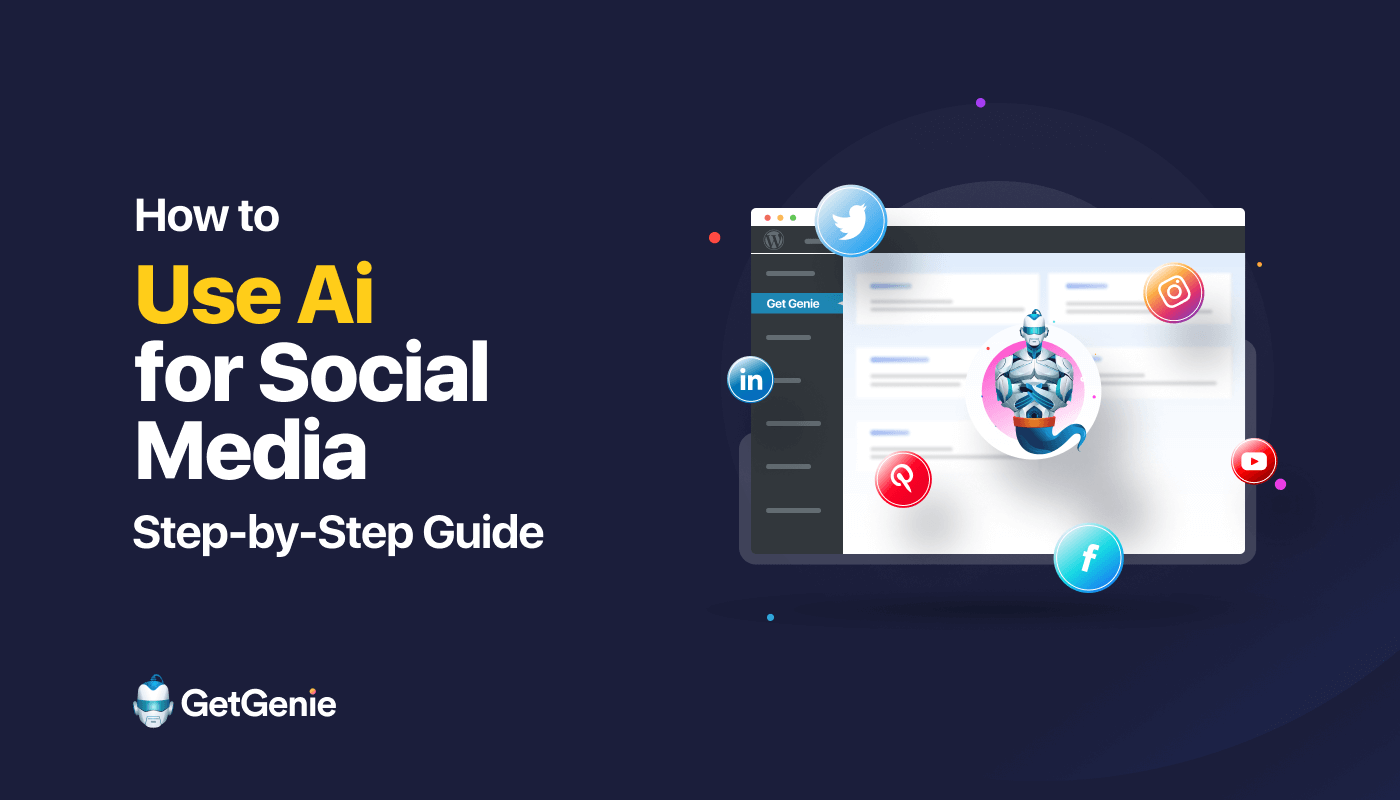 With the ever-increasing content and the need for a fast and personalized experience, Ai can be the best solution to navigate the vast social media landscape.
But how to use Ai for social media? Plus, among the flood of Ai tools, finding the best ai writing assistant for social media is tough.
But one ai tool that has hogged the limelight recently due to its reliability, innovation, and all-in-one solution is GetGenie Ai.
In this guide, we'll show how to use the following templates of GetGenie Ai to scale up efficiency, productivity, and success in this dynamic world of social media.
Social Media Copy
Instagram Bio
Instagram Caption
LinkedIn Post
Before jumping to the main section, let's have a look at how Ai works with social media platforms.
Understanding Ai for Social Media
Social media platforms are not only used for entertainment or communication, they are now powerful tools to engage large audiences and promote your brand on a global scale.
In that case, Ai tools are used to speed up social media content creation, data analysis, chatbot, and image recognition tasks more efficiently.
Ai algorithms are trained to understand user behavior and preferences and then generate high-quality and engaging content for the targeted audiences.
Moreover, Ai writing assistants and chatbots help in instant customer support and improve response times.
Overall, using Ai for social media provides data-driven insights, automates the content generation process, saves time, and maximizes the impact for branding, communicating, and professional relationships.
How to Use Ai For Social Media: Comprehensive Guide
Ai tools have emerged as a powerful way to shape how we connect, share, communicate, and consume information on social media.
As we already mentioned, the GetGenie Ai assistant has multiple templates and features to use especially for social media purposes.
Right from generating brand introductory bios to writing audience-centered copy and captions, everything is possible with this Ai tool.
Besides, you can use GetGenie's templates through your WordPress website or GetGenie's playground.
Let's see the 2 easy methods to use Ai for social media.
Method 1 – Use GetGenie Ai for Social Media through WordPress Website
GetGenie works as a plugin for WordPress websites. The installation process is the same as any other plugin installation.
First, log in to your WordPress dashboard, then navigate to Plugins -> "Add New".
Search for the GetGenie plugin.
You can also download the GetGenie plugin and upload the zip file.
After that, install the plugin and activate its license to get credit (initially you will get 2500 words free)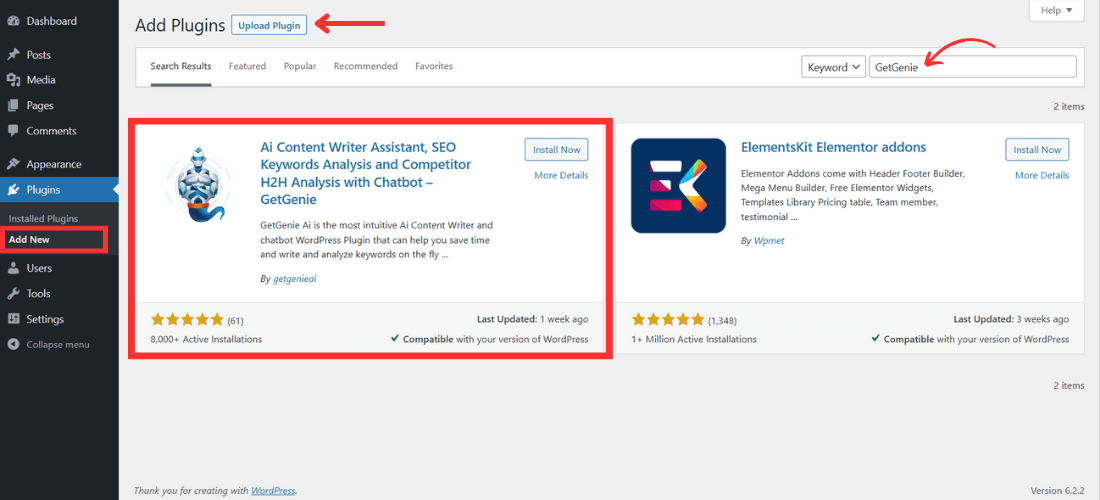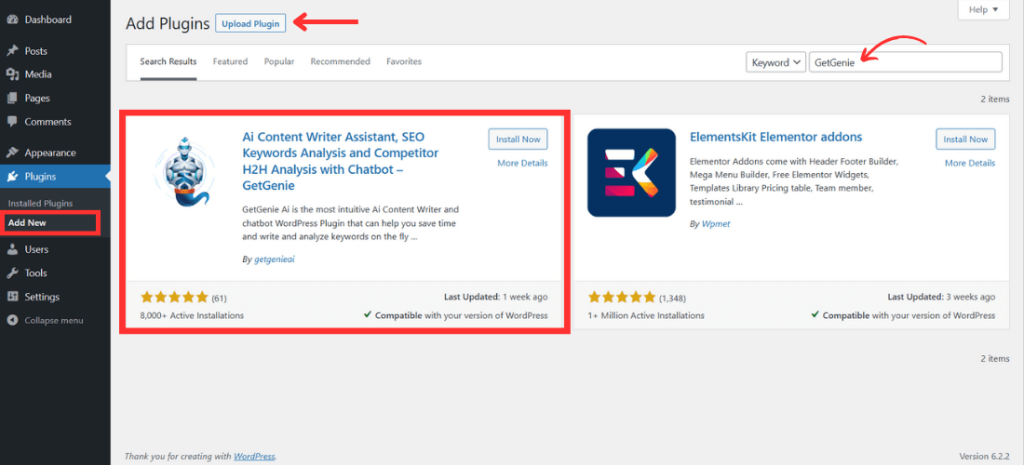 Let's have a look at how effectively and efficiently you can use the templates of GetGenie Ai for social media on the WordPress website.
✍️ Write Social Media Content
Ai tools can help you to generate creative social media content to promote your brands to mass audiences. In that case, GetGenie Ai assistant has a social media post template that can write relevant, engaging posts and copies to resonate with users and increase conversion and sales.
✅ Social Media Post/Copy Template
Now the question is, how to use GetGenie's Social Media Post/Copy template for social media? Well, the process is simple and straightforward.
Go to your WordPress dashboard then you can see the "GetGenie Ai Writing" option at the top bar.
Click on "GetGenie Ai Writing"
Scroll down or search for Social Media Post/Copy template
Select the "Social Media Post/Copy" template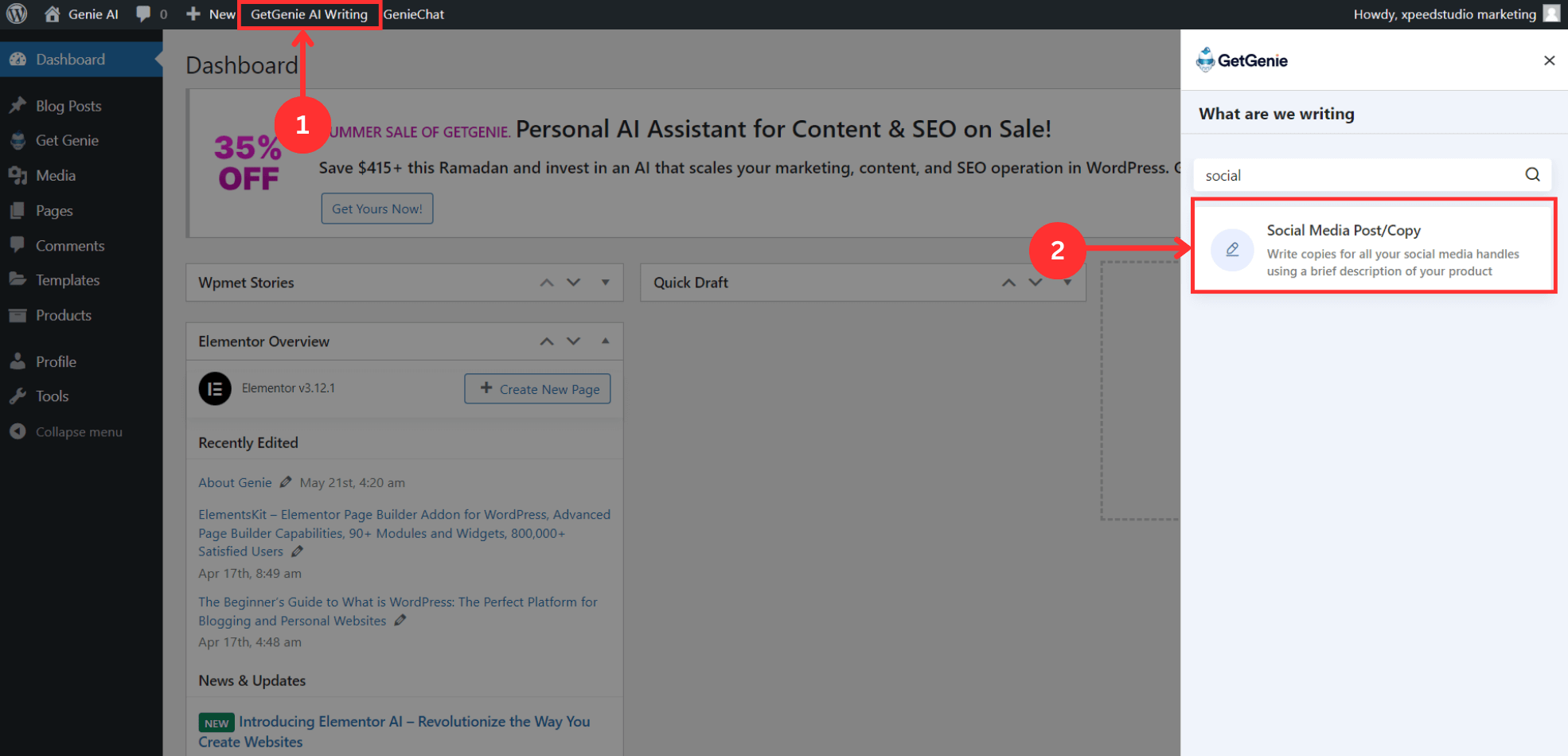 Enter Product/brand name – Write the product or brand name that you want to promote
Enter Product brief (Optional) – Write a brief about your brand or product to get better outputs
Select your preferred language among 33+ languages
Adjust the writing tone, and creativity level(1-5)
Set the number of results (1-6) you want to generate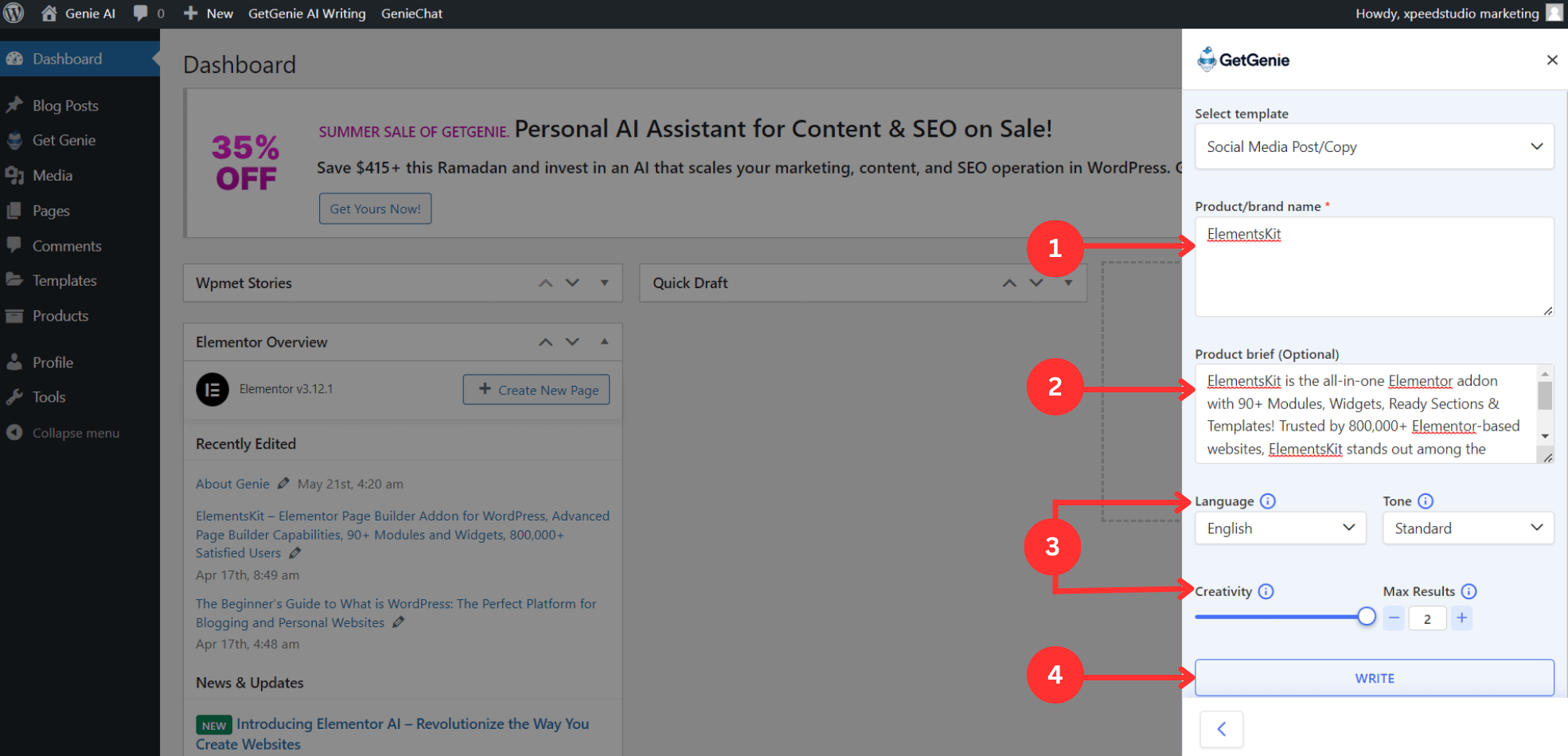 Click on "Write"
Click on the best one to copy and then paste it into the social media post feed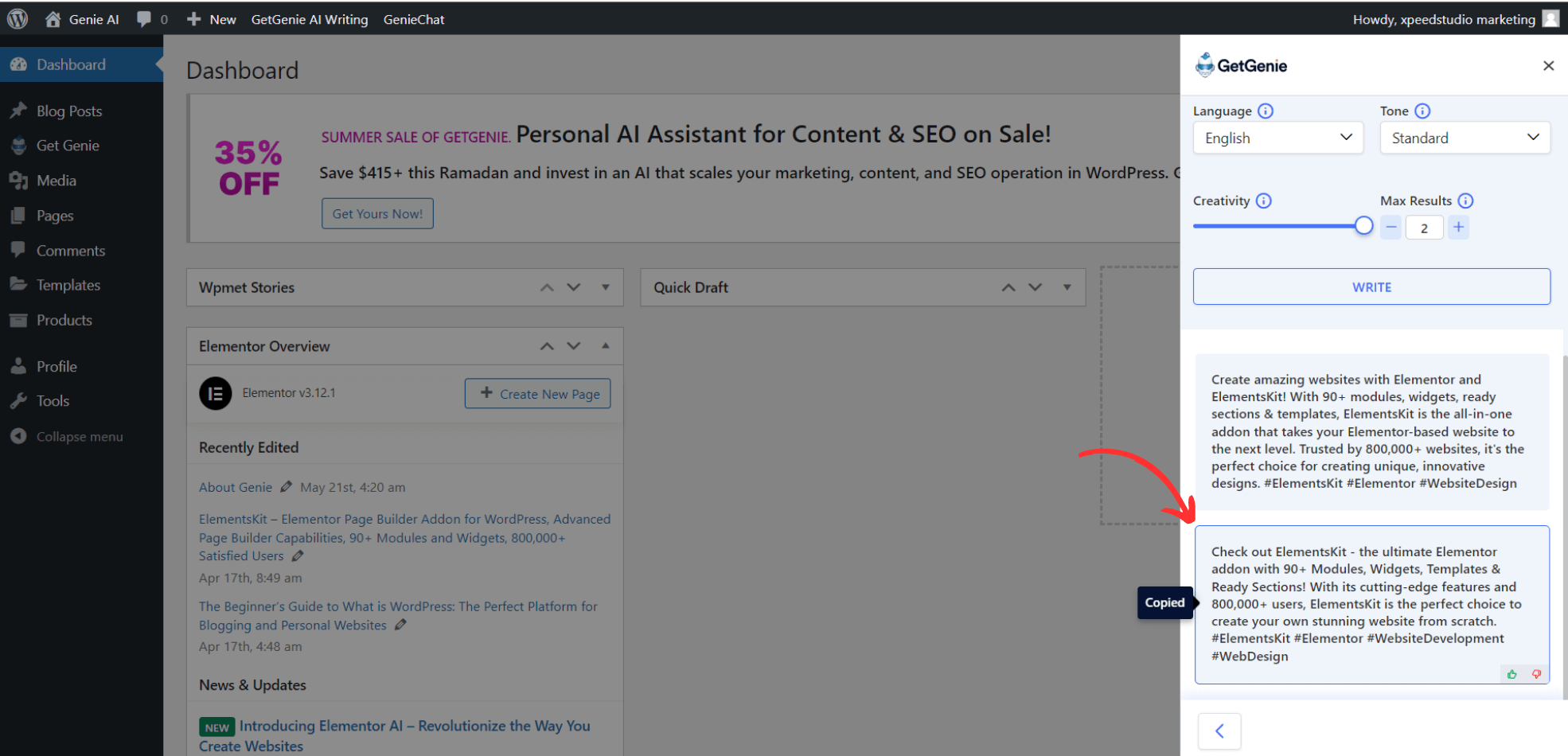 🙌 Enhance Social Engagement
To build brand loyalty and a strong relationship with customers as well as increase sales, social media engagement is a must. And for these, Instagram plays a vital role.
Using a proper Instagram bio and caption, you can reach your products/services to more people. That will help you to create more opportunities to enhance engagements with your potential customers.
However, Instagram bio and caption should be concise and contain emojis and hashtags. So, writing an Instagram bio and captions are bit critical!
But no need to worry! You can use Ai for the social media bio and caption generation process. And, GetGenie Ai assistant is here again to rescue you again!
GetGenie Ai has 2 different Ai-powered templates to smoothen the bio and caption generation process.
✅ Instagram Bio Template
To write a bio using GetGenie's Instagram Bio template,
Click on "GetGenie Ai writing"
Select the "Instagram Bio" template
Write your "Brand name"
Write relevant "Keywords" to specify your brand
Select the values for language, tone, creativity, and results
Click on "Write"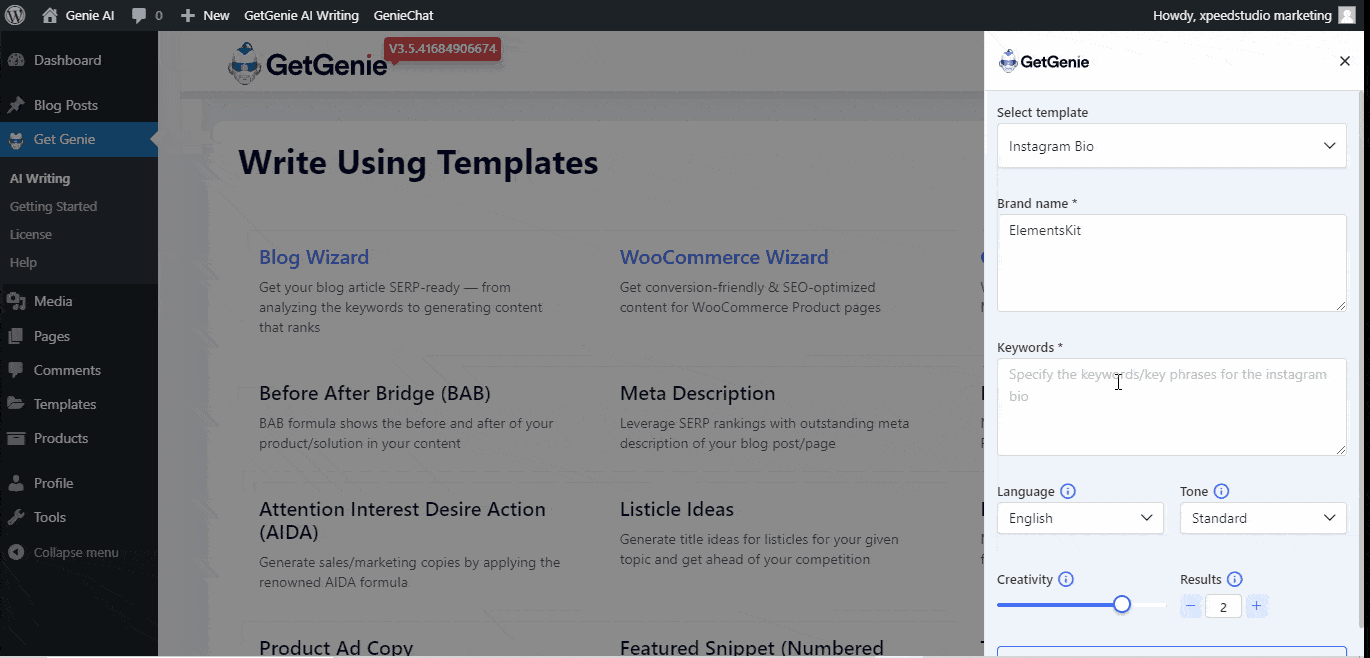 ✅ Instagram Caption Template
Writing product/service captions using GetGenie's Instagram Caption template is almost similar to generating Instagram bios.
Click on "GetGenie Ai Writing"
Choose the "Instagram Caption" template
Write your "Brand name"
Write the "Context" that you want to express
Adjust the properties for language, tone, creativity, and results
Click on "Write"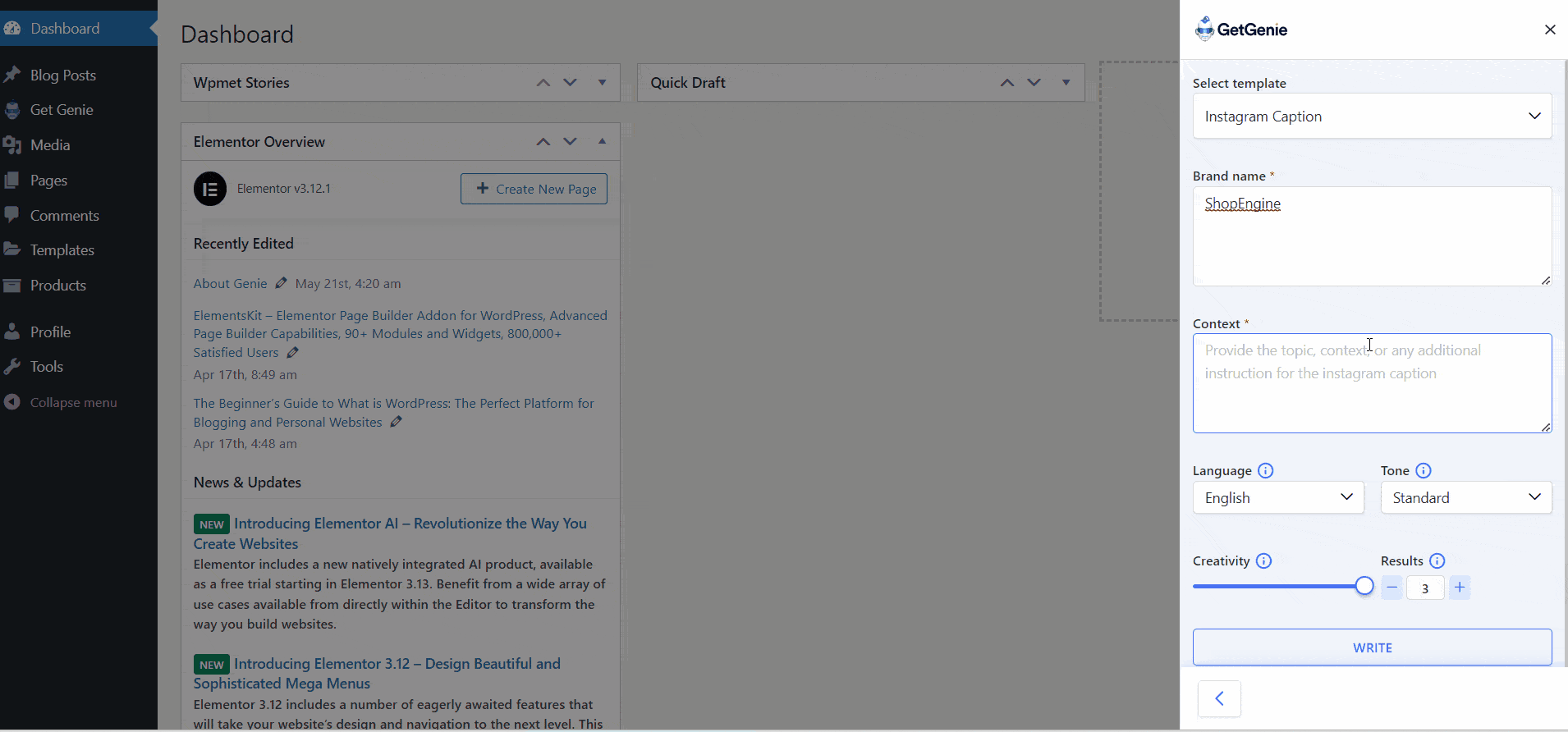 🤝 Strengthen Professional Relationships
Besides social media engagement and product promotion, an Ai writing assistant can help in strengthening your professional relationship. For searching for jobs, building networks with experts, or branding, LinkedIn is a professional social media platform.
And, LinkedIn post is the key medium to connect all individuals and professionals. What if you can write engaging and info-rich LinkedIn posts using the Ai tool?
✅ LinkedIn Post Template
GetGenie AI also has the LinkedIn Post template, by using this one template, individuals, employers, and brand owners all can write posts on LinkedIn.
Here are the simple steps to use this template-
Navigate "GetGenie Ai Writing" on your WordPress dashboard
Select the "LinkedIn Post" template
Write the main "Topic" you want to create the post
Enter the Context of the given topic
Write the brand name (optional) – for the brand promotion
Choose a language and writing tone
Adjust the creativity level and number of outputs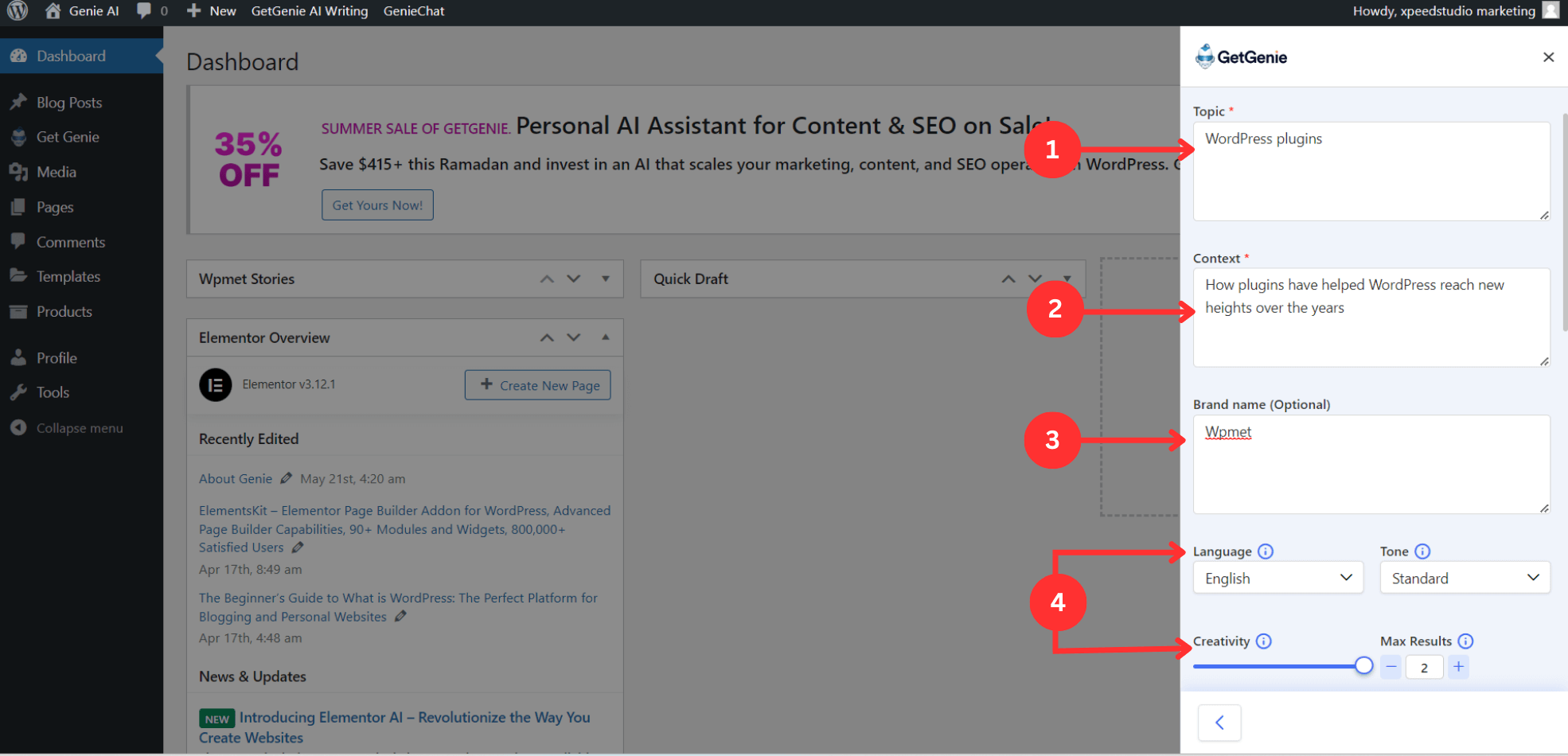 Click on "Write"
It will take a few seconds and you can see the given number of results for your desired LinkedIn post.
Copy the preferred one and paste it into your LinkedIn feed.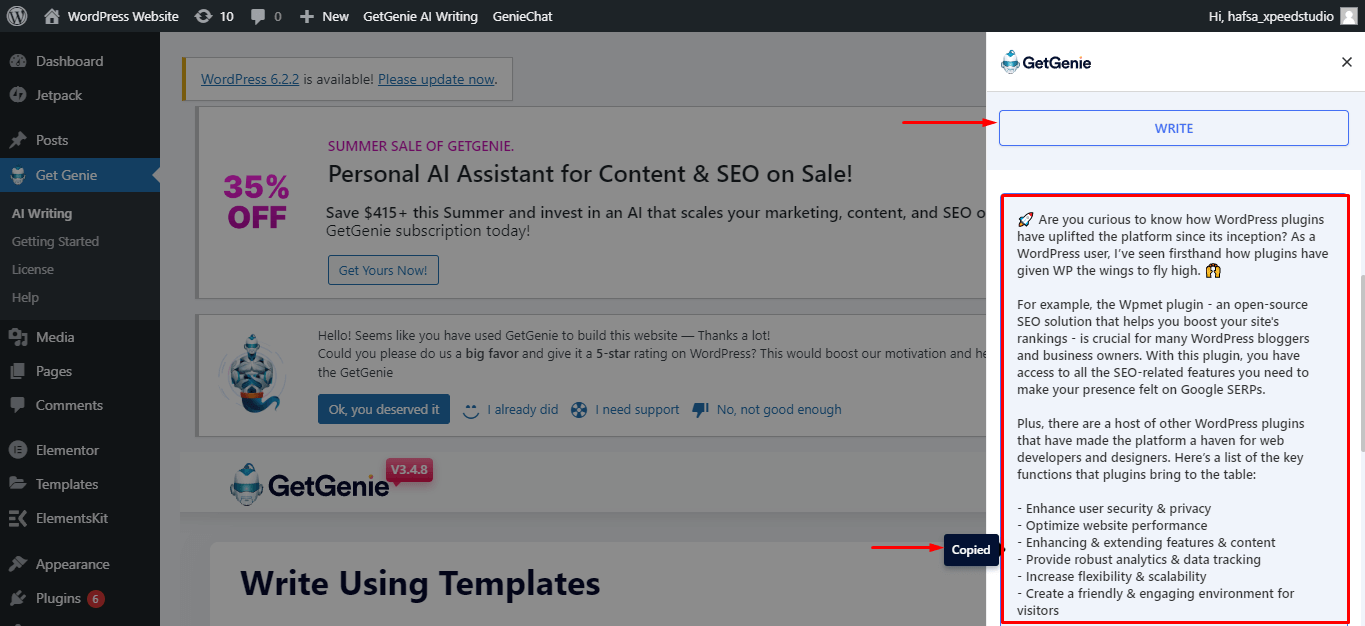 Method 2 – Use GetGenie Ai for Social Media through Playground
If you are not a WordPress user, you can directly navigate the SaaS version of GetGenie Ai.
GetGenie Ai tool has a playground with all the features and templates like the plugin. You can use all the Ai-powered templates for generating social media posts, copy, bios, captions, etc.
The procedure is also almost the same. You just don't need to install the plugin, instead –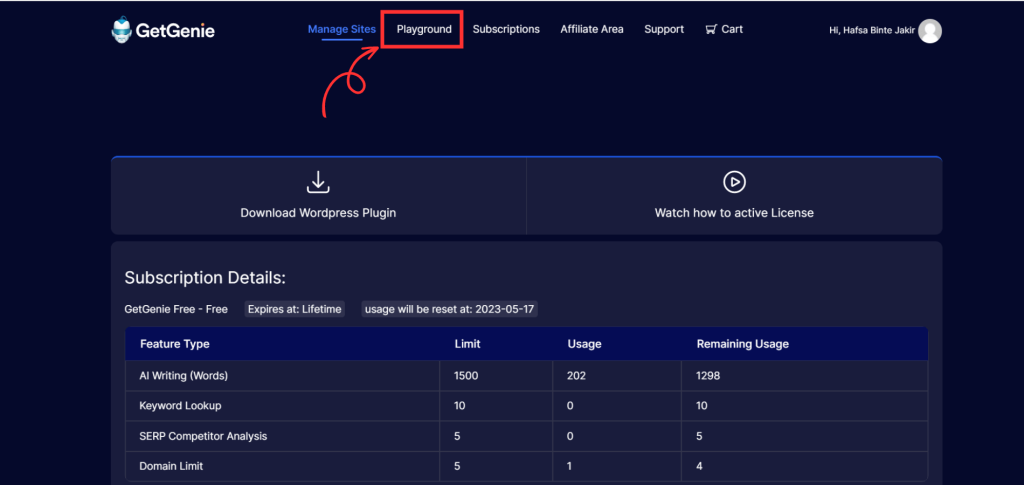 Create a new file
Write the file name
Click on "Writing Templates"
You can see all the templates on the sidebar
Select your preferable template (e.g. Social Media Post/Copy, Instagram caption, LinkedIn post)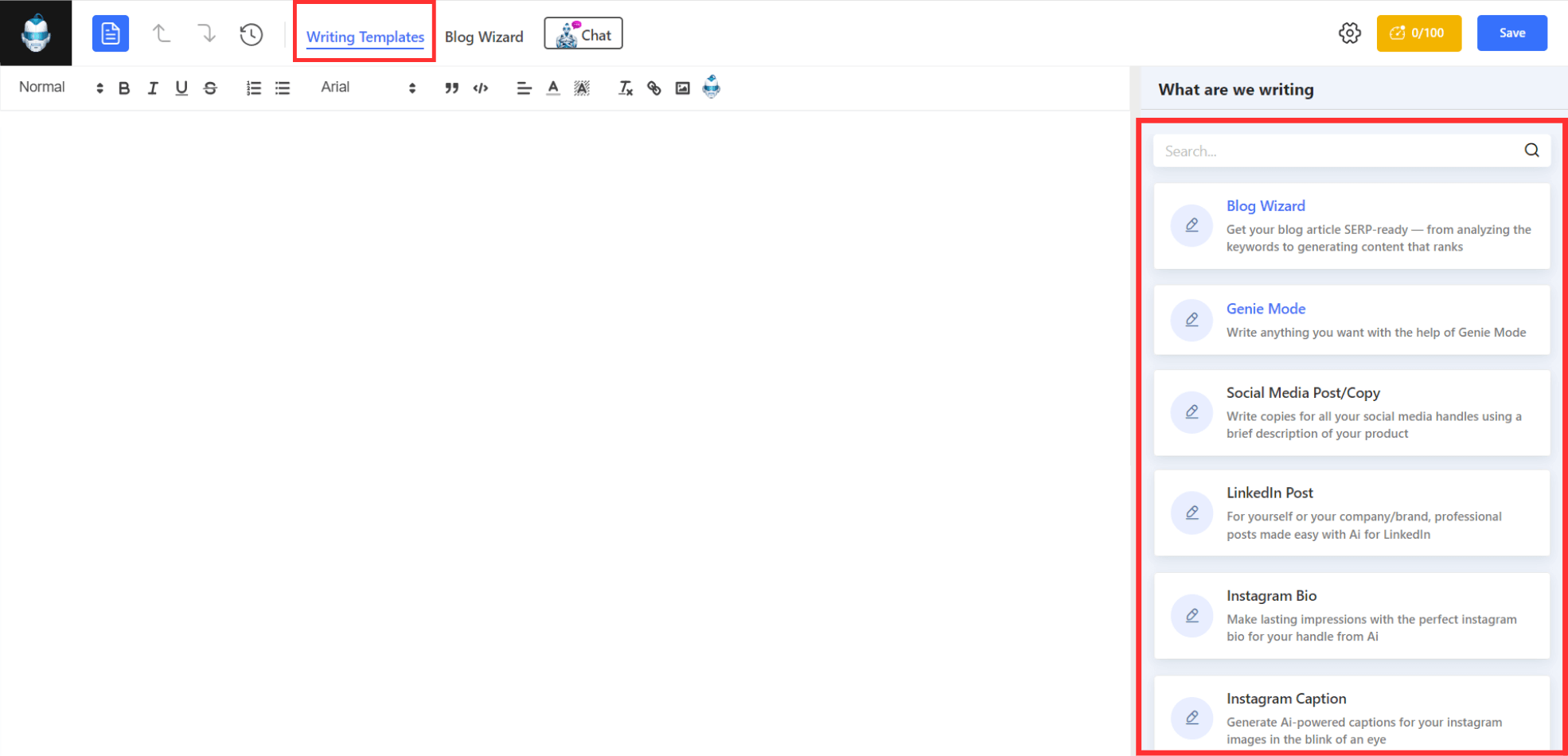 Write the brand name and fill in the related input fields
Select a language, writing tone, creativity, and results
Click on "Write"
Then copy the output and paste it into the social media bio or post
Benefits of Using Ai for Social Media
Ai tools are now a part of daily life including social media activities. And, benefits of using GetGenie Ai for social media are beyond description.
Let's see the 5 significant benefits of using GetGenie Ai for social media to enhance your online presence, promote brands and achieve your goals more efficiently
1. All-in-one Solution
First of all, the GetGenie Ai assistant is an all-in-one solution for social media. And for any type of post or caption, you don't need to use multiple tools. GetGenie has all of the essential templates and features to help you with social media engagement.
You can write posts for any social media to promote your products and services among your targeted audiences.
Besides, you can generate your brand bio and captions to specify the features and functionalities of your brand.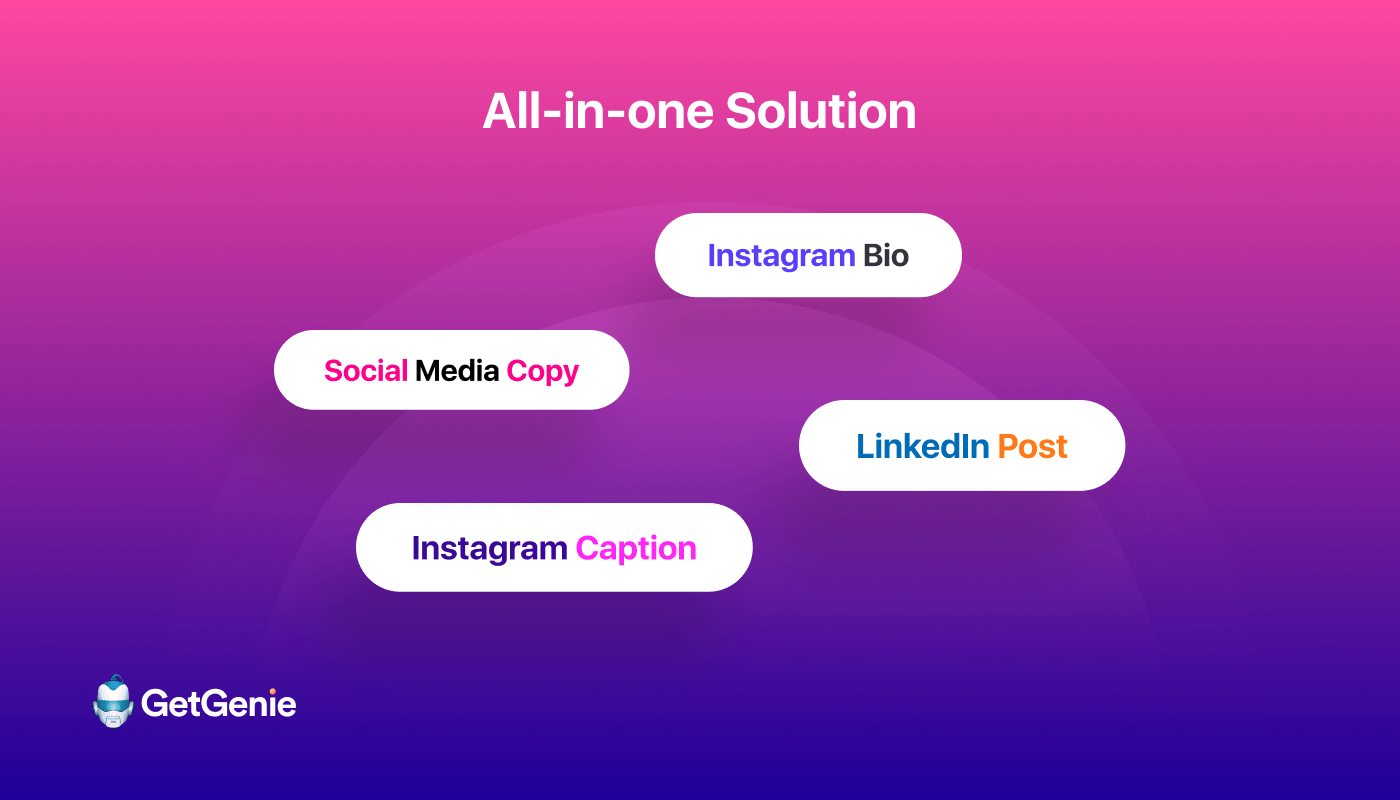 Not only for brand promotion and social engagement but also GetGenie Ai can also help you to get a job as well as find a perfect candidate. It will help you to write a post on LinkedIn to share your views and knowledge and increase professional communication and network.
If you are an employer or brand owner, you can also promote and enhance your brand value by writing an effective post using the LinkedIn template.
2. Enhance Productivity
GetGenie Ai can write any kind of post, bio, and caption for social media within a few seconds. It will help you with quick idea generation. All the outputs contain concise and crisp lines, emojis, and hashtags.
So you don't need to waste time on idea generation or thinking about these properties, just copy and paste the preferred output to your social media feed. And, you can post high-quality content for social media consistently using this Ai tool.
Overall, using GetGenie Ai for social media will save time and enhance productivity.
3. Personalization Output
Impressively, GetGenie Ai can personalize output instead of producing generic results. You can write your own brand name, context, and keywords, GetGenie will generate output for your social media according to these inputs.
Besides, the GetGenie Ai assistant supports 33+ languages, so you can generate output in your preferred language. Plus, you can customize the writing tone, adjust creativity levels as well as generate up to 6 results for each input. You can also regenerate them too if you don't like the output.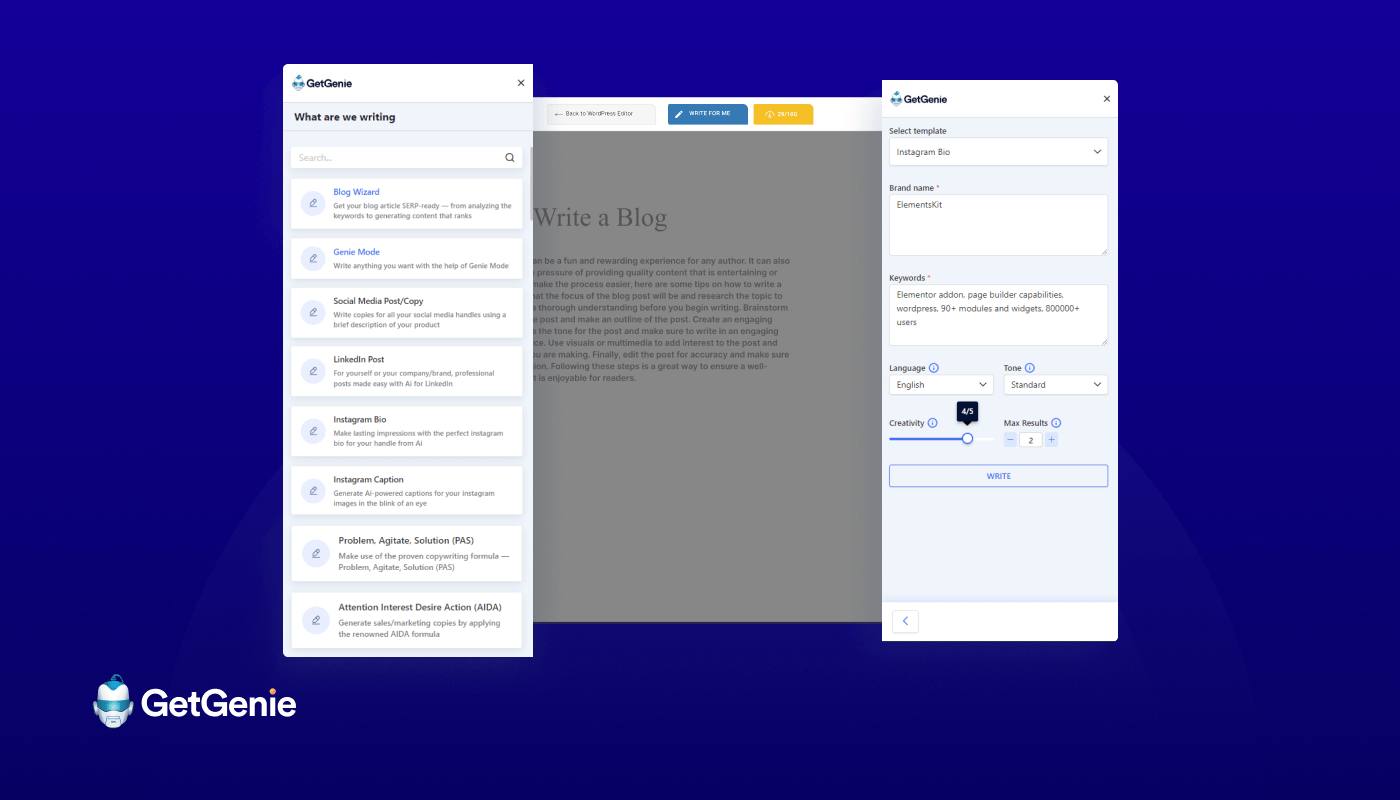 4. Versatile to Use
GetGenie Ai assistant is a versatile tool to use for social media as well as blog writing, idea generation, and many more. You can access GetGenie as a WordPress plugin. If you are not a WordPress user, simply use the GetGenie Playground through the web view form.
The best part is, this Ai tool has a user-friendly interface and all the steps are almost the same for each template for both the WordPress dashboard and GetGenie Playground.
So, anyone can easily utilize the GetGenie templates for their social media engagement. In addition, you will find 37+ templates for blog writing, copywriting, and WooCommerce.
5. Flexible Pricing and Packages
Last but not least, GetGenie Ai has super flexible pricing plans and different packages those suit all types of users. GetGenie Ai offers a free starter plan with 2500 words of free credit. 
Besides, you will find the "Writer" package starting at $13.3/month as well as the "Pro" and "Agency" packages. You can grab the best deal according to your needs and generate quality social media content in a few clicks. 
Final Words
Whether you need to promote your brand, customer engagement, or personal networking, Ai tools like GetGenie can help you by creating high-quality content for your social media.
Here we have provided a step-by-step guide to writing posts, Instagram, bios, Instagram captions, and LinkedIn posts using GetGenie Ai.
Hopefully, now you can use Ai for social media engagement and increase your brand value and sales.
If you have any queries or confusion, feel free to comment below.
Stay tuned and thanks for reading.