GetGenie's Web Editor is Here: Say Goodbye to Writer's Block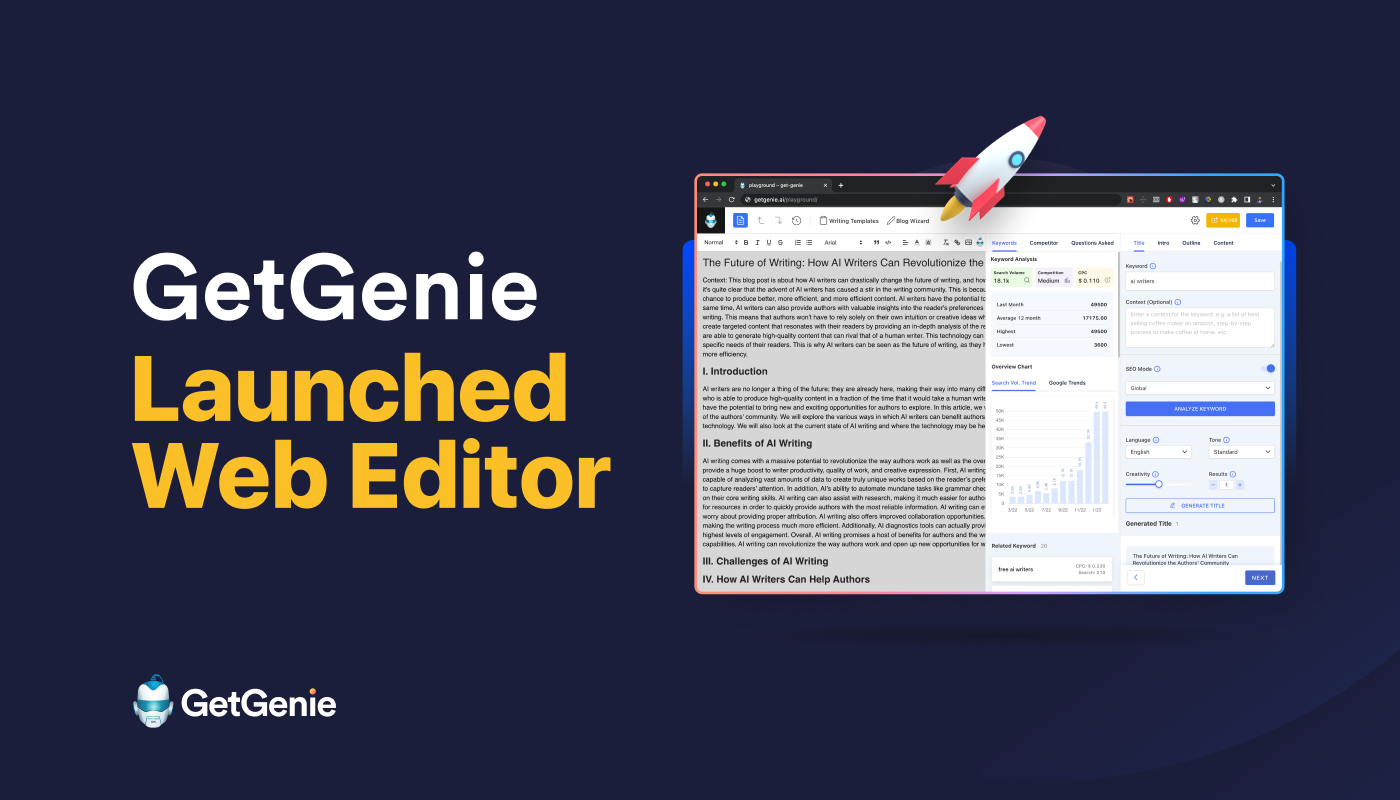 You asked, and we listened. GetGenie is now available in the web editor. Yes, you heard it right.
Since the launch of GetGenie, we have received numerous requests from people to provide a web editor so that they can write outside of WordPress.
Finally, the wait is over, and anyone can now use GetGenie AI without needing a website. Existing customers can enjoy the web editor with just a few clicks, while new users can also benefit from the GetGenie AI tool on both WordPress and the web.
What is the web editor of GetGenie AI?
The web editor of GetGenie is a platform that can be accessed through a web browser by visiting app.getgenie.ai/playground. With this version, there is no need for any installation or any WordPress website. You can simply navigate to the playground and enjoy all the features of GetGenie.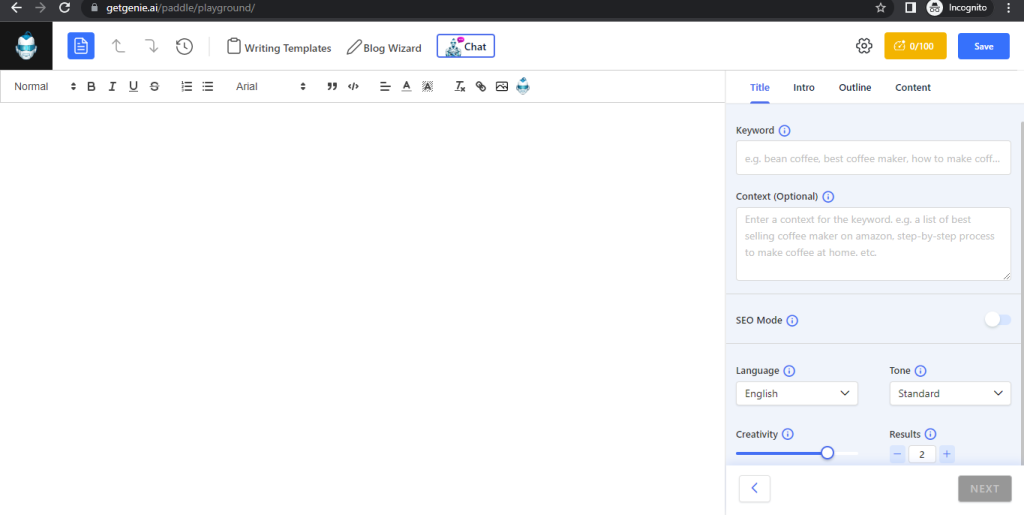 Once you're there, you'll find various templates to assist you in writing any type of content. Whether you need to create blog posts, product descriptions, or social media content, the web editor of GetGenie has got you covered.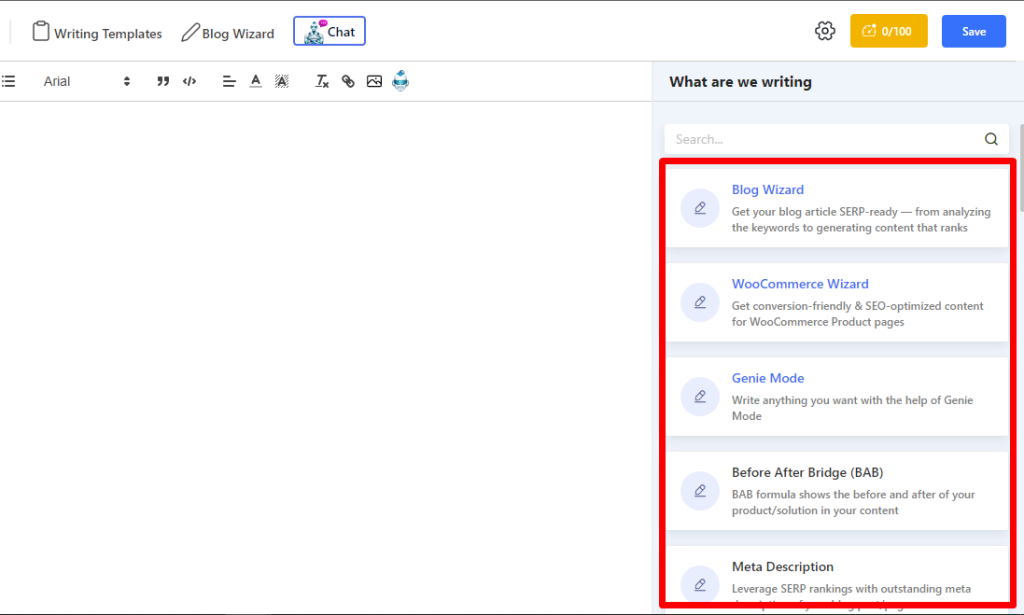 How can you benefit from the web editor?
The web editor of GetGenie has made life easier for users as it eliminates the need for a website. Users no longer have to understand how WordPress works or how to install plugins. Also, there is no need of designing a website to use the features of GetGenie AI.Instead, all they need to do is log in to their account and they're ready to start writing.
This web-based platform is accessible from any device, be it a mobile device, laptop, or desktop computer, allowing users to write anything instantly with the help of GetGenie AI, regardless of their location.
Furthermore, collaboration with team members is made possible through the web editor of GetGenie, even without a website. This means that users can work on content projects with their team members and even deal with clients directly through the platform. With the web editor of GetGenie, the possibilities are endless, and users can focus on creating high-quality content without worrying about website maintenance or technical issues.
Can you still use WordPress for GetGenie?
Yes, you can still use GetGenie AI in your WordPress dashboard. The interesting thing is, if you already have a subscription of GetGenie, you can simultaneously use the tool on both platforms.
How does the web editor of GetGenie differ from the plugin?
There are no major differences between the web editor and the WordPress plugin of GetGenie. While the web editor has recently been released, it includes all the available features of GetGenie. Therefore, you will not miss any features whether you use the tool in WordPress or on a web platform.
Why is GetGenie AI the most advanced writing tool?
Though there are different AI writing tools in the market, GetGenie is the most advanced one. Here are some features that make GetGenie so special.
Keyword analysis
Unlike most AI-based writing tools, GetGenie comes with a keyword analysis feature. You can simply insert the seed keyword and get tons of relevant keywords. Not only that, but you can also check the google trends data for the keywords.
Outline builder
Without a proper content outline, it is hard to maintain perfection. With GetGenie AI, you can easily build a content outline with all the relevant information. You can even steal your competitors' content outline with a few clicks. The best part is, it generates multiple versions of the content outline with a single click.
SERP analysis
If you want to rank your content, you need to do a SERP analysis. With GetGenie, you can check all your competitors without leaving the tool's dashboard.
Content score
GetGenie gives you a content score based on a unique algorithm and gives suggestions to improve the content score. It helps to improve the content quality and rank it better.
Copywriting templates
Copywriting is not a big challenge anymore. Just log in to GetGenie's dashboard and you will see multiple copywriting templates including AIDA (Attention-Interest-Desire-Action), BAB (Before-After-Bridge), and PAS (Problem-Agitate-Solution). With these templates, you can write engaging copies that convert better.
Chatbot with personalities
Genie Chat is a unique chatbot of GetGenie. There are 22+ personalities in the chatbot that you can use to generate a write-up.
Wrapping up
It's your turn to start using the web editor of GetGenie today and write amazing content. Whether you have prior experience with AI-based writing tools or not, you can use the GetGenie AI tool. Experiment with the different features of the tool to automate the content generation process and save time for other tasks.
With GetGenie, you can produce high-quality content efficiently and effectively. Give it a try and experience the benefits of this powerful writing tool!